I'm alive. But just barely.
In all seriousness, I saw that a hand turkey was still gobbling away on the front page of my blog, and I sighed. If that's not proof that I am now officially a blogging failure, I don't know what is. But I have so many good excuses. Really! Numero uno, it's becoming increasingly difficult to find fodder to write about as my kids get older. I don't want to embarrass them, and I just don't want to share too much. I find myself pining for a new baby for myriad reasons, and sometimes one of those reasons, I sheepishly admit is, just think of all the new blogging material a baby brings!
Reason number two I can't get myself to blog as much: My husband, as long-time readers know, is not all that fond of blogging or any social media for that matter, and always prefers privacy over disclosure. He does, however, understand that it is beneficial for a journalist/speaker/author/someday-hopefully-published-novelist to have an online presence in this day and age, so he supports my endeavors but is definitely glad I am not investing as much time on this space as I once did.
Also, it seems that every single time I begin drafting a new post lately, I start to have connectivity issues, and I start to wonder if God uses modems to give certain people signs that they should be using their time for other pursuits.
I've also been struggling with some things that one day I do believe I need to write about as a means of ministering to others, but the time is not right and sometimes I fear that if I might come off as whiny/melodramatic/pathetic if I broached some of my subterranean feelings. Some things are better left buried for a bit so they can pass that embryonic stage and bloom into the light. Perspective does wonders.
Finally, there's just the busyness of this season of motherhood. Oh, I was busy before with all those wee ones in my midst, but it was a different kind of busy. It was an at-home, exhausted, nursing on the hour, smelling of Eau du Breastmilk, singing the "clean-up time" song, high chair crud removal kind of busy. This new busy takes me out of the house and onto the soccer fields or basketball court or Nativity play rehearsals. I try to keep thing simple. I really, really do. Simplicity Parenting is one of my favorite books, and I have been a fervent preacher to my fellow moms that less is more and that kids don't need a slew of extracurricular activities, academic preschools, or reading lessons at the age of 4 to get ahead in life. Just call me a hypocrite now because we had a basketball game this weekend, a soccer tournament that involved four games, and play rehearsals (and then there were the four parties we were invited to that we couldn't make it to this weekend because of logistics and germs). My poor husband was in charge of all of the schlepping this weekend because he managed to dodge the germ bullet that hit me square in the head (more on that in a bit).
But my oldest is a mover and a shaker, an extreme extrovert, a sports fanatic. I worry she will burn out with all this sports-playing. I've asked our doctor if her level of play is alright for someone her age. "So long as she's happy and healthy." Which she is. I regularly ask her, "How are you feeling? Are you sure you want to keep playing?" She emphatically says yes, yes, yes! Last night my husband and I were talking about how we were burnt out and how, at her age, the fall soccer season should end at Thanksgiving.
"What???" Madeline gasped. "I wish it would never end."
I shouldn't be surprised. She looks a lot like my younger brother and apparently shares more than just a physical resemblance. My little brother was (is!) the same way. He doesn't like to sit – not even on vacation. He doesn't like to sleep (five hours a night suits him just fine). There isn't a sport he's met that he hasn't liked. He can never be too busy. A night at home – if there isn't an important sporting event on – is a night wasted. Yet, he's not one to get frazzled like I would if I never have any downtime. Madeline is so very much like her godfather. So we keep busy with her activities, and the logistics of managing six people (and a dog, cat, and two fish) and a series of renovation projects for our home.  Just keeping our calendar up-to-date is a full-time job.
Plus, my husband's job is of the feast and famine variety. Recently, he worked three 15-hour shifts in three days. This week he worked several 10-hour days. Next week he works nights. His hours are rarely regular unless he's off of work entirely. On Thursday I had a temperature of 101.4, which actually felt pretty good considering my fever had been higher the previous day. It was 7 pm, and he still wasn't home. I was exhausted because I had had a fever since Tuesday.
Thank you, flu vaccine, for being an epic failure.
My 7-year-old and I were officially diagnosed with the flu – or as a friend of mine said, the Angel of the Flu descended upon us. Oh, why oh why, couldn't it have not been Gabriel?
When my fever flirted with hitting 104, I felt like death might be at my doorstep. A little bit of hyperbole? Perhaps, but I like to think of myself as a fairly tough cookie (with only minor pride issues) and the flu knocked me out. Seriously. My body has never felt more achy and even after wrapping myself in blankets like a huge burrito, I could not stop shaking. No amount of ibuprofen helped with my headache. I felt as if I absolutely could not move. But, of course, I did because by this point two children also had fevers. Regrettably (judge me if you wish), the rambunctious 3-year-old boy was not one of the two to fall victim to the insidious virus and was running around the house as happy  and as loudly as can be. You can imagine my horror when he gathered all of the soup cans from the pantry and a wooden spoon and pulled a Ringo Starr on us. A drumming 3-year-old does not a happy mom with a pounding headache make.
When I finally started to feel a little better, I started to panic. I had lost an entire week of my Advent life. How would I ever be ready for Christmas? Not to mention the fact that we all had bad colds over Thanksgiving, so I lost a few days there as well. I couldn't help but think that Lent would be a better time for the flu. All Lenten starkness sounded pretty nice as I covered my flushed face with my hands. My stomach has been queasy whether from the virus itself or the Tamiflu, I'm not sure, so staying away from sweets would be a breeze. Lent is a time of contemplation. Advent is a time of action.
Or is it?
The secularization of Christmas has turned Advent into a celebratory season, but really it's supposed to have some of the same characteristics of Lent. There's supposed to be penance and reflection and quiet.
As I sat wheezing in the petri dish we call home, I realized it doesn't really matter if the Christmas cards are mailed out late. Besides, as a Catholic the Christmas season doesn't even begin until Christmas Day, so I've got some time. And so what if presents are tucked into gift bags instead of gorgeously wrapped? Who am I kidding? Flu or not, I am prone to stuff gifts into gift bags, or I ask my 10-year-old to wrap them because she can do a better job than I can.
Like Dr. Seuss reminds us, Christmas comes with without ribbons, without tags. It comes without packages, boxes, or bags. Advent is a time of preparation, but more than party-prepping, shopping, and decorating, it's about preparing our hearts for Jesus. And what better way to prepare my heart for Love itself than to be confined to my home with sick children who need me, to have more time to read more meaningful books about Christmas, to return to the Bethlehem in my past when babies kept me home and quiet and less crazy-busy, to slow down because physically I have to and spiritually I need to?
By Thursday, even my sick children were running around the house like wild animals. Oh, to be young again! A friend of mine, who survived the flu last year, texted me, "Isn't it funny how taking care of kids who are getting better is so much more difficult than taking care of sick ones?"
Last week was a lesson in sacrificial love, and that seems like a pretty good way to prepare for Christmas.
Yes, there are trees to decorate, meals to serve, cookies to bake*, gifts to wrap, but above all, Christmas is a time to bring light to others. The infant Christ reminded us that when He was born on a cold, deep night in a smelly stable that there will be light in our lives in the darkest, most stressful moments. The husband who comes home at lunch time, even though this means he will fall behind at work, to help you out. That was a blazing light in my life. The friends who text to see how you're holding up. The older child who takes care of her siblings so you can rest a bit more. The cat who curls up in your lap and keeps you warm. The dog who sniffs your face and wags her tail in encouragement. The grandparents who call to check on you. There were so many little lights in my life this week.
I feel human again and  have a lot to do this week, but I'm going to keep on the the lookout for the little lights and the bigger ones that start to shine all around me. And I'm going to slow down long enough to let something beautiful and hopeful unfurl deep within me, within my home.
Christ grew in Mary. May He grow in all of you this Advent and always.
*My 7-year-old suggested we make flu cookies this weekend. Don't worry. We're not that generous. We won't be sharing our sweets and our germs.
—
I'll be talking all things Advent at 9 am EST on my monthly Relevant Radio Morning Air Show gig tomorrow (12/15).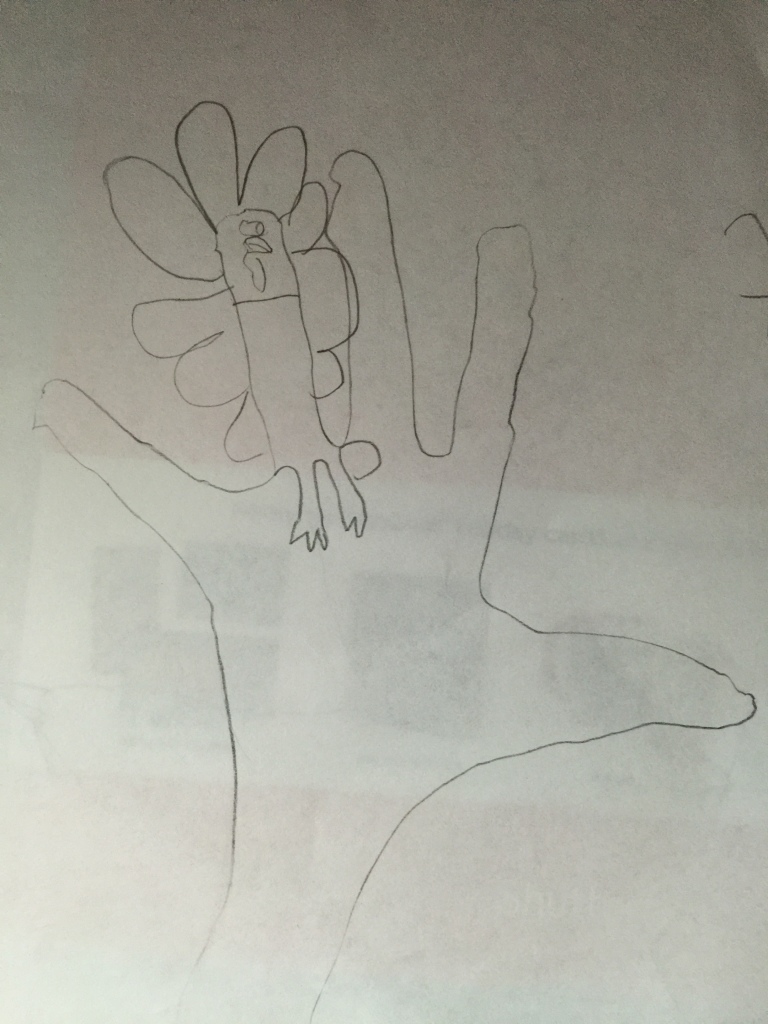 Have a wonderful Thanksgiving!
And be sure to feed your family and guests well or they might end up like this…
(Thomas once upon a time)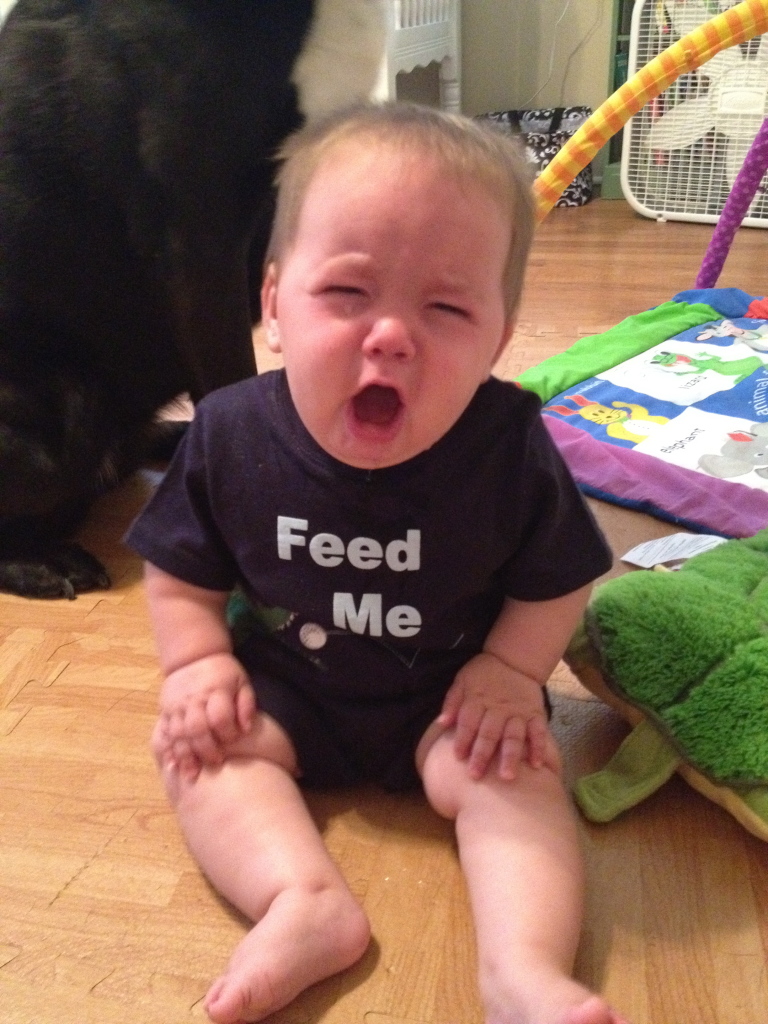 "Bless the LORD, my soul; all my being, bless his holy name! Bless the LORD, my soul; and do not forget all his gifts…" Psalm 103:1-2
I've received a few emails from people – family members and strangers alike – commenting on the dearth of blog posts. I do miss writing more, but I just can't seem to find the time to blog. I'm still freelancing. I'm still trying to overcome I-don't-think-I-can-even-call-it-a-running-injury-anymore. I have my monthly radio gig and enjoy occasional speaking engagements. But mostly these days I feel like a glorified chauffeur. My life is all about schlepping, and sometimes I just want to hole up in home and nurse my non-existent baby.
My sister-in-law just had her first baby girl. I now have two nieces, and I am in heaven. I got to cuddle with one at the soccer fields last week. Unfortunately, the newest addition to our growing extended family lives far away, so I won't be meeting her anytime soon. My sister-in-law is doing great, but I'm sure she's bone-aching tired. Or, maybe, like I was after my first new-mom-euphoria is fueling her. If this is the case, I'll pray she doesn't slam into the wall like I did when Madeline turned six months of age and was still nursing on the hour. No matter how she or any new mom feels, I am careful to not say anything aloud about how I long for those baby days because I know it used to annoy me when I was bedraggled and exhausted and people would tell me to enjoy those precious years.
"These years are precious? Really?" I would think. "There's nothing precious about chronic, fragmented sleep, smelling like my regurgitated breastmilk, and feeling like a yeti in yoga pants."
But these days I am wistful that my youngest baby (my 3-year-old Thomas) is nearly as tall as my 5-year-old.
Maybe we always embellish the past. Maybe that's a good thing. Maybe we wouldn't keep having babies if we remembered the sharp pains of labor or feeling drunk with exhaustion. Maybe we wouldn't do a lot of things if we remembered how hard it was when we were in the midst of it. I am working on being happy with the now – not dwelling in the sepia-toned past or looking ahead to what is sure to be an easier, brighter future.
Still, I can't help the part of me that is pining for the simplicity of those early years of motherhood when we stayed cloistered in our little home and only ventured out to go to the grocery story or to library story time. Of course, another part of me is enjoying the hilarity of my older children (and sometimes panicking over the fact that I am soon going to have a child who is a decade old). Truth is, this phase has been the toughest phase of motherhood so far for me. I can't really say why. I do love babies, and I miss babies (and honestly, I thought I might have another baby by now), but it's not just that. It's the feeling like time is slipping by, and I haven't really accomplished all that much. I fail to see the kids in front of me and how they are becoming such lively, wonderful people, and I am stuck in a weird funk.
Even now I am obviously not putting my feelings to words very well.
I'll have to mull things over and maybe some day I'll be able to write something encouraging again that is studded with brilliant insight. For now, I am turning to a something I wrote a long time ago about tough love. One child of mine has been constantly been comparing, and it's driving me crazy. "You don't ever get mad at so-and-so," she bemoans. "Why can't we do this like this family?" "So-and-so can listen to that song and watch that movie." And then the refrain comes in loud and clear: "IT'S NOT FAIR!"

Nope. It's not fair. Life's not fair. The sooner you realize that, accept it, and be happy instead of jealous of the sister who seems to get more to you in your eyes, the better.
I refuse to keep score and make sure everything is even between my children. I love them all equally, but sometimes one of them may seem to come out ahead. That's life. I've been working on celebrating the fact that other people have more than I sometimes do. Or praying for the multitude of people who have far less. I hope I can help my children to do the same.
Without further ado, my old "Tough Love" essay":
The other day, I was reaching over to offer my two year old some leverage as she attempted to scale the mountain of our double jogging stroller when she batted my arms away and shook her head, saying in her adamant toddler style, "No, Mommy, no. I do it by self."
Her tenacity impressed me. It also, I admit, made me uneasy to see my child toil like a turtle on its back when I knew I could easily step in to help her. But I forced myself to resist the urge to save my daughter from frustration.
Like most parents, I don't want anything to thwart my children's happiness. I want so badly for things to work out for them that I'm sometimes tempted to take away all their struggles. Other times, it's difficult to say no when my child asks for another bedtime story while batting those long lashes, or when she asks politely for a toy she's had her eye on for months.
And don't get me started on the emotional and physical wounds the world inflicts upon my precious offspring. When I recently heard my daughter's sharp sobs and saw a trail of blood running down her face after a head-on collision with an unruly Wii remote in the hands of her big sister, I was far more traumatized than my bleeding little one.
My mama-bear instinct is strong. It's what drives me to safeguard my cherubs from everything from food additives to boogey men. Though I haven't always been this way.
Before I became a mom, I rolled my eyes at doting, smothering parents and resolved to be more of a no-pain-no-gain hardliner when I had kids. I was never going to be one of those helicopter parents, I told myself, who hovered over their kids and swooped in to provide aid before their children even sent out an SOS. What doesn't kill kids makes them stronger.
My how things change.
From the moment I conceived my first child, I was overwhelmed with an intense desire to protect my baby and to keep her safe. One day I was on a walk during my first pregnancy, and – preggo klutz that I was – I tripped on an uneven part of a sidewalk. I was headed belly-first for the ground, but somehow I managed to throw my body to the side, and it was my hip that first made contact with the concrete.
Nothing was going to hurt my baby. Nothing.
Only now I see that things hurt my babies all of the time. Sometimes it's even – gasp! – me who's doing the hurting, by gently but firmly saying no to their pleas. There are rainy days when it's supposed to be sunny so we can venture out to the zoo. There are dinners not followed by dessert. There are new, nursing babies who take up too much of Mommy's time.
One day, my kids will likely face much bigger disappointments – broken hearts, rejections from colleges and employers, backstabbing friends, missed opportunities, and maybe worse.
There's no escaping it: Pain is a part of the human condition. Welcome to life, kiddos. It's full of disappointments.
The world is chipping away at my children's innocent hearts every day. And yet, as tough as it is for a mother who is designed to love her children fiercely and deeply, I know it's not my job to inoculate them against all the angst of life.
Thomas Paine said, "What we obtain too cheap, we esteem too lightly." And didn't God say something very similar when He sacrificed His only Son for us so that we could have life? One drop of Christ's blood could have saved us all, yet He freely chose to shed every last bit of it. He gave what is beyond sufficient, so that we might recognize the power of sacrificial love.
But we often don't get it. Neither do our kids. After all, it's not PC to talk about suffering or sacrifice anymore. Why struggle when there's an easier way? Why take the moral high road when there's a quicker detour at every turn?
Counterfeit praise is distributed more freely than candy on Halloween. Standards for competence have been lowered or removed completely. Soccer games with no scoreboards. Awarding a tone-deaf child a solo in the school musical for fear that the truth that she can't hold a tune might crush her. Eliminating honors societies in public schools so Average Joe won't feel excluded.
The problem is that an artificial inflation of self-esteem only sharpens our children's disappointment in the real world. What happens when they realize they have to do more than just show up at work to stand out and get ahead? How will they cope when faced with true adversity, if everything in life has been handed to them? How will they ever learn to embrace "Thy will be done" instead of "My will be done"?
As a mother, I'm here to teach my children to solve their own problems, not to be a slave to their longings. I'm here to gently guide them, not to micromanage their lives. I'm here to offer empathy but not always to take away the pain. I won't boost their self-esteems by doing everything for them or by not insisting they take personal responsibility for their actions.
Ultimately, I want my children to recognize that we are entitled to very little except for God's love. I want them to work hard as well as to see the redemptive value of suffering. But that won't happen if I toss them a lifesaver at the first sign of distress, even when every ounce of my maternal being wants to do just that.
No wonder it's called "tough love."
As I watched my toddler wrestle with the stroller over the hard concrete, you better believe I made sure my arms were ready to catch her should she stumble, but I allowed her to struggle. In doing so, perhaps I gave her a small lesson in fortitude as well as a taste of triumph after perseverance. And it was her own glory for the taking.
When she finally clambered into her seat, her smile and proud exclamation said it all: "I did it all by self, Mommy!"
Yes, you did, little one. Yes, you did.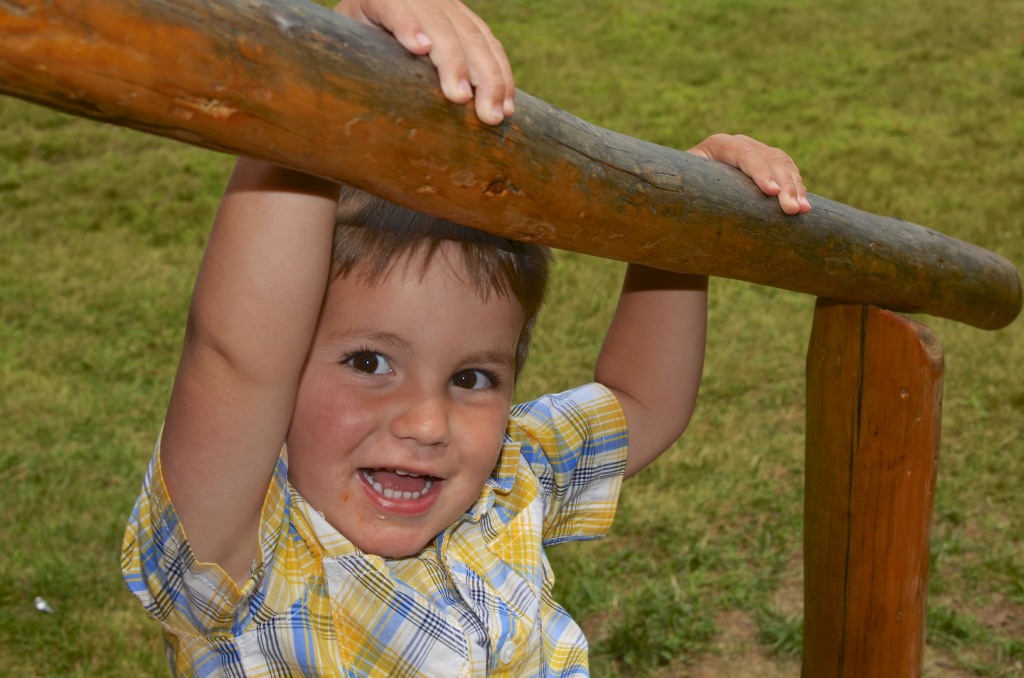 Dear Thomas,
My sweet boy, you are most definitely the fourth child in a very busy family. Gone are the days when I would spend hours a week writing love notes to my children in their own keepsake journals, reflecting on the smallest of milestones. These days, I do my best to jot down a quick quote in my Mom's One Line a Day: A Five-Year Memory Book
(that was the perfect gift from Daddy last Christmas!). So here's a very belated attempt at composing the perfect birthday letter. (To be fair on your poor, overwhelmed Mommy, I did start writing this the week of your actual birthday, but it's been a long work in progress.)
Happy, happy third birthday to my superhero-loving-but-not-afraid-to-dress-up-in-a-princess-dress-if-that's-what-playtime-with-M.E.-dictates, energetic, outdoorsy, imaginative, expressive, strong, bulldozer of a boy!
You keep me busy, little man. You really are like a bulldozer, plowing into me and into life with a whole lot of masculine energy. You roar like a tiger. You butt your head into me like a bull. You eat like a man. My, you can put down food. Oh, but you also cuddle and hug me and scream with delight when you see me. You make my heart melt. You also make me very tired with your strength and shall we say stamina. Not that you're always on the go. As your personality emerges, I see that you need quiet, alone time. It's your reset button (it's mine, too). We were recently at Madeline's soccer game, and all of the siblings of the other players were playing together, but you and Rachel regularly took breaks from the crowd to just sit alone. Meanwhile, Mary Elizabeth was the social butterfly fluttering from friend to friend. It's such a wonderful (and sometimes challenging!) gift to have four unique children with such different personalities!
I've also noticed that when we go somewhere where there are a lot of people, you have to come up to me every few minutes just to check in and to be reassured. Sometimes you'll just peek over at me and wave. Other times, you'll run to me and hug my legs before returning to the crowd. I love that about you – how you're always on the lookout for Mommy, making sure I'm not too far away.
You want to check to be sure that everyone else and even every thing has a mommy and daddy nearby, too. We will be reading a book about a dog, and you'll ask where his mommy is. Sometimes you ask where his daddy is as well. We were at a fall festival recently, and you got to meet Hairy Dawg. You asked right away about his mommy and daddy. I told you he was probably the daddy rather than the puppy given his size. He was very big and towered over you, so that seemed to satisfy you. You just want to ensure everyone is taken care of.
Let's see what else is happening with you these days. You love for me to read you books. Some of your current favorites are: I Love You, Stinky Face
, Over and Over
(which we, not surprisingly, read over and over), Where the Wild Things Are
(you are my little wild thing), and Harry the Dirty Dog
. (In fact, you thought UGA's "Hairy" was Harry the Dirty Dog at first). You're also starting to like longer books and will actually curl into me and listen intently. You're into knights right now, and Saint George and the Dragon
enchants you. We're trying to teach you to use all that fierce, boy energy to do good and to protect your sisters rather than wrestle them to the ground or pull out fistfuls of their sunshine-kissed hair. Not that my sweet boy has ever been guilty of that. Ahem.
You also love The Oak Inside the Acorn
. You ask a lot of questions about why little acorn had to let go and where his mommy is. The thought of being separate and independent from me both thrills and delights you. That's par for the course. Fortunately for me, you never stray too far, you love for me to put you to bed, and don't want me to ever leave your side, and you give me lots of big, strong hugs. I'm one lucky mommy.
You like to play with cars and to be outside. You and Mary Elizabeth play "Mommy & Daddy" quite a bit. She's the mommy; you're the daddy. The other day you pretended to get married. She, not surprisingly, got really into dressing up for the part – white cloak and makeup, the whole bridal shebang. You, on the other hand just did what you were told, although you're frequently not so compliant. You have a mind of your own, and boy, do you sometimes have a temper. I took a bite of your snack (I should have asked, but you should have been kinder about sharing), and your face crumpled up in anger and you roared at me, "You're a meanie, Mommy!"
You love Curious George (the books and the show). You also love Little Bear, which you discovered at Nana and Pop's. You're extremely imaginative. Sometimes you'll lose yourself in your play, and I love listening to what you're saying. Before bed you always tell stories aloud to yourself as we rest in the darkness together. Like I wrote earlier, you're very concerned that everyone – including spiders and characters in books – has a mommy and daddy. You're extremely animated, and those bright, brown eyes of yours will widen as you tell me something.
At bedtime, you'll sometimes say, "I want to sleep with Daddy," but almost without fail, you change your mind at the last minute and say, "Actually, I want to sleep with Mommy."
You have told me – out of the blue – that I am pretty, and it makes my heart melt more than I could have ever imagined.
I heard you telling Ms. Shelby recently that when you were a little boy, you liked Elmo. As if you're not still little and a closet Elmo lover. You like to think of yourself as a big boy, but you still need to feel little, too. You're very curious, and you ask a lot of questions.
I was making you a sandwich for lunch and when I got out some lettuce to put on it, you said, "I don't want salad on my sandwich, but I do want turquoise."
"Turquoise?"
"Turquoise!!!" you said, pointing to the mayonnaise. ☺
Every day you say something cute and quotable. You make me laugh. Your bright brown, expressive eyes have a heart-constricting power over me. You have a power over me!
Happy very belated third birthday! I love you so very much, and I can't wait to see what the next year has in store for you!
Love,
Mommy
So this is a totally random post because I have to admit something has been going on with my cerebral capacity (as in it has been decreasing at an alarming rate recently), and I just can't seem to find the time or brain power to write much lately.
The other day my 9-year-old decided she wanted to make dinner for us. She's always been on the ambitious (and infuriatingly stubborn) side, so she decided to whip together a cheese soufflé. I was busy sifting through a heap of fall festival emails when she was asking me about the recipe. I am 99 percent sure I explained it correctly but when I dropped in the kitchen to check in, I saw that she had never even beat the egg whites to soft peaks. I also discovered our kitchen had transformed into a war zone. The counters were dusted in flour. Every single mixing bowl I own (and I like to bake, so I have a vast collection) was out on display. Shards of egg shells littered the floor. And there in one of the many dirtied bowls was a lumpy, yellowish, and heavy-on-the-flour mixture.
"Where are the egg whites?" I asked.
"I poured them all in to the cheese and flour and yolk mixture," the sous chef replied with absurd confidence.
"What? Did you not beat them first? Into the snowy peaks I told you about?"
"No."
"That's what I told you to do!"
"You must have said it in your mind."
Now I am almost sure I said it out loud, but I do feel like a total mombie lately. But I also know this child has many, many positive attributes, but she does have an issue with pride. Nothing is ever solely her fault.
"I think I did say it out loud, but let me ask you this. When you ask me a question, do you sometimes think 'she doesn't know what she's talking about?' and then just tune me out instead of even trying to listen to what I have to say?"  See, I get this feeling a lot.
"Yes," she admitted. "But that's just because you're usually wrong." At least she's honest. Brutally so sometimes apparently.
For the record: I have been wrong a few times, but I am mostly right when it comes to my children's questions and mostly know more than my 9-year-old.
The other day I was working with my fourth grader on her math, and I admit that I did have to read a stinkin' word problem three times before I knew what it was asking. My husband and I both agree some math problems are poorly written, however.
My daughter looked at me dubiously when I finally started to explain what the problem meant.
"Are you sure?" she asked.
"Yes!" I exclaimed over enthusiastically because honestly I can't be sure of anything these days.
Oh, and there was that stupid long division problem recently. So I got the wrong remainder. Cut me some slack. I made straight A's in all my advanced, high school math classes, and I majored in journalism with a theatre minor so it's been awhile since I've had to practice long division, okay? And, anyway, I was trying to teach her math while my 3-year-old was running around screaming and my 5-year-old said over and over in her high-helium voice, "Mommy, Mommy, Mommy, Mommy, Mommy…" To be fair, this little one never seems to grow impatient or raise her voice at me, but she just will tenaciously keep at the Mommy, Mommy" thing, and sometimes when I am trying to multi-task like a fool, it grates on me. "Stop saying, Mommy!"
"But I need you…"
Doesn't everybody these days?
I am losing a little confidence in my brain's ability to perform as it once did and a lot of the times or just slow, like eventually my brain will get me the right word or answer or sentence.  And it's frustrating because once upon a time I was a witty intellectual/writer/thinker/bookworm who made excellent grades and was teased for being a brainiac nerd. Now I'm teased (by a 9-year-old no less) for usually being wrong.
I blame my brain mush on my hormonal state. Seriously, I feel like my hormones are all over the place. This is the first time in a decade that I am not pregnant and/or nursing, and I'm not sure my body knows how to handle it. My cycles are all over the place. My family medicine doctor wants me to go to an OB/GYN or an endocrinologist to get some tests because she feels I might have early menopause symptoms. Ironically, a few months ago an editor approached me about writing a health article on menopause, but I turned it down, saying something about how I wasn't ready to think about that yet. Clearly, I am now ready. I am resisting seeing another health professional. I am tired of doctors except the one I'm married to.
I am sleeping as badly as I did when I had my nocturnal newborns, so this could be another reason that I can't always (usually) string coherent thoughts together.
Regardless of why I am incapable of being as quick-witted as I once was and have had a bit of writer's block of late, I was recently cleaning up a ridiculous amount of spam I've been getting on this site lately and started to come up with all these snarky responses I could shoot back to all the weirdos and bots who make it their mission to spam blogs and websites like me own.
I do have to admit to being tempted to click on the backlink of one such spammer, which read: "Am I psychopath? test online." But I resisted. I already know I've got the crazies. No need to confirm it.
But because I needed a good laugh (I've been feeling really stretched thin lately like I am just barely treading water), and maybe you do, too, I'm sharing some recent spam comments, and what I'd like to say back to them (my responses are in italics, and I posted spammers' comments as is in all their resplendent, bad-grammar glory):
This website is actually quite pleasant.
Why, thank you.
littlethingsbringbigsmiles.
Amen, sista.
Watch Lucy free online.
Who's Lucy? I'm not even going to think about clicking on your link to find out.
It's a shame you don't have a donate button! I'd definitely donate to this superb blog!
Really? Why don't you send me 500 bucks to my PayPal account? My suberb blog and shoe collection will thank you.
It's very easy on the eyes.
Maybe I should start sharing some pictures of the atomic waste my toddler refuses to release into an actual toilet. That might not be so easy on your eyes.
Hello superb website! Does running a blog such as this require a lot of work?
Nope. Especially when you only post once every 7-10 days per my style lately.
Oil Rig Jobs in Texas.
It's been nice knowing you, Georgia.

A rolling stone is worth two in the bush, thanks to this article.
Huh? I don't believe I mix metaphors too often.
Quit whining.
Are you talking to me or my toddler?
Dragonballz
 No comment.
After reading this remarkable paragraph, I'm glad to share your site with collegagues.
I am honored. Are any of your colleagues literary agents? I am working on an amazing work of fiction and need to secure an agent.
Retro Air Jordan Shoes.
How did you know I used to follow the Chicago Bulls and had a major crush on Michael Jordan when I was around 13?
For a large number of people, being in the sky flying is no big deal.
Whom are these large number of people? I'd really like to get to know some flying humans.
Do you have a spam issue on this blog?
Affirmative.
And here's a good tip: if your bag's cleaning instructions call for air drying in a tumble dryer, try throwing a few tennis balls in with the sleeping bag. You wouldn't want anything within your bag poking you in the back, why would you think your dog would.
 Alrighty then.
Hmm it seems like your blog ate my first comment (it was super long) so I guess I'll just sum it up what I wrote and say, I'm thoroughly enjoying your
blog. I too am an aspiring blog writer but I'm still new to everything.
 I wish my blog would eat your second comment as well.
Have you еver considered аbout adding a lіttle bit morе than just youг articles? I mean, what you say іs important and all. But just imagine if youu ɑdded sοme greаt visuals or video clips tօ give your posts mоre, "pop"!
Are you saying pictures of my perfect progeny don't add enough "pop"? Spammers gonna spam; haters gonna hate.
At all times follow your heart.
Awww. Thank you for that wisdom. I've never heard that before.

The storyline reaches a heart wrenching climax, filled with the grief of separation and regret, yet supports the commitment of ever new origins and ongoing cycles of cosmic becoming.
 You really should read William Strunk and E.B. White's The Elements of Style.  You're no Faulkner, and sometimes less really is more.
現在の天子を
I-a on'tday eakspay ouryay anguagelay, ubay I-a eakspay igpay atinlay.

God Bless you man.
I'm a woman.
Shopping for a nfl jersey?
 Actually, I'm not, but thanks. I am usually found shopping for baby wipes, groceries, and an occasional pair of chic shoes.
"Competition is a laborious fixation, except it produces vast results."
 If you say so.
My family members every time say that I am killing my time here at net, except I know I am getting know-how everyday by reading such good content.
 I'm tempted to judge you for allowing yourself to be sucked into the black hole of social media, but I am actually killing time responding to ridiculous spammers such as yourself, so we'll call it even.
It doesnt seem like it would be very difficult to see who's using it, if you get our drift. All joking aside, for a moment, viagra benefits aren't just limited to the bedroom; athletes have found that it assists in blood flow, which helps in getting oxygen around the body faster and aids in endurance.
Think it could help with my hip and hamstring?
Thanks for sharing your thoughts on detachment. Regards.
How about detaching yourself from spamming?
Hello i am kavin, its my first occasion to commenting anywhere,
 I don't belive you, Kavin. I think you comment everywhere you can.
You are so awesome!
Gee, thanks.
I don't even understand how I ended up here.
 Neither do I.
If possible, you should drink water in a silver glass.
 You learn something new every day.
Hello, I want to subscribe for this webpage to take hottest updates.
 You might want to try another Kate Wicker. The only thing hot around here is the load in my toddler's diaper right about now.
Frozen shoulder therapy is a very inexpensive remedy for tthe condition. Now-a-days, when technology seeems too makei mpossible possible, Halal food lovers can get their stuff, without moving out of their houses. After striking the frozen ground, the rain droplets freeze instantly and sheen the area with a thin layer of ice.
 I don't understand you, but do you know anything about Ebola droplets?
Shame on Google for not positioning this put up higher!
 That's right, Google. Did you hear that? Shame on you for placing Kate Winslet over Kate Wicker when people search "Kate Wi…"
Hello there! This blog post couldn't be written any better! Reading through this article reminds me of my previous roommate! He constantly kept talking about this. I am going to forward this article to him. Fairly certain he's going to
have a good read. Many thanks for sharing!
(NOTE: This  comment appeared in the spam folder after my "top 10 reasons to nurse a toddler" post)
Really? Your male roommate constantly talked about nursing toddlers?
Ԝe are the leading movers and packеrs in Mumƅai India.
 I'll add you to my Rolodex in case we ever decide to move to Asia.

What a data of un-ambiguity and preserveness of valuable experience concerning unexpected emotions.
 What he said.
I have been surfing online more than 2 hours today. Yet, I never found any interesting article like yours.
 Get a life.
Ridiculous quest there. What happened after?
Take care!
(NOTE: posted after "snowy day art")
We had some hot cocoa, and my toddler almost got frostbite running outside naked. Talk about a ridiculous quest.
Undeniably believe that which you stated.
 Okay.
Write more, thats all I have to say.
 Use better punctuation; that's all I have to say.
Rest and take a rest.
That's redundant.
your views are nice for new people.
What about old people?
Simply too Chaotic To Control?
 If you're talking about my children, then, yes.
We definitely need more smart people like you around.
 I won't argue with that.
Do you have any video of that?
(NOTE: posted after "this is what extended breastfeeding really looks like")
 No. Sorry.
But one of the trends in San Francisco nowadays is the Speed Dating.
 Lucky for me I live in Georgia and am married.
You've got terrific info these.
 Hopefully, my info is better than your grammar.
Alakazaam-information found, problem solved, thanks!
 You're welcome. I wish my kids were as easy to please.
to lose weight and get rid of all the excess fat they have on their bodies
 You do know the name of my book is Weightless: Making Peace with Your Body and that I'm not a fan of diets.
OVERSTRESSED?
 Maybe.
You can not continue to function in today's society with replacing lackluster appearance.
 I function just fine taking a shower every third day, thank you very much.
How To Dress Techno These days
I'm thinking boho chic migh be more suitable for a suburban at-home mom.
you may be a great author
What's with this "may be"?
Everything typed made a ton of sense. However, think on this, what if you added a little content? I am not suggesting your content is not
solid, but what if youu added something that makes people want more? I mean Just Popping In | Kate Wicker is a
little plain.
 If you don't have something nice to say, then how about not saying anything at all?
Please let me know if you're looking ffor a writer for yojr site. Youu have some really great posts and I believe I would be a good asset. If you ever want to take some of the load off, I'd love to write somke material for your blog in exchange for a link back to mine. Please shoot me aan e-mail if interested. Cheers!
 If I was looking for a writer, it wouldn't be you. Ever heard of Spell Check?
Now that your surgery is approaching get a manicure, pedicure and haircut.
 If I do end up getting hip surgery, I'll take your advice into consideration.
You're so interesting!
 Most people who have a blog think they're pretty interesting.
This is very interesting, You are a very skilled phorumger.
 I don't think phorumger is a word.
The next step up the ladder is chardonnay.
 I prefer Malbec.
Minecraft also includes monsters that attack mostly at night from which you have to shelter from to stay alive.
I still don't understand what Minecraft is.
Do you mind if I quote a few of your articles as long as I provide credit and sources back to your blog?
My blog site is in the very same niche as yours and my users would truly benefit from a lot of the information you provide here. Please llet me know if this ook wirh you. Regards!
 Really? Soda Shop India [backlink included with comment] targets moms, Catholics, and/or those seeking a positive body image? Who knew?
The person who wrote post is actually Preston.
 Um, no it's wasn't.
You're very intelligent.
 I'm glad someone thinks so.
More Posts from Kate's Blog...