Read the rest of my Bigish Family Series here.
–
I am chronic people-pleaser. I prefer to say yes to people who ask me for favors, volunteering help, or jobs such as team mom. I also often enjoy taking charge, planning and organizing, and helping out. I love speaking at churches and events, and I enjoy writing and using my journalism degree. I really don't want to say no to anyone or to anything. But sometimes my primary vocation as a wife and mother demands that I do.
Earlier this school year when the older girls just started going to "real" school after our eight-year homeschooling adventure, I found myself frequently volunteering at the school. But one day when I left my littles with a babysitter yet again, I had an epiphany. I was saying "yes" to people who really did need help, but I was saying no to my children. One of the big reasons I decided to send the older children to school this year was because I wanted more time to just hang with my littles – to bake together, to read storybooks, to start teaching my 5-year-old to read, to be lazy in our pajamas before the afternoon schlepping started. Yet, here I was jetting off to school for a few hours every week, missing out on soaking up their sweetness. I realized that I needed to start saying no more. I also reminded myself that behind every no was a yes to my children and my family.
I've had to say no to other opportunities, too. Recently, someone approached me about doing a weekly radio segment. I would not only be the host but also the producer and would be responsible for finding story ideas as well as guests to have on the show. It sounded like tons of fun. I love my monthly spot on the Morning Air Show. I'd love to do more media appearances and speaking when my family life allows it, but a weekly show just isn't feasible for me right now. It would require too much work and too many nos to my family.
I'll never like to say no to people or to new opportunities, but I always remind myself that with the size of my family, it's a full-time job just to keep on top of all of the laundry and logistics of getting child A to point B when child B is needs to be at point A. One tip I have if you're trying to discern whether you should volunteer or take on something new outside of the home is to tell the person asking that you need to discuss it with your husband. Then talk to him. I've found my husband is much better at knowing my limitations than I am, and it also makes me feel less guilty if I can explain that this was a family decision and isn't just about me saying no to someone or something.
Bottom line: When I say no, I am often saying yes to the ones who need my time and talents the most right now – my family.
This post is a part of my Recycled Series. This essay was originally published at Catholic Exchange.
–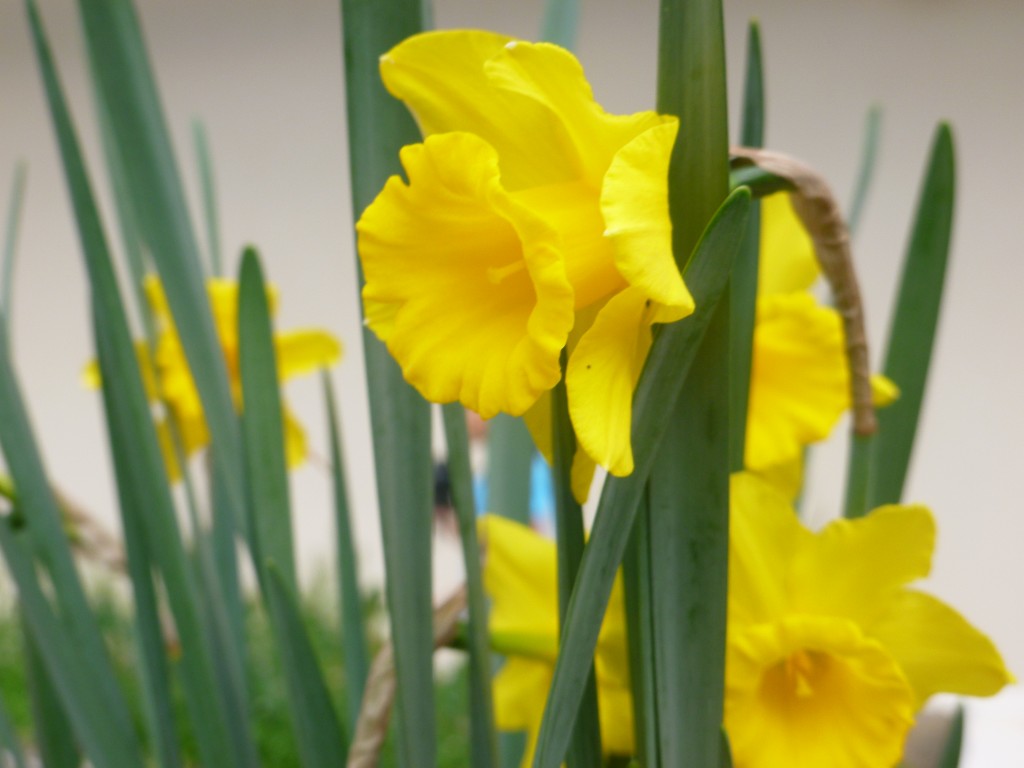 "Mommy, why are you so grumpy?" my 8-year-old asks. I'm on a tear, gathering stray socks, shoes, and toys from the floor. I've morphed into what I've jokingly come to refer to as a "Tsu-Mommy." All I see is the mess, and my sweeping arms and kicking legs will do anything to clear out the cluttered life living with four little ones leaves in its wake.
Still, her question makes me pause. Why am I so grumpy? Why am I so fixated on the mess? Why are my expectations so rigid that I fail to see a room strewn with dolls was not so long ago a fertile bed for a preschooler and toddler's imagination to blossom?
During Lent we are invited to take a long, hard look at the mess, at our broken selves. We are called to make tweaks with the hope that the 40 days will lead to real and lasting transformation.
But on Easter we have a new mission. We are invited to look beyond the mess. We unearth our "alleluias." We fill the starkness with flowers and pretty pastels and chocolate bunny rabbits. The darkness of the tomb is filled with radiant light.
Parenting is an odd mixture of Lent and Easter. Or at least it should be. But too often I'm too stuck in the Lent to notice the Easter all around me. I approach the drudgery of motherhood  – and as much as I see my calling as a sublime vocation, there is a fair share of drudgery found in picking up toys and cutting food into choke-proof bits day after day after day – as an interminable practice of penance and sacrifice. I don't let it change me, but I do allow it to frustrate me.
But we are an Easter people. We're not Lenten people; Lent isn't what defines us. It's supposed to change us, yes, but, because of Christ nailed to a tree and made gloriously new in the resurrection, we are Easter people at our very core. We should always have "alleluia" on the tip of our tongue. A humble acceptance of our lot in life – the fact that my life as a mother to young children frequently revolves around my children's bowel movements, sleep patterns, and a trail of clutter – is different than a state of disgruntled grumpiness or a begrudging acceptance of the status quo.
I love Easter. It's hard to be grumpy when there are dark chocolate eggs to snack on, time with family, and a beautiful Easter Mass. On Easter it's out with the grumbling, the toy-kicking. The Tsu-Mommy is surely replaced with a sunny disposition. The house will be almost clean. Outside, green shoots will start to poke through the dirt. My daughters will be clad in smocked dresses, and my son will look dapper in his pressed, plaid shirt.
It's easy to be Easter people on the day itself. It's just as easy to forget, though, that the Easter feasting lasts 50 days liturgically. And how many of us really remember that we're an Easter people all day, every day? Hope abounds. It is not a hope based on a superficial optimism that is blind to the reality of suffering in the world. Rather, it is a deep trust in God and His love for us. This is not a season for despair, worry, or even grumpiness. Easter calls us to embrace the freedom from fear, and to hold onto the life, the peace, and the joy that Jesus died to give all of us.
My heart has its ups and downs. My life is unpredictable. There is plenty of discord in my home: unkempt rooms, upturned toy baskets, sibling squabbles, and meltdowns from both my children and me. My faith isn't as steady as I'd like it to be. My inner control freak is perpetually frustrated and challenged because I cannot will my children to do much of anything at all.  Yet, Easter season is a good reminder for me as both a mother and a child of God that the only one who can rob us from the joy that comes with being a Christian is ourselves. We are sure to lose much in life and far more than toddler socks. We lose jobs, loved ones, financial security, freedoms, good health, confidence in our future happiness and in the path of our life. Then there is God. He remains. He does not shift with the wind or with our woes. He is forever. Love is forever.  No one can take that away from us. I need to bury my doubt and yes, my vision of having a perfect, clutter-free home and let God and love live amidst the chaos.
"We can say 'Alleluia' again!" one of my children joyfully announced last year Easter morning. (We usually bury strips of paper with "alleluia" scrawled upon them, but slacker Mom forgot to this Lent.)
That's what Jesus gave us on that first Easter: A reason to shout, "Alleluia!" again, a reason to hope.
This is what my children give me, too.
Children are hope. They are happiness. Joy personified as they gleefully hunt for Easter eggs.  Sometimes they are a messy version of happiness with mud splatters all over their new clothes or crayon scribbles on my walls. Even when they hijack your sleep and poop on the floor (again), they are a constant reminder that the future is worth investing in and believing in even when the forecast calls for cloudy skies ahead.  Who can trust forecasts any way? It's better to put your hope in the sun than to resign yourself to a storm that may never come.
Children don't need an Easter meditation or homily to remind them to choose joy. They're naturally Easter people.  Like Jesus, they give life to the world and show us all how to live as well as how to love, deeply and without abandon. They give me my share of Lents. I have sacrificed much as a mother, but I've been given far more in return. They chip away at this hard shell of mine, and they help me to discover the surprise that lies within. They bring out a new life in me; they bring out the Christ in me. Little things that offer big explosions of grace and joy, I look beyond the messiness and there they are: My children, my daily Easter – frequent reminders to rejoice, to trust, to believe, and to sing "Alleluia!" again and again.
So here's part one of my Tips for Bigish Families Series. Read the introduction here.
Tip numbero uno: Grooming is overrated.
I am always eager for spring and the gradual greening and warming that comes along with it. What I am usually not ready for is the greater need for daily baths. Winter means less time spent digging in the dirt and frolicking outdoors, which translates to less baths. Now my well-groomed, daily-shower-loving husband would likely disagree with me here, but a daily bath really is not a necessity especially when kids haven't been getting dirty all day outdoors. Like many Europeans, we don't do baths every day. Sometimes I am just too tired to partake in the elaborate bathtime routine. I'd rather squeeze in more storybooks than scrubbing behind the ears. I'll never forget a story my nana, who died two summers ago just before she hit the 91-mark, told. Her youngest and ninth child was looking quite gray and a peaked to her, so she decided to take him to the pediatrician to make sure his health was not ailing. The diagnosis? A nice layer of dirt! Seriously, my uncle had just been dirtier than usual, and the pediatrician rubbed a bit off and showed my nana, who sheepishly and quickly left the doctor's office but loved telling the story later on as evidence that dirt really doesn't bother kids or hurt them. This might horrify our clean-obsessed-frequent-hand-sanitizing-culture, but I find it rather funny and comforting. All of her nine children are healthy, happy, and productive adults now. A little dirt never caused them any harm.
And fancy, smocked clothing, well, it looks pretty, but it's not necessary either. Which brings me to tip number two: It's not what they're wearing that matters; it's the memories you're making.
I dressed my first child like a baby doll. No matter that she was constantly ripping the pretty bows from her wispy hair and I was always cursing the tiny buttons that were awfully difficult to work with. I also wanted her clothes to match when we out in public. Not so anymore. When we go to Mass or perhaps a nice restaurant or another "finer" event, then, of course, I expect a certain level of decorum. However, I also give my children far more freedom in choosing their clothing these days and am not bothered so much by mismatched outfits or slightly messy hair.
I was at a birthday party for little girls a few years ago, and many of the girls were impeccably dressed in smocked gowns (smocked clothing is very popular in the South); however, there was one child who showed up in play clothes with ragamuffin hair. I heard another mom whispering about her, saying something about how she couldn't believe her mother hadn't brushed her hair. This kind of superficial comment infuriated me. I knew that this child was the oldest of five young children, and all of them were homeschooled. Perfectly coiffed hair probably wasn't a big priority, and why did it matter? These kids were playing at a birthday party; they weren't having tea with the Queen. Some girls might love smocked frocks. Some moms might enjoy dressing their girls up as well. There's nothing wrong with that, but don't feel guilty if you're not into that or just can't be as a matter of survival. Likewise, don't sweat the small stuff, and kids who don't look like Suri Cruise in public is most definitely small stuff. Honestly, we moms often dress up our children just to impress others.
Another time this lesson was hammered in for me was during a trip to a pumpkin patch this past fall. We attempted to get a group photo of all the kids, and I had to laugh at our motley crew. I have a photo from when I was pregnant with Mary Elizabeth, and Madeline and Rachel were wearing darling fall outfits. I had more time to pay attention to the details back then – time that is more of a luxury these days. Not surprisingly, in last year's pumpkin patch photo, the kids were wearing all different colorful ensembles. Best of all, Mary Elizabeth was wearing a pink, homemade Valentine's shirt in October, which makes the memory of that crisp fall day all the more vivid in my mind. Remember Annie's wisdom: Your kids' smiles are their best accessory.
–
Stay tuned for the next installment in the series where I talk about how behind every no there is a yes. New posts won't arrive until after the Triduum, however.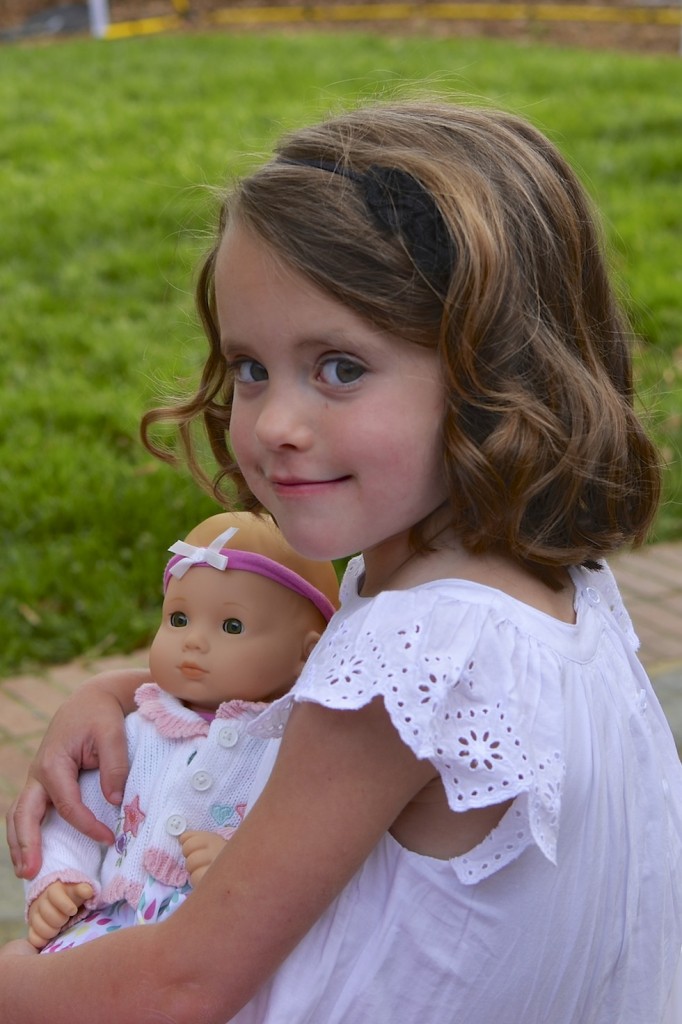 Dear Mary Elizabeth,
Happy birthday, my fairy-loving, yellow-is-my-favorite-color-of-the-moment-but-I-love-all-colors, sweet little girl! I can't believe my little flower child is five now! You truly are a free spirit, who floats through life (always highly accessorized, of course) and notices whimsy and beauty all around you.  Wild violets poking up through blades of grass. Clouds shaped like big cats. My new lipstick shade. A cameo appearance of Rapunzel in Frozen. You're drawn to all that is beautiful: babies, flowers, makeup, chic shoes, butterflies, good storybooks.
You were born with a glam gene and remain our resident fashionista. Sometimes (okay, a lot of times) I'll throw on something sporty and casual or wear my manly but cozy, oversized cardigan, and you'll say, "You're wearing that?" On the other hand, when I dress up for a date with Daddy or to go to church, you are always quick to compliment me. You watch me get ready and it's like you're under a spell. The whole process enchants you.
When I was finally ready to wean you (you nursed the longest out of all the kids and still talk about it sometimes), the only way I could gently make it happen was to bribe you with your own makeup kit. You were giving Gaba [my mom] a stunning makeover, and she asked you where you got your elaborate makeup, and you just a wee bit wistfully said, "This was my big-girl gift when I stopped nursing."
You are such a big-girl and boy, do you love mothering your babies – or Layla [our dog] or Fang [our cat].  Your big sisters will list all the things they want to be when they grow up, and then you'll proudly say, "I want to be a mommy." Your desire to have babies and to grow up to be a mom rattles my heart in a good way every time. Just a week or so ago, I was making funny faces at you and your brother while I was pumping gas. I can't recall when I started doing this (and sometimes regret it when people look at me oddly as I contort my face while seemingly checking out my reflection in my minivan windows), but it's become a ritual you love. When I got back into the van, you said, "I am going to do that to my kids when I'm a mommy." That was one of the best compliments you could have given me. What you were saying is: You make me happy. I notice the little things you do and appreciate your silly faces. I want to be a mommy like you someday.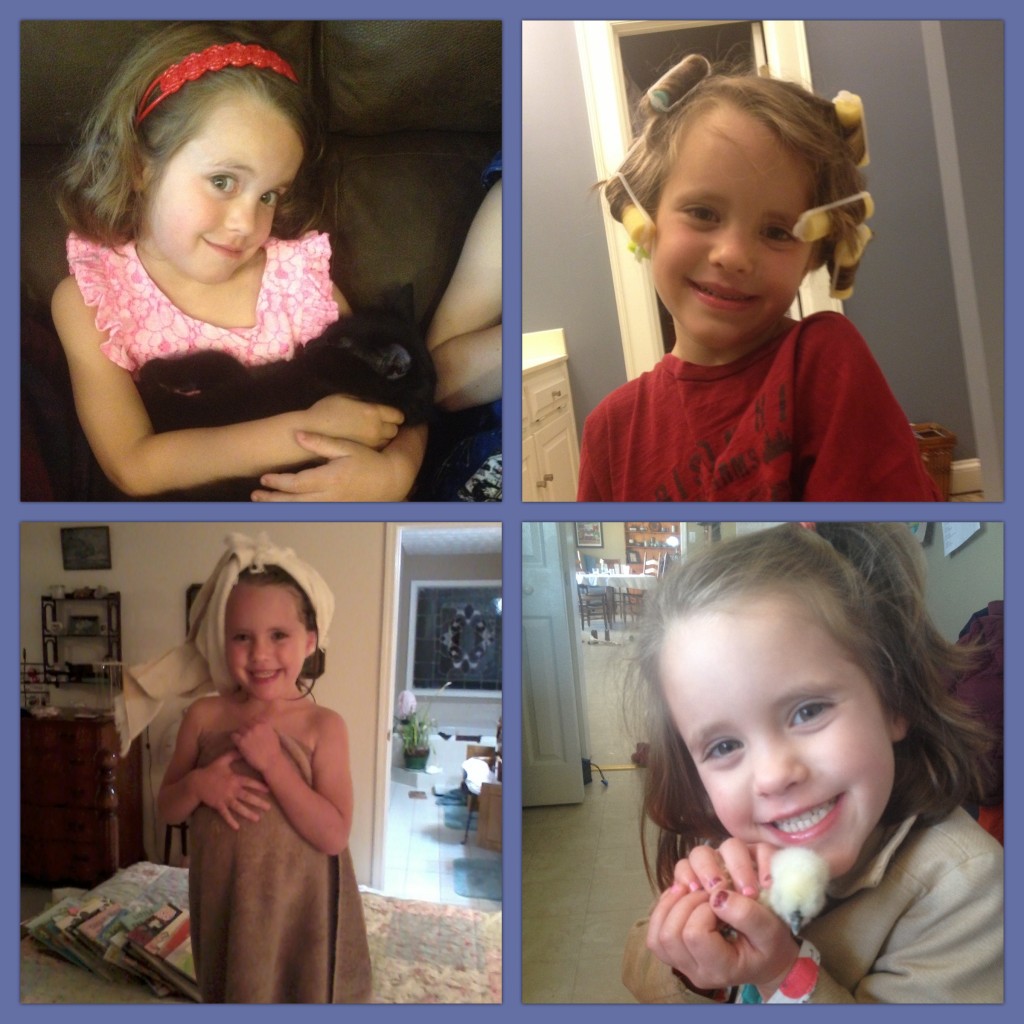 Thank you, sweet girl, for building me up. You have a way of doing that. You're so wonderful about thanking me and complimenting me as a mom.  (You're also always telling me I'm pretty or that you like my shoes.) And it's not just me you freely give compliments to. We once went around the table as a family and we all named one trait we really appreciated about each other. Well, we all agreed that you are wonderful at complimenting people and noticing them. Your feminine genius is at work big time.
You're also a great big sister to Thomas. He can be a pain right now and rough with your toys and with you! You very rarely retaliate and are very patient with him. The other day the two of you played outside for over an hour with no sign of squabbling.
You're protective about Fang, too. When he's outside, you worry about him even though he doesn't stray far from the backyard at all.  You're an affectionate snuggler. You love it when Rachel sleeps with you and if she doesn't end up spooning you, you find your way down to Daddy and my bed (we play musical beds around here).
You're very in to art and coloring right now, and your pictures are becoming increasingly detailed. You drew a picture of Uncle Jason recently for his birthday, and we all laughed because you even included his goatee. Your portrait looked a lot like him!
You make me laugh all of the time. You still say "pisappear" for "disappear." The other day you spotted a train and you were very proud you saw it and pointed it out to us (as if we could have missed it roaring passed the van), and you said, "My eyes are good to see that train. My eye was peeled."
Let's see. What else do you like these days? You love your new baby doll Daddy and I got you for your birthday. You named her Courtney, and you take very good care of her. (Madeline and Rachel are her nannies.) You love tomatoes. Your best friend is Will, who lives right down the street, and you draw him pictures all of the time. You taught yourself how to ride a two-wheel bike without training wheels in one day and love to zip up and down the driveway. You play with my hair sometimes when I read to you, and it feels heavenly.  You're counting the days until summer swimming lessons. You're quite independent and always dress yourself without any help from me every morning. Your hair is very important to you and most of your rare tantrums involve a bad hair day or me styling your tresses all wrong.  You're extremely nurturing. I was going to a bible study at church and one day Daddy was home so I told you could just stay with him rather than going to the nursery, but you burst into tears. "You want to stay in the nursery?" I asked.
"I want to help with the babies," you told me. Apparently, you were a big help with all the little ones there!
You like to build fairy houses outside with moss, flowers, bark, and other natural artifacts. You very rarely nap, but you are amazing at quiet time and will color on your own for an entire hour or play quietly. You like to pretend I'm your little girl sometimes, and you're always make believing it's my birthday and treating me nicely.
You are genuinely happy, and nothing seems to upset you for long although the last two car trips we went on, you started throwing a tantrum over having a wedgie. You go with the flow (so long as your panties are in a wad), and I frequently find you twirling about like the princess you are. You have so much beauty to offer the world – and I'm not talking about those gloriously green eyes and long lashes or strawberry blonde hair – I'm talking about your kindness, your sweetness, and your love for life. Just the other day Thomas was tired and crying , and you started singing him a sweet song (you love to make up ditties and often sit at the piano and "compose" music and come up with lyrics). "It's alright. Don't you cry…"  you softly crooned. And – viola! – he stopped crying. You noticed he was sad, and you tried to make a difference. Keep doing that, my sweet child. Love with that big, beautiful heart of yours. Dance barefoot in the grass. Pursue beauty and Truth. Give of yourself. Be kind. Don't be afraid to tell others you want to be a mother. Some will say it's not enough. Or you're too smart to "just" be a mom. But you will make an amazing one. I'm already praying for you to find a husband who will treat you the way you deserve and help you find that family of your dreams. Of course, I will love you and support you if your dreams (or reality) change. I will love you always, no matter what.
Happy fifth birthday, Mary Elizabeth! I can't wait to see what life has in store for you.
Love,
Mommy
–
You requested a woodland fairy cake, so that's what I gave you We had a simple family party, and we all ended up in the backyard playing soccer and enjoying a beautiful spring day. Madeline remarked, "Family parties are the best." I agree.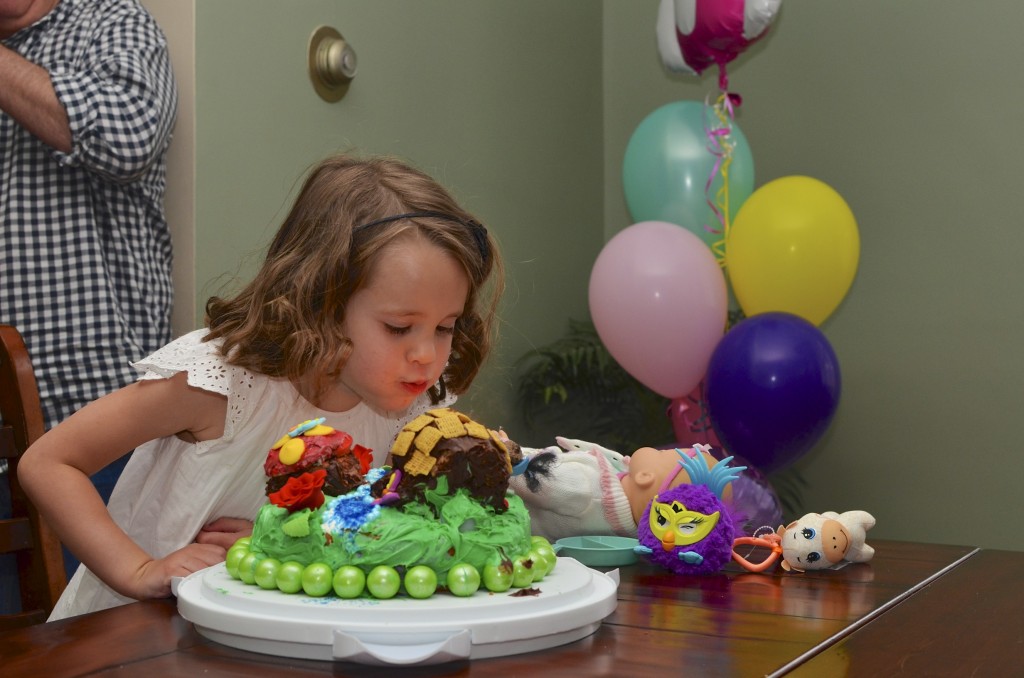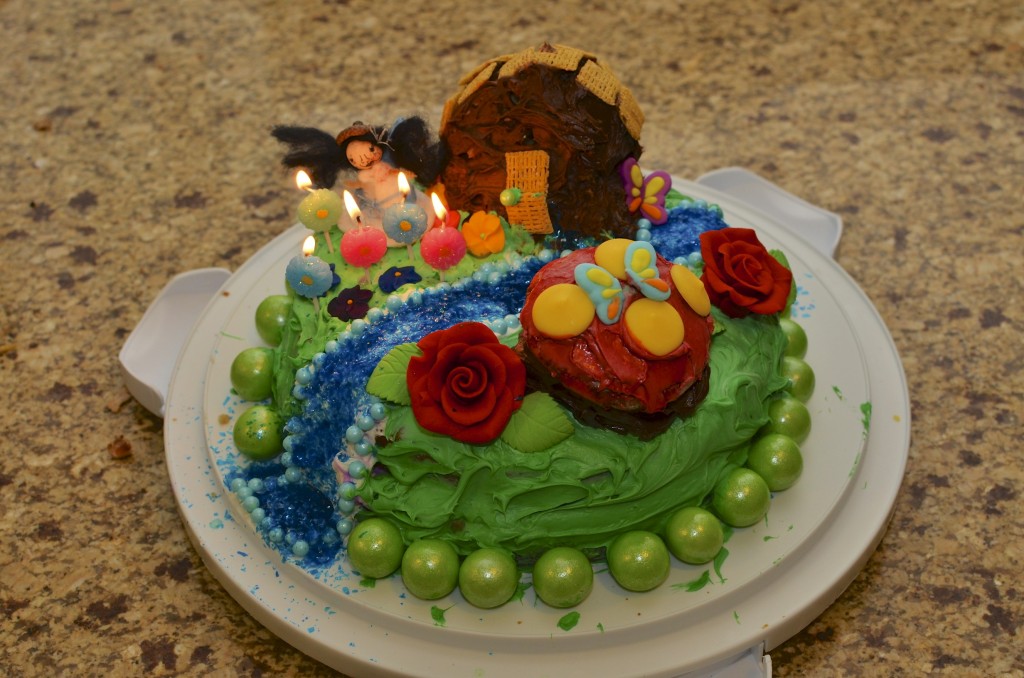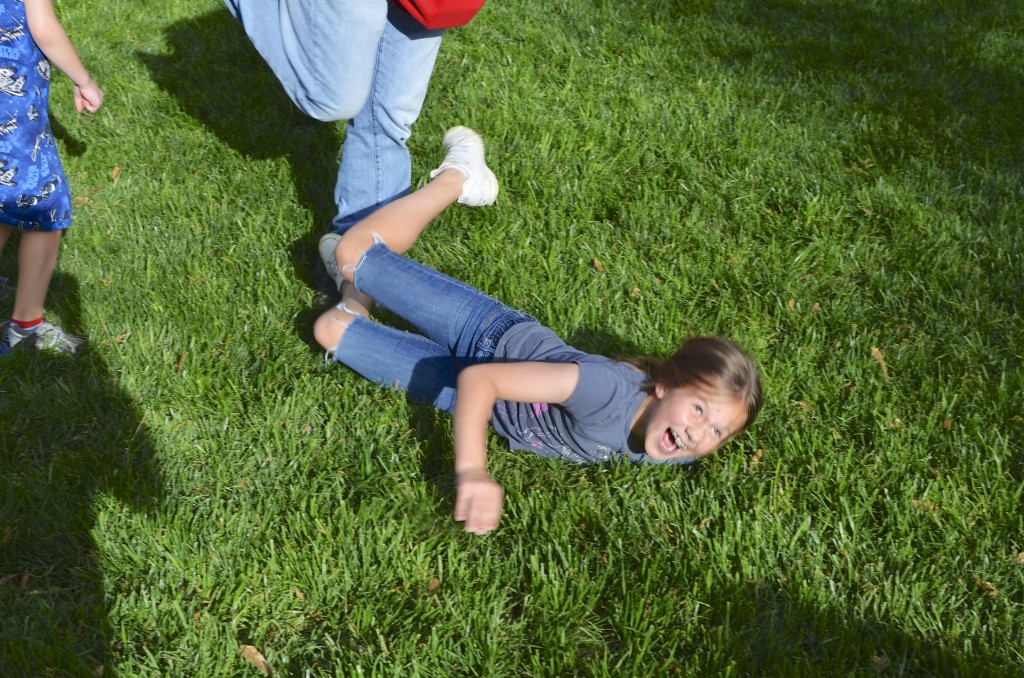 My baby brother (AKA Uncle Josh) shows off his soccer moves.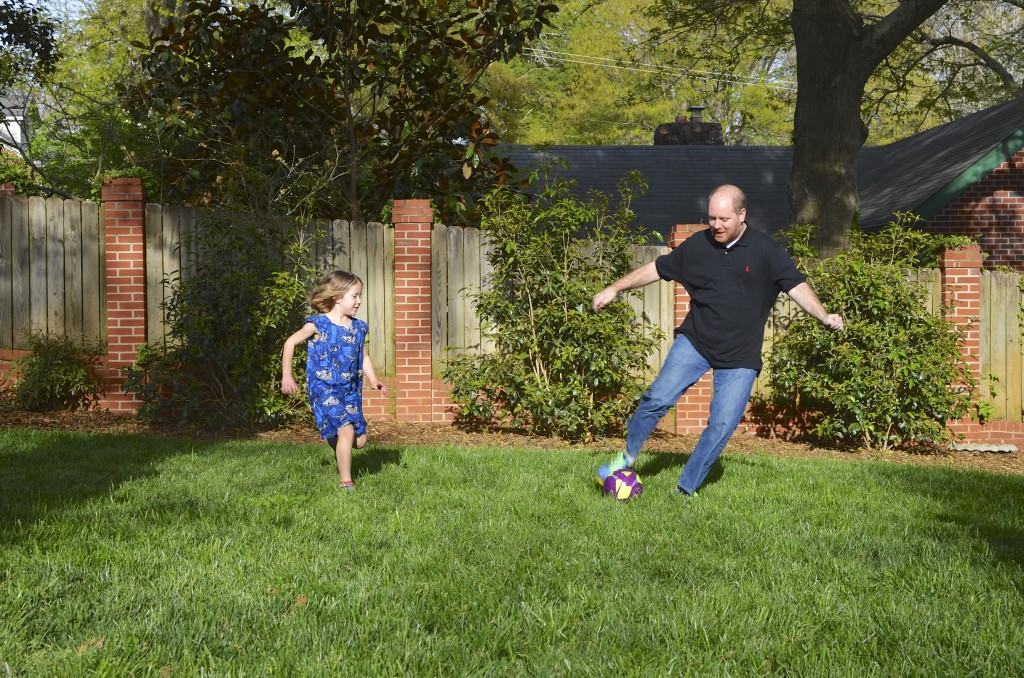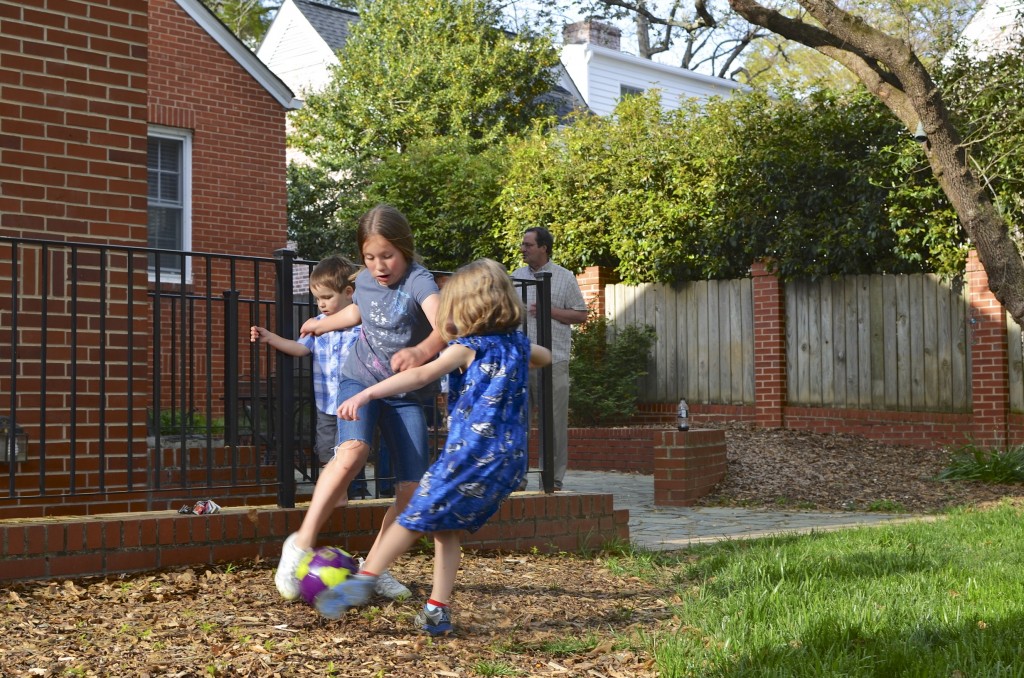 Present time!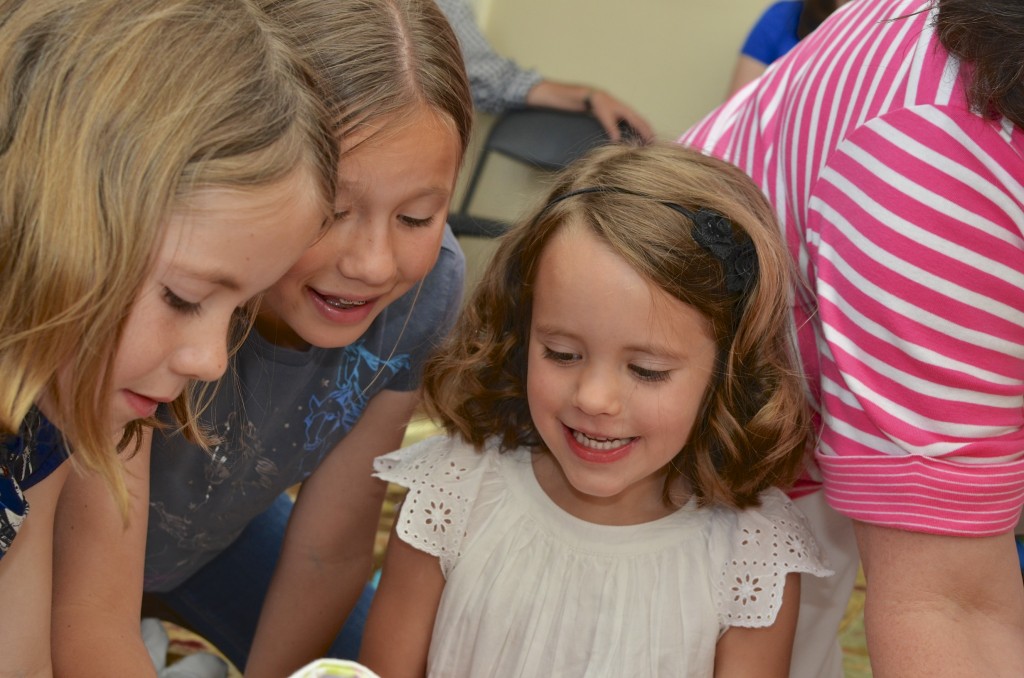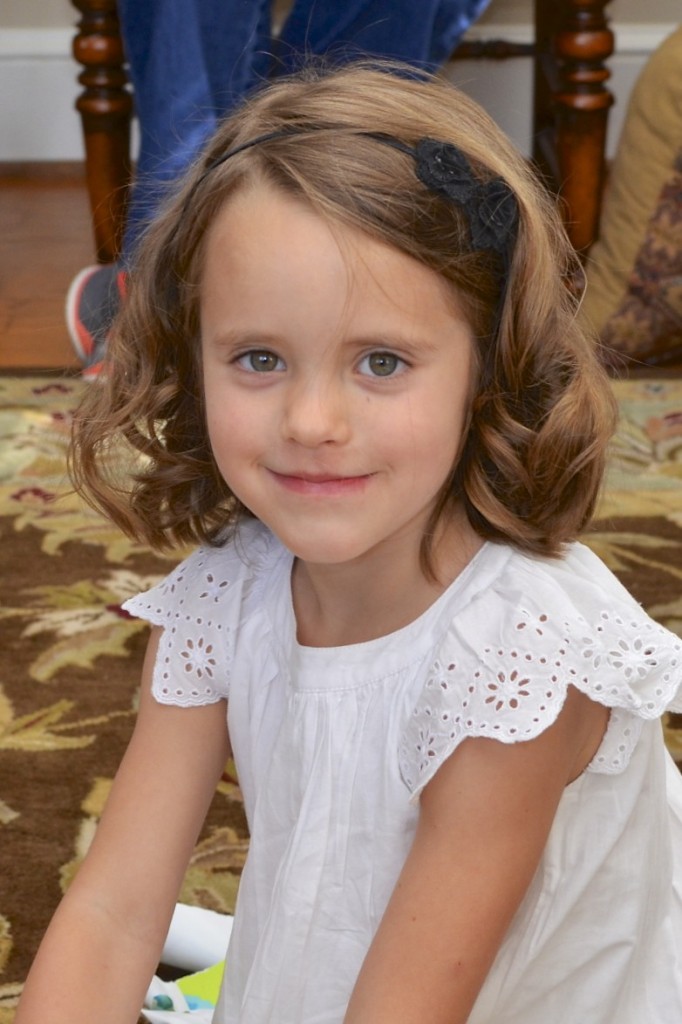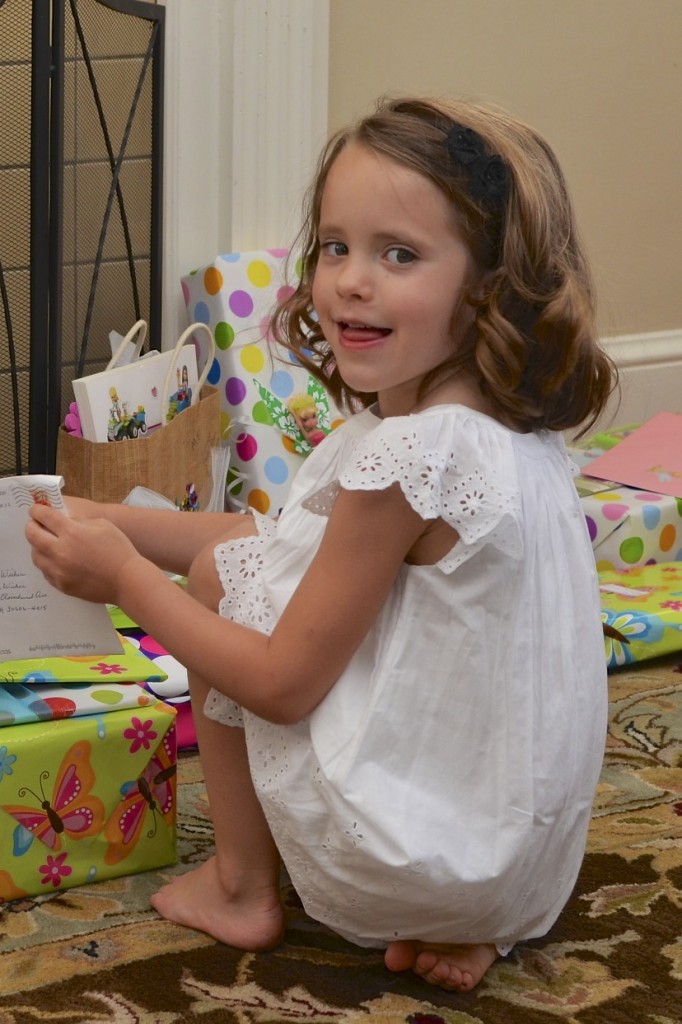 And now a blast from the past. You were such a peanut when you were born! You were my smallest baby, and you were born on Palm Sunday weighing just 5 pounds 14 ounces. When you saw this photo, you said, "I'm so little. My head is like a little grape."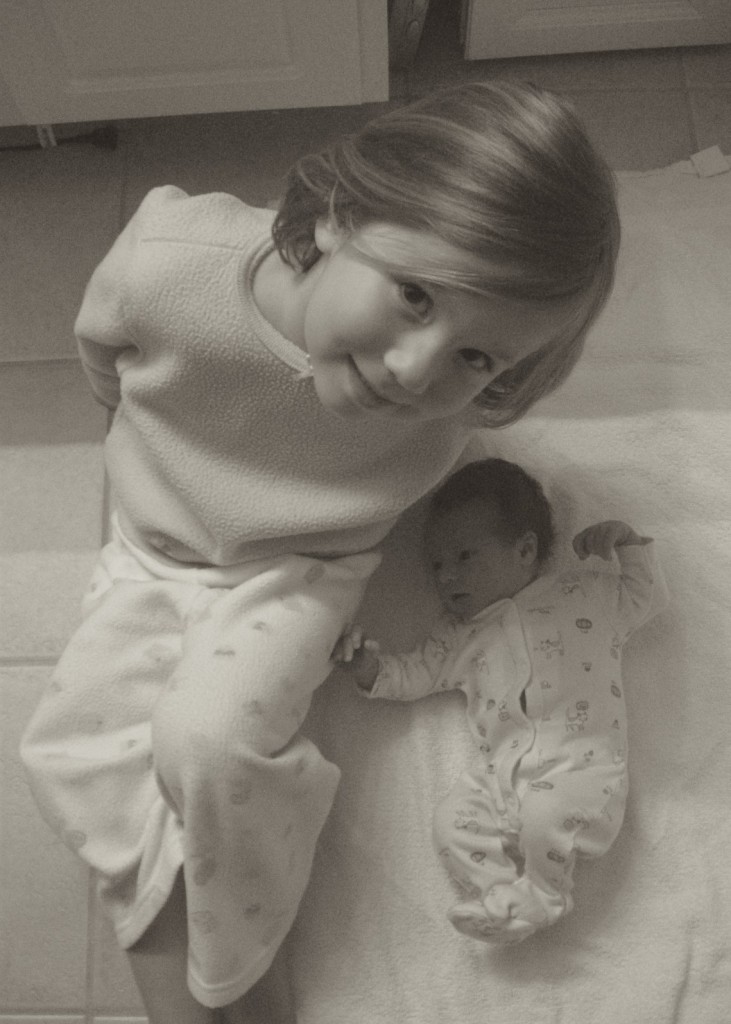 You always loved my nana who passed away almost two years ago. You also had a special thing for an elderly neighbor who is sadly no longer with us either (you used to toddle over to him when he sat in his yard and hug his legs), so this birthday I bought you the book, I Know a Lady, which shares the reflections of a little girl about her kindhearted elderly neighbor.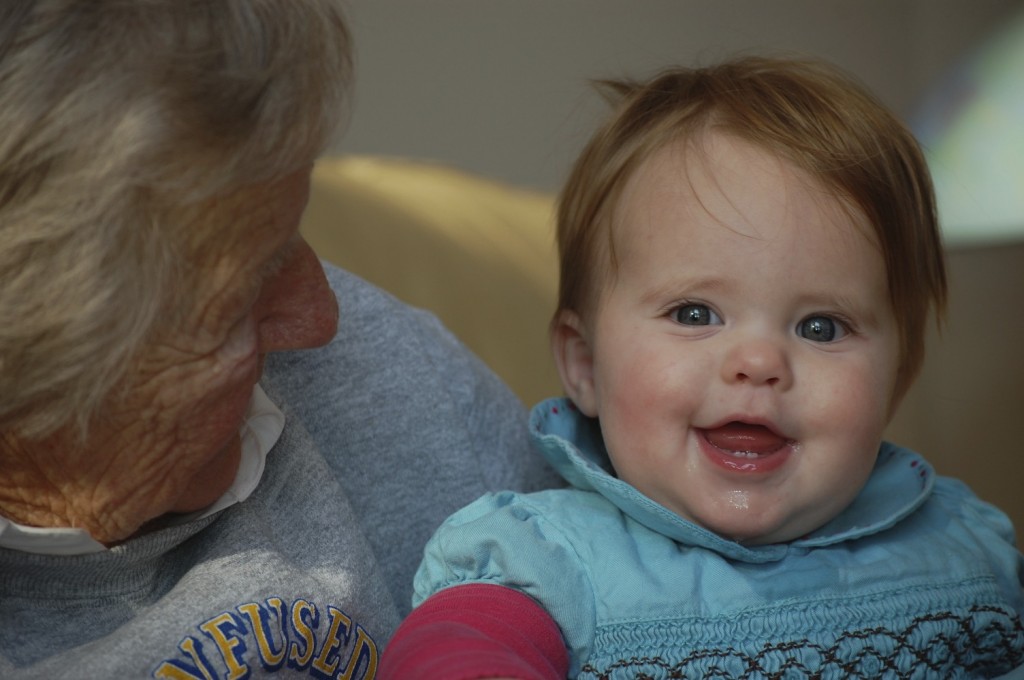 I always tell people that my babies start out small and plump up very quickly thanks to the "cream" my body miraculously produces. You were one of the deliciously chubbiest of all. Papa used to call you Chunk Style. Daddy says you look like Newt Gingrich in this photo. It's one of his favorite baby pictures of you.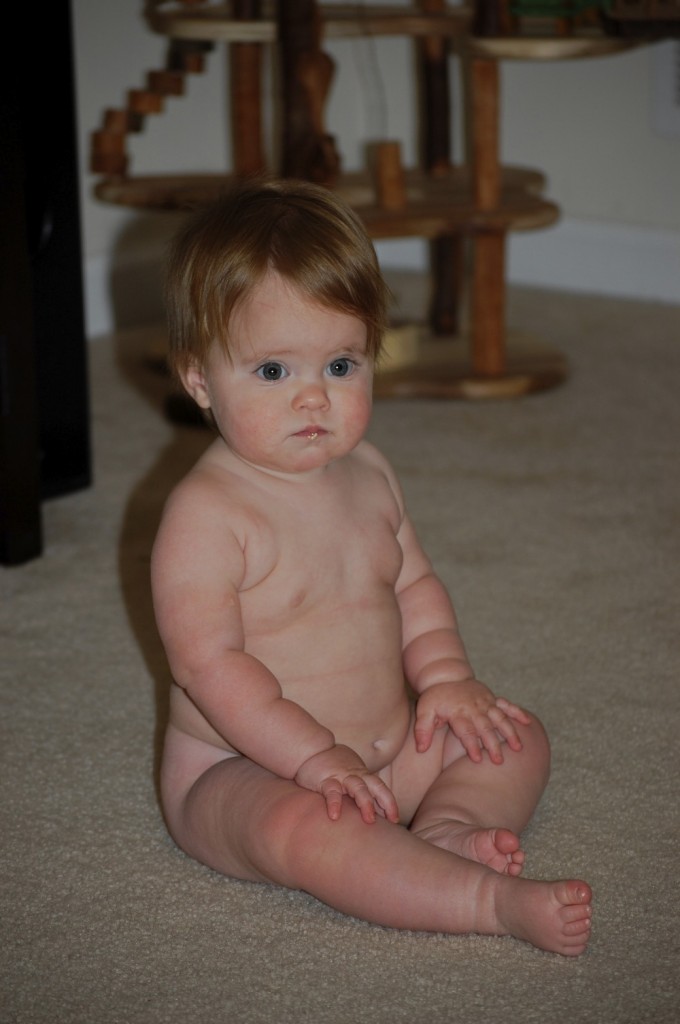 Oh, how I love you, Mary Elizabeth!!!
With only four children, I am not completely comfortable identifying myself as having a big family, especially when I know plenty of families who have enough children to field an entire baseball team. However, my husband frequently reminds me that we have more than average, and we do get comments when we're out in public with our brood.
We were blessed to be at the beach not too long ago and eating at a noisy, crowded restaurant when my oldest dropped her flip-flop and accidentally bumped into a man when she was trying to retrieve it. His entire table turned to look at us, and I said, "Sorry!" thinking they were annoyed by my daughter's wayward elbow or perhaps my 2-year-old's happy but loud giggles as I magically pulled a broken piece of red crayon from his ear. But to my surprise, they all smiled and said, "Oh no. We're just amazed."
They didn't elaborate, so I'm not sure if they were amazed by the sheer size of our family or the fact that the kids were staying put in their chairs and not scaling any tables, hurling food, or partaking in any other form of rowdiness. Give my kids food, and they will eat. When their mouths are full, they are pretty quiet. I am lucky to have four kids with voracious appetites.
On the way home from dinner another group of older adults marveled at our family as well. This time the kids were walking in a straight line like obedient, little ducklings. They were docile on account of all the ice cream cone licking. My husband and I chatted with the adults and they joked about how we'd better start saving for all those weddings.
"We are already encouraging eloping or barbeque-style receptions," my husband joked.
I've often said that I felt like it was having the fourth baby that escalated me into the big family category or in some eyes', the freak club or the we-hate-Planet-Earth-and-are-going-to-use-up-obscene-amounts-of-resources groups (as if our carbon footprint comes even close to the green Hollywood stars who take weekend trips to Cabo). It's also taken having four kids fairly close together to teach me some valuable lessons that might be helpful to other parents of bigish families. (Although, honestly, most of these tips would be helpful to parents of any size family. )
For instance, what we think really matters when we welcome our first child into our arms, doesn't really matter all that much – or at all. Like a nursery. Fortunately, we couldn't afford to decorate a fancy nursery with our first. We didn't have the room for it either. My husband was still in school and I was a freelance journalist when Madeline arrived. We squeezed a crib (the Consumer Report's best buy that cost us 99 bucks) into a nook of a room that also had a coat closet and our computer in it. I remember being kind of disappointed that we couldn't do more for our little love, especially when I'd see some of my friend's Pottery Barn-inspired nurseries but four kids later, I know a grand nursery would have been an epic waste*, especially for our crew since our kids tend to make use of the family bed. I also know that like so many things in parenting a lovely nursery is not really for the baby. All she needs is love and her basic needs met. That nursery is more for the parents. Aside from a nursery is purely optional, I am going to share some other lessons I've gleaned as my family as grown in a series of upcoming posts, so stay tuned!
*Please know I am not judging any parent who does design a beautiful nursery. To be fair, I am also not too good at the whole house design kind of things or DIY projects. It tends to feel more like a chore than fun, but I know some people really enjoy the process. But if you don't enjoy it and/or don't have the financial resources and just feel pressured to have a nice nursery because you feel like it's a sign of your love for your baby, know your little wonder could care less about whether her room is painted in Benjamin Moore's "Sounds of Nature" green and outfitted with chevron curtains and a Serena & Lily crib and bedding. Your nursery's style is NOT correlated to your love for your child. Got it? Good.
More Posts from Kate's Blog...