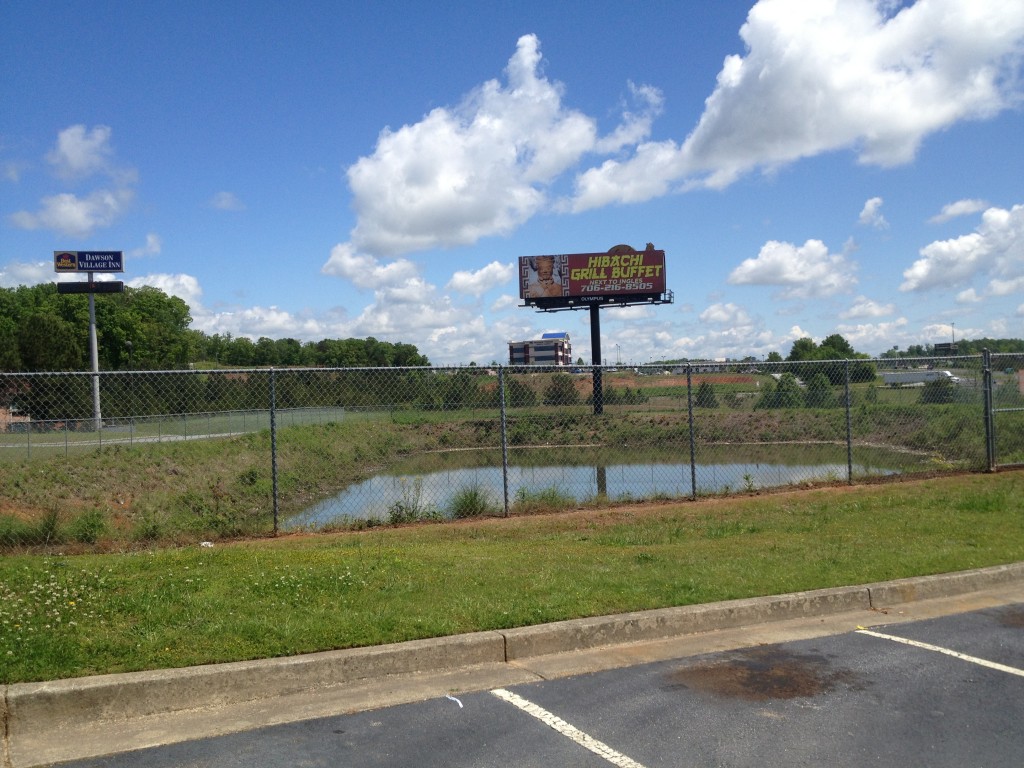 The kids and I met my mom for lunch the other day. My 5-year-old was still noshing on her macaroni and cheese (she's a very mindful and subsequently ssslllloooowwww eater), but Thomas the Todzilla (my name for our super-cute but super-destructive toddler) was getting antsy, so I took him and my 4-year-old outside. They were busy admiring some rocks when my 4-year-old noticed the large body of water adjacent to the parking lot.
"Look at the beautiful lake, Mommy!" she said.
I glanced in the direction she was pointing, and all I saw was an ugly retaining pond.
Give me a pair of rose-colored glasses, please.
There's a tendency to assume happy people have just had an easier go of things, but something my children as well as my own Pollyanna of a Mom have taught me over and over again is that a joyful life often hinges upon how you choose to see things. The glass is half-full. Life hands you lemons, you make lemonade. I could go crazy with the cliches.
There is pain in the world, but there are so many people handing out band-aids and doing good things to help those who hurt (think of how people rally together after a natural disaster or after something tragic like the Boston Marathon bombing). There is sickness, but there is healing, too, and even when there isn't, it could be worse. That's what my mom says when she wakes up in the middle of the night with debilitating, searing pain that just won't go away. It could be so much worse. I live such a blessed life, she says. (Sometimes I really want her to scream, "Life sucks! It's not fair!" But she doesn't, at least never to me.)
There are beautiful lakes and ugly retaining ponds. What will I choose to see?
This past week I started having some interior knee pain. At first, I felt a subtle twinge during a run. Later that same day I found that I had some tenderness if I pressed down on the tendon behind my knee. I've been running nice and easy since my half and felt great the entire week following the race, so I was surprised that this pain popped up more than two weeks after my event. If I'm honest here, I'm also really nervous because the pain is flaring up in the exact same spot where I suffered chronic pain in my past running days that landed me in physical therapy for more than six weeks. I had IT band and bursitis in the hip as well back then all on my right leg, and I'm definitely having some tightness in those regions again in my right leg. Argh. Even when the pain subsided, I never understood exactly why I started having it in the first place. I've always been careful about slowly increasing my mileage and intensity, and I regularly replace my running shoes. I did recently discover that the running store I went to fit me in the wrong shoes for my body and gait, so maybe that has something to do with my new pain. However, many running injuries are the result of muscle imbalance or weakness, which I strongly suspect is the case for me.
A runner's imbalances are the slumbering volcanoes for injuries. Interestingly, injuries can manifest in some ways that are tricky to diagnose. You may be having problems in your feet, but the culprit is weakness in your glutes.

Source: How to Find Your Weaknesses as a Runner and Avoid Injury (HT: Hungry Runner Girl)
In the past, I wasn't ever been able to really figure out my weaknesses and why the same injuries keep cropping up; some doctors blamed my apparent leg length discrepancy, but I received mixed messages depending on which doctor or physical therapist I saw. This time I'm determined to not just put a band-aid on the problem or even just rehabilitate it but to also correct my muscle weaknesses and imbalances. The good news is I've found a great physical therapist here in town who is a runner and knows running and is going to help me get to the bottom of my recurring injuries. He has already told me I have weakness in the glutes, and I'm using too much of my hamstrings to move me forward. This would help explain the tendonitis.
The bad news is I've been icing the sore spot, stretching, and taking anti-inflammatory meds, but it's now not only hurting when I'm running but also just when I climb upstairs or are on my feet for too long as well. Sigh. (I want to scream and cry and shake angry fists in the air, but that seems a little dramatic over some moderate pain, so I'll just keep sighing.) I had plans to go on an early Mother's Day run with one of my running pals, but my husband has wisely reminded me that it's better to give up a few runs now to ensure I'm back on my feet again for my regular runs in the near future. In the past, I ran through pain, including a stress fracture. It's time to listen to my body and to swallow a slice of humble pie (while at the same time refusing seconds of the chocolate silk variety since I won't be burning mega calories on a long run for a few days). You've got to not fall into the trap of being too short-sighted when you start feeling twinges of pain. There's a difference between normal soreness and more acute aches. If you're experiencing the latter, then it's time to take a break and to realize that a prudential running hiatus will make you come back as a stronger runner. Same is true in mothering. There's a big difference between a difficult day in the trenches and total, everyday burnout. If you're experiencing the latter and finding very little joy in mothering, it's time to ask for help. Drop your Super Runner/Super Mom/Superwoman cape off at the dry cleaners, okay? Enough already.
Enough already. That's what I keep telling myself already. Why is it so difficult to humble ourselves, to admit that we're hurting/injured/not invincible?
But, anyway, I so enjoyed hearing about other moms' passions after my last post and was happy to see just how many women out there find exercise to be an excellent outlet for them. I'm taking a total rest day today (other than stretching and maybe some upper body strength training), and I plan on rowing tomorrow so long as it doesn't aggravate my tendinitis on the inside of my right knee. My kids are actually glad I won't be waking up for an early run because they like to bring me breakfast in bed on Mother's Day. They really do treat me like a queen.
In other news, I'll be headed back to Peoria, Illinois this June for two speaking engagements. I haven't been there since last March when I was a speaker at the Behold Conference. When I was there, I met an amazing woman named Amy who just happens to work, along with her husband, for the Diocese of Peoria. Well, she invited me as a guest speaker for two exciting events – a mother-daughter tea and a talk geared for parents and those who work with youth. I've included the fliers below just in case any of my readers live in the area and are interested in attending. Please do let me know if you plan on showing up, so I can be on the lookout. My mom and two oldest daughters will be accompanying me for this weekend of fun and faith enrichment!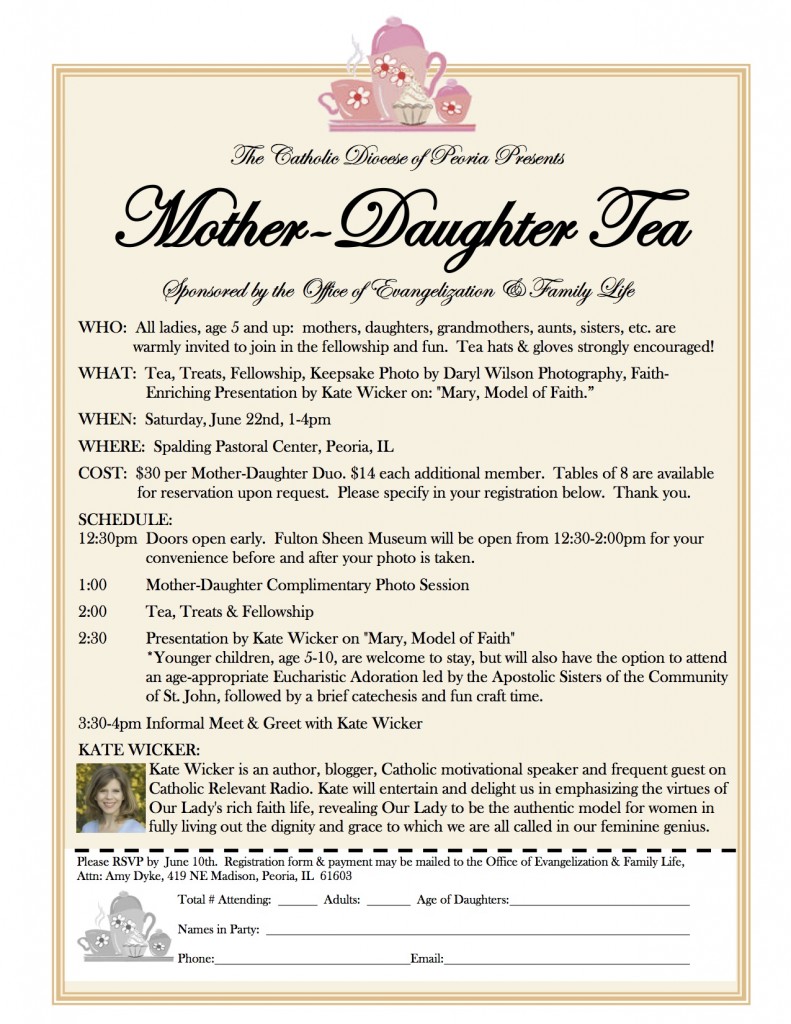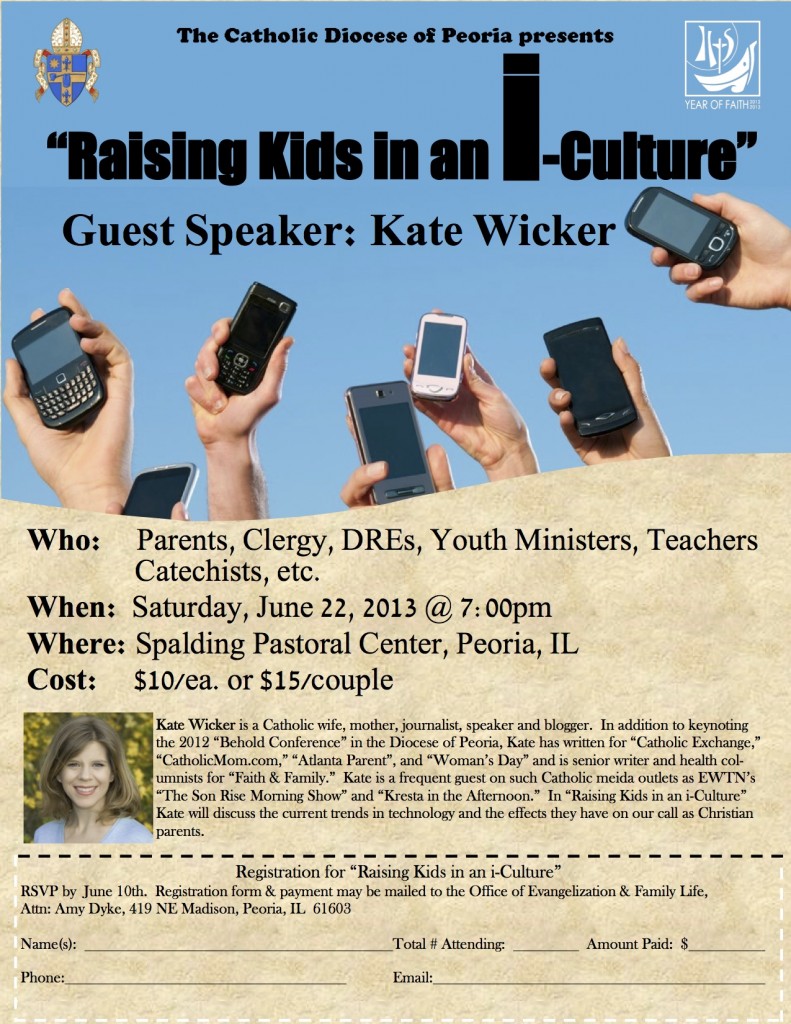 My husband planned an impromptu trip to the mountains last week. This was the same week we already had scheduled a weekend trip to Nashville. When my husband shared the news, I tried not to panic thinking about all of the things I had planned on accomplishing during the two days we'd unexpectedly be away. I did a pretty good job of it (or at least I faked cool with my inner thespian; remember I minored in theatre and almost found at the Tisch School of Arts). Really, I never ended up being too frazzled despite having to pack for another trip this Friday. Two trips in one week with four littles is quite the feat. This week has been another story. I keep making mental gaffes. The clutter is driving me crazy. I'm reading The Dirty Life for book club, and I remember my husband's short-lived leave-it-all-behind fantasy of buying a chunk of land and becoming completely self-sufficient and how I thought well, maybe our big brood could handle a farm. If my husband were to bring up the thought right now, I'd probably screech, "I can't even get my kids to put their dirty clothes in the hamper or to put their shoes in their designated shoe baskets and you think they will help us till the land?"
Maybe this is precisely why I needed some mountain air.
The weather was perfect and before too long Georgia will be enveloped in unbearable heat and humidity. I'll take the nice days when I can.
Plus, my husband, who has recently taken up fly fishing, caught his biggest trout yet. It's a beauty, no? My 8-year-old helped reel it in, and the other girls had a chance to "pet" the fish before my husband returned it to its watery world.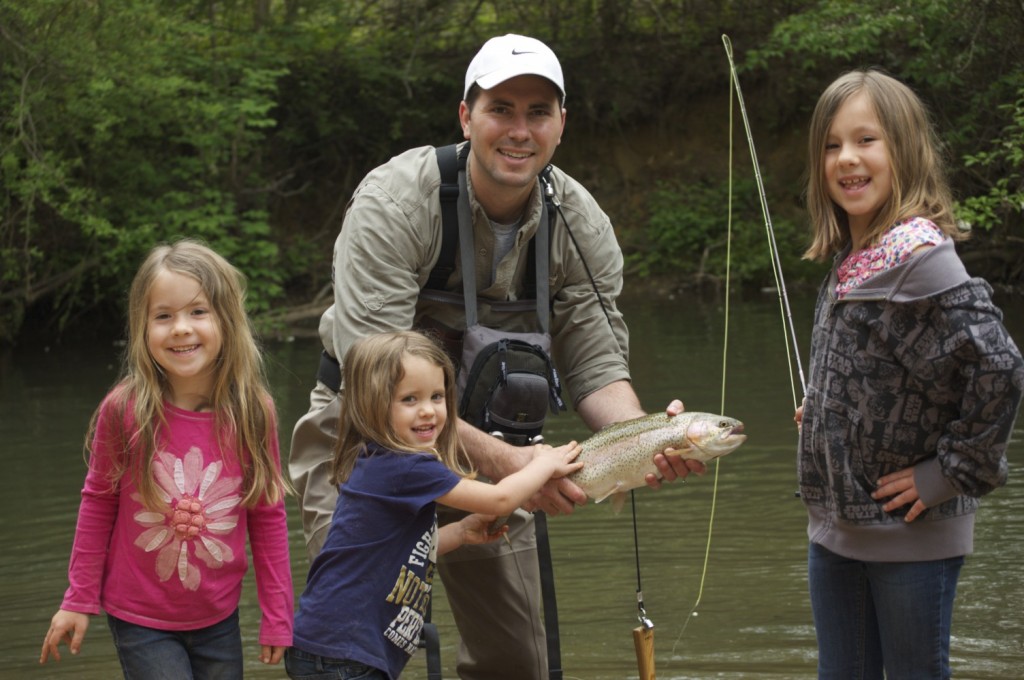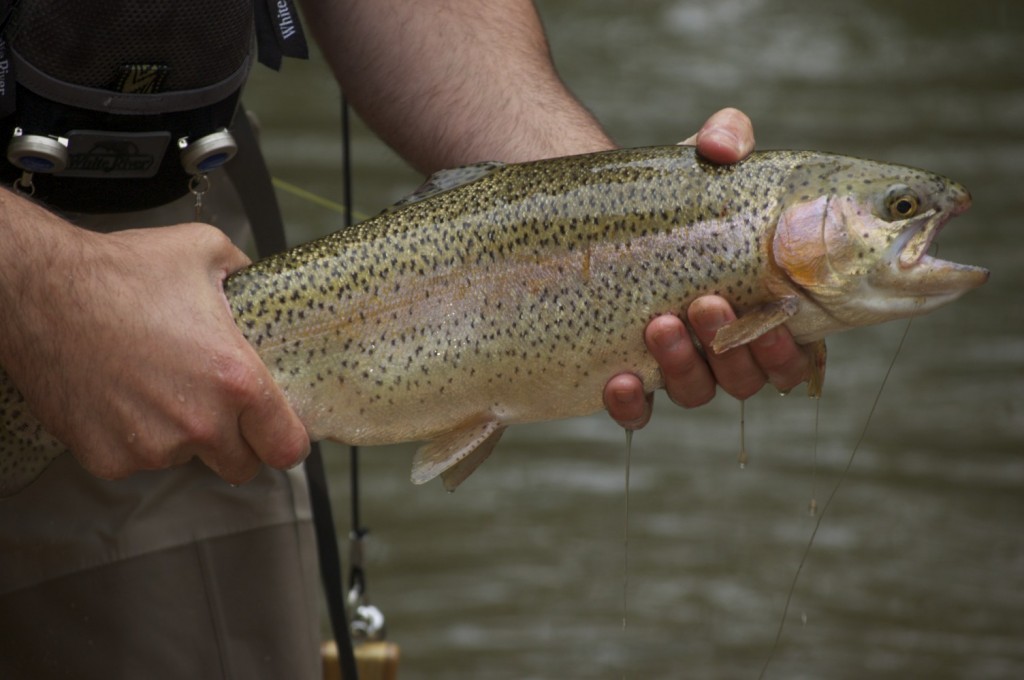 As for my baby boy, well, he's growing up.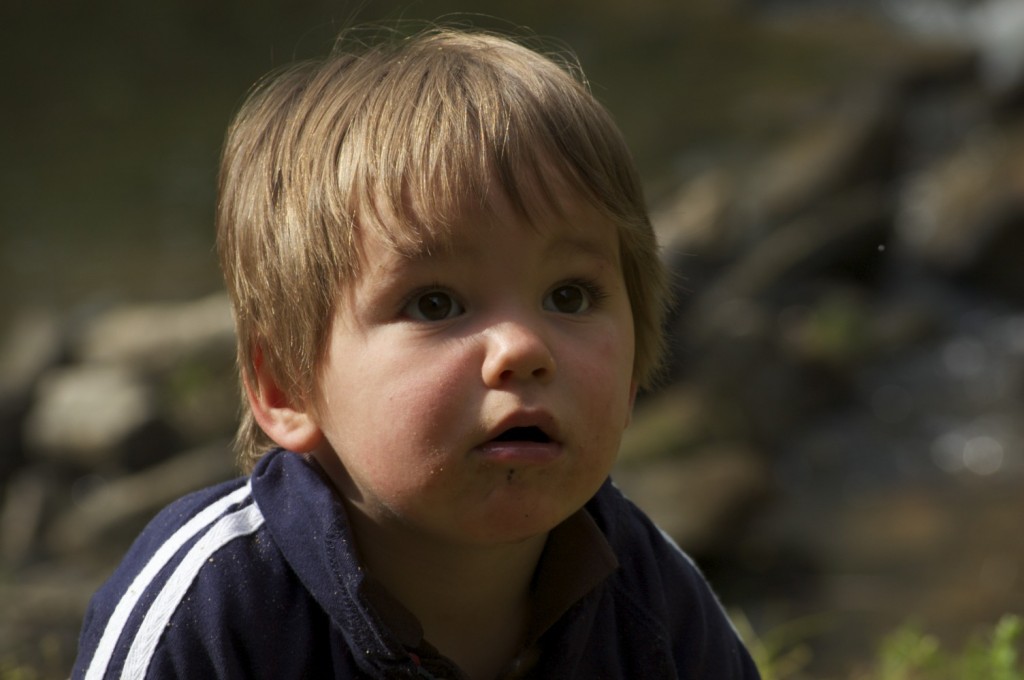 He probably looks ages older to any of my readers who have stuck around despite the dearth of posts. Cutting back on blogging has been a blessing overall, but I do miss all the friends I "met" in cyberspace as well as the friends who used to pop in to regularly say hi. My regular readership has shrunk dramatically. I don't know this for sure. I stopped checking any sort of stats long ago, but I base it on the fact that my mom and good friend Kris are usually the only folks who comment. I'm okay with that. Today I was reading a new blog I love – The Hungry Runner Girl (more on running in a bit) – and discovered a "how to" blogging post that talked about how she devotes 25 hours a week to blogging, which has become an income source for her. Her blog is very popular, so I believe it. After my infamous extended breastfeeding post, my traffic exploded. That's when the burnout really started creeping in because I felt like I couldn't keep up with the sheer volume of emails I was receiving. Sometimes I'm not sure how I had anytime to blog or be online much. My days are jam-packed, and sometimes just keeping up with email (and I get significantly less these days; most of it is from personal friends, family, or contacts related to my kids' activities or education) is really difficult.
We'd been trucking along quite well with homeschooling, but we've fallen behind just a bit. However, I read a great tweet from Teaching Your Child that put my mind at ease (at least for the time being): "To homeschool or to unschool??? That is the question… Both, is a sufficient answer." So lately we've been doing a little more "unschooling" than my Type A self typically allows. And you know what? Two out of four kids can still read. Oldest hasn't forgotten how to do math. Preschooler still doesn't recognize all her letters but whatever. Life is rich and good. (That's exactly how I was feeling when I first drafted this post, but then it sat in my "draft" folder and I had "one of those days" and contacted the local parochial school about openings for next year. Sheesh.)
And that's really the point of this post. Not homeschooling or blogging. Or big fish stories. Or babies growing up too quickly. It's about living a rich, good, deep, and meaningful life. I feel like I'm doing just that right now. Our family has had a lot of death to deal with this year. I'm not going to get all maudlin on you or share all the sad details, but we've lost three family members (including a father of four and a teenager) and a friend of the family in the past year. It hasn't been easy. In some ways, I've been detached from some of it simply because the funerals were out of town and I was unable to make two out of three of the family ones. But one of the loved ones we lost had a favorite mantra that he embraced well before his pancreatic cancer diagnosis: Every day is a gift.
This was the mantra of a brilliant man. Seriously. He was a card-carrying Mensa Member. But he found joy in the simplest of truths: Every day we are blessed with in this broken world with our broken selves is indeed a gift.
I've decided to start living my life like I believe this.
I started running again this past summer after a looonnnng break – like I didn't run more than a sluggish mile here and there for almost 7ish years. I still was exercising because I enjoy it and make it a priority so I'll be healthy and strong enough to rise up to the exhausting task of being a mom to little ones. But running? Nope. It seemed like a relic of my past that would never again be unearthed.
In my pre-mom days, I regularly logged in 30 miles a week. Running graced my body and soul with health. Then an injury happened. It wouldn't go away. And then I got pregnant. And then I got pregnant again and…well, you know. So I decided running just wasn't something for me. But last spring a friend invited my two older girls and me to run in a fundraising fun run for her kids' school. I ran a mile fun run beside my girls. My then 5-year-old fell into a quick rhythm. I kept telling her she could slow down; this only made her go faster. She ended up winning first place for her age group. I was impressed. I was also invigorated. It felt great to run again even if it was just for one mile. I thought about taking up running again right then and there, but I was afraid. I was afraid of failure. I was afraid I'd be as slow as a slug when I used to be fairly fast. I was afraid it was impossible to even think about training for a big race (and that's what I really wanted to do was to run a half marathon or maybe even a marathon again) when I was a busy wife and mom for four. So I never bought new running shoes. I continued to go on walks or listen to Jillian Michael bark orders at me during her 30-Day Shred (great, effective, and quick workouts, by the way, for busy moms). Then I met Katie. She was new to my neighborhood and a former runner, too, although she had kept up with running more than I had. Somehow it came up that I missed running and wanted to get back into it. She was excited. She wanted to run more again and was looking for a running buddy, so we made plans to meet bright and early the next week for a slow 3-miler. I owe my newfound happiness to this dear friend. I really do. She got me running and talking and believing that it was okay to do something just for myself as a mom. She also was crazy enough to get up at 5 am to meet me for 5:30 runs even in the rain. She pushes me, too. She recently was the first place female finisher in a local 5K.
Then came Rachel. Katie met her through a mutual friend. We all ran a long run one weekend and another running partnership and friendship were cemented. Rachel brought Lyndie into our herd. It's not always the four of us running together, but sometimes it is. It depends on the day and whether or not one of our kids spent the day puking from a bug, but we're a loyal, tight group. We stick together. We each bring our own running strengths as well as weaknesses to the pavement. We support each other, and we problem-solve. Just how do you deal with an irrational but extremely stubborn preschooler anyway?
Ever since that first (and scary) 3 miles back in the summer, I've been running. I do a few solo runs here and there, but mostly I'm with my girls. I've also been solidifying close relationships with fellow running moms. Rachel, who ran Boston in 2011, has helped me train the right way. She also hooked me up with the right gear and let me borrow her arm sleeves for race day. She invited me to run a memorial run for Boston. She makes me want to be a better runner, a better person. Katie, like I said, is the one who gave me the courage to lace up my running shoes again after a terribly long hiatus. She's the kind of friend whom I could call in a parenthing pinch, and she'd be there (yes, she'd run to my side to help). She has even watched three of my kids, so I could find a cloister of calm at the grocery store. Lyndie is one of those women you meet who possesses a quiet strength. She's got your back even if you don't hear her yakking or pounding the pavement. Her peaceful presence conveys that she knows that in and with God she is enough. Lyndie and all the girls patiently listen to my rambling. I'm the big talker in the group. Running incites verbal diarrhea in me. It's even worse than blogging. Seriously, the things that come out of my mouth.
This past Saturday I wasn't talking much though. I was quiet and reflecting running through a total monsoon in the St. Jude's Country Music Marathon in Nashville. This was my first big race other than a local 10K since I started running again. The weather was lousy and my feet resembled raisins after the race, but my spirits were high and I was happy with my run. I've got the itch again and have already signed up for another half in October with plans to run another one in December. My husband is the real one who rocked the rainy race day though. He juggled four kids in a torrential downpour. Oh, and did I mention my 57ish (not sure of his exact age) uncle ran the full marathon on Saturday? So did a mama-friend from my Bradley Birthing class I took when I was pregnant with my first, and someone I met at the Edith Stein Conference at Notre Dame back in February ran the half as well. Running brings people together.
Following the Boston bombings, my running fever heightened. It's like the tweet that went viral said: "If you're trying to defeat the human spirit, runners are the wrong group to target." One of the biggest Google trends after the bombings was "qualify for Boston." I was one of those crazy hopefuls who Googled just that. Yup, I've added "qualify for Boston" to my bucket list. We'll see how that goes, but a meaningful life seems to find its roots in simply attempting to try difficult things and then going to the next hard thing regardless of outcome. Cue Journey now: Don't stop believin'. You know you're hearing it in your head right now.
This poignant essay written in the aftermath of the Boston says it best:
When despair is overwhelming, what do we do? Go for a run. When stress is oppressive, what do we do? Go for a run. When hope is gone and all seems lost, what do we do? Go for a run.

A run can turn the worst day into the best day; it can bring us from the lowest of lows to the highest of highs. I ran after September 11, I ran after the deaths of my grandparents, and I run whenever things aren't going my way. It never fails.

If the perpetrators wanted to inflict lasting devastation, they could not have picked a worse target. Running defies destruction.

To run is to live. Running nourishes our muscles and nurtures our minds. It induces clarity of thought, vitality of physiology, and tranquility of emotion. It demands complete unity of body and spirit, it requires your legs, your lungs, your heart, your mind, but rewards all those parts too. It's in this harmonious holism that we come to understand our true identities, our authentic selves. The universe's uncertainty is distilled into a singularity: We exist in and of the moment. In the midst of entropy, serene bliss. In the midst of confusion, clarity. Surrounded by constraints, we are freed. Running creates.

But running is more than the antithesis of terror; it is also the antidote. Just as a vaccine implicates pestilence in its own defense, running takes pain as a template and produces something beautiful.

Terror holds no more power over running than wind over wildfire. Runners do not avoid suffering, they embrace it. Pain is merely the pathway to our potential. From the depths of agony rise meaning and purpose.
I could launch into a well-worn metaphorical analysis of how running a marathon is like natural childbirth – taking pain as a template and producing something beautiful – or how it mirrors the Christian life – how we're not supposed to avoid suffering but to embrace it, to unite our wounds with Christ. All of this is true for me, but I'll spare you the navel-gazing. After all, I know a lot of you probably aren't runners. Likewise, if it seems like I'm going all OCD on running, it's probably because I am just a little bit. But the truth is, I've never felt better mentally or physically. I've stopped weighing myself, but I'm pretty sure those last 7 to 10 pounds are still lingering, but that's okay. I'm a nursing mama. I probably need a little extra padding. My husband has been incredibly supportive of my running renaissance. He even bought me a super-cool Garmin to help me with my training. He never really got on board with the blogging thing. He appreciated the additional income it and other writing pursuits provided when we needed it, but he felt like it sometimes drained me emotionally and resulted in me being too tethered to technology since I felt like I owed other bloggers comments and had an obligation to respond to every note, email, or comment I received in response to my own blog. His protector instinct also was wary of TMI floating around there. But running, he's seen that it's made me feel less lonely because of those awesome mothers and friends I'm honored to run with as well as taken some of my blues away. I didn't even realize I was blue until those long-run endorphins starting flowing through my body again.
I am first and foremost a wife and mother. No personal record at a race will ever overshadow my greatest accomplishments: My four lovely children (and those babies I never got to hold and cuddle with on this earth). But running again has reminded me that I can have other identities, too. I can be a running mama.
Everyone is always telling me how quickly my children are going to grow up. This is true, and maybe it's because of this truth that all of moms need to cultivate something that isn't inextricably linked to our maternity. When those babies are all grown up and moving out, God-willing and body-willing, I can still hit the pavement with a good pair of running shoes and a couple of true friends and run. Maybe the empty nest won't feel quite so gapingly empty then.
What is your passion? What did you do in your pre-mom days that you'd like to do again? Yes, we find ourselves through a gift of self, but this doesn't mean we have to pull the martyr card and assume we don't have time to nurture any talents that may or may not be related to motherhood.
So if anyone has been wondering where I've been, what I've been up to since stepping away from the online world, I've been getting my groove back. I've been pulling a Forest Gump and letting my feet take me places – some of them physical, some intellectual, and some even spiritual.
I'm not sure the future of this blog. I've been toying with different ideas: stop blogging completely and then on the other side of the spectrum, start writing more posts about how busy moms – especially those with several kiddos – can still make time for fitness. We'll see. I hope some of you might stay along with me for the journey.
Now a random photo dump from the last week: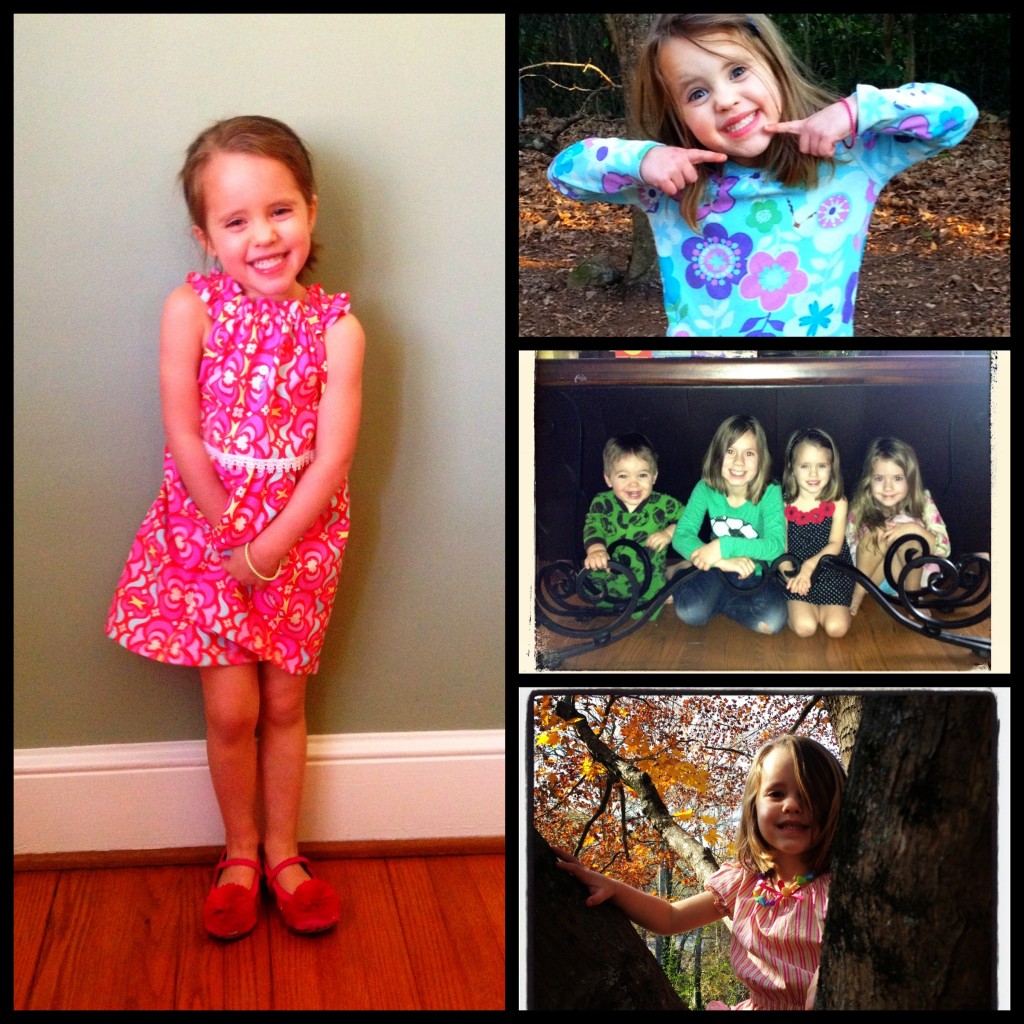 Dear Mary Elizabeth,
My sweet, sweet girl, happy (belated) fourth birthday. I'm not as quick at getting these birthday letters out any longer, but that's just because we're so busy enjoying life (and spending time out on the soccer fields watching your big sisters play)! You're also very busy accessorizing. My goodness, you are quite the fashionista. Why leave the house with one sparkly headband when you can wear two or three?
The other day you told me that you didn't like my hair. Later that same day I tucked it into a messy French twist of which you approved. "Now you can stay here with me." Prior to that you'd wanted me to leave the house to take Rachel to soccer and have Daddy stay at home with you (you approved of his hair apparently). Sometimes, too, you'll tell me that you don't like my outfit, but most of the time you provide quite the ego boost for me. "Mommy, you look beautiful!" you'll say. Or you'll admire my shoe selection or a piece of jewelry I'm wearing.
Each morning you get yourself ready all by yourself (and you almost always match). In fact, if I try to help or gently guide your fashion choices, you become quite agitated. I've got this, Mommy! Now that the weather is turning warmer, you usually choose an airy dress and slip into your new flip-flops adorned with crocheted purple and turquoise flowers.
You're a fairly easy-going kid, but a bad hair day is cause for a major meltdown. Seriously, if I don't make sure all the bumps are smoothed out when I'm putting your hair into a ponytail, you throw a fit. Just recently I was watching you play on the playground while your big sisters were on the soccer field, and there was an older girl who was being a little rough with the younger set. At one point, she plowed over you as you were trying to slip down the twisty slide. Well, you popped up with a red, scrunched up face and stormed over to me. I expected to you say that she had hurt you, but you glanced in the direction with narrowed eyes and then told me, "That girl messed up my hair." People ought to know better than to come in between M.E. and her hair!
But as much as you love to tap into your feminine side, you're a feisty one who isn't afraid to dig in the dirt for bugs or to get messy (very messy) while crafting or playing outside. You play hard. You're brimming with joie de vivre. Life is fun and exciting, and the world is a beautiful, magical place. You'll admire a bright green inchworm you discover in the front yard just as much as you take pleasure in the muddy earth after a hard spring rain.
You're a very caring big sister to your little brother as well. Thomas adores you and especially likes to wrestle with you. You giggle when he collapses on top of you. Even though he's more than two years younger, he only weighs two pounds less than you. He's a tank while you're a willowy, little thing. But you keep up with the big girls. You don't let a skinned knee keep you down. You're quite the speed demon on your balance bike. The grandparents are always impressed to watch you cruise quickly down the driveway with a wide grin spread upon your face.
You love rhinestones, wearing jewelry, having your nails painted pretty colors, reading books together, drawing, wrestling with Daddy and Thomas, playing house (you're the mommy, and I trick you into putting your baby – me – to bed), baking with me, avocados, tomatoes, lollipops, telling me secrets (which usually revolve around nursing), spending time with your best bud Will, cuddling up at night and during quiet time ("Put your arm around me," you insist every time), loving on Layla (recently, you tried to ride her. She's a big dog but not that big!), singing and dancing, making goofy faces, and eating. "I'm hungry!" You say that at least twenty times a day.
Oh, and you're quite the monkey. You've always loved climbing and can scale a tree quickly. In fact, a few weeks ago I was washing dishes after dinner when Rachel ran inside out of breath and shouted, "Emergency!" Now I admit I wasn't all that alarmed because you guys tend to think a broken piece of sidewalk chalk is an emergency, but then when she told me you were at the tippy-top of a magnolia tree, I decided to take the situation seriously. I still thought she was probably exaggerating because the magnolia tree close by is a tall one. Well, I walked outside and there you were, waving down at me and beaming at the very top of the tree. My heart hammered in my chest, but I kept my voice calm because I didn't want you to panic. I just kept thinking of Pollyanna becoming paralyzed after she tumbled from a tree. But I watched you skillfully  and with surprising alacrity make your way down. Once your two feet were safe on the ground, we had a serious talk about the dangers of climbing tall trees, and I made sure not to mention how much your climbing ability impressed me. My goodness, you made it look easy, but you're a little girl, not a monkey, so please be safe!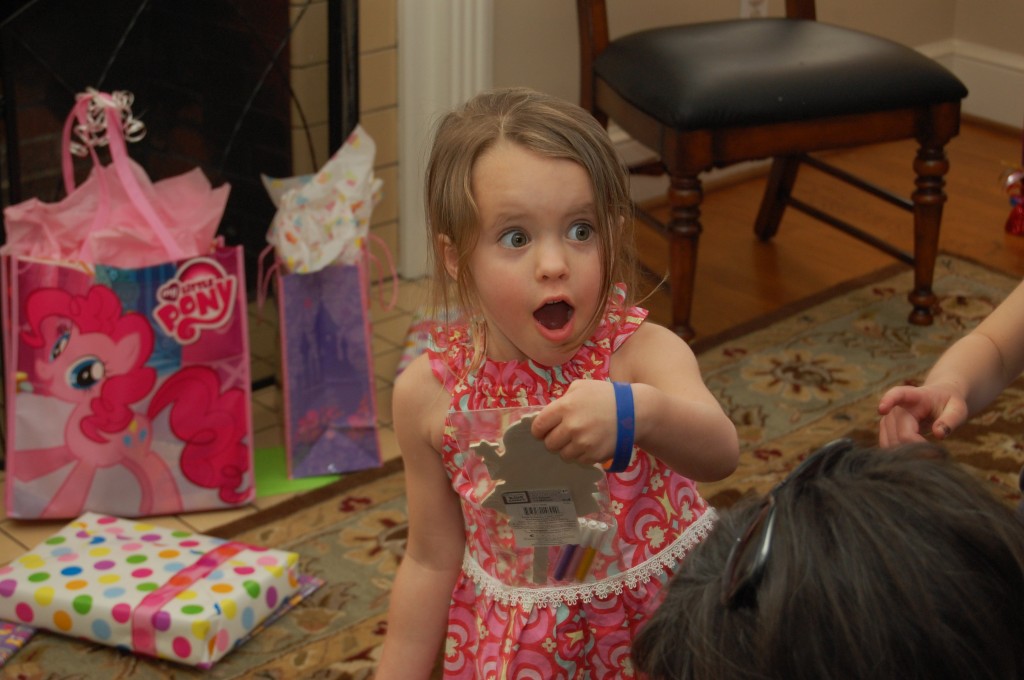 My darling daughter, I love everything about you. Your girly-girl ways remind me of how I was at your age, and I have a feeling you're going to have quite a shoe-hoarding habit one of these days. But what I love the most is your chutzpah. I had plenty of that, too. Gaba says I wasn't afraid of anything, which explains why I'd hop a huge horse and not think twice about galloping across an open field. Now that I'm a mom myself your fearless can make me nervous. You'll be swinging from a branch, and I'll say, "Just be careful. You could get hurt."
"No, I won't," you say with confidence that quickly morphs into plain, old stubbornness as you continue to swing more quickly despite my warnings.
Yup, there are days when your fiery spirit drives me crazy – like when you throw a tantrum because I won't let you wear a sleeveless dress (no jacket, thank you very much) when it's 40 degrees outside or when you refuse to help clean up the ocean you just created by spreading out every single baby blanket we own (and with four kids, that's a lot of baby blankets) on the floor even though your ship has beached itself for the day. Yet, I know your tenacity will serve you well. You've got plenty of sugar and spice, but you're like the chocolate laced with cayenne pepper – sweet with quite the kick.
Four is going to be a magical year. There's so much more to discover – and so many new hand-me-down dresses to add to your closet, you lucky girl you.
For your birthday we graced you with a crown, and you were a princess for the day. But even when there are no sparkling tiaras, pink cakes, or presents at your feet know that you are beloved.
I thank God for delivering your peanut self – all 5 pounds and 14 ounces of you – four years (and a few days) ago, and I look forward to watching you grow, climb trees, strut your stuff in new chic ensembles, and savor the good life!
I love you just the way you are, Birthday Girl!
Love Always,
Mommy
P.S. Who makes the better princess?
Uncle Josh?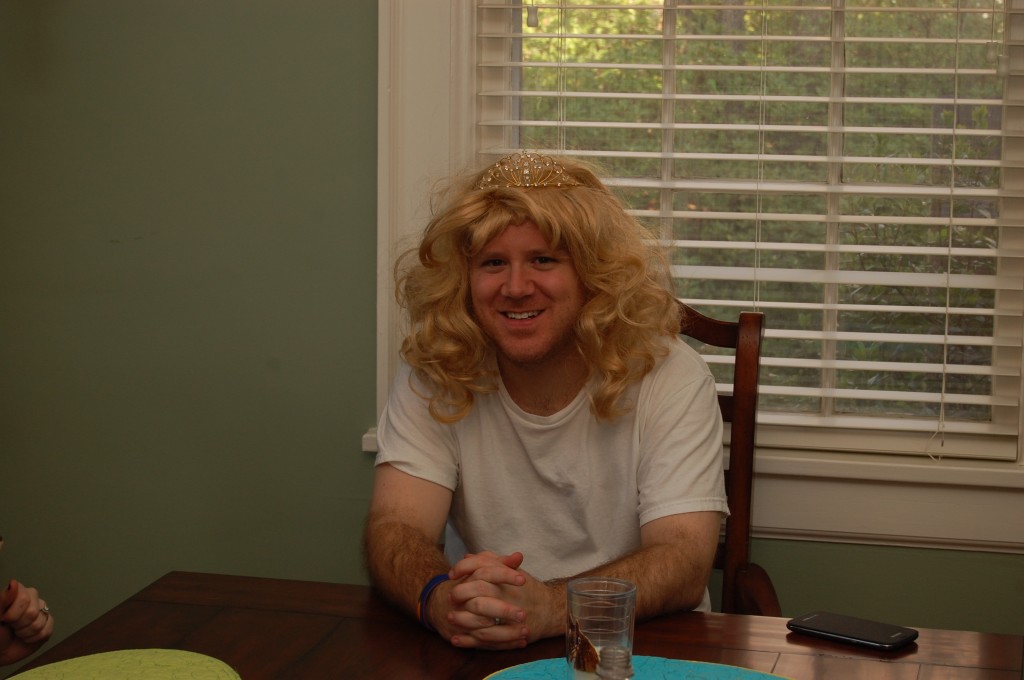 Or you?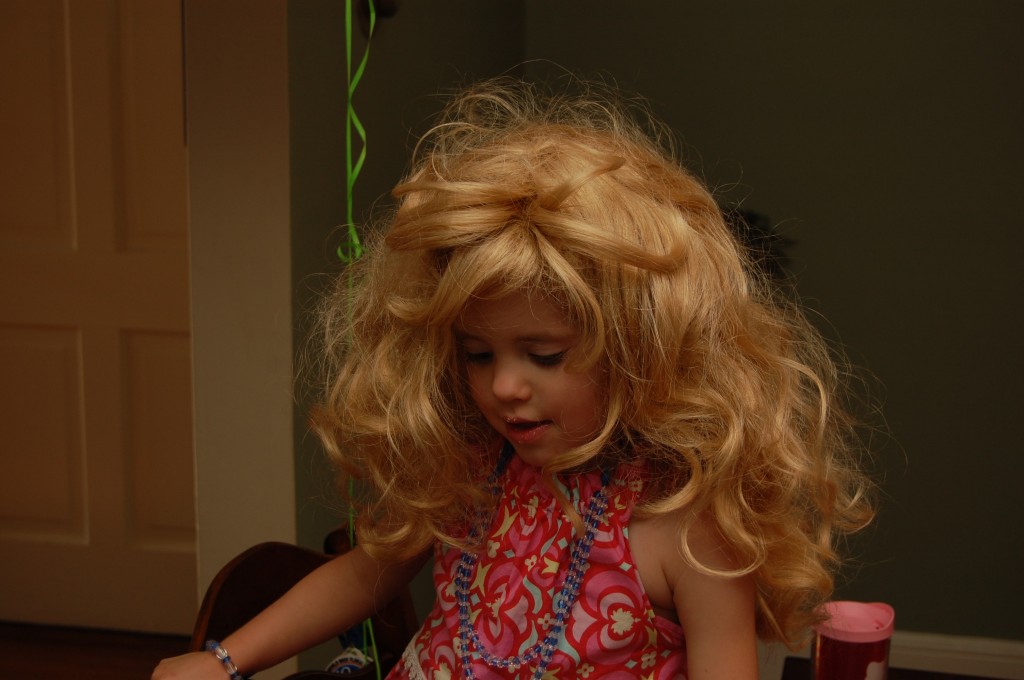 I recently had someone email me asking me for advice after her 13-year-old daughter complained about being fat while trying on clothes in her closet.
I fortunately have not had to face this yet with my own daughters. I've had children shove stuffed animals up their shirts and arch their backs and say things like, "Look at my big belly." (Then they "give birth" and giggle when the furry friend drops out quite unexpectedly.) Also, my oldest once did remark her face was fat as she was puffing out her cheeks while looking in the mirror. When she said this, I remember flinching as an avalanche of feelings from my own body angst-ridden past cam crashing down inside of me. I was about to launch into a lengthy sermon about respecting your body and looks and appreciating all body types. However, fortunately before I had a chance to she breathed the air out and giggled, and I realized "fat" didn't have any negative connotation for her yet. There was no shame. She was just being silly, giving her face a puffer fish look.
But more recently one of my daughters commented on how pretty one of her sisters was. I agreed, but the next thing she said tugged at my heart. "I'm not very pretty though," she said. She didn't say this sadly; it was just like it was a matter of fact. This did encourage us to have a conversation about what it really means to be "pretty" and also just about feelings because when our daughters or anyone we know disparages her body or her appearance, we have to separate the facts from the feelings.
And this is precisely what I told the mother of the child who had recently commented that she was fat.
Allow me to explain. I'm sure most parents' knee-jerk reaction to a child saying she's fat or doesn't like her body or looks is to dispute the facts.
"That's not true! You're beautiful."
"You're not fat."
"You're perfect the way you are."
I used to hear statements like this from my own caring parents and I wanted to believe them, but I didn't. My parents said I wasn't overweight even when I was so when I grew too thin and they still insisted I was thin, they lost some credibility. That's what you said I wasn't even close to being thin. I'm not blaming them. I know they saw me as beautiful no matter what the scale said or no matter how loudly some vicious boy oinked at me when I walked by, but their affirming statements didn't offer me affirmation. Sometimes they might make me have fleeting feelings of happiness. Maybe I'm not so bad after all. But often they made me a little sad or even angry because it felt like they didn't understand me or what I was going through.
See, I don't think it's about the facts when one of our beloved daughters says she hates her body, feels fat, and/or thinks she's ugly. The fact is they may be at a perfectly healthy weight. They're surely beautiful to us. These are facts, but our girls aren't looking to debate the facts. They're looking for a validation of their feelings.
Let me illustrate with a scenario many moms have probably found themselves in. After a bad day, we vent to our husbands and say something like, "I'm tired of being a mom."
Let's consider the husband's possible responses:
Maybe he says, "No, you're not. You're a great mom and you love being a mom." These are probably factual statements, and maybe they even make us feel a little better. But maybe not. We may feel angry or just mildly annoyed that he doesn't see how exhausted and overwhelmed we are or that he's not giving us permission to express how down we feel. We don't want to hear the facts right now – that we probably are a good mother and that we often do enjoy motherhood. We don't want him to replace our statement with his own. Right now we just want our feelings acknowledged.
In turn, consider him saying something like this, "I'm so sorry you feel that way. What's going on? Tell me about your day. Then let me help with dinner."
In all likelihood, response number two will make us feel better because our feelings are being validated.
Now what will feel even better is if he not only validates our feelings and gives us permission to have a crappy day and allow us to admit that sometimes we don't feel like being a mom is if later on – not the same day we express our parenting angst – but maybe later that week without bringing up our meltdown is if he tells us how grateful he is for all we do as a family, mentions what a great mom we are, or says how lucky our children are to have us as a mom.
This isn't a perfect analogy, but this scenario helps illustrate how we have to handle our girls' body barbs. Of course, we want to tell them, "You are not fat! You are so beautiful." And this may even be a temporary balm to our children. Maybe they will believe us for a bit, but because we didn't validate or address the feelings beneath the surface, they are likely to occur again.
Even if a child is overweight there's more to them "feeling fat." There's a sense of hopelessness or perhaps an ache of inadequacy. When I used to complain about my body, which I did both when I was Dachau-thin as well as chubby, what I was really saying is, "I don't feel lovable."
Now I personally had other, big issues to contribute to these feelings of self angst, namely a compulsion to be perfect and in control while growing up in a family touched by addiction. So I know not every young girl's situation will mirror my own. Certainly, the culture we live in often perpetuates an unrealistically thin image and can contribute to making our girls feel not thin enough or pretty enough. But there is always something deeper going on, too, when a woman of any age berates her body or equates her worth to her appearance or the number on her clothing tags. Women as well as some men frequently use their weight and body image as a vehicle for expressing other things. A tween or teen can have some pretty big feelings to navigate, control, and understand. When she feels at a loss, when she feels lonely or confused or unpopular or like she's stuck on the social margins or is stupid or too smart or frustrated or whatever, she might complain about being fat.
So how can we help these beautiful, young women in our lives? A mother knows her own daughter far better than I do, but I'd start by acknowledging her feelings. The negative statement she makes about her body or her looks is not really a statement of fact. It's a statement of feelings. Think about when you're less than thrilled with what you see in the mirror. I know my "ugly days" tend to arrive when I feel exhausted or hurt or when my kids are driving me crazy and I realize that even a stellar control freak such as I am has absolutely no control over their behavior or whims or bowel movements. Or maybe I feel "not good enough" as a wife or a mom or a homeschooler.  It's not about how fat I am or the zit on my nose. It's about my heart and what's going on in the inside.
So first acknowledge the feelings. Next, try to gently dig deeper to see what is fueling the statements she's saying.
Also, resist the urge to get all rational on her by saying things like, "Well, you're growing. That's why your clothes are feeling tighter." This is a good, true, and, yes, logical message, but it's the wrong message for your child at that moment. What she needs more than anything is to feel understood.
What I think I'd do with one of my girls if they said something similar is to first say something like the wise husband says. "I'm sorry you are feeling this way."
I might also try to discern if anyone else or any situation contributed to their feelings, especially if these feelings are something new (this is the digging deeper component). "Do you feel this way? Or did someone else make you feel like this?"
Ask about how you can help. "How can I help?" Maybe she is afraid to ask for some new clothes even though her jeans are feeling snug and a little uncomfortable. Ask her about what makes her feel beautiful. Don't at the moment tell her she's a beautiful child of God or point out her many talents,  but do make a note to marble in positive affirmations like this more often. Take her shopping and help her to pick out fashionable clothes she feels lovely in (so much easier said than done with the immodest trash that ends up on hangers these days).
I would also try to remind her that it's hard to feel gross when she's doing something she is passionate about. Help her to cultivate a talent or passion and to pursue it with fervor.
And then I would pray. You can do everything "right" and she may still wrestle with feeling fat (i.e., feelings of worthlessness). Don't we all? But that's because of just how lovely we are and how much power we have to transform the world with our goodness and yes, our beauty! Our culture is constantly telling young girls and women of all ages,
"You're not good enough the way you are."
"Wear this to get noticed."
"Slap on this skin cream to erase the signs of aging."
"Date this boy to be accepted into the cool crowd."
"Be a super woman and you might just have it all."
"Start roaring if you want to be heard. Forget the namby-pamby girly stuff."
"Lose some weight if you want to look pretty."
"Bring sexy back."
Meanwhile, the language of God is a beautiful love song. We are the crown of creation. We are good enough because of Him. He loves what He created. We are like St. Gianna Molla said – a monstrance through which the world should see God. We have to believe in our own beauty, give it value, and share it with others. We don't have to do it all or be everything to everyone. We simply have to accept God's love as well as the love of others and then share this love with everyone we encounter. We have to help our girls tap into their God-given strength and to know and trust their dignity.  We have to encourage them to see their bodies, not as objects that are in need of a makeover, but as instruments to bring love, beauty, and goodness into the world. We have to show them that being sexy and beautiful do not mean the same thing and that we don't have to have  a gaggle of guys notice us to feel worthwhile. Once we understand our innate beauty and goodness and believe in it, we can't help but attract others. A daunting task indeed. But we must fight for our daughter's dignity and beauty – no matter her clothing size or what she sees in the mirror. While we're at it, let's fight for our own dignity and beauty as well.
More Posts from Kate's Blog...