Since I have a fall-inspired pile of photos that I knew readers who are actually related to me might enjoy seeing (AKA this post is for you, Nana, and Gaba), I thought I'd jump on the 7 QTs bandwagon after a long hiatus.
As for my blogging habits these days, well, they are sporadic. This is what seems to be working for my family and me. I go back and forth about whether I should bag the whole thing; yet, I've found that an occasional post is manageable, doesn't interfere with my mom-wife-life, and is also fun rather than a source of stress like regular blogging had become to me.
Anyway, before I share some photos, I want to beg for some prayers on behalf of my mom. I've occasionally mentioned some of her health challenges, her various surgeries, etc. I've never gone into great detail and I'm not going to today, but she had what we thought was a routine follow-up doctor's appointment on Wednesday only to learn there has been a complication after her most recent surgery. Just this past Sunday some good friends threw her an "enough doctors already" surprise party. She walked into a room filled with family dressed up as doctors. She's been feeling better, and it seemed like a new chapter without constant, intense chronic pain was beginning. Now it turns out that some wires in her brain (yes, it's all very sci-fi) are eroding from her most recent experimental procedure, which puts her at risk for infection. Long story short, she has a follow-up appointment in December, but it looks like the neurosurgeon is going to have to surgically remove all the wires, wait two months, and then implant everything again. I was devastated hearing the news. Mom, on the other hand, said, "Well, that's life," and smiled and slipped into her C-3PO costume. She's one amazingly strong woman, but I know both my dad and her were shocked by this new development. We'd appreciate your thoughts and prayers.
But on a lighter and happier note and speaking of C-3PO, is this not one cool Star Wars entourage or not? (You can't see it, but my t-shirt has the body of a Stormtrooper.)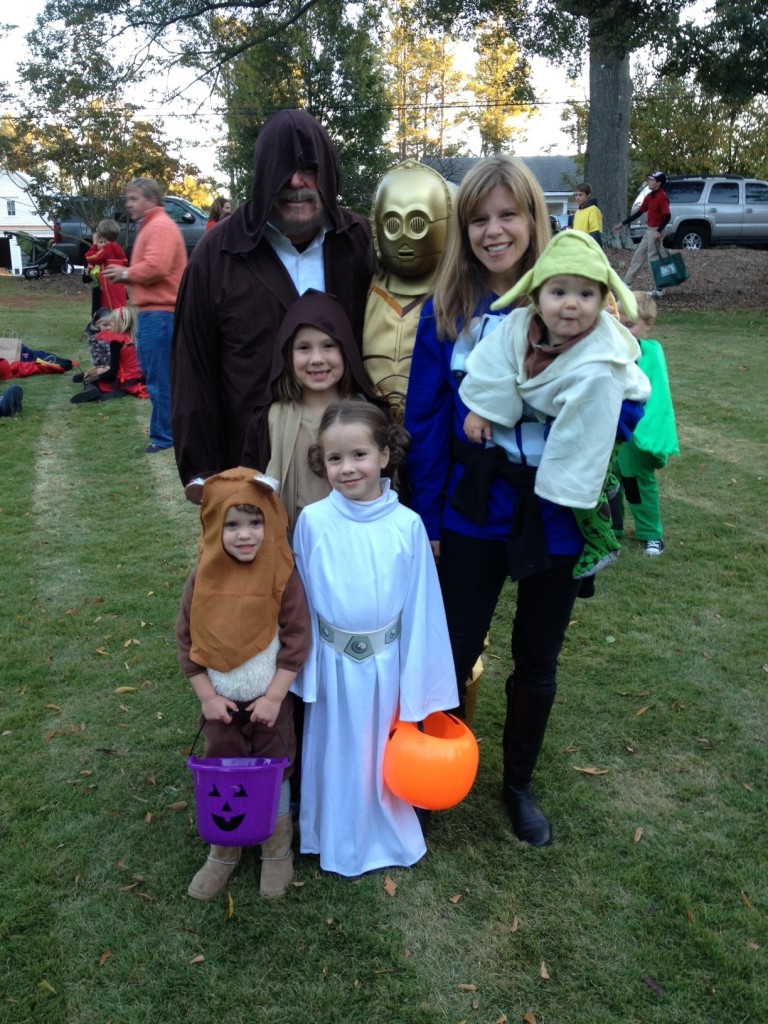 (Uncle Rick, thanks so much for the kids' costumes!)
And, imagine our delight, when we met some more Star Wars characters along our trick-or-treat path. (The photo's a bit fuzzy, but it's the only one we have.)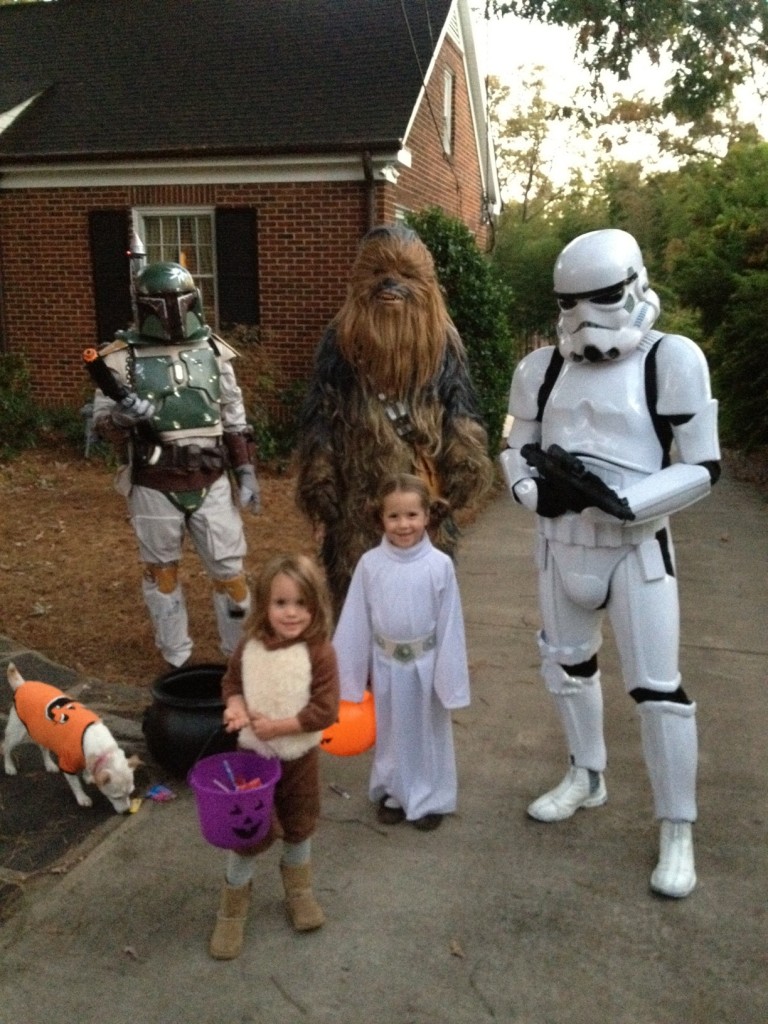 Princess Rae-a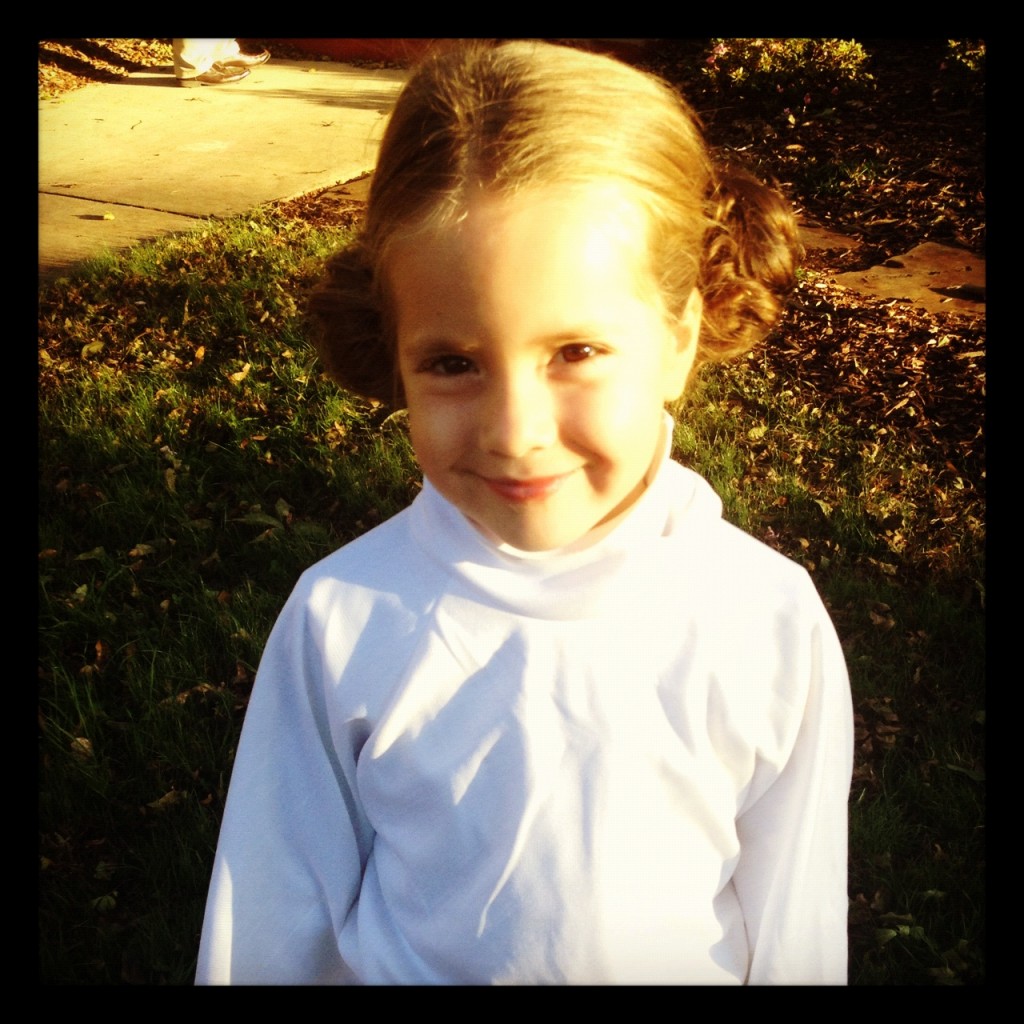 Darth Layla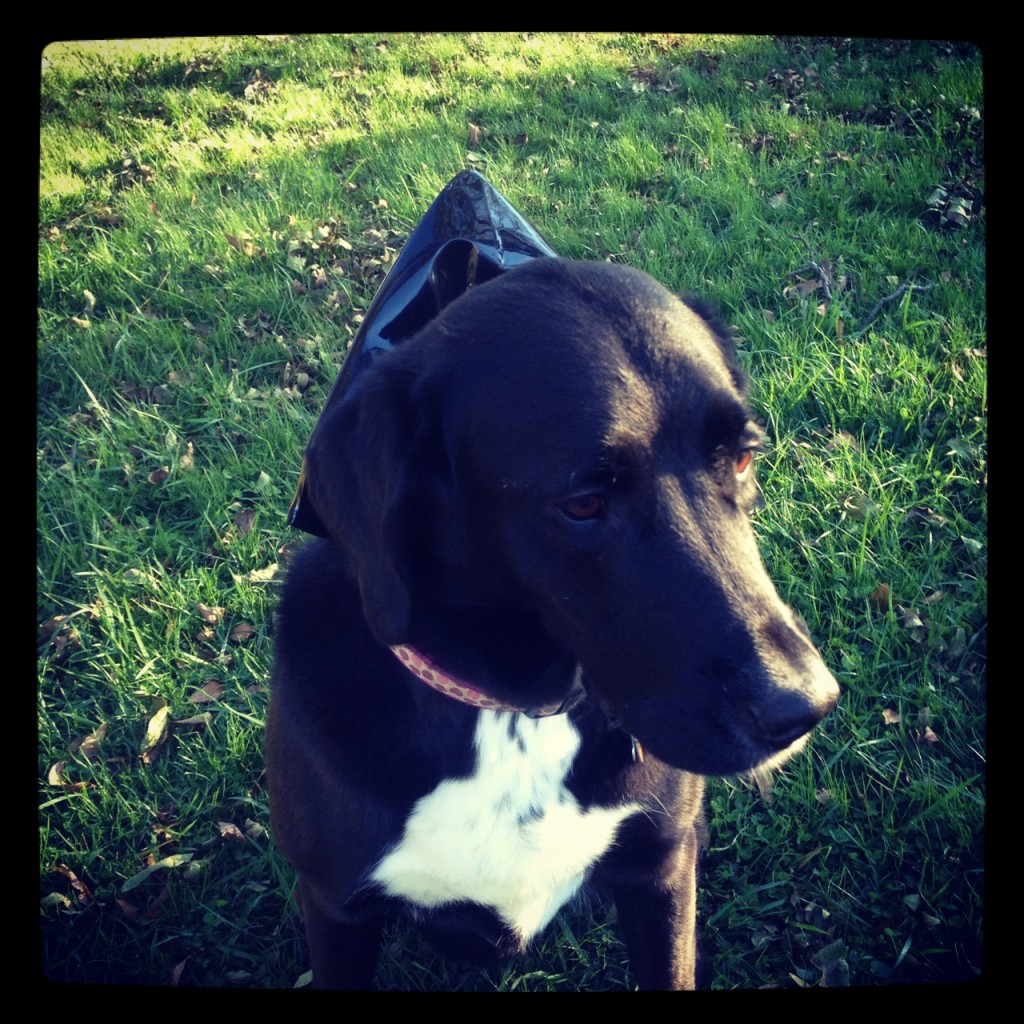 Our All Saints' Day party was actually last week. Ever since we read the enchanting and beautifully-written Brigid's Cloak
Rachel has wanted to dress up as St. Brigid. She even requested I add extra freckles to the slight smattering already naturally dusted upon her face, so she more closely resembled the illustrator's depiction of St. Brigid.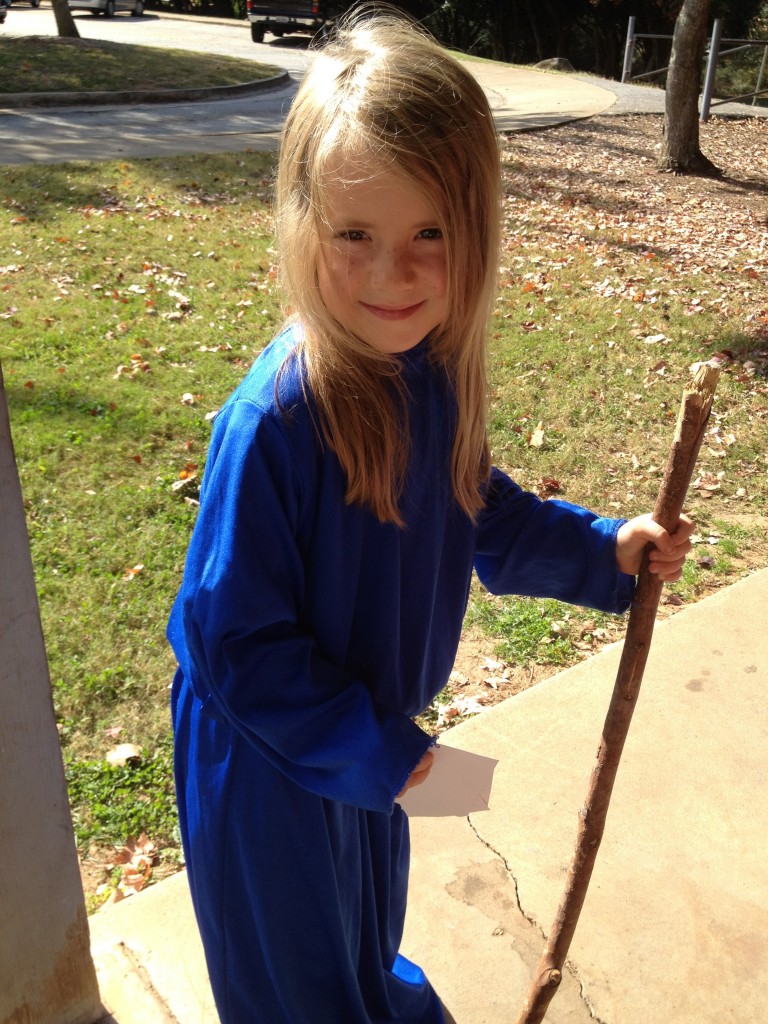 Madeline wanted to be St. Joan of Arc.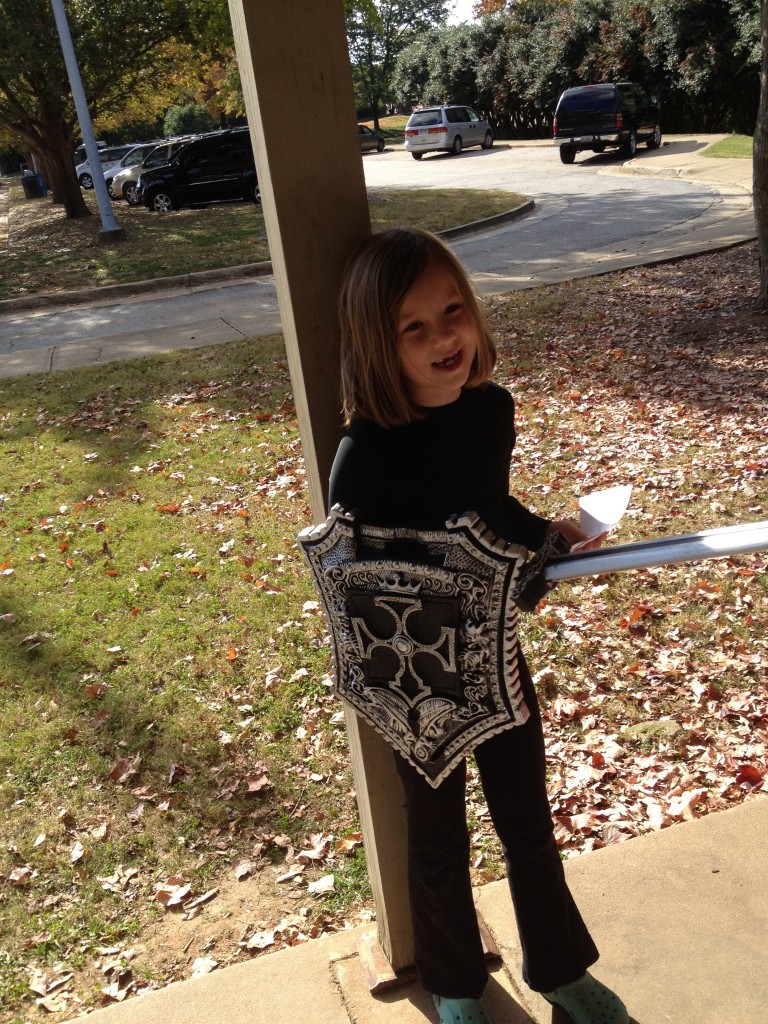 Mary Elizabeth was the Queen of all Saints, and Thomas was her most important prop and bore a onesie that read "Fruit of the Womb." Unfortunately, getting a picture of the two wiggle worms together would have required some serious saintly intercession, and I imagine there were far more important prayer requests.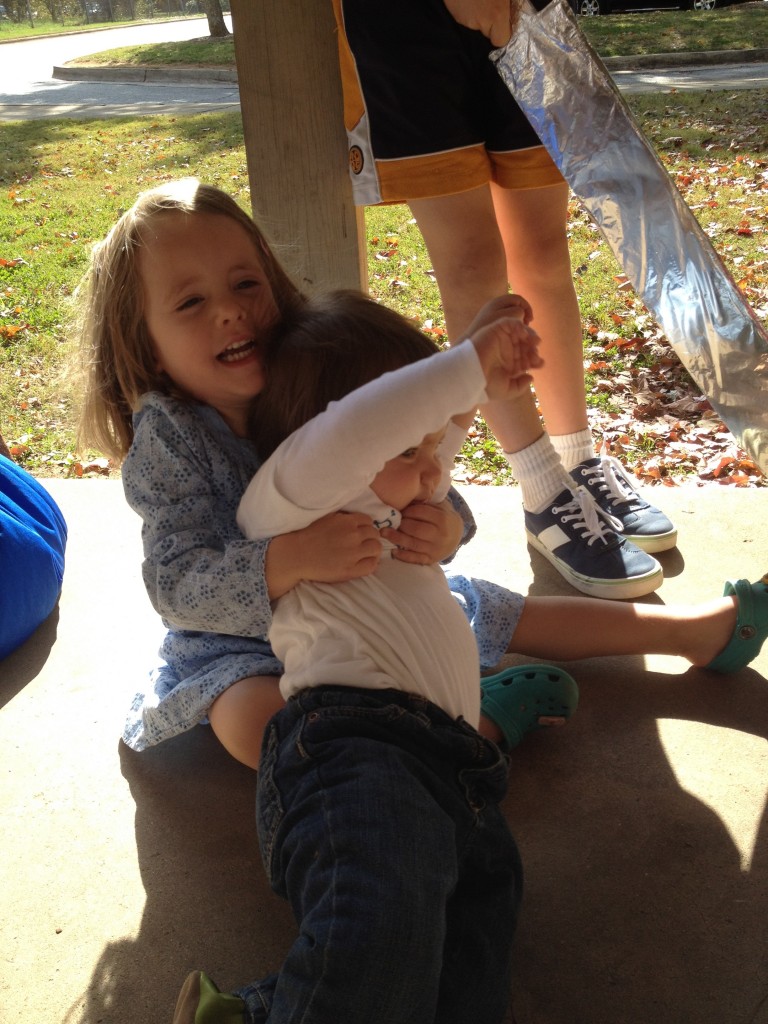 Yesterday afternoon someone from Time magazine contacted me about participating in a "conceptual" photo shoot about attachment parenting. They had read some of my posts on the subject and wanted to see if might be able to fly up to New York City with some of my kiddos (my two youngest probably) for a one to two hour photo shoot. The only problem was they were working under a very tight deadline and needed us this coming Monday or Tuesday. As a homeschooling mama, our days are fairly flexible, but next Monday and Tuesday were out of the question for reasons I'm not at liberty to disclose just yet. (It really is a very good reason, so don't feel too sorry for me!)
I was so bummed. This just seemed like an incredible opportunity to not only spread awareness about extended breastfeeding, babywearing, etc., but it was just plain cool to think about getting paid to go to the Big Apple (a favorite place of mine) and then having some of my family featured on the pages of a glossy.
It felt like one heck of a missed opportunity, but then I talked to my wise dad and he pointed out that the fact that it was kind of crazy that I couldn't make it happen when usually our days are fairly fluid probably meant I wasn't supposed to be a part of the photo shoot. "Maybe they would have portrayed you as a freak or your picture would have turned out really bad."
Thanks, Dad.
Seriously, he's probably right about me accepting that it just wasn't meant to be. (He almost always is about that kind of stuff.)
The contact at Time asked me to forward her request to any other moms I might know who fit the qualifications she'd listed and so I did. I'm hoping someone I know might be able to seize the opportunity.
I also recognize that I may have not been the best fit. Yes, I mostly practice attachment parenting. Yes, I'm a big proponent of many of the principles of this style of parenting, but my parenting style really has simply evolved from the desires to #1 parent out of love or at least to try to and #2 become the kind of mom God calls me to be by using the tools He has blessed me with to mother my children and by tools I mean breasts, my skin, but also my temperament, my talents, and even my weaknesses. I'd rather follow God's purpose for me than some parenting ideology.
But. Still. Time magazine. It would have been pretty cool.
The theme for this week seems to be missed opportunities. Our elderly neighbor passed away this week. Every time I look over at his empty house, I'm gripped with sadness tinged with a tad of regret. We were good to him. The girls and I frequently baked him treats. We invited him over for dinner a few times, but he was lonely and I could have done more. I hid behind the busy excuse. I got caught up in my spinning world. I could have paused more, visited more, and now he's gone. If I could consider rearranging my schedule and disrupting the rhythm of my family life for a photo shoot, then certainly I could have cleared my calendar more frequently to just sit and talk with someone who was lonely. His nurse came by after he'd passed away, and I teared up and told her this. "You can't do that," she said. "He loved having you as neighbors."
I think he did. When Thomas was born, he gave us the most meaningful gift. With wet eyes he handed us a gift bag. I pulled out a bowl with a network of cracks in the bottom. The bowl was old. That's because it was the very same bowl our neighbor, who was approaching 90, used to eat out of. "I was waiting for the perfect baby to give it to," he said. I took it with trembling hands. How do you thank someone for a gift like that?
I was always worried about the noise we made, but he seemed to enjoy the children's squeals (and screeches, too). One rainy afternoon the girls were outside jumping in puddles. The next day he told me he loved looking out his window and seeing kids having old-fashioned fun. "Kids don't jump in puddles anymore," he said.
We'll have to keep on making a splash in rain puddles in his honor.
I'm still processing his death. We knew it was imminent, but it's still been more difficult for me than I imagined. My husband was the last person to see him (besides medical personnel). He had been at the hospice house for a little over a week, and my husband went a few times just to sit with him. On the evening before he passed away, my husband took him pictures the girls had drawn for him. They were in view when he slipped from this world (his nurse told me she saw them when she went to collect his belongings after he'd died).
His body simply lost the war to old age; his heart was weak and he'd been struggling since Christmas. He'd said he wasn't afraid of dying, but he was afraid of dying alone. I hope he felt the love from afar. I hope he remembered Dave sitting beside him just listening to his ragged breathing, just being there. I hope he saw my girls' crayon rainbows and knew that he wouldn't be forgotten.
On a lighter note, my 3-year-old is constantly making me laugh (and crazy) these days. Recently, she announced, "I have a crush on ME!" Ah, wouldn't it be nice to be so grounded in self-assurance to have crush on yourself?
I just may have a crush on her, too, especially when she's rocking sunglasses and a tutu.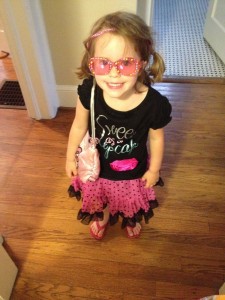 Thomas remains the happiest, little guy, but everyone is entitled to a bad day.
So I shared some of the lovely details of Madeline's First Communion earlier this week. Now for some funny, behind-the-scenes anecdotes.
Father shared a story about a little boy who wet his pants in school and was mortified. Before the rest of the class noticed his soiled pants, one of his classmates tripped and "accidentally" spilled a fish bowl all over the boys pants to hide the fact that he'd wet himself. Father went on to say each of the children were about to be little tabernacles and that they would have many opportunities to reveal God's love to others – maybe by sticking up for someone or for helping out a classmate.
That night when I was tucking in Madeline, we talked about Father's story and I mentioned something she had done that day that was kind. Madeline beamed, but then she grew serious.
"Mommy, why was there a fish bowl there?" she asked.
"Well, some classrooms have things like that in them so the children can learn about animals and stuff," I said.
"It was nice to do that for the little boy, but what about the fish? They were just flapping around thinking, 'Man, what happened?'"
I chuckled. I believe Father, a Franciscan, would appreciate my daughter's concern for the hapless fish.
Also, when Madeline was in her room changing from her dress, she told my mom it felt good to have her tights off. "I kept telling my friend they would not stay over my butt."
"Oh," my mom said, "What friend?"
"The boy sitting next to me in church."
I can just imagine the poor boy squirming in his seat having to hear about my daughter's uncooperative undergarments when he was probably already nervous about making his First Communion.
Since I mentioned attachment parenting above, a dear friend of mine is contributing to a new site that focuses on attachment parenting from the Catholic perspective. (The site is a great source of support and information for parents. Do check it out even if you don't follow all of the "rules" of AP.)
In my friend's inaugural post she writes,
Every morning, despite the events or turmoil of the previous day, I greet my children with simple gestures of affection. The form of expression varies from child to child, from one day to the next. The eldest may hear subtle whispers of "good morning" in her ear, while the youngest might be smothered in hugs. My aim is to acknowledge the presence of the individual, genuinely and warmly welcoming each child into the fold. Quite naturally, it allows hearts to soften, opens dialogue, and fosters the hope of a fresh beginning.
I admit I've been what we refer to around here as a grumpster on several mornings this week. It's not entirely my fault. Would you be all smiles if your 3-year-old had gotten into the habit of starting off the day throwing an epic tantrum because you weren't going to give her mama's milk right away? It kind of dampens your spirit, especially when she wakes up the baby you just nursed back to sleep. So does trying to revive a limp lump of a 7-year-old who stayed up way too late (again) reading. I never thought I'd have to take away books as a form of punishment, but my oldest continually sneaks in more reading after I've told her it's time to go to bed. She doesn't need as much sleep as the average kid, but I can tell she's been tired lately.
Still, I have a responsibility to set the tone in the morning. More hugs. More smiles. As well as some more prayers (and coffee) would probably give us all a better start to our day.
This photo makes me smile. I hope it does the same for you.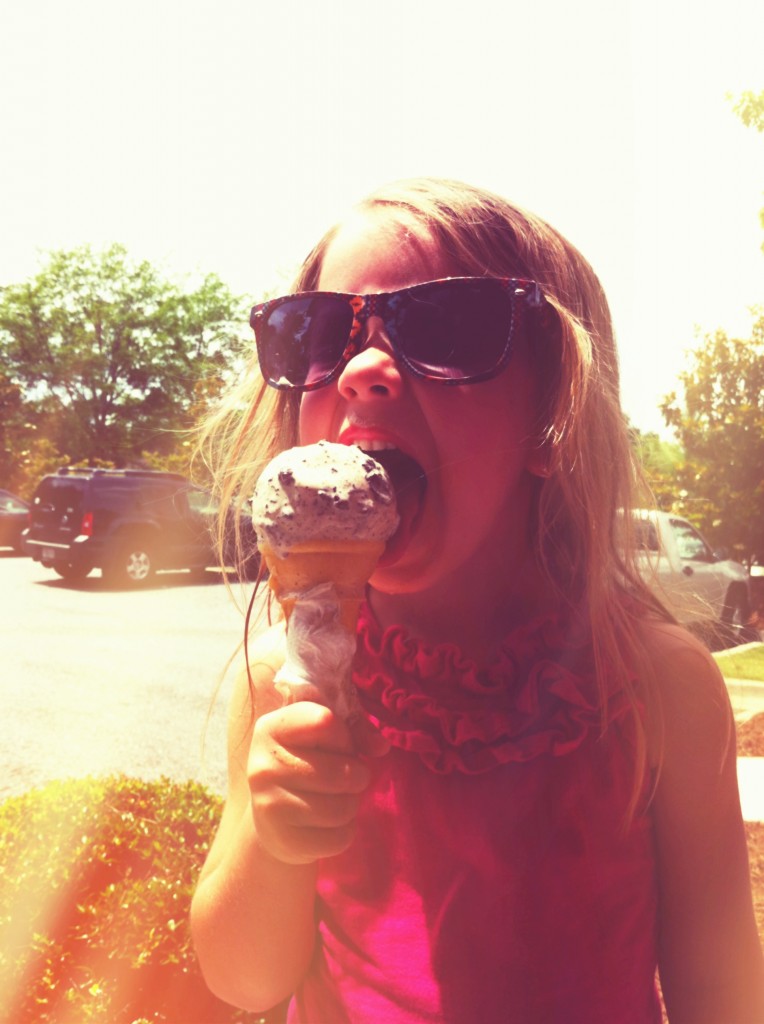 Have a wonderful weekend!
Be sure to stop by Jen's place for more QTs.
I've always assumed my calling myself an "Expert in Hazardous Waste Removal"  in my email tagline was an obvious joke since I'm the mom of poopy littles. But a few weeks ago I corresponded with someone whom I don't know well. Our children were involved in the same activity. Well, we exchanged a few emails about the kids, but then I received a note from him where he referenced the fact that I was an expert in hazardous waste and asked me if I knew where he could safely dispose of energy-saving lamps containing mercury. I responded by telling him I was unfortunately not a real expert in hazardous waste and that I was only jokingly referring to the fact that as a mom to little ones I'm frequently knee-deep in diapers and disposing of other kid by-products. I never got a response back.
Awkward.
I find it quite ironic that I'm running my fingers through my hair during Sr. Helena Burns's  You Tube video of the Behold Blogging Summit. I mean, I was invited to Behold partly because I'm the author of Weightless: Making Peace With Your Body
, and "body" includes your hair and yet, I couldn't stop trying to smooth it out and clearly was not at peace with its defiance. To be fair, I'd been traveling all day. I also didn't initially realize I was being filmed. Still, it's kind of funny – and maybe a bit vain, too – that I can't stop messing with my tresses. Though it could also be argued that it's vain of me to even notice that I was running my fingers through my hair and/or to care that I was caught on camera doing it.
So long as I'm talking about vanity, I'm absolutely dreading shopping for a swim suit. I desperately need a new one, especially since my husband has surprised me with a beach vacation to celebrate our 10th wedding anniversary. In just a few weeks, I'll be traveling with the two men in my life (Baby Thomas and my husband), and a swim suit is essential. I haven't subjected myself to this horrifying experience in years, but it's time. Most of my swimsuits have become bumpy, stretched-out, and faded, and the two I ordered online were never my favorites, but I was too lazy to return them. But here's my real grievance against swimsuit shopping: Why-oh-why do dressing rooms use fluorescent lighting? It's bad enough to put spandex on your body and to have to pull it over your undergarments so that everything gets all bunched up, but the bright, unforgiving lighting make the experience even more traumatic. I don't want to feel like I'm being interrogated when I'm trying on anything in front of a huge mirror, especially clothing items that show a bit more skin. Why not use soft, gentle lighting? I guarantee women would spend more and not avoid swimsuit shopping for years and years.
Maybe my next book should be Making Peace with Trying on Swimsuits in Fluorescent Lighting.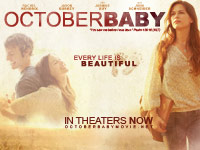 I really, really want to go see October Baby this weekend, but I doubt it's going to happen. The closest it's playing is over 30 miles away, and we have a jam-packed Saturday. If you're able, I strongly encourage you to support this pro-life film.*
I also have selfish reasons for wanting to watch the movie to do well. A  good friend of mine is close friends with the film's lead actress, Rachel Hendrix. In fact, Rachel, who's also a very talented photographer, recently took photos of my friend's beautiful family.
I haven't seen our friends or their kids in awhile, and these photos did a remarkable job of offering me a glimpse into their everyday lives. The energy and spirit of those boys is palpable and so is the beauty of my friend! (Love to you, dear one.)
*The producers of October Baby will be donating 10% of the profits of to the Every Life is Beautiful Fund, which will distribute funds to frontline organizations helping women facing crisis pregnancies, life-affirming adoption agencies, and those caring for orphans.
 A friend recently passed along a link to me for an amazing website that approaches eating disorders from the Catholic perspective. The website's founder, Maura Byrne, is an eating disorder survivor, a Catholic, and a woman on fire with the Spirit. She's working to start Made in His Image, the first Catholic inpatient medical center for women suffering from eating disorders, physical, and/or sexual abuse. Read more