Each Advent season we head out to a local Christmas tree farm in search of the perfect tree. I am honestly okay with a Charlie Brown tree, but my detail-oriented husband is a perfectionist about things of which I am not and always has a hard time selecting the tree. The kids show him their favorites, and he inevitably finds a bald spot or notices the tree's overall shape is too sparse or too asymmetrical. Eventually he reluctantly acquiesces with one of the kids' selections after I remind him no real tree is going to be a flawless shape and height. But we'd rather have real than artificial.
Then we return home, and that's when I start wanting things to be perfect. The tree is just a tree, but the memories we make decorating that said tree better be glittery-gold. So I make homemade cocoa. The girls dip candy canes into warm pools of chocolate. Then they watch The Grinch as my husband laces the tree with multi-colored lights. None of that elegant-only-white-light business; that's not the kind of perfection I'm after. We do bold and bright in the Wicker house. The same holds true for the ornaments. There are no themes. The decorative danglers cover the gamut – from homemade angels with pictures of the kids' heads for faces to a bristly hedgehog that was my husband's as a boy.
I love sifting through the bottomless container of ornaments. So many of them conjure up memories or old loves like the golden horse head molded out of clay that reminds me of my beloved Palomino, Sunny or the Baby's First Christmas ornament that I received during my first month of motherhood. This is a tradition I savor. My children do, too, and I hope these are the moments they will remember instead of the less sepia-toned ones like the daily fighting that occurred each morning over whose turn it was to open the drawer of our Advent calendar where four M&Ms (all the same color so as to dissuade another fight) were hidden.
 I once wrote about how moms are not memory-keepers, but memory-makers. We can't control what our children will remember or what they won't. Nor should we obsessively try to document every moment on Instagram. Sometimes we just need to live it even when it's not so pretty and we're afraid of what type of emotional sediment might be settling in our children. But again, isn't real better than artificial? We want real, human memories not contrived ones.
But living it can be so tough sometimes. For whatever reason, my Advent season this year was more stressful, or maybe it just felt that way. (Not being able to run is still taking its toll on my emotional health, but a recent MRI looked very promising, and it seems that my hamstring tear is healing quite well!) These 12 days of Christmas have been much more manageable and enjoyable, too. My husband did not get his perfect tree although it was darn close and a real beauty this year. I didn't get my perfect memories. That's life. We gathered around, and kids started pulling out several ornaments from the big plastic storage box all at once. I barked orders about not getting new ornaments out until each child hung up the one in her hand. Then Thomas broke an ornament. It looked like a ball, so he hurled it across the living room. And, of course, all the girls were sad as if that was there favorite ornament of all time. We comforted Thomas because we thought he was scared from the glass ball shattering at his feet. Maybe he really thought it was a ball. Poor guy. No matter that there's no throwing in the house. Little goober gets away with everything. But then he snagged another ornament off the tree and chucked it across the room where it promptly shattered into colorful shards.
I remember how I felt standing there in the shadow of a beautiful, sparkling tree. I examined the pieces and knew there was no way to salvage that ornament. At that moment, I felt the same way like I'd been broken into so many pieces there was no way I'd ever be made whole again.
Nothing seemed to be turn out the way I had hoped or the way I wanted it to. The Advent memories were not very Norman Rockwell-ish at all. We were a mess. And a very noisy one a that.
So I wonder: Will the children's memory banks see past all that? Will they take ornaments out each Christmas and smile fondly, or will they remember the shards reflecting the tear-stained faces in their broken shininess?
A few summers back an evening storm flashed in the sky. The girls and I gathered together and read The Storm Book
and Storm in the Night
by candlelight. They cuddled close and listened to the beautiful imagery of both the books. We weren't doing anything grand, but no one was fighting and everyone, including me, just seemed content. It felt like we were exactly where we were supposed to be together safe from the storm churning outside. I remember thinking, "This is what I want them to remember. The stories shared. The way their mom's face looked serene and joyful in the soft glow of candlelight, the way the rhythm of her voice sang out the lyrical words from good books, the way later that same night she did not push us off to our own beds but fell asleep beside us and loved us as well as she could in her raw humanness."
I cannot go in to great detail because I know it is my job to protect my children and to be their champion and that sometimes means keeping things private, but one of my children is going through a rough patch. It has been going on for some time now, and I've been desperately trying to fix things.  However, like so much of parenting, I am learning a great lesson in humility. I wince because I fear we have made some bad memories together, and perhaps this is partly why I am found myself almost maniacally trying to make our annual Advent traditions even more golden and lovely in an effort to snuff out the not-so-nice moments that are coming all too regularly.
We are getting help. We are working on it. I am trying to remain hopeful and to remind myself that this too shall pass. I am trying to not let my fears that I have failed her as a mother or that she may always struggling this much eclipse the hope I have not so much in myself or even in my precious child but in an all-loving God who can make up for each of our humanness, who can take our very brokenness and transform it in to a beautiful life.
A friend of mine sent me a poignant post about how maybe Advent is supposed to be a little sad because we so desperately need a Savior. We are broken, hurting. We are not satisfied. We need hope – Christ – to be born in our hearts. We are not like that shattered ornament. We can always be redeemed and pieced back together.
I am not sure what my children will remember. Maybe they will recall the creamy cocoa, the silliness, the Tomie dePaola Advent and Christmas tales
more than the fights over who got to hang up what ornament and then Mommy's shouting over the din that she won't take anymore of this. But maybe they will have some memories that are less than sparkling. Maybe they will have a little Advent darkness, and maybe that's okay. I've enjoyed the Christmas season so much, partly because our Advent wasn't so easy. I similarly feel that when I am back running again, I will be wiser and appreciate each step I am able to take that much more.
My kids might have some darker recollections, but perhaps they will have the Christmas memories, too. The memories where we all got it right – not perfect but right for the moment. There were broken ornaments and sometimes broken promises, too. There were silly stories and happily ever afters, but there were some tear-jerkers thrown in there as well with endings that weren't all neat and tidy. There was a mother who did her best. Sometimes that wasn't nearly good enough for what her children and family deserved. But many times it was. It was somehow amazingly enough. There was hurt, but there was love that was inexorably linked to mercy and forgiveness.
And there was always grace, and it almost always was born out of the darkness. It came in the child who hugged the sad Mama and told her something she'd heard that sad Mama tell her, "There's nothing you can do to take my love for you away or to earn it." The grace came in a "just because" note a child scribbled down and shyly handed to her mother. It came in an apology. Grace filled our hearts as we filled cups during an Advent tea for the grandmothers. It was marbled in an email a father wrote to his daughter. It came in a love note of thanks from a husband on Christmas evening, the best gift a wife could ask for and one that made her cry tears of joy and thanksgiving. It came in a hot cup of cocoa, a homemade ornament with the face of a child propped upon a lopsided gingerbread body, and a sweet, family sing-along. Grace slipped into our lives just when we needed it. It was a gift that grabbed a hold of hearts even if we were lousy at preparing ourselves for it. Somehow, like Christmas for the Grinch's Whos, it came all the same without boxes, packages, or bags. Without perfect mamas. Perfect children. Perfect memories. Grace was there. Joy was there. This is what I hope, God-willing, these children of mine might remember.
When the Nativity figures
aren't scattered throughout our house, I usually find that one of my children has set them up something like this.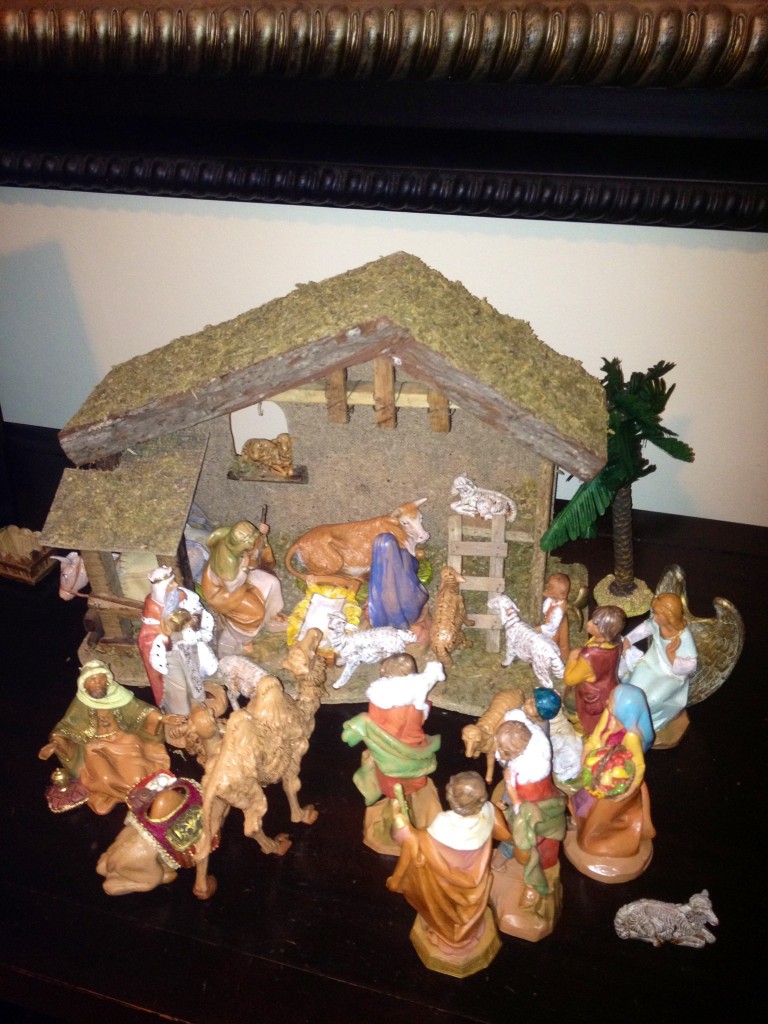 Now if it were up to (anal) me, the people and myriad animals would be set up in a more orderly fashion and spread out a bit more, but there's something beautiful about how my kids always position nearly every figure to be looking at the empty cradle. From the camel to the shepherd boy, they are waiting, looking for their Savior to be born. We hide Baby Jesus in our house until Christmas morning when all the kids set out to search for Him. This serves as a reminder that Advent is a time to prepare for Jesus and that we will keep searching for Him until Christmas Day.
When I discovered our Nativity scene set up in its usual manner the other day, it struck me that there are a handful of us who are looking to Christ rather than being distracted by everything else around us during this busy season. I happen to be more like that Wise Man on the left who is looking away from Jesus and looks almost as if he's holding his hands up in exasperation and has fallen down upon his knees not in worship but in exasperation, especially when I discovered this morning that our finished basement had flooded worse than it ever has before even though we've certainly had more rainfall than we did over the past few days. At least my 2-year-old and 4-year-old had fun jumping in puddles. I just wish the little lakes weren't inside our house.
In other times of my life, I've been more like the sheep on the right.  He has no clue what's going on behind me. Neither does that donkey on the left who is looking out the window. I've wandered aimlessly. I've looked anywhere but toward God. I don't where Christ is or even if He is. Ah, to be human and an over-analytical one at that.
But here's the thing. Jesus was born in that manger not just for the passionate believers but for everyone even those who didn't recognize Him as King or at all. We were looking away from Him, but He was looking right at us, waiting for us to glance in His direction. He was there to seize our hearts, our lives. He still is whether we believe it or not.
I've always loved that line from the movie The Count of Monte Cristo:
Edmond Dantes: I don't believe in God.

Abbe Faria: It doesn't matter. He believes in you.
This Christmas I hope to be one of the faithful, one of the ones who is looking toward Christ, not away from Him. I want to look past the cookie crumbs on the floor and the fact that my willpower around said cookies has been ridiculously low over the past few days. I long to embrace my children's effusion of joy (also known as insane hyperactivity) and to  be focused more on love than on the tyranny of to-do lists or the appearance of having everything together and perfect. I don't want to let the Great Flood of 2013 to cause me to freak out (again; I can only apologize for freak out # 1). I don't want to run away from the Prince of Peace when I need Him the most. Last Christmas I recall another calamitous episode that involved a mountain of mismatched shoes and lots of tiny bare feet just before the Christmas Eve Mass. I too often look for the wrong kind of perfection: flood-free basements, perfectly pressed smocked dresses, well-mannered children and well-mannered mamas to boot when the real Perfection is right there in the manger. I'm the only one who can rob myself of joy. Fortunately, I'm also the only one who can take a hold of that joy as well.
I want to be just as my children would have it: Part of a motley crew who knows where to look and understands that sometimes you just have to set your eyes on what's to come and be joyful in the meantime.
We celebrated Thanksgiving at Nana and Pop's this year and on the way, I set my phone's timer for five minutes and asked the kids to blurt out anything and everything they were thankful for and I then listed them in the exact order they were shouted out and also did not edit their contributions (e.g., Mary Elizabeth's blessing of "roasted beef" was jotted down just as she said it).  Here's what they came up with:
1. apple pie
2. life
3. love
4. family and friends
5. Thomas
6. our house
7. fall
8. toys
9. turkey
10. seasons
11. the sun
12. the moon
13. roasted beef
14. ice cream
15. exercise
16. cozy boots
17. Toms
18. our health
19. animals
20. jeans
21. clothes
22. water
23. Layla (our dog)
24. trees
25. Clue (the game)
26. books
27. colors
27. Monopoly
28. beans
29. food
30. music
31. school
32. my mind
33. flowers
34. mail
35. the world
36. a warm bed
37. the way Thomas says, "Oh," when you tell him something
38. hope
39. new beginnings
40. plays
41. shopping
42. windows
43. eyes
44. our bodies
45. signs
46. doors
47. beaches
48. cars
49. pumpkins
50. Knuffle Bunny
(Rachel's lovey)
51. Raja (Madeline's tiger stuffed animal lovey)
52. people
53. Cubbie (my parents' puppy)
54. Christmas trees
55. Nana (my grandma who passed away)
56. Nana and Pop
57. Gaba and Papa
58. Ivy (my parents' dog who recently died)
59. Uncle Rich (my uncle/my mom's brother who died of pancreatic cancer last February)
60. Michelle (my cousin who died recently as well from cystic fibrosis and lissencephaly complications)
61. Mr. Thomas (our neighbor who also passed away; yes, there's a theme here)
62. Katelyn (our babysitter who is alive and well)
63. Marlo (our babysitter's dog)
64. scones
65. chocolate
66. Waffle House
67. The Grit  (my contribution)
68. wine (obviously another one of my contributions)
69. lattes (me again)
70. Aerolatte Milk Frother (me again, although Thomas likes to use this gadget to torture her sisters. I've caught him twice now turning it on and putting it in their hair.)
71. firemen
72. policemen
73. police dogs
74. fire dogs
75. ambulances
76. doctors
77. radiologists
78. Smoothie King
79. braces
80. Baby Jane's
81. movies
Time's up!
Once at Nana and Pop's we were not only treated to the feast of feasts, but Madeline had written a Thanksgiving play and the kids performed it for us. The red wagon is the Mayflower. Madeline is Squanto. Thomas and Mary Elizabeth are pilgrims, and Rachel served as the narrator.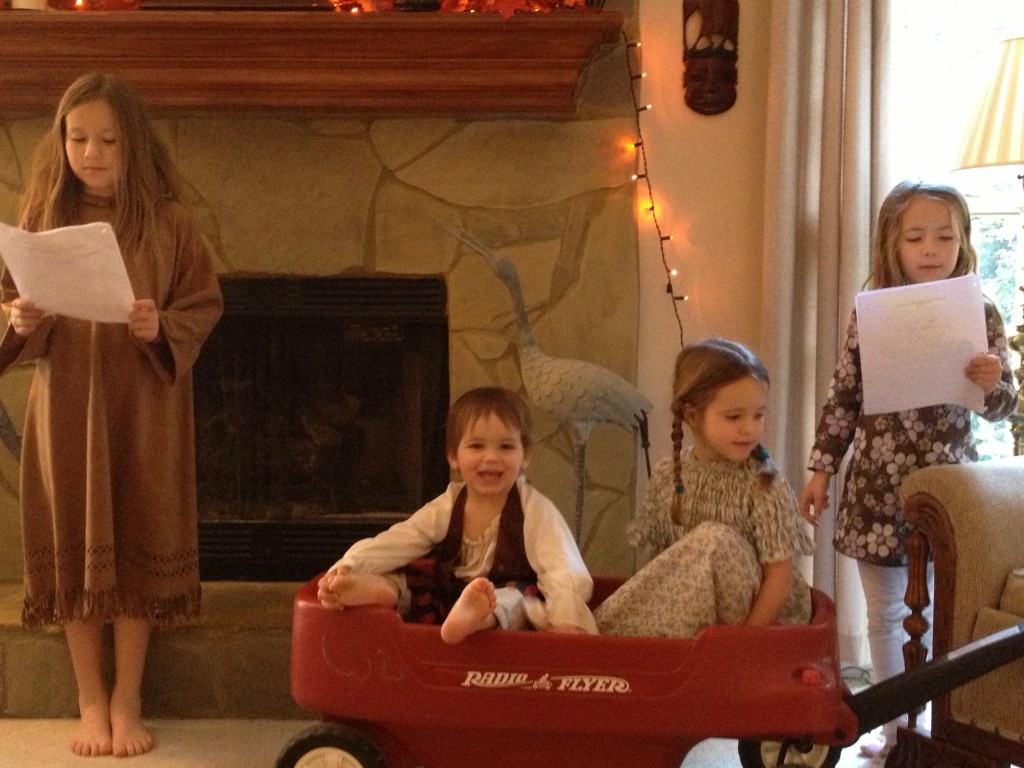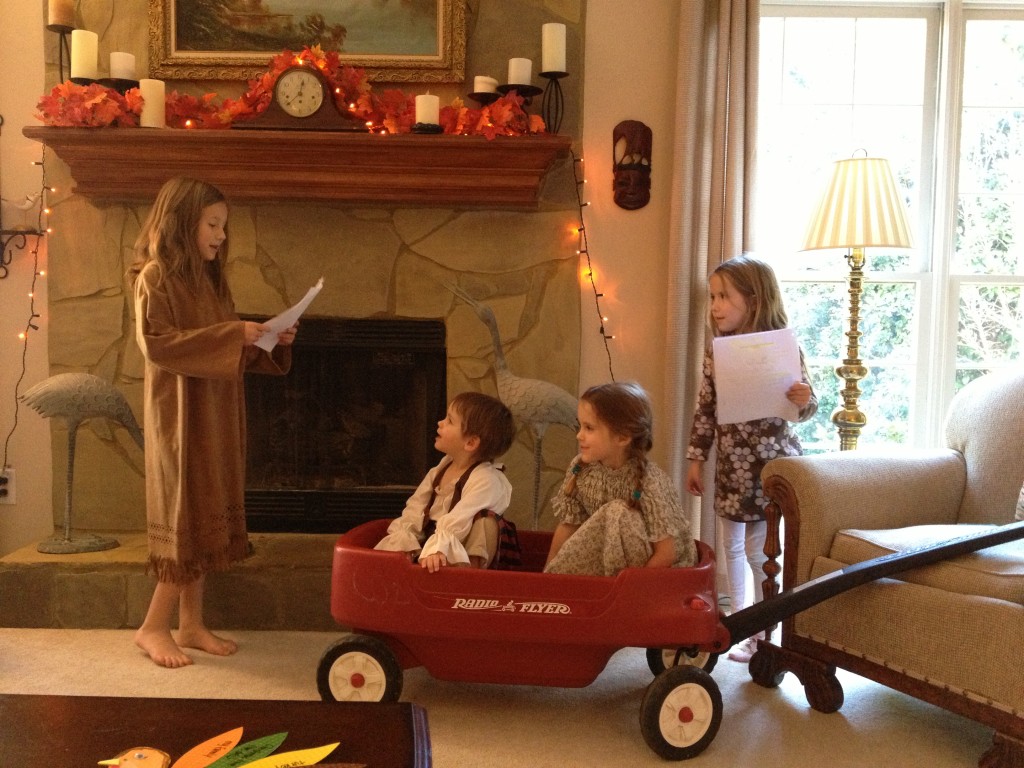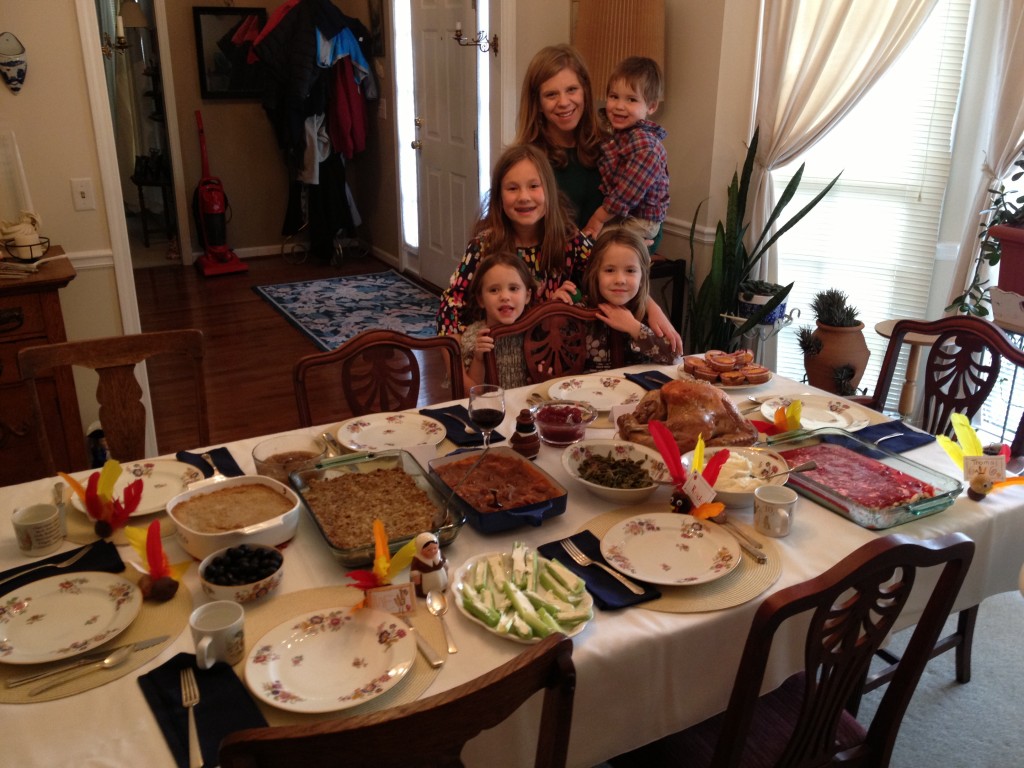 Now it's time to start thinking about Advent. I have a speech at a parish not too far from my home on Sunday where I'll talk a bit about cultivating a peaceful, joyful heart during a season that can easily become a path to burnout for a multitasking control freak like myself. Your life this Advent and always should be full, not just busy. Just because our culture hypes jam-packed schedules as the norm doesn't mean we have to subscribe to it. My running injury (still not anywhere close to running again) has forced me to slow down not just on the pavement and treadmill but in life as well. I'm getting more sleep these days and really focused on embracing simplicity. At its heart, simplicity really means less of us and more of Him. It can also mean staying in your PJs all day (I'm typing this in my pajamas; no Black Friday madness for me.)
We don't need to over-schedule our kids now or ever. Madeline really wanted to try basketball this winter, but we have a brief respite from soccer and I didn't want to fill it with more practices. If she's meant to be in the WNBA someday, she'll discover that talent soon enough. For now, I am drawing my family near, pulling out our favorite Advent books, and trying to decide what Advent traditions we will embrace this year. I've included a few links from the archives that include all sorts of ideas for bringing this season alive for little ones. BONUS: You'll get to see the kids when they were wee ones. Happy clicking!
An Advent Tea
Preparing Our Hearts and Homes (Advent Traditions)
Advent crafts (shell angels, felt napkin holders, poinsettia princesses, etc.)
Advent Smörgåsbord
Recipe for Baby Jesus Birthday Cake (more for the Christmas season obviously)
Handprint angels
Feast of Our Lady of Guadalupe traditions
Christmas card placemats
Tips for hosting a cookie swap
Cookie Swap recipes
Feast of St. Nicholas traditions
Explaining the symbolism of the Advent wreath to children