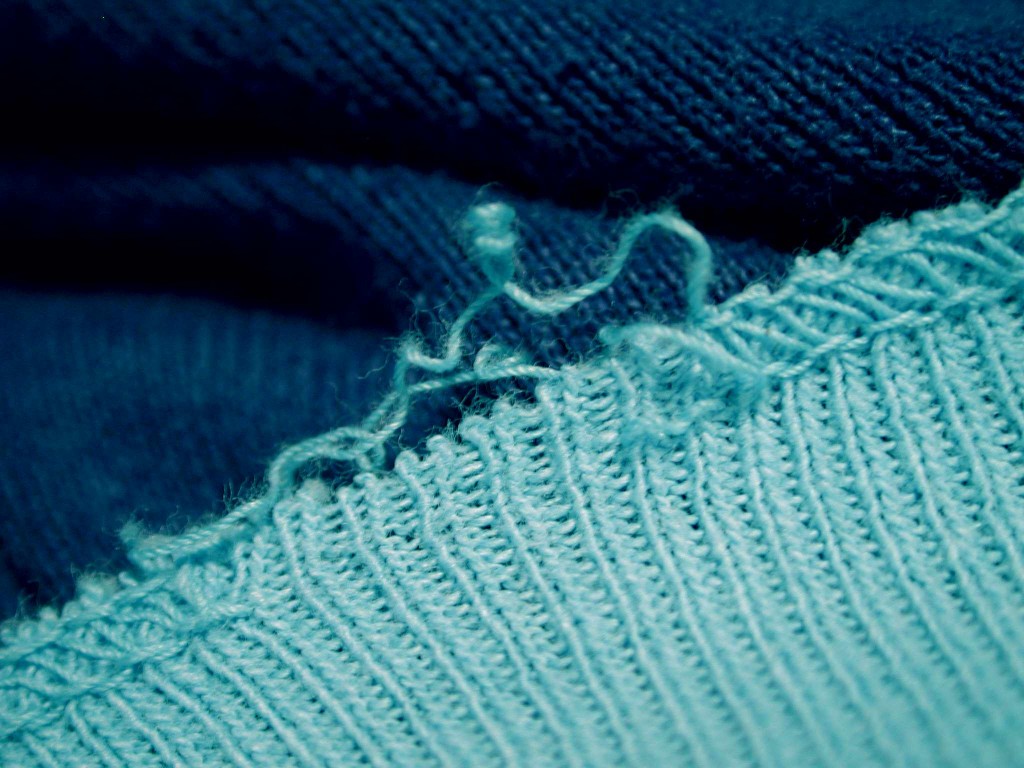 I have no beautiful images to show of my knitting progress (nope, that's not my work to the left; my creation is looking a lot worse, actually). Nervous, antsy hands led to a mistake I could not figure out how to correct, so I've had to start my humble, little scarf completely over. Sigh. So this isn't really a typical Yarn Along post. It's more about a revelation my unraveling scarf (and wise midwife) offered me this week.
As for books, I just enjoyed a completely frivolous, fictional read, thanks to a generous friend who mailed me a new copy of The Castaways by Elin Hilderbrand to gobble up during bed rest after she saw that I mentioned wanting to take Betty Beguiles up on her endorsement of novels by this author. It was nice to insert my nose into a light, enjoyable read.

Now for the meat of my Yarn Along post. Be sure to check out Ginny's place for real knitting and reading inspiration. My own contribution is more like me publicizing an agonizing internal conversation I had with myself earlier this week.

—
I had a prenatal appointment on Monday. I was nervous. I thought of bringing a book but ultimately decided to take along my current knitting project – that simple, soft, sea foam green scarf – instead to distract me from my nervousness. My parents were kind enough to take on the three girls while I went on my big outing for the week (besides Mass and a recent quick date night my wonderful husband surprised me with last night). I wore a cute, Asian-inspired maternity top splashed with colorful blossoms, painted my face with my full makeup routine (something I haven't done much lately), and slipped on some fabulous (and cheap!) pink flats embellished with big blooms (no matter that Old Navy doesn't carry my regular 5 – 5 1/2 shoe size; I've found I can make their size 6 shoes work just fine, especially when they're that cute!).
When I arrived at the office, I felt flushed and even more jittery than before I got on the road. Every time I go to see my midwife since our pre-term labor scare at just over 29 weeks, my stomach twists and turns into knots. I don't like clinical settings period. I really don't like them when I'm faced with wondering just how much more quickly this ticking time bomb known as a gestating mama might appear to be ticking.
In the waiting room, I pulled out my knitting needles and started to knit. But I refused to lean back on the plush couch I was sitting on. I sat rigidly straight and poised to spring forward the moment my name was called. I refused to relax.
A young, new nurse just joined the staff. She was so sweet the last time I was there and asked if I was having my first baby.
"Fourth," I told her like I was some wise, old pro. Only every pregnancy – especially when the finish line is in sight – makes me feel like I'm doing this for the first time.
The new nurse was there on this Monday, too. She called my name, took my blood pressure, and remembered that she's not supposed to weigh me because doing so will cause my typically low blood pressure to skyrocket. (God bless her.) Instead, I whispered my weight to her – the number that registered on my home scale that morning where I could privately see how much I'd gained without too much anxiety.  Old habits die hard. (For those of you new to my blog, I suffered from a clinical eating disorder and was not so long ago a total slave to the scale.)
Pregnancy, at times, offers me respite from thinking about my weight or worrying about it at all. Other times it makes me more aware of how little control I have, and I desperately want to find my equilibrium on the scale. With one of my four pregnancies I regrettably admit that I restricted what I ate in an effort to keep the number low. I ate healthy, but I often did not eat enough.
Another pregnancy was very liberating, and I felt beautiful and fertile and didn't worry so much about what the scale or anyone else said. This pregnancy has been somewhere in the middle. I'm trying to not focus on how much weight I've gained and haven't been restrictive. I ate peach cobbler on Sunday. The warm, sugary crumble and the sweet peaches were swimming in a lake of melting vanilla ice cream. It was delicious! During the more restrictive pregnancy I swore off anything sweet and yummy, so this would have been definite dietary contraband.
Yet, not being able to exercise for over a month now has taken its toll on me emotionally and physically. I feel achy and not like myself. I miss moving my muscles. I fear this baby's going to be humongous because I've been giving myself permission to taste the sweetness of dishes like creamy peach cobbler without a dollop of guilt. Despite measuring one to two weeks behind (which has been the case in all of my pregnancies and seems to be a healthy norm for me), I feel like this baby is taking up a whole lot more space than my previous little ones. (This is partly due to the fact that I regularly feel his or her head move deep down in my pelvic region – what a weird sensation to constantly feel twinges in your cervix – and then I'll also feel a kick closer to my ribcage and think, "How long is this guy or gal?")
Being convinced a gargantuan baby has made his or her home in my womb because I've allowed myself to occasionally eat desserts? Irrational? Perhaps. Old demons have a way of resurrecting themselves when you find yourself at a vulnerable place. And any type of pregnancy complication makes you feel more vulnerable.
When the nurse was taking my blood pressure,  she saw my knitting stuffed into my over-sized purse/diaper bag.
"Do you knit?"
"Sort of," I admitted.
"What are you knitting?"
A HUGE BABY! (Ha-ha. Just kidding.)
"A scarf. That's about all I can manage."
"I tried knitting, but I just couldn't get the hang of it. My sister is good at it though. Her hands move quickly. She just gets it."
I shoved the needles and yarn more deeply into my purse and wished I'd brought a book instead.
On the side porch of our house, we have these big, beautiful hanging baskets that are brimming with flowers. My husband bought these planters to beautify our exterior (he also planted the garden of flowers you see below running parallel to the porch – what a guy!) as well as to make our porch seem more homey. There's a swing on the porch and a black wicker rocking chair, and the girls and I enjoy reading stories sitting outside together while rocking back and forth.
We also like to watch birds dart in and out of the baskets. A perfect place for nature study right outside our home.
While the flowers certainly have added a splash of loveliness to the porch, they have given us an unexpected surprise as well. It turns out that they make the perfect spot for little birds to nest. We wondered what an industrious little bird was doing one day when she kept disappearing deep into the baskets, swathing herself among the colorful blooms. I wasn't tall enough to see what was going on, but I suspected some nest-building might be underway.
My much-taller husband confirmed my suspicions. We've now had not one but two nests built within the hanging baskets' flora. The first nest we identified as belonging to a House Finch. The second we weren't as sure about. It looked a lot like the finch but without the red markings on its head, and the eggs were bigger, splattered with darker speckles, and weren't the same pale blue-green as the finch's.
What's been really exciting about having a bird sanctuary right outside our side door is that we've had a chance to watch the eggs crack to reveal squirmy, small, featherless hatchlings. Then with more time, the pink, scrawny things turned into fluffy puffs of fidgety energy. Eventually, the downy softness gave way to real feathers. The girls were delighted to see the birds develop. So was I.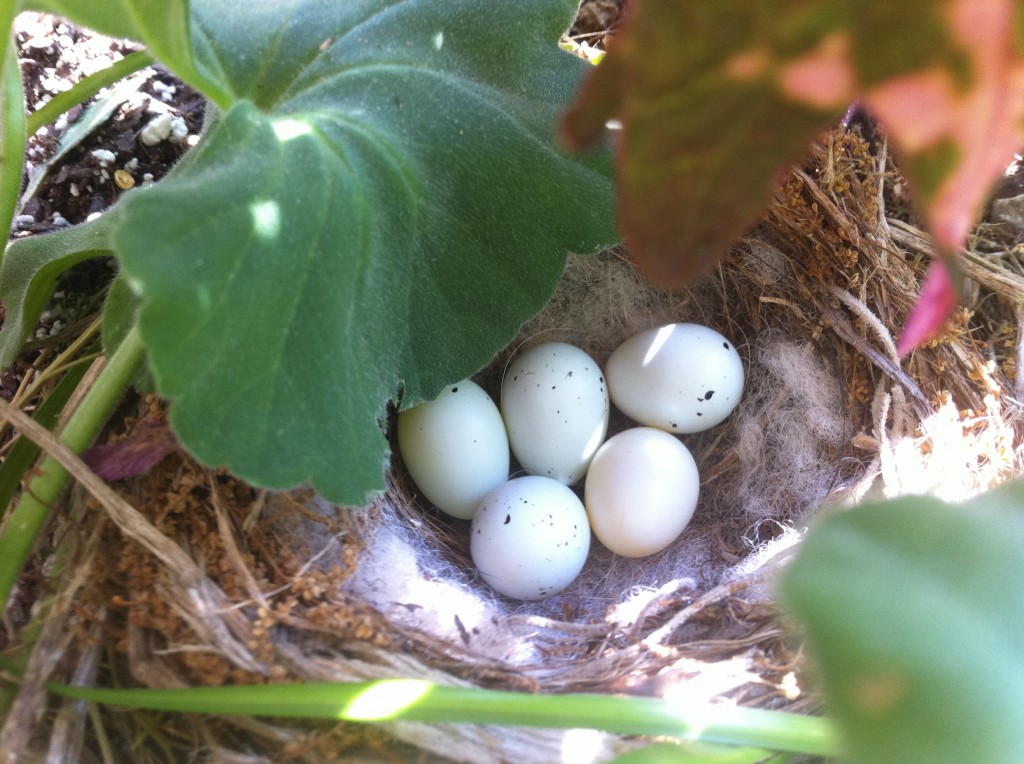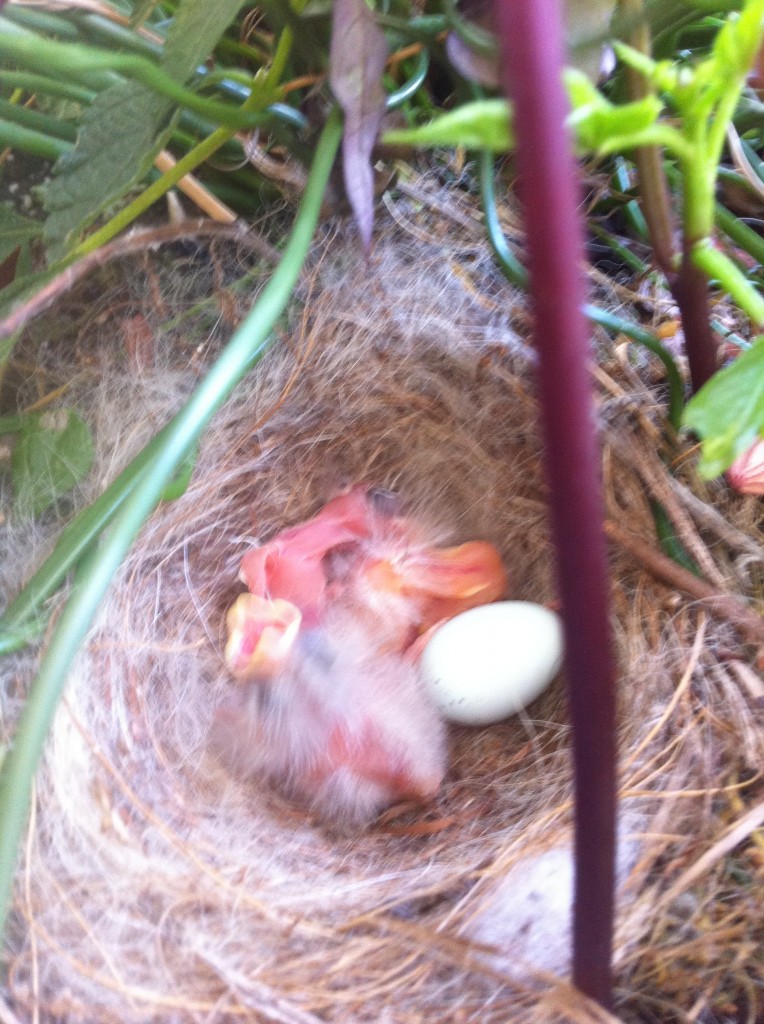 The first batch of baby birds flew away and left their first home when we were at the beach. We returned, and the nest was just an empty straw bowl.
You know Daddy's been doing the grocery shopping around here when this finds its way into your kitchen: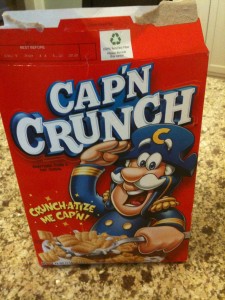 That was not on my list. My kids may be starting to think this bed rest thing for mama isn't so bad after all.
Well, from the guesses after this post, it looks like we have a few more people suspecting this baby is a boy. My mom gut is telling me absolutely nothing except that if this baby does end up coming prematurely, it might be better if it's a girl since medical literature suggests little, white boys can be wimpier.

If you haven't shared your prediction yet, go ahead and divulge.
Fall soccer registration is already in full gear. (Is this summer flying by for anyone else?) I'll have two little girls on the field this year. It will be Rae's first season playing. I only allow my older kids one activity per season in order to keep life less chaotic, and I gave Rae the choice between more dance or soccer. Without any hesitation, our pink-loving, girly-girl chose soccer. My kids never stop surprising me.
Let's talk books, shall we?
I recently raved about Dr. Meg Meeker's new book,The 10 Habits of Happy Mothers: Reclaiming Our Passion, Purpose, and Sanity*. I saw that Hallie Lord (alias Betty Beguiles) mentioned devouring Elin Hilderbrand's books. I wasn't familiar with the author, but Hallie describes her books as being "simple, easy beach readin' [with] good storytelling," so I'm thinking I might add some to my wish list. Light, beachy reads sounds just wonderful right about now.
Reading for Believers  recommends the suspense novel Room. Per Mrs. Darwin, "The basics of the plot: a young woman and her son held in captivity, narrated by the five-year-old boy. I flew through the book and made Darwin read it as well so that we could talk about it. I'm a squeamish person and was very wary of the subject material, but Emma Donoghue handles her narrative with an exquisite sensibility." I'm very intrigued and plan to read this as soon as I finish Peace Like a River
by Leif Enger (which is also a novel told through the eyes of a child, although this narrator is 11). I'm about halfway through with the book (which I'm reading based on a recommendation over at Faith & Family LIVE) and enjoying its lyrical style, setting (the story takes place in rural Minnesota in the early 1960s), and compelling characters.
What about you? What books have been a part of your summer reading?
*If you've read or are planning to read Dr. Meeker's newest book, Elizabeth Foss will be hosting a book study over at her site starting next Thursday.
Melanie recently shared a quote her sister-in-law has on her fridge:
"Suffering in life is inevitable. But misery is optional."
I've been thinking about those wise words a lot lately.
Have you ever noticed how different people handle suffering? I'm not trying to judge here, and I believe we all should feel it's okay to cry out when we're hurting (Jesus did in Gethsemane, didn't He?), but does wallowing in misery buffer the pain at all? And the key here is wallowing. Most of us have probably invited ourselves to an occasional self-pity party. I know I have. But at some point, I have to leave my little corner and embrace my suffering – even those small toothpick crosses (e.g., sleepless nights, screaming children, trails of crushed Cheerios, etc.) that can feel heavy at the end of long day – with grace.
It also personally helps me to laugh even when I or a family member is  in a passion.
My parents were the ones who taught me the value of keeping a sense of humor – in good times and in bad. They've laughed (and prayed) their way through some pretty trying times (sicknesses, loved ones dying, children fighting drug addictions or eating disorders, etc.).
One recent example: My mom has had to start taking some medications with some pretty potent side effects (nausea, extreme lethargy, etc.) to help treat her recently diagnosed trigeminal neuralgia. Oftentimes, the facial pain and the extreme fatigue completely knock her out, and this is not a woman prone to sloth. Given her recent lassitude, my dad and I were joking about how they'd be rejected from one of those older, active adult communities.
"Mom makes Nana look like an active adult now," Dad joked. (Nana is his almost 90-year-old mom who will gladly admit she moves more slowly than a sloth. She's earned her rest.)
Mom laughed. She almost always does. Misery is an option she has refused to choose. I hope I can do the same no matter what suffering life has in store for my family or for me.  Read more