Dear Skinny Jeans,
I haven't forgotten about you although I am working on it and hopefully at the end of this letter my farewell to you will be complete. For some reason, every time I open my closet lately I hear your siren song calling my name, taunting me and telling me that life was better…I was better, stronger when I fit comfortably into you. Sometimes I mark my life by the times I weighed this or that. And, of course, there was the skinny jeans age when I effortlessly slid into your tapered denim legs. My mom was buying me a special birthday gift, and we were at a store I couldn't afford to shop in at the time. My third baby was not quite one year old. I was running around raggedly. I took (foolish) pride in my lithe postpartum body. I found you, and you were even on sale. My mom and the sales lady all said you looked great on me, and I felt great wearing you. But maybe that was the problem right there. Clothes or the way they fit me shouldn't dictate the way I feel, especially not the way I feel about myself, my strength, or my worth.
So the other day, knowing full well I am not as thin as I was in that glittery-gold "skinny jeans era" even though I cannot recall the last time I stepped onto a scale, I decided to try you on – just to see how you'd make you feel. Why do we women let a number on a scale or a clothing label or how a pair of jeans fit us shape the way we see ourselves and even our lives?
Well, I had to stuff my flesh into you. The zipper slid up easily enough, but then I had to lie supine on the bed to button you and then I felt like I couldn't breathe. You didn't make me feel good at all. You reminded me of failure. You reminded me of weakness. You made me fearful of the "fat" girl of my past – the one a boy spat upon on the bus, the one another group of vicious boys oinked at, the one who bore the nickname "Miss Piggy."
This girl: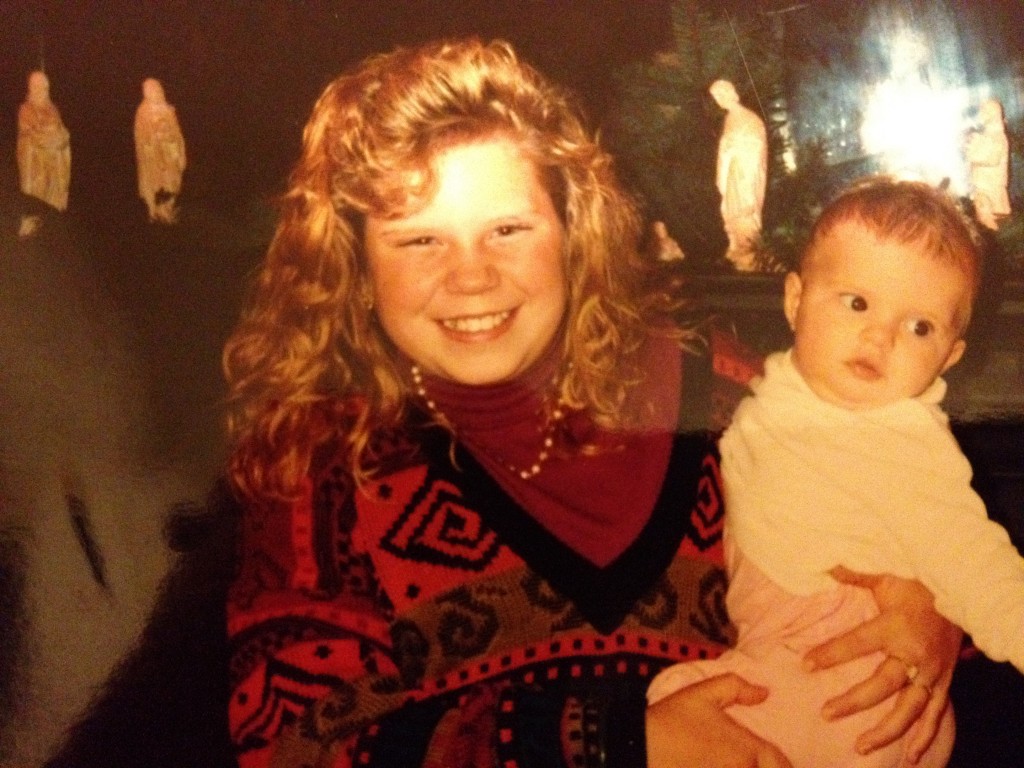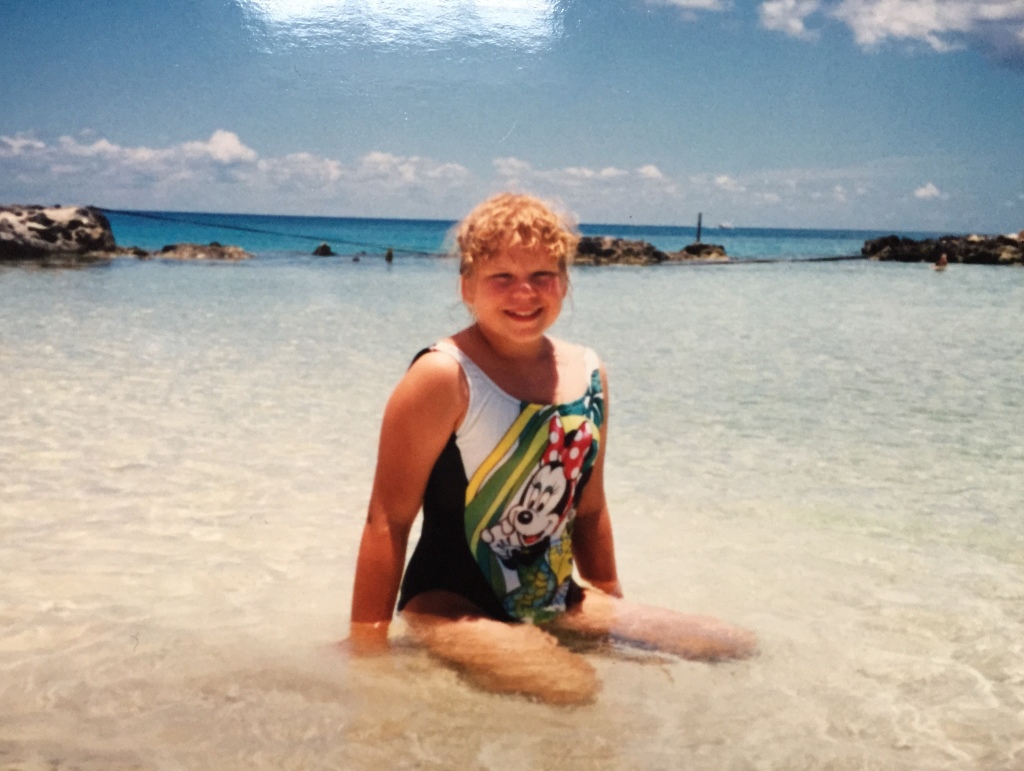 Walking stiffly around my house with you clinging to me was a form of punishment, and there was also an unrealistic hope that you would quickly stretch and fit me loosely as you once had. I found myself mourning the old me – not one my critical self labeled as the "fat" one  – but the one who was thin enough that you hung loosely on my hips. Now you dug into my hips like sharp teeth, and I wasn't sure which pain was worse – the searing physical pinch of tight fabric on skin or the emotional pain. It wasn't so much that I was married to the desire of looking good in you any longer. It was just I wanted to protect myself against future pain. I equated wearing you with happiness and security when really those things have nothing to do with my waistline. And I was afraid that allowing you to become tight on my waistline was allowing myself to slip back into that lonely, uncertain girl who got teased on the school bus.
I peeled your denim off me like it was second skin I was shedding. I cried at first because of what I had lost – a size 25 inch waistline, power, ephemeral happiness. But then I started to weep for a different reason. I hated it that someone who was supposed to be a body image role model, someone who was blessed with daughters whom she wanted to teach to reclaim the beauty of Creation, someone who wrote a book called Weightless and now I felt weighted down by this burden of self-loathing. This led more tears to flow.
Rationally, I know that thinness does not equal happiness. It is an illusion. Skinny people suffer. Overweight people suffer. Rich and poor suffer. Most human beings suffer. I also know that I like to pretend that I was gifted with you during a blissful, healthy time,  but this is a half-truth. I had happy moments, but I was thin partly because life had lost its luster and so had food because I was mired in the darkness of postpartum depression. On the outside, I looked happy enough, but on the inside I was breaking and crippled by sadness and uncertainty. That's been a trademark of big chunks of my life – smile, be the life of the party, and then go home and weep, question every word you uttered, berate yourself for all that you are and all that you lack.
And you, Skinny Jeans, I was allowing you to be another reminder of all that I wasn't and couldn't be instead of seeing you as just a silly piece of clothing from a distant part of my life. My expectations of still wearing you comfortably after four children and when I eat fully and richly without counting calories and exercise out of enjoyment and not as a punishment or obligation, it was absurd. And, yet, I couldn't let go of you right away. So I draped you on a hanger and hung you on a silver knob of my dresser where I would see you every morning and each night in hopes that you would remind me of what I once was and give me the drive to be stronger, to work harder because I couldn't let myself go. I couldn't return to what I saw as that unlovable, little girl hidden behind too many layers of flesh, the "fat," ridiculed one.
A reader once emailed me that while she appreciated my book and writings on body image, she also found it disheartening because in her words I was a thin, pretty woman, so how could I really know what it's like to feel overweight and unlovable? At first, I was angry. Who was she to tell me what I was qualified to write about? That's what my pride said.  Then I was hurt because I wanted to tell her she didn't know me when I was the overweight kid and the object of fat-shaming and bullying. Of course, she also didn't know me when I was the ugly duckling turned swan and very confused by the new attention from boys and people calling me pretty. It didn't sit well with me. I felt like the same person through all those phases, but people saw me and treated me differently based solely on a change of my physical appearance, and sometimes I gloried in it – all that newfound attention. Other times I resented it. I just wanted people to love me for me and not comment on my aesthetics. At the same time, my peers' admiration gave me satisfaction. I can remember going out to eat with girlfriends and nibbling on shards of lettuce while they took down greasy cheeseburgers and slurped up thick milkshakes and thinking that I was stronger than they were.
And if people thought the thin me was better than the heavy me, then how much better would they think an even thinner me was?
So I restricted more, but it wore on me. And sometimes there was something freeing in scarfing down Twizzlers or globs of gooey cookie dough. Eating was a guilty pleasure instead of just a pleasure. I was the perfectionist who found short-lived happiness and relief in overeating because it felt like a moment of freedom and reckless abandon. But the guilt that followed was overwhelming. I couldn't let myself to return to that bigger, scarier version of myself.
But what I know now even as I mourn the skinny jeans era is that I'm not afraid of gaining weight or being what the world might consider "fat." What I'm really afraid of is rejection. I want to be loved and lovable – able to be loved. We all do. Don't assume a woman perceived as beautiful by society doesn't deal with loneliness or self-hatred any less than a woman who is seen as overweight might. The outside is a poor indicator of what's going on in the inside for a lot of people.
One day my 10-year-old waltzed into my room. Sometimes I look at her and feel equally proud and sad. Proud because she is so comfortable in her own skin. She sees her body as a strong instrument that can run a mile in just over seven minutes and can take her across the soccer field or basketball court rather than an object to be fixed or tweaked. In a world that lauds self-improvement, this is a young girl who is satisfied with herself and sees that she is good enough. I was nine when I first considered dieting. A few years after that I had started to hate my body and wanted to hide all that extra flesh away. I decided I would be the funny, outgoing girl to distract people from the extra weight I was carrying around. My oldest daughter has made no such decisions. She's herself because she's herself. She's outgoing because she likes people, not because she wants them to like her.
Well, she noticed you, Skinny Jeans, hanging on my dresser. "Are those new?" she asked.
"No," I told her.
"They're cute. They look like they might fit me," she remarked.
My girl takes after her daddy. She is tall. I have already started passing down old running shorts or tops I no longer wear because she's nearly my height, and her hands and feet are already bigger than my own. She has just started to take an interest in trying on my clothes.
"Can I try them on?" she asked.
"Sure," I said. "But they'll be too big on you."
My beautiful daughter still thankfully impervious to any trace of body image angst yanked the jeans off the hanger. She clearly did not revere you, O Skinny Jeans, as I did. You were just a cute pair jeans. Nothing more, nothing less. She tried you on, and I was shocked to discover you were just a little long and your waistline was only an inch or two too big. You almost fit my athletic 10-year-old daughter, and I had been berating my approaching-40-body that has been pregnant five times and brought four children into the world that you were too tight on me. Why was it that I was using an old pair of jeans as a barometer of my self-worth? Why was I so afraid of letting go of being thin and just being satisfied with being fit and happy? You were given to me under subterranean duress when I didn't feel like eating or doing much of anything else. You do not personify joy or happiness. And my no longer fitting into you like I once did doesn't mean I am on the verge of being my scared and rejected 9-year-old self.
Skinny Jeans, you are nothing but fabric – and not even all that much of fabric considering my 10-year-old will probably comfortably wear you in a year or two. You are not the Holy Grail of Happiness. You never have been. You, the scale, my weight – none of this defines me. I refuse to listen to your taunting, to the lies you whisper to me that if I lose enough weight so that you sag on my hips again, I will somehow be happier or inoculated against self-doubt. I will not hold onto you or another life I wish I was living. This is where I am now. I am going to be content with this beautiful now.
Thanks to you, I decided to sift through my closet and purge. I wasn't just saying good-bye to old clothes or clothes that never made me feel good about the natural design of my body, it was a valediction to negativity and an illusory hope that life was better in the past (when I fit well into this bit of clothing) or would be better in the future  (when this article of clothing fit me again) when it's pretty damn wonderful right now. It was a purging of self-loathing, self-scrutinizing. A purging of ridiculous expectations and holding onto certain articles of clothing that represent a life I think I want to live rather than being content with the life I am living. Why do we sugarcoat the past and glorify the future while muddying up the present? I realized that in holding onto all these different sizes of clothing – the "skinny" clothes, the "just-in-case-I-gain-a-few-pounds-or-get-pregnant-again clothes" – I wasn't allowing myself to fully live in the now.
What I decided to keep were the life-I-am-living-right-now-clothes and the if-I-really-stop-to-consider-it-the-life-I-am-so-grateful-and-happy-to-be-living-right-now-clothes, the comfortable clothes, the jeans that my figure fills well now and has for the past few years, the pretty, delicate, bohemian lace top I feel feminine yet adventurous in, the cozy sweaters, the line of brightly colored fitness clothes I have covered many miles in or held a plank in. The neon tank ("You look so pretty in those bright, neon colors," I hear the friend who gave it to me as a birthday gift saying) I wore when I recently ran a 5K where I somehow placed first in my age group and third overall in the women's division. These remind me that the size on the label of my clothing have nothing to do with my strength or my happiness.
Ironically, back when I wore you, Skinny Jeans, I felt too tried to run or to do a push-up. Now I run as my body allows, which isn't as much as I'd like, but God has a way of humbling me and reminding me that sometimes a weaker body yields a stronger soul. These days I weight train because I enjoy it and because it's something my husband and I can do together in our basement after the kids are asleep. I play pickup basketball games with my kids and end up sweaty and happy. I jump on the trampoline with my little jumping beans giggling around me. I dance in the kitchen while listening to Pandora and making my family's dinner, and my kids either join in or affectionately call me a geek. I was always a geek. After I made my transformation, a boy said, I was a geek trapped in a hot body. But like the beautiful weight loss memoir I couldn't put down, It Was Me All Along. Once a geek, always a geek and proud of it.

I am not going to fear my (heavier) past or yearn for a different (thinner) future. I am not going to see myself as a failure just because I still sometimes struggle with seeing food as a necessary pleasure and as fuel rather than thinking about it too much and wondering if maybe I, too, should go paleo or give up gluten or try to be a vegetarian again when I know that for me everything in moderation is the best dietary path to take. I am not going to hide away and not write for weeks on end because the ghosts of my eating disorder have returned to haunt and tempt me and I feel like I am a hypocrite if I try to be encouraging when maybe we all need encouragement from real people like me who have suffered and still do from time to time. I am going to share my mistakes, my weaknesses, these big, confusing feelings I sometimes still have about myself, my weight, my personality, my life in hopes that they might help someone else out there. I am not going to let an old pair of jeans  – or a new pair of jeans either  –  control my happiness. I can choose joy. I can always choose joy.
I imagine a ceremonial burning where I hurl you into the flames and watch your faded denim turn to ashes, but I then I realize that would give you far too much power. You're just clothing. My daughter might need a new pair of jeans in the future. My thrifty side can't deny that, so I'll just tuck you away in a storage closet upstairs. As for some of your friends – other pieces of clothing that don't make me feel good about myself or my body like the floral pencil skirt that never fit me right, but I held onto thinking that something was wrong with my body's proportions and thinking I could change my natural shape instead of considering that perhaps something was wrong with the cut of the skirt – well, I'm moving on and donating some to charity and selling some on Thred Up. I don't need to keep anything around that makes me unhappy or tempts me to criticize my body. Clothes like that are like bad boyfriends, and I had one of those in the past who made me feel just as badly about myself but that I kept around for far too long thinking there wouldn't be another guy who would take me. And here I am married to a man who would have taken me when I was 16 if I'd given him more of a chance, a man who loves every inch of me and always will, a man who says he loves a happy me the best no matter what the blasted scale says or what jeans I'm wearing. I hope these pieces of clothing will find their way into another woman's closet and that they will make her feel good and happy and content with the life she's living. Because whether we are a size 0 or a size 20, we all deserve that.
I was in the kitchen making final dinner preparations as my older children were setting the table when I overheard my then 4-year-old ask her 9-year-old big sister, "Maddy, why is sexy a bad word?"
There was a pregnant pause. Then Madeline slowly began to speak, "Well…uh. You know, I think that's a question for Mommy."
Smart girl.
The kids have asked me why I don't want them to listen to certain pop songs that have sage phrases like "I'm sexy and I know it" or "bring sexy back." I haven't gone into great deal, but I have started to explain the difference between the words "beautiful" and "sexy."
When I first became a mother, I harbored a lot of fear about my daughter's perception of beauty because I had suffered from an eating disorder and struggled with my own body image and had made my appearance my idol. I was terrified that my own children would make let their outward appearance become a barometer of their self-worth and waste precious years of their lives at war with the scale and the mirror.
Fortunately for me, my first daughter was born pining for pirate parties and soccer. She didn't seem to pay much attention to the frilly stuff. Rachel, my second, liked to play dress up and pretend she was a princess, but it was just one of many interests, and these days she prefers reading while wearing comfy clothes rather than pretty frocks.
Enter Mary Elizabeth. The girl has loved makeup and shoes from the day she first discovered my vanity and closet. She piles on the pink puffery, and most of her tantrums involve bad hair days or wardrobe malfunctions. She never leaves the house without myriad accessories. At a recent birthday party, a friend of mine complimented her shiny bracelet bling. She told her thank you and that it was her "party bangle." I'm not sure I've ever used the word bangle.
When she was probably around 2, I recall her picking up a blush brush and making it dance across her cheeks. My first impulse was to tell her to stop, but I hesitated when I saw the way she was smiling at her reflection. I had a parenting epiphany. I had no business trying to dissuade her from pursuing beauty or encouraging her to eschew all things feminine. God designed her to be a mark of beauty in the world and to find a way to express her femininity. For some women like my Mary Elizabeth, that may involve applying tasteful makeup and wearing pretty things, and that's okay. And truthfully, taking one look at my closet clues you into the fact that I am drawn to pretty things (shoes!), too.
Over time, I've grown in wisdom and now recognize that when any of my daughters want to slap on some lip gloss or play with a makeup brush, they aren't on an extreme makeover mission. My daughters don't (yet) see their bodies or faces as objects to be adorned or altered. They see them as canvases on which to paint, as mirrors with the potential to reflect inner as well as outer beauty.
As humans, we are drawn to beauty. As women, we may be similarly drawn to making ourselves beautiful even as we recognize that beauty transcends the external and the material world. This desire to be beautiful might make some women uncomfortable. It may feel an awful lot like superficial vanity. But as Pope Benedict XVI explained, our attraction to beauty is a power that "unlocks the yearning of the human heart, the profound desire to know, to love, to go towards each other, to reach for the beyond." In other words, the pursuit of beauty is good because it leads us to a deeper yearning for the divine. God is the source of all beauty.
But most of the pop singers aren't crooning, "God made me beautiful, and I know it."
One of the problems is in today's world "sexy" and "beautiful" have become interchangeable and seem to mean the same thing even though they're entirely different. Mary is beautiful without drawing attention to herself or being "sexy." Sure, Marilyn Monroe was beautiful, but so was Mother Teresa.
Sorry, Justin, but we really don't need to bring sexy back. It's already rampant. We need to put it back in its place and reserve it as an offering from a wife to a husband, not as the goal for our daughters.
What I will one day tell my daughters is this: Pursuing sexiness over beauty leaves a woman feeling empty. A "sexy" woman might feel she's only as valuable as how much she's noticed. She feels all she has to offer the world is skin. I know because I was once the college girl singing in the church choir who wore her skirts way too short. I didn't believe in my own worth, so I needed men to notice me to affirm that I was someone of value. In fact, I still struggle with searching for external ways to give myself value, but I am hoping my own challenges will better equip me to empower these lovely daughters of mine.
And I know I am not alone in my struggles. Modern Western society has distorted what it means to be beautiful as well as worthwhile, and this is why so many grapple with poor body image. It's why young women feel the need to wear flashy, immodest clothing, or moms chronically diet, or grandmothers tirelessly fight the aging process. Attention from men or even compliments from girlfriends make us feel attractive, and, hey, if others think I'm attractive or sexy, then that must mean I am a little bit beautiful and if I'm beautiful, then I'm worthwhile and have something to offer the world.
But we've got it backwards. To reclaim the beauty of Creation, we have to turn that equation inside out. I want my daughters to recognize their worth and their dignity lies in their being, not their doing or their looks. I want them to know that it is in their ability to love and accept love in return that makes them truly beautiful. This is the kind of beauty cannot help but attract people. We know our value and have dignity and so we express that beauty to everyone we meet, and that is what makes us beautiful.
Unfortunately, our primary conception of beauty is that of the pretty, sexy variety. It's a kind of beauty that grabs our attention and takes our sensations hostage.
Most wouldn't argue that a woman on the cover of a Victoria Secret's catalogue isn't beautiful, but she possesses a kind of beauty that doesn't give. Sexiness grabs. It seizes. It can be almost violent – a force that takes a hold of others. Sexiness has its place. A woman who feels sexy for her husband is one thing; a child who sees being pretty and sexy as synonymous and wears flashy, immodest clothing is another. Sexiness should be reserved for our spouses, and it shouldn't be inexorably linked to our beauty.
Pursuing raw sexiness (no pun intended) simply takes more than it gives.
Real beauty, on the contrary, is a gift. Authentic beauty is Eucharistic; it is transformed to what is offered and becomes a living sign of Christ's love.
I brought dinner into the dining room and smiled at my daughters. My young daughter forgot to ask me about why "sexy" isn't a good word, and I considered sharing my heart, but I'm not sure they're all ready for that. For now, I will keep blacklisting the word "sexy" from their vernacular. I'll keep encouraging my girls to be drawn to the beautiful, to share their beauty with others and to believe in it, and to sing with all their heart, "God created me. I am beautiful and I know it."
Occasionally, I use a popular fitness app to work out that's definitely designed more for the younger set. The instructor, for example, sometimes talks about her new nail color for the day (can you imagine having time to change your nail color daily?), and I sheepishly look at my chewed nails and un-manicured toes and want to say to the peppy, chic instructor "Doesn't she know that au natural is the new 'color' of the season? She also mentions things like studying and exams without nary a reference to potty training or sassy kids.
Nevertheless, the reason I keep the app is simple: The workouts are challenging and free (the app is free to download as well), and they also incorporate a lot of Pilates, something myriad health professionals have encouraged me to continue to do as I tirelessly attempt to rehab the injury-that-will-never-go-away*.
The app also comes with recipes, workouts, and a forum. I never paid much attention to the forum component, but a few months ago we were on a longer car trip and I started perusing through the "Before & After" section. I will tell you right now that if you struggle with your body image (or ever have), or you have suffered from an eating disorder in the past, this is probably not the best place for you. I'm not sure it's a great place for any woman to spend much time, given how it's so body-centric and gives girls a chance to compare themselves to hundreds of half-dressed women.
To be fair, there were some women who really seemed to be using the before and after photographs as healthy motivation.  They have lost the weight and/or toned up in a healthy, balanced manner. The community was also mostly very encouraging. There was one young woman who only posted a "before" picture along with the comment "my body is disgusting, but I'm going to change that." Someone immediately responded, "Your body is not disgusting. It's going to be hard to make healthy changes if you don't love yourself first." Agreed. There were also girls desperately trying to achieve what seems to be the Holy Grail of Beauty right now – the elusive thigh gap. But for every young woman lusting over one, there were two or three telling her this is an unrealistic goal for most women and is based more on bone structure than fitness.
So the "Before & After" section certainly wasn't exclusively black hole of negativity. What's more, taking a before and after photos as you embark on a healthy lifestyle makeover rather than fixating on the number on the scale can be quite beneficial, but I would recommend keeping the photos private. Of course, for some sharing progress with others helps hold them accountable. In fact, the idea of a "social media diet" is growing, thanks to websites and apps like My Fitness Pal and Lose it! to But like so many things in life, you have to know yourself, your temptations, and be vigilant about ensuring what may have healthy potential doesn't morph into something that leads you to unhealthy comparisons, vanity, and/or obsessiveness.
Personally, while I could recognize some good coming out of this particular social media "Before & After" forum, I also saw a whole lot of bad. Somewhere in the back of mind, I started to look at one young woman's enviable midsection and wonder why my efforts to strengthen my core were not resulting in that streamlined, muscled look. (Ironically, my "efforts to strengthen my core" have been successful even if you don't see it based upon how long I can hold a plank these days without earthquake-like body tremors.) If you clicked on the username, you would learn that the "woman" was all but 15. A mom of four inching closer to 40 every day was actually comparing herself to that of a 15-year-old in a moment of absurdity. I wasn't the only one making unwise comparisons. Many of the girls on the forum were asking questions like, "How did you get your thigh gap?" and "What can I do to have abs like yours?" All of these girls were looking to others for inspiration instead of looking within themselves and asking themselves, What can I – with my own gifts and natural design – do to live the fullest, most healthful life possible?
I don't like admitting that I was actually on a fitness "Before & After" forum comparing myself to adolescents, but I can bet I'm not alone. Maybe most women don't go so far as to seek out a forum full of fitness photos, but most of us fall prey to comparing ourselves to someone somewhere. Perhaps it's someone in the media or on the cover of a magazine you glance at while checking out at the grocery store. Or it's the fit neighbor who runs by your house every day. Or it's the beautiful mom who doesn't look like she just had a baby whom you meet at a playdate. Or it's the "friend of a friend" on Facebook who posts her smiling, lovely face and her status update: "Soaking up the Mediterranean sun and getting the tan of my life." Or maybe you're looking at pictures of you – maybe it's the "thin" you from that day long ago when you didn't have varicose veins or maybe it's the "current" you who's just a bit too soft – and you're comparing yourself to what you could be, once was, or should be.
Stop it. Stop it right this very second.
You are more than a paper doll to be dressed up, scrutinized, and criticized.
I wish all those young girls on that app knew this. I almost thought of leaving comments such as these after some of the posts.
I nearly did comment after a post that made me pause. There was a picture of a young girl with a lovely, round face. She wasn't smiling. Actually, it almost appeared as if she was trying to make herself look as miserable as possible. Beneath her picture, she wrote, "I hate my round face. What can I do to make it thinner?"
I had an answer for her. "Age, my beautiful girl. The aging process will siphon all that collagen from your face, so that one day it's no longer round and all angles, and you'll realize your the face of your youth was perfectly fine just as your aging face is lovely as well, and its 'roundness' was had everything to do with being young and full of life, and your wrinkles now have everything to do with living a full life."
See, once upon a time I was a chubby girl who got teased and called names like "Miss Piggy." Then one day some crazy hormones started finally coursing through through her body and – viola! – she slimmed down. She felt like the ugly duckling turned swan. The very boys who teased her started flirting with her; girls asked her what her "secret" was (once again, it was simply aging and hitting puberty later than others).  So the swan preened her feathers and flaunted them, believing all she had to offer the world was skin. She embraced a warped view that to be thinner was to be better and even more loved. She started to exercise rain or shine, sick or well. She started to eat shards of lettuce (hold the dressing, please) for her "big" meal of the day. She grew thinner and yet, she felt that her face stubbornly remained round.
If there had been social media in her day, she would have most certainly become obsessed. She would have seen the girls with hip bones jutting out and hollowed-out faces and wonder why she wasn't as "strong" as them.
This girl was me. I hated my face. I hated how "fat" it looked.
Now I look back on those photos and I see nothing but youth. I used to sift through photos of my "chubby" self (my "before") and compare them to my "after." I was mostly pleased with the way my clavicle was a noticeable ridge and one of the first things you noticed when you looked at my photo, but that face of mine never seemed to change. I put so much effort into trying to change the outside of me while the inside atrophied and was consumed by thoughts of what to eat and what not to eat, how to smile in a photo or tilt my head so that plump face of mine wouldn't look so full, how to get rid of those nasty calories I'd taken in, how to be thinner, and in my twisted mind "better."
If I could turn myself inside out, what would my internal before and after look like? There would be a girl – a silly girl who loved writing in her journal, reading, drama, and horses – who was shutting out all the beauty that longed to radiate from within by becoming preoccupied with weight and changing a face that would one day change all on its own.
More recently, I was with a friend whom I hadn't seen in quite awhile, and we started talking about what we were up to. I admitted that I was in a bit of a slump, but that I was learning something very valuable through it all. I noticed her new Garmin watch and complimented it. "I love it," she said. "I use it all of the time."
"I used to use mine all of the time, too," I said just a tad wistfully. Just call me Eeyore.
"But you don't anymore!" Madeline, the ever-eavesdropper, added.
Nope, I don't, and for some reason I started to consider all of the time I've invested in trying to rehab my tendons and my lopsided pelvis, and I thought of my lackluster soul, how it's been mired in what feels like an interminable dark night for too long, and in need of some serious rehab as well. I thought about how going to weekly Mass really isn't enough to nurture a living faith or to resuscitate a flagging soul. I need to enfold myself into a stronger chrysalis to change: prayer, more confession, more hope.
"You know," I told my friend. "What I'm going to focus on right now is just trying to be a better person. I've spent so much of my life achieving and trying to meet goals, but what if I just poured most of my efforts into being a better person? I know it sounds cliche…." I trailed off.
"No, it doesn't," she said. "Not at all. It sounds like something we all should do."
And so I'm working on pursuing a different kind of before and after. Here's my before: Here's a woman who God just won't give up on despite her doubts, her fears, her struggles that are suddenly resurrecting after years of peace and wholeness. Her soul is beautiful, but it's in need of a makeover. It's not as radiant and trusting and hopeful as it should be – or as it once was. But that's okay. There's no reason to despair or to give up or to compare herself to others who diffuse peace and kindness and unwavering faith.
Because after weeks, months, a lifetime of ups and downs and effort, and grace-seeking and mercy-begging, here's her after:  This soul of hers is resplendent. It can't stop shining. It is a grateful soul. It has a few blemishes, yes, because this is a soul of a human, but look at the way it sings and shines and gives and joyfully receives and loves.
That's the "after" I'm going for. Hold me to it.
—
*I met with a new specialist yesterday and am very hopeful about overcoming this injury and getting back to running, but I am determined to find peace no matter what happens.