I've been running two very slow miles on an AlterG anti-gravity treadmill during my weekly physical therapy sessions, but the hamstring is still nagging me. The medical experts stress that I need to be patient because of the stubbornness of this injury. I'm not a particularly patient person. And honestly, I have had my ups and downs. One day I'll feel hopeful. The next I'll feel the sharp twinge in my bum and will be tempted to start wailing.
My little man can relate.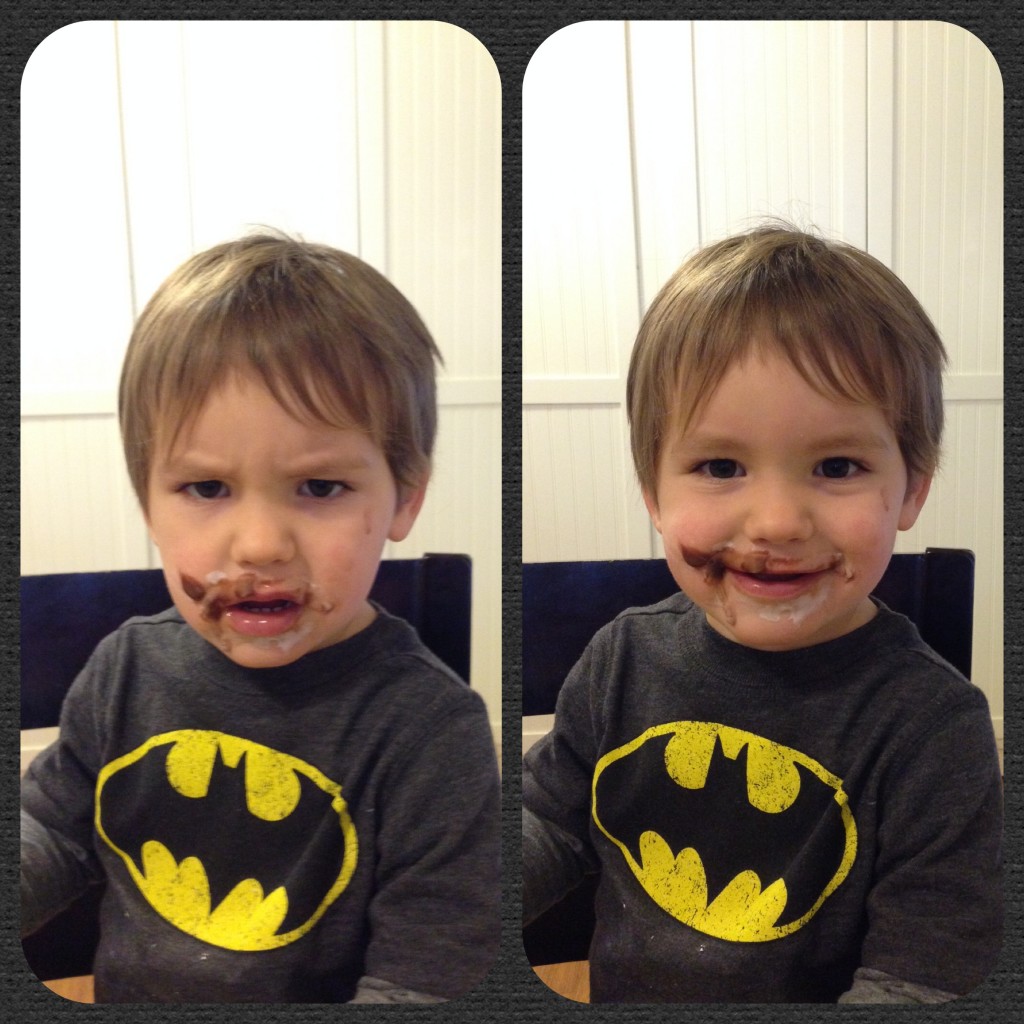 Feeling sad about a running injury when so many others (like most of the world's population) have so many bigger problems makes me feel sheepish and guilty, but someone recently helped to make me feel better. She said what I've suspected but felt silly saying aloud. "You have suffered a profound sense of loss, and it has changed your life."
It has, and it seems to be more challenging not having this part of me as I enter this lovely but busy season.
I gave a speech this past Sunday that partly dealt with not allowing the Advent season to leave you frazzled and burnt out. I reminded the audience that God doesn't need perfection from you or the decorations in your home or a calendar brimming with potlucks, parties, and planned events to be adored. Baby Jesus – the Light of the World – was born in a dirty, smelly stable, which goes to show you beautiful things can come out of imperfect situations.
Well, not only did I wake up the morning of the speech with my left eye almost completely swollen-shut from some weird allergic reaction (thankfully, taking Benadryll before the speaking engagement reduced the swelling and redness), but I walked in to the hallway of the bank where the event was being held and then opened a glass door in front of me, which promptly set off the alarm. Fabulous.
Actually, this all made for a great intro to my speech, and I left feeling encouraged not frazzled. But just as I'd warned the audience, the feelings of peacefulness might not last.
This week has been a doozy, and I feel more stressed than ever. And, frankly, a lot of my heightened stress has to do with the fact that my primary outlet – running or at least more rigorous cardio – has been taken away from me. I just can't get my heart rate up enough to get those endorphins flowing without feeling pain in the high hamstring area.
I have a friend who is a runner who just found out she has a stress fracture and is now in a boot. She said to me that this is the worst possible time to not be able to run. We joked about how we'll be gorging on holiday goodies without burning off any of the excess. As someone who encourages people to not fret over occasional (even small, daily!) indulgences or to ever fear getting fat, I hate to admit that I am approaching this holiday season and the binge-fest that often comes right along with it with some trepidation.
If I were a better body image expert, I'd tell you that I never ran to give me an excuse to eat more, but how about if I be an imperfect but honest "expert." I loved to run, but I also love to eat. If I know in advance I get to eat out at a restaurant, you'd better believe I'll check out the menu and decide what sounds the most delicious.
When I was regularly running fairly high mileage, I routinely burned around 3,000 calories a week according to my Garmin watch, which is fairly accurate (and that was only counting running, not my other daily physical activities). I could basically eat whatever I wanted and not gain an ounce. Of course, me being constantly "rungry" could explain why I never lost much weight either (I never have shed the seven extra pounds from Thomas, or I don't think I have. I don't weigh myself anymore). I remember back in early October popping another handful of candy corn and peanuts in my mouth and then later wondering why my skinny jeans weren't loose yet. (Note to self: Skinny jeans are supposed to fit to your body and not be baggy.) All the running in the world won't make up for mass candy corn consumption.
The candy corn is gone. (I didn't eat it all. I swear.) But there are cookies, candy canes, and rushed schedules that make wholesome eating a little more challenging, so I'm afraid of gaining weight. I still have not stepped on the scale since I decided to put an end to my recurring scale sickness. As I wrote in that post, I am more than a number. I believe this and know it intellectually, but I have to admit I'm afraid of all those Christmas cookies and all the opportunities to eat more than I normally would coupled with the fact that I'm not a calorie-burning inferno any longer.
There. I said it. Yes, I have some fears about gaining weight now that I am sidelined from running. No, I didn't run or exercise to be thin but to be healthy and strong, but now that I can't, I do admit to worrying about the repercussions. As a proponent of making peace with food and your body, it pains me to say that, but not admitting it wouldn't be authentic. And if this blog has ever been anything at all more than a rambling mess, it's been authentic.
I had a kind reader who is working to overcome an eating disorder write me recently and ask for advice about this season. She's afraid she's going to eat too much and start hating her body. If she had asked me this last year, I would have probably been more eloquent and wise. Maybe I would have told her she's more than a clothing size, and that the reflection in the mirror only gives us a snapshot of whom we are – and it's frequently a distorted one at that. I may have told her there is no shame in eating a few Christmas cookies or swigging some eggnog, and doing so does not make us "weak" or "bad." I might have told her to pray the Serenity Prayer. I may have asked her what she's really afraid of because chances are, she isn't really afraid just about gaining weight. She's afraid of something deeper. Eating disorders, fear of weight gain, body image angst – these are all symptoms of a greater illness. Take me, for example. I still struggle sometimes with not feeling good enough. I had a dear friend ask me not too long ago what it would take to get to that good enough place. I am working on it. There are some internal scripts that were pieced together in my past that I still need to edit – or just burn. When I was in the midst of my eating disorder, I was more afraid of losing control and than I was of gaining weight. It was very revealing to me when I finally realized that I was trying to make myself thinner because I felt like I could not make myself more lovable. The healing truly began when I realized I didn't have to. I didn't have to do anything to have worth or to earn anyone's love.
More recently, what I've really been mourning more than not running is a sense of identity loss. It's not just that I'm no longer a runner; that never defined me. I was a person who ran. Truth is, I feel very hidden lately. The invisible mama and all. So I'm not really afraid of gaining weight and taking up more space. I'm afraid of not being noticed at all, of my kids growing up too quickly and me being left in an empty house with nothing but a heap of regrets. And, yeah, I'm afraid I'm going to be one of those people I read about on a woe-is-me forum that never really rebounds from a high hamstring injury. Those are the real fears. My weight is the scapegoat.
Today I felt down, and I chose to not fuel my body with the best food. That made things worse, and I had to take a deep breath and not let it all go downhill from there. I tend to globalize my behaviors and emotions. I lose my patience with my kids. Ergo I am a bad mother. I screwed up and ate two chocolate chip banana muffins instead of just one. Ergo I might as well have a third because I am a pathetic, horrid creature with no will power.
I'm getting better at not allowing my thoughts to implode and leave me feeling crushed and defeated. Something that has helped me achieve this is to not just tell myself take it one day at a time, but to break it in to even smaller increments. One moment at a time. (Go on and pray the Serenity Prayer. It's a beaut.) Yup. The Feast of Saint Nicholas started with fighting children and me hollering over the clatter that I hate Christmas! What I really hate, of course, is all the noise, noise, noise. I can relate to the Grinch more than the joyful Whos sometimes, I'm afraid. But things got better. I explained to the kids that I didn't hate Christmas, but that I was having a hard time with all the fighting and hoopla and what I really hated is that the true meaning can get lost in the candy cane highs and gimme, gimme, gimmes. I'm also having a hard time with the Advent/Christmas decorations. I went to sit in our library (my favorite place to reclaim peace and to get cozy with kids and books), and our entire Fontanini Nativity set
had mysteriously migrated to the couch. It feels like there's just more to clean up. I know I should be glad my 2 and 4-year-old are getting up close and personal with Mary and Joseph (Baby Jesus stays hidden until Christmas), but it's no fun to sit on a Wise Man.
I had to remind myself of my puffy eye, me setting off a bank alarm, and reminding the audience that it's up to us find peace in our lives even in the midst of the chaos. Take a deep breath. Eat a cookie. No, don't. You're not really hungry for a cookie. You're hungry for peace!
Tonight I broke a sweat doing safe upper body weight training and core work, and I also reminded myself that I choose to exercise and eat healthfully not as a form of punishment but because I want to feel my best physically, emotionally, mentally, and spiritually.
I don't want exercise to morph into a purgative measure. I want it to be for me and done out of a genuine love for myself and what I have to offer to others. The same is true with eating. It's very difficult to lose weight – and keep it off – if you don't love yourself. If you approach eating as a way to deny yourself of something, then at some level you're saying you're not worthy. You're not lovable the way you are. That's rubbish. How about choosing to exercise and eat healthy because you do care about yourself? How about saying "I choose to move my body and eat more wholesome food" rather than telling yourself you should do those things?
Besides, no one likes a "hangry" person. (Hunger = anger)
In some ways, I feel like I'm having to relearn some of the principles I had to embrace when I was recovering from my eating disorder, so perhaps that email from the woman struggling was timely. Besides what I wrote above, I'd encourage her to practice mindful eating. This is one of the most powerful ways to free yourself from fearing food or obsessively counting calories, something I admit I was tempted to start doing when running was taken away from me. This phrase is thrown around a lot, but it's rarely practiced. I was reading the most recent issue of Cooking Light, and it had an article devoted to the practice. Kate Meyers, the article's author, explained mindful eating well. "The concept of mindful eating," she writes, "centers around the emotional and spiritual value of food – how it makes us feel, and how it helps us not just to live but to thrive. It says that the way to eat is less is to pay attention more. This happens when you teach your brain and palate to deeply enjoy the experience of eating in the present moment."
See, eating is supposed to be pleasurable, not a source of angst. Pay attention more, and you'll almost always eat less.
The article went on to interview Geneen Roth, a body image and mindful eating expert. She offers some rules to follow if you're trying to eat more mindfully. These are worth noting during this busy time of year when it's easy to mindlessly nosh on tasty treats at myriad social gatherings. She encourages you to eat when you are hungry and to eat sitting down in a calm environment without distractions (eating in the car doesn't count). Here's what's really crazy: She urges you to eat what you want. That's right. If you don't really feel like the kale quinoa salad today, that's okay. Give yourself permission to eat something else, and then eat it until you are satisfied, but do it in full view of others. No secret stashes or binges. You should not feel guilty about eating. And above all, eat with gusto! Eating is an act that must be savored. If you eat with intention, if you listen to your body's cues and share meals with others, if you eat what you want when you want it, then eventually you will teach your body to tell you what you need. You will have your fill, and you won't be afraid of the pending famine that used to always come after you felt like you had eaten too much or decided to start another diet.
I've had to learn to trust my body and what it tells me. Too many times I don't pay attention to its cues – whether it's been pushing myself too hard through an injury or eating too much or too little. I'm going to love myself and trust myself more this holiday season and in to 2014. My body will tell me what it needs, and sometimes that's a glass of wine and scone studded with chocolate chips. Sometimes it's a green smoothie jam-packed with spinach and chia seeds.
I have suffered a loss, but I'm not going to fill it unnecessarily with food. However, I am going to enjoy what I eat. I am going to be grateful that while I can't run for stress relief, I can hold a plank for two minutes and sit now without too much pain. I'm going to eat when I'm hungry and eat what I want in the company of good friends and loved ones.
I'm going to remember that this season is a season of hope and set my eyes on what's to come.
How's that for a digressive tangent for you?
I've written before about how seeing our bodies as instruments rather than objects goes a long way in boosting our body image. But what happens when despite our best efforts to take care of it, this instrument of ours doesn't work properly? What then?
I was supposed to run a 15K today. In two weeks I am signed up to run a half. In 10 weeks I am signed up to run another half. This is my busy race season. I'd been feeling great during training. I'd suffered from an occasional twinge or pain here and there, but nothing I was worried about and nothing that kept me from lacing up my running shoes for more than a day or two. I had slacked off somewhat on my stretching and strength conditioning routine, but I'm a mother, not a professional athlete. There are only so many hours in the day.
Last Saturday I had an invigorating 11 mile run with my favorite running peeps. The air was brisk. I live in a college town, and it was the morning of a big game so even though it was early the campus we snaked our way through was a abuzz with energy. I felt great. Even close to the end when my legs were feeling a little heavy, I had enough left in me to sprint the final stretch. After the run, My family and I spent the day with good friends. I was active with the kids and didn't feel a hint of soreness.
Sunday came, and it was a glorious fall day. I rounded up the entire family, dog included, for a family walk. The older girls and I sprinted up a few hills, and I remember thinking that my left bum felt a little sore. But, hey, I just did a long run yesterday. That's all it is. My body's a little tired.
That night I was sitting on the car on the way to the teen Mass when my left bum started aching. It hurt just to sit. I thought it was weird, but I figured it was a fluke. On Monday morning I woke up for a run with my pals, and it hurt to walk. I was foolish and decided to hit the pavement anyway. I figured I just needed to warm up even though I don't usually feel stiff in the morning and am one of those obnoxiously spry people early in the morning who bounds out of bed. When I started running, I told my friend I'd have to go more slowly. I pushed through four miles while my bum screamed at me. One of my friends says that when her aches and pains talk to her, it's okay to keep going but if they start screaming, it's time to stop. I didn't.
When I returned home, I started researching what could be causing the pain. At first, I thought I had piriformis syndrome, so I started using the pigeon stretch and massaging the area with a tennis ball. I decided to cross-train for the week until the race. I told myself I'd be fine. I tried to jog on a flat stretch of grass on Wednesday, which was another dumb move on my part. I'd said I wasn't going to run, but it was so pretty out and I had a stretch of time while my oldest practiced soccer and my running shoes were on (I may have worn them on purpose as an excuse to run just a little). The run wasn't terribly painful, but it wasn't enjoyable either. Still, I was hopeful. I took a barre class on Thursday. I hit the Family Y for a Pilates class on Friday. I was determined to work my core, stretch, rehabilitate.
After the Pilates class, which has always made me feel better with any ache or injury I've endured, I came home and cried because I was feeling worse, not better at all. I'd tried to be careful and had been icing and stretching, but it was making no difference – or it was possibly making everything worse. I was suspicious that I wasn't dealing with piriformis. My husband asked me what the differentials are for it. (I love it when he speaks doctor to me.) Upon further research, it seemed like my pain was more of the high hamstring tendinopathy variety. This made me cry more because this is not a common injury or an easy one to overcome, although my friend's husband, who is an orthopedic surgeon, is far more optimistic than most of the literature I've read. There's a little yay!
I'm stubborn, so I still picked up my race number. Then called my good friend and running partner and asked her for advice. She's the one whose husband happens to be an orthopedic surgeon. I tried to get in to see one of his colleagues that Friday, but he wasn't in clinic. So her kind husband came over, asked about my symptoms, did a brief examination and confirmed that I am likely suffering from high hamstring tendinopathy as well as hip bursitis.
I started to cry (again). I cried harder thinking how stupid I was being because it's just running after all. I asked if I should run the race. "I know it's important to you," he said, "but I wouldn't. It could pop."
I briefly envisioned myself running my best race and going out there for all the glory and crawling across the finish line with a popped hamstring, but then I remembered I have two half marathons coming up so maybe I should be kind to my body and skip this race.
I cheered my friend on this morning along with the two older girls, her husband, and her two children. I was so happy to see her running and high-fiving us.
Then I returned home and cried some more. I've cried a ridiculous amount today. To be fair, I had been in a slump before the injury came down and in fact, after my therapeutic run last Saturday, I told my husband at least I had running as my Prozac. (I know, maybe my faith should be more of my Prozac.)
All the non-runners out there might think I'm crazy, and I have admittedly grown to love and yes, need my weekly runs. (Runners do tend to get addicted to their runs.) They give me energy. Since I run with good friends, my longer runs double as therapy. I feel like I am a better mom since starting my running routine again. Running also gives me a sense of accomplishment, and it's been a hobby that has been easy to squeeze in around family life since I get up early to run before anyone else is even awake. It's Mom's thing. The kids know I run in the morning. I'm going to miss all of this tremendously. I'm going to try to see a regular physical therapist this week but from what I can gather, this kind of injury is stubborn and persistent and not something you should just run through, thinking it will get better. I've seen the recovery time listed at 8 to 12 weeks (ARGHHHH!!!!) and what's worse, is I'm supposed to avoid any activity that bothers it. Sitting hurts. Rowing hurts. Walking hurts. Even the elliptical trainer, my go-to cross-training exercise, didn't feel great. So I am afraid I am going to be reduced to a motionless lump. That will drive me crazy.
But it's more than all that. I am sad that I am so sad about something as trivial as a running injury. Get over yourself, Katie. But above all, I am angry with my body. If it's this lovely instrument I'm supposed to take care of – which I've worked so hard to do in the past year by training prudently, fueling it with healthy food, and aiming to get more sleep – then why is it so screwed up? Why can't it just not get hurt when mentally I am tough and ready and aerobically I feel like I could go on for miles and miles? Then the ultimate thief of joy sneaks in and I start to compare. Why can't I handle as many miles as so-and-so? What is wrong with my body?
I remember feeling a very similar twinge of inferiority when I suffered from my first miscarriage (only I was, of course, far sadder). What went wrong? Why was my body not able to keep this baby?
I know of a friend who could not, despite trying to do everything "right" and consulting with multiple lactation consultants, nurse her first two babies. She said it was awful how the shame crept in and how she questioned her body, even her maternity. I know of another woman who longed for a natural childbirth but ended up having to have several medical interventions. Hers was a clear cut case of needing modern medicine to keep her and her baby healthy and safe; yet, she mourned her labor experience for months and wondered why her body had failed her.
My own mom gets frustrated because her chronic pain sometimes prevents her from living the full life she imagined. Mentally, she wants to do more. Physically, she just can't.
Disease, aging, injuries, even our own natural design (high hamstring tendinopathy is far more common in female runners), and so many factors simply out of our control start to make us question ourselves and our bodies.
As I type all this, my bum aches, and I'm angry, but I also know that this instrument of mine isn't designed just to run races. I have to accept my body and its innate strengths – and its limitations. This body of mine may never live up to what I want or think it should look like or perform like, but I can't punish it or berate it. I can't stay in bed all day crying either.
This instrument has many purposes. I've been blessed to give birth naturally four times and to nurse four babies. Somehow I forgot all that as I wallowed in my pity, sobbing because I may have to sit this race season out. I also forgot something else. My body is a vehicle to live out a life of purpose – a life God purposes for me. That might include running, but what it most definitely includes is taking care of this family of mine and loving others. And I can do that even with a pinching pain-in-the-bum.
Our weight and our ability to run, nurse, or get pregnant should never rule our life. God should. Love should. Our bodies aren't instruments to do just what we want them to do; they are instruments to do God's will and to minister to others.
I can't run or even sit for too long right now, but I can write a "just because" note to a friend. I can hug my children and nurse them, too. I can make a delicious meal for my husband. I can pet my dog. I can smile at the grocery store clerk. I can read story books aloud to eager, little ears. There's so much I can do.
It's going to be very, very difficult for me to not run, to not be with my dear friends in the early morning, and to perhaps have to give up my racing aspirations for this season (and lose all that money spent on race registration fees. Sigh.), but it's not the end of the world, as my 8-year-old reminded me when I was sniveling this morning. It's not the end of me either and what I have to offer to my family and to others. I've been knocked down, but it's time to get up again.
That running pal of mine who ran the race today and ran it very well sent me a link to a blog post earlier this week before she even knew how down I was or just how bad my bum felt. She wasn't running when she clicked "send," but she was most definitely an instrument in God's hands because when I read the post, I cried (happy, grateful tears not pitiful ones this time) because it was just what I needed to read at that moment. Because I felt broken. Spent. Hopeless. Because I was trying to rely on my own strength and was angry that it had failed me. Because maybe like the author wrote, "God isn't interested in my strength. He is interested in my obedience in weakness. Do you hear that? God said enough with my hobbies and my preferences. Let's see about her obedience and her faith."
I definitely recommend reading the post in its entirety, but I'll conclude with this snippet:
This broken feeling is only broken if it stays there. If it stops in self-pity. If it wallows in grief about the lost emotions of our journaling days. But this is richer. When we seek His joy instead of our own, when we lay our best on His altar, and we have nothing left for ourselves, that is when we are truly accomplishing His purpose in our lives.

We are not broken. We are being healed. We are not alone. We are in His hands. We are not overwhelmed. We have a champion. We are not stupid. We are being made wise. We are not weak. For He is not weak. We are not hopeless. For we are His.
Now it's time to get out of bed and jump – slowly and carefully so as to not injure this ridiculous body of mine – into life!
As my regular readers know, I've gotten back into running after a long hiatus. It's been about year now since I've been running regularly again, and it feels great. I feel strong, and I see a marked improvement in my levels of anxiety on the mornings I roll out of my bed for an early run. I'm also in great health as my medical numbers like blood pressure and cholesterol levels indicate. But there's one area I've felt a little bummed about. I weigh 10 pounds more now than I did when I wasn't running. I'd never lost the last seven pounds from baby number four and since running again as well as getting back in to a more regular strength training routine, I've gained an additional three pounds. Some of the weight gain can be attributed to increased muscle mass. I'm still able to fit into my old jeans. If I'd put on 10 pounds of fat, this wouldn't be possible. I know I am blessed with an athletic yet somewhat curvy figure and probably should just shut up about the weight gain; yet, I also don't want to fall in to the trap of gaining a few pounds every year so that one day I wake up and find myself at an unhealthy weight.
I get frustrated some days because I feel like I don't look like a runner. I run almost every day. I'll have completed three half marathons before the year is over, but I look at my soft upper body and I get frustrated. Why don't I look leaner? There are days (weeks, sometimes) when I could have skipped eating the brownie or drinking the extra glass of wine, but there are plenty of days when I eat a clean, wholesome diet. Get your five fruits and veggies a day? I typically get that in one breakfast smoothie. I feel good about my diet and my running, but then I step on the scale. And this is when I really feel like I don't look like a runner – whatever that means anyway – because the number isn't going down. Sometimes it goes up.
For months the number really hasn't budged. Shortly after my first half marathon, I gained about three pounds, but now it stays put whether I eat that cookie or not. Intellectually, I know that I am close to my set point weight – that is a healthy weight my body keeps returning to even if it's not my "happy weight." I weigh about two pounds more than when I got married (ironically, that was also a time I ran more. Perhaps my body needs this extra weight when I'm covering greater distances.). I got married after about two years of recovery from my eating disorder. I was told my body would naturally gravitate to a healthy weight for me if I listened to my internal hunger cues and exercised in a balanced manner. I did seem to arrive at a fairly stable weight. But in between pregnancies, something surprising happened. I dropped below what I thought had been my set point weight. I dropped to about ten pounds less than the weight I'd been when I had gotten married and had maintained that weight for several years when I wasn't pregnant. Maybe it was all the nursing. I don't know. But I wasn't doing anything unhealthy or extreme and although I've always been active, I exercised far less then than I do now.
During my pregnancies, I typically avoided the scale. My midwife would just tell me how I was doing weight-wise. She was laid-back about weight gain and also very sensitive to my history and just encouraged her patients to eat well for themselves and their growing babies. Since I was so sick during two out of four pregnancies, she ended up being more concerned with me gaining enough weight than ballooning out of control. After I'd have a baby, I'd step on the scale just to gauge where I was at. I might weigh myself once a week, twice a week at the most. If I'd gained a pound or so, it didn't really affect me. Overall, I felt good about my weight, how I looked, and most importantly, how I felt. My body image was healthy. This is around the time I thought I might want to write  a book to help women who struggled with eating disorders, body image, or food issues. Perhaps I was more qualified to write a book on body image then than I am now, but I've realized just recently that I still have some work ahead of me in terms of making peace with my body, food, and the scale.
Back in my eating disordered days, I weighed myself several times each day. The number on the scale determined my mood and how much I was going to enjoy my day.  A low number was like a narcotic hit of delight; it made me feel strong and it almost guaranteed a happier day. I felt like I was a better person somehow. A higher number brought me way, way down. Because weight gain was necessary for me to reclaim my health and because the number on the scale had so much power over me, experts during my recovery process initially told me to stop weighing myself. I wanted to be healthy more than I wanted to be thin, so I got rid of my scale. It was scary not knowing the number at first, but it was liberating, too. I could focus on health and eating more mindfully. I was not worried about how my day might turn out if I discovered I had gained a few pounds.
Later on when I reached a more healthful place, a new counselor told me it was okay and possibly even beneficial to occasionally weigh myself providing it did not morph back into a barometer of my self-worth. Eventually, I started stepping back on the scale without trepidation, and I thought I was cured from both a clinical eating disorder and scale sickness. The number would register, and it did not weigh me down (pun intended) with misguided feelings even if I'd gained some weight. I honestly felt I could keep tabs on my weight like any reasonable, health-conscious person could.
But, more recently, the scale has had far too much control over my emotions.
Not too long ago, I logged in a seven mile run in intense humidity. I came home all pumped about how I felt and how I was able to sprint the last mile or so. I was also convinced that all my hard effort surely would have some payoff. Then I stepped on the scale. And with surprising alacrity, I was asking myself, "What's wrong with me?" (Because I hadn't lost anything since the last time I weighed myself and had actually gained a pound.) Then I started to cry. It was still early, so none of my kids were up, but I looked at myself in the mirror, sweaty and tear-streaked, and I was angry. What kind of example was I setting? What if my girls saw me come in after a long, healthy run and step on the scale and then start to cry?  Nothing was wrong with me except that I was giving a little number – and my weight is not a big number that puts my health at risk – far too much power in my life. My exercise is paying off – intrinsically. I don't need the "reward" of weighing less to keep me lacing up running shoes. It's just like my kids don't need library reading programs to get them inserting their noses into books. The reading – the losing yourself in the story – is the best reward of all. A temporary tattoo or cheap pencil is nice, but it's not what motivates my kids to read. The enjoyment of a good book is enough. So is the enjoyment of exercise and the health benefits that cannot be measured on the scale.
After my pep talk, I had to make a difficult decision. I had to decide to not give that number on the scale power over my life or how I saw myself as a person. In order to do that, I needed to banish the scale from my life once more. Maybe I'll never make a date with it again. I had a doctor's appointment recently since deciding I was done with the scale for awhile.  I told the nurse I did not want to know my weight. She told me to close my eyes once I stepped on the scale. I did. My palms were sweaty. I was anxious, wondering what number the scale had registered. Was it a good day? Yes, it was but not because I weighed a "good" amount. Ultimately, I was at peace with not knowing how much I weighed. Later the doctor made a reference to how little I was. It surprised me. It often does. But it made me realize that that funny mirror in my head is still not completely shattered. It still twists and distorts the way I see myself. I'd put too much stock in how much I weigh. How could people see me as little if I weighed such and such?
And perhaps more important questions to ponder are: Why does being seen as little make me feel better about myself? Does my size have to do with the kind of person I am? I see all my friends – some who are smaller than I am and others who are not – as being beautiful, powerful, amazing women? Why do I cut myself short? Where does my treasure lie? In the number on the scale? In my clothing size? In the circumference of my wrists and ankles?
I feel like a fraud admitting any of this. I get paid to give speeches to encourage women to free themselves from an obsession with weight or appearance, and here I am fighting the demons I thought I'd defeated long ago. My husband has said I still – despite my hard work toward healing and my dedication to encouraging other women to reclaim the beauty of creation – don't always have a realistic or particularly kind perception of myself. I'm trying to change all that. I am trying to see myself as others see me and as I see others.  Please forgive me for writing a book on being "weightless" when I'm not quite there yet. I thought I was, but I've had some recent setbacks. I could lie and hide all of this, but then I'd probably feel like an even bigger fraud and a hypocrite. The good news is not weighing myself is helping me to let go and to love myself.
I do get angry with myself sometimes because I wonder why the scale can't just be a helpful tool in my life for monitoring my health.  After all, I read all the time that people who maintain healthy weights for the long haul regularly step on the scale. They keep tabs on how much they weigh. If the scale inches upward, they stop eating dessert or skip seconds. In fact, one of the women I run with frequents the scale for this very reason, but the number for her provides information. Nothing more, nothing less. It is not an indictment of her character. When she's gained a few pounds, she says she passes by the all-you-can-eat buffet. She doesn't start to cry. When she loses a few pounds, she chalks it up to the extra miles she's logged in. She doesn't pump her fist in the air and feel like an invincible and awesome rockstar. She does not suffer from scale sickness. I do.
Will I ever be able to step on the scale, see my weight, and have it register only a number without conjuring up any emotion? Maybe. I truly thought I was at a healthy place a few years ago when I was weighing myself regularly again, but I wonder if that's because I was simply happier with the number I saw then than the number I started seeing more recently.
A daily glass of red wine is purported to be good for your health, but an alcoholic isn't going to be able to take even one sip without some terrible risks. Many people use regular weigh-ins to maintain a healthy weight but if you've suffered from an eating disorder or if you've ever allowed the number on the scale to determine how you feel about yourself (even when the number is in a healthy range) like I have, then maybe we ought avoid the scale for awhile and not fixate on a number but instead focus on eating mindfully and pushing our bodies physically without punishing them. I also can't fool myself to thinking that just because I once could step on the scale and not unravel that it meant I did not suffer from scale sickness. I remember writing a story about a recovered alcoholic who told me it took years to admit he had a problem because he could sometimes go to a party and have a drink or two and not let it turn him into a monster or have an impact on his life. But he knew he was just rationalizing and in denial that he had a problem because he would inevitably end up drinking too much, do something stupid, and his screwups just gave him an excuse to drink more. It's not a perfect parallel. After all, part of my sickness has to do with food, and I can't shun food from life. I need it live and have to figure out how to eat in a balanced manner. But the scale is not just some flat square I can step upon; it's a slippery slope that can trip me and leave me wheeling for control, sad, angry, and with the temptation to do something stupid or unhealthy.
There may come a time in the future when I can step on the scale, see a number – even a, gasp,  higher number – and not let it provoke any sort of feeling in me whatsoever. But I'm not at that point now. I know that for now, and I need to accept my limitations and be aware of my tendency to get all obsessive-compulsive about external measures such as my weight.
I am more than a number. (You are, too.)
My body is strong. Yet, I'd started to obsess about the number on the scale to the point that I was blind to my strength. My moods were becoming mercurial and at the whim of the scale. A number I'd arbitrarily decided was too high (even though in reality I weighed just two pounds more than I did 11 years ago when I got married and also ran marathons) tempted me to ignore the rumblings of my stomach, and to deny a strong body that just ran almost ten miles of the fuel it desperately needed. I will not fall into that trap of self-denial again. I will not allow the number on the scale to jeer at me. I will keep running. I will keep doing push-ups, not because the exercise makes me look like a chiseled goddess or makes the number on the scale decrease, but because it makes me feel good physically, emotionally, mentally, and even spiritually. I will fuel my body with green smoothies, quinoa, lean meat, cheese, Greek yogurt, good wine, and the occasional delicious treat or cocktail (my husband makes the best mixed drinks).
I will respect my body and love it for what it can do – how it moves, how it covers long distances, how it carries heavy toddlers and nurses little ones, how it has blessed me with four natural childbirths, how it takes me where I need to go, and how it allows me to fulfill my vocation as a wife and a mother. I won't worry about whether I look like a runner or whether I resemble my thinner self because I know that I am runner simply because I run. I am healthy because my doctor, my pace, my husband, and my more reasonable inner voice say so.
I will accept that I am still very much a work in progress. I am healing, but I am not whole yet. I still suffer from scale sickness, and so I'll stop weighing myself and start loving myself, extra ten pounds and all.