Tune into my monthly Relevant Radio interview tomorrow (4/20/15) at 8:30 am EST. (You can listen online.) I'll be talking about decluttering and mentioning the book
that everyone seems to be reading these days. Now it's time to talk about this girl of mine: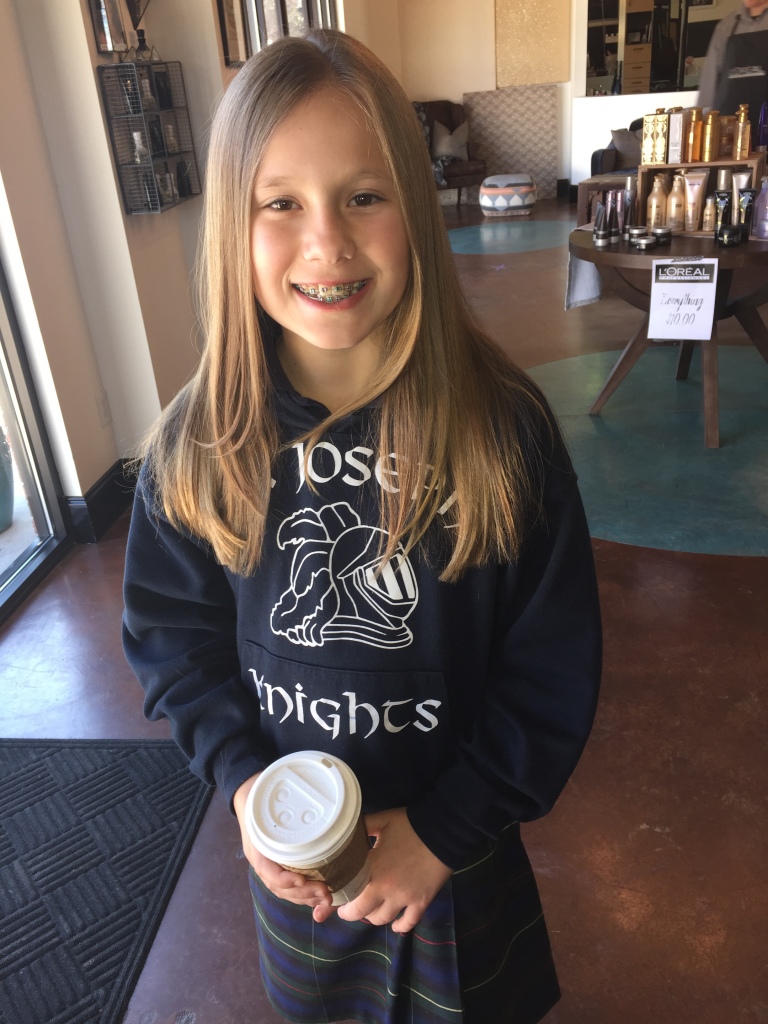 Time to dust off this old blog of mine. Can you believe I started Momopoly in 2005? I've been at this blogging gig for a decade. Once I wrote my book I was advised to turn my rambling headquarters into something a little more professional – hence, the boring KateWicker.com URL. I am honestly getting a little tired of all the brown and looking at my picture in the left-hand corner and want to give it a facelift without spending too much moula so if anyone wants to talk about a possible design project, shoot me an email.
This week I have plans to post some belated birthday letters. I have had a child enter the double digits (um, almost six months ago. Just call me Slacker Mom) and one of my littles also celebrated another birthday. On one hand, it's been such a delight to watch my firstborn grow into such a fun young lady. But there will always be that part of me that wants to make these walking timepieces slow their constant ticking down. Don't grow up so quickly, kiddos. Life's short, so why don't you stay short? That's not happening with my Madeline. She gets her height from her daddy. She can wear some of my tops now, and her feet are bigger than mine. She's 10, and she's inching very close to being as tall as I am.
Thankfully, she still looks like my baby girl when she sleeps.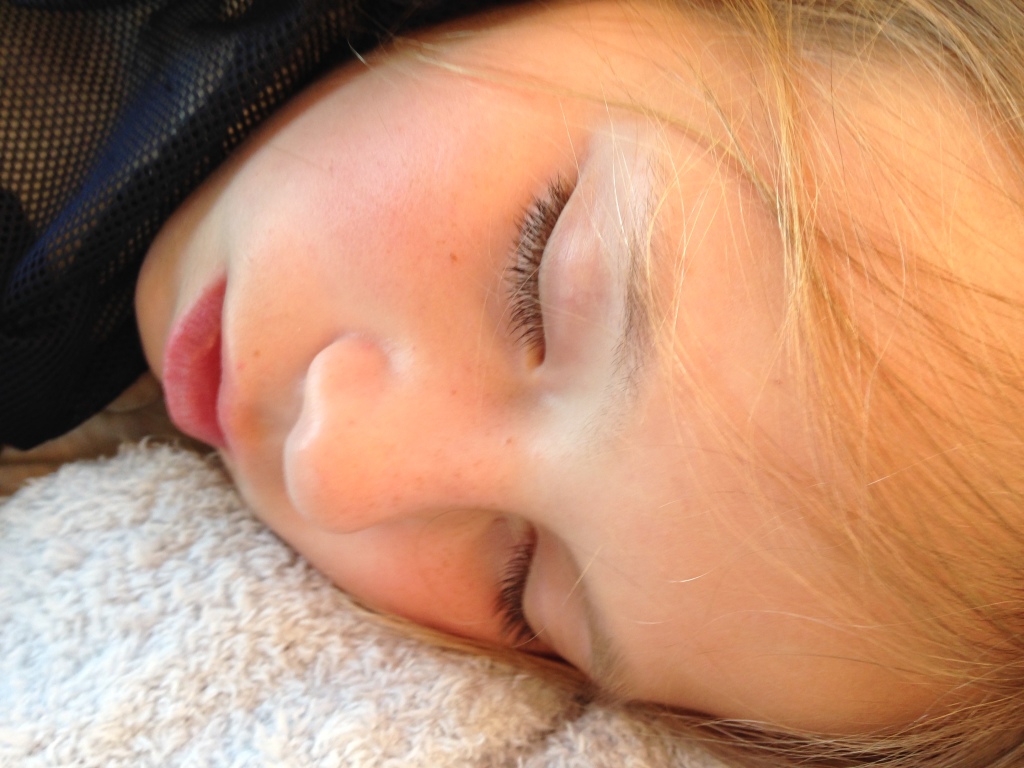 Madeline makes me laugh all the time, and she is an eternal optimist who is such a good reminder for me to not turn into a frazzled stress ball or to not beat myself up for failures. She's fun and sweet and 10 going on 30. A friend of mine has said she's an old soul trapped in little body. She makes me proud every single day.
Of course, like most children – at least children who are not boring (I always tell myself that my kids are feisty because of their big personalities) she can also drive me to the brink of having a nervous breakdown (what we refer to as tsumommy instead of tsunami). Her chosen weapon of mass mommy destruction is leaving a trail of kid detritus all over the house. Her room's a mess; dresser drawers are always open, shreds of paper are ubiquitous, and there are piles of books everywhere. Beyond her bedroom door, soccer cleats and athletic socks frequently litter our floors. I have to remind her 17 times – give or take – to put her dirty clothes in the laundry basket (and there's a laundry basket in three out of four bedrooms in our house and one in the basement laundry room, so NO EXCUSE!).
But then I get to school, and her teachers talk about her work ethic, her positivity, her leadership, her organization skills (I admit that one confounds me a bit), and how she's nice to all of the kids, and I remind myself to choose my battles. This is a lovely, fun kid. So I've told her she can have a little more leeway with the state of her room, but she needs to respect the rest of us and not not leave dirty socks or anything of hers in our rooms or the kitchen, living room, basement, bathroom, etc. Sure, it's my job to help mold her into a responsible person and to cultivate good habits, but I also have to learn to accept her for who she is. She is fond of sentimental clutter. She has taped up myriad pictures her sisters have gifted her with upon her walls. She doesn't mind dresser drawers yawning wide at all hours of the day. Sometimes all I see are the messes instead of the young woman behind them. She is happy and kind and doesn't take herself – or obviously her bedroom – too seriously. She's so accepting of me and all of my flaws; I need to reciprocate this compassionate acceptance.
Recently, my mom and dad had her over to spend the night, and my mom texted me, "Madeline adores you. It's very sweet. You were the center of conversation after Mass last night." This made my day. And my month. And quite possibly my year.
There have been occasional eye-rolls since she turned 10 (she comes by most of these less than desirable traits honestly; I was an eye-roller and apparently, her daddy's room looked like a war zone when he was her age), but she still looks up to me. She adores me. I adore her. I can't wait to see what the next decade holds for my sweet girl and me.
Now presenting her very, very belated birthday letter (for those of you new-ish to my blog I write a birthday letter for each of my kids every year. I plan on printing them all out and binding them and giving a "birthday letter book" to them before they leave the nest. Sniff, sniff.):
—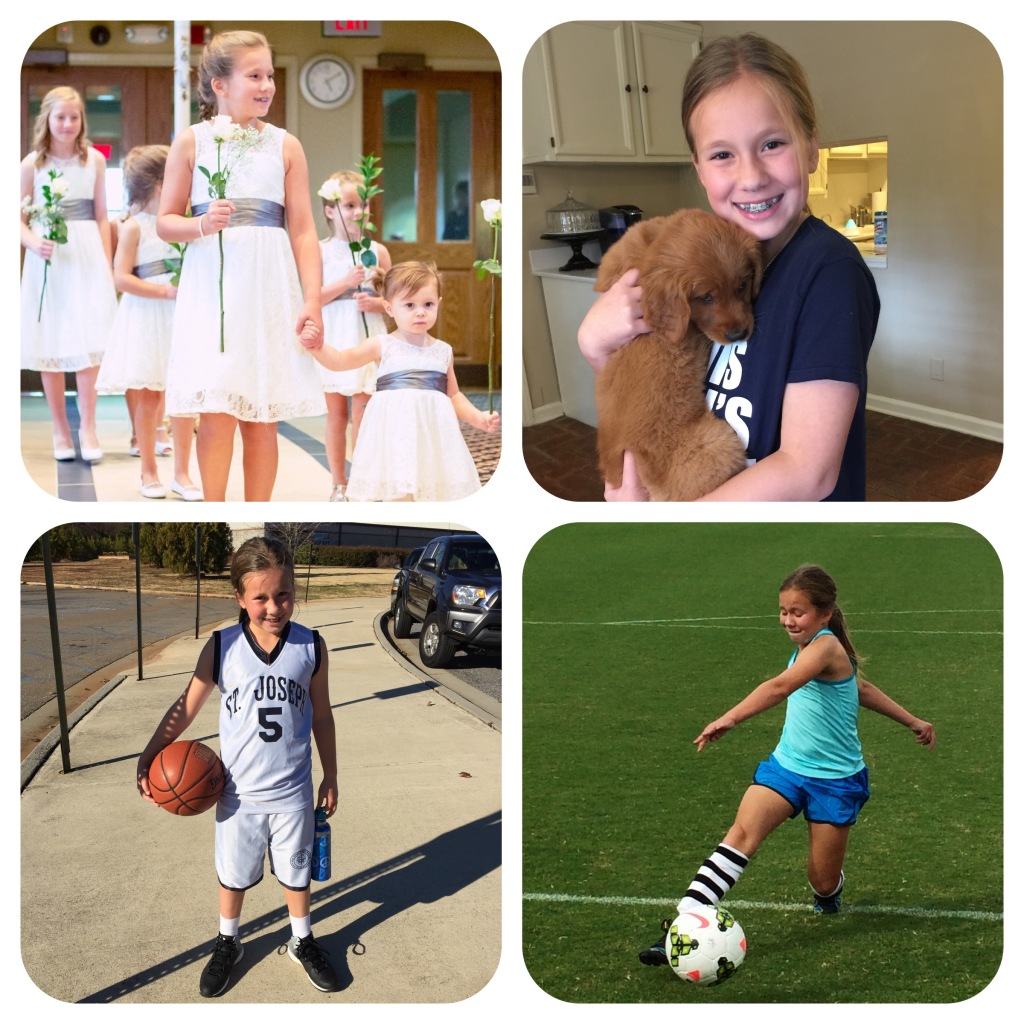 Dear Madeline,
I am way overdue in writing your birthday letter celebrating your first decade of life. I won't tell you just how late but knowing you, if I did, you'd smile and tell me not to worry. That's how just how you are. You rarely sweat the small stuff. You give your best, but you don't expect perfection from yourself – or from others. I have often watched the way you have navigated a certain situation – like how you were before you assisted at Mass as an altar server for the first time – and been in awe of your quiet confidence. I was no way near as self-possessed as you are at the ripe, old age of 10.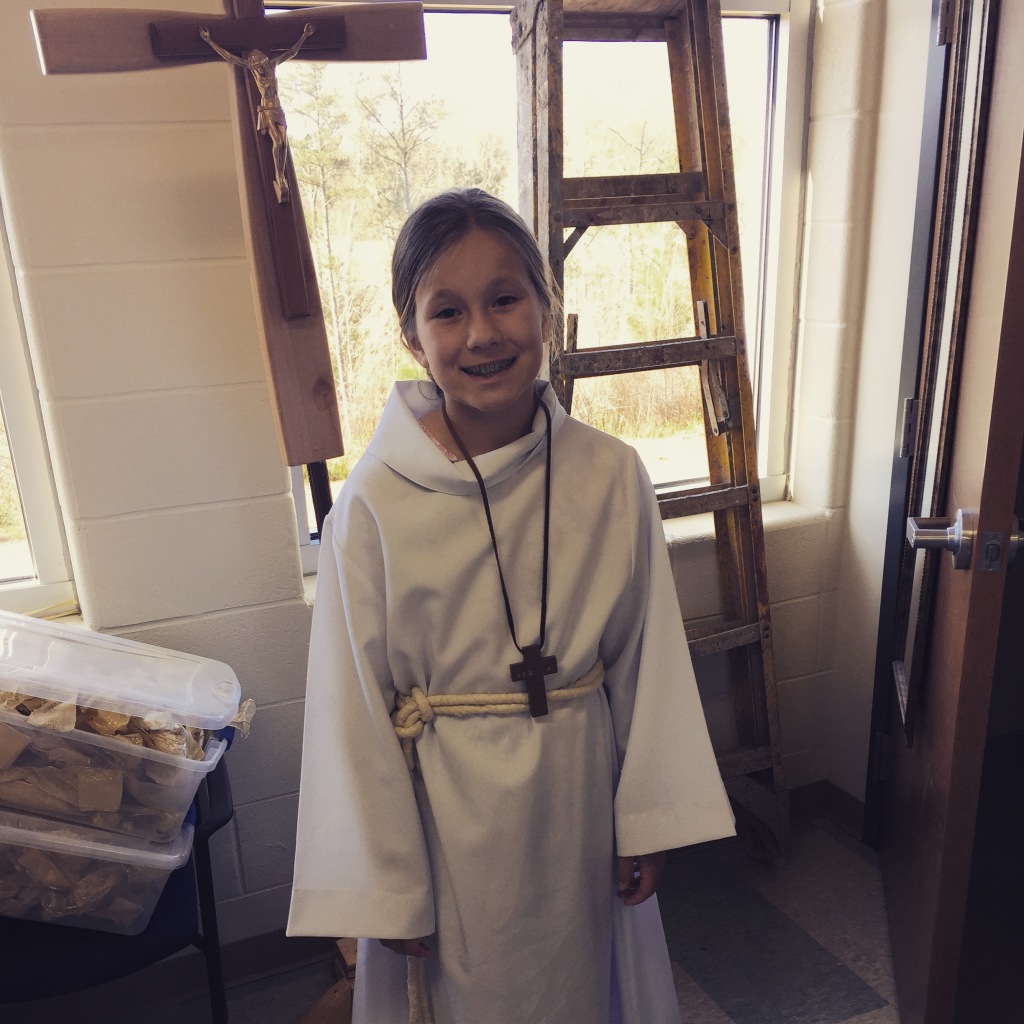 From my Instagram account. Follow along over there because that's where I spend most of my social media hours these days.

When we arrived at church, I helped you slip into the white robe and whispered, "Are you nervous?"
"Nah," you said. "I can always just wing it."
Now I know this was your way of telling me not to worry. You weren't undermining the importance of your role as an altar server, and you rarely "just wing" anything. Everyone from your teachers to your soccer or basketball coach always comment on your maturity, your unselfishness, and your leadership. God blessed you with so many talents, but He also blessed you with a heart that cares and reaches out to others. That's what really makes me proud. Now if we could only get you to keep that room of yours clean and have you remember to not leave a trail of shoes, soccer cleats, sketches, socks, and hair ties throughout the house but as you remind me, day after day, no one is perfect. You're willing to try new things and to have fun without caving under pressure. You're already wise enough to know that setting "perfect" as your bar only sets you up for failure.
You're still a sports fanatic. When I volunteer for recess duty, you're out there with all the boys playing football. Once I saw them picking teams, and two boys were arguing over having you on your team because apparently you have one of the best arms. You could play sports all day. I'm not sure I could have handled the kind of practice schedule you do, but you thrive on the activity and always keep smiling – win or lose.
You love being around people almost as much as you love playing sports. You only wish you could play every sport every season. Oh, and you'd like to audition for plays and write a book on the side. Keeping busy keeps you happy.
There's so much I could write about because at the age of 10 you are such an interesting person. I'm not suggesting you weren't interesting when you were younger, but it's such a joy to see you grow up and bake banana bread for the family, enjoy sushi, and have great and sometimes even intellectual conversations. I've decided to do a top 10 sort of list of ten highlights I remember from the past year. Consider this an inadequate recap because there's just no way I can recapture all the wonderful moments and gifts you have blessed me with in the past 365 days and in the time I've had you in my life! Oh, my first baby girl! I'll never ever forget the day I first held you in my arms or all those nights we both spent wakeful with you wiggling around. You still wiggle a lot just before you succumb to sleep!
Without further ado, Madeline Top 10 List (listed in no particular order):
10. I love what a great big sister you are. Sure, you fight with your siblings some and there are times when you are trying so hard to lead and organize that your sheep lash out at you and go a little bezerk, but you have such a nurturing soul. You like to sleep with Thomas when you can and on nights when Daddy is working, you're always such a big help with Mary Elizabeth at bedtime. You can't wait to be able to babysit, and you're amazing with your two baby cousins. You truly love little ones and will make a great mother someday!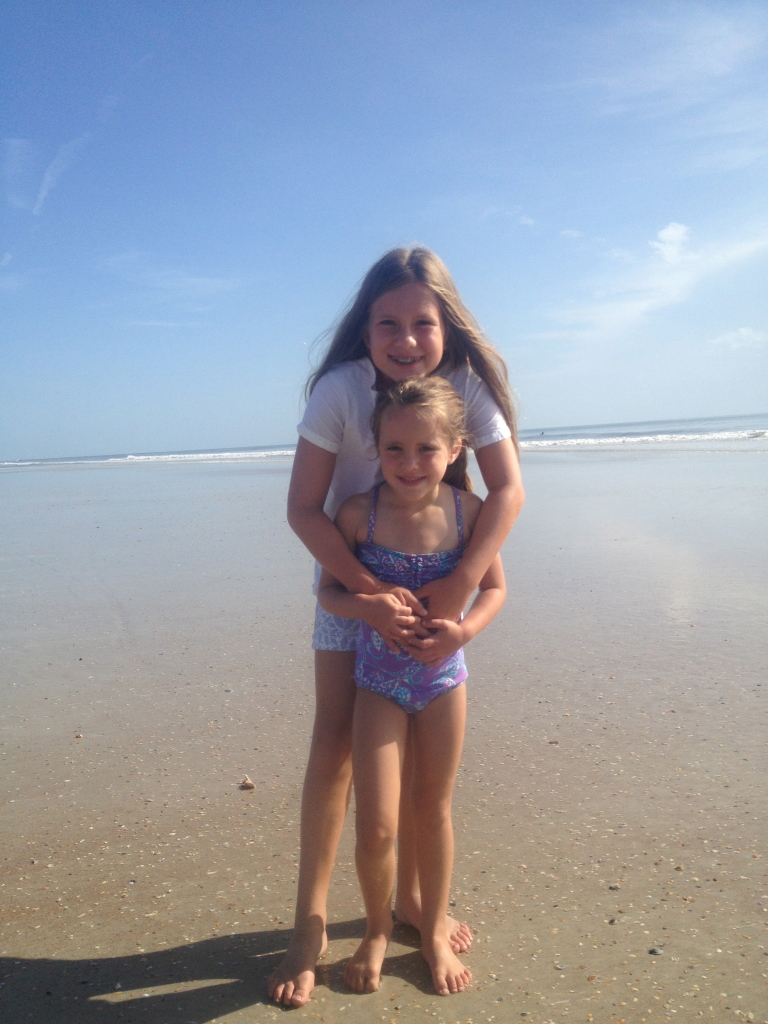 9. Your dry sense of humor is priceless. The things you come up with never fail to make me laugh like how you provide memorable commentary such as, "Fang [our cat] is a geek cat for a geek family." Or, "I wish there were more people my age on our street. It would be dream to have kids knocking at my door all the time to play. Instead, I've got old ladies. But nothing against old people."
One of my favorite funny moments is when you became interested in breaking a world record. You decided you could wear the most underwear at once, but unfortunately you ran into some logistical challenges because you told me, "I think I could put on more than 36 pairs of underwear [the current world record apparently]. I got to 26, but then I ran out of underwear."
Keep laughing and not taking yourself too seriously. Oh, that reminds me of something else. At a soccer game recently, you kicked the ball with the wrong part of your foot so that it spun but didn't really go anywhere. You immediately chuckled at yourself and then went after the ball again with more tenacity. You can laugh at yourself, but you also give your best.
8. You really do seem comfortable in your own skin. Not too long ago, I discovered you examining yourself in the mirror and I panicked as the relics of my eating disorder came crashing down in an avalanche of regretful remembrances. I thought, "Oh no! It's starting already. She's looking in the mirror and picking apart her body and failing to see just how strong and beautiful she is."
Well, I could not have been more wrong.
I gently asked, "What are you thinking, Madeline?"
You grinned broadly at me and said, "I was looking at how strong my butt is. Feel it. It's so hard, but unfortunately a strong butt won't get you all that far in life."
Not surprisingly, I had to gulp down my giggles, but I was also so grateful that you see yourself as being strong and that you already seem to know that you have a lot to offer the world (aside from a strong bum!). Always believe that, my love. You are beautiful just the way you are. Don't let anyone or any disappointment or heartbreak convince you differently.
7. Watching you play sports has become one of my favorite pastimes. I admit that all the schlepping to games and practices is sometimes tough on me and the littles, but when I see you come alive on the field, head a soccer ball into the goal (but be careful with that brilliant mind of yours!), rebound a basketball, make a smart pass to a teammate, smile after a game whether you've won or loss, I know that all the sweat and miles covered in the car is so worth it. You are quite the athlete, and I love watching you play. The school's athletic director had to twist my arm to allow you to play your inaugural season of basketball. I literally said no to her three times, but I finally relented. I am so glad I did. It was so thrilling to watch you play basketball, and you were a natural. Your team made it to the championship and nearly beat a team that hadn't lost in years. At the end of the game, the coach presented the big trophy to you to take to the school because he was so proud of your leadership and positive attitude despite the disappointing loss.
You also ran your first 5K this year and came in second place just a few seconds behind first place for your age group! (Little Rachel came in third, and Mommy came in first in her age group, so now we're all excited about racing together.) As I tell you before almost every game, "Play hard and have fun!" in all the games you find yourself in during this active life of yours!
6. You're still quite the artist. This year you drew a picture for the yearbook cover contest and won! You're so excited to see your artwork featured on the cover. You have a creative spirit and enjoy drawing, painting, making bracelets, learning how to knit with your Nana, baking, writing stories or plays, etc. Keep on creating!
5. You're getting a little more in touch with your feminine side. This isn't to say you used to be all boy, but you never were much of a girly-girl. When you were young, we had pirate and dinosaur parties. Later you fell in love with Star Wars. And, of course, we all know that first of only a handful of ballet classes is what clued me in to your propensity for sports. I'll never forget watching you pick wedgies out of your pink leotard in between sprints across the dance floor as the other little girls gracefully twirled about! After a few classes, you started crying telling me you didn't want to go, so we signed you up for soccer. And, well, you know the story #15 soccer knocker! Ironically, you recently had a performance at school and busted a move, and several people commented on your great dancing. You were quite the ham up there! But what I mean by this girl stuff, is that you like to wear cute clothes and dress up for church. You spend more time brushing that thick, beautiful hair of yours. Thank goodness! I hated dealing with those huge nests that would form in your hair. But you'll still wear mismatched shoes and prefer to be in athletic shorts and a t-shirt. You're such a good combination between having a dash of sugar spice but not being afraid to pick up a football or play in the dirt.
4. You possess a quiet faith. You're not overly flashy about it, but you've told on more than one occasion that you pray every night (even when I don't happen to pray with you because I've fallen asleep with one of the littles after a long, tiring day). Just today I joked with you because I saw some writing on your wrist, "Where'd you get the tat?"
"It's highlighter," you told me, and there on your wrist in neon pink you'd written, "WWJD?"
You're also the one who asked me if you could train to be an altar server. It was all you taking the initiative. This faith of yours will be your greatest gift. Keep the faith. It won't always be easy. Trust me. I've got a lot of Doubting Thomas in me, but I am also stubborn and so are you, so I hope we'll both keep showing up at Mass.
3. You are an extreme extrovert. You get so much joy out of activity and being around other people. While some of us in the family need to rest our minds and be still and alone to refuel, you are energized by doing things with other people.
2. While you love to be active, you also remain a bibliophile and an artist. You enjoy doodling, painting, and just creating. You're not as into the Rainbow Loom these days, but you have started weaving words together to create stories, and you use some great adjectives. And you love to read. Some of your favorite books recently include The Penderwicks: A Summer Tale of Four Sisters, Two Rabbits, and a Very Interesting Boy
, The Penderwicks on Gardam Street,
Hatchet
, The White Giraffe
, Wonder
(me, too! I loved this one.), and 13 Gifts.
1. When you were in utero, I used to joke that you must be a Tae Bo enthusiast because it felt like you were constantly jabbing me and doing what felt like somersaults. You were born very alert. Everyone – from your proud grandparents to the nurses – commented on your attentive eyes and how you seemed to be taking everything in around you. You were baptized when you were just two months old, but people thought you were at least four months old because you were awake for the entire ceremony and looking around curiously. You didn't sleep much. I was exhausted, but you were thankfully a happy insomniac. You just didn't need a lot of sleep, and you didn't want to miss anything. You're the same way now. You saw a shirt that said, "I'll sleep when I'm dead," and you told me that's how you feel, although you do need more sleep these days and like to sleep in on a rare morning when we don't have to rush out the door. You're a night owl though, and you love life so much you don't want to waste anytime being horizontal. I love your fervor, your tenacious optimism, your sweetness… Right now my primary job is to be your parent. I've told you I'm not here for you to be your friendly pal. I'll enforce rules you don't like, and you probably won't even always like me. But I know we will always love each other very much, and I can see that one day when you're a grown woman and I don't have to raise you any longer we are going to be great friends, and you'll still be making me laugh and reminding me that the glass is always half-full and life is even fuller. When you're all grown up, I envision us laughing together, going on long walks (or maybe runs?), and soaking up this beautiful life together.
I've listed my top 10, but there's so much more I could write about you. One thought just popped into my head and can't possibly pass unspoken. When I'm having a rough day and getting all weepy, you're the first one to pat me on the back and to encourage me. "You're the best mom in the world," you'll tell me with your signature assertiveness. Thank you for your compassion. Thank you for your love. Thank you for being amazing YOU. This last decade has blessed me beyond measure. I know I'm sounding like a Hallmark card, but I can't imagine my life without you and all of your energy and effervescence. Keep being lovely you. I love you just the way you are.
Happy 10th birthday, my sweet, sweet girl!
Love,
Mommy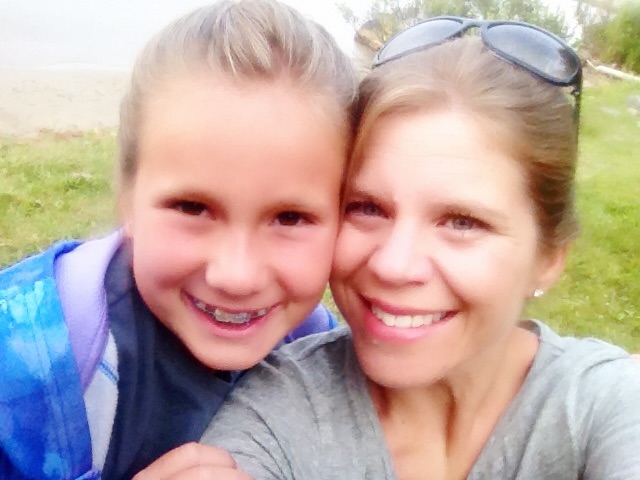 A dear friend of mine is on the cusp of welcoming her third baby into her arms. I can't wait to get my hands on her little guy, especially since I won't be in charge of feeding him throughout the night. I know she has some sleepless nights ahead of her. Although I still wake up to pee at least once and a child occasionally needs me in the middle of the night, I am no longer drunk with exhaustion upon awakening each morning. Usually, when I don't get enough sleep now, it's because I've foolishly shortchanged myself. I can no longer blame unsleeping children. We also have really just embraced the family bed. I just recently stopped sleeping with Thomas, but my husband and I usually end up with two or three kiddos wedged between us. This is just what works for us.
My first "baby" turns 10 in a few months. This was the baby who I thought would never sleep through the night. She still doesn't need as much sleep as her siblings. She frequently stays up way too late with her nose in a book. She remains a night owl and is quite good at stalling the bedtime routine, but once she's out, she's out. I can tuck her in, plant a soft kiss on her forehead, and say good-night, and she actually stays put in her bed and goes to sleep on her own. Once upon a time I thought this would be impossible.
But as I wrote in this essay – which is eight-ish years-old now – it's important for us to remind our exhausted or frustrated or burned out selves that "this too shall pass." You won't always emanate Eau du Breastmilk. You will sleep for more than three fragmented hours. Repeat after me: This too shall pass.
My little boy is very challenging right now, but I know he won't always be hurling toys at his sister. I know now, too, that his physical outbursts aren't red flags that he's going to lead a life of delinquency. He is a normal, active, almost 3-year-old boy going through a very normal, albeit exhausting, stage. Despite the tantrums and unprovoked attacks, I'm trying to soak his littleness up – not so much the hair-pulling or screeching – but the sweetness of his age like how he calls me "Mama" and holds my hand and says, "Carry me! Carry me!" when he's tired or needs to feel safe or loved. He won't always need these arms of mine so much, and there are moments when the idea of not being needed so much feels like a big relief. But looking at my big girl and how she just keeps getting taller and needing me less and less is a reminder of how brief this hands-on mothering period really is.
Anyway, this post is dedicated to my friend on the eve of postpartum fatigue, any new parents out there, anyone who has given birth to an insomniac, and to my beautiful, oldest daughter.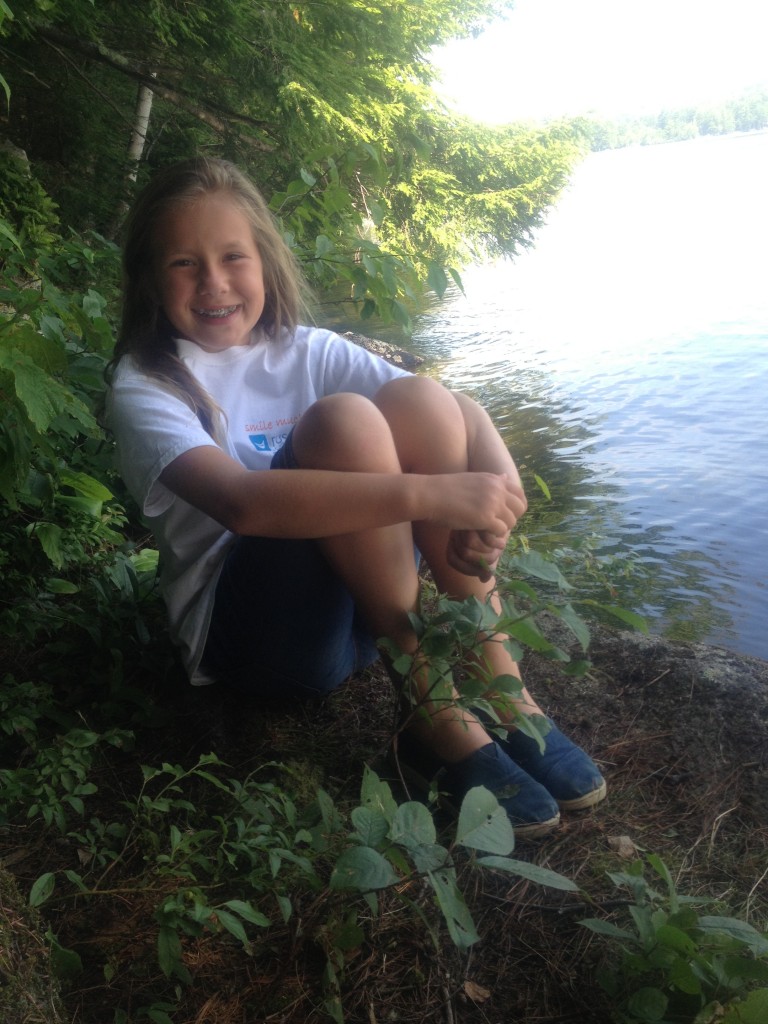 —
If I were to write a bedtime story right now, it might go something like this:
In the great green room, there was a telephone, a deflated birthday balloon from a party two weeks ago, and a frustrated mom whose brain has turned to mush and is snarling, "Hush."
Goodnight blasted moon. Goodnight messy room. Goodnight everybody…except for this squirming, little insomniac. Goodnight stars. Goodnight air. Goodnight noises everywhere. (Will all the airplanes please stop flying so my child's supersonic hearing won't pick up the slightest humming of their engines?)
As my due date draws closer, I'm starting to panic. Not because I'm afraid of pushing out another baby, although it would be nice to be a panda. During a recent visit to the zoo, Madeline and I learned that the Giant Panda gives birth to a baby about 1/900th of its size. So this 200-pound bear has to squeeze out a cub about the size of a stick of butter. I bet she doesn't have to worry about getting any hemorrhoids.
Nor am I worried about a floppy head, pulsating soft spot, crusty umbilical cord stump or changing a half-dozen mustardy-poopy diapers a day.
What I am worried about is transforming into a walking, sleep-deprived "mombie" or worse a terrible, short-fused parent who yells more than laughs. When I was pregnant with Madeline, I expected sleepless nights. Restful sleep and newborns generally don't go hand-in-hand. With this baby, I've once again braced myself for nighttime nursing and an alarm clock that doesn't stop buzzing (or should I say wailing?) just because you feel like you've been run over by a Mack truck. What I didn't prepare myself for was an energetic 2-year-old whose baby days are behind her but who still insists on waking up every couple of hours.
Although Madeline has never been what you'd call a good sleeper, we'd made tremendous progress. We'd established a relaxing bedtime routine and she was sleeping nearly 12 blissful hours most nights and taking a nap. Life was good.
Then, about three weeks ago, something happened and she's decided that being in the horizontal position is akin to the apocalypse. To Madeline, bedtime certainly is an end, if not the end of the world, the end to fun, the end to interacting with the people she loves the most, and the end to a secure, well-lit kingdom where killer bumblebees (her latest nightmare subject) don't menacingly buzz nearby.
Her boycott against sleep began subtly. First, she became a professional staller during our once peaceful bedtime routine. "One more book, peaaaaaaassssss." "Use potty, peaaaaasssss." "Thirsty. Go get water, peaaaaaaaaas. Just one more itty-bitty sip." "Ma-Ma [she refers to herself in third person as "Ma-Ma] scared, Mommy. Turn light on, peeaaasssss. Stay with me, peaaaaaassss."
And so on.
This was frustrating but manageable. But when it came time to try to transition her to a big-girl bed, we discovered just how tenacious our little girl was. I made a big deal over the move, bought a comforter, decorated the bed with some throw pillows and showed off her big-girl roost to the grandparents. She resisted falling asleep the first night we curled up in her new bed, but when she did finally drift off to the Land of Nod, she stayed there for a good ten hours.
"Wow. That was easy," I remember thinking.
Foolish, foolish woman!
Madeline knows that a big-girl bed has no boundaries – at least physical ones. So she pays frequent homage to Mommy and Daddy's bed, which I wouldn't mind so much if it also didn't take me 2.8 hours to get her to sleep and if she didn't like waking me up in the middle of my slumber to carry on a little tête-à-tête.
In fact, the first time she crawled into our bed Dave and I were happy to have our sweet angel wedged between us. We've never been against co-sleeping. We slept with our little one nearly every night that first year; yet, Madeline is fidgety and didn't sleep well beside us. We definitely didn't sleep too well either.
The night started out peacefully enough. I woke up when she threw her arm across my face, but I rolled over too tired to really care. This isn't so bad, I thought. She feels so warm and cozy next to me.
My feelings of tranquility abruptly dissipated when half of Madeline's foot ended up in my butt and her face was burrowing into Dave's abs. We looked like a big "H," and like that co-sleeping meme pointed out, "H" most definitely is for hell when you're not sleeping. All nightlong she squirmed and sometimes even woke up enough to try to strike up a conversation. Meanwhile, I tried to ignore the baby's nightly kung-fu fighting routine in my womb. I slept far less than 40 winks – maybe two, at most.
This was not going to work.
Time for Plan B, so I set up a cozy pallet beside our bed.  "Madeline, see this bed on the floor. If you wake up and want to be near Mommy and Daddy, you can come here and sleep."
She nodded and amazingly, this worked the next night. I woke up to pee after feeling my little yogi do a headstand on my bladder and discovered Madeline sprawled across the pallet sleeping soundly.
Woo-hoo! Two points for Mommy!
That was the last time I scored. Madeline definitely has the upper hand. Our little jack-in-the-box pops out of bed constantly. At first I tried the gentle but firm approach of immediately putting her back to bed after each rising. "Madeline, it's bedtime. I love you."
I'd read that it might take a few nights of doing this 20 or so times each. On the first night I lost count at 67. Even though I'm a stickler for consistency, I finally gave in and toted my stupid and cheap body pillow (should have splurged on the expensive one) that's supposed to help my stupid third-trimester-preggo-bod sleep better (at this point, I think I'd need a heavy dose of valium) into her room and plopped next to her. She groped for my hand in the dark, found it, and held it close. The sweet gesture helped melt some of my frustrations, but when she fidgeted for another hour or so, I was ready to scream or cry – I'm not sure which.
Every night it's been something new, but I'm determined to overcome these bedtime battles. After combing the Internet and reading a great book on gently solving sleep problems of toddlers and preschoolers, I'm currently putting together a sleep plan and am hoping we'll be able to solve some of our shut-eye (or lack thereof) issues before I've got two nocturnal babes on my hands.
And yet, every time I finally get her to sleep – whether it's at bedtime or 3 a.m. – I can't help but stay awake a little bit longer to watch her doze. Maybe I just want to cherish the rare moment, though I suspect it's something more. Sleep is my obsession right now. I'll do anything to get her comatose. Yet, before I know it Madeline won't need me at night. One day I'll sneak in and stare at her sleeping form and I hope I'll see the baby again – the one I thought would never give me a moment's rest.
Our bedtime routine has become Dickensian for me. It is the best and the worst of times. The worst because I'm exhausted and will do anything I can to get my kids comatose. But it's the best, too. It's this long ritual that connects me to my children. The sun is setting and so, too,
All these phases we go through – even the bleary-eyed wakeful ones – are only blips in our history together. So the next time Madeline tugs on my hand in the wee morning or asks for the twentieth cup of water, I need to remind myself, "This too shall pass…and one day I'm going to miss it."
(As always, please forgive any mental gaffes, typos, etc. below. I wrote this very quickly with ample distraction!)
My baby brother, who is actually only 18 months younger than I am but will always be my baby brother, and his beautiful wife just welcomed their first baby into their lives and the world.
Meet sweet Ellyn Jane and the proud, new daddy.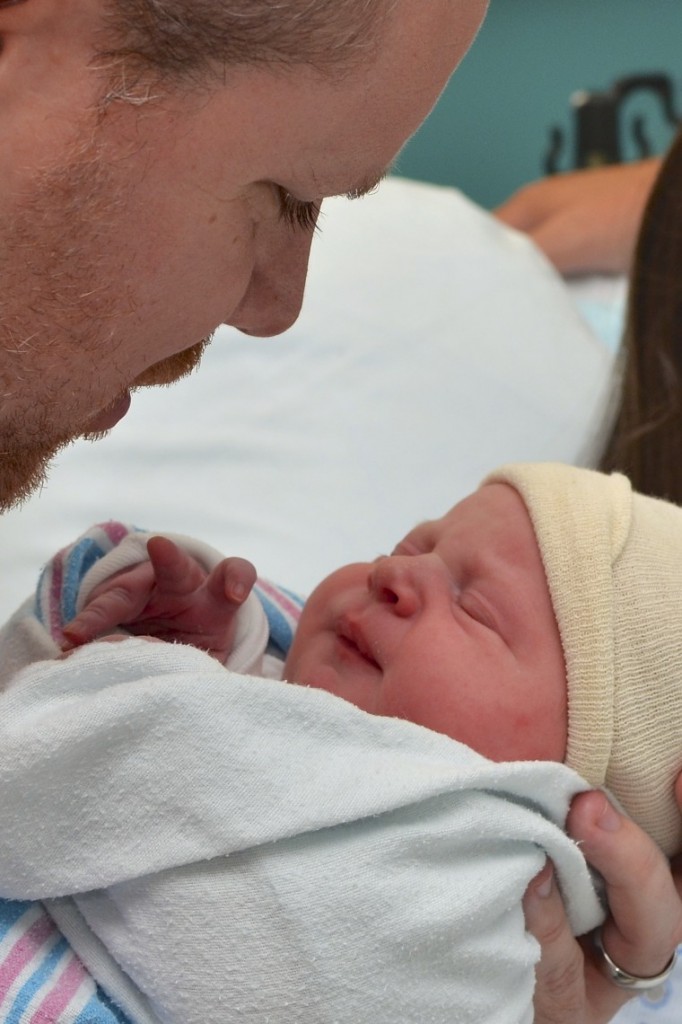 Ellyn was born on Pentecost Sunday, so she is in good company as far as birthdays go. She's also my goddaughter and first niece.  Nine-year-old Madeline used to complain about only having furry cousins since there are some cats and dogs in the extended family, but Ellyn's debut marks the arrival of the very first first cousin. The kids haven't met her yet and weren't too happy with the hospital policy of no kids under 12 (unless they are siblings of the baby) being allowed the visit. I was talking about how cute Ellyn was, and Madeline said, "Don't rub it in."
As I held her, my eyes pricked with tears, and I couldn't help but remember the day I became a mother and held my first tiny treasure in my arms. Dave and I laughed about how excited he became when a geyser of thick meconium bubbled out of Madeline's butt. "She works!" he exclaimed.
She did work, and so did I. The mothering thing wasn't as impossible as I might have thought. Of course, I can say that now. I can also say that yes, I did sleep again, but there was a long stretch of time when I thought sleep was a luxury I'd never again enjoy (my firstborn was a complete insomniac and to this day has the energy of a hummingbird). I can say now that I should have sometimes slept when the baby slept, but I hated it when people told me to sleep when she was taking a short snooze. I didn't want to just be a feeding machine and a catnapper. There was more to life. Wasn't there? Yes. I can say that now, too. I can say a lot of things. That babies bring joy, but they bring a whole mix of other emotions as well.
After my first, I was fortunate to be basking in baby bliss. I remember experiencing a sort of mania and baking banana bread the first day I arrived home from the hospital. I remember this because a wise relative gently advised me that I might want to take it easy and warned that I might hit a wall. I poo-poohed her advice. I felt great! I had a baby! I was a mother! Life was grand! I was one of those weird. new moms, I suppose, who was deluded into thinking those happy, endorphins would last forever (trust me, I was not this way postpartum with all my babies). But, in fact, I didn't end up hitting the wall until my baby was around six months old and still waking to nurse about every 45 minutes. But still. I was so happy. I was a mom! (I repeated that a lot in that first year or two because sometimes it still seemed surreal after two years of waiting and wondering when I would join that elite crowd of mothers). It would take a subsequent child to discover the darkness of postpartum depression and to become mired in sadness and guilt because I wasn't overcome with joy. But with my first – maybe because it took longer to conceive than I'd hoped or thought would be my reality – I was very, very happy.
But beneath the joy, there was something else less rosy. Fear. I was terribly afraid that if I didn't do everything right, I would mess up this beautiful child of mine. This wasn't just a plant I might forget to water (I have a bad track record with green things). This was a human soul, a vessel of hopes and dreams, and she was entrusted to anxious, quirky, and imperfect me. I could do so much damage. I could inflict so much pain. If she didn't bloom, it would absolutely be my fault even if it wasn't. Because it's not a mother's fault if her baby isn't gaining the right amount of weight while breastfeeding or if the child doesn't meet her milestones right on schedule. We moms blame ourselves for a lot of things that aren't really all that much in our control. On the flip side, we sometimes take credit for things that have little to do with us and everything to do with our children's natural bend and God.
If I could write a letter to my new mother self, I'd tell me to lighten up, to cuddle more and to worry less, to not feel guilty for longing for a break from the never-ending cycle of feeding, sleeping, and changing diapers. I'd praise myself for giving my best, and I remind myself that forgiveness is a beautiful gift and you start receiving its fruits by forgiving yourself for when you fall short as a mother or a friend or a wife. I'd remind myself that a lot of things – dare I say most things? –  aren't really the parents' fault, especially if the child is born to parents who worry that everything will be their fault. If you're anxious or worried or afraid or full of remorse after you yelled at your child or walked away from your screaming baby just because you needed to collect yourself and breathe normally for five seconds, then you're probably a good enough parent. Oh, I'd have a lot to say, actually, so I'll say some of it now for my sister-in-law and for my brother, too, and for any mother who is waiting on the eve of first-time motherhood.
—
Dear Katie,
Congratulations! Your baby is beautiful. She's also a lot less fragile than you might think. You're not going to break her (although she will break a few of her bones all on her own years from now and it will break your heart, but she will survive and so will you). Have fun with her! Don't take mothering so seriously! She loves it when you act goofy (and even when she gets older and starts rolling her eyes at you, she still like it when you are goofy and pretend to be Roger Coopahoo). Yes, she's a beautiful, little girl, but you might want to stop putting her in those frilly frocks. Seriously.  Aside from the fact that those buttons are ridiculously small, and you're tired, and your little model is wiggly and you're just wasting your precious energy dressing her up like a doll, your daughter is going to grow up hating the color pink and wanting to play soccer. She's going to cry at ballet class because it's just not her thing but break into a nonstop grin when she finds her way to a soccer field (she's inching closer to the ten-mark and still hasn't stopped grinning when she's outside with a spread of grass and a ball). She's going to ask for a pirate party in lieu of a princess party. But she will be no less beautiful. She's going to make you laugh and beam when she smiles and jokes around and when others tell you that she's such a nice girl. She will always be a princess to you as will her sisters, and her brother will be just as cherished and special. There's somehow always enough love to go around, although it would be nice if you had a few more arms.
While we're on the subject of beauty, you know what? You're beautiful, too. You may not see it now. Yes, you're redolent of Eau du Breastmilk, and I do believe that's a streak of diaper ointment in your hair, and WARNING: That is NOT a drop of green smoothie sliding down your arm so do not even think of licking it, but you possess a new kind of beauty. It doesn't matter that you haven't lost your baby weight or that everything has shifted. Be patient and kind to yourself, will you? You just grew a human being in your body, brought her into the world, and now you're in charge of meeting all of her basic needs. Cut yourself some slack. Look in the mirror. Do you see the beauty? This is the kind of beauty that has little to do with aesthetics and nothing to do with how well you fit into your skinny jeans. That baby of yours looks to you for her every need and even when it would be easier to run and hide or at least put a pillow over your head and cry in exasperation (it's perfectly okay that you do that from time to time, you know), you are there to meet her needs. When she cries, your total body responds. Even when she bawls for no apparent reason and you walk aimlessly around the house drunk with exhaustion gently jiggling her in your aching arms, you are there for her. Are you not aware of your power to nurture and to love? There you are, looking beyond yourself, your own needs and wants, and the outer shell of chic hair and curves, and you're catching a glimpse of what it means to truly give of yourself. And that, dear Mother, is what makes you perfectly lovely.
Oh, Mama, I know you sometimes mourn your old life (and then feel terribly guilty for doing just that). I know you sometimes feel shut out from the world and powerless, especially when your arms, your milk, nothing can make that sweet baby stop crying, and just wait until baby three comes along and cries every day from 8 pm to 1 am unless you're nursing or holding her and walking endlessly whispering, "Shhh, shhh," when you really want to be screaming, "Will you please shut up?" It's not easy. No. The people who say being a mother is easy have forgotten or they outsourced the tough work or they had children far different than your wonderful but spirited ones. It's in the hard parts that you really become aware of what you're made of. Mom, you are stronger because of that child. Your arms no longer ache quite as much as they used to when you carry her for hours at end, do they? And did you ever think lover-of-sleep-that-you-are that you would be able to survive on this little shut-eye? You may not be running marathons any longer, but you better believe you're an endurance athlete.
But let me tell you this, too. You NEED to understand this and embrace this: It's okay if that baby cries a little. You will not ruin her. You are so afraid – so desperately, absurdly afraid – that if you don't jump and respond to even the briefest bleat, your mother-daughter bond will break, and it will your fault if she ever has any inner demons to confront. What you are really afraid of was that if you don't do everything right, she might end up with a drug addiction like someone you love very much.
Stop being so afraid. You know how you trusted that your body would know what to do during labor and lo and behold, it did? You've got to start trusting now. You've got to relinquish control.  There are no guarantees in anything you do as a parent. No parent can save her child from every ill, from every heartbreak, from shedding tears now and then.
There is no saving embrace – except that of God's.
Nothing is going to hurt my baby. Nothing. That's what you're saying now. That's what all parents say. It's instinct. We want to protect these babies of ours.

But in time, you will see that things hurt your babies all of the time. Sometimes it's even – gasp! – you who's doing the hurting, by gently but firmly saying no to their pleas. There are rainy days when it's supposed to be sunny so you can venture out to the zoo. There are dinners not followed by dessert.
One day, your kids will likely face much bigger disappointments – broken hearts, rejections from colleges and employers, backstabbing friends, missed opportunities, and maybe worse.
There's no escaping it: Pain is a part of the human condition. Welcome to life, kiddos. It's full of disappointments.
The world is chipping away at your children's innocent hearts every day. And yet, as tough as it is for a mother who is designed to love her children fiercely and deeply, guess what? It's not your job to inoculate your children against all the angst of life.
Thomas Paine said, "What we obtain too cheap, we esteem too lightly."
And didn't God say something very similar when He sacrificed His only Son for us so that we could have life? One drop of Christ's blood could have saved us all, yet He freely chose to shed every last bit of it. He gave what is beyond sufficient, so that we might recognize the power of sacrificial love. This is also known as tough love, and trust me, it's not easy to dole out, but it is necessary.
Of course, you won't spoil her, either, by carrying her in your arms every waking hour if that's your heart's desire or if your leaky boobs are telling your to nurse her again. Don't listen to all the "experts." You're the expert. God gave that baby to you. If parenting books, articles, blogs, advice from others, etc. make you feel more at peace and better equipped, then seek them out. However, if anything makes you suffer from the slightest twinge of inadequacy, step away and ignore it. While you're at it, don't compare yourself to any other mom, and definitely don't compare your child to another child. Just don't do it. There will be babies who meet milestones more quickly than yours. There will be babies who blissfully start sleeping through the night in a couple of months. There will also be babies who don't seem as good-natured as yours. Don't get smug or jealous. Like your good friend has said, when you compare, no one wins. You either come off feeling like a loser mom to a child with a more challenging temperament, or you get all high and mighty, thinking at least your baby is not as (cranky, demanding, insert negative adjective) as So-and-So's child, and at least you don't wear sweatpants every day.
I know you're tired, but you're trying to convince the rest of the world you're a super mom. Why? Why not just try to accept that you're an imperfect human who depends upon supernatural grace? Don't forget to pray. When you find the hosue dark and quiet, and you are awake with your little insomniac, offer it up, pray that your love will be enough to raise a happy, kind child, but when it's not, that God might fill in the gaps. His light shines the best through your cracks. Remember that. You always try so hard at everything you do, but motherhood isn't some project you can manage if you work hard enough. This quest to be the best is admirable, but it's exhausting, too. It's exhausting to make perfection your goal. It's prideful, too. Remember, what I just told you: You're not in control. That child of yours is going to hold her poop in for 15 days when she's a toddler. The pediatrician will tell you before this happens that it won't be possible, that you and Mr. Miralax will be able to make her poop; yet, despite your dedicated run as a poop doula ("Push, Love! You can do it!"), despite her tears and your own, She. Will. Not. Poop. And one day as you sit in the bathroom for the billionth time that day, you finally throw in the white flag of surrender. You scream in frustration and then you let it go (one day a very popular song with those same lyrics will play over and over in your mininvan, and you'll have to let that go, too). You're not giving up, but you're ready to give up trying to control your daughter or to see her choices as a reflection of your worth as a mother.
Also, you don't have to be as focused on that little one as laser beam – so much so that you forget to do some of the things you love. You read that stupid article in a parenting magazine about how one mom decided to never read a book while nursing because she felt like she wasn't giving her baby her full attention, and you suffered so many pangs of guilt that you stopped reading while nursing for several months even though you'd really enjoyed reading while nursing, and you also started feeling guilty about the long walks you took with the baby in the stroller. Maybe she needed more tummy time. And what would the pediatrician say if she knew you bit her paperthin nails rather than clipping them because you were afraid you might nip the skin, which you spared your first daughter from but you made your second baby bleed and she wailed and so did you, but she still loved you, and  she didn't end up emotionally or physically scarred because of your mishap. You know what? Focused attention is important for children, but so is keeping your sanity. Read a damn book when you nurse. Don't worry: you'll read plenty of books with your next three children, and you won't even feel guilty about it. Seriously, you nurse for hours and hours every day. Sometimes you gaze into those sleepy, steel-gray eyes of your little love, but sometimes it's okay to avert your gaze to a book.
And the book doesn't have to be something literary or scholarly either. If you want to read some superficial but fun chick lit, go for it. You have a whole lifetime to share your love for great literature with your children. Same goes for music. There's that strong message from society that need to give our kids a head start. Start playing Mozart while the baby's still in the womb. Pull out the flashcards at birth! Whatever. You have always thought all that push for more activities, stimulation, flash cards, etc. is stupid, but you second guess yourself sometimes because so many moms seem to be enrolling their babies – yes, babies! – in enrichment classes, but the only one who probably really needs the enrichment is the poor parent who is weary of reading books with monosyllabic words. Your baby will be just fine playing with measuring spoons you hand her while you're baking. Listen to The Beatles if you want. And don't even think about buying flashcards. Tell your baby about your day. Point out the little joys around you – see that sunny daffodil, little one. Hear those church bells. Smell that coffee.
Ah, yes, coffee.
You refused to drink it while pregnant and nursing with your first. What if something went wrong? Thankfully, it didn't, but when you lost a baby to miscarriage, do you really think it was your fault? That drinking that one or two cups of coffee in the morning took your baby from you?  Of course, give your best. Make smart, healthy choices most of the time. Eat well. Be well. But one glass of wine after you nurse or a cup (or two!) of coffee in the morning are okay.
Oh, and that was nice of you to make the banana bread for all of your visitors when your baby was less than a week old, but it wasn't necessary, and I'm pretty sure a few people thought you were more insane than Martha Stewart-ish. Your baby needs you more than your guests need a homemade breakfast. Your baby needs you more than the furniture needs polishing. Everyone has been telling you that babies grow up so quickly and to enjoy these precious first few months, and you mostly appreciate this wisdom, but sometimes you wish they'd just be quiet. I know, I know. But maybe I'm just a little excited for the next stage! You do enjoy your baby and you take a thousand pictures of her every day (you've taken a fourth of that amount of your fourth child, but he still very much loved), but you also can't wait to not have veiny boobs the size of cantaloupes (just wait, dear, they will soon be back to their small size and you miss the melons a bit). You can't wait to sleep more than three fragmented hours a night. You can't wait to witness your baby's first smile, belly laugh, and toddling steps. Patience has never been your strength. You're always racing ahead. Your enthusiasm for life is wonderful, but slow down a little. It will take the fourth baby to really teach you this.  When he arrives, you finally start napping some. You finally feel okay about just sitting around and doing, well, nothing. You finally give yourself permission to pursue things that truly make you happy instead of doing things you think should make you happy or the things you think make you look like an uber mom.
Likewise, it will take a few more kids to reveal to you that you really are a baby person. Some moms don't like that lump stage so much (your husband used to say that newborns are one big, cute GI tract; food goes in and then it goes out), but you love it. Maybe because of its beautiful simplicity. A baby's needs and wants are the same. This can be exhausting, but it's also more straightforward than dealing with older children, and it's more physically taxing than emotionally so. Things get more complicated as that baby grows up and starts exerting her (strong!) will on you and the world. Just wait until she gets older, and you're not sure if she's really thirsty or if that "I need a cup of water" is a ploy to stall bedtime either further. Wait until you can't make her feel better after someone hurts her feelings with just a hug. You'll discover soon enough that you can't kiss away every tear or boo-boo.
Perhaps you also love having a baby around because it gives you an excuse to say no and to accept your limitations. The good news is you get better and better at protecting your primary vocation as a wife and mom and learning to set boundaries and to not say yes to too many commitments outside of the home.
I wish you could have started learning some of these lessons earlier, but you can't force growth. You needed to be pruned, and boy, has motherhood pruned you. There was a lot that had to be cut away – your desire for control, your busy, worker bee mentality, your impossible quest for perfection in your mothering and your children, your stubborn refusal to sleep when a 20-minute power nap would have done wonders for you and your family – so that you could grow, progress, and bear great fruit.
But here I am getting all serious on you. There are few other things you need to know. First off,  if your baby is doing something cute and you pull out the camera, she will stop doing it immediately. You will try over and over to get her to do that cute, little thing one more time or to look at you in that wonderful way one more time, and it will not happen – until you put the camera away. Get used to it. It will happen over and over with every single child. Also, that little baby is more portable than you think. Now it's true that she doesn't sleep as much as "normal" babies (filled with fear when your second is born and sleeps all of the time, you call your mom and tell her that you're worried because she sleeps ALL OF THE TIME, but your mom reassures you,"That's what babies are supposed to do." Who knew? You certainly didn't after Madeline was born.) Don't be afraid to go to your favorite coffee shop with your baby in tow or to enjoy a picnic with your husband. There's no need to be holed up at home all of the time.
Oh, and when others offer advice, kindly thank them and then do whatever the heck you want or think is best for your baby and for yourself. That man who went on and on about how fat your baby was and how he ("She," you informed him) looked like a linebacker should not have worried you. You can't nurse a baby too much. That fat, roly-poly baby is now a super-tall, athletic girl, and there's no sign of the Michelin Man in her anymore. And that other person who said your baby needed a hat on because it was cold outside obviously did not see the back of her head, which was sticky with sweat. You're doing just fine. You know your baby well.
And that well-meaning mother who told you you needed to sleep train your baby if you wanted to get any sleep, she shouldn't have made you second-guess yourself. Do you remember the one night you tried to let her cry it out and how it made you fall apart and your boobs felt like achy rocks? Your baby cried; you wanted to respond to her. And so did Daddy. You guys are wimps.  Do what your gut  – and heart – tell you to do. You enjoy sleeping with your babies (um and kids), and it doesn't matter if others think your marriage must not be as strong as others because you share a family bed. Don't worry about what anyone thinks of you or your parenting choices.
A very practical tip: Stock your car with extra diapers. The "Poopenator" may go through diapers with amazing alacrity. Best to be prepared. An extra wardrobe change is prudent as well and when she gets older, be sure to stock the car with snacks and extra water. Your kids will be the kinds that are always hungry, especially if you have just given them a snack and headed out to run errands.
You don't know everything, but you know a lot more than you think.  Remember what I said earlier? You really are the best expert when it comes to your child and how to parent them. And just so you know: You are going to mess up. A lot. Oh, for awhile you get kind of smug. When you were still pregnant with your first, you were at Target, and there was a little boy who kept asking his mom, "Why?" She tried to answer his endless queries until she finally snapped, "I don't know 'why'! Would you stop saying that?" You inwardly winced and thought to yourself, "I will never squash my children's natural curiosity." Ha. Fast forward a few years, and you're pretty sure you've sighed when a child has asked yet another question. "I don't know. Go Google it."
"Mommy, look at this bug!"
It's the fiftieth bug your intrepid bug catcher has captured in the last two minutes as you've attempted to coral everyone at the soccer fields, so you can get everyone home, fed, and bathed before midnight (you're a little like Cinderella and turn not-so-pretty if you don't have any quiet, solo time before midnight), so you don't really look at it and mutter, "Oh wow."
She detects your lack of enthusiasm. The poor bug probably does, too. "Hey, Lady. I might die during this little exhibition. The least you could do is take a good look at my intact awesomeness."
Your daughter isn't as nice as the bug.
"MOMMY! LOOK AT MY BUG!"
So you look a little harder, but it escapes and zips away. "NOW IT'S GONE! NOW I HAVE TO CATCH ANOTHER ONE TO SHOW YOU BEFORE WE GO HOME!"
"No, you don't you say," and you scoop an angry child into your arms and dodge her windmill legs and arms as you stomp over to the car.
Oh, dear mother at Target, I am so, so sorry for judging you!
When your first baby is on the cusp of toddlerhood, you're at a playdate, and you hear a mother tell her child that if he hits again, they will have to leave. The child bops another child on the head. They don't leave. Inside, you're tsking, tsking that poor, weary mother and are convinced you will always be consistent and carry through with discipline. You won't ever spank or yell. You will be gentle but firm. You've got this. But one day you don't. Your husband has been MIA, working long hours. You're recovering from a violent stomach bug. Your 15-month-old has stopped taking even her quick 20 minute naps. She sometimes falls asleep in the car, though, so you decide to take a little drive, hoping she will finally succumb to the Sandman. The little drive turns into a long one. You live in South Carolina. You eventually find yourself in North Carolina. Your little lark is still chirping away, eyes wide open. You park the car, and you start to cry. Then you yell, "Why won't you just go to sleep?" Your child's lower lip begins to tremble, and she starts to cry. She hides her face from you. She's afraid of you. You're an awful mother. Only you're not. You're a human mother. Soon enough you will learn that you do sometimes yell. You don't always dole out compassion when that is exactly what your child needs. You struggle with anxiety and depression but are afraid to admit because, damn it, you should be happy because you are living a charmed life.  Sometimes you think every other mom out there never loses her cool, is always gentle and kind, and doesn't ever feel that being a mother is the most wonderful, terrible job in the world. But one day that firstborn of yours will grow up, and she will come up to you and pat you on the back and tell you that you can't do anything to take away her love for her and you don't need to earn her love either. And another child will write you a beautiful, "just because" letter telling you that you are like a flower that everyone wants to be around, and your son will thunk you on the head (affectionately, of course), and your other little girl will tell you that you are very pretty, and you'll feel that maybe just maybe you've done a few things right after all, and maybe just maybe a divine kind of love is glorified through your imperfections.
Just a few more thoughts , new mama. When you're in a rut, remind yourself, "This too shall pass." You will sleep again. You will feel human again. Your child won't always wear diapers, scream at you because you cut her sandwich into rectangles instead of triangles, draw on your walls, pick her nose, etc. It will get easier and harder. No stage of parenthood is simple, but none of it lasts for forever either.
Last but not least, soak up these precious moments with your baby. I know everyone is telling you that, but try to remind yourself that all those people who kind of annoy you by saying that you're going to miss having a baby someday actually are right because a decade from now your youngest will be two, your oldest will be almost 10 going on 30, and you won't have a baby in the house, and your heart will feel a little bit empty. And you'll hold your sweet, new niece, beautiful Ellyn, and you'll start to cry out of joy for the miracle that is her, and out of gratitude for your brother and his wife who are starting their own incredible parenting journey, and there will be some tears thrown in there that are wistful and full of longing. "I want a baby," you'll say out loud, by mistake. Everyone laughs in the room, and you laugh, too, because you know you are blessed to have four beautiful children, but you also know you'll never regret the child you have, but you may find yourself wondering, hoping, dreaming for the child who didn't make it into your arms. You silently tell your ovaries to stop twitching. What will be will be. All you can do is embrace the now. Don't look back, but don't be afraid of a future that might not have what you think you want or need. Yes, your bedtime routine with your first was ridiculous. Remember how you held her hand for hours even when she was three years old? That was a little over-the-top, wasn't it? But make sure when that big girl asks for you to give her a backrub or lay beside her that you do it because one day she will be gone. Poof! Like that. Every baby you will ever have will grow up. There's no stopping it, so just enjoy those sweet children entrusted to you, and always, always remember you are a good enough mom, and one day you'll have a chance to be a good aunt (and God-willing grandmother!).
Babies don't keep, but thankfully the memories do. Now go make some with that baby of yours. You are going to have a great life together!
Love,
Me
—
What about you? What would you tell your younger-mom-self or perhaps a new mom you know? Please share in the combox below, and I'll pass your wisdom along to my brother and sister-in-law.