Screen-Free Week is slated for May 5-11th this year. I kind of wish this had taken place during Lent, but perhaps it's good to have another reason to cut back on screen-time.
I've decided to take the pledge and go screen free with the kids. No television, computer games, or iPad. I'm also going to limit checking my iPhone to phone calls and three times a day for texts and emails. The only time I'll spend on the computer will be work-related (I do have a freelance deadline the week after Screen-Free Week).
Instead of computer time, we may try some of these screen-free ideas (the ones with an asterisk are courtesy of Campaign for a Commercial-Free Childhood):
Have a lemonade stand. This is a favorite activity of my kids. Madeline also has been wanting to sell some of her Rainbow Loomcreations. Anyone else wish they'd invented the Rainbow Loom?
Play some simple outdoor games.*
Enjoy a Marian tea party.
Make some acorn owls.* These guys are simple and cute!
Use our story cubes to spin a crazy tale. (Our Etsy seller isn't currently selling the ones we have.)
If you're looking for more screen-free ideas, check out Unplug & Play! 50 Games That Don't Need Charging
. Or enter the giveaway below by doing one or all of the following (leave a separate comment for each action you take to increase your chances of winning):
-Leave a comment with one of your favorite ways to engage in "unplugged" fun.
–Liking my page on Facebook (if you already "like" my page, let me know in the comments section below)
–Following me on Twitter (again, let me know if you're already following me)
Contest ends May 4th. Winners will be announced after Screen-Free Week ends. I have two copies to give away. Good luck!
From the back-of-the-book's tongue-in-cheek but eerily spot-on observation :
"When technology invaded the 21st century the world quickly went silent! People who once spoke to each other turned to their electronic devices as their loving companions. Of course, the love was one-sided, but it didn't matter. The laughter of kids and adults communicating and playing fun games together rapidly became the sound of tapping on pads, pods, and phones. It was an epidemic that grew out of control.

Society was on the brink of total disaster…but the human raise wasn't about to give up that easily! Pockets of rebel forces began to fight back! College students, teenagers, working men and women, moms and dads, families big and small gathered on weekends and weeknights, in cars, buses, and planes, basements and living rooms…and most of all…vacation destinations. They were armed with only their creativity, their humor, their ability to communicate and play games, good old-fashioned pens and paper…and this book.

For five minutes or five hours…they were unplugged."
I'm a big advocate of instituting at least one unplugged day every week where you only use your phone to answer calls, where you don't use the iPad, computer, video game consoles, or even television. Make it a family rule. Sundays often work well. You can go to church and designate the day a family day. Get creative on how to spend your time together. Play games like the ones shared in Unplug & Play (see an example of one game below). Host a pioneer night, and play card games by candlelight.
Go outside. This one is so important. Kids are spending less and less time just playing outside. When they are outside, it's structured team sports or tennis lessons. Whatever happened to pick-up games of tag or just daydreaming in the grass? Being outdoors isn't just good for their physical selves; you don't burn too many calories typing with your thumbs. But by depriving our kids of time spent outdoors soaking up nature, we are shortchanging their spiritual selves. Nature encourages a sense of wonder so much more than the computer screen.
Once you get used to your regular unplugged day you may be able to start introducing more unplugged moments.
A few years ago I was feeling extremely overwhelmed trying to juggle motherhood with my writing life. As a writer nowadays, you're expected to be regularly engaged in social media – from blogging to Twitter. My wise husband urged me to take a break from it all. He reminded me that at this stage of our lives, I no longer had to be the breadwinner and this was supposed to be an outlet for me – not a form of stress. So I gave up blogging for an entire summer. I also left my iPhone in the kitchen rather than bring it with me everywhere. I stopped checking email regularly and committed to checking it once – or two times at the most each day. I won't lie. It was not easy at first. Just as it won't be easy for your tween to not be allowed to log on or text during your unplugged day.
It took about 10 days of not being so engaged in blogging and the likes to experience a new sense of serenity. I no longer felt as fragmented like a chunk of me was over there, another part was over here, and my body (I think) was with my kids. I had become so entrenched in the online life that I was missing out on the real one right in front of me. Far too frequently my mind was elsewhere, and my heart was pulled in too many directions. This still happens sometimes. Most busy parents – whether they engage in social media or not – are going to sometimes feel like they're over-leveraged, overextended, and on the verge of a total freak-out. For some parents, blogging or popping in on Facebook might offer them a sense of calm. For me, taking a step away from the online chatter has done that. Although I have started sporadically engaging in blogging and social media again, I've really learned temperance and also have discovered the fruits of not being online so much.
My whole family has benefited from this. Internet addiction is a real problem. We need to show our kids that the inbox can wait, that true friends don't need you to update your Facebook page. It's prideful of us and our children if we think that not immediately responding to emails, texts, tweets, etc. will leave a void in others' lives.
We grow spiritually when we learn to ripen the fruit of detachment.
As St. Thomas Aquinas said,

"Between the spirit and the flesh there is continual combat. Now, if you wish the spirit to win, you must assist it by prayer and resist the flesh by such means as fasting."
You will all benefit from occasional unplugged days and technology fasts.
Here's an example of a simple game included in Unplug & Play that requires only a pen and paper :
Only One
Each player takes turns coming up with a category. The object of the game is to match all three of your popular, well-known, or common items AND all three of your unpopular or uncommon items. However, you ONLY get points for each popular item if EVERYONE but ONE person has it….AND you ONLY get points for each unpopular item if ONLY ONE other person has it.
Example: Player 1 selects "Common Professions." His common list is doctor, lawyer, and teacher. His uncommon list is engineer, chef, and fitness instructor. If all but one person has teacher, Player 1 and all of the other players who said teacher earn 50 points. If everyone but two people had lawyer, nobody gets anything for lawyer. If everyone had doctor, nobody gets anything for doctor. For the uncommon list. If only one other person had engineer on his uncomong list, then Player 1 and that other player each get 50 points for engineer. If more than one other person inaddition to player 1 had chef, then nobody gets points for chef, and if nobody had fitness instructor, then Player 1 gets nothing for that selection. Don't make your uncommon or unpopular selections too uncommon or unpopular or you risk not matching them with anyone and getting a goose egg for that round! Another person selects a new category for round 1.
Enter to win Unplug & Play below. Turn off those televisions (and iPads and iPhones), and have fun!
Madeline (9)  loves art and decided to teach her little 4-year-old sister how to do an art project inspired by Snowy Day
by Ezra Jack Keats. Thomas was taking his nap and Rachel was over at the grandparents' house, and I was actually able to snooze a bit (I was still in recovery mode from the dreadful stomach virus) while they were busy at work. Madeline knows I have a blog and has been asking if she could write a post, so I suggested she share with readers how she created this artwork.
Welcome, Madeline! (She started typing this on her own, but her hands grew tired so she asked me to type while she narrated. This is all in her words with the exception of the "tsumommy" definition.)
Hi – my name is Madeline as you know and I already know that you know about me so let's get started.
Things you will need:
Two sheets of watercolor paper
Watercolor paint and paintbrushes
A white crayon
Scissors
Colored or designed paper of your choice
Glue sticks
Paper towels
Instructions:
1. First, grab a piece of watercolor paper. Color the piece with white crayon until you think it's pretty much covered.
2. Choose watercolor paints that are a wintry color like blues and purples, and paint the entire piece of watercolor paper. Once you're finished painting the paper, dab it with a paper towel to spread all of the paint around (make sure paint is watery and light because if it gets too dark, it won't look like snow; I had this problem with Mary Elizabeth's). Allow it to dry and move onto the next step.
3. Use your patterned or plain paper to cut out different types of buildings – some big, some small, some narrow, some large, your choice.
4. Once the watercolor paper you painted is dry, cut out big snowdrifts for your background and glue some of them onto a second piece of watercolor (Mom's addendum: regular card stock paper would work for this step as well) paper. Add buildings, and then layer more snowdrifts on top.
5. Now comes the fun part! You may cut out any snowy image you would like such as snowmen or trees or traffic lights – anything you would like – and glue onto your scene. If you have more leftover snowy paper that you painted, you can cut out snowflakes or snowballs and make it look like there's snow on the buildings.
6. Allow picture to dry. (Don't wake up Mommy to show your masterpiece. Wait until she gets up.) Oh, and be sure to clean everything up, so there's no chance of a "tsumommy."* Just a warning.

*A tsumommy is what we jokingly refer to as a mom who crashes into a room and is inclined to go a little crazy over messes.
Here's what M.E. and my finished products looked like:
We celebrated Thanksgiving at Nana and Pop's this year and on the way, I set my phone's timer for five minutes and asked the kids to blurt out anything and everything they were thankful for and I then listed them in the exact order they were shouted out and also did not edit their contributions (e.g., Mary Elizabeth's blessing of "roasted beef" was jotted down just as she said it).  Here's what they came up with:
1. apple pie
2. life
3. love
4. family and friends
5. Thomas
6. our house
7. fall
8. toys
9. turkey
10. seasons
11. the sun
12. the moon
13. roasted beef
14. ice cream
15. exercise
16. cozy boots
17. Toms
18. our health
19. animals
20. jeans
21. clothes
22. water
23. Layla (our dog)
24. trees
25. Clue (the game)
26. books
27. colors
27. Monopoly
28. beans
29. food
30. music
31. school
32. my mind
33. flowers
34. mail
35. the world
36. a warm bed
37. the way Thomas says, "Oh," when you tell him something
38. hope
39. new beginnings
40. plays
41. shopping
42. windows
43. eyes
44. our bodies
45. signs
46. doors
47. beaches
48. cars
49. pumpkins
50. Knuffle Bunny
(Rachel's lovey)
51. Raja (Madeline's tiger stuffed animal lovey)
52. people
53. Cubbie (my parents' puppy)
54. Christmas trees
55. Nana (my grandma who passed away)
56. Nana and Pop
57. Gaba and Papa
58. Ivy (my parents' dog who recently died)
59. Uncle Rich (my uncle/my mom's brother who died of pancreatic cancer last February)
60. Michelle (my cousin who died recently as well from cystic fibrosis and lissencephaly complications)
61. Mr. Thomas (our neighbor who also passed away; yes, there's a theme here)
62. Katelyn (our babysitter who is alive and well)
63. Marlo (our babysitter's dog)
64. scones
65. chocolate
66. Waffle House
67. The Grit  (my contribution)
68. wine (obviously another one of my contributions)
69. lattes (me again)
70. Aerolatte Milk Frother (me again, although Thomas likes to use this gadget to torture her sisters. I've caught him twice now turning it on and putting it in their hair.)
71. firemen
72. policemen
73. police dogs
74. fire dogs
75. ambulances
76. doctors
77. radiologists
78. Smoothie King
79. braces
80. Baby Jane's
81. movies
Time's up!
Once at Nana and Pop's we were not only treated to the feast of feasts, but Madeline had written a Thanksgiving play and the kids performed it for us. The red wagon is the Mayflower. Madeline is Squanto. Thomas and Mary Elizabeth are pilgrims, and Rachel served as the narrator.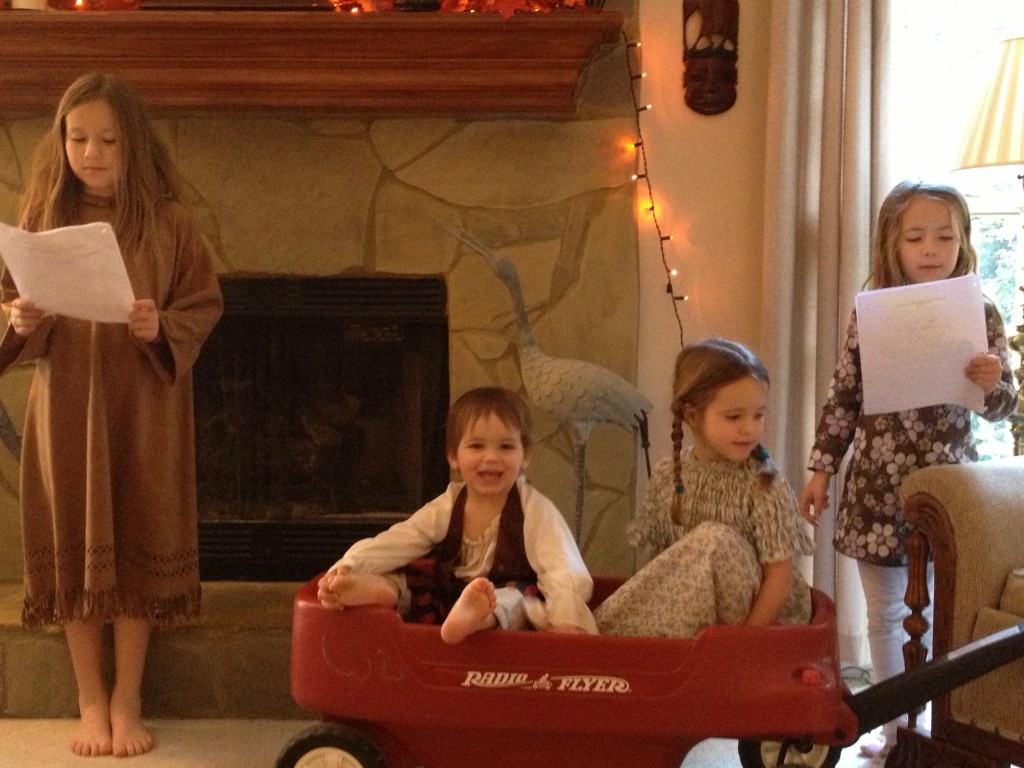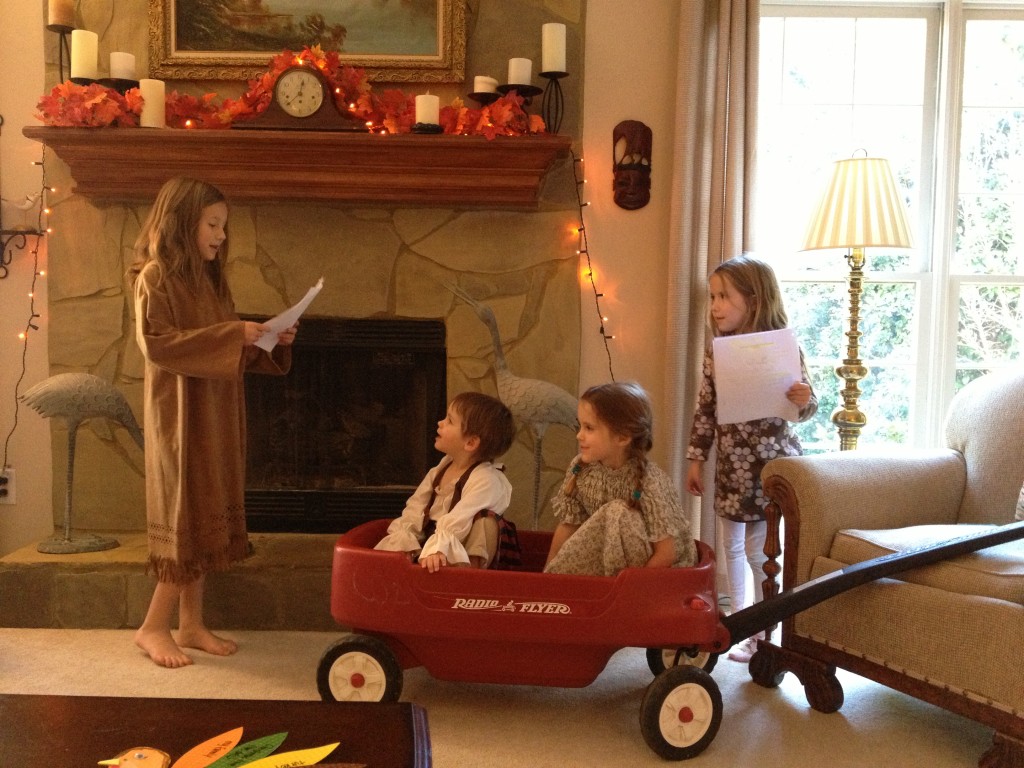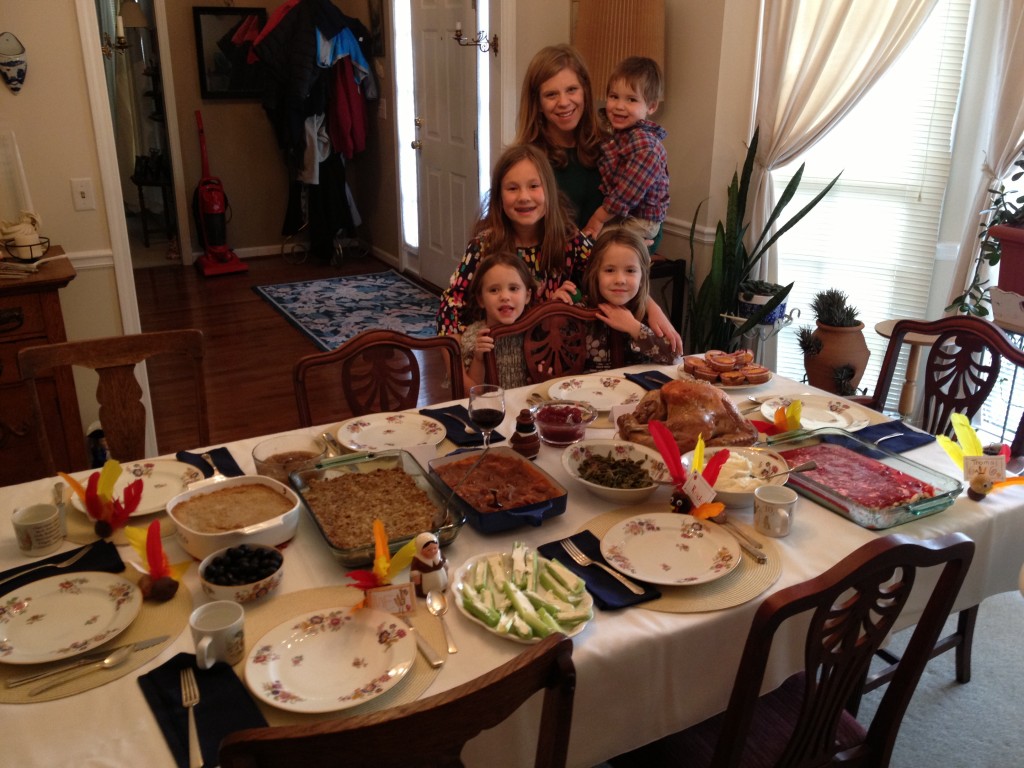 Now it's time to start thinking about Advent. I have a speech at a parish not too far from my home on Sunday where I'll talk a bit about cultivating a peaceful, joyful heart during a season that can easily become a path to burnout for a multitasking control freak like myself. Your life this Advent and always should be full, not just busy. Just because our culture hypes jam-packed schedules as the norm doesn't mean we have to subscribe to it. My running injury (still not anywhere close to running again) has forced me to slow down not just on the pavement and treadmill but in life as well. I'm getting more sleep these days and really focused on embracing simplicity. At its heart, simplicity really means less of us and more of Him. It can also mean staying in your PJs all day (I'm typing this in my pajamas; no Black Friday madness for me.)
We don't need to over-schedule our kids now or ever. Madeline really wanted to try basketball this winter, but we have a brief respite from soccer and I didn't want to fill it with more practices. If she's meant to be in the WNBA someday, she'll discover that talent soon enough. For now, I am drawing my family near, pulling out our favorite Advent books, and trying to decide what Advent traditions we will embrace this year. I've included a few links from the archives that include all sorts of ideas for bringing this season alive for little ones. BONUS: You'll get to see the kids when they were wee ones. Happy clicking!
An Advent Tea
Preparing Our Hearts and Homes (Advent Traditions)
Advent crafts (shell angels, felt napkin holders, poinsettia princesses, etc.)
Advent Smörgåsbord
Recipe for Baby Jesus Birthday Cake (more for the Christmas season obviously)
Handprint angels
Feast of Our Lady of Guadalupe traditions
Christmas card placemats
Tips for hosting a cookie swap
Cookie Swap recipes
Feast of St. Nicholas traditions
Explaining the symbolism of the Advent wreath to children