I love St. Valentine's Day. I love having an excuse to lavish my family with love. I don't mind them doing it in return for me either. I was the grateful recipient of roses and handmade cards.
We didn't do anything extravagant. Dave and I were able to sneak away for a quick dinner. We came home, and I sipped some crisp and sweet Riesling that was easy on the wallet. (Thank you for the recommendation, A.P.!)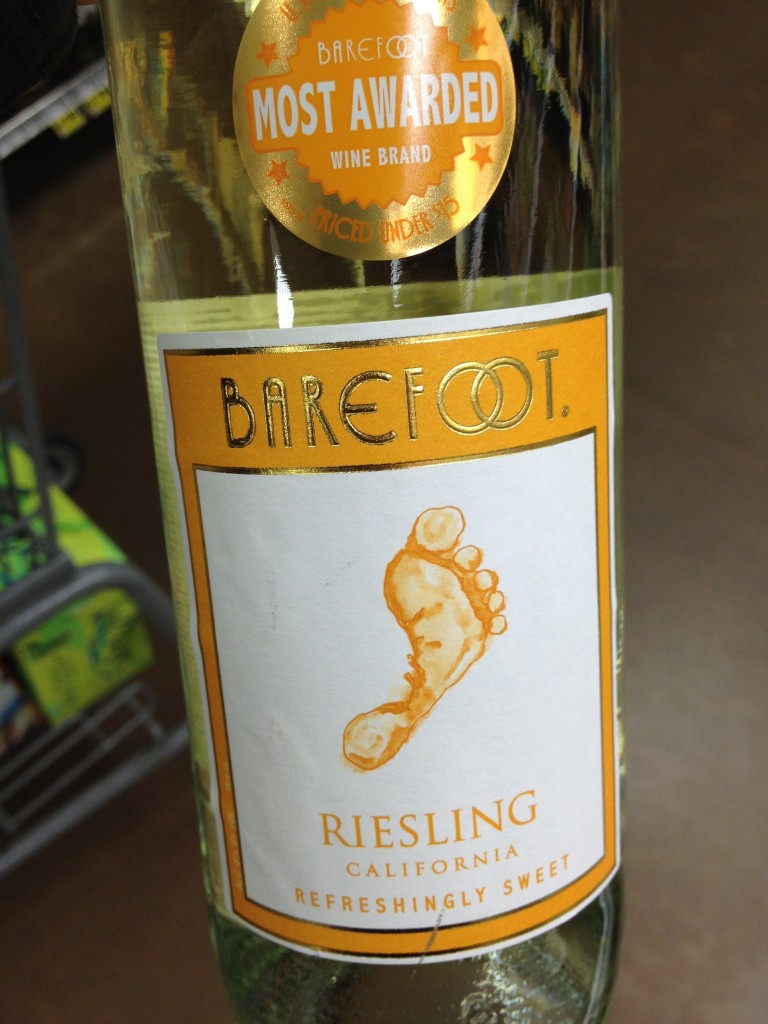 The girls and I made Daddy Chubby Hubby Bars.  He likes to have a few unhealthy snacks on hand for his late-night snacking. His mutant metabolism allows him to eat like every day is Valentine's Day. For the rest of us, it's a big treat to nosh on so many sugary delights. We all had a Chubby Hubby Bar for dessert. Oh my goodness. These ooey-gooey slabs of deliciousness made me swoon, especially when I dipped them in my coffee. Yes, I ate them for breakfast yesterday, too. It was a holiday – a delicious one at that.
I read Saint Valentine by Robert Sabuda
to the girls, and we discussed the mosaic artwork. Then the girls made their own simple mosaics using foam squares I'd cut up for them.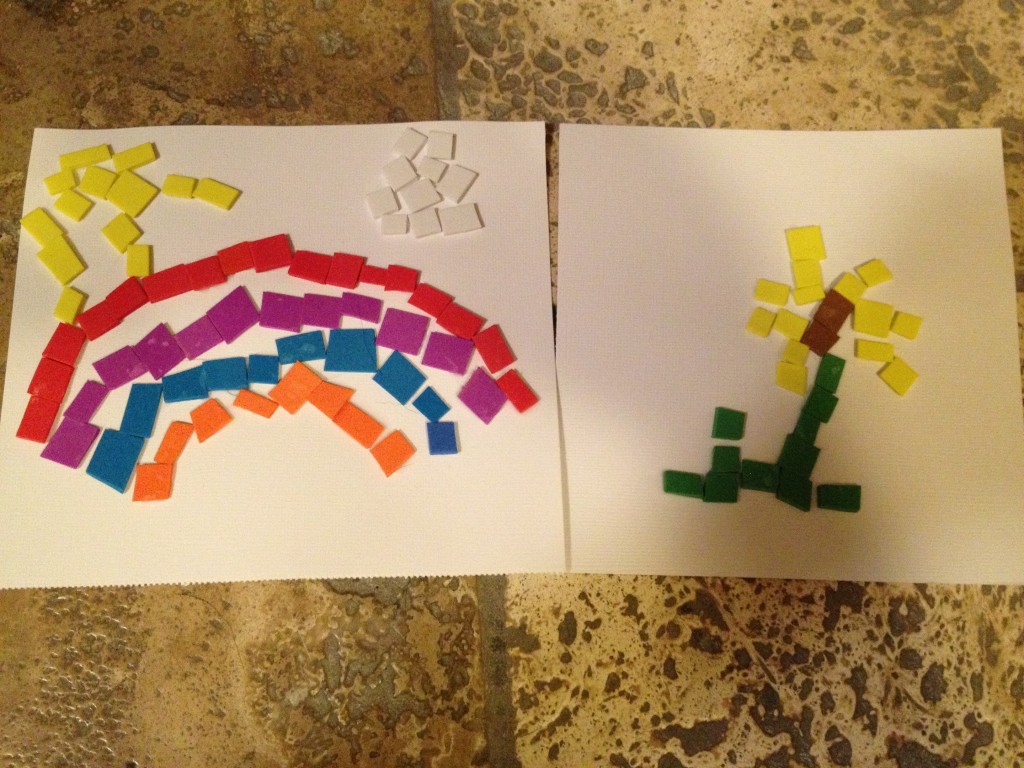 For lunch there were heart-shaped fried eggs in whole wheat bread slices.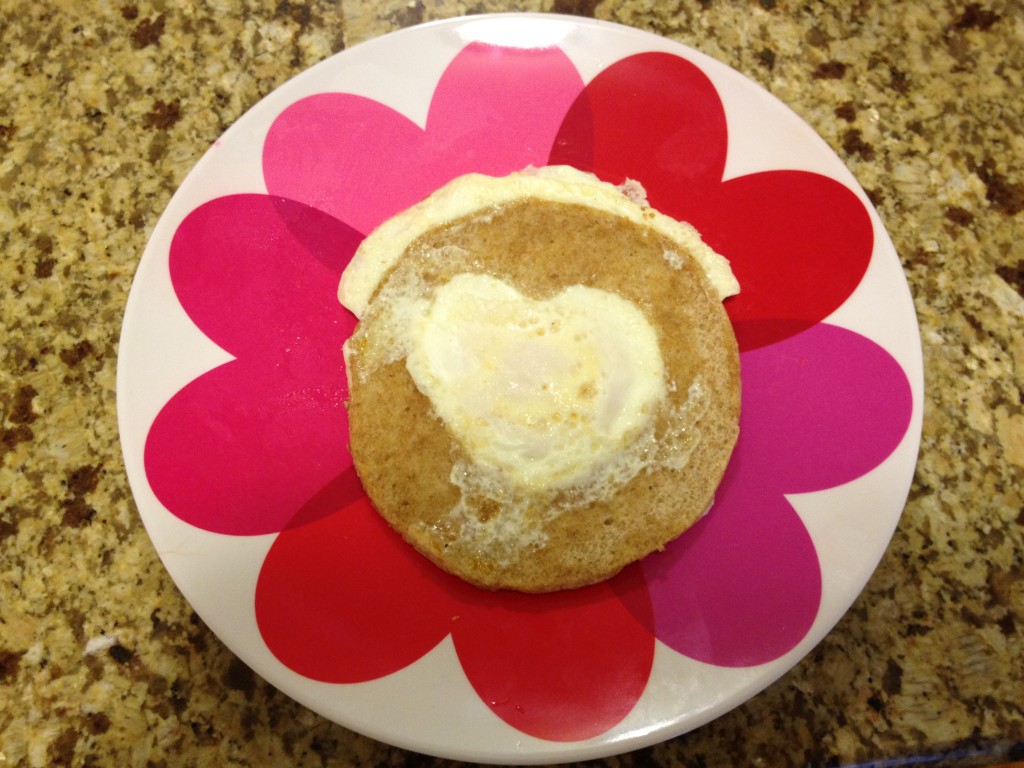 We shared the Valentine's Day sugar cookies we made with our elderly, sweet-loving neighbor.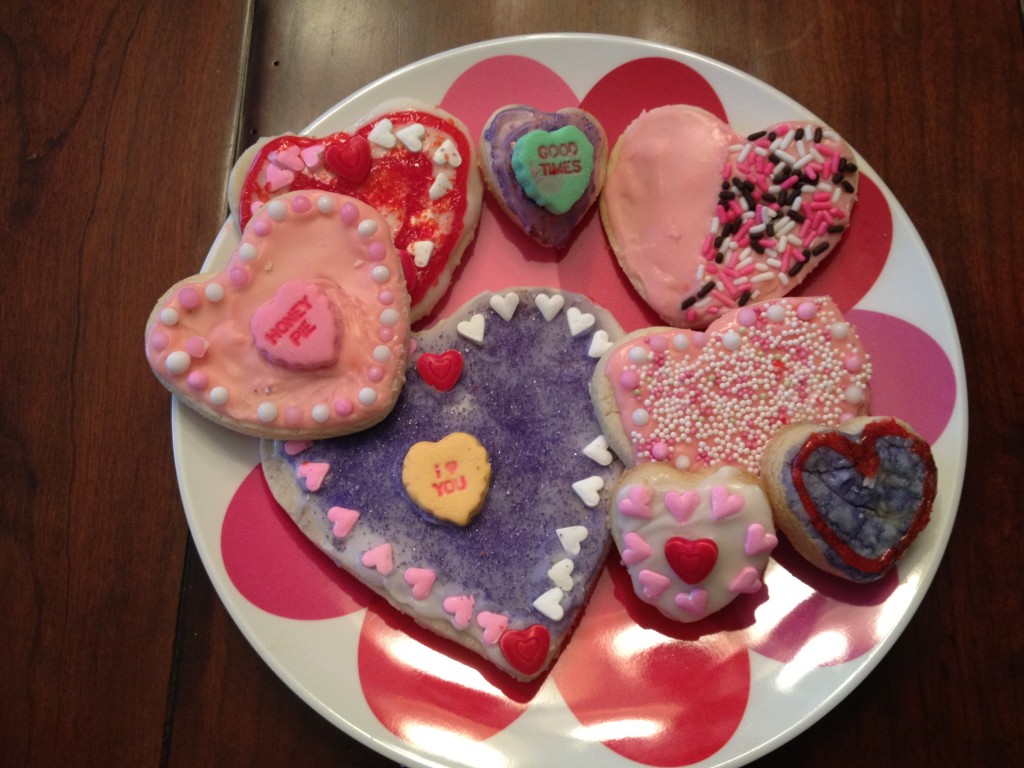 And this love bug with her big-girl haircut made me laugh.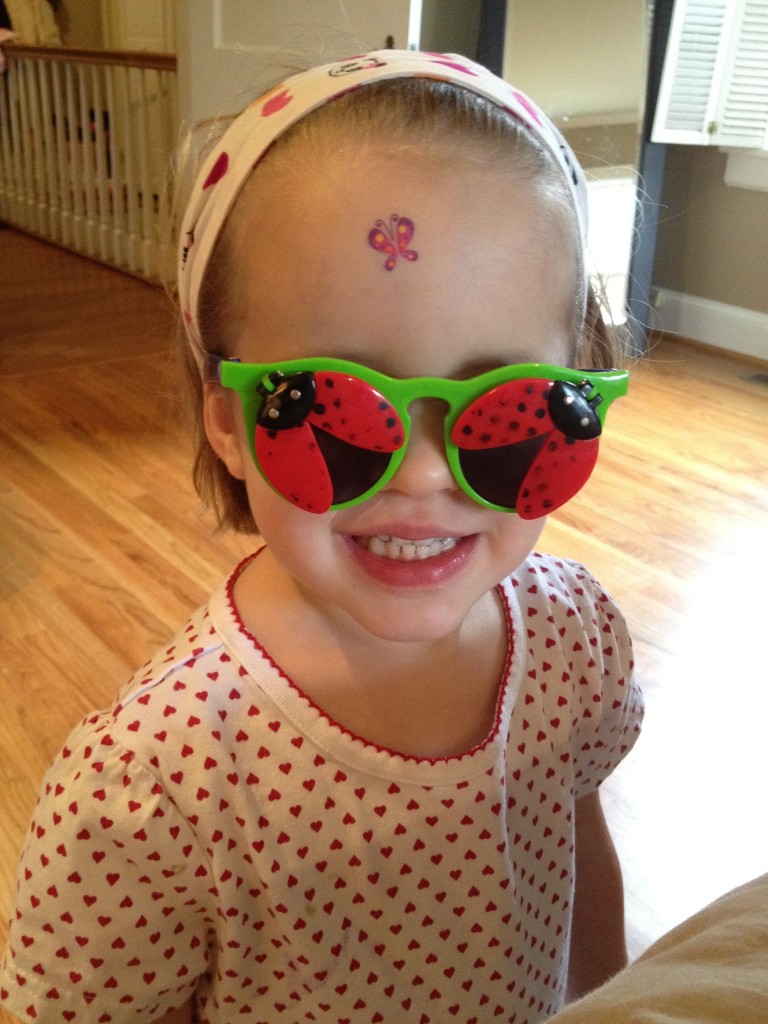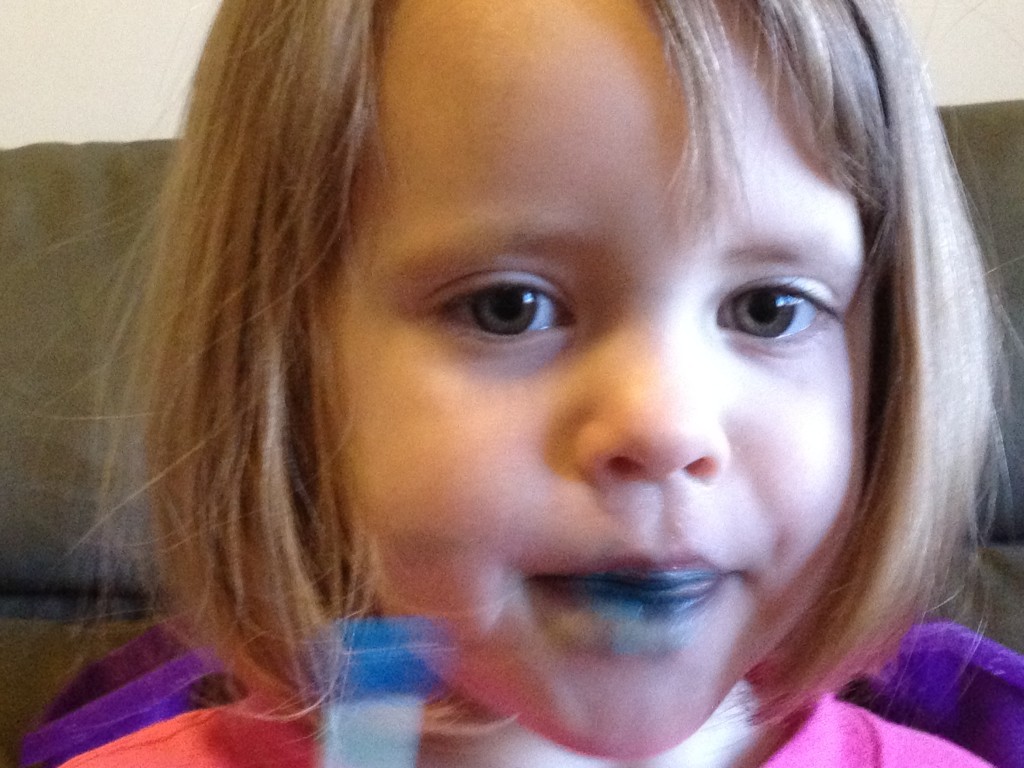 It was a LOVE-ly, sweet day.
I received my December issue of Cooking Light, and there was a great article about eating mindfully. Like I discussed in this anti-dieting post, the article encouraged readers to think in terms of choosing to do something or choosing not to do something rather than telling yourself, "I should eat this," or "I shouldn't eat that."
The article also included a great quote that I'm going to type up, print out, and put in a prominent spot as I enter what can easily become the holiday-binge-fest-I-feel-rounder-than-Jolly-Old-Saint-Nick-right-about-now-season.
"Never eat anything you don't enjoy and truly enjoy everything you eat."
The message here is beautifully simple: Don't swear off gastronomy during the holidays – or ever. And don't rush through the ritual of eating. I'll add these tips as well: Don't mindlessly nosh on Doritos at the holiday potluck. (You can have chips any old time.) Instead, make your taste buds happy. Dive into the chocolate fondue. Eat foods that are special during this special time of year. And if you overindulge, try to keep the focus on the present. Put the fork down, think about how delicious your treat was, and then start choosing healthy bites (not boring ones) that you still will enjoy. When we overeat, it's so tempting to tell ourselves we'll start anew tomorrow, so we eat another sleeve of Oreos since we've already screwed up instead of trying to eat more mindfully right at the very moment we realize we might have caved in to gluttony.
***
But enough about food. I have other things on my mind like Advent.
I meant to get my act together and compile a post of Advent activities, but ever since our fourth baby arrived I'm finding it increasingly difficult to devote all that much time to this blog. Taking care of my family and myself is a full time job. (That simple statement is fodder for an entire post or column – one I plan to piece together one of these days, but don't hold me to it.) Since there will be no official "how we do Advent" post, I'll share a past link that includes some of our family's own traditions as well as links to other folks' Advent-themed posts: Preparing Our Hearts and Homes.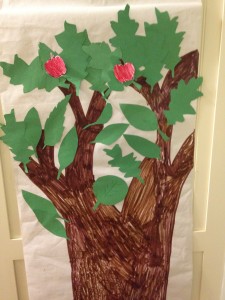 One new tradition I'll share is our Giving Tree. I recently read Shell Silverstein's The Giving Tree
to the girls, and we discussed it together talking about things like how the tree could symbolize our all-loving God. Since we're going to be preoccupied with Turkey Day business this week, we went ahead and made our Giving Tree and hung it up on the kitchen even though I'm intending for it to be an Advent activity. We all worked on coloring the trunk together. Madeline was in charge of drawing the leaves. I cut them out, and Rachel glued them onto the branches. All the girls colored a few apples, and Madeline and I cut them out.
I told the girls that during the Advent season they could earn "apples" by making sacrifices or by doing something above and beyond their normal calls of duties. Madeline, for instance, wanted to get an apple for making her bed, but I told her that's something she's expected to do daily. However, when she voluntarily offered to let her sister pick what to watch during their special screen time, she earned an apple. The wonderful Catholic Mosaic: Living the Liturgical Year With Children
actually recommends something similar during the month of Lent, but we always make Lenten mice and tie knots in their tails for sacrifices, so I wanted something different for Advent.
Welcome to the August Carnival of Natural Parenting: Creating With Kids
This post was written for inclusion in the monthly Carnival of Natural Parenting hosted by Hobo Mama and Code Name: Mama. This month our participants have shared how they make messes and masterpieces with children. Please read to the end to find a list of links to the other carnival participants.
---
***
We engage in plenty of hands-on activities around here, but I still consider myself more of a crafty mom wannabe. I love the idea of crafting with my children, but I'm averse to the mess that sometimes comes along with it (although I've become much more laid-back when it comes to messy chaos as my family has grown). And the truth is, I'm not so good with using my hands to create (unless the creation happens to be words pieced together with the combination of my hands and a pen or a keyboard).
It's not that I'm not creative. I had a runaway imagination as a kid and used to immerse myself in some pretty intense imaginary play. The rope hammock in our family's backyard was a giant spiderweb; our pool an enchanted lake. I still don't have any problem coming up with creative ideas, and a lot of my friends call me creative, but making the inspiration in my head come alive in a 3-D, Technicolor reality through the world of crafting and art can be more of a challenge for me.
I remember loving to doodle when I was younger, although I never thought of myself as an artist or even as someone who had much (if any) artistic talent at all. The artists in my family were my dad and older brother. Oh, and my mom painted briefly, and I love what her brush strokes created (we have one of her paintings hanging in our powder room), but she doesn't think she's talented either. My younger brother was the athlete. And I was the drama queen, equestrian, singer, and dreamer (and sometimes brooder).
Still, even when I was all grown up, I can remember doodling on the margins of legal pads during a slow meeting at work. There was something soothing about drawing vines studded with flowers along the edge of my paper or even just writing my name in a fancy script.
When I became a mom, I knew I wanted to nurture creativity in my own children. I wanted to arm them with toys that were open-ended and encouraged creative play. The batteries-not-included variety. It turns out my kids didn't need much prompting from me. Each of my daughters' minds is a hot bed for creativity. They find inspiration in everything. Rocks become little animals. Flowers homes for fairies. A simple blanket is a magic carpet, a superhero's cape, and then a colorful howdah atop an elephant in India.
It was so refreshing to realize that my children didn't need much or any real prodding from me. We didn't need to produce elaborate crafts either. We've stuck to simple craft times. Sure, I sometimes seek out inspiration from some of the uber mom crafters out there, but I try not to be competitive or comparative.
One of the most treasured – and simple – traditions we've embraced more recently is regular family draw time.  Amanda Soule's wonderful The Creative Family: How to Encourage Imagination and Nurture Family Connections
inspired us to start this last fall. The girls and I each have our own sketch pad that we only pull out during designated "family draw times." We doodle whatever we want. Madeline has drawn everything from a pirate to a portrait of what our baby might look like. (I've shared some of the art below for our mini art show!) We also date each picture, so we'll have a record of what was on our mind as well as our artistic progress.
At first, I picked up my own set of markers and colored pencils just to encourage my children to do the same. I wasn't really thinking I'd get much out of drawing or that I'd even be able to come up with many ideas to sketch out. Remember, I've never thought of myself as an artist! But, surprisingly, I immediately took to the activity and found ample serenity in the simple act of using my hand to produce something as elementary as a set of shaded shapes with the help of some stencils. I also found that, like my children, I had endless ideas about what to draw.
Now I sometimes suggest we have family draw time when I feel emotions are running high, we're all on edge, or the weather keeps us from moving about outside. A few crayons and a sketch pad never fail to bring peace to our home – and our hearts.