Madeline (9)  loves art and decided to teach her little 4-year-old sister how to do an art project inspired by Snowy Day
by Ezra Jack Keats. Thomas was taking his nap and Rachel was over at the grandparents' house, and I was actually able to snooze a bit (I was still in recovery mode from the dreadful stomach virus) while they were busy at work. Madeline knows I have a blog and has been asking if she could write a post, so I suggested she share with readers how she created this artwork.
Welcome, Madeline! (She started typing this on her own, but her hands grew tired so she asked me to type while she narrated. This is all in her words with the exception of the "tsumommy" definition.)
Hi – my name is Madeline as you know and I already know that you know about me so let's get started.
Things you will need:
Two sheets of watercolor paper
Watercolor paint and paintbrushes
A white crayon
Scissors
Colored or designed paper of your choice
Glue sticks
Paper towels
Instructions:
1. First, grab a piece of watercolor paper. Color the piece with white crayon until you think it's pretty much covered.
2. Choose watercolor paints that are a wintry color like blues and purples, and paint the entire piece of watercolor paper. Once you're finished painting the paper, dab it with a paper towel to spread all of the paint around (make sure paint is watery and light because if it gets too dark, it won't look like snow; I had this problem with Mary Elizabeth's). Allow it to dry and move onto the next step.
3. Use your patterned or plain paper to cut out different types of buildings – some big, some small, some narrow, some large, your choice.
4. Once the watercolor paper you painted is dry, cut out big snowdrifts for your background and glue some of them onto a second piece of watercolor (Mom's addendum: regular card stock paper would work for this step as well) paper. Add buildings, and then layer more snowdrifts on top.
5. Now comes the fun part! You may cut out any snowy image you would like such as snowmen or trees or traffic lights – anything you would like – and glue onto your scene. If you have more leftover snowy paper that you painted, you can cut out snowflakes or snowballs and make it look like there's snow on the buildings.
6. Allow picture to dry. (Don't wake up Mommy to show your masterpiece. Wait until she gets up.) Oh, and be sure to clean everything up, so there's no chance of a "tsumommy."* Just a warning.

*A tsumommy is what we jokingly refer to as a mom who crashes into a room and is inclined to go a little crazy over messes.
Here's what M.E. and my finished products looked like:
We celebrated Thanksgiving at Nana and Pop's this year and on the way, I set my phone's timer for five minutes and asked the kids to blurt out anything and everything they were thankful for and I then listed them in the exact order they were shouted out and also did not edit their contributions (e.g., Mary Elizabeth's blessing of "roasted beef" was jotted down just as she said it).  Here's what they came up with:
1. apple pie
2. life
3. love
4. family and friends
5. Thomas
6. our house
7. fall
8. toys
9. turkey
10. seasons
11. the sun
12. the moon
13. roasted beef
14. ice cream
15. exercise
16. cozy boots
17. Toms
18. our health
19. animals
20. jeans
21. clothes
22. water
23. Layla (our dog)
24. trees
25. Clue (the game)
26. books
27. colors
27. Monopoly
28. beans
29. food
30. music
31. school
32. my mind
33. flowers
34. mail
35. the world
36. a warm bed
37. the way Thomas says, "Oh," when you tell him something
38. hope
39. new beginnings
40. plays
41. shopping
42. windows
43. eyes
44. our bodies
45. signs
46. doors
47. beaches
48. cars
49. pumpkins
50. Knuffle Bunny
(Rachel's lovey)
51. Raja (Madeline's tiger stuffed animal lovey)
52. people
53. Cubbie (my parents' puppy)
54. Christmas trees
55. Nana (my grandma who passed away)
56. Nana and Pop
57. Gaba and Papa
58. Ivy (my parents' dog who recently died)
59. Uncle Rich (my uncle/my mom's brother who died of pancreatic cancer last February)
60. Michelle (my cousin who died recently as well from cystic fibrosis and lissencephaly complications)
61. Mr. Thomas (our neighbor who also passed away; yes, there's a theme here)
62. Katelyn (our babysitter who is alive and well)
63. Marlo (our babysitter's dog)
64. scones
65. chocolate
66. Waffle House
67. The Grit  (my contribution)
68. wine (obviously another one of my contributions)
69. lattes (me again)
70. Aerolatte Milk Frother (me again, although Thomas likes to use this gadget to torture her sisters. I've caught him twice now turning it on and putting it in their hair.)
71. firemen
72. policemen
73. police dogs
74. fire dogs
75. ambulances
76. doctors
77. radiologists
78. Smoothie King
79. braces
80. Baby Jane's
81. movies
Time's up!
Once at Nana and Pop's we were not only treated to the feast of feasts, but Madeline had written a Thanksgiving play and the kids performed it for us. The red wagon is the Mayflower. Madeline is Squanto. Thomas and Mary Elizabeth are pilgrims, and Rachel served as the narrator.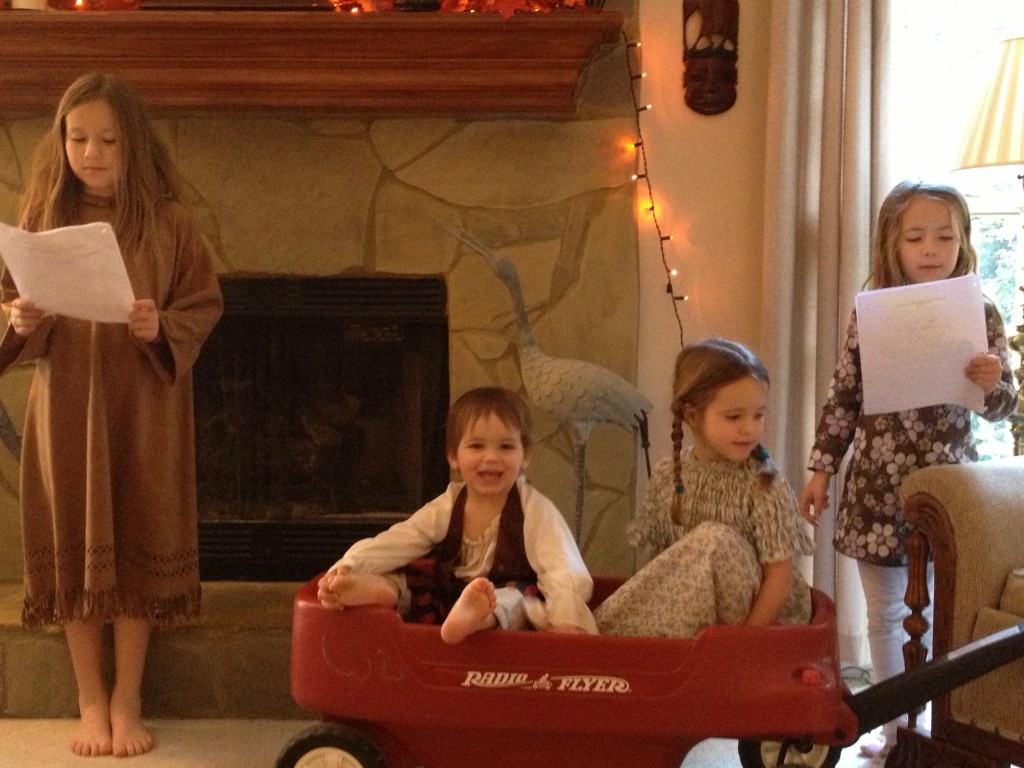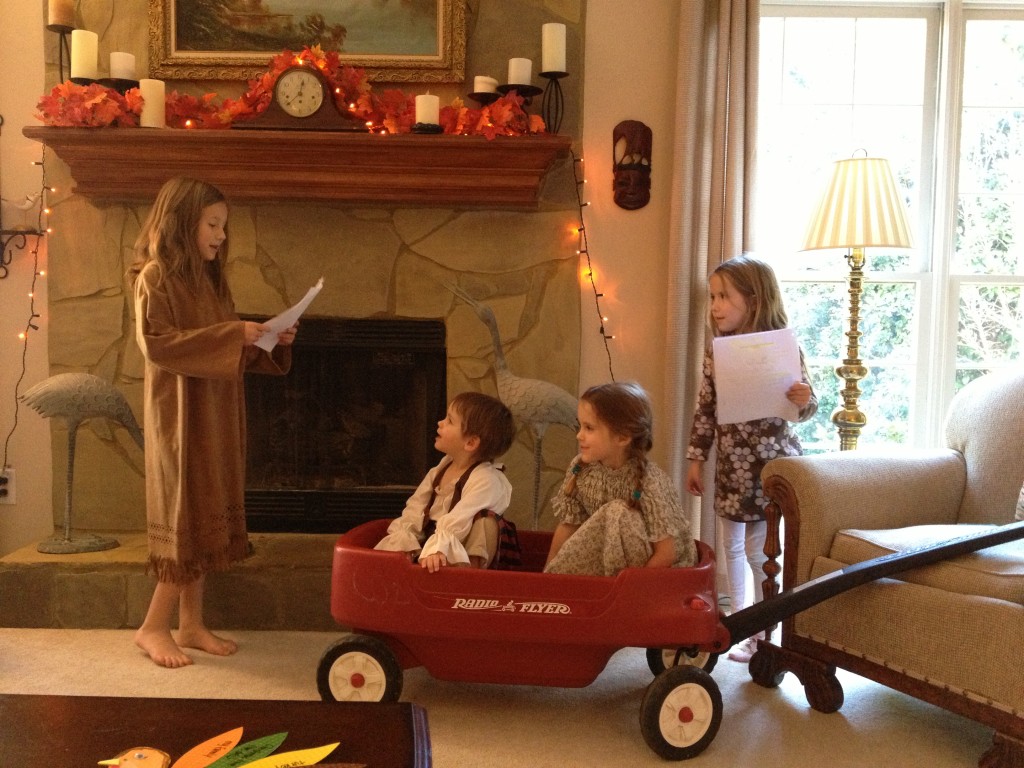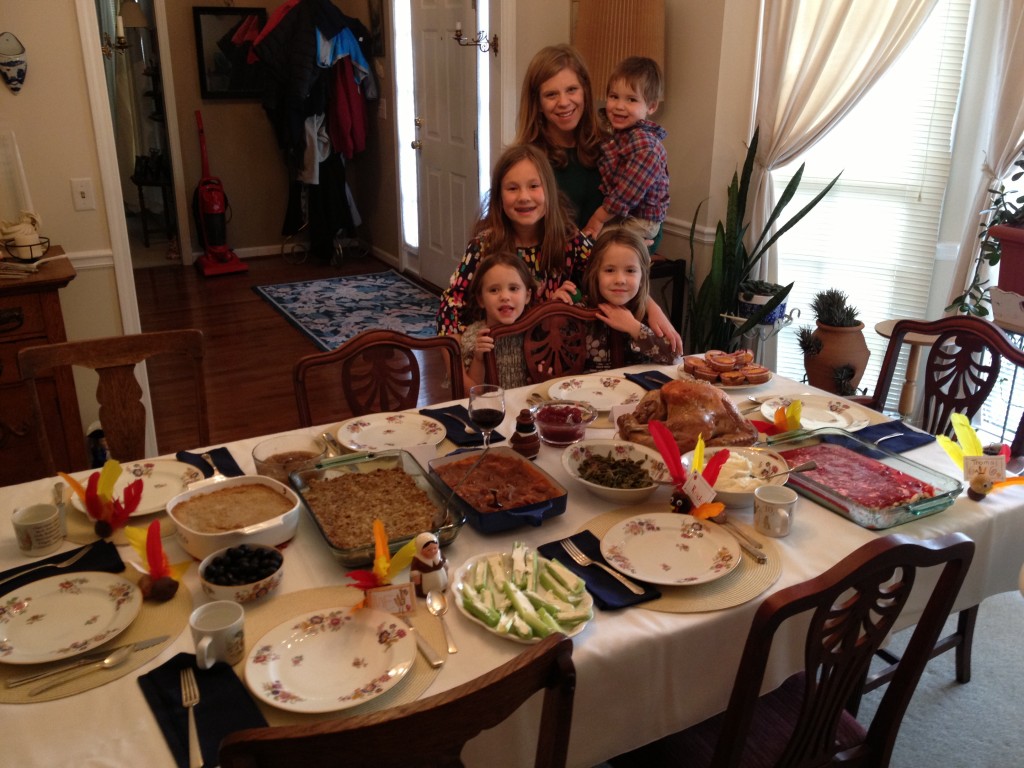 Now it's time to start thinking about Advent. I have a speech at a parish not too far from my home on Sunday where I'll talk a bit about cultivating a peaceful, joyful heart during a season that can easily become a path to burnout for a multitasking control freak like myself. Your life this Advent and always should be full, not just busy. Just because our culture hypes jam-packed schedules as the norm doesn't mean we have to subscribe to it. My running injury (still not anywhere close to running again) has forced me to slow down not just on the pavement and treadmill but in life as well. I'm getting more sleep these days and really focused on embracing simplicity. At its heart, simplicity really means less of us and more of Him. It can also mean staying in your PJs all day (I'm typing this in my pajamas; no Black Friday madness for me.)
We don't need to over-schedule our kids now or ever. Madeline really wanted to try basketball this winter, but we have a brief respite from soccer and I didn't want to fill it with more practices. If she's meant to be in the WNBA someday, she'll discover that talent soon enough. For now, I am drawing my family near, pulling out our favorite Advent books, and trying to decide what Advent traditions we will embrace this year. I've included a few links from the archives that include all sorts of ideas for bringing this season alive for little ones. BONUS: You'll get to see the kids when they were wee ones. Happy clicking!
An Advent Tea
Preparing Our Hearts and Homes (Advent Traditions)
Advent crafts (shell angels, felt napkin holders, poinsettia princesses, etc.)
Advent Smörgåsbord
Recipe for Baby Jesus Birthday Cake (more for the Christmas season obviously)
Handprint angels
Feast of Our Lady of Guadalupe traditions
Christmas card placemats
Tips for hosting a cookie swap
Cookie Swap recipes
Feast of St. Nicholas traditions
Explaining the symbolism of the Advent wreath to children
I love St. Valentine's Day. I love having an excuse to lavish my family with love. I don't mind them doing it in return for me either. I was the grateful recipient of roses and handmade cards.
We didn't do anything extravagant. Dave and I were able to sneak away for a quick dinner. We came home, and I sipped some crisp and sweet Riesling that was easy on the wallet. (Thank you for the recommendation, A.P.!)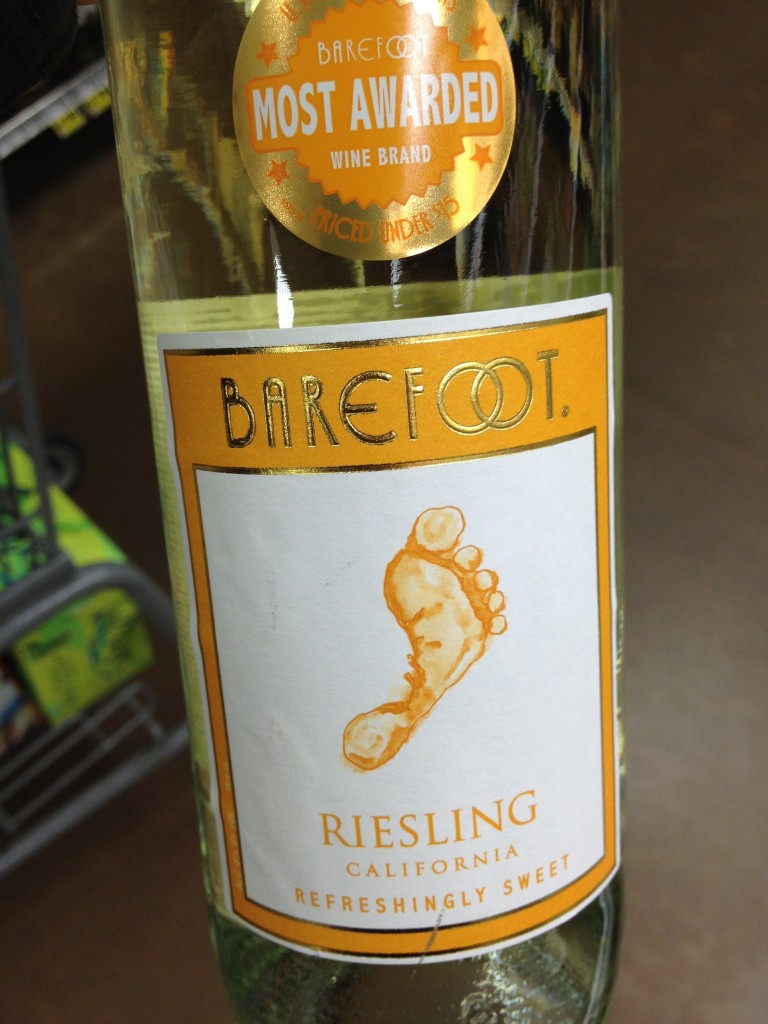 The girls and I made Daddy Chubby Hubby Bars.  He likes to have a few unhealthy snacks on hand for his late-night snacking. His mutant metabolism allows him to eat like every day is Valentine's Day. For the rest of us, it's a big treat to nosh on so many sugary delights. We all had a Chubby Hubby Bar for dessert. Oh my goodness. These ooey-gooey slabs of deliciousness made me swoon, especially when I dipped them in my coffee. Yes, I ate them for breakfast yesterday, too. It was a holiday – a delicious one at that.
I read Saint Valentine by Robert Sabuda
to the girls, and we discussed the mosaic artwork. Then the girls made their own simple mosaics using foam squares I'd cut up for them.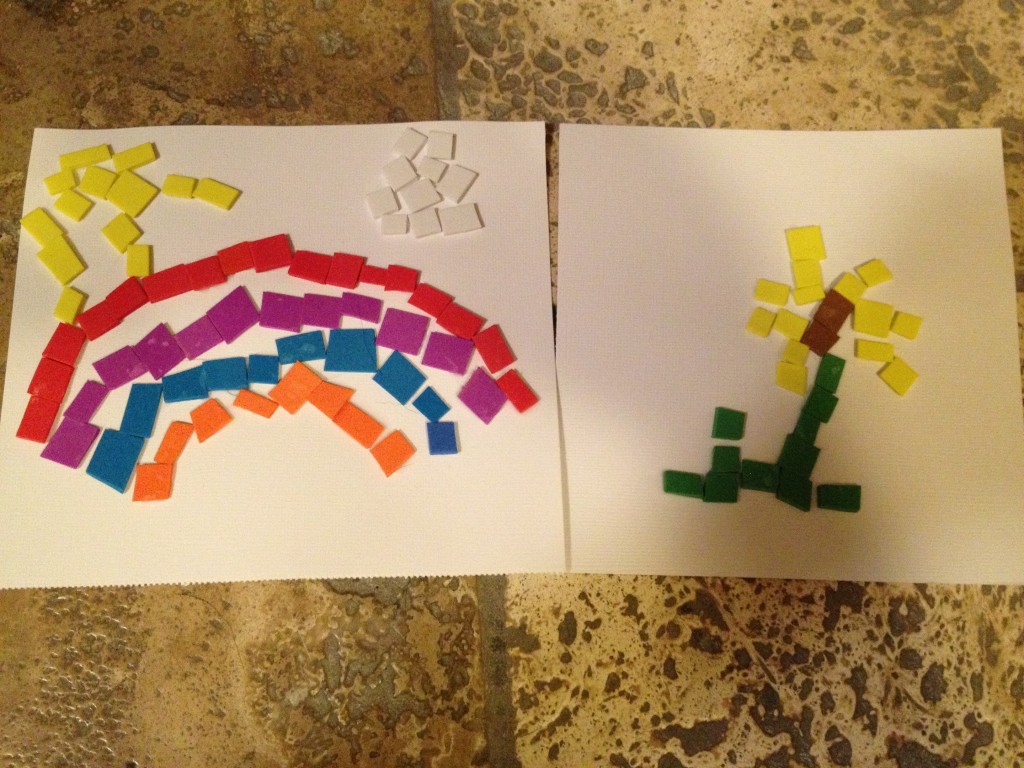 For lunch there were heart-shaped fried eggs in whole wheat bread slices.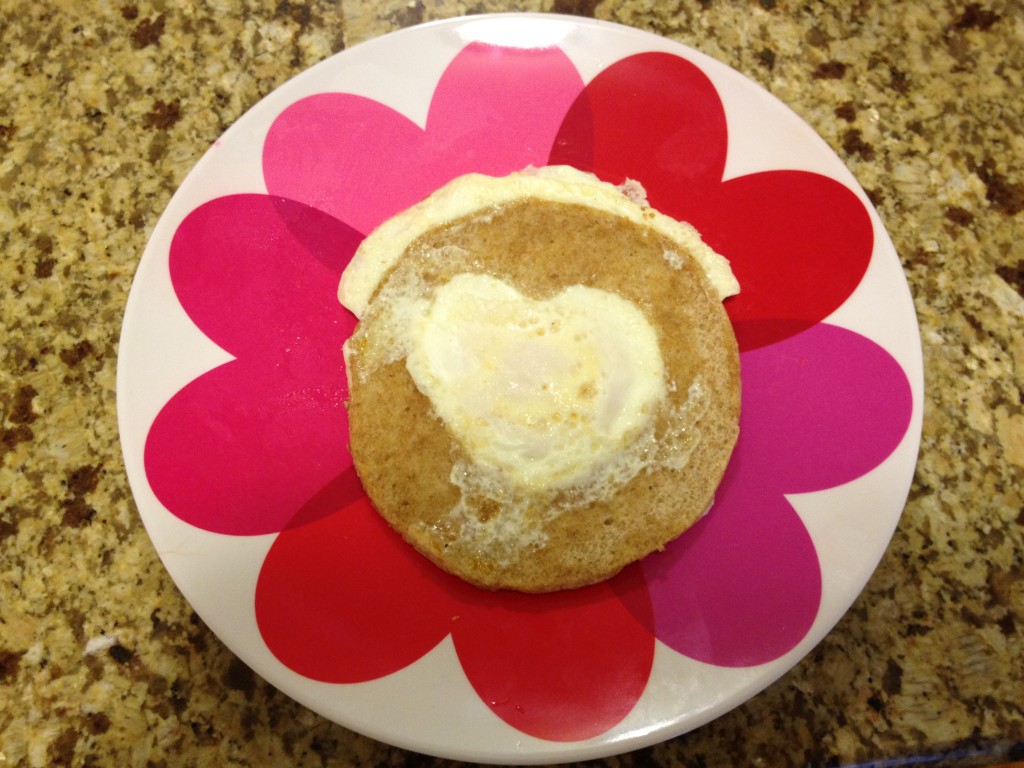 We shared the Valentine's Day sugar cookies we made with our elderly, sweet-loving neighbor.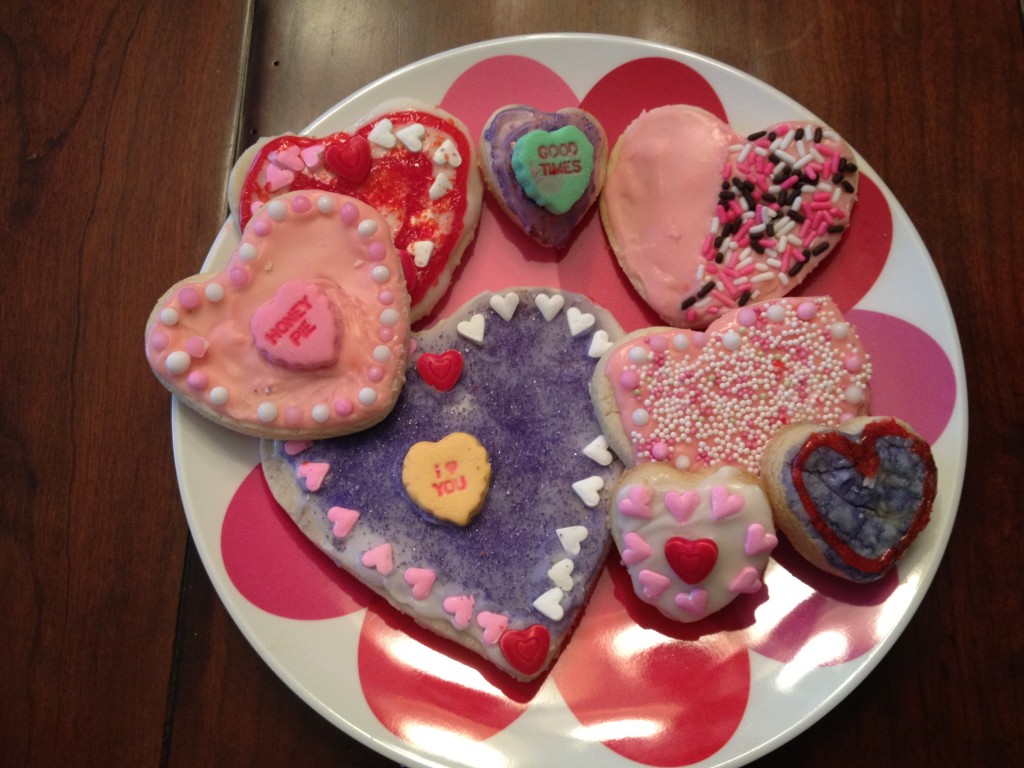 And this love bug with her big-girl haircut made me laugh.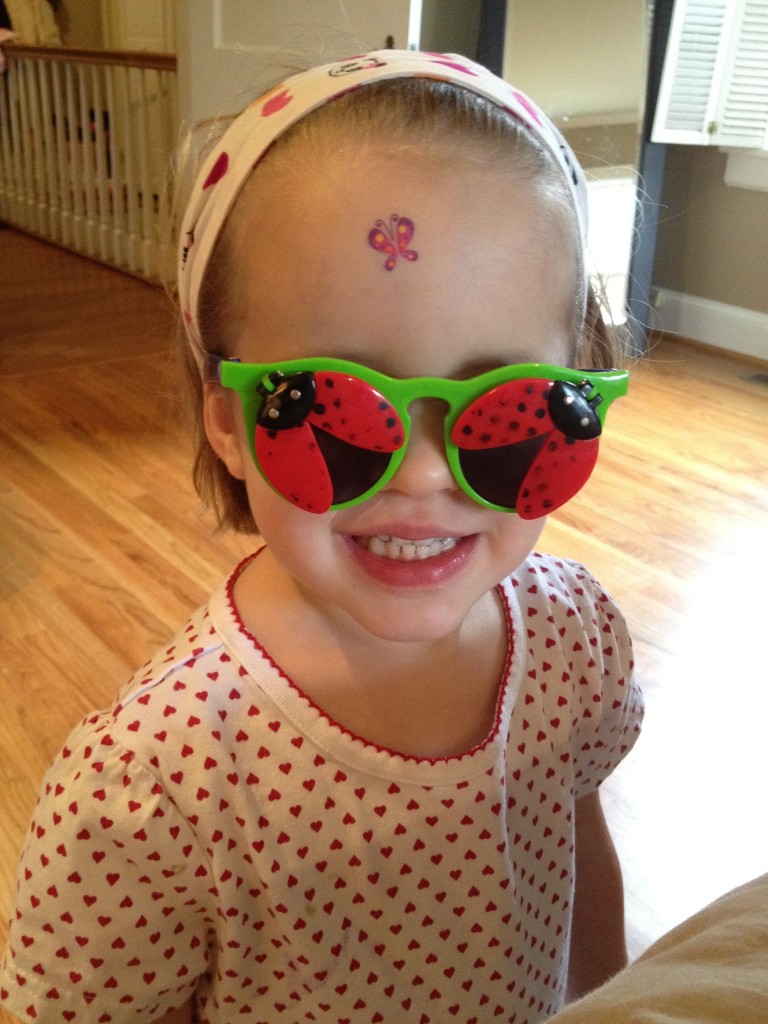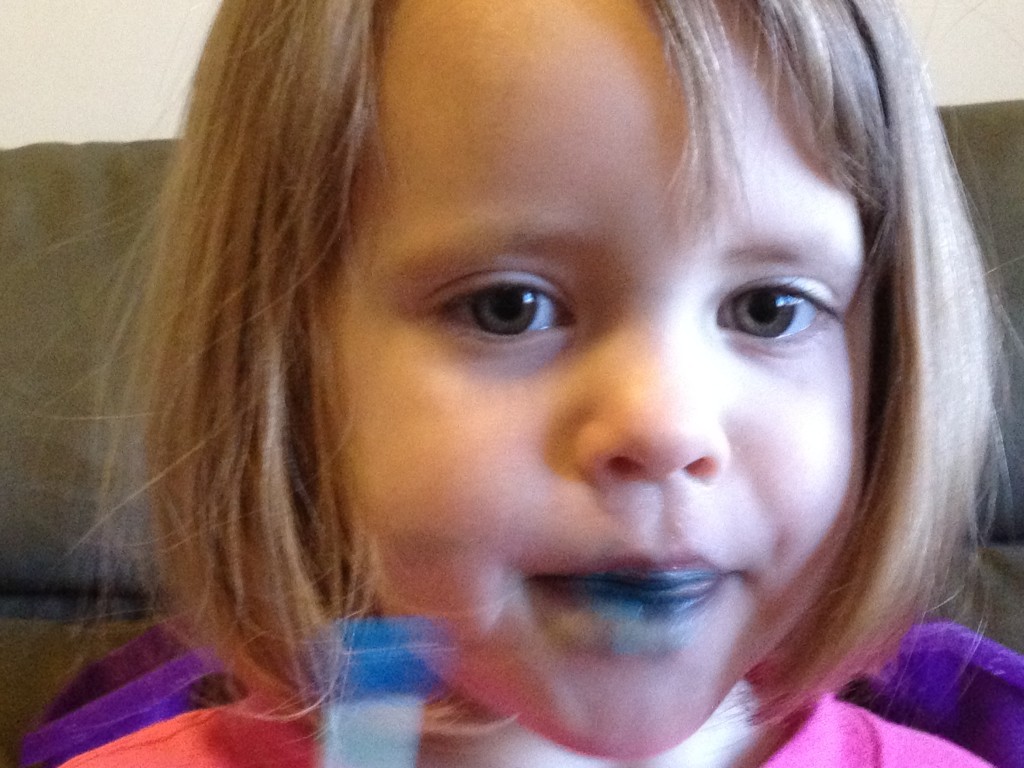 It was a LOVE-ly, sweet day.