Dear Skinny Jeans,
I haven't forgotten about you although I am working on it and hopefully at the end of this letter my farewell to you will be complete. For some reason, every time I open my closet lately I hear your siren song calling my name, taunting me and telling me that life was better…I was better, stronger when I fit comfortably into you. Sometimes I mark my life by the times I weighed this or that. And, of course, there was the skinny jeans age when I effortlessly slid into your tapered denim legs. My mom was buying me a special birthday gift, and we were at a store I couldn't afford to shop in at the time. My third baby was not quite one year old. I was running around raggedly. I took (foolish) pride in my lithe postpartum body. I found you, and you were even on sale. My mom and the sales lady all said you looked great on me, and I felt great wearing you. But maybe that was the problem right there. Clothes or the way they fit me shouldn't dictate the way I feel, especially not the way I feel about myself, my strength, or my worth.
So the other day, knowing full well I am not as thin as I was in that glittery-gold "skinny jeans era" even though I cannot recall the last time I stepped onto a scale, I decided to try you on – just to see how you'd make you feel. Why do we women let a number on a scale or a clothing label or how a pair of jeans fit us shape the way we see ourselves and even our lives?
Well, I had to stuff my flesh into you. The zipper slid up easily enough, but then I had to lie supine on the bed to button you and then I felt like I couldn't breathe. You didn't make me feel good at all. You reminded me of failure. You reminded me of weakness. You made me fearful of the "fat" girl of my past – the one a boy spat upon on the bus, the one another group of vicious boys oinked at, the one who bore the nickname "Miss Piggy."
This girl: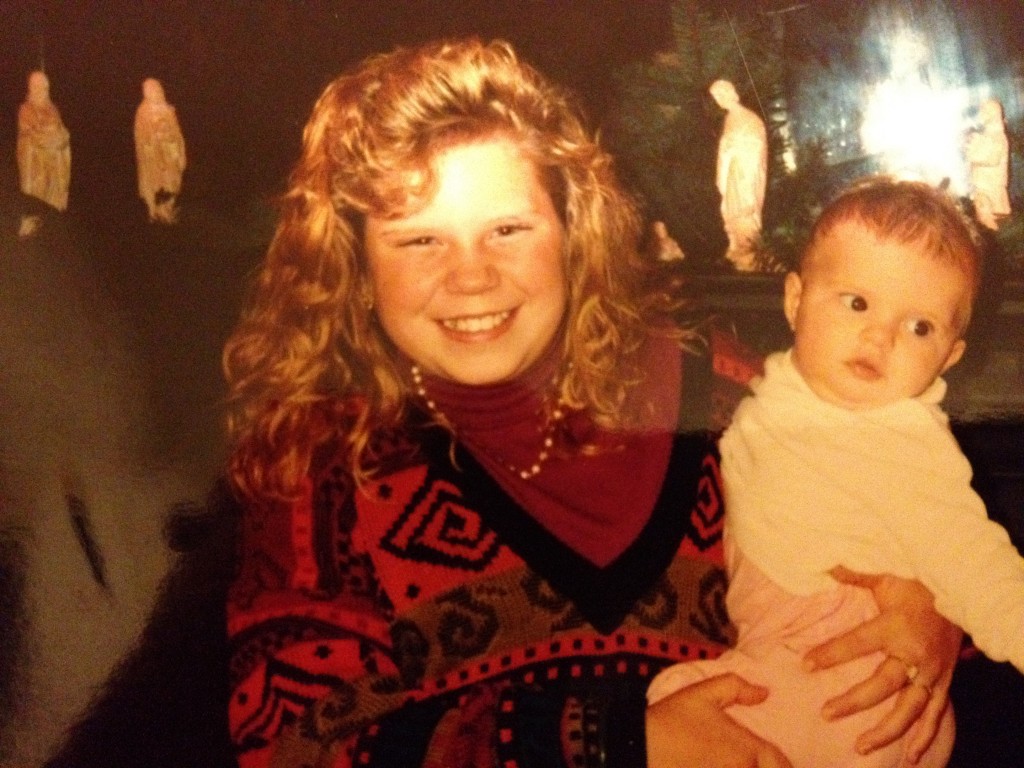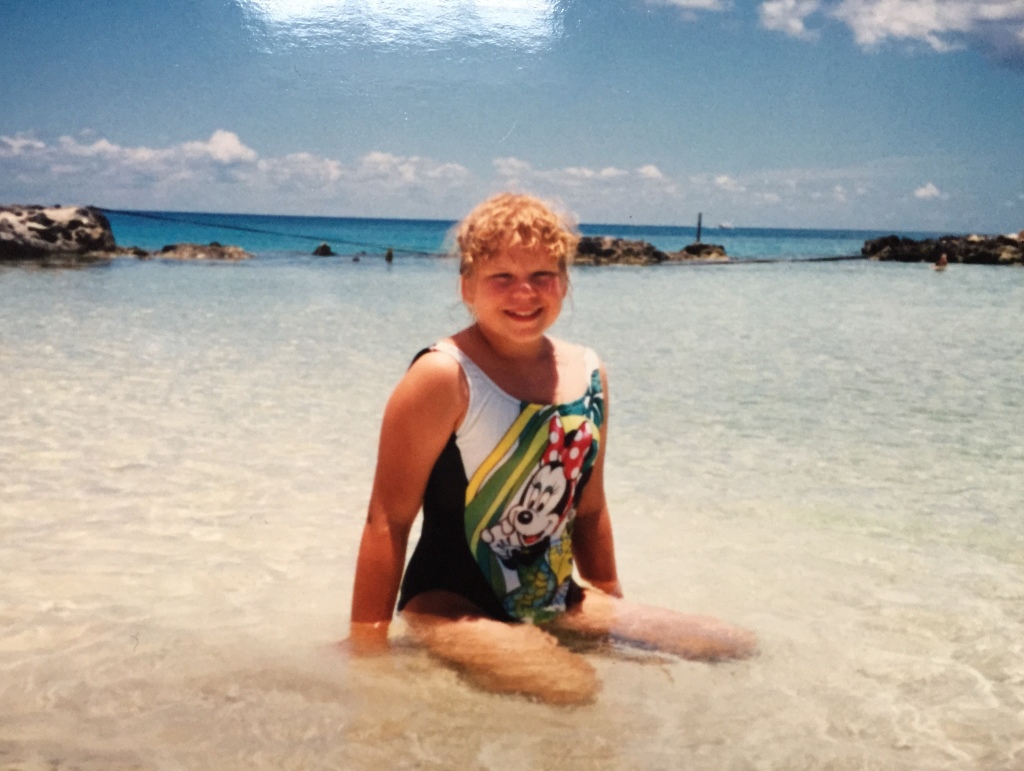 Walking stiffly around my house with you clinging to me was a form of punishment, and there was also an unrealistic hope that you would quickly stretch and fit me loosely as you once had. I found myself mourning the old me – not one my critical self labeled as the "fat" one  – but the one who was thin enough that you hung loosely on my hips. Now you dug into my hips like sharp teeth, and I wasn't sure which pain was worse – the searing physical pinch of tight fabric on skin or the emotional pain. It wasn't so much that I was married to the desire of looking good in you any longer. It was just I wanted to protect myself against future pain. I equated wearing you with happiness and security when really those things have nothing to do with my waistline. And I was afraid that allowing you to become tight on my waistline was allowing myself to slip back into that lonely, uncertain girl who got teased on the school bus.
I peeled your denim off me like it was second skin I was shedding. I cried at first because of what I had lost – a size 25 inch waistline, power, ephemeral happiness. But then I started to weep for a different reason. I hated it that someone who was supposed to be a body image role model, someone who was blessed with daughters whom she wanted to teach to reclaim the beauty of Creation, someone who wrote a book called Weightless and now I felt weighted down by this burden of self-loathing. This led more tears to flow.
Rationally, I know that thinness does not equal happiness. It is an illusion. Skinny people suffer. Overweight people suffer. Rich and poor suffer. Most human beings suffer. I also know that I like to pretend that I was gifted with you during a blissful, healthy time,  but this is a half-truth. I had happy moments, but I was thin partly because life had lost its luster and so had food because I was mired in the darkness of postpartum depression. On the outside, I looked happy enough, but on the inside I was breaking and crippled by sadness and uncertainty. That's been a trademark of big chunks of my life – smile, be the life of the party, and then go home and weep, question every word you uttered, berate yourself for all that you are and all that you lack.
And you, Skinny Jeans, I was allowing you to be another reminder of all that I wasn't and couldn't be instead of seeing you as just a silly piece of clothing from a distant part of my life. My expectations of still wearing you comfortably after four children and when I eat fully and richly without counting calories and exercise out of enjoyment and not as a punishment or obligation, it was absurd. And, yet, I couldn't let go of you right away. So I draped you on a hanger and hung you on a silver knob of my dresser where I would see you every morning and each night in hopes that you would remind me of what I once was and give me the drive to be stronger, to work harder because I couldn't let myself go. I couldn't return to what I saw as that unlovable, little girl hidden behind too many layers of flesh, the "fat," ridiculed one.
A reader once emailed me that while she appreciated my book and writings on body image, she also found it disheartening because in her words I was a thin, pretty woman, so how could I really know what it's like to feel overweight and unlovable? At first, I was angry. Who was she to tell me what I was qualified to write about? That's what my pride said.  Then I was hurt because I wanted to tell her she didn't know me when I was the overweight kid and the object of fat-shaming and bullying. Of course, she also didn't know me when I was the ugly duckling turned swan and very confused by the new attention from boys and people calling me pretty. It didn't sit well with me. I felt like the same person through all those phases, but people saw me and treated me differently based solely on a change of my physical appearance, and sometimes I gloried in it – all that newfound attention. Other times I resented it. I just wanted people to love me for me and not comment on my aesthetics. At the same time, my peers' admiration gave me satisfaction. I can remember going out to eat with girlfriends and nibbling on shards of lettuce while they took down greasy cheeseburgers and slurped up thick milkshakes and thinking that I was stronger than they were.
And if people thought the thin me was better than the heavy me, then how much better would they think an even thinner me was?
So I restricted more, but it wore on me. And sometimes there was something freeing in scarfing down Twizzlers or globs of gooey cookie dough. Eating was a guilty pleasure instead of just a pleasure. I was the perfectionist who found short-lived happiness and relief in overeating because it felt like a moment of freedom and reckless abandon. But the guilt that followed was overwhelming. I couldn't let myself to return to that bigger, scarier version of myself.
But what I know now even as I mourn the skinny jeans era is that I'm not afraid of gaining weight or being what the world might consider "fat." What I'm really afraid of is rejection. I want to be loved and lovable – able to be loved. We all do. Don't assume a woman perceived as beautiful by society doesn't deal with loneliness or self-hatred any less than a woman who is seen as overweight might. The outside is a poor indicator of what's going on in the inside for a lot of people.
One day my 10-year-old waltzed into my room. Sometimes I look at her and feel equally proud and sad. Proud because she is so comfortable in her own skin. She sees her body as a strong instrument that can run a mile in just over seven minutes and can take her across the soccer field or basketball court rather than an object to be fixed or tweaked. In a world that lauds self-improvement, this is a young girl who is satisfied with herself and sees that she is good enough. I was nine when I first considered dieting. A few years after that I had started to hate my body and wanted to hide all that extra flesh away. I decided I would be the funny, outgoing girl to distract people from the extra weight I was carrying around. My oldest daughter has made no such decisions. She's herself because she's herself. She's outgoing because she likes people, not because she wants them to like her.
Well, she noticed you, Skinny Jeans, hanging on my dresser. "Are those new?" she asked.
"No," I told her.
"They're cute. They look like they might fit me," she remarked.
My girl takes after her daddy. She is tall. I have already started passing down old running shorts or tops I no longer wear because she's nearly my height, and her hands and feet are already bigger than my own. She has just started to take an interest in trying on my clothes.
"Can I try them on?" she asked.
"Sure," I said. "But they'll be too big on you."
My beautiful daughter still thankfully impervious to any trace of body image angst yanked the jeans off the hanger. She clearly did not revere you, O Skinny Jeans, as I did. You were just a cute pair jeans. Nothing more, nothing less. She tried you on, and I was shocked to discover you were just a little long and your waistline was only an inch or two too big. You almost fit my athletic 10-year-old daughter, and I had been berating my approaching-40-body that has been pregnant five times and brought four children into the world that you were too tight on me. Why was it that I was using an old pair of jeans as a barometer of my self-worth? Why was I so afraid of letting go of being thin and just being satisfied with being fit and happy? You were given to me under subterranean duress when I didn't feel like eating or doing much of anything else. You do not personify joy or happiness. And my no longer fitting into you like I once did doesn't mean I am on the verge of being my scared and rejected 9-year-old self.
Skinny Jeans, you are nothing but fabric – and not even all that much of fabric considering my 10-year-old will probably comfortably wear you in a year or two. You are not the Holy Grail of Happiness. You never have been. You, the scale, my weight – none of this defines me. I refuse to listen to your taunting, to the lies you whisper to me that if I lose enough weight so that you sag on my hips again, I will somehow be happier or inoculated against self-doubt. I will not hold onto you or another life I wish I was living. This is where I am now. I am going to be content with this beautiful now.
Thanks to you, I decided to sift through my closet and purge. I wasn't just saying good-bye to old clothes or clothes that never made me feel good about the natural design of my body, it was a valediction to negativity and an illusory hope that life was better in the past (when I fit well into this bit of clothing) or would be better in the future  (when this article of clothing fit me again) when it's pretty damn wonderful right now. It was a purging of self-loathing, self-scrutinizing. A purging of ridiculous expectations and holding onto certain articles of clothing that represent a life I think I want to live rather than being content with the life I am living. Why do we sugarcoat the past and glorify the future while muddying up the present? I realized that in holding onto all these different sizes of clothing – the "skinny" clothes, the "just-in-case-I-gain-a-few-pounds-or-get-pregnant-again clothes" – I wasn't allowing myself to fully live in the now.
What I decided to keep were the life-I-am-living-right-now-clothes and the if-I-really-stop-to-consider-it-the-life-I-am-so-grateful-and-happy-to-be-living-right-now-clothes, the comfortable clothes, the jeans that my figure fills well now and has for the past few years, the pretty, delicate, bohemian lace top I feel feminine yet adventurous in, the cozy sweaters, the line of brightly colored fitness clothes I have covered many miles in or held a plank in. The neon tank ("You look so pretty in those bright, neon colors," I hear the friend who gave it to me as a birthday gift saying) I wore when I recently ran a 5K where I somehow placed first in my age group and third overall in the women's division. These remind me that the size on the label of my clothing have nothing to do with my strength or my happiness.
Ironically, back when I wore you, Skinny Jeans, I felt too tried to run or to do a push-up. Now I run as my body allows, which isn't as much as I'd like, but God has a way of humbling me and reminding me that sometimes a weaker body yields a stronger soul. These days I weight train because I enjoy it and because it's something my husband and I can do together in our basement after the kids are asleep. I play pickup basketball games with my kids and end up sweaty and happy. I jump on the trampoline with my little jumping beans giggling around me. I dance in the kitchen while listening to Pandora and making my family's dinner, and my kids either join in or affectionately call me a geek. I was always a geek. After I made my transformation, a boy said, I was a geek trapped in a hot body. But like the beautiful weight loss memoir I couldn't put down, It Was Me All Along. Once a geek, always a geek and proud of it.

I am not going to fear my (heavier) past or yearn for a different (thinner) future. I am not going to see myself as a failure just because I still sometimes struggle with seeing food as a necessary pleasure and as fuel rather than thinking about it too much and wondering if maybe I, too, should go paleo or give up gluten or try to be a vegetarian again when I know that for me everything in moderation is the best dietary path to take. I am not going to hide away and not write for weeks on end because the ghosts of my eating disorder have returned to haunt and tempt me and I feel like I am a hypocrite if I try to be encouraging when maybe we all need encouragement from real people like me who have suffered and still do from time to time. I am going to share my mistakes, my weaknesses, these big, confusing feelings I sometimes still have about myself, my weight, my personality, my life in hopes that they might help someone else out there. I am not going to let an old pair of jeans  – or a new pair of jeans either  –  control my happiness. I can choose joy. I can always choose joy.
I imagine a ceremonial burning where I hurl you into the flames and watch your faded denim turn to ashes, but I then I realize that would give you far too much power. You're just clothing. My daughter might need a new pair of jeans in the future. My thrifty side can't deny that, so I'll just tuck you away in a storage closet upstairs. As for some of your friends – other pieces of clothing that don't make me feel good about myself or my body like the floral pencil skirt that never fit me right, but I held onto thinking that something was wrong with my body's proportions and thinking I could change my natural shape instead of considering that perhaps something was wrong with the cut of the skirt – well, I'm moving on and donating some to charity and selling some on Thred Up. I don't need to keep anything around that makes me unhappy or tempts me to criticize my body. Clothes like that are like bad boyfriends, and I had one of those in the past who made me feel just as badly about myself but that I kept around for far too long thinking there wouldn't be another guy who would take me. And here I am married to a man who would have taken me when I was 16 if I'd given him more of a chance, a man who loves every inch of me and always will, a man who says he loves a happy me the best no matter what the blasted scale says or what jeans I'm wearing. I hope these pieces of clothing will find their way into another woman's closet and that they will make her feel good and happy and content with the life she's living. Because whether we are a size 0 or a size 20, we all deserve that.
A friend of mine passed along a link to an article every mom needs to read: "Moms, Put on That Swimsuit."
It was most definitely an article I needed to read at that moment.
The author writes,
"I refuse to miss my children's high-pitched, pool-induced giggles because of my insecurities.

I refuse to let other women's judging eyes at the pool prevent me from exposing my kids' eyes to the wonder of the sun glittering on the water.

I refuse to let my self-image influence my children's.

I refuse to sacrifice memories with my children because of a soft tummy.

Because at the end of the day, it is not just about me.

It is about my kids.

I want them to remember twirling in the water with their mom.

I want them to remember splash fights together.

I want them to remember jumping off the edge of the pool into my arms.

I want them to remember that their mom was there, with them."
Her third refusal really jumped out at me: I refuse to let my self-image influence my children's.
I thought about my own self-image right about now. Last year around this time, when I ironically was still logging in a lot of running miles (I tend to blame the dearth of running in my life because of my injury as the reason I'm feeling a little less comfortable in my own skin), I wrote a post about my struggle with the scale and how I felt like a fraud admitting I was suffering from "scale sickness" since I am supposed to be a healthy body image expert. I wrote a book making peace with your body, after all. I speak to women and encourage them to redefine beauty and to accept their God-given designs. Shouldn't I do more than talk the talk, so to speak? Where was my walking?
Some days it's there. A lot of times I am a super model for my kids and my fellow women. Not the Cindy Crawford variety (I am getting old; I don't even know who the cool super models are anymore), but of the super ROLE model variety. I sometimes live a life that reminds women that in our efforts to be beautiful, we women must not limit that pursuit to sexual appeal. Our virtue is what begets real beauty.
But there are days when I'm not very kind, or I'm just plain selfish and that makes me ugly. Or there are days when I feel ugly and that makes me not want to be very kind. There are days when I feel lacking as a good human soul – and as a body.
Then there are the moments when I think that maybe I did a thing or two right. I look back on my day. I did something nice for a friend. I cuddled with my kids, read them books, put my husband's socks away with nary a complaint. And, yet, my insecurities – they are so deep-rooted – still get the best of me.
Let's tackle the pool first. I have been swimming with my kids this summer. I've jumped in, made a splash, and not worried that I don't have perfect abs. But that's because I've made sure to go to a pool that none of my friends go to, and we've visited at odd times. Or we've headed to my parents' lake house where there's nothing but family, love, and acceptance. I've avoided being seen by anyone other than those who will love and accept me no matter what. What will I do in July when we are on vacation, and there will possibly be those judging eyes the "Moms, wear your swimsuits" author mentions? Will I gladly accept the swimsuit and bear my skin all for the sake of my family? Yes. I will. But I would be lying if I told you it was going to be easy.
Recently, I've been whining to my husband that I'd like a pool in our backyard like I had growing up, which isn't really a possibility with our given yard and home. Besides. I love my home and don't really want to move. But, oh, how I want my own pool! I sound like a spoiled ninny. I use the excuses of a backyard pool simply being more accessible, a great way to fight the afternoon doldrums, a place for me to exercise and rehabilitate my broken-down body, and the fact that we ought to want to create a super-cool teen pad so that when our kids are older, they will want to hang out at our house with our friends.
These are all fine and valid points perhaps, but there's another reason I am pining for a private pool that I haven't dared to say aloud. I don't like public pools. Again, not because I am a snoot. Not because I worry about my kids' decibel-piercing "outside" voices disturbing the peace, although this is true sometimes. Not even because it can be overwhelming to keep a vigilant eye on four swimming children, but this is a reasonable source of reluctance for me spending every afternoon at a crowded, public pool. It's exhausting, really. I can't possibly socialize with friends I might see at the pool and make sure my kids, especially the two littles, aren't on the verge of drowning.
But perhaps, sadly, the biggest reason and the unspoken one is that I want my own pool so others won't have to see me in a swimsuit. Or really, I won't have to be seen by others. I've wanted to avoid public pools this year because of the way I look – or the way I once looked and the fact that I don't think I look that way any longer (my dear husband still says my body image can be a bit distorted and that I haven't completely shattered that funny carnival mirror in my head that twists and distorts the way I seem myself as well as my body). Or maybe it's just the way I think every other woman but me (we never see others' faults as glaringly as our own, now do we?) looks in their swimsuit. I am afraid of those (probably non-existent) judging eyes. I don't want an audience. I feel okay with just my family, but I don't want any other onlookers to see my physical flaws or to see that I don't possess the kind of self-confidence someone who fights for women's freedom from the scale and the societal constraints of beauty ought to have.
I do also happen to have some really fit friends. I try not to compare myself to them, but it's difficult when their bronzed skin is sparkling in the sunlight and their muscle definition pops out at me like an Andy Warhol painting.
I feel inferior, weaker.
My kids don't know about my feelings. Yet. I haven't complained about my swimsuit. I have taken them to the pool – just an unpopular one where we never see anyone else swimming. I jump in and swim and feel happy and weightless. I forget that I am sometimes still at war with my flesh.
But when I read the article yesterday, I realized me putting on a swimsuit and being confident in it – whether we are hanging out in our backyard patio kiddie "pool"side or at a public pool – isn't about me any longer. Like the author points out, it's about my children. It's about showing them there's more to life than looking "hot" or just "good" in a swimsuit. It's not how you look; it's what you do with your life. We can't let our bodies or our feelings about them define our lives.
As I came to realize my own reluctance to slip into a swimsuit with ease, I started to consider the other messages I might be conveying to my children – all under the guise of pursuing health and fitness. I recently joked about how my 9-year-old admonished me for doing push-ups less than 24 hours after I'd had an impacted wisdom tooth extracted. At the time, I felt like I was sending her a positive message. Look at your tough mom who can show her strength even in the wake of surgery, albeit a very, very minor one. But this morning, I realized I was performing a precarious tightrope walk there between coming off as strong and healthy and just plain stupid and obsessive.
I am constantly teaching my children about healthy food choices. I don't define any food as bad or vilify any one food group. Food is fuel. Some of it's better than others. Food is also a conduit of community and even love. We break bread together. We don't need to serve it with a heaping side of guilt.
Similarly, I don't make exercise (for them) about feeling good in a swimsuit. We're active because it's fun! They feel great in their swimsuits because it means they get to cool off and swim! Nothing more, nothing less. With the exception of one persnickety child who doesn't cope well with the occasional swimsuit wedgie, they have no cares when they show more skin. And, yet, I am still not always conveying the "right" message to my beautiful daughters.
There's a fine line between the pursuit of health and an obsession with it. A relatively new eating disorder known as orthorexia has even been introduced. The National Eating Disorders Association explains orthorexia and those who suffer from it like this:
Those who have an "unhealthy obsession" with otherwise healthy eating may be suffering from "orthorexia nervosa," a term which literally means "fixation on righteous eating." Orthorexia starts out as an innocent attempt to eat more healthfully, but orthorexics become fixated on food quality and purity. They become consumed with what and how much to eat, and how to deal with "slip-ups." An iron-clad will is needed to maintain this rigid eating style. Every day is a chance to eat right, be "good," rise above others in dietary prowess, and self-punish if temptation wins (usually through stricter eating, fasts and exercise). Self-esteem becomes wrapped up in the purity of orthorexics' diet and they sometimes feel superior to others, especially in regard to food intake.
I'd add that a "sister" disorder would be those who become "addicted" to rigid exercise routines. The obsessive organic and the compulsive CrossFitter both have problems even if they appear to simply be making healthy choices. We need to ask ourselves: How attached are we to these healthy choices? Does our need to eat a strict Paleo diet or run a certain number of miles a week steal intimacy from our lives? The more attached we are to being healthy, the more we might withdraw from others. We might avoid a social event out of fear that unhealthy food might be served or because it interferes with our workout schedule. We might miss a child's baseball game because we have to work out. We think we are gaining with these righteous, "healthy" choices, but we're really losing.
I have often argued only treating women with clinically diagnosed eating disorders is rubbish. Just because a woman doesn't have a dangerous BMI or drop a below a certain percentage of her weight doesn't mean she's not sick. There are women walking around at a healthy, average weights who are slaves to the scale and food or who purge several times a week after eating "bad" food. There are overweight women who are obsessively at war with their bodies and eat as a way to soothe their frayed edges and to fill the part of them that they feel is unlovable. And there are women with athletic, lean bodies who look like the picture of health but who wouldn't think of skipping a workout even if they had a fever or a family member needed them or it was Christmas morning. All of these women have disordered habits, and I'm afraid performing push-ups because I feel fidgety and then thinking it's funny or just a sign of my tenacity might be a wee bit disordered as well. Sometimes being healthy just isn't.
Pray about the messages you might be sending to your children with your "healthy" or otherwise choices you make every day and your subtle and not-so-subtle actions.
Our daughters – and sons! – are watching. They see us when we duck out of a photo-op. "I'll take the picture," we say obligingly. "I don't need to be in it."
They read between the lines. "Mom doesn't want to be in the photograph."
Later, they will wonder why. Is it because she didn't feel beautiful, good enough? Am I good enough?
"You go ahead and swim. Have fun! I'll be watching!" we shout to our children at the beach or the pool as we stay wrapped up in a cocoon of flesh-hiding towels.
Mom's always just watching instead of living. She's watching the scale. She's watching how her jeans fit and allowing it determine her mood for the day.
Or Mom is chronically on a diet or refuses to eat anything with gluten in it even though she's never been diagnosed as being gluten intolerant. It just seems like the healthy thing to do and at some level, Mom feels superior because she can go without a food that others enjoy eating.
"I want to be strong!" Mom says as she squeezes in a few crunches or tricep dips at an odd time.
Kids already think their mom is strong; she doesn't need to ban a food from her diet or obsessively flex her muscles when a doctor has told her to take a few days off. That's not a healthy role model. That's someone with an unhealthy compulsion.
Disordered eating, compulsive exercising – these are addictions. We turn to our addiction – whether it's with food (binging on it or restricting it) or exercise or the scale – because we think it will give us something we need: Control, self-worth, value, a purpose, strength. All the while it's robbing us. It keeps us from the pool. It keeps us from making happy memories. It keeps us from enjoying food and enjoying the movement of our bodies. It keeps us from loving our families fully. Addictions cause us to accept fear and anxiety as an inextricable part of everyday life. We should not have anxiety about wearing a swimsuit in front of others. Nor should we fear going to a friend's house for dinner because she might not serve "clean" food.
A preoccupation with food, our weight, our health, and yes, ourselves keeps us from living.
Addictions always, always take far more than they give.
I see so many moms embracing Paleo diets or going gluten-free or running 5Ks, and I am proud of them for taking charge of their health. But be careful, Mothers. It's not easy to hide your insecurities or distorted body image in a swimsuit, but it can be frighteningly easy to hide in the subterfuge of an ironclad dedication to a healthy lifestyle.
Consider those little eyes watching your every move. They are learning from you – for better or worse.
Once my most sensitive child was eyeing her reflection in the mirror as I braided her honeyed hair. "I'm not as pretty as [one of her sisters]," she said.
I looked at her sparkling, doe-like eyes. You could get lost in their dark, imploring beauty, and I wanted to gently shake her like a snow globe and watch all the white specks as they settle into their peaceful, beautiful form. Why would she think this? Why would she compare herself to someone else and feel like she had come up lacking?
Why…
Ah, yes. Maybe because her own mother fears the public pool because in her distorted mind it can become a contest of the fairest of the fair. Or maybe because her own mother is so afraid of losing a few days of fitness she ignores her doctor and her husband's orders.
My daughter is beautiful in every way. So are her sisters. So am I.
I believe my children are nothing but loveliness and beauty personified. I can easily see glimpses of God in them, in their sense of wonderment, their peals of laughter, and the raw joy they exhibit at the most simple sights – a ladybug discovered on their bedroom windowsill, morning clouds gilded with the gold of the rising sun.
Indeed, it's easy to see the beauty in my children. In me not so much. But it's time to start working at it again.
So many of us are hungry for something more in our lives. We fill this void with food, or rigid, healthy habits, or we relentlessly pursue beauty or youth in an effort to feel better about ourselves. Many women know eating disorders – anorexia, bulimia – are bad. But exercise and eating clean? Well, these are just good for my health, we rationalize. And they can be. To a point. We must protect what is precious, that is the house – our bodies – that carry our souls. We must consecrate the desires of the flesh to sanctify the spirit within, and that means making healthy choices and sometimes saying no to the Doritos and Ben & Jerry's.
But we're no longer being healthy when we lose balance; when we feel overwhelming guilt because we ate one cookie or missed a workout. A desire for self-improvement can easily become self-annihilation if we can't ever let go of our healthy habits, or we're always focused on the person who's more cellulite-free, prettier, or thinner than us. And she might just be sunbathing at the pool, so it's best to stay hidden at home and keep doing those push-ups.
Then it becomes a compulsion, an addiction. We become a slave to it. And so do our children.
Meanwhile, life is passing all of us by.
Moms, put on your swimsuit. And swim. Moms, step in front of the camera. And smile. Those photos will one day be treasured memories and you might think you look puffy or old now, but a few years from now you'll recognize the beauty that is you. Your children already see it. Take care of your body, yes, but not at the expense of your health or your family or as punishment for feeling inadequate or for mindlessly munching on potato chips. Don't let being healthy become unhealthy.
Step away from the mirror and instead become a mirror for your children; a mirror filled with light, a mirror that reflects love, joy, and optimism. I promise that even if you don't always, your children, your friends, even the stranger at the grocery store or the fellow mom you meet poolside will love what they see. You.
I know everyone, or at least a lot of my most loyal remnant who have managed to stick around to read my sporadic ramblings here on this sorely-neglected blog, are probably sick of my whining about my running injury, but I need some catharsis today. Feel free to click away from here if you're over me and my hamstring, but there is a bigger point to all this brooding.
So a few weeks ago I was finally given the green light to ease back into running. I was told to use pain as my guide, to go slowly, to not run on consecutive days, to stick to flat routes, and to be patient with myself. I followed most of this advice fairly well. Perhaps I grew a little enthusiastic during a couple of runs and ran at a faster clip than was prudent, but it wasn't like I was sprinting or anything. What's more is I had absolutely no pain while running. I assumed this was a very good sign.
Well, you know what they say about the word "assume" – it makes an #@! out of you ("u") and me.
One Monday morning I woke up after taking a complete day off of any exercise on Sunday (I always incorporate one day of full rest into my week now), and my left hamstring/thigh/bum area, or what one runner who suffered a similar injury aptly referred to as her "thutt," was aching a bit. I thought it was a little strange, especially since I had been a lazy bum the day before, but I wasn't overly concerned. Maybe I was just stiff from inactivity? I continued to religiously perform my rehab exercises and to not push myself too long or too hard. I'd told my running pals I hoped to be back running with them in the mornings in March.
Yet, here we are in the first week of March, and I'm faced with the grim reality that I won't be returning to my morning runs yet. My "thutt" is nagging at me and telling me it's not ready for running, or maybe it was the spinning class I took. I don't know. That's what is so weird about this injury. I can't figure out a correlation between what I do (or don't do) and the pain. I mean, running a half marathon hurt it, but that's to be expected, especially since my hamstring was actually fraying at that point. Now that I'm on the mend, I can't tell what's aggravating it because it doesn't usually hurt when I'm active. It's later when I notice the pangs. It once again hurts to just sit, so I have to bring ice to the carpool lane. Yesterday I had to sprint after a defiant toddler, and I felt a sharp twinge in the area.
I am sad, angry, and frustrated, but I'm not entirely surprised. When I first received my icky MRI results, I voraciously (obsessively) read everything I could about high hamstring tendinopathy. My husband also consulted an orthopedic surgeon friend of his, and I'll never forget what he said. "This is a frustrating and very difficult injury to overcome. I worked with one athlete who went to physical therapy five days a week. He healed after three months but then immediately re-injured the hamstring upon returning to his sport." Fabulous. Like I have time for daily physical therapy sessions. I'm not an Olympic athlete. I just want to run for fitness and compete in a few races a year. Is that too much to ask?
I read myriad forum posts with titles like "hopeless hamstring tendinopathy" and "high hamstring tendinopathy – does it ever heal?" These created further warm and fuzzy feelings in me. Not. I read about a woman who had been fighting the injury for six years, and I selfishly prayed I would be spared the same kind of perpetual anguish. To be fair, I also discovered some hopeful stories. There were runners who had overcome the injury, but all of their paths to healing were different. Some actually ran through the injury just at a slower pace. Others quit running completely for months. Some received all sorts of injections and massages. Some simply focused on eccentric exercises. But they got better.
When I had my follow-up MRI, I was thrilled because my body had healed tremendously. The partial tear looked great and so did all of the other injuries my first MRI had revealed. I had some minor residual tendinopathy, but nothing major. Woo-hoo! I was so confident I'd be back to running at my former level in no time. I even looked up upcoming races and decided training for a 10K in May would be perfect. Pride can be blinding. So, yes, I am understandably confused how the "minor" findings could lead me to feel like this. One running step forward and two big, hobbling steps back.
Ah, but it's just running. I recall reading someone "tsk, tsking" an injured runner on a forum reminding her that she didn't have cancer. True. We need to focus on our blessings and follow Hungry Runner Girl's wise advice and to stay positive and hopeful. She also writes about how one of the most difficult things about being injured is feeling like you're not in control. This totally resonates with me.
She writes,
I think one of the hardest parts about being injured is the lack of control that comes along with an injury. One thing that I love about running is that I can control it (especially when there are so many things in my life that I have no control over). When I run I can control my speed, distance, effort level etc. etc. etc. I go into a workout knowing what I am going to do and then I do it. No questions asked.

I think injuries are frustrating because you really just have to let go of any and all control and just let your body do its thing on its own time. You may think you are healed and that you are ready to run and then wake up the next day hurting again (not that this is happening to me right now but it has many times with past injuries). You have no control over how long it is until you are back in the game, what races you are going to miss out on or how long it will take to build your endurance back up.

What I am trying to learn during this time —> to let go of the things that are out of my control and just go with the flow.

I need to just not worry about it because: "Everything will be okay in the end. If it's not okay, it's not the end."
I love that: If it's not okay, it's not the end.
It's not the end. My "thutt" doesn't have final say. So take that.
I know I have control issues. A desire to be in control has led me to deny myself of food (I can't control my circumstances, but I can control what I eat or don't eat and the number on the scale), to get all OCD about my mothering, to fear a new, unexpected pregnancy and then to get angry when that pregnancy ended in miscarriage, to sweat the small stuff, and to let life's little but constant messes and curve balls cause me to just about unravel.
I also know that because of these very control issues of mine I have been given some pretty uncontrollable circumstances: Pregnancy bedrest after premature labor during one pregnancy and premature dilation in three out of four pregnancies. Miscarriages. A mom with a debilitating sickness that can't really be cured. Addiction in my family while growing up. Feisty, spicy children who posses unrelenting tenacity. A husband whom I adore and love but who hasn't converted to my faith like I thought he would and like he once thought he would. And now a recalcitrant running injury that is keeping me off the road and demanding that I rest, wait, be patient, be hopeful, trust the medical establishment, and relinquish control.
People sometimes ask me about natural labor and why I actually chose to do it four times. Because I am a martyr at heart and fall for any excuse for self-flagellation, and hair shirts aren't really in style anymore. I jest. Seriously, there are many reasons, but one major impetus for me was that I wanted to be in control. I was more afraid of not being in control than of feeling the pain. I didn't want an epidural to numb me or pitocin to speed things up. I wanted to know when to push. I wanted to feel everything, not because I am fiercely tough, impervious to pain, or a glutton for punishment, but simply because I was afraid that giving up some of the pain meant I'd have to give up some of the control, too. (I also happen to be in love with endorphins, which makes the not running thing even more difficult.) I refused to have IVs, to be tied down to a hospital bed. I wanted to be in charge. But despite having beautiful births with little medical intervention, I was never in charge. I did my part, sure. I listened to my body, accepted the pain, and worked hard, but the babies came on their own terms. Life is like those precious babies: Full of surprises, something we try to control, plan, and apply our own timetable to. But that's not the way labor – or life – works.
So here I am on the verge of another Lenten season with my sore "thutt." I am making my Lenten resolutions with the girls, and I plan to do more than just give up things this year. After all, I am having to continue to give up running – and control – whether I want to or not. Yes, it's just running. But there's a bigger lesson here. All the anxiety I have suffered, my control freak ways, all the doubts and the intense hunger for affirmation – all of these hinge upon me fearing more than trusting.
I don't really have to choose one of my Lenten sacrifices this year. Maybe that's the point. Maybe the lesson here doesn't lie in the choosing but in the accepting instead.