Recently, someone asked me how my mom does it – how she always seems to be filled with happiness instead of self-pity or fear when she grapples with so many health problems and chronic pain.
"She's a real stoic," the person said.
My mom would tell you she's nothing of the sort. She would say it just boils down to the lucky fact that she was born seeing the glass half-full.
"You're an inspiration," I'll say when she says such things. She's then likely to shift uncomfortably.
"But I'm not," she'll insist. "I can't take any of the credit."
Mom would tell you it's not just her genetics but her God who deserves the credit.
I explained this to the person who called my mom a stoic, which baffled her further. This individual has no religion. I tried to explain what "offering it up" meant and why my mom is better able to endure the suffering believing that it has a redeeming purpose. I explained how, as Christians, we are called to unite our sufferings with Christ and how this can bring us peace even if the pain remains.
The person dubiously looked at me and expressed further doubts. Read more
A guest post by none other than my own mom!
—
The smells – that's what brings me back to the good old days of Sunday dinners at my grandma's house – the smell of her china cabinet when opened to set the table, the smell of all of her culinary delights bubbling on the stove top and simmering in the oven, and even the very smell of her. To me the sense of smell is the most intense nostalgic of all. (I saved my mother's purse after she died and still open it and take a sniff from time to time.) My sister has Grandma's china cabinet and when I open the old doors, I still smell dinner at grandma's house.
Dinner wasn't about eating; it was about celebrating family time. Each Sunday we were at my grandma's house rain or shine. My Aunt Rosemarie and Uncle Otto lived upstairs in my grandma's two-flat. Another aunt and uncle and their two children took the drive each Sunday to join in the fun. A third aunt and uncle lived in what we considered the "boonies" and therefore seldom took part in the Sunday ritual.
I can't honestly remember what we ate on most of these occasions. It really wasn't about the food even though my grandma's culinary skills, especially German cuisine, were met with oohs and ahhs, and no one to this day can duplicate some of her favorite dishes. She didn't own a cookbook or possess even a written recipe. It was all in her head and prepared with a dash of this and a pinch of that and much taste testing on her part.           .
We always ate in the dining room using the good china partly because the kitchen table wasn't big enough, but mostly because each and every Sunday was a holiday worthy of the best in everything. Her dining room, good china, and best meals weren't saved for Christmas and Easter.
Prayers started and ended each meal, but lively conversation and even some heated debates, usually provoked by my Uncle Otto, provided entertainment for all
After the eating part of the day was completed, the women and kids cleaned up while they gossiped and joked. The men and one rogue aunt went upstairs and played cards, usually Pinochle. I loved to sit behind my dad and watch and try to figure it all out.
When I got bored with that, I find myself listening to stories about Germany where my grandma worked for a duchess, or hear her adventures with the mouse in her house. She complained about it, but there was a twinkle in her eye, and I almost think she began to think of it as a pet. She would tell us how she was almost asleep when that mouse ran right across her bed.
If it was cold, I would cuddle up next to her space heater. After my back got all hot, tingly, and itchy, I'd cuddle up next to her for a back scratch. I was never denied this pleasure.
My playmate, other than Uncle Otto's spotted dog, was my pony-tailed cousin, Debbie. She was two years younger than I and we became good friends and had fun together – whether we were dressing up in Grandma's shawls, playing house, or styling each other's hair.  Mine was always short, and I envied her long, long locks. There were those memorable occasions when we both spent the night there and got to venture into the attic or take a train with Grandma to the cemetery.
Family in my childhood extended far beyond the nuclear one. Grandma and all my aunts and uncles and cousins were a big part of my life, and we all looked forward to our Sundays together. In fact, I really didn't know what Sunday was without dinner at grandma's.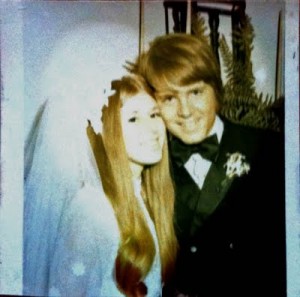 Today my parents celebrate their 40th wedding anniversary. I really wanted to put together a beautiful, brilliant tribute to them, but there's not as much time for writing these days. I've been nesting. I've been enjoying being a hands-on mom again. We've eased into our second official year of homeschooling. The girls have been happy to have mom on her feet again. We've baked banana muffins. We've gone on short walks (it's still really hot around here). We even had a water balloon fight the other day. Life's been good. Busy but very, very good.
Still, I couldn't let this momentous day slip by without doing something. So in honor of this marital milestone, I've tweaked a post (quite a bit, really, so it's not just a complete re-post) I shared two years ago when they had *only* been married 38 years.
Before I get to that, however, I just want to give a shout out to my amazing parents:
Mom and Dad, how lucky I am to have you as parents. Your marriage and the fact that you always made it a priority has been such a gift to me and to my relationship with Dave. Over the years, you've shown me that choosing to love is more powerful, more beautiful, more fulfilling, and more sanctifying than simply being filled with warm and fuzzy feelings. You've also never stopped reminding me to keep a sense of humor. I love how we can all laugh together even when we're faced with sorrow, sickness, or stress. Above all, you've taught me to remember that marriage isn't about winning or losing; it's about loving God and each other even when it would be easier not to. Congratulations on this milestone! Here's to many, many, many more years together!
The tweaked post:
Thirty-eight Forty years ago today with God as their witness my parents made a promise to love each other for better or worse, in rich and in poor, and in sickness and in health. Mom was 18, and Dad was 19. Just two kids in love, but that didn't stop them from taking their vows seriously.
On their wedding day they had no idea that worse might mean struggling during some very lean years, being forced to dole out tough love to a child grappling with a drug addiction, or many, many losing seasons for the Cubs. Nor did they know that better might translate to welcoming healthy grandbabies into their lives, seeing the world together through work trips, or saving for and then being able to buy a dream house on the lake. They had no idea that sometimes they'd be rich with hope and love but that there would be other times when they would have to work at this marriage gig and would occasionally feel poor, at least in spirit, despite the many riches in their life. They could never predict the sickness that might befall their relationship – from watching loved ones succumb to cancer or other illnesses to dealing with brain aneurysms, trigeminal neuralgia, autoimmune problems, and rejection letters from long-term health insurance.
When they were first married, Mom dropped out of college to support my dad, the art student who infamously slept through all of his art history classes yet somehow still scored top marks. She was the hidden force that propelled him up the corporate ladder. He traveled all of the time while she remained back at the home front, caring for little kids while grappling with a mysterious neuromuscular condition. I don't remember her ever complaining much, although I do remember her watching a lot of Cubs' games.
In more recent years, I've watched my dad take care of his bride – not only financially but emotionally and physically, too. When she had major back surgery a few years ago, he held her like a newlywed, her arms wrapped around his neck. Only he wasn't carrying her over the threshold. He was lifting her out of the bed when she was too weak to do it herself.
I remember my dad cracking jokes when her incisions were still fresh, and she begged him to stop.
"Stop making me laugh! It hurts," she said through her uncontrollable giggles. My mom is my dad's best audience and always laughs at his jokes.
Throughout the years, I've witnessed my parents' affection for one another. I've also seen them fight and then later reconcile and forgive. I've watched them laugh and kiss and tease one another. I've seen them support each other during rough patches. I've heard them pray together. I've witnessed them make their marriage a priority.
Because of Mom and Dad's commitment to one another and to marriage, I learned early on that how you feel when you're in love isn't as important to a enduring marriage. Your feelings are about you when marriage is ultimately about making someone else happy. It's what you do – not just how you feel at any given moment – that matters to the person you're in love with.
And what my parents have done is simple yet extremely difficult somedays and even some years: They have renewed their vows over and over. They have made a daily "I do" to one another.
They have affirmed over and over, I do love you despite all of your imperfections. I do want to serve you even when I'm tired, worried, annoyed with your quirks and bad habits, or stressed out. I do care about you and honor you, and I'm going to try to prove it to you with my actions even when I don't feel like it every day for the rest of my life. I do love you, and I always will no matter what.
I do over and over,  forever and forever.

Happy 40th Anniversary, Mom & Dad (Gaba & Papa)!!!