{Hot Cocoa Cookies, the best cookies we made all season. HT: Hungry Runner Girl; recipe here.}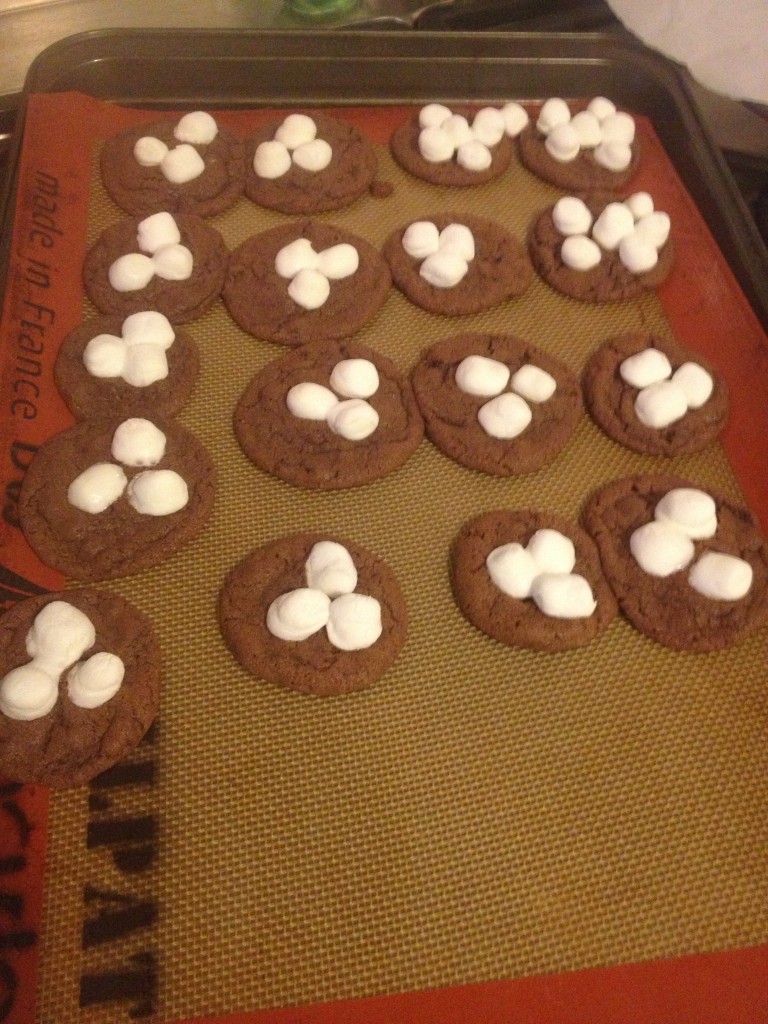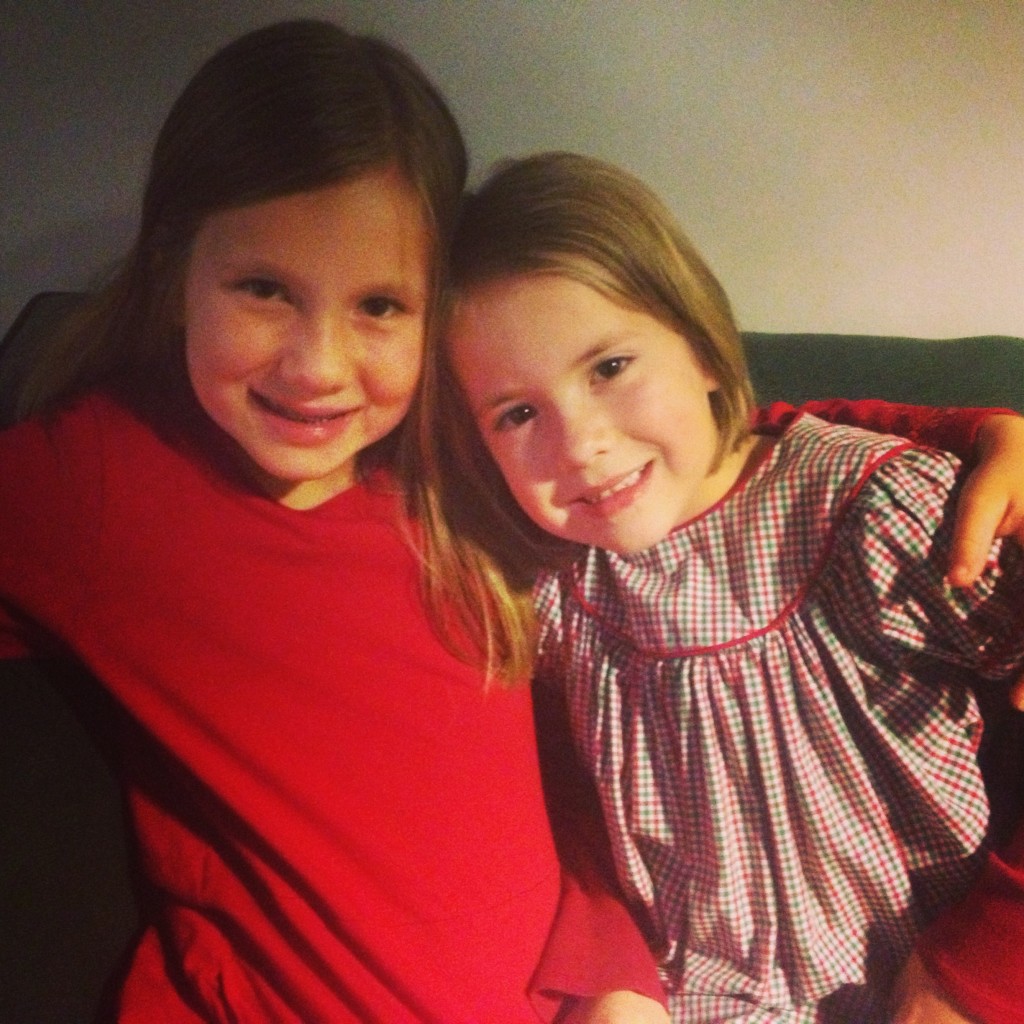 {Someone has been working out…}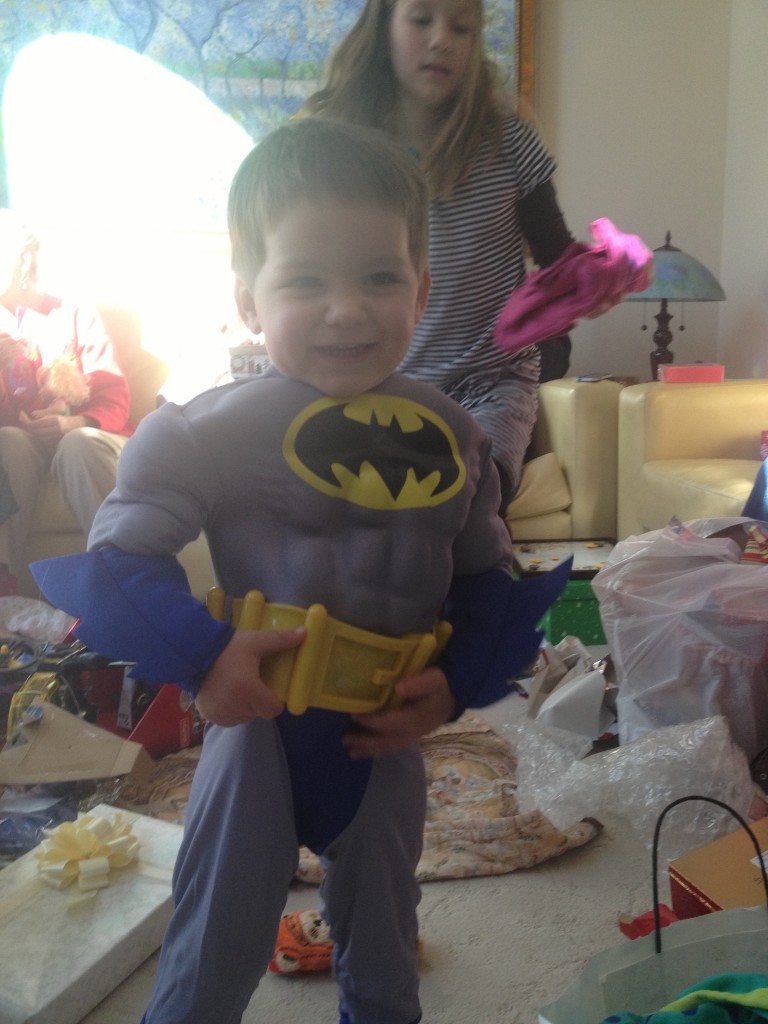 {Pretend Mass with this beautiful Montessori Mass set}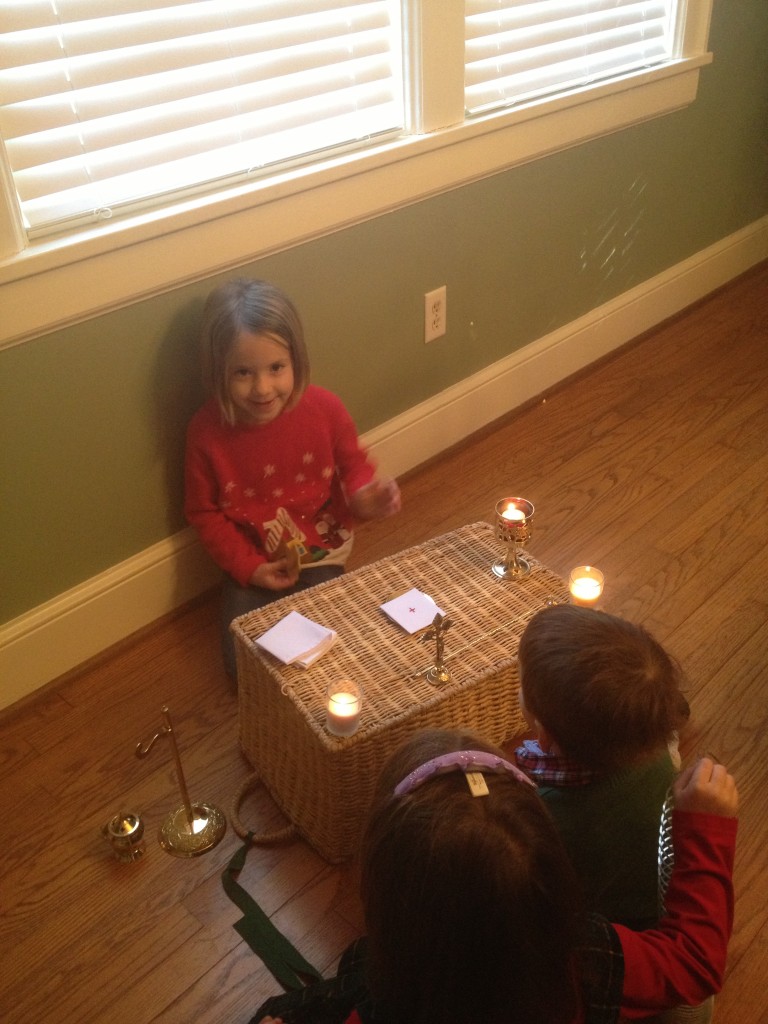 {Gaba and the girls}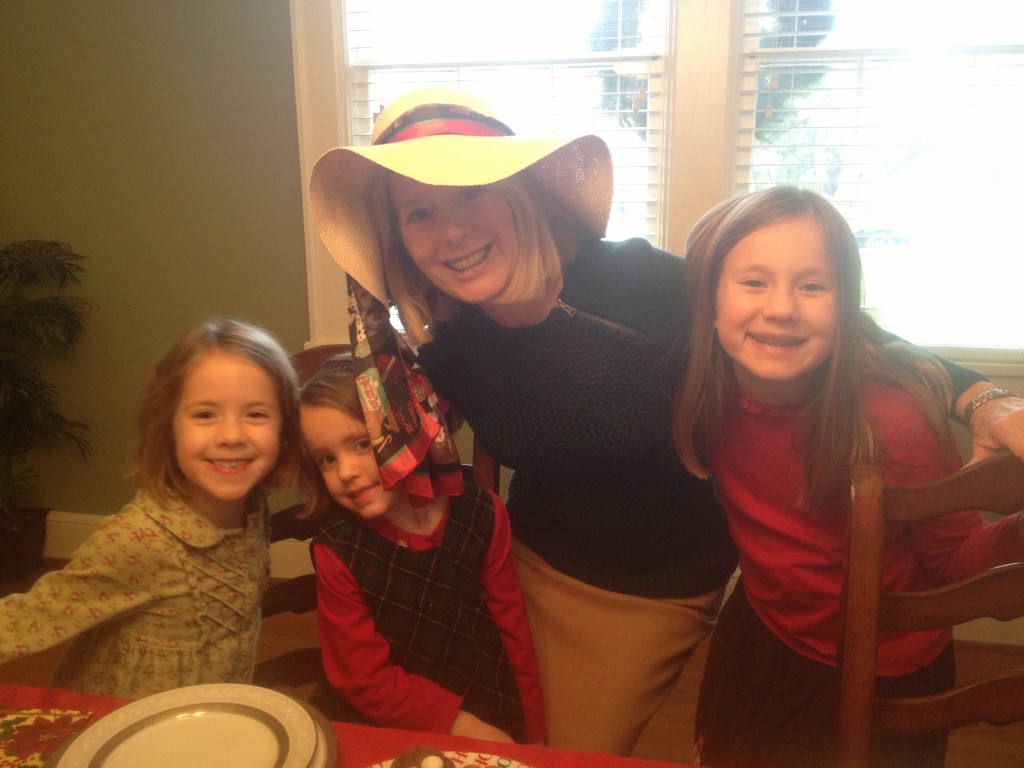 {Playing with our food}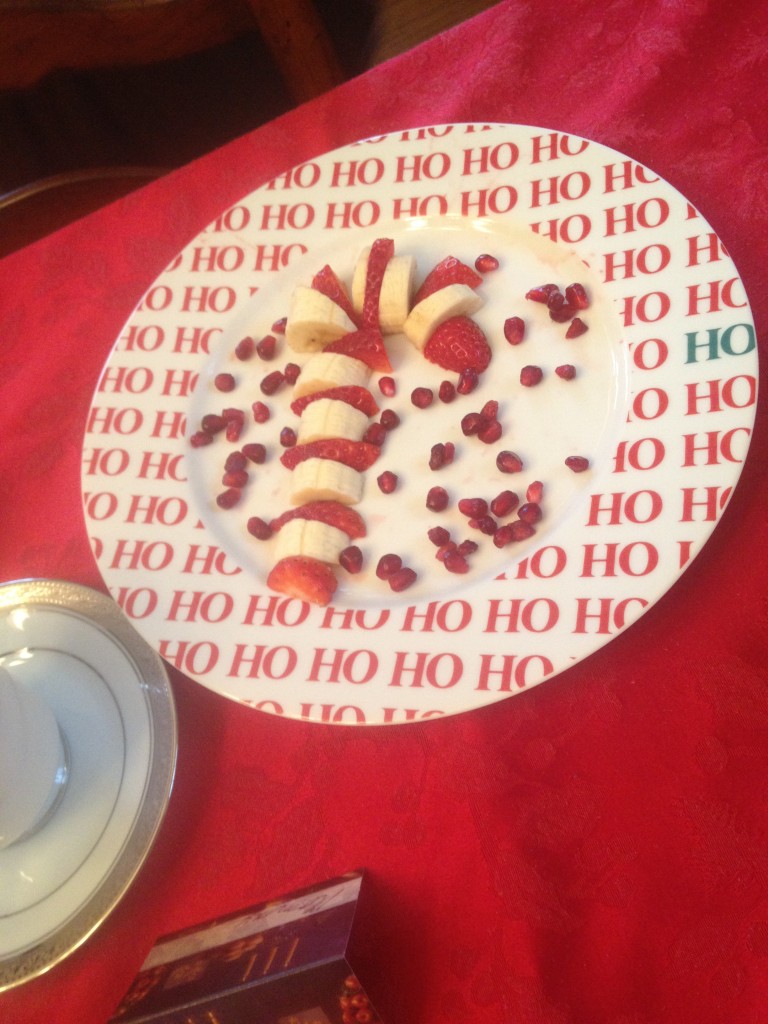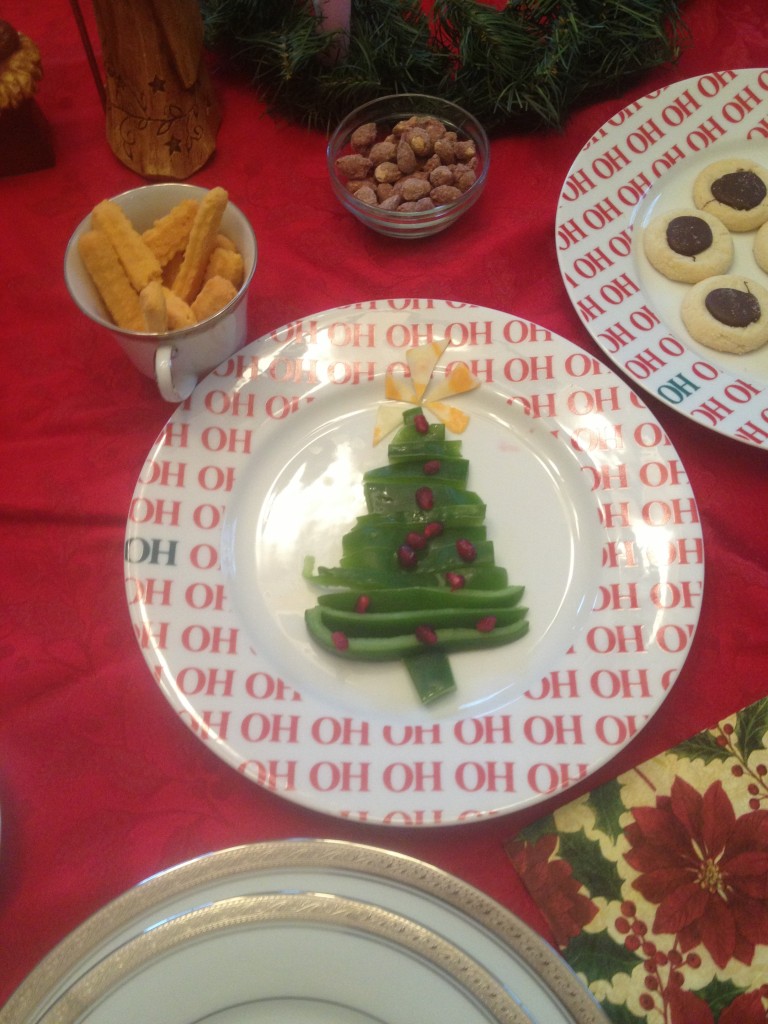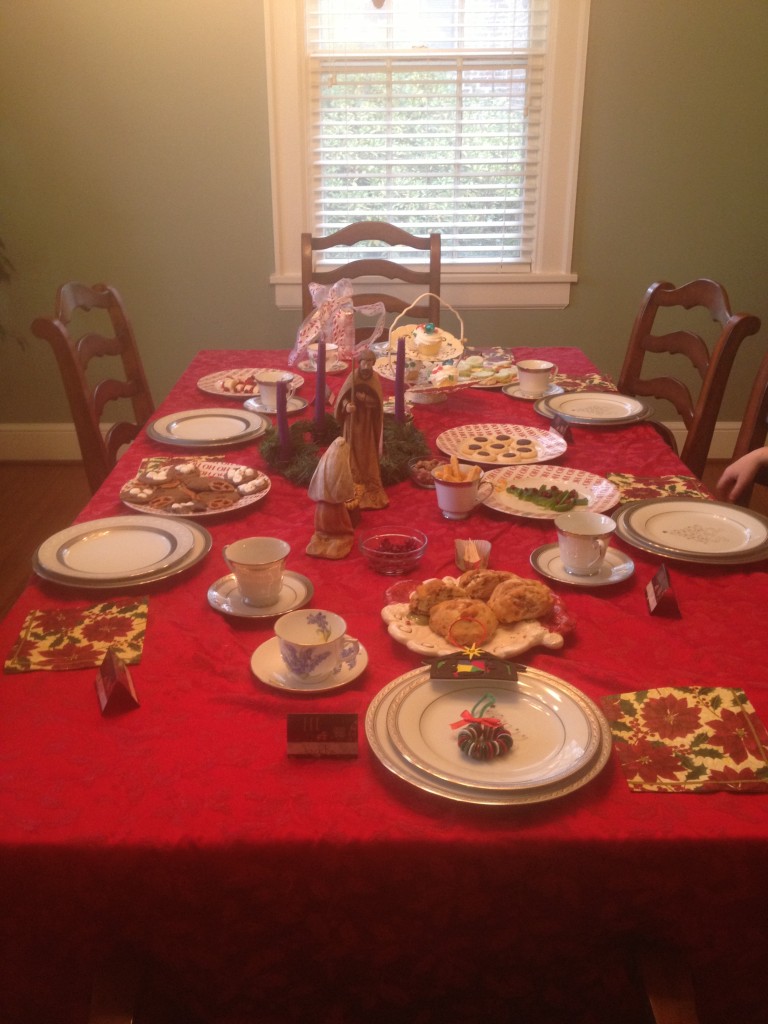 {Action shot}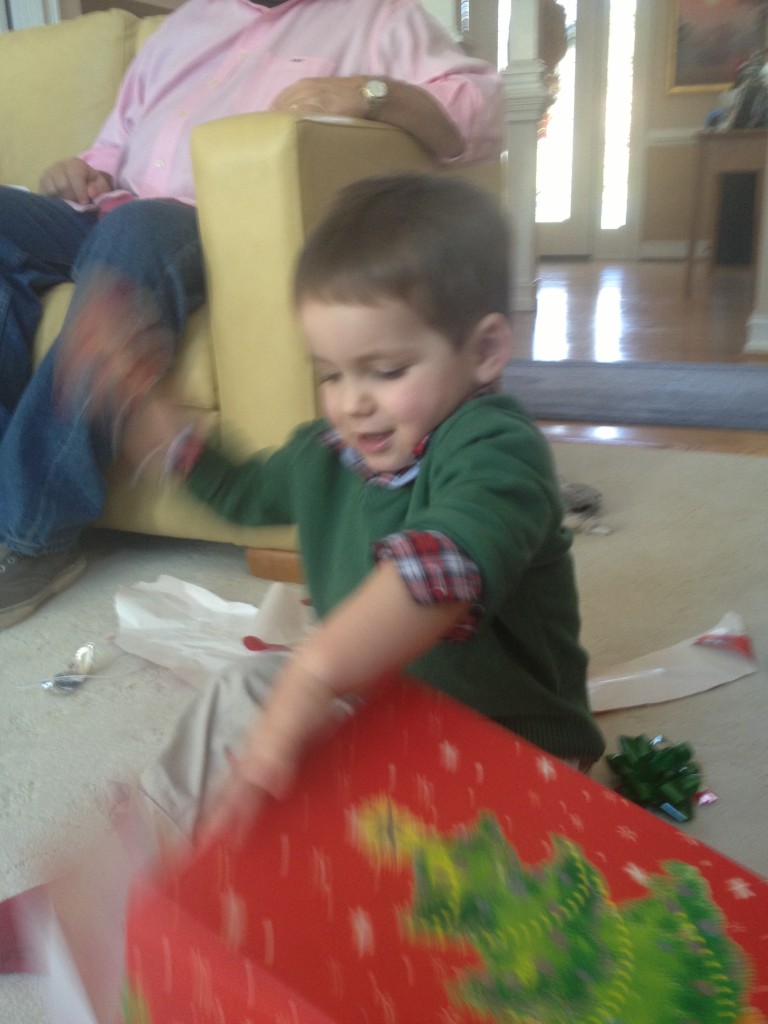 {Thank goodness for indoor swimming at the Family Y!}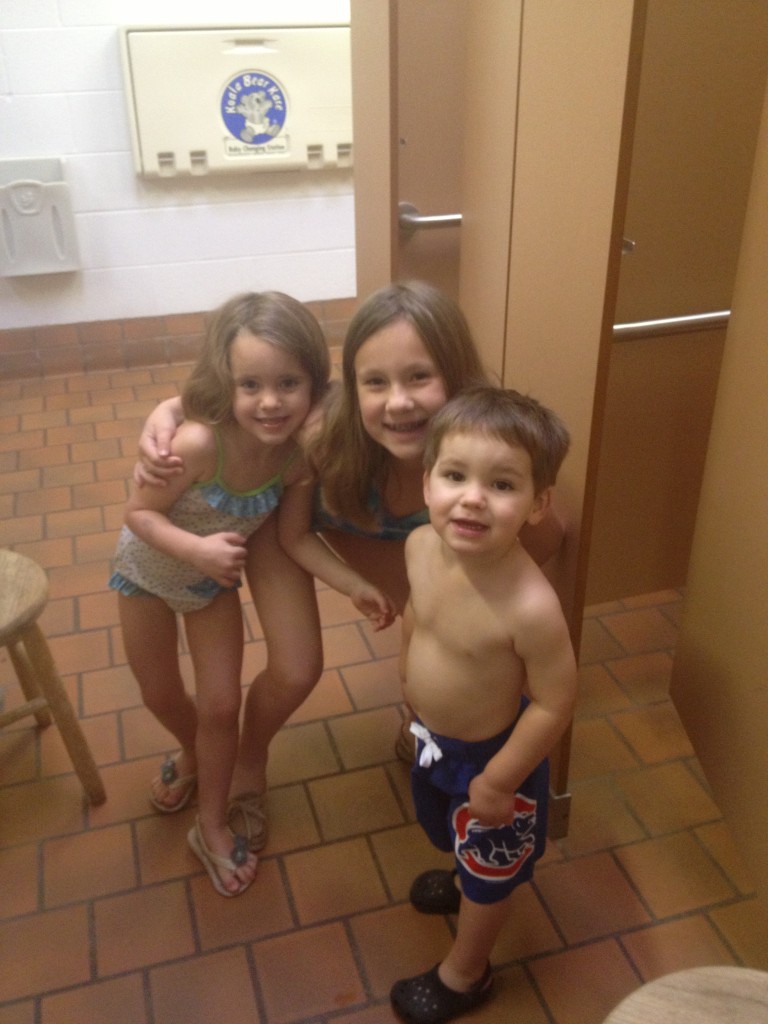 {She wants to be a vet when she grows up}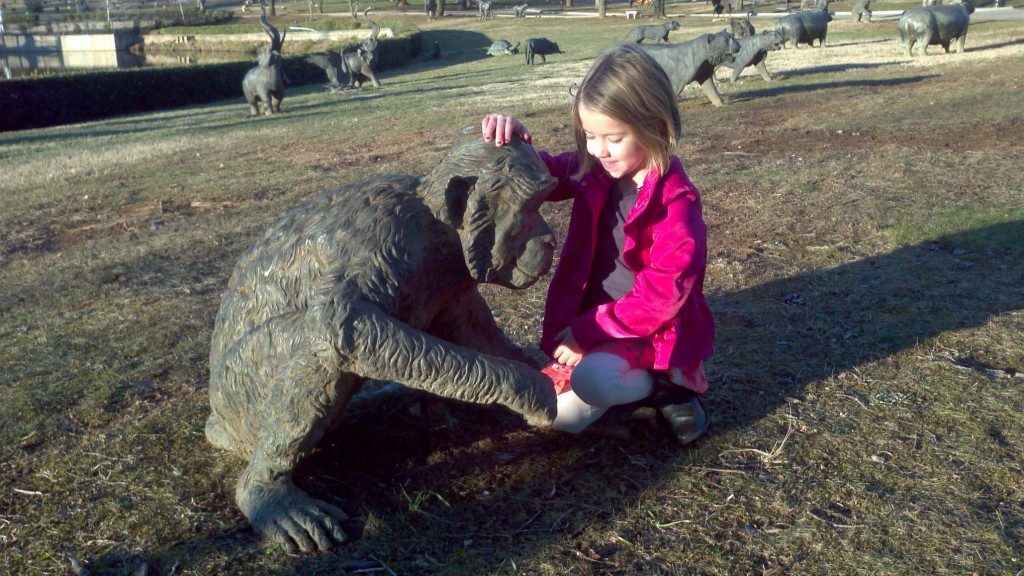 {These two are the best of buddies.}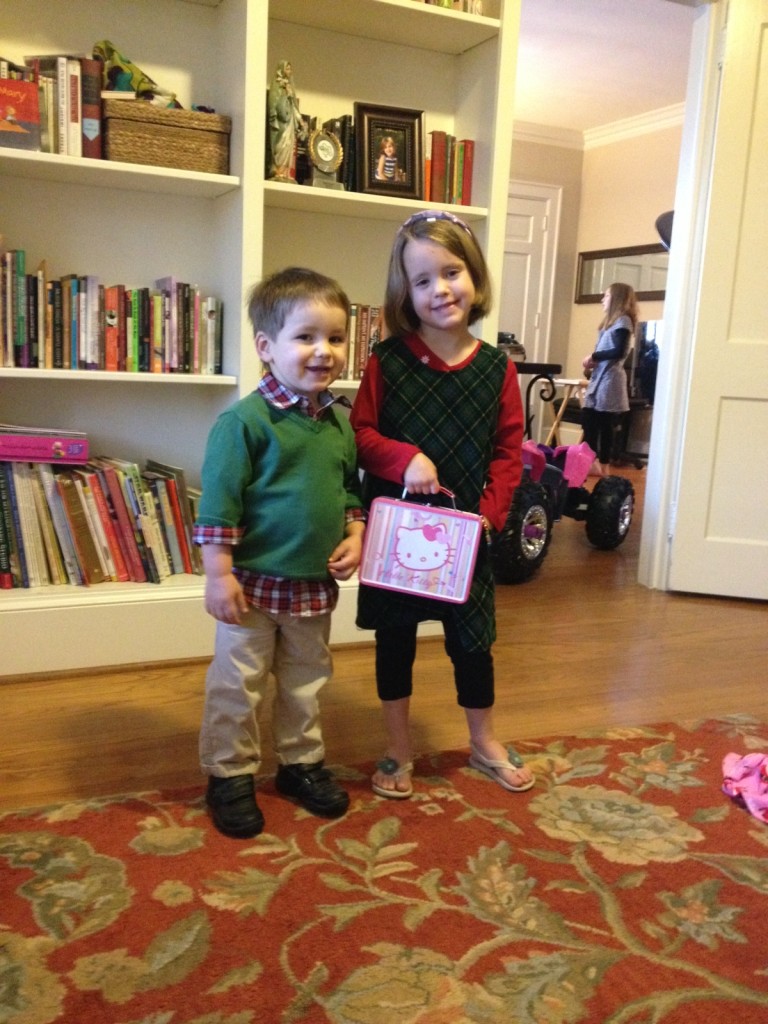 {He found his way into our yard on December 15th. Then he found his way into our garage, then our unfinished basement, then our home, and now our hearts. Meet Fang Wicker.}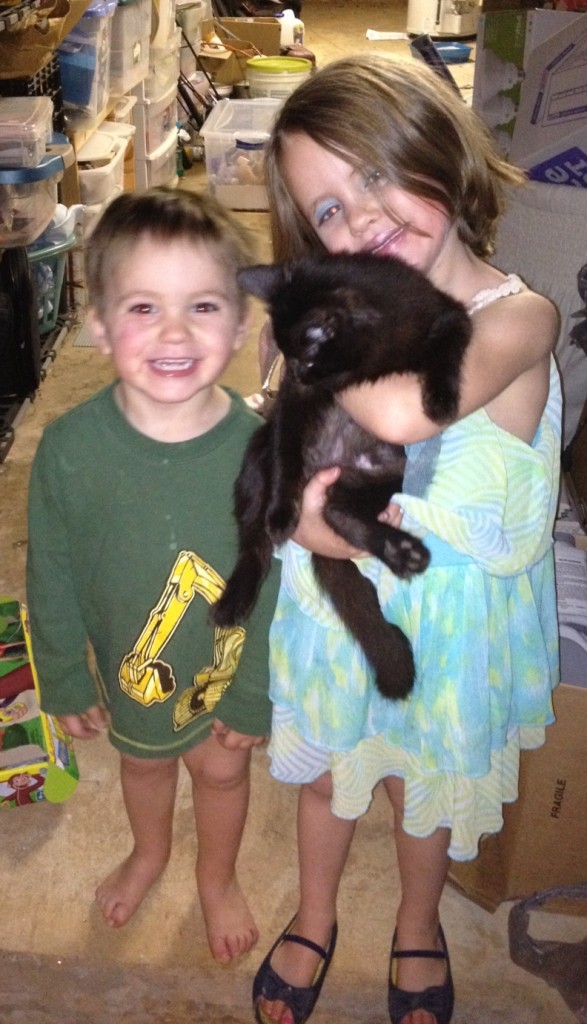 {And by far the best Christmas gift of all: My first niece due in early June!  Please pray for this little miracle, my brother and my lovely sister-in-law as they prepare for the amazing journey into parenthood! We are so happy for them!}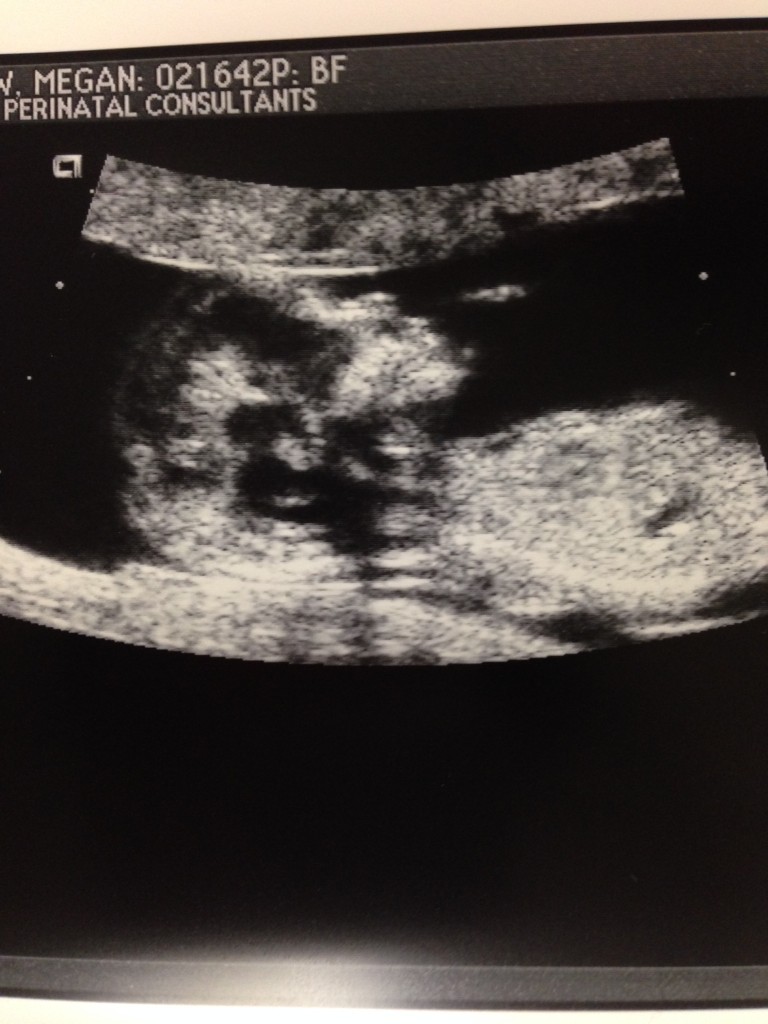 {How long can you keep the joy of Christmas in your heart? How about all year? How all about your whole life? Joy to the world!}
We celebrated Thanksgiving at Nana and Pop's this year and on the way, I set my phone's timer for five minutes and asked the kids to blurt out anything and everything they were thankful for and I then listed them in the exact order they were shouted out and also did not edit their contributions (e.g., Mary Elizabeth's blessing of "roasted beef" was jotted down just as she said it).  Here's what they came up with:
1. apple pie
2. life
3. love
4. family and friends
5. Thomas
6. our house
7. fall
8. toys
9. turkey
10. seasons
11. the sun
12. the moon
13. roasted beef
14. ice cream
15. exercise
16. cozy boots
17. Toms
18. our health
19. animals
20. jeans
21. clothes
22. water
23. Layla (our dog)
24. trees
25. Clue (the game)
26. books
27. colors
27. Monopoly
28. beans
29. food
30. music
31. school
32. my mind
33. flowers
34. mail
35. the world
36. a warm bed
37. the way Thomas says, "Oh," when you tell him something
38. hope
39. new beginnings
40. plays
41. shopping
42. windows
43. eyes
44. our bodies
45. signs
46. doors
47. beaches
48. cars
49. pumpkins
50. Knuffle Bunny
(Rachel's lovey)
51. Raja (Madeline's tiger stuffed animal lovey)
52. people
53. Cubbie (my parents' puppy)
54. Christmas trees
55. Nana (my grandma who passed away)
56. Nana and Pop
57. Gaba and Papa
58. Ivy (my parents' dog who recently died)
59. Uncle Rich (my uncle/my mom's brother who died of pancreatic cancer last February)
60. Michelle (my cousin who died recently as well from cystic fibrosis and lissencephaly complications)
61. Mr. Thomas (our neighbor who also passed away; yes, there's a theme here)
62. Katelyn (our babysitter who is alive and well)
63. Marlo (our babysitter's dog)
64. scones
65. chocolate
66. Waffle House
67. The Grit  (my contribution)
68. wine (obviously another one of my contributions)
69. lattes (me again)
70. Aerolatte Milk Frother (me again, although Thomas likes to use this gadget to torture her sisters. I've caught him twice now turning it on and putting it in their hair.)
71. firemen
72. policemen
73. police dogs
74. fire dogs
75. ambulances
76. doctors
77. radiologists
78. Smoothie King
79. braces
80. Baby Jane's
81. movies
Time's up!
Once at Nana and Pop's we were not only treated to the feast of feasts, but Madeline had written a Thanksgiving play and the kids performed it for us. The red wagon is the Mayflower. Madeline is Squanto. Thomas and Mary Elizabeth are pilgrims, and Rachel served as the narrator.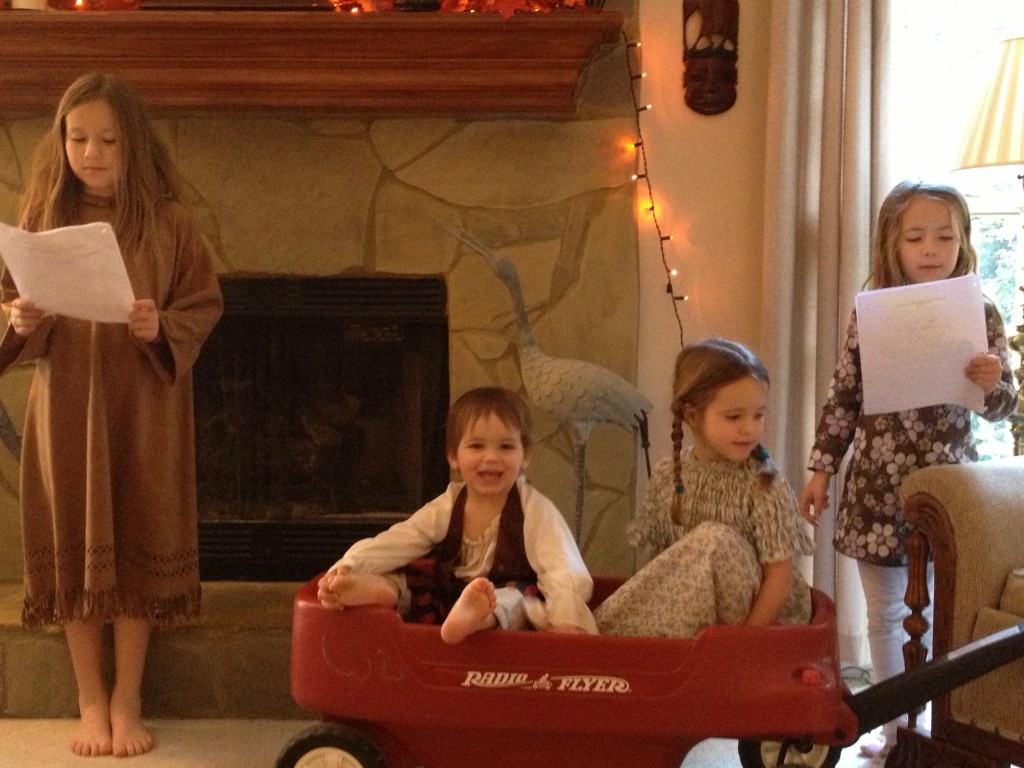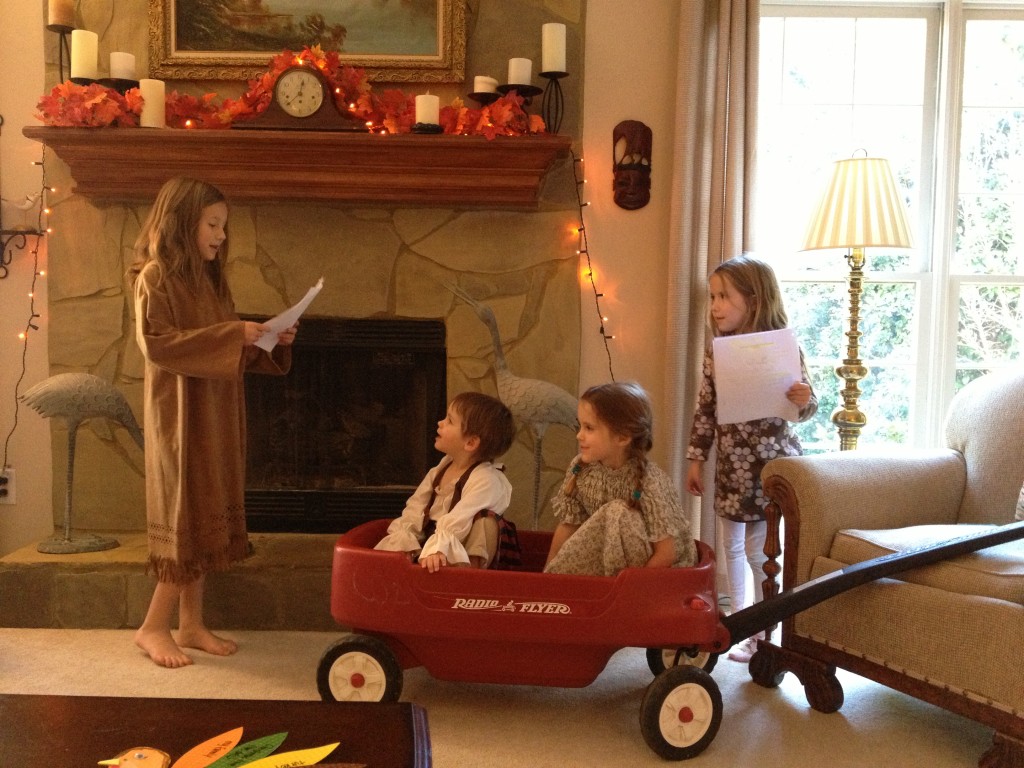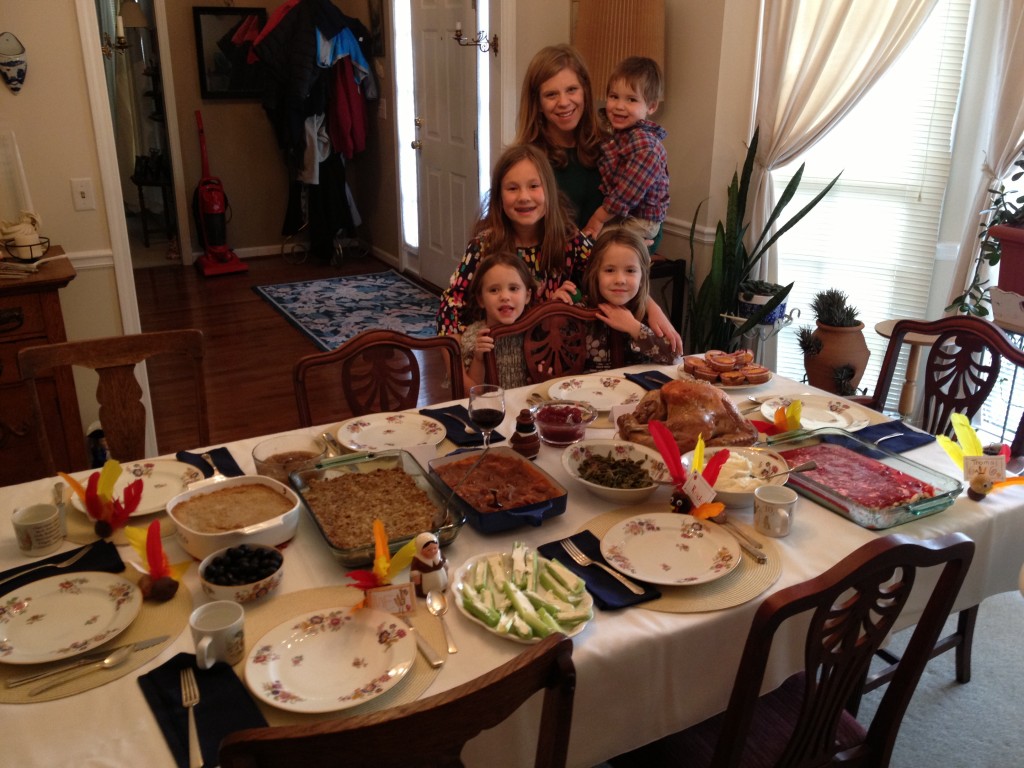 Now it's time to start thinking about Advent. I have a speech at a parish not too far from my home on Sunday where I'll talk a bit about cultivating a peaceful, joyful heart during a season that can easily become a path to burnout for a multitasking control freak like myself. Your life this Advent and always should be full, not just busy. Just because our culture hypes jam-packed schedules as the norm doesn't mean we have to subscribe to it. My running injury (still not anywhere close to running again) has forced me to slow down not just on the pavement and treadmill but in life as well. I'm getting more sleep these days and really focused on embracing simplicity. At its heart, simplicity really means less of us and more of Him. It can also mean staying in your PJs all day (I'm typing this in my pajamas; no Black Friday madness for me.)
We don't need to over-schedule our kids now or ever. Madeline really wanted to try basketball this winter, but we have a brief respite from soccer and I didn't want to fill it with more practices. If she's meant to be in the WNBA someday, she'll discover that talent soon enough. For now, I am drawing my family near, pulling out our favorite Advent books, and trying to decide what Advent traditions we will embrace this year. I've included a few links from the archives that include all sorts of ideas for bringing this season alive for little ones. BONUS: You'll get to see the kids when they were wee ones. Happy clicking!
An Advent Tea
Preparing Our Hearts and Homes (Advent Traditions)
Advent crafts (shell angels, felt napkin holders, poinsettia princesses, etc.)
Advent Smörgåsbord
Recipe for Baby Jesus Birthday Cake (more for the Christmas season obviously)
Handprint angels
Feast of Our Lady of Guadalupe traditions
Christmas card placemats
Tips for hosting a cookie swap
Cookie Swap recipes
Feast of St. Nicholas traditions
Explaining the symbolism of the Advent wreath to children
I had every intention of being prompt and posting Halloween and All Saints' Day photos at the start of the week. You'd think that now that I've been resigned to a mostly sedentary existence because of that darn hamstring injury I'd have more time to blog (or clean or learn to sew or do something productive), but that doesn't seem to be the case.
On Sunday my husband had to work, and Madeline had an out of town soccer game so Nana and Pop generously offered to treat Rachel and Mary Elizabeth to a sleepover Saturday night. On Sunday our resident monkey (M.E.) was climbing a tree, a favorite pursuit of hers, when a branch snapped. She fortunately was not far from the ground, but she lost her balance and she fell backwards, and Pop conjectures that her head hit some concrete. While I was cheering Madeline on with Thomas as my sidekick, my sweet 4-year-old was getting staples in her head. There are four of them (I counted yesterday to be sure; I don't like looking at wounds on my children), and they really are big staples. A friend of mine asked how she was feeling on Tuesday of this week. "Fine," I told her. "I caught her trying to climb another tree." It's apparently going to take a lot more than a busted head to keep that kiddo's two feet safely on the ground.
There's never a dull moment at the Wicker household.
But about last week's festivities… We had a motley crew this year without any theme like we did in 2012 and in 2009 (Mary Elizabeth just loves it that I played a pregnant witch that year, and she was the one who was in my belly). Madeline was a peacock, and I have to say I was satisfied with this non-Pinterest-y mom's feather assemblage. She definitely received many compliments this year including one couple telling her she had the most elegant Halloween costume they'd seen. Rachel wanted to a cowgirl. Bless her. It was so easy to throw that one together. Influenced by Madeline's costume, no doubt, Mary Elizabeth chose to be a peacock princess. The princess part is very important. Madeline told me her favorite part of Halloween is having the grandparents come over. Mary Elizabeth, on the other hand, said the best part of Halloween is that she gets to wear makeup. She's a girly-girl to the core. Thomas was the fifth child to wear the elephant suit my mom made for us. A friend borrowed it for her daughter in addition to all of my kids wearing it.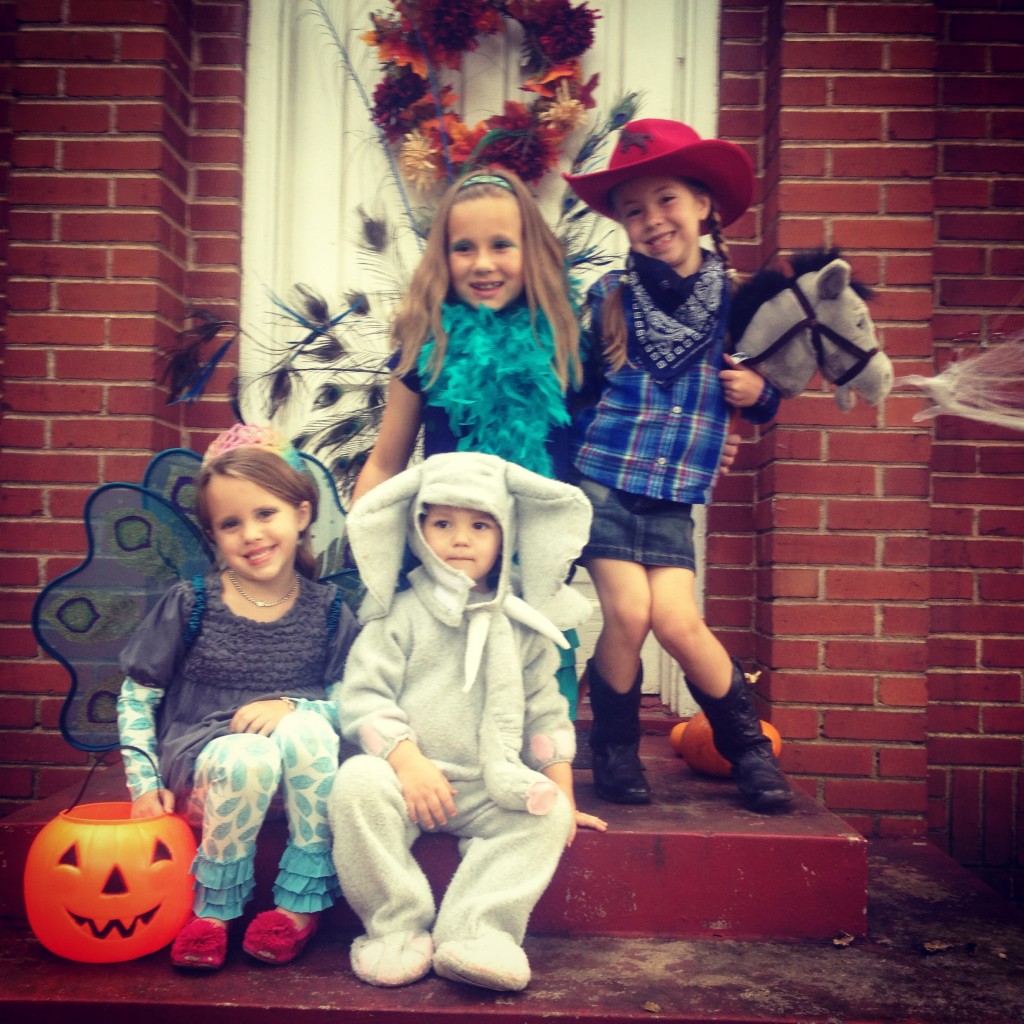 Now Thomas was a far more reluctant elephant than his big sisters and walked around headless for most of the evening. I happened to be wearing grey, so I made sure the mask didn't go to waste.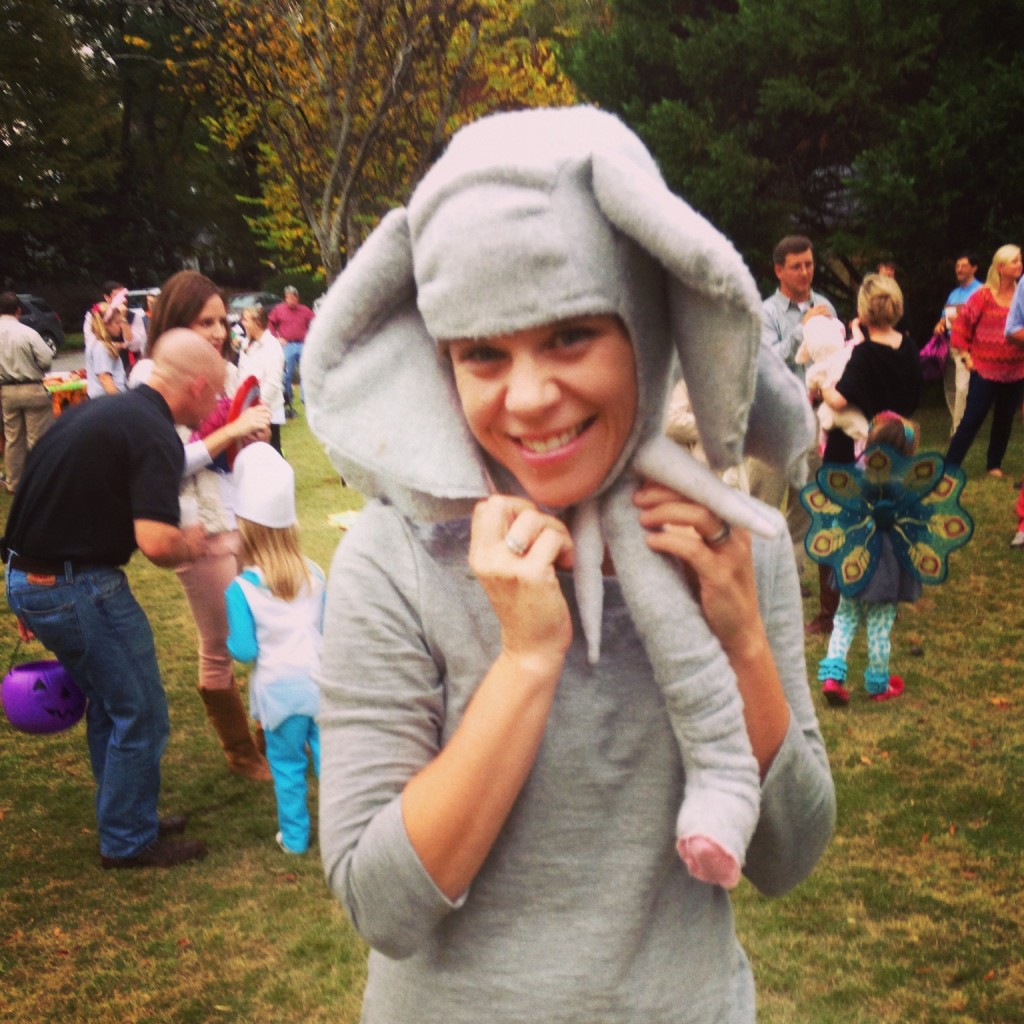 What struck me the most as I was sifting through the few photos I managed to take on Halloween this year was how old Madeline looks. She's not even 9 yet (getting very close), but she looks like a young lady. Here's a photo of her with my mom. I see a strong resemblance.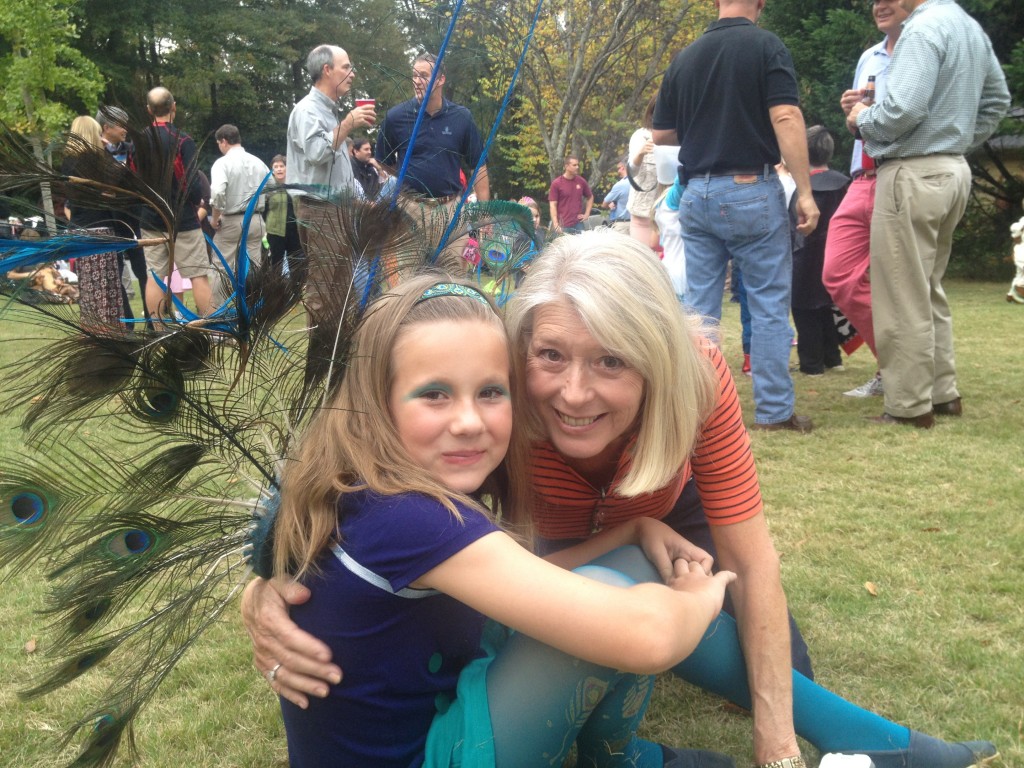 The older girls had All Saints' Day off, so we went to Mass with some homeschooling friends and had a saintly party and indoor picnic with them as well. It was a lovely day. Thomas wasn't feeling 100 percent, so he stayed back with Nana. From left to right we have St. Elizabeth of Hungary, St. Cecelia, and St. Mary Magdalene.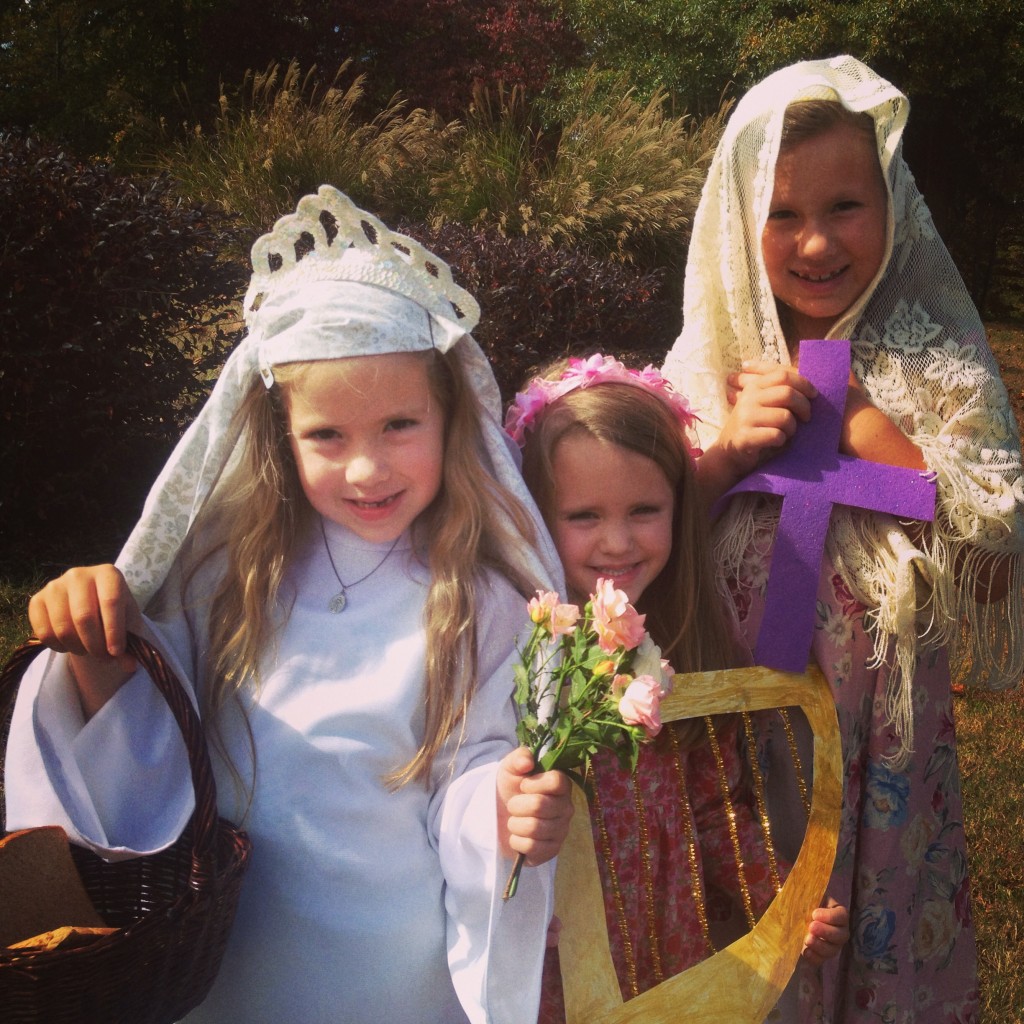 I hope to write a more thoughtful post one of these days, but this will have to do for now.