We celebrated Thanksgiving at Nana and Pop's this year and on the way, I set my phone's timer for five minutes and asked the kids to blurt out anything and everything they were thankful for and I then listed them in the exact order they were shouted out and also did not edit their contributions (e.g., Mary Elizabeth's blessing of "roasted beef" was jotted down just as she said it).  Here's what they came up with:
1. apple pie
2. life
3. love
4. family and friends
5. Thomas
6. our house
7. fall
8. toys
9. turkey
10. seasons
11. the sun
12. the moon
13. roasted beef
14. ice cream
15. exercise
16. cozy boots
17. Toms
18. our health
19. animals
20. jeans
21. clothes
22. water
23. Layla (our dog)
24. trees
25. Clue (the game)
26. books
27. colors
27. Monopoly
28. beans
29. food
30. music
31. school
32. my mind
33. flowers
34. mail
35. the world
36. a warm bed
37. the way Thomas says, "Oh," when you tell him something
38. hope
39. new beginnings
40. plays
41. shopping
42. windows
43. eyes
44. our bodies
45. signs
46. doors
47. beaches
48. cars
49. pumpkins
50. Knuffle Bunny
(Rachel's lovey)
51. Raja (Madeline's tiger stuffed animal lovey)
52. people
53. Cubbie (my parents' puppy)
54. Christmas trees
55. Nana (my grandma who passed away)
56. Nana and Pop
57. Gaba and Papa
58. Ivy (my parents' dog who recently died)
59. Uncle Rich (my uncle/my mom's brother who died of pancreatic cancer last February)
60. Michelle (my cousin who died recently as well from cystic fibrosis and lissencephaly complications)
61. Mr. Thomas (our neighbor who also passed away; yes, there's a theme here)
62. Katelyn (our babysitter who is alive and well)
63. Marlo (our babysitter's dog)
64. scones
65. chocolate
66. Waffle House
67. The Grit  (my contribution)
68. wine (obviously another one of my contributions)
69. lattes (me again)
70. Aerolatte Milk Frother (me again, although Thomas likes to use this gadget to torture her sisters. I've caught him twice now turning it on and putting it in their hair.)
71. firemen
72. policemen
73. police dogs
74. fire dogs
75. ambulances
76. doctors
77. radiologists
78. Smoothie King
79. braces
80. Baby Jane's
81. movies
Time's up!
Once at Nana and Pop's we were not only treated to the feast of feasts, but Madeline had written a Thanksgiving play and the kids performed it for us. The red wagon is the Mayflower. Madeline is Squanto. Thomas and Mary Elizabeth are pilgrims, and Rachel served as the narrator.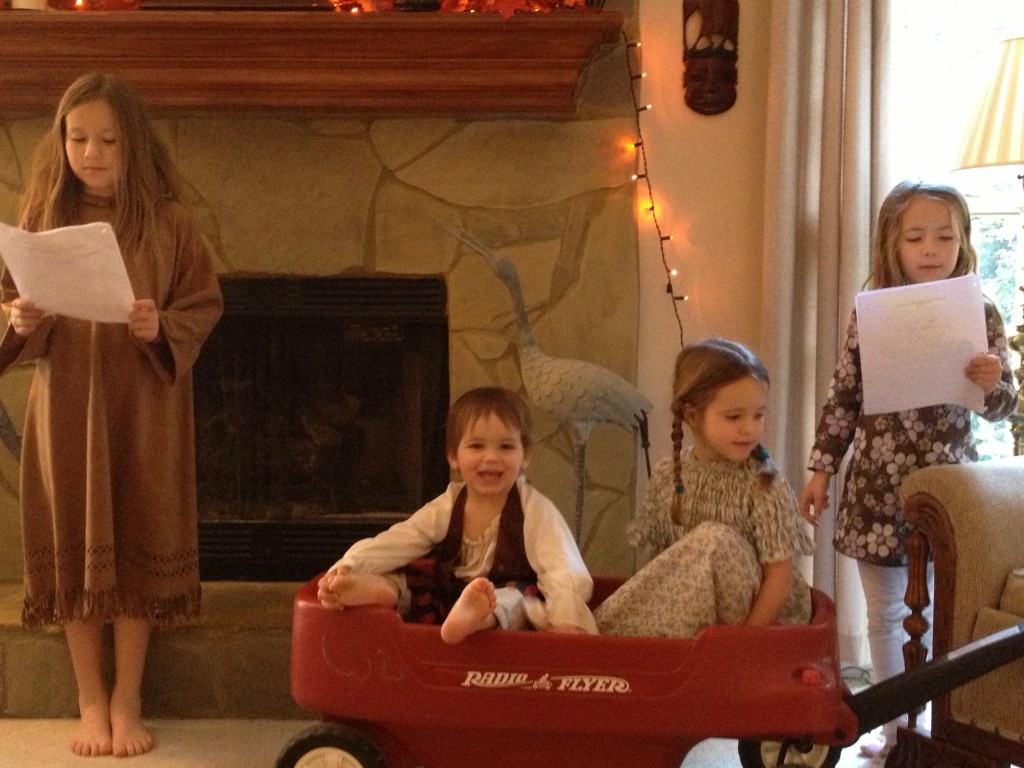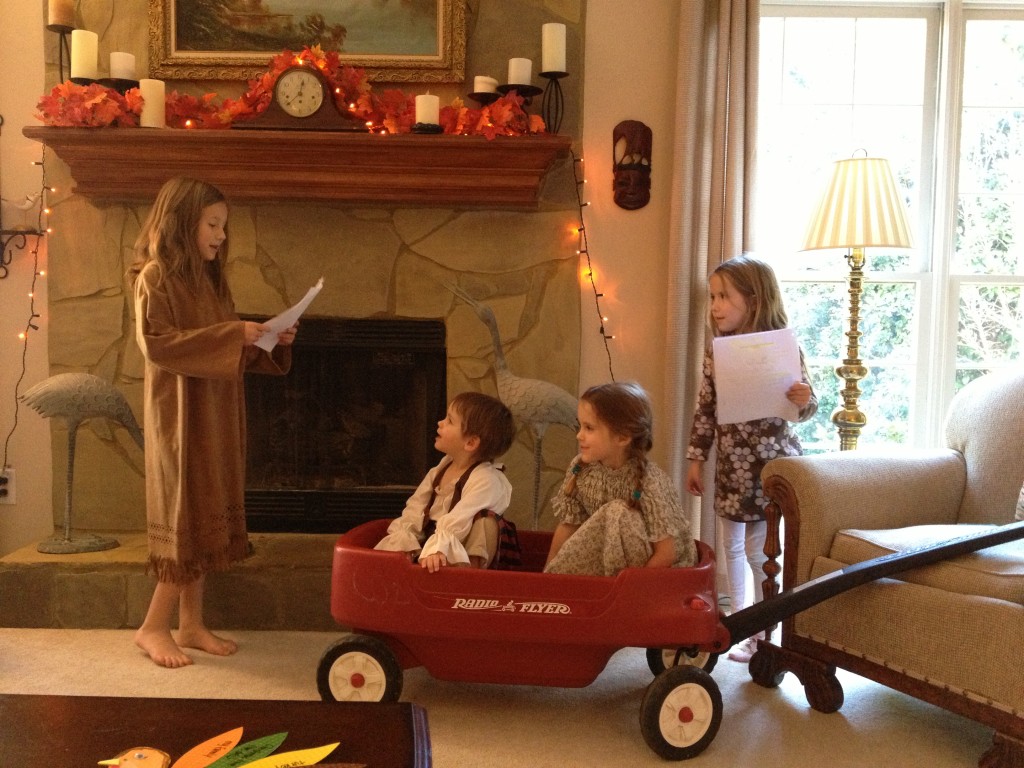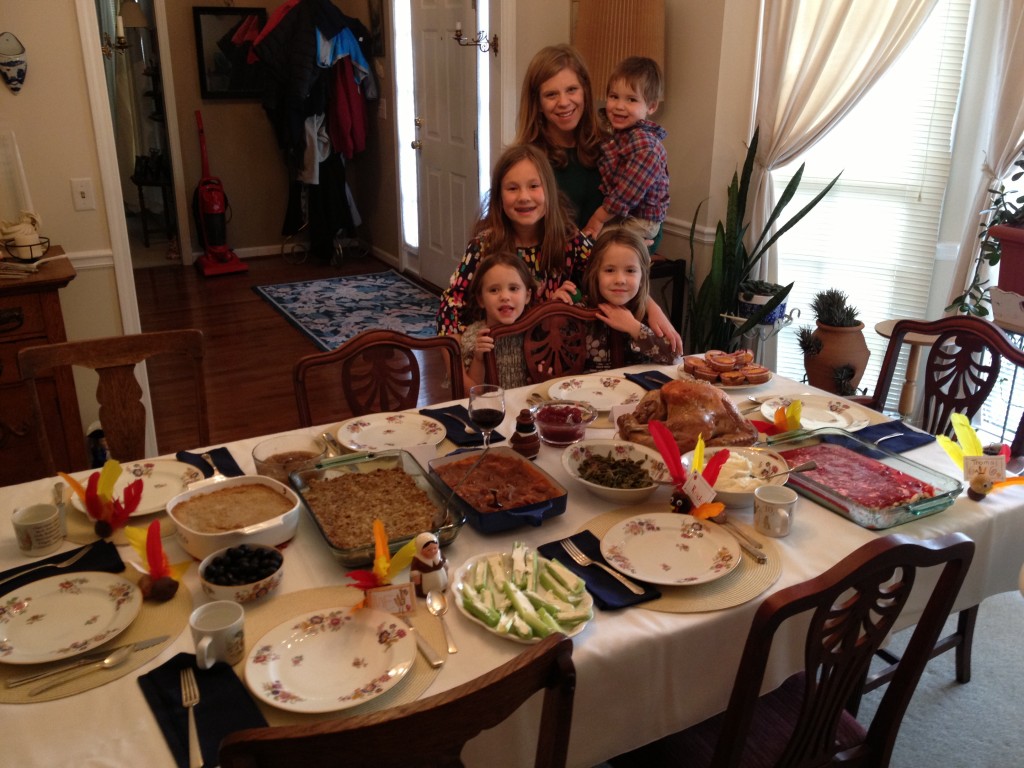 Now it's time to start thinking about Advent. I have a speech at a parish not too far from my home on Sunday where I'll talk a bit about cultivating a peaceful, joyful heart during a season that can easily become a path to burnout for a multitasking control freak like myself. Your life this Advent and always should be full, not just busy. Just because our culture hypes jam-packed schedules as the norm doesn't mean we have to subscribe to it. My running injury (still not anywhere close to running again) has forced me to slow down not just on the pavement and treadmill but in life as well. I'm getting more sleep these days and really focused on embracing simplicity. At its heart, simplicity really means less of us and more of Him. It can also mean staying in your PJs all day (I'm typing this in my pajamas; no Black Friday madness for me.)
We don't need to over-schedule our kids now or ever. Madeline really wanted to try basketball this winter, but we have a brief respite from soccer and I didn't want to fill it with more practices. If she's meant to be in the WNBA someday, she'll discover that talent soon enough. For now, I am drawing my family near, pulling out our favorite Advent books, and trying to decide what Advent traditions we will embrace this year. I've included a few links from the archives that include all sorts of ideas for bringing this season alive for little ones. BONUS: You'll get to see the kids when they were wee ones. Happy clicking!
An Advent Tea
Preparing Our Hearts and Homes (Advent Traditions)
Advent crafts (shell angels, felt napkin holders, poinsettia princesses, etc.)
Advent Smörgåsbord
Recipe for Baby Jesus Birthday Cake (more for the Christmas season obviously)
Handprint angels
Feast of Our Lady of Guadalupe traditions
Christmas card placemats
Tips for hosting a cookie swap
Cookie Swap recipes
Feast of St. Nicholas traditions
Explaining the symbolism of the Advent wreath to children
I had every intention of being prompt and posting Halloween and All Saints' Day photos at the start of the week. You'd think that now that I've been resigned to a mostly sedentary existence because of that darn hamstring injury I'd have more time to blog (or clean or learn to sew or do something productive), but that doesn't seem to be the case.
On Sunday my husband had to work, and Madeline had an out of town soccer game so Nana and Pop generously offered to treat Rachel and Mary Elizabeth to a sleepover Saturday night. On Sunday our resident monkey (M.E.) was climbing a tree, a favorite pursuit of hers, when a branch snapped. She fortunately was not far from the ground, but she lost her balance and she fell backwards, and Pop conjectures that her head hit some concrete. While I was cheering Madeline on with Thomas as my sidekick, my sweet 4-year-old was getting staples in her head. There are four of them (I counted yesterday to be sure; I don't like looking at wounds on my children), and they really are big staples. A friend of mine asked how she was feeling on Tuesday of this week. "Fine," I told her. "I caught her trying to climb another tree." It's apparently going to take a lot more than a busted head to keep that kiddo's two feet safely on the ground.
There's never a dull moment at the Wicker household.
But about last week's festivities… We had a motley crew this year without any theme like we did in 2012 and in 2009 (Mary Elizabeth just loves it that I played a pregnant witch that year, and she was the one who was in my belly). Madeline was a peacock, and I have to say I was satisfied with this non-Pinterest-y mom's feather assemblage. She definitely received many compliments this year including one couple telling her she had the most elegant Halloween costume they'd seen. Rachel wanted to a cowgirl. Bless her. It was so easy to throw that one together. Influenced by Madeline's costume, no doubt, Mary Elizabeth chose to be a peacock princess. The princess part is very important. Madeline told me her favorite part of Halloween is having the grandparents come over. Mary Elizabeth, on the other hand, said the best part of Halloween is that she gets to wear makeup. She's a girly-girl to the core. Thomas was the fifth child to wear the elephant suit my mom made for us. A friend borrowed it for her daughter in addition to all of my kids wearing it.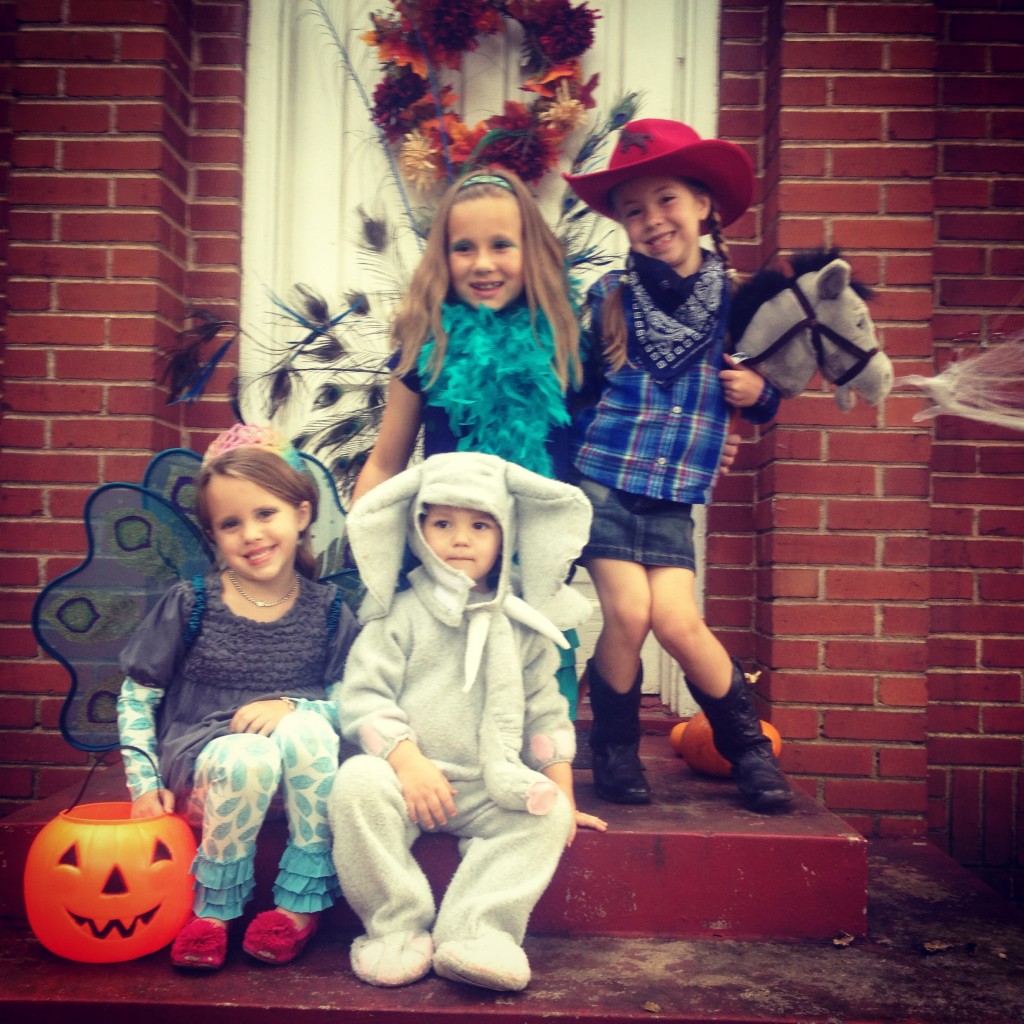 Now Thomas was a far more reluctant elephant than his big sisters and walked around headless for most of the evening. I happened to be wearing grey, so I made sure the mask didn't go to waste.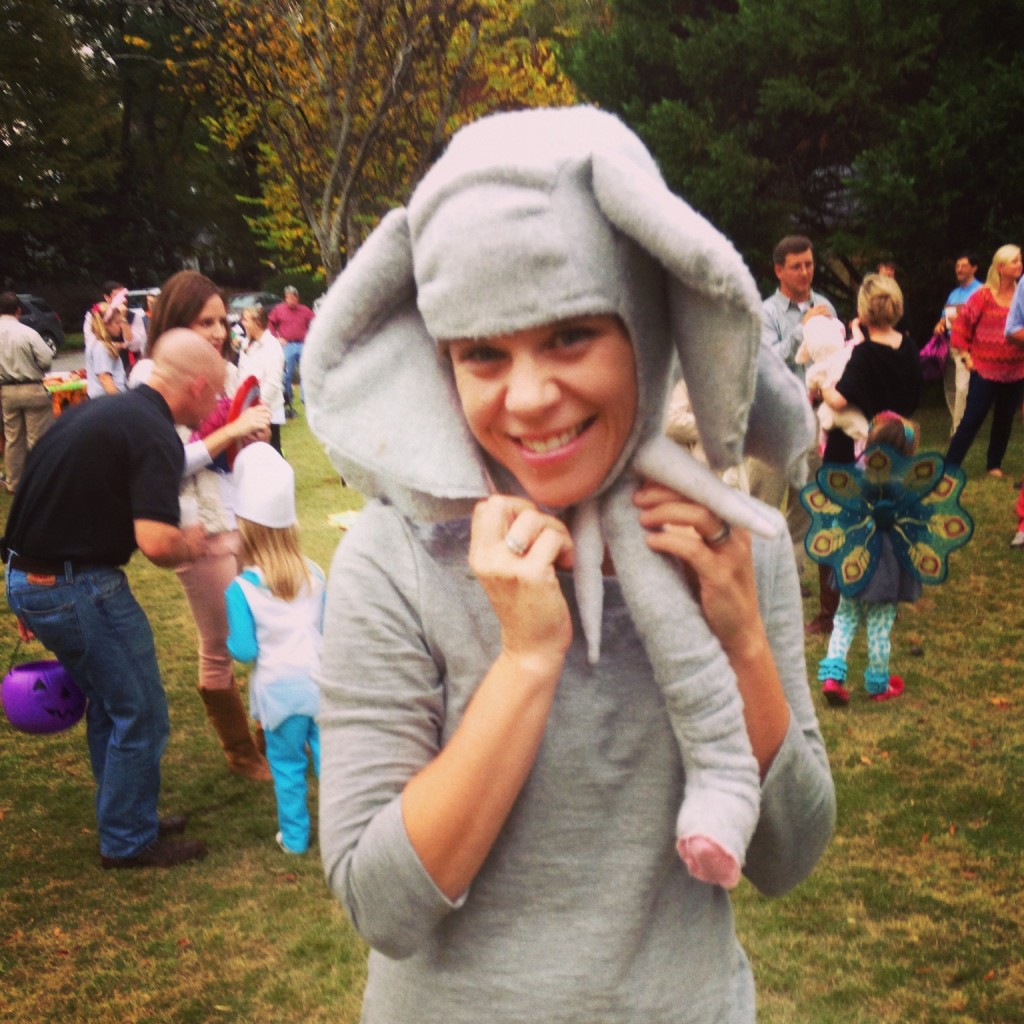 What struck me the most as I was sifting through the few photos I managed to take on Halloween this year was how old Madeline looks. She's not even 9 yet (getting very close), but she looks like a young lady. Here's a photo of her with my mom. I see a strong resemblance.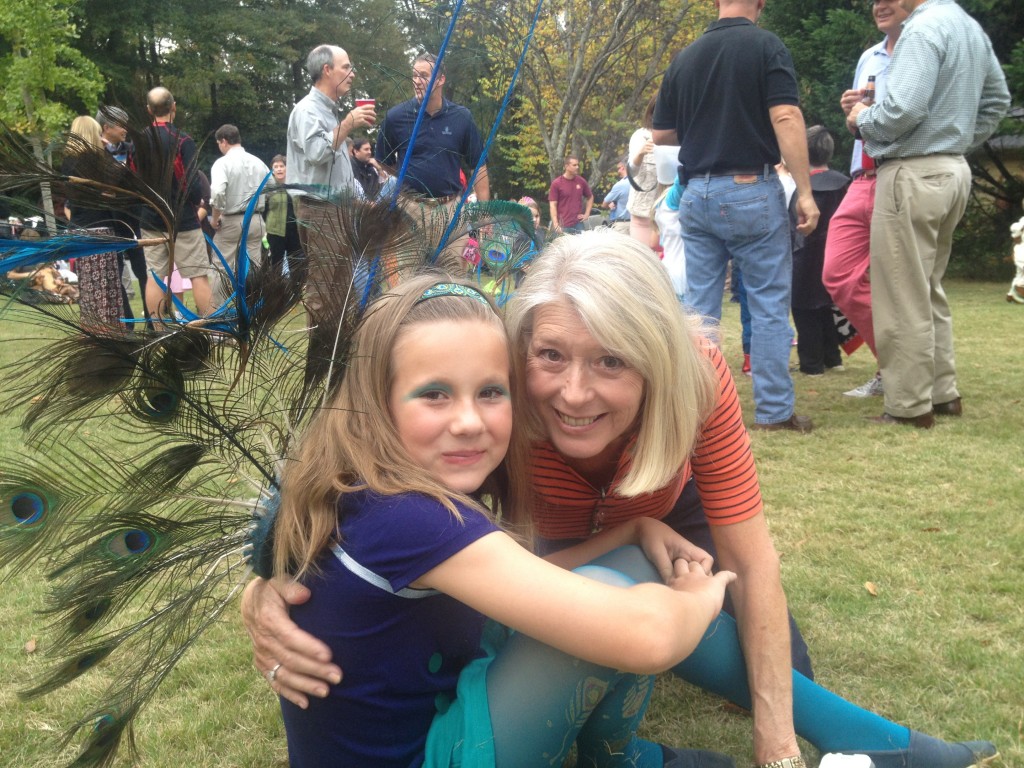 The older girls had All Saints' Day off, so we went to Mass with some homeschooling friends and had a saintly party and indoor picnic with them as well. It was a lovely day. Thomas wasn't feeling 100 percent, so he stayed back with Nana. From left to right we have St. Elizabeth of Hungary, St. Cecelia, and St. Mary Magdalene.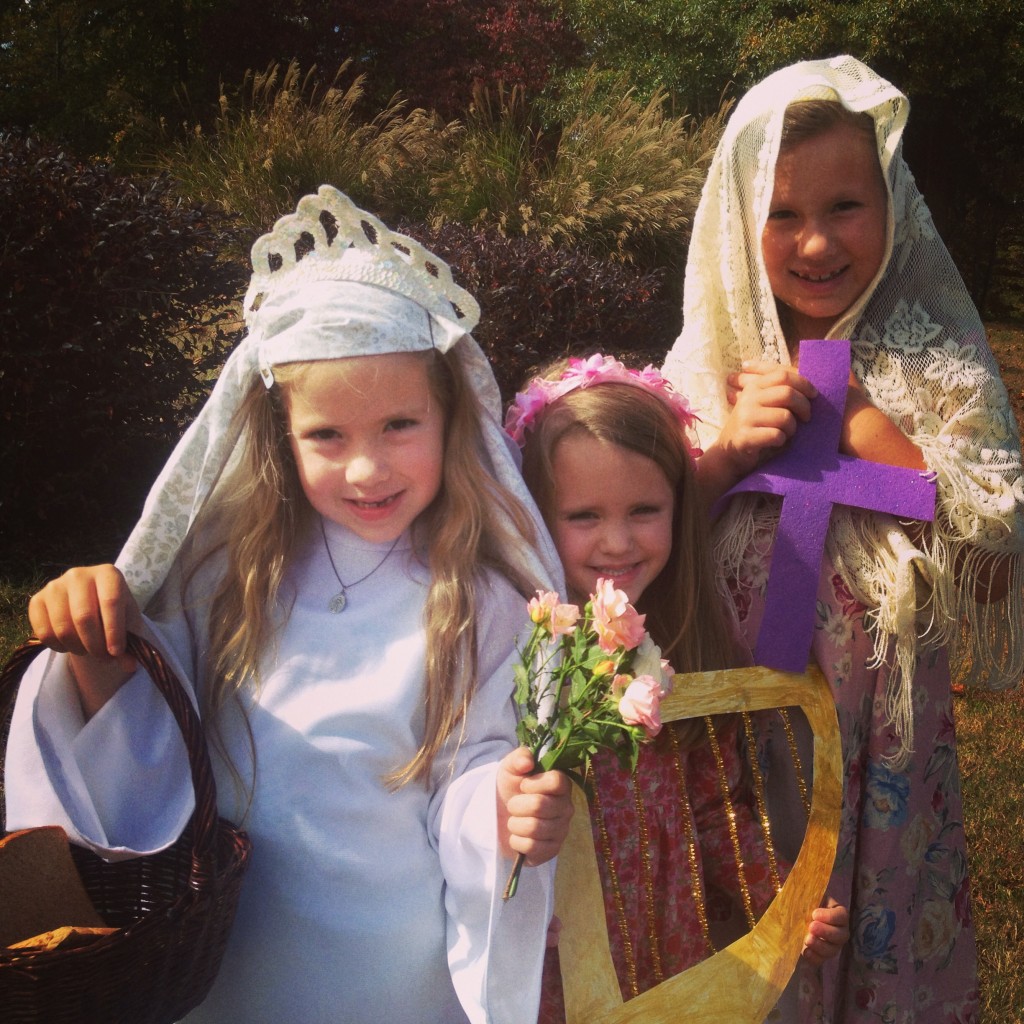 I hope to write a more thoughtful post one of these days, but this will have to do for now.
Ah, the dog days of summer are nearly behind us. And I couldn't be happier. Summer break? It was more like summer hell. Or at least summer purgatory. The living most definitely wasn't easy. But easy isn't always better. Thanks to this summer, we will have some great stories to tell for years to come. Our kids will one day recount to their own children about the legendary summer of 2013 when Rachel was diagnosed with mono; Thomas broke his tibia while sliding down a slide on Gaba's lap when we were in Illinois for a wedding we drove 13ish hours to attend and Thomas, Dave, and I missed the ceremony since we were stuck at the ER for four hours; the basement flooded…three times; the refrigerator went kaput and incompetent service meant we lived out of a cooler for two weeks until we finally realized we just needed to buy an extra refrigerator/freezer for the basement given our family size any way. And then there were the bats. And the 35 rabies shots.
Holy batman!
Picture this: My husband is on call working late. I arrive home at around 10 pm after spending the day at my parents' house visiting with my cousin and her family who are in town from Texas. Three out of four kids are sound asleep. One by one I quietly transport them from the minivan into a cozy cocoon of blankets on their beds. I don't know if I'm just tired, but I don't notice anything out of the ordinary – yet. My oldest is hungry. I know it's probably a stalling tactic, but I tell her to get herself a bowl of cereal. I go to grab a few bags from the hallway. In my peripheral, I see something hop. I turn my head and see a black thing on the ground. I can't turn on the lights because we also had some weird electrical problem arise this summer that meant half our lights weren't working. I tell Madeline I think there might be a frog in the house. This seems a little odd, but we did once have a snake in the laundry room. Frogs, I can handle. I am not a particularly squeamish person when it comes to critters. I start heading for the kitchen to grab my phone so I can use the flashlight app but as I'm walking I see some other creature on the ground, and I hop over it, not wanting to step on whatever the thing is. I turn around to examine it, wondering what the heck is going on because it looks like it might be a dead mouse. A frog and a mouse in the house? Only upon closer examination, I see that it's not dead and it isn't a mouse. It raises its head and then stretches out a webbed wing. Holy batman (again)! Meanwhile, our dog is sleeping in one of her favorite spots beneath the dining room table impervious to the fact that small, flying mammals have infiltrated our home. I turn to get Madeline and see another bat swooping about in the kitchen. Seconds later Madeline is screaming from my bedroom, "There's a bat in the house!!!!"
No, Honey, there are at least four bats in the house.
I call my husband. He can't talk long because of his work situation. He suggests I use a tennis racket and get them out.
Are you nuts? I can't recall if I said that aloud to him or not. Later when he returns home and finds the flying creatures, he agrees he was not really in touch with what was actually transpiring in our home.
Next I call my good friend, who is also my neighbor, since she had some bats in the walls of her house and basement just a week or so ago. (Yes, it turns out our street had a little problem with a bat infestation this summer. We were the only lucky ones to actually have them hanging out in our living quarters.) She is out of town with her boys but immediately invites us to stay at her house for the night. Her husband soon shows up and helps me evacuate sleepy, disoriented children. It takes some convincing to get Madeline to come out from her hiding place. She was still burrowed into my covers and screaming. I kind of feel like doing that, too, but I keep it together. Later we find out that Dave (my neighbor's husband and our rescuer)  saw bats flying in the room where Mary Elizabeth was sleeping, but he didn't want to freak me out any further. Thank you for that.
We are refugees, fleeing our bat-ridden house with only a few belongings. Even though Layla (the dog) has her rabies shots, she comes along, too. I call my husband again and tell him what room we're sleeping in, but he says he'll be fine at home. Whatever, I think. A little after 2 a.m. the guest bedroom door at my friend/neighbor's house creaks opens. It's my Dave standing there.
"Oh, you decided to join us."
"I'm not sleeping in there," he says. "There" being our home turned bat cave.
I chuckled.
Long story short, we caught seven live bats in our home. Dave stayed with our neighbors since he had to work, but the kids, Layla, and I retreated to Nana and Pop's house for a few days. My husband consulted with myriad experts – the CDC, the health department, our personal pediatrician, the director of emergency medicine at a local hospital – and all unanimously agreed that we needed to get rabies vaccinations as a precautionary measure. Young children have died from rabies after a bat exposure even though there was no noticeable bite mark. This was a risk we could not take. Rabies shots are not cheap. We paid thousands of dollars out of pocket, but the insurance covered the rest. The total cost for our family was over $30,000. I wish we were dogs. The first shot series meant 19 shots total for us. It's based on weight, and my poor, tall husband got five shots that first day. We had four more series of shots for a whopping total of 35 shots for our family. The kids were troupers. A new, fun imaginary game my 4-year-old and 2-year-old (yup, Thomas is 2; I just haven't gotten around to sharing his birthday letter here, although I have written it) like to play is "let's-give-Mommy-lots-of-shots-because-of-the-bats."
On the first day we got shots (and were at the hospital for three hours because of paperwork, etc.) we saw our neighborhood mail carrier. "You look so nice," she told Madeline who was wearing an airy sundress.
"Thank you. We just went to get our rabies shots."
Cue our big, black dog barreling out the front door. "We had bats in the house," I quickly explain. "It's not Layla. She's not Cujo. She's fine."
Two employers from the health department paid a visit to our street passing out pamphlets about bats and rabies. We're famous! I was waiting for the guys in white suits to show up a la E.T. and whisk us away.
We had an excellent expert, whom I referred to as the bat guy, seal up our house. My husband discovered how the bats, which were only juveniles, got into our home. One of the kids had opened and not closed a small door in a closet upstairs that connects to the attic space. Juvenile bats follow air currents and get confused, so that's how they ended up in our house. One got trapped behind a built-in bookcase, so we had a disgusting smell wafting through our home. Unfortunately, that unlucky bat wasn't the only mammal to get trapped in the home. We had the bat guy seal off an unfinished portion of our basement as well. We came home one day after being out of town to a horrendous, putrid smell. It turns out a small oppossum had chewed through some insulation had gotten stuck once the basement was sealed off. The critter died right near an opening to our air vent. My poor husband had to retrieve the decaying animal and get it out. He slipped on rubber grubs and armed himself with a half dozen trash bags and a shovel and said, "I'm off to do my manly duty."
I love that man.
I never want to see another wild animal in our home again.
On a side note, I have nothing against bats. I like watching them swoop in the dusk sky. They're fascinating creatures – the only true flying mammals.  I was very upset that it took animal control services two days to come pick up the live bats from our porch. My husband used some of our Tupperware to store the critters and cracked open the tops periodically to make sure they had enough air. Bats are good creatures to have around because a single bat is typically able to consume one-third of its body weight in insects each night. I just don't want Stellaluna in our bedrooms. (Just to be clear, I realize we didn't have fruit bats in our house like Stellaluna.)
When we were forced to flee our home, I couldn't help but think of real refugees and how lucky we were to just be leaving because of some nocturnal mammals hanging out in our abode. We had a safe place to go to, and I knew we'd return home soon enough. I joked with one of my closest friends that none of this was that big of a deal. "We have developed world problems," I said.
My sweet friend who has volunteered in places like Africa, India, and South America said, "Having bats in your home and having to get rabies shots is a little more than that. A developed world problem is losing followers on Pinterest." Thank you, dear friend, for giving me permission to feel a little frazzled.
So that's my summer recap. You can't make this stuff up, but just in case you think I might have, here's some photographic evidence: