What's not to like about life when you're reading The Happiness Project: Or, Why I Spent a Year Trying to Sing in the Morning, Clean My Closets, Fight Right, Read Aristotle, and Generally Have More Fun on the beach while your husband sits beside you keeping his eye on happy kids frolicking in the waves?
Not much, I tell you.
I finished The Happiness Project by Gretchen Rubin (my book club's current selection) while at the beach and really enjoyed it. Rubin actually reminded me a lot of myself, especially when she candidly shared some of her weaknesses like being too critical and getting snappy at messes and the like. She is a self-proclaimed Type Aer. She had struggled with contentment despite living a happy life, so she sets out to develop her own happiness project, and over the course of one year she makes various monthly resolutions such as "lighten up" and "pay attention." Each month includes concrete actions to help achieve these resolutions. For example, during her "lighten up" month, she resolves to sing in the morning and to "be a treasure house of happy memories." She partly achieves the latter by creating file boxes for each of her daughters and filling them with myriad memorabilia like birthday invitations and class photos.
I really got a lot out of the book and even though it's secular in nature, I felt like it made for good Lenten reading. In fact, something that really intrigued me is that while Rubin considers herself "a reverent agnostic," she advocates that everyone finds a spiritual master to imitate. After much research and delving into various religions and religious leaders, Rubin chooses St. Thérèse of Lisieux as her own spiritual master. Reading St. Thérèse's Story of a Soul profoundly impacts Rubin, as it did me when I read it several years ago. (I'd say it's time to reread the book because it will certainly help me to feel less invisible and to recognize that all the little things I do each day are sanctifying.) Rubin talks about St. Thérèse's "little way" and describes it as such: "Her 'Little Way' [was] holiness achieved in a little way by little souls rather than by great deeds performed by great souls" and then she directly quotes St. Thérèse:
"Love proves itself by deeds, so how am I to show my love? Great deeds are forbidden [for] me. The only way I can prove my love is by…every little sacrifice, every glance and word, and the doing of the least actions for love."
Rubin also explains why St. Thérèse has such an appeal to her and her own happiness project. Rubin writes,
"I'd started my happiness project to test my hypothesis that I could become happier by making small changes in my ordinary day. I didn't want to reject the natural order of my life – by moving to Walden Pond or Antarctica, say, or taking a sabbatical from my husband. I wasn't going to give up toilet paper or shopping or experiment with hallucinogens. I'd already switched careers. Surely, I'd hoped, I could change my life without changing my life, by finding more happiness in my own kitchen."
This is so simple yet resonates very much with me. I want to find happiness right here in my vocation, in my home, in this little life I've been blessed with and like St. Thérèse, great deeds aren't likely to be in my mix. I can't abandon my family, for instance, to become a missionary. My mission field is right here in my home, with my family.
I've been inspired to begin my own happiness project, and it's been surprising to me how out of touch I've grown with what truly gives me great joy. The ocean surely does, but like Rubin, I have no plans to move to the coast. I told my husband after an early morning walk that getting up before the sun makes me happy. Since I am no longer running (and sadly, feeling more pain again and wondering if I'll ever be a runner again), I've gotten out of the habit of waking up before everyone else. I miss that morning time stillness. I need to start waking up extra early again.
Watching dolphin play during my beach walk made me happy, too, but what can I do with that? Watch YouTube videos of dolphin surfing the waves?I have always enjoyed reading books about dolphin. Maybe I should research some new titles to add to my library.
The brisk walk itself made me happy as well. I truly enjoy physical activity. I relish in pushing myself and feeling the air circulate through my lungs. Feeling my heart pump in my chest makes me acutely aware that I am alive and well.
I always keep a travel journal on our trips where I recount the daily events. We were reading from past entries, and we all agreed that we were very thankful for this treasure trove of memories. Reading my past entries also made me aware of how much I miss writing. I do still write. I keep a Mom's One Line a Day: A Five-Year Memory Book (keeping a one-line-a-day journal was recommended in The Happiness Project and is something I've been doing since January 1st of this year), write a health column and occasional blog posts, and draft speeches. But I don't write nearly as much as I once did. And that novel is still in the embryonic stage. I said that when I cut back on blogging, I'd devote more time to my fiction, but it hasn't really happened. Life is so full. There seems little time to do things for myself aside from exercise, something I do six days a week. But I've decided I am going to make writing more of a priority again.
I'm always feeling guilty about this sorely-neglected blog, but writing here, even if it is only sporadically, consumes a lot of my limited writing time so I have come up with a solution. I was perusing piles and piles of old writing clips. I have written hundreds – thousands I expect – of columns. I used to write a secular "Mommy Daze" column for a parenting magazine, and I've written essays for many other magazines. Some have been published on this blog in some form; others have not. But I thought why not re-publish some of my old work here, including some old blog posts? My readership has changed over the years, and the loyal friends who have stuck with me will put up with the repeats. So I'm going to comb my archives for content, and then I'm going to really work on that fiction. I am just going to write and not worry about my inner critic.
I am also going to cut out things that make me feel badly. Rubin writes about this as well – that sometimes it's not what we're not doing that leaves us feeling less than rosy but what we are doing. She, for example, decides to give up fake food because every time she would eat something processed and artificial, she'd feel pangs of guilt. But she kept doing it. When she finally stopped eating fake food, she felt much better. I often advocate not categorizing food as "bad" or "good." It's just food, but some of it is surely better fuel for your body. I have found myself snacking more lately, and that mindless eating doesn't make me feel good. But mindfully eating real, delicious, and good food does. I'd rather have a chunk of real dark chocolate than randomly snack on some cheese-flavored crackers.
Another point Rubin repeatedly hammered in throughout the book really struck a chord with me. One of her Twelve Personal Commandments is to Be Gretchen. This means remembering that:
"'You can choose what you do, but you can't choose what you like to do.' I have a lot of notions about what I wish I liked to do, of the subjects and occupations that I wish interested me. But it doesn't matter what I wish I were like. I am Gretchen."
This really hit home with me. In the book, Rubin uses the example that she thought she didn't like music but during happiness project, she realized that listening to tunes did, in fact, lift her mood. However, the type of music she liked had embarrassed her in the past since she enjoyed what some would see as banal Pop 40 Hits. She had wished she liked more sophisticated music like classical medleys, esoteric rock, or jazz. I, too, have often wished I liked something that others seem to derive so much pleasure and enjoyment from or that my tastes were more refined. Why do shoes make me happy? That seems so superficial. But the fact that I've spent a good chunk of my life pregnant helps explain my affinity for shoes. My feet stay the same size even when the rest of me doesn't, and you don't have to strip down in front of a highly-fluorescent mirror to try on a pair of shoes.
In the past, I've also tried to really like sewing, elaborate crafting, and regularly playing complicated strategy board games (my husband loves these – the games, not the crafts and sewing). I felt like a lousy homemaker because I didn't have any desire to learn to sew and wasn't too good at it. I felt like a sub par mom because Pinterest boards made me feel like doo-doo and the thought of making something like this with my kids just seemed like a very messy endeavor that would likely result in me getting a bit snappy over the paint-covered hands. "Don't touch anything!" I could hear myself shouting over and over. So much for happy memories, right? I prefer to arm my kids with some paints and an old sheet and tell them to go all Jackson Pollock on it out in the backyard. Then I will gladly hose off the rainbow children.
As for games, I do enjoy some of them and I don't mind playing them once my husband has figured them out and read the novel-like list of rules, but I once felt like I was intellectually inferior because I didn't get all fired up with the thought of strategizing against my opponent. Now I (occasionally) play for fun, but I'm okay with sitting nearby and reading a book while my oldest daughter and husband play together instead.
I just need to be okay with being me and pursuing my own interests, passions, and sources of happiness. Reading lots of storybooks aloud gives me more joy than doing a messy craft with the kids, and that's just fine. Simple Family Draw Time makes me happy. (It makes the kids very happy, too.) I do love to create things – babies, milk for babies, simple scarves, healthy meals, new muscle definition in my arms, stories, dreams, homemade birthday treats for my kids like ballerina cupcakes and pirate treasure chest cakes, and scones. But what I like to create is different from what others want to create, and I need to learn to accept that.
It's surprised me that one of the biggest challenges to launching my own happiness project is simply know what does make me happy. I've got lots of pondering to do.
What I do know is that spending a few days at the beach, after my wonderful husband decided to surprise us all with a spontaneous trip, most definitely makes happiness easier. It wasn't the most penitential way to spend the first full week of Lent but as a friend reminded me after I sent her a photo of all four kids joyfully licking ice cream cones, God is surely smiling down on their happiness. I know I was smiling.
Here are a few photos from our trip: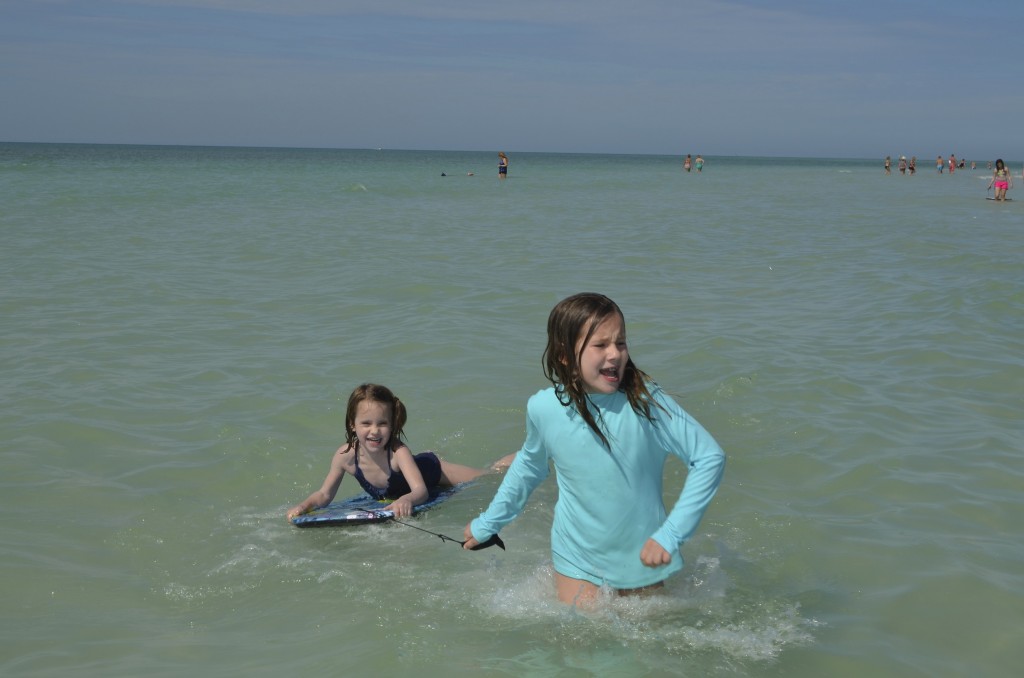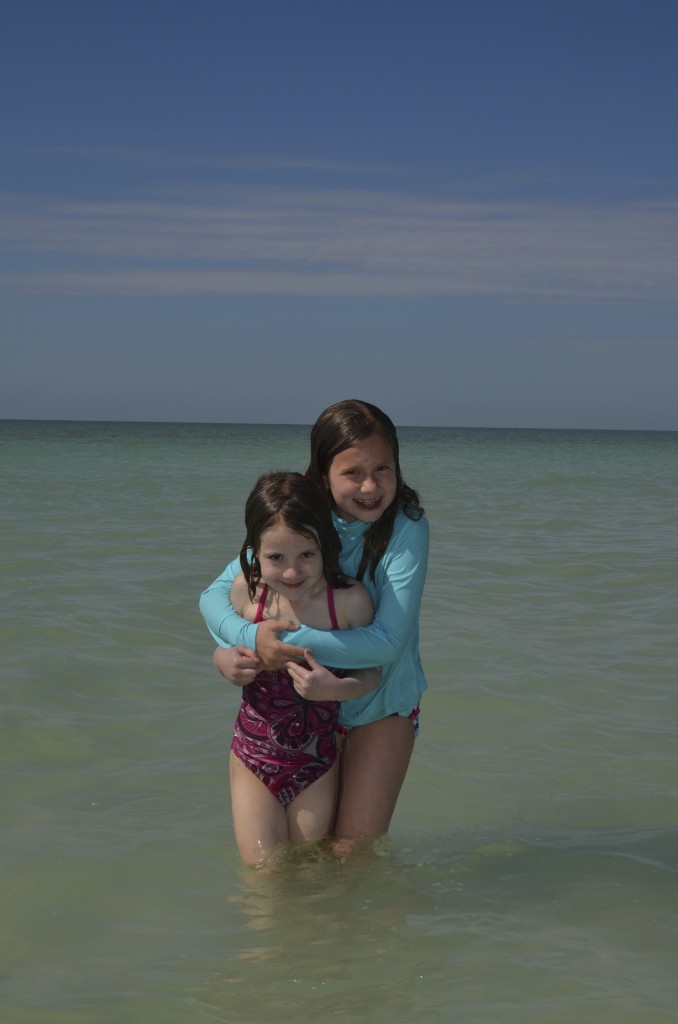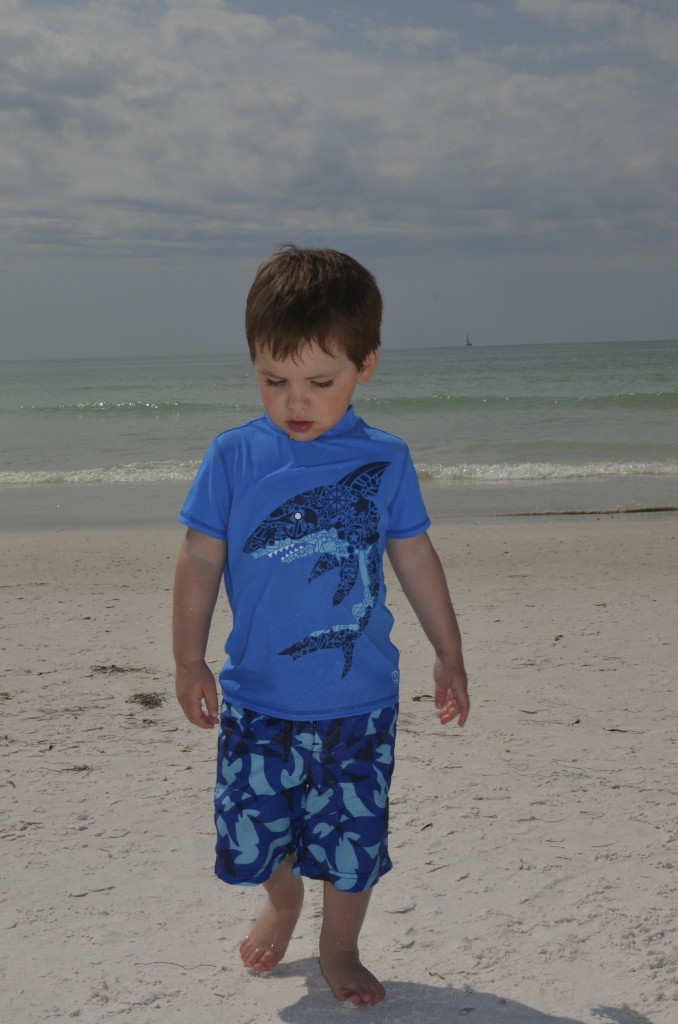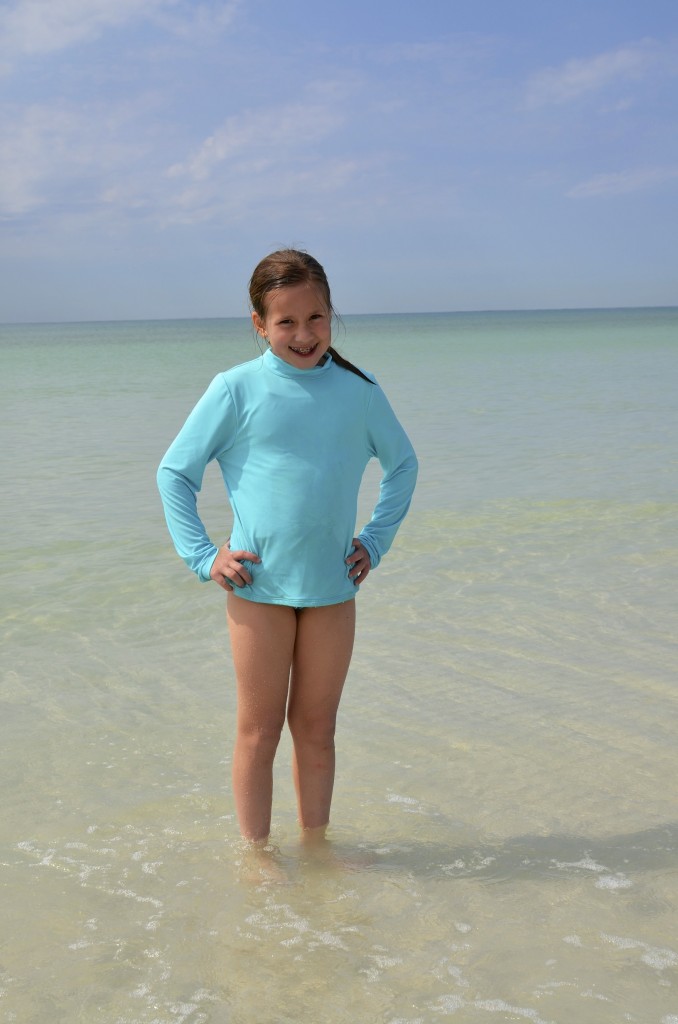 On the one chilly day we had, we headed to the Clearwater Marine Aquarium to "meet" Winter from Dolphin Tale.
This is Winter swimming with her pal Hope.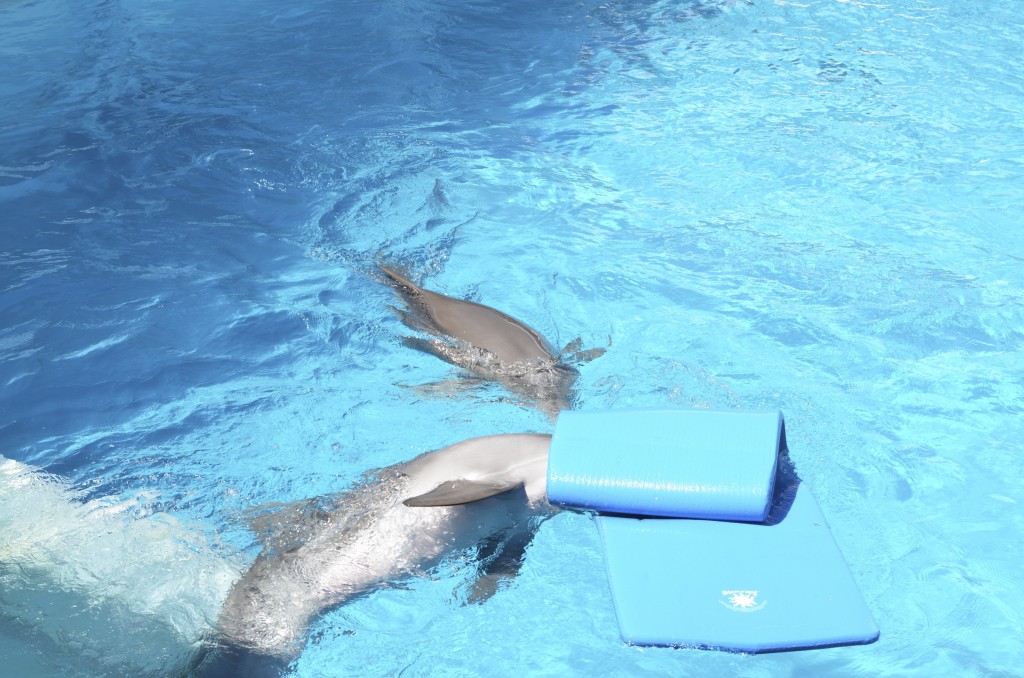 This is Nicholas. He was found on Christmas Eve along with his mother after they had beached themselves. They both suffered from third-degree sunburns. Nicholas's mom unfortunately did not survive the trauma, but he has been at the aquarium now for several years. We were lucky enough to witness his training session, and it turns out that Nicholas is a mischevious fellow who is known for dousing people with water.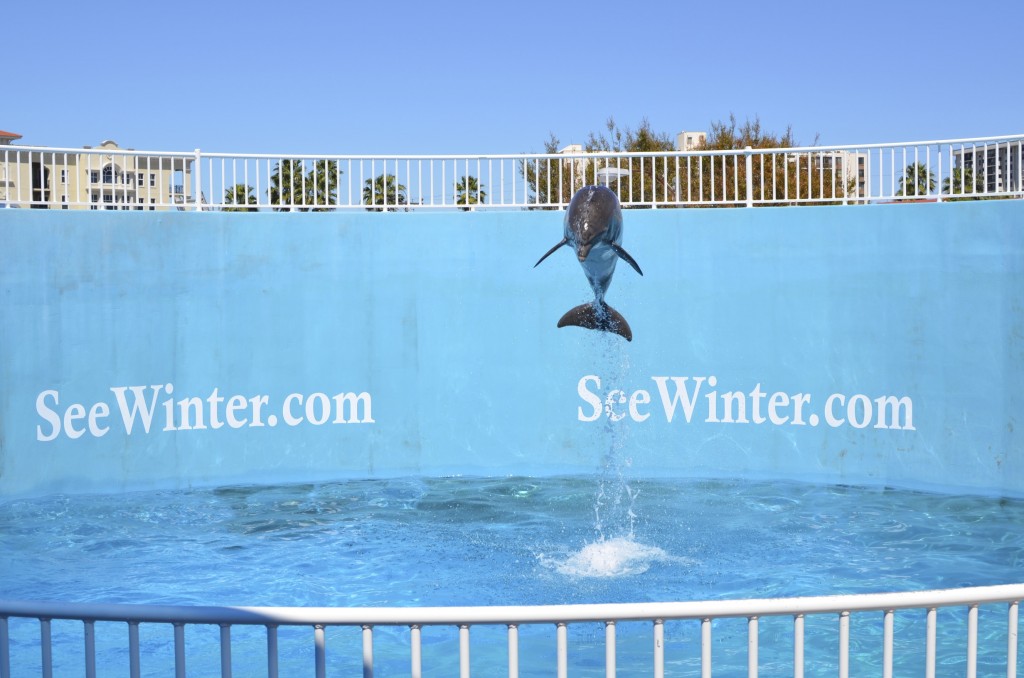 Madeline and Rachel were some of Nicholas's victims. The unexpected shower did not seem to bother them too much.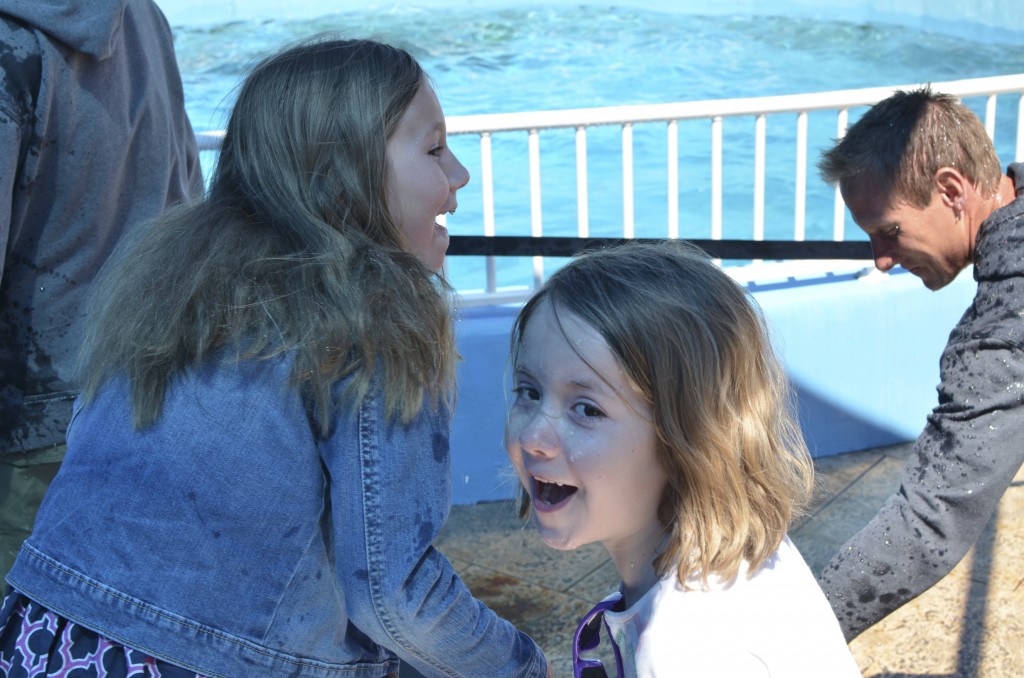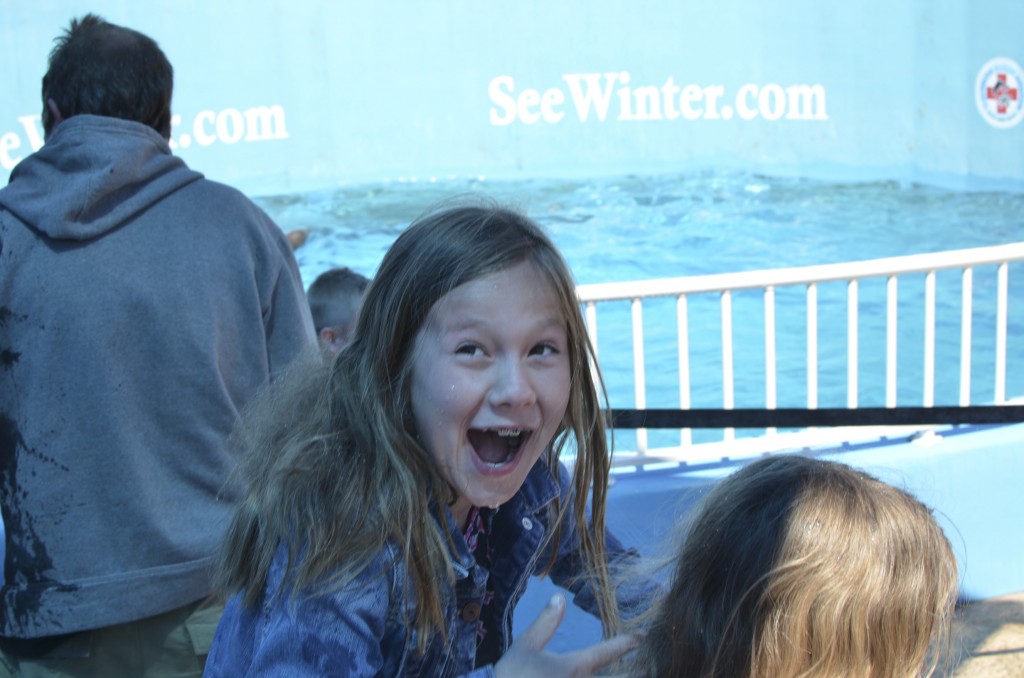 Thomas, hanging out in the aquarium's learning room.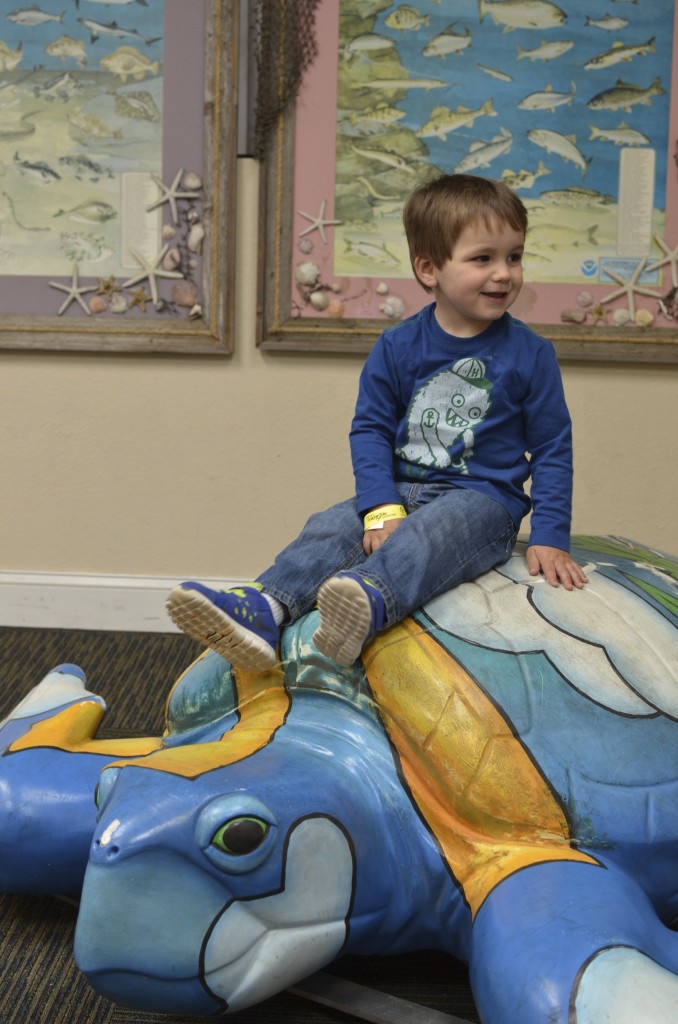 Finding Nemo…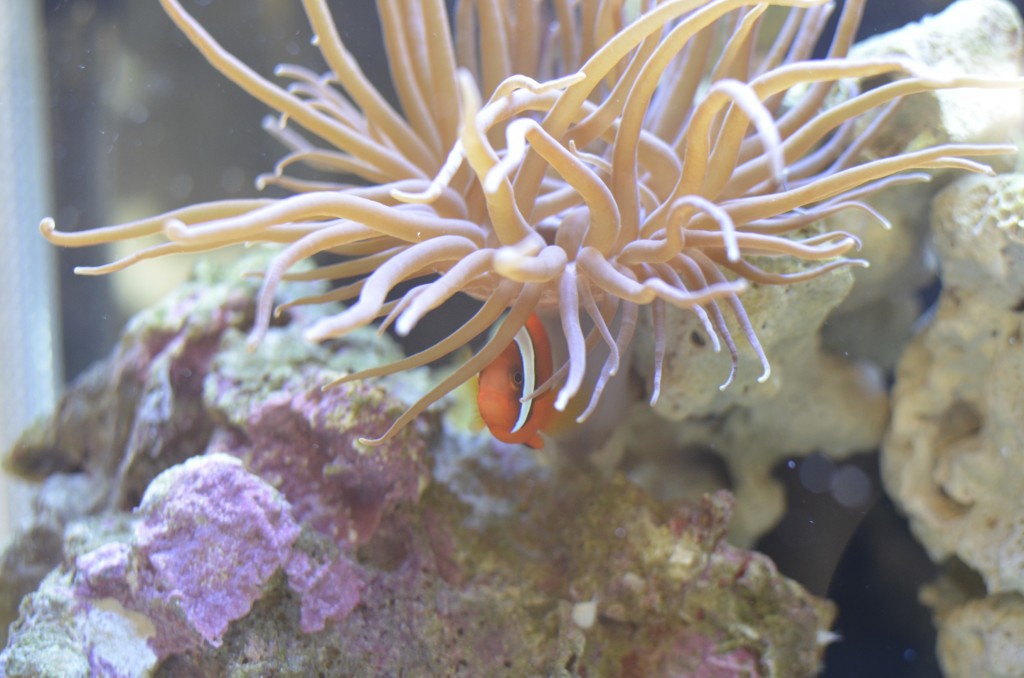 Back at the beach. I love it when my kids run to me like there's no place they'd rather be than in my arms.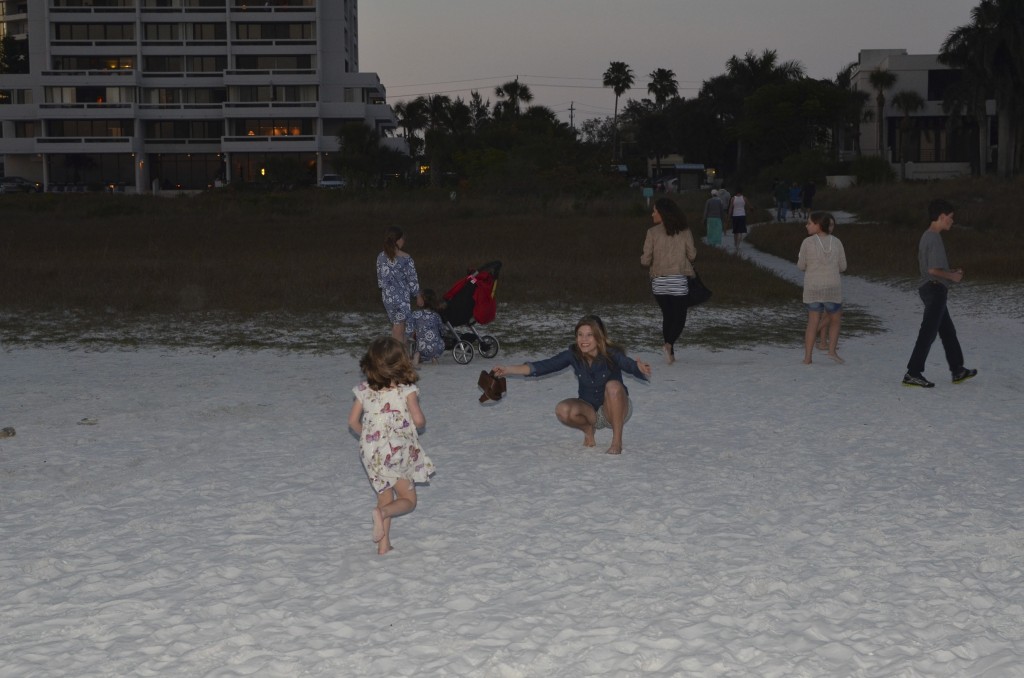 We celebrated Thanksgiving at Nana and Pop's this year and on the way, I set my phone's timer for five minutes and asked the kids to blurt out anything and everything they were thankful for and I then listed them in the exact order they were shouted out and also did not edit their contributions (e.g., Mary Elizabeth's blessing of "roasted beef" was jotted down just as she said it).  Here's what they came up with:
1. apple pie
2. life
3. love
4. family and friends
5. Thomas
6. our house
7. fall
8. toys
9. turkey
10. seasons
11. the sun
12. the moon
13. roasted beef
14. ice cream
15. exercise
16. cozy boots
17. Toms
18. our health
19. animals
20. jeans
21. clothes
22. water
23. Layla (our dog)
24. trees
25. Clue (the game)
26. books
27. colors
27. Monopoly
28. beans
29. food
30. music
31. school
32. my mind
33. flowers
34. mail
35. the world
36. a warm bed
37. the way Thomas says, "Oh," when you tell him something
38. hope
39. new beginnings
40. plays
41. shopping
42. windows
43. eyes
44. our bodies
45. signs
46. doors
47. beaches
48. cars
49. pumpkins
50. Knuffle Bunny
(Rachel's lovey)
51. Raja (Madeline's tiger stuffed animal lovey)
52. people
53. Cubbie (my parents' puppy)
54. Christmas trees
55. Nana (my grandma who passed away)
56. Nana and Pop
57. Gaba and Papa
58. Ivy (my parents' dog who recently died)
59. Uncle Rich (my uncle/my mom's brother who died of pancreatic cancer last February)
60. Michelle (my cousin who died recently as well from cystic fibrosis and lissencephaly complications)
61. Mr. Thomas (our neighbor who also passed away; yes, there's a theme here)
62. Katelyn (our babysitter who is alive and well)
63. Marlo (our babysitter's dog)
64. scones
65. chocolate
66. Waffle House
67. The Grit  (my contribution)
68. wine (obviously another one of my contributions)
69. lattes (me again)
70. Aerolatte Milk Frother (me again, although Thomas likes to use this gadget to torture her sisters. I've caught him twice now turning it on and putting it in their hair.)
71. firemen
72. policemen
73. police dogs
74. fire dogs
75. ambulances
76. doctors
77. radiologists
78. Smoothie King
79. braces
80. Baby Jane's
81. movies
Time's up!
Once at Nana and Pop's we were not only treated to the feast of feasts, but Madeline had written a Thanksgiving play and the kids performed it for us. The red wagon is the Mayflower. Madeline is Squanto. Thomas and Mary Elizabeth are pilgrims, and Rachel served as the narrator.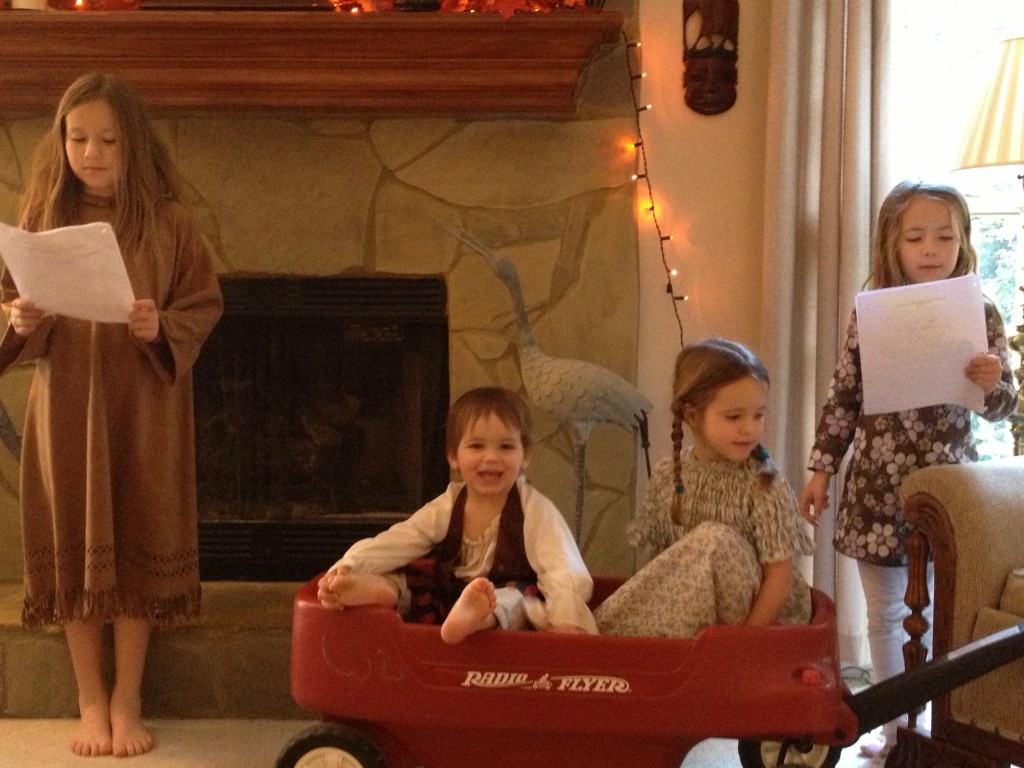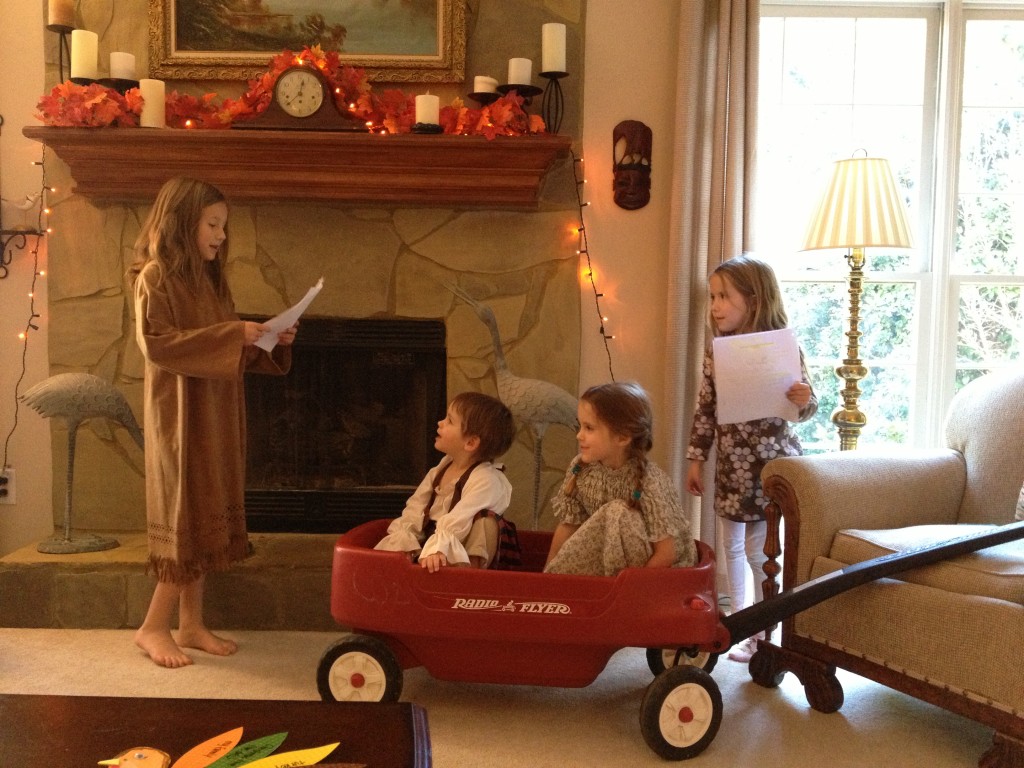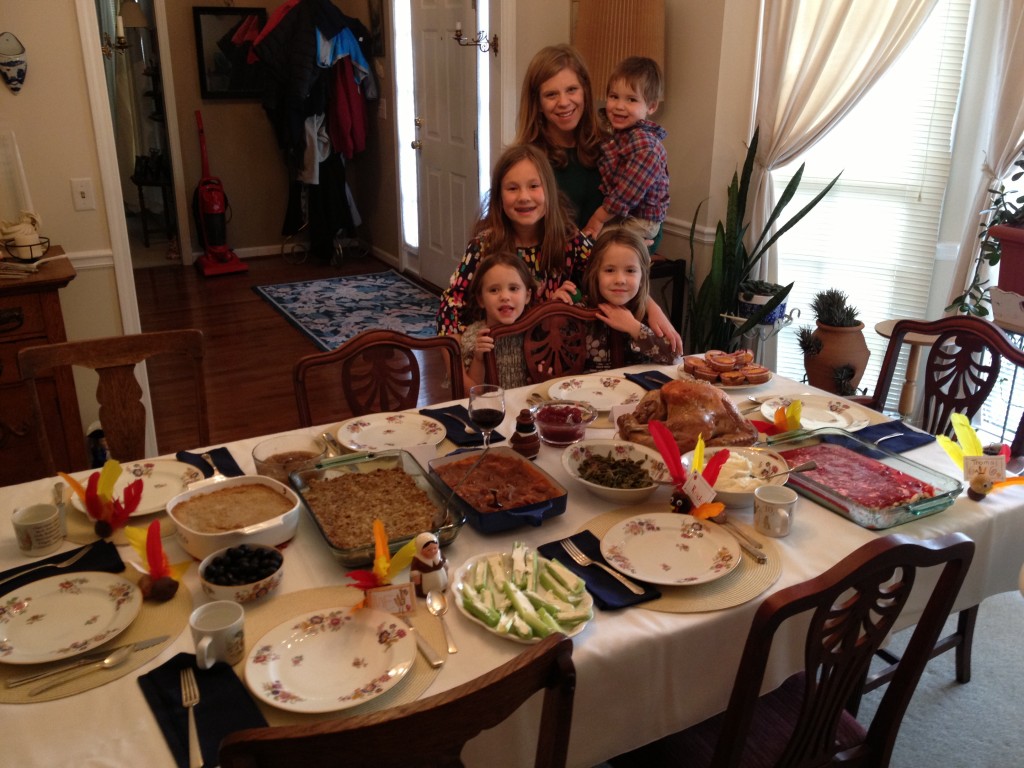 Now it's time to start thinking about Advent. I have a speech at a parish not too far from my home on Sunday where I'll talk a bit about cultivating a peaceful, joyful heart during a season that can easily become a path to burnout for a multitasking control freak like myself. Your life this Advent and always should be full, not just busy. Just because our culture hypes jam-packed schedules as the norm doesn't mean we have to subscribe to it. My running injury (still not anywhere close to running again) has forced me to slow down not just on the pavement and treadmill but in life as well. I'm getting more sleep these days and really focused on embracing simplicity. At its heart, simplicity really means less of us and more of Him. It can also mean staying in your PJs all day (I'm typing this in my pajamas; no Black Friday madness for me.)
We don't need to over-schedule our kids now or ever. Madeline really wanted to try basketball this winter, but we have a brief respite from soccer and I didn't want to fill it with more practices. If she's meant to be in the WNBA someday, she'll discover that talent soon enough. For now, I am drawing my family near, pulling out our favorite Advent books, and trying to decide what Advent traditions we will embrace this year. I've included a few links from the archives that include all sorts of ideas for bringing this season alive for little ones. BONUS: You'll get to see the kids when they were wee ones. Happy clicking!
An Advent Tea
Preparing Our Hearts and Homes (Advent Traditions)
Advent crafts (shell angels, felt napkin holders, poinsettia princesses, etc.)
Advent Smörgåsbord
Recipe for Baby Jesus Birthday Cake (more for the Christmas season obviously)
Handprint angels
Feast of Our Lady of Guadalupe traditions
Christmas card placemats
Tips for hosting a cookie swap
Cookie Swap recipes
Feast of St. Nicholas traditions
Explaining the symbolism of the Advent wreath to children
This isn't going to be a lengthy recap or review of Sunday's Half. It's more of an ode to my body for taking me across that finish line and allowing the strong spirit within me to give me a 1:44 finish time even when my injured leg/bum (dealing with piriformis syndrome and possible minor hamstring strain) was hollering at me to just please stop.
At mile 10, I knew for certain that my sciatica nerve is involved as the physical therapist and some other medical folks (and fellow runners) suspected. My entire left leg started to feel numb from right below my butt cheek (sorry, no other way to explain it) all the way down to my calf. The left side of my rear hurt, too, and was angry at me for most of the race. But I kept on going on and weirdly enough I couldn't stop smiling.
There were four very specific moments when I found the strength to push harder. One was when I saw my husband, four kiddos, and my dad (my mom was on her way back from a pilgrimage to Medjugore; she said Mary would be running with me). They were cheering me on near mile 4. They were also at the finish line, but I missed them. I was too busy urging my heavy legs to keep moving. In my previous half and in most past races from my long-ago running life, I could count on a strong finish. But not yesterday. I definitely felt depleted at the end, but that's okay. About three weeks ago I thought I'd have to sit out the entire racing season. And I can still walk today. Sitting is another story. Ouch! It hurts.
Later around mile 7 or so, I saw a young man cheering us on from a wheelchair. I don't mean to go all banal on you, but I thought to myself, "He can't even walk and here I am running. I am so stinkin' blessed. I'll run for him."
Then at that mile 10 marker when the weird tingly, numbness started and my leg felt like it might just give out under my weight, I thought of two very important people in my life. First, my mom with her buttery blond hair and her infections, slightly off-kilter smile popped in to my mind. Yes, she's had horrible sciatica, too, where it hurt to sit all of the time (mine is fortunately caused by muscle inflammation rather than a back problem). An invasive back surgery helped, but it's returning again. Then there's the atypical trigeminal neuralgia (AKA the suicide disease). Every single day her face feels like it's on fire, but she keeps smiling, hoping, and looking beyond herself to minister to others – so much so that you forget that she lives with chronic pain.
Next, I thought of my little brother, who has constantly teased me in my life for not being much of an athlete in a very affectionate way (he got all the natural talent; I just have the grit). For the record, he did text me a congratulatory, post-race note that referred to me as his "athlete sister," and I felt like I'd finally arrived. Well, he's had a medical ailment that's required two surgeries, one of them recently. Two days after his surgery he landed himself in the ER because a blood vessel had broken. He lost a pint of blood. I called him and as soon as he answered, I started to cry. I know, I know – not too cool to be calling to offer support and to just start losing it. He immediately began to comfort me and said he was going to be just fine. He is so strong. Ironically, his injury also renders his bum painful, so we've been making a lot of pain in the you-know-what jokes lately. In fact, the Athens race's slogan is "Run Your Ath Off." Well, I was worried there for a minute that I might literally do just that!
The final moment I urged my body on was when I saw a great, past professor of mine near the end of the race. I'd been contemplating walking, fearful that I might trip because I was losing feeling in my left leg. Well, she called me out by name, and I knew I had what it takes to go all the way. Later she said I didn't look like I was hurting and that I had a big smile on my face.
There was a lot of smiling today. (There were plenty of grimaces, too. Trust me.)
And I was most definitely not smiling so much after the race when I plunged into an ice bath per medical advice. This has been shown to reduce inflammation and help with recovery. It's also been shown to turn your lips a nice shade of Smurf blue and be more painful than actually running a whole lot of miles in a row.
But there were two reasons I subjected myself to this form of torture (next up was foam rolling with this
, which definitely falls in to the hurts-so-good category).
#1 I want to show my body a little TLC. I get frustrated that I've been more injury-prone lately, or I can't go as quickly as I want and believe I have the potential to do, but I refuse to fall in to the trap I once did of punishing my body or using racing as another thing to control or to serve as a measure of my worth. Crazy lady that I am I'm tempted to lace up my running shoes tomorrow and hit the pavement, but I'm going to take it easy and see what the PT says on Wednesday. I'm going to stretch and ice a whole lot and work on my core. I'm going to focus on being kind to my body. I do have lofty goals for myself. I've never really engaged in smart, purposeful training. I just run a decent amount of miles at a conversational pace but after today, I have this drive to marble in some speed workouts and more challenging runs into my workout when my body is ready. Technically, with this injury I'm supposed to run slowly and avoid hills. Today was a fairly hilly course, so I need to see how I feel in a few days. I'm not going to get all futuristic (or fatalistic, for that matter) like I frequently do. First things first. I need to heal. I need to pamper this tired, aching leg and bum of mine.
#2 I am in this for the long haul. I want to be running for a really, really long time. I can't tell you how much it's lifted my mood and at a time when I wasn't even aware that my spirits needed a little lift. It can be very spiritual, too. I didn't have a profound "religious experience" today, but I did see a t-shirt that said "I can do all things in Christ who strengthens me," and that definitely became one of my mantras (so did: "You've given birth naturally four times, and this is easier than labor," and "The faster you run, the sooner you'll be finished."). I did have some pretty moving moments during my first half last spring, and I definitely did during a marathon I ran way back when.
Running has also been a way to connect in a very meaningful way with other people. It has been so much better for me than just hanging out in Blogland. I want to be meeting new runners and, of course, gathering my peeps together for years to come. I've joked about making us over-the-hill running shirts one of these days, and I can just see us plodding along when our kids are all grown up. For today I want to inspire my kids to be healthy and to love and respect their bodies, and to also use them to give glory to God. Someday I want to inspire my grandchildren.
Although I would have loved to have been off having an alcoholic beverage or at least gorging on a big plate of delicious food with friends during one of the many post-race celebratory gatherings, for these two very important reasons I jumped in to ice cold water instead. And if I'm completely honest, I may have an inner sadist.
Before morphing into an ice cube, it was good to be with my family and to eat my husband's delicious omelet that was studded with onion and jalapeño bits and filled with cheese. Usually, we have other veggies on hand like bell peppers and spinach, but our cupboards are bare right now. I couldn't believe how good it tasted just with the spicy bits. Maybe I was just really hungry after burning roughly 1,300 calories.
My sweet 8-year-old Madeline is a very loyal fan and said encouraging things all day. Both she and 6-year-old Rachel picked flowers for me and offered them as gifts. They were worth more than any medal, although the medal for this race was gorgeous. We're thinking of running a Thanksgiving fun run together. Rachel, in particular, seems to have caught Mommy's running bug.
I know I started this blog as a mom blog or really just a writing outlet for me. Then it became a place to share my faith (or lack thereof), work out my mothering dilemmas, post only the most flattering pictures of my precious progeny, and hopefully along the way it served as a way to encourage other moms or at least to let them know they're not the only ones who hide in the bathroom for some alone time. Eventually, I admit that it became a source of angst. I've found some balance now even if I've lost a big chunk of readership and am likely boring a lot of my readers with my reflections on running. But all along, I've always tried to offer an authentic glimpse into my life and into me. That hasn't changed and never will. I'm not sure where I'm headed or what I'll be writing about next week, two months from now, or three years from now. As one of my running peeps texted post-race, it's great to share this one experience, but what's greater is to share the everyday moments. She wrote, "It's the journey, not an event…" Thanks for coming along on this zigzagging journey with me.
I thanked my past professor for her awesome encouragement and how it made a big difference for me and that the spectators really made the event. This is so true. It's the people who support us along our journey who really deserve the medals. The husband who makes me an omelet on my long run days to refuel me. It's the kids who scream, "Go, Mommy!" and brave the cold, fall morning for me. It's the grandparents and the little brother who listen to my whining when I've had a setback. It's the friends who send me encouraging texts, emails, or messages via this blog. It's all of you who have read through this long-winded, meandering post that I claimed in the very first sentence was not going to be long (ha!). Thanks for cheering me on and sticking with me.
I feel very, very blessed right about now.
Oh, and I just have to give a shout out to my running peeps. One was MIA because she had a wedding, but the other two rocked the half! R (on the far right in the picture above) had a finish time of 1:39 and placed 9th in her age group. L (in the middle) was shooting to come in under two hours. She ran the half last time and has said it was a very difficult experience, but she came back and she was amazing! She finished smiling today with a time of 1:53. You go, girls!!!
Next up, the Kiawah Half! I'm very excited about this because my family is sharing a house with one of my besties and her family for the whole weekend.
–
I'll end with a random shot of my littles that just makes me smile because it captures one of those candid, unplanned moments where my kids are just being kids, and Thomas is in his superhero stance ready to take on the world.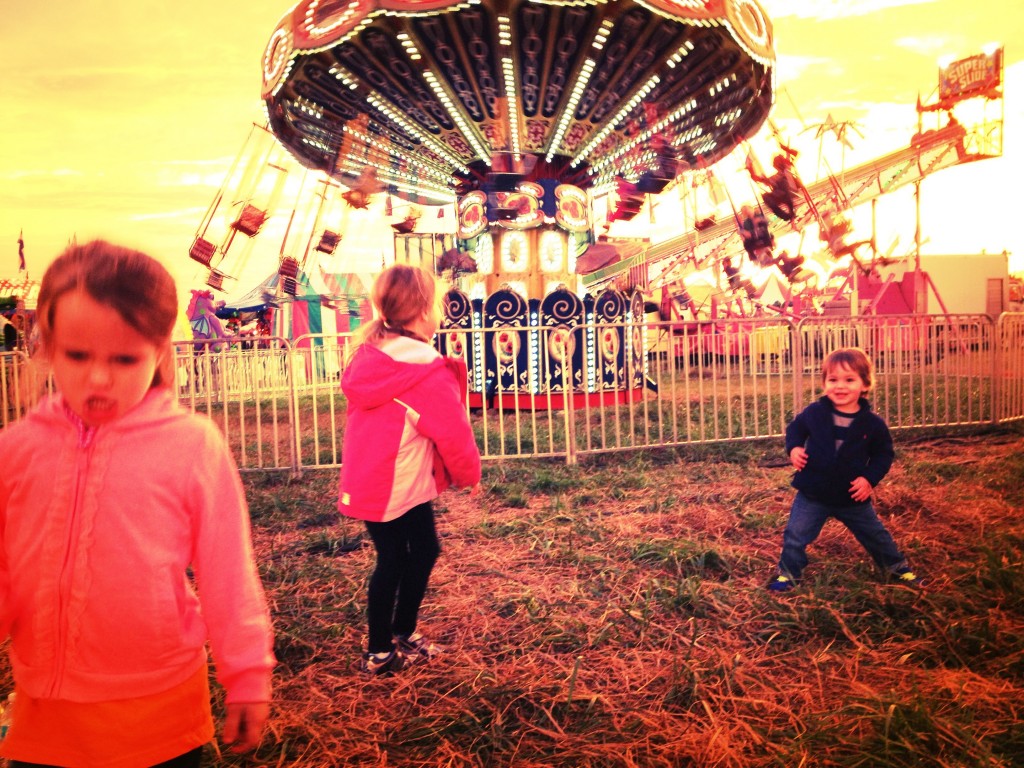 (We went to the fair on Saturday night, and I had the worst possible pre-race meal ever – funnel cake and some popcorn – so I'm thinking aside from more mindful training, I may need to work on my sports nutrition!)