I love St. Valentine's Day. I love having an excuse to lavish my family with love. I don't mind them doing it in return for me either. I was the grateful recipient of roses and handmade cards.
We didn't do anything extravagant. Dave and I were able to sneak away for a quick dinner. We came home, and I sipped some crisp and sweet Riesling that was easy on the wallet. (Thank you for the recommendation, A.P.!)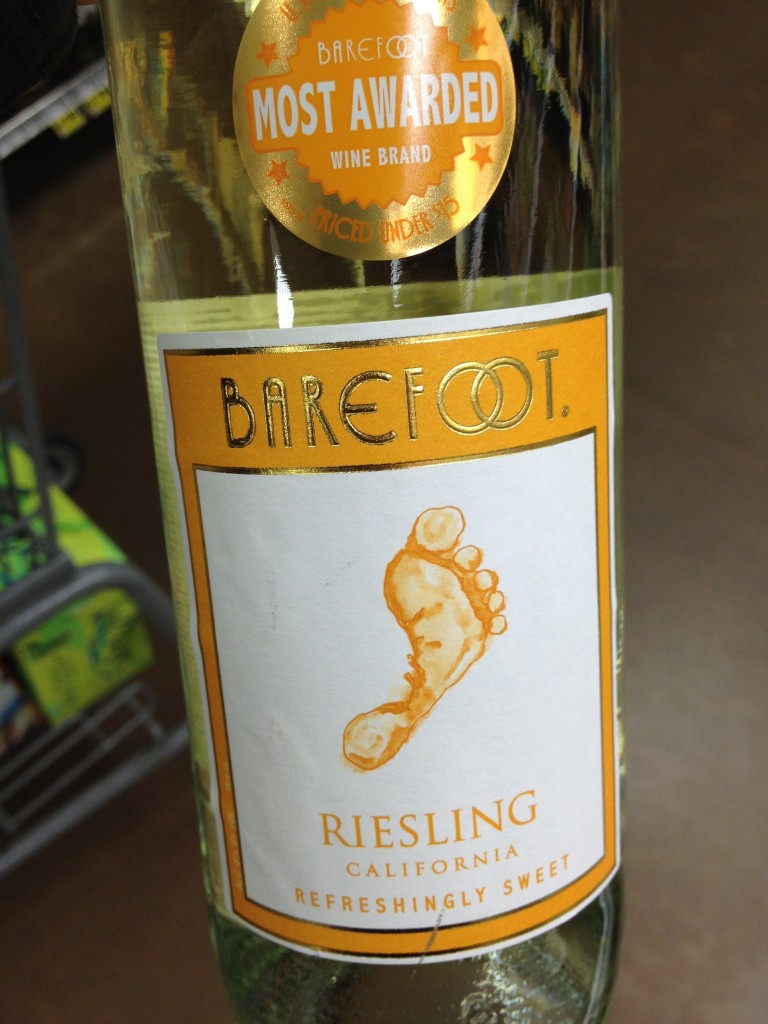 The girls and I made Daddy Chubby Hubby Bars.  He likes to have a few unhealthy snacks on hand for his late-night snacking. His mutant metabolism allows him to eat like every day is Valentine's Day. For the rest of us, it's a big treat to nosh on so many sugary delights. We all had a Chubby Hubby Bar for dessert. Oh my goodness. These ooey-gooey slabs of deliciousness made me swoon, especially when I dipped them in my coffee. Yes, I ate them for breakfast yesterday, too. It was a holiday – a delicious one at that.
I read Saint Valentine by Robert Sabuda
to the girls, and we discussed the mosaic artwork. Then the girls made their own simple mosaics using foam squares I'd cut up for them.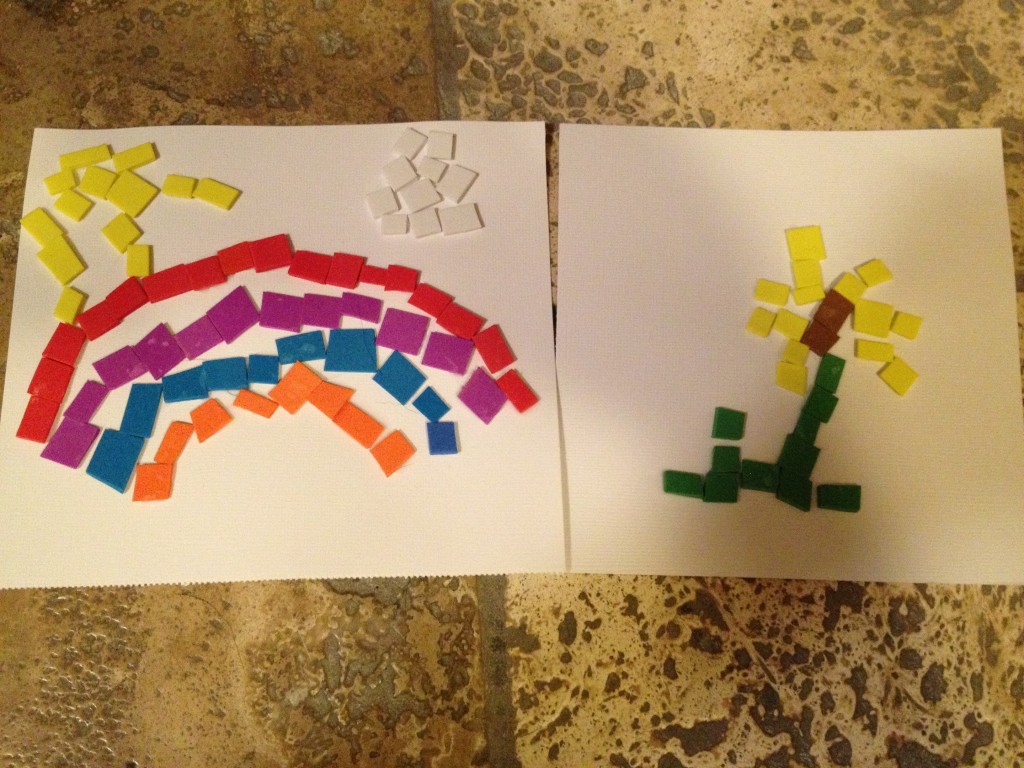 For lunch there were heart-shaped fried eggs in whole wheat bread slices.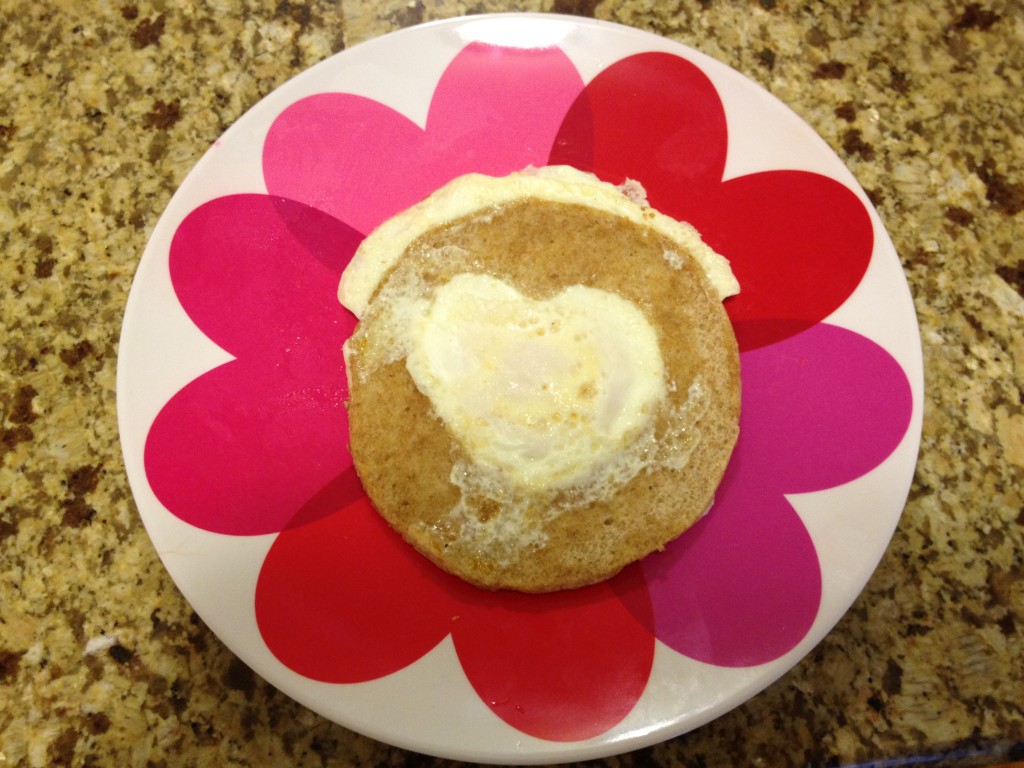 We shared the Valentine's Day sugar cookies we made with our elderly, sweet-loving neighbor.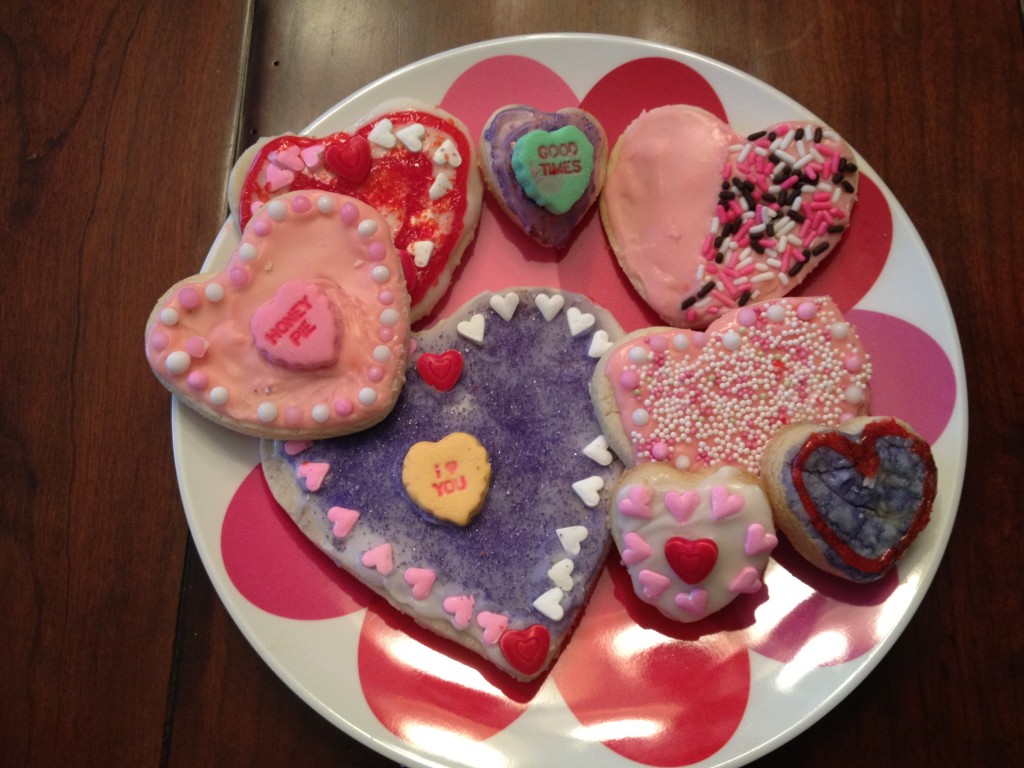 And this love bug with her big-girl haircut made me laugh.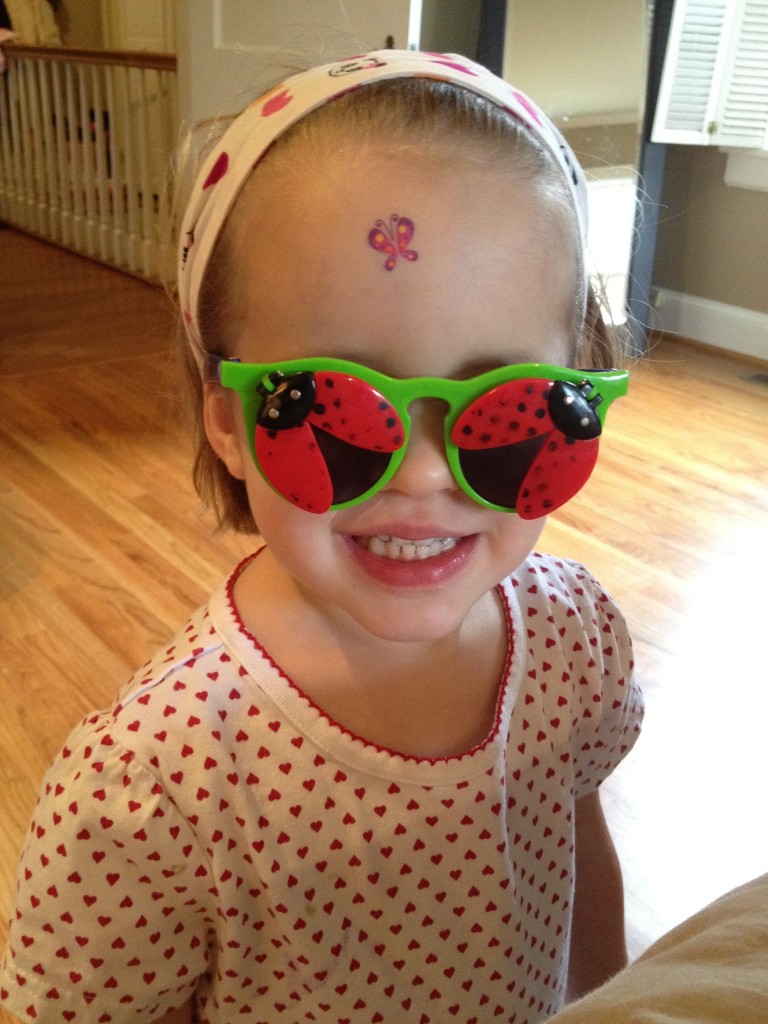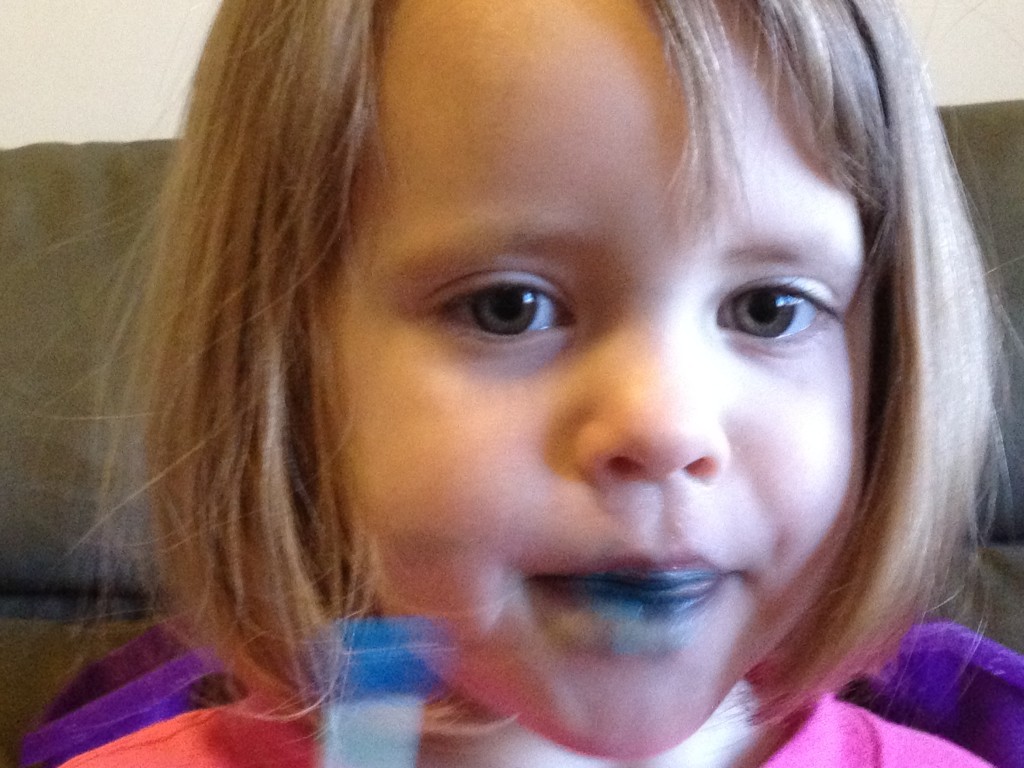 It was a LOVE-ly, sweet day.
I took Let's Take the Metro's Gratitude Challenge and made a list of 100 things I'm grateful for in honor of Thanksgiving. I didn't self-edit. I just allowed whatever popped into my head to come out and listed the blessings in that order. So here's my list, uncut and authentic. Happy Thanksgiving to all of you. Know that I'm very grateful for each and every reader who stops by my little corner of cyberspace. Why not drop me a line and share what you're thankful for this Thanksgiving?
Baby feet
Little girls' voices
Happy, wet dog noses
Fuzzy, sweet peaches
How my 2-year-old pronounces "toothpaste" like "poopaste," and asks me to put "poopaste" on her toothbrush
Old-fashioned notes, gifts of time, and thoughtfulness
Coffee
Birthday celebrations
Pumpkin Crunch (the girls and I made this dessert to bring to Nana and Pop's, where we will be celebrating Thanksgiving this year)
 Toasted bagels topped with peanut butter melting into creamy pools
 Friendship
Empty hampers and laundry baskets
 The smell of a new book
 Solitude
 The funny things my kids say
Manchego cheese
The fact that nearly every night my 4-year-old says she's thankful for "picking flowers for Mommy."
This dress from Shabby Apple, which I'll be wearing to my husband's Christmas party for work, thanks to a gift card:
Delicious rolls (the kinds on babies, not the kind that comes out of an oven, although those are good, too)
The smell of lavender
The color blue
A hot shower
At-home date nights
Matching socks
Breaking a sweat
Pen pals (Angela! Ava! Enzo! Miriam!)
Dark chocolate
Baking with my girls
 Spontaneous hugs
Nursing and my generous milk supply
Quiet
My husband's jawline
Evening walks
The season of Advent
 Tea time
Babies, fresh out of the bath
My Kitchen Aid Mixer
My Ergo
The snuggly baby that fits so nicely into the Ergo
Story time with my girls
Words
 Holding hands with my toddler
 Pigtails and pony tails
 The de-tangling spray that makes pigtails and pony tails possible
Good health
 One amazing husband
All our extended family
Lazy mornings
Creativity
Granola Read more
I recently wrote a letter to my 4-year-old birthday girl, and we actually had her family party a little over a week ago, but I'm just getting around to sharing party details.
When I told Rae we'd be having a little family birthday shindig and that she could pick a theme for it, she immediately requested a ballerina party. But when she saw a tiara pinata at Hobby Lobby, we decided to combine a princess and ballerina theme. (My girls are really into pinatas.) She asked her Gaba to wear pink to her party like her, but she wanted a pink and purple cupcake. Birthday princesses can get away with being persnickety.