Whew. Life has been busy. How does any mom find time to blog? I don't know how I used to do it so regularly. I really don't. This has been one crazy summer. Summer break? Ha. More like the summer of stressful situations. But enough about that. I might vent one of these days but not right now. Let's talk about food today because I love to eat, and I'm in the thick of meal planning as I prepare for another busy soccer season coupled with our first experience with sending the kids to school-school (as opposed to homeschooling). Speaking of school, my 8-year-old sighed heavily the other day and said, "Only three more days until captivity." So I guess she equates homeschooling with running wild and free and school with imprisonment. Sigh. I've had butterflies all week and am 34 years old, so it's not surprising that she's approaching this new chapter with some trepidation. My 6-year-old, on the other hand, is thrilled doing the school thing. We all did have fun back-to-school shopping. It brought me back to my school days. Oh, how I loved collecting my new pencils, a fresh box of crayons with pretty points, and a super-cool Trapper Keeper (anyone else remember those?) each year.
But, anyway, I thought I'd share what I've been eating during these hot, humid, and rainy days here in Georgia. Although I love the freshness of produce during the summer, I don't enjoy cooking as much because I hate to turn on the oven when it's 90 degrees outside. We eat a lot of cold salads during the summer. I take advantage of nature's bounty but avoid making the kitchen any hotter than it already is.
Not too long ago I made some Greek chicken wraps that everyone seemed to like. My girls are crazy about olives (Kalamata are their favorite variety), and they're also very fond of feta. This might make them odd. I don't know but if your kids aren't as in to strong flavors like feta and olives, this might not be as much of a crowd-pleaser. I adapted the recipe from a recent Family Fun article. The photo below is actually the leftovers, which I turned into a delicious salad. I topped the leftover fillings for the wraps with some of tzatziki sauce. Delish!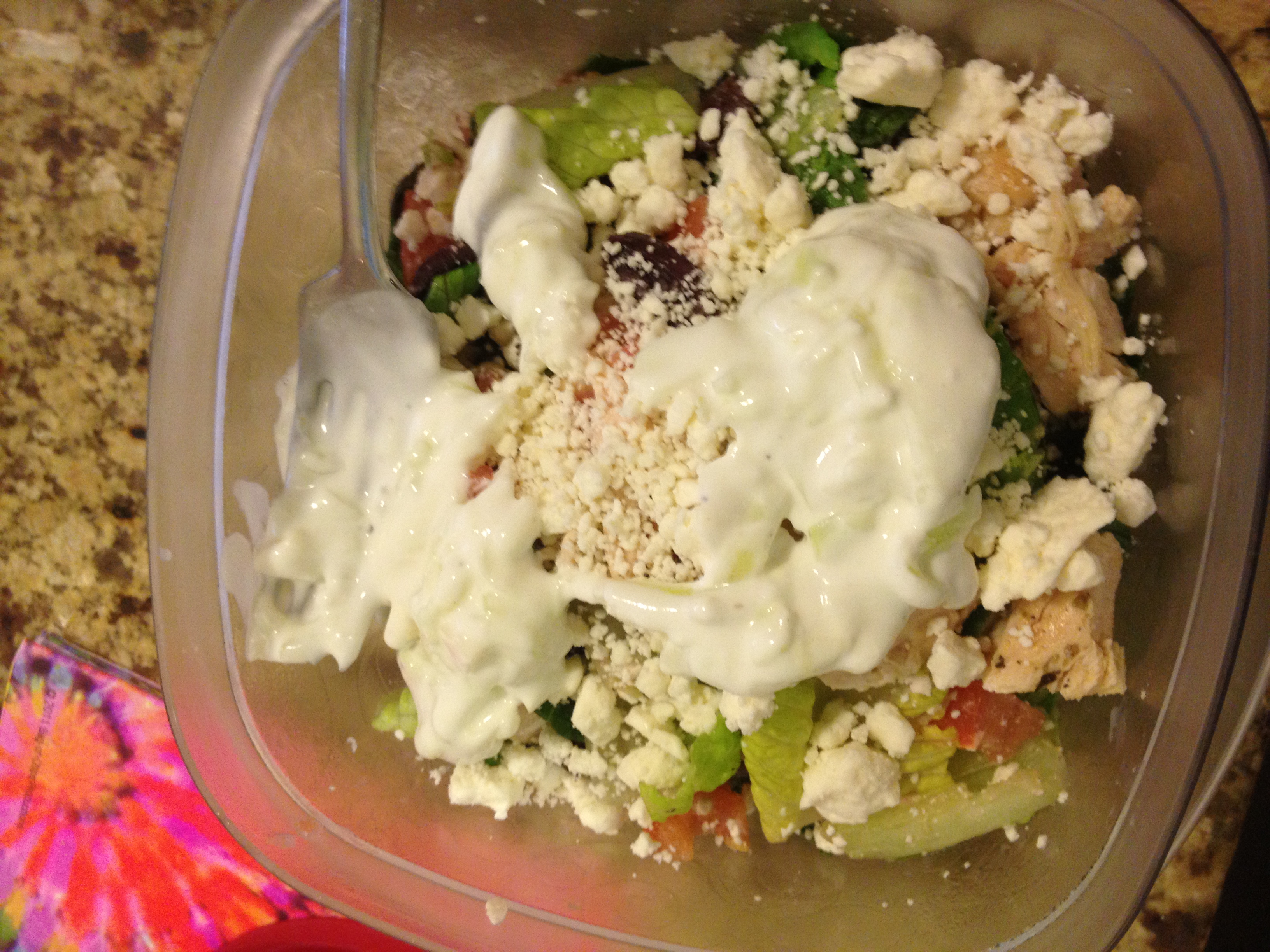 Greek Salad Chicken Wraps
Adapted from Family Fun magazine, June/July 2013
For the chicken:
2 tablespoons olive oil
1 ½ pounds chicken tenders or chicken breasts cut into strips
1 teaspoon oregano
½ teaspoon salt
¼ teaspoon pepper
 For the tzatsiki:
1 cup plain Greek yogurt
½ cucumber, peeled and grated
2 teaspoons lemon juice
1 clove garlic, minced
¼ teaspoon salt
Dash of freshly ground pepper
For the salad:
4 cups of romaine salad, torn into bite-size pieces
2 tomatoes, diced or 2 cups halved grape tomatoes
1 cucumber, peeled and thinly sliced
½ cup pitted Kalamata olives
½ cup crumbled feta
2 tablespoons lemon juice
¼ cup olive oil
¼ teaspoon salt
1/8 teaspoon pepper
tortillas
Heat olive oil over medium-high heat. Sprinkle chicken with oregano, salt, and pepper. Saute in olive oil. Cool chicken on plate.
Mix tzatsiki ingredients in a medium bowl. Refrigerate until ready to serve.
Combine ingredients for salad in a large bowl. Toss together and season with more salt, pepper, and/or lemon juice if necessary. (NOTE: The original recipe called for mint and scallions, but my kids haven't liked the strong taste of mint in other recipes, and I have an extreme onion-hater in the family so I typically stay away from scallions or add them to my meal after I served the rest of the family.)
Drizzle tzatsiki sauce over each tortilla. Then top with salad mixture and then chicken. Roll wraps and cut in half before serving.
I also recently made a salad from one of my favorite cookbooks called Saving Dinner: The Menus, Recipes, and Shopping Lists to Bring Your Family Back to the Table. I've recommended this book to several friends who want to get started meal planning but aren't sure where to start. The book is divided by season – winter, spring, summer, and fall and shares weekly meal plans, including the recipes and shopping lists. I've never tried to follow the book exactly or even adopt a whole week's worth of meals, but I frequently use recipes from the book and love how it's divided by season and uses ingredients that are cheaper and fresher during the particular season. I made a delicious and filling layered salad recently that no one complained terribly about and that I personally loved. Picky kids can pick out what they like from the salad. There's something for everyone. Best of all, I got to gobble up the leftovers along with a side of watermelon and homemade whole wheat bread for lunch after a long run (pictured below).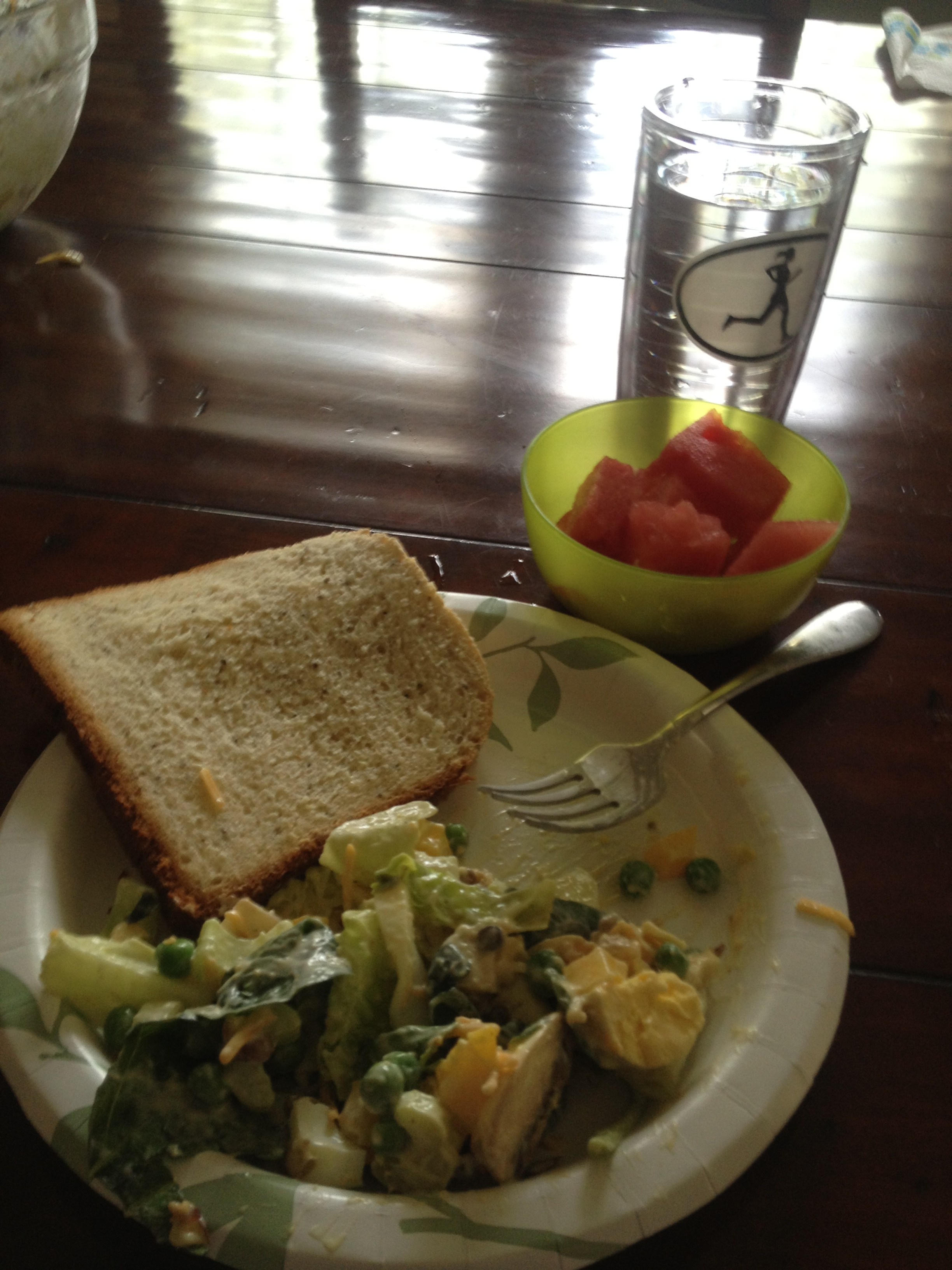 Mega Layered Salad
1 head of romaine lettuce, chopped (I actually used some romaine and some spinach leaves)
½ cup celery, chopped
½ cup red bell pepper, chopped
1 ½ cups sliced mushrooms
1 ½ cups frozen green peas (don't thaw; they added a delightful crunch. Next time I think I'll use frozen shelled edmame since my kids like it better than peas.)
2 eggs, cooked, peeled, and quartered
2 cups, canola, omega mayo*
2 tablespoons brown sugar
½ teaspoon garlic powder
½ teaspoon curry powder
A few handfuls of grated cheddar cheese
A few handfuls of sliced almonds
*A friend asked me if I thought I really needed 2 cups mayo. I did end up using almost 2 full cups of the healthy-ish omega mayo, but I kept tasting it to be sure since I'm not a huge fan of mayonnaise. I also plan on substituting some Greek yogurt for the mayo the next time I make the salad.
I also had leftover shredded chicken, which I tossed into the salad.
Layer ½ of the lettuce. Follow with a layer of celery, bell pepper, green onion, mushrooms, peas and egg, and then top with remaining lettuce.
Whisk mayo, brown sugar, garlic powder, and curry powder together to make dressing. Spread evenly over salad. Top with cheese and almonds. Cover and refrigerated until ready to serve.
We also recently made Chewy Energy Circles from Salad People and More Real Recipes: A New Cookbook for Preschoolers and Up. This is a new cookbook my 6-year-old received from her "awesomest" pen pal for her birthday. The cookbook is associated with Moosewood Restaurant folks. Another one of my favorite cookbooks is the Moosewood Restaurant Cooks at Home: Fast and Easy Recipes for Any Day. My husband went to Cornell for undergrad, and I'm so jealous that he's actually eaten at the Moosewood Restaurant. I really want to make it there one of these days.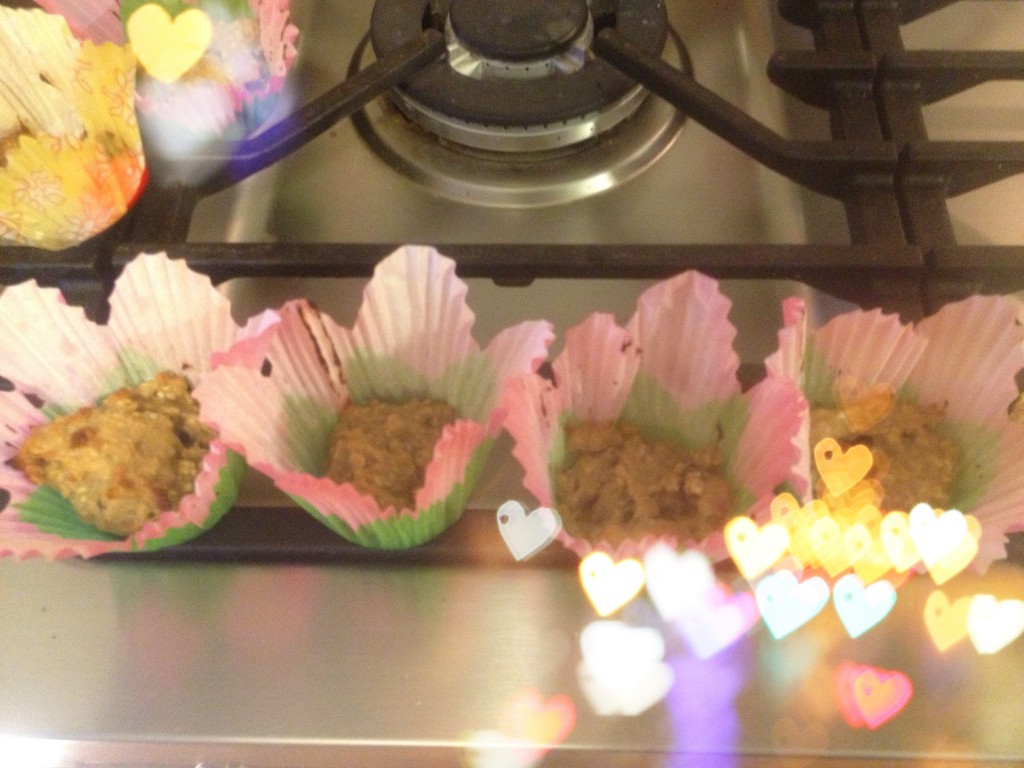 The oven was required for this one, but the added heat was worth it. I adapted the recipe slightly (replaced some of the white flour with whole wheat flour to make it even more wholesome), and the circles were a big hit for my kids and some friends we had over for an afternoon water balloon party. They were easy for little hands to help make and delicious. I'm always on the lookout for snacks that can replace processed foods like packaged granola bars, and these hit the spot.
Chewy Energy Circles Recipes
Adapted from Salad People

½ cup whole wheat flour
½ cup unbleached all-purpose flour
¾ cup Spiru-Tein Vanilla Spirutein (original recipe called for any soy protein powder blend; Spirutein has been my favorite since college)
½ teaspoon salt
2 cups rolled oats
½ teaspoon cinnamon
2/3 cup brown sugar
½ cup chopped dates (original called for raisins, but I had dates on hand)
1 ½ cups vanilla yogurt (I think next time I'll try  plain Greek yogurt; I think they will be sweet enough without the added sugar in the yogurt)
¼ cup canola oil
Add a dash of love (notice those sparkly hearts floating around the Energy Circles?)
Preheat oven to 375 degrees. Spray 24 standard-size muffin tins with nonstick spray or use cupcake liners. Combine flour, Spirutein, and salt in large bowl. Add oats, cinnamon, brown sugar, and raising. Let the kids mix dry ingredients together with their eager (and clean!) hands.
Blend yogurt and oil together. Add wet ingredients to dry mixture. Either use an electric mixer or little hands to completely combine the ingredients.
Place about 1 1/2 tablespoons of batter in each muffin cup and pat into place. Bake for 12-15 minutes or until brown around the edges. Transfer to a rack and allow to cool for 10 minutes.
I'd love to hear some of your favorite summer recipes. I'm particularly interested in creative, healthy, and less processed food from those of you who pack lunches for your kids. We've come up with ideas like hummus and veggie wraps, cold pasta salad, and Greek yogurt and honey dip. We usually mix plain yogurt with peanut butter for a delicious dip for apple slices and carrot sticks, but no peanut products are allowed in my first grader's class.
Happy eating!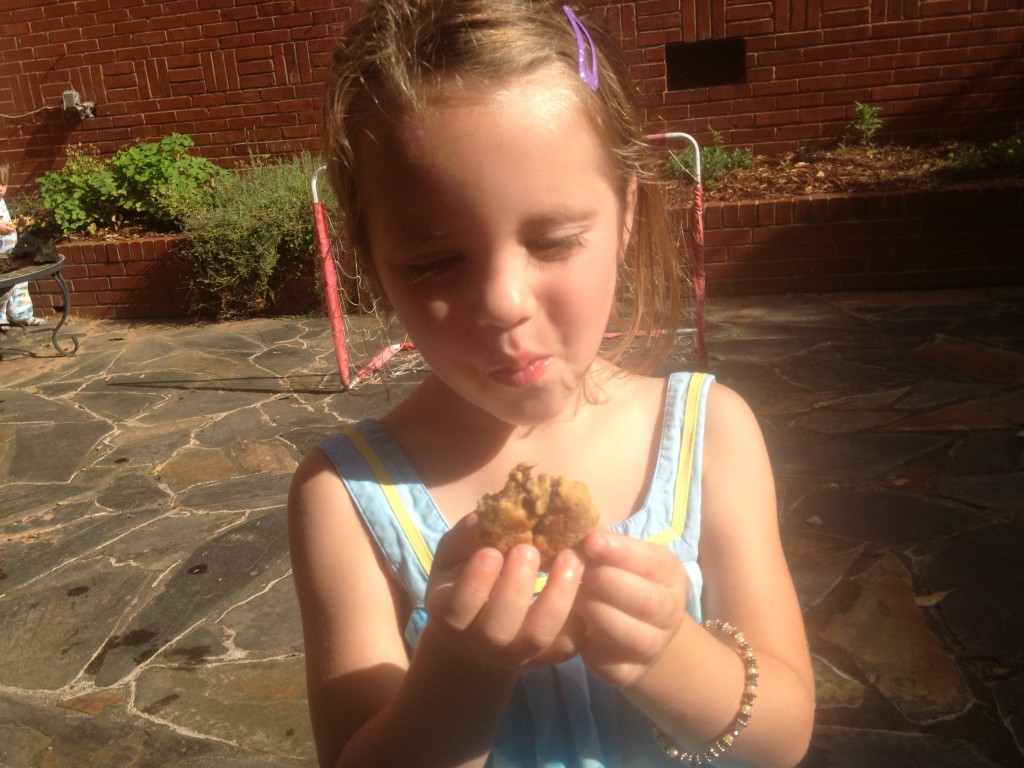 So I witnessed something strange the other day. I was unloading groceries from our minivan when a pickup truck came roaring down the street. Three large flags – including a rebel flag – were proudly pitched int the truck bed and were flailing in the wind. The tricked-out truck screeched to a stop in front of our neighbor's house. I watched a young man in a t-shirt with its sleeves torn off step out of his vehicle and amble over to our neighbor's yard. He crouched down and when he straightened back up, he had a huge, black snake in his hand. I figured he was going to toss it somewhere away from the road since it was likely a king snake or some other harmless species. But, no, he walked over to his truck, held it up, examined it, and then climbed into the cabin along with his new friend.
I've been wondering ever since if this hapless reptile was about to be his new pet or his dinner's main dish.
I need some advice. I really don't know how to do the whole chore thing with my children. I've been struggling in this department for some time now and have been wondering if I need charts or something to get all of us more organized and in more of a routine when it comes to keeping home.
My kids (other than my hippie 3-year-old and the baby, of course) are fairly good at cleaning up their toys, but they constantly forget to make their beds and I haven't been terribly good at establishing other habits like sweeping after meals, etc. I honestly don't know where to start, and sometimes it's just easier to do it myself. However, each child is a part of this family and needs to have an age-appropriate way to contribute to the household. I don't stand by this belief simply because "many hands make light work," but because giving children responsibilities as well as imparting the confidence in them to uphold these responsibilities helps build character.
Long story not-so-short, I want mandatory chores to be a routine element in our days, but I don't know if we need charts or what a realistic expectation for a 7-year-old might be. My husband thinks my oldest should be responsible for vacuuming the entire main level of the house every day. That seems a little much to me, but sweeping the kitchen after each meal, making her bed, and helping to set and clear the table seems reasonable. Your thoughts? How do you make daily chores become more habitual? Do you use chore charts with your younger children – or even your older children just to keep them on track and organized?
A Wicker version of QTs would not be replete without me sharing something funny one of my kids said. We were discussing the seven corporal works of mercy – that is, seven ways to minister to the bodily needs of our fellow human beings like clothe the naked and feed the hungry. My 7-year-old and 4-year-old both wanted to recite them by memory. After they did so, Mary Elizabeth, 3, said she wanted to do it, too.
"Okay, baby, go ahead," I said.
"Um," she said, her green eyes glinting with confidence. "Marry the dead."
All of us cracked up.
"You mean BURY the dead," her sisters corrected.
My sweet, girly-girl Mary Elizabeth, always the romantic.
I've said before I sometimes feel like a movie star. My oldest is the paparazzi, taking random photos of me when I'm engaged in ordinary tasks. And everyone wants to sleep with me – including our dog. Oh, and I've got my little entourage that follows me everywhere I go. Sometimes I just want to be alone. But other times, like the other day when I was primping and had two fawning admirers, I feel glamorous, adored, and grateful for my very loyal fan club.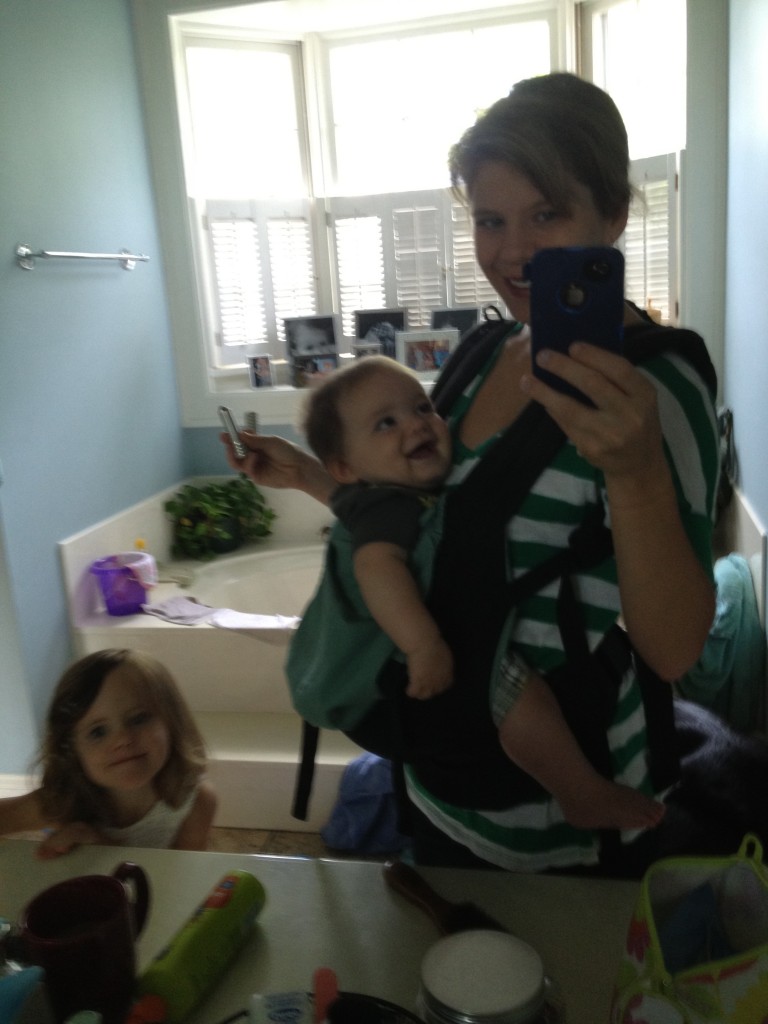 I want to thank everyone for their support of my posts – especially this one – following the outrageous Time cover. I had no idea that what I wrote would go viral. Although I was very grateful something I wrote resonated with so many people and was equally grateful for some of the charitable discussions the post encouraged, it did become difficult for me to not be distracted by the hubbub – to remain unattached to it all and attached to my family.  That said, I love my readers – new and old alike – and I cherish every word you write to me even when I'm unable to respond. So thank you for being here. Thank you for encouraging me. And thank you for sharing and letting me know when something I've written has touched you. And thank you for understanding when I don't personally respond to a note or comment you've gifted me with.
So long as I'm thanking folks for things,  I want to tell you how much I appreciate you looking past the innumerable typos and blunders I seem to make in every single post these days. Sheesh. Sometimes I wonder if I this tired mush of a brain of mine has any business at all participating in weekly word slinging. If I can't put perfect, typo-free posts out there, then maybe I shouldn't write at all. I really have had these thoughts. And not just about blogging. But if my aim is perfection, then I might as well just stay in bed.
Which reminded me of what a friend of mine recently told me. She said God isn't waiting around to watch our fall. No, He doesn't scrutinize the falling at all. What He pays attention to is the rising.
Isn't that beautiful?
What are you going to do with your messy self? What do you do after you do what you promised you wouldn't do ever again or when you commit the same sin you've confessed repeatedly? Do you stay down? Do you stop trying? Or do you rise and try again and believe in God's goodness as well as your own?
Please join me in congratulating Bonnie of Learning to Be a Newlywed on the birth of her daughter, Teresa Marie. And while you're at it give this mama some major kudos. Her baby girl weighed in at 11 pounds 9.5 ounces and was delivered completely naturally. As Dwija Borobia proclaimed over on Twitter, Bonnie is the natural birth MASTAH!
Have a wonderful holiday weekend! Be safe.
For more Quick Takes, visit Conversion Diary!
One of my most essential survival tactics in the trenches of motherhood is keeping a sense of humor. I have a post entitled "Laughing Matters" over at What to Expect where I share a true-life story of how I ended up laughing when I probably should have been sniveling.
Here's a snippet:
Recently, I had the brilliant idea to gather my four kids 7 and under and emerge from our safe hole where face crust and wearing PJs for day clothes is perfectly acceptable and meet a friend for lunch at a mall food court.

I tucked my 4-month-old into a baby carrier, held my 4-year-old and 2-year-old's hands, and asked my 7-year-old to not skip too far ahead, and entered the real world.

Lunch was not too catastrophic. My patient, generous friend helped out a lot when she wasn't busy juggling her own two littles.

We sort of caught up with one another in fragmented sentences. "So how was your Christm….Stop poking your sister."

"It was nice. How was…Watch out! You almost spilled your drink!"

Despite the constant interruptions, I was thinking it was nice to be out and about wearing chic clothes. No matter that I emanated Eau du Breastmilk – I felt almost human.

That is, until things started to get highly harried. Then I started to feel like I was morphing into a mommy monster.
My 7-year-old has a new obsession. Madeline can't get enough of Star Wars. There were some boys in her homeschooling co-op who were constantly talking about things foreign to her: lightsabers, Yoda, and Jedis. She asked what this Star Wars was all about. We shared our Jedi Master knowledge, and she asked if she could she the movies. We decided we'd allow her to watch the original trilogy as part of her birthday gift this past November. Now Madeline knows why the boys are such devoted fans. A day doesn't go by when she doesn't talk about the force, Luke Skywalker, Princess Leia, Darth Vader, or Hans Solo.
One of her aunts bought her this Star Wars t-shirt, and she wore it for my brother (a fellow Star Wars fan). He told her he loved the tee. She loved the Yoda nutcracker he received from my parents.
A few nights ago Madeline decided she'd make her Uncle Josh his own Star Wars t-shirt. Here's what she came up with: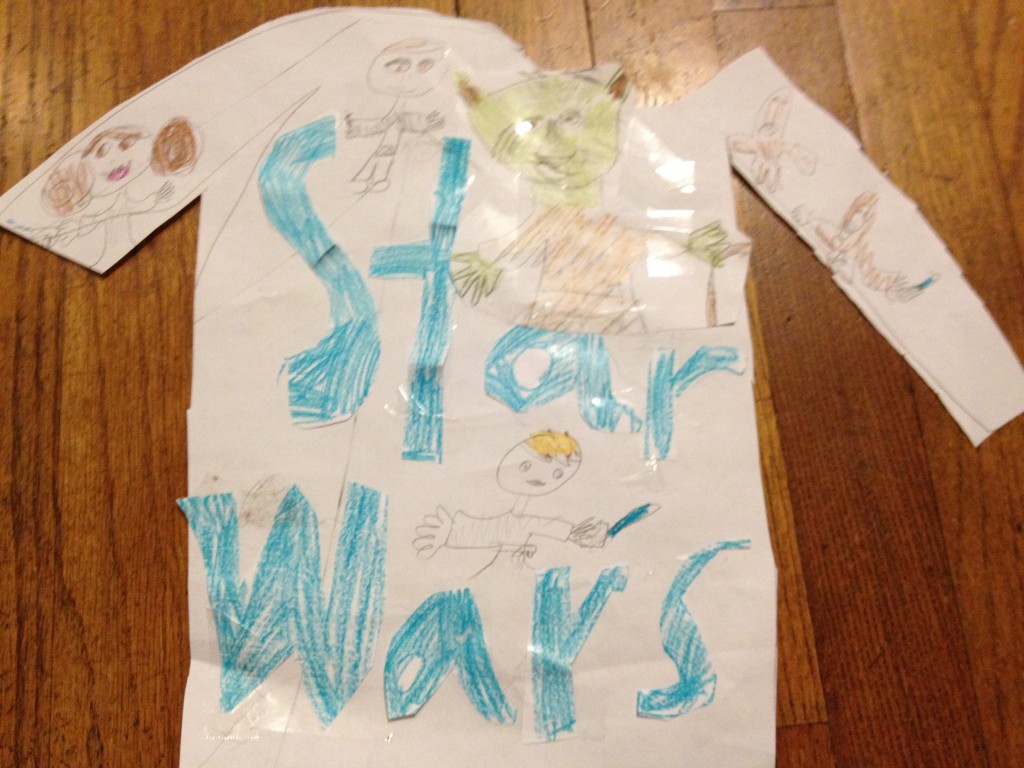 One of Madeline's new favorite pastimes is wielding the glowing lightsabers my parents gave her. (As I write this, she's playing with princess figurines while humming the Star Wars theme.)
When I gave birth to my first boy this past August, a lot of people told me I'd have a whole new world to discover. Funny, I think I've already started discovering it with my fiercely independent and confident girl – the same GIRL who had a dinosaur-themed birthday party this year and a pirate one last year. Madeline has never been afraid to like what she likes. I love that about her.
Another one of Madeline's interests is photography. She's psyched about a homeschooling photography class she just started. They're learning all about perspective, which I discovered when perusing photos she had recently captured with my smartphone.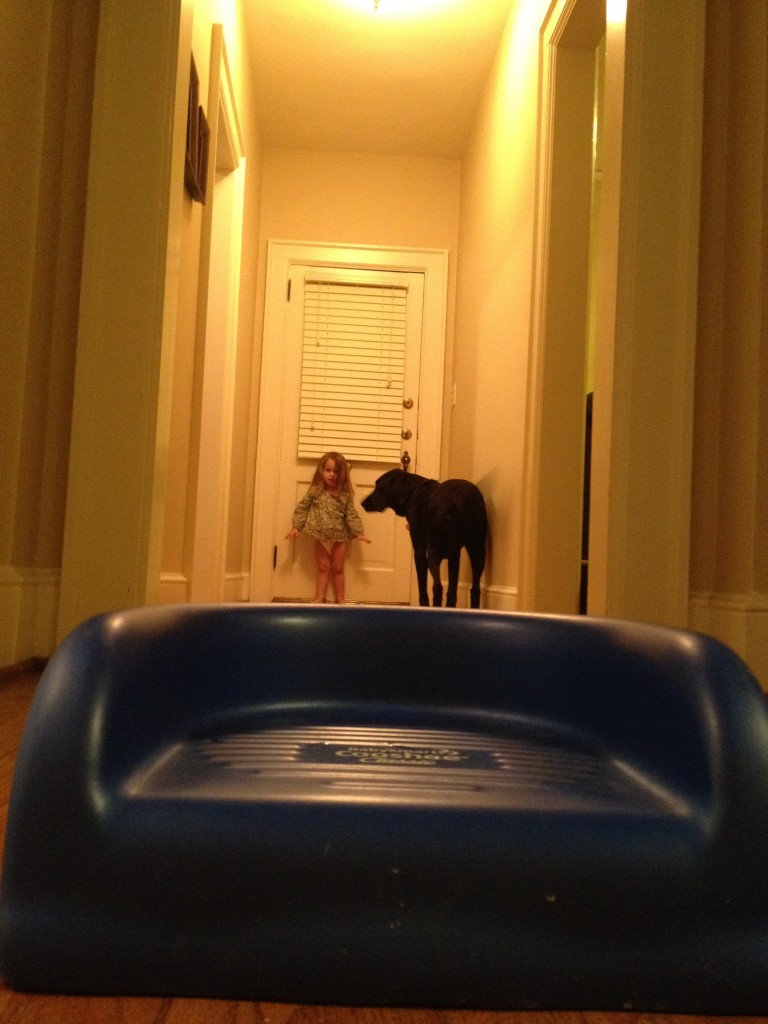 She explained that it's supposed to look like her little sister and our dog are standing on the booster seat. I got that and thought this was pretty cool.