I'm back to mom blog business as usual where I annoy you with sharing the silly things my kids do or say. Today I'm even featuring samples of my child's excellent homeschool education.
The Star Wars obsession is not letting up. Not at all as made evident by the doodles around Madeline's spelling work.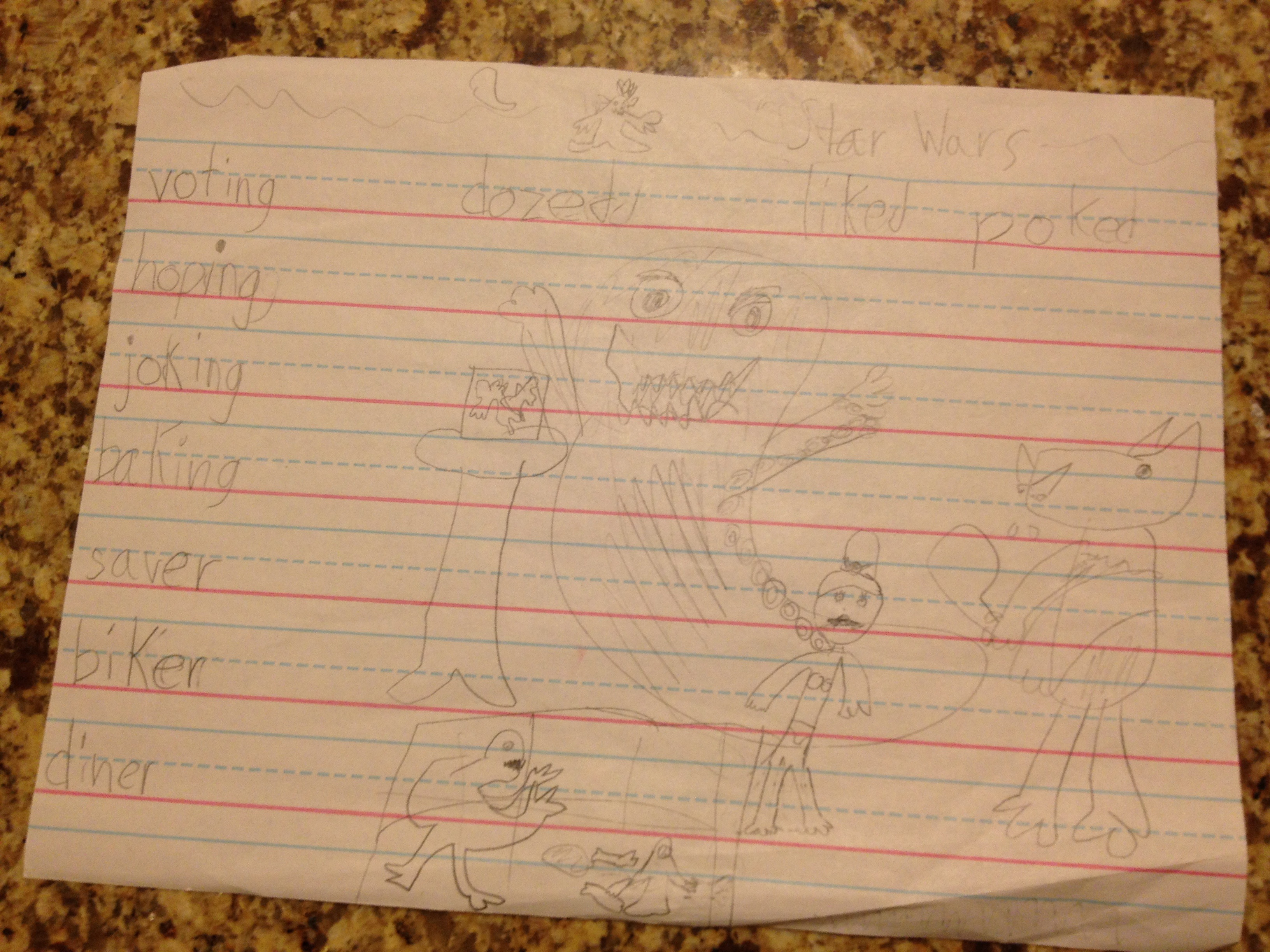 It's not easy to make out, but that's a grinning Jabba the Hutt.
Thomas, who is just shy of five months, has made his modeling debut.
7-year-old: Do you have a crush on anyone, Mommy?
Me: Yup.
7-year-old: I think I know who.
Me: Who do you think?
7-year-old: Jesus!
4-year-old: Yeah. It's definitely Jesus.
I actually had their daddy in mind, but I'll take Jesus as my main squeeze any day.
This exchange reminds me of the beautiful quote from St. Augustine:
"To fall in love with God is the greatest of all romances; to seek Him, the greatest adventure; to find Him, the greatest human achievement."
After one of Madeline's homeschool co-op days she confided in me that there was a little girl who some of the other children were excluding. Madeline admitted that this particular child didn't always listen well and that it wasn't always easy to be extra nice to her. I encouraged Madeline to stand up for this girl and to do her best to include her during their free play time and lunch.
Following her co-op this week, my daughter hopped in the van and immediately told me that she tried to be nice to this child, but she threw a carrot at Madeline during lunch. I explained that sometimes when a child felt excluded or was worried about fitting in, she might not act like themselves but that Madeline should still be kind even if the girl wasn't always nice in return.
"Love your enemies," I added, hoping to turn this into a lesson rooted in Scripture. But then I realized that this little girl probably shouldn't be thought of as an enemy just because she tossed a carrot at Madeline.
"Not that she's your enemy," I hastily added.
"No," Madeline agreed. "It's not like she's Darth Vader or something."
So much for a Biblical lesson.
The Star Wars obsession continues.
In fact, we couldn't resist buying these Yoda Robeez shoes
for Thomas, especially since they were on sale at Stride Rite.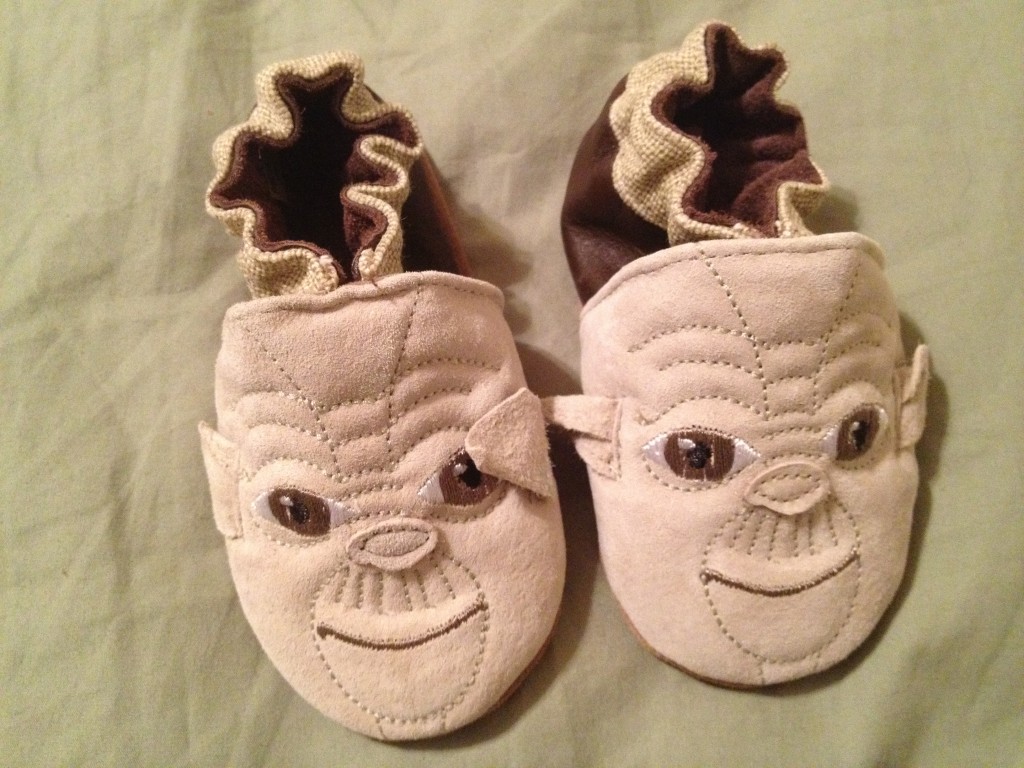 Then my uber talented sister-in-law made Madeline a Star Wars dress!
Here's a closeup of the pattern: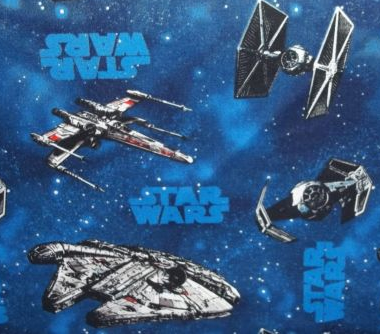 One of my most essential survival tactics in the trenches of motherhood is keeping a sense of humor. I have a post entitled "Laughing Matters" over at What to Expect where I share a true-life story of how I ended up laughing when I probably should have been sniveling.
Here's a snippet:
Recently, I had the brilliant idea to gather my four kids 7 and under and emerge from our safe hole where face crust and wearing PJs for day clothes is perfectly acceptable and meet a friend for lunch at a mall food court.

I tucked my 4-month-old into a baby carrier, held my 4-year-old and 2-year-old's hands, and asked my 7-year-old to not skip too far ahead, and entered the real world.

Lunch was not too catastrophic. My patient, generous friend helped out a lot when she wasn't busy juggling her own two littles.

We sort of caught up with one another in fragmented sentences. "So how was your Christm….Stop poking your sister."

"It was nice. How was…Watch out! You almost spilled your drink!"

Despite the constant interruptions, I was thinking it was nice to be out and about wearing chic clothes. No matter that I emanated Eau du Breastmilk – I felt almost human.

That is, until things started to get highly harried. Then I started to feel like I was morphing into a mommy monster.
My 7-year-old has a new obsession. Madeline can't get enough of Star Wars. There were some boys in her homeschooling co-op who were constantly talking about things foreign to her: lightsabers, Yoda, and Jedis. She asked what this Star Wars was all about. We shared our Jedi Master knowledge, and she asked if she could she the movies. We decided we'd allow her to watch the original trilogy as part of her birthday gift this past November. Now Madeline knows why the boys are such devoted fans. A day doesn't go by when she doesn't talk about the force, Luke Skywalker, Princess Leia, Darth Vader, or Hans Solo.
One of her aunts bought her this Star Wars t-shirt, and she wore it for my brother (a fellow Star Wars fan). He told her he loved the tee. She loved the Yoda nutcracker he received from my parents.
A few nights ago Madeline decided she'd make her Uncle Josh his own Star Wars t-shirt. Here's what she came up with: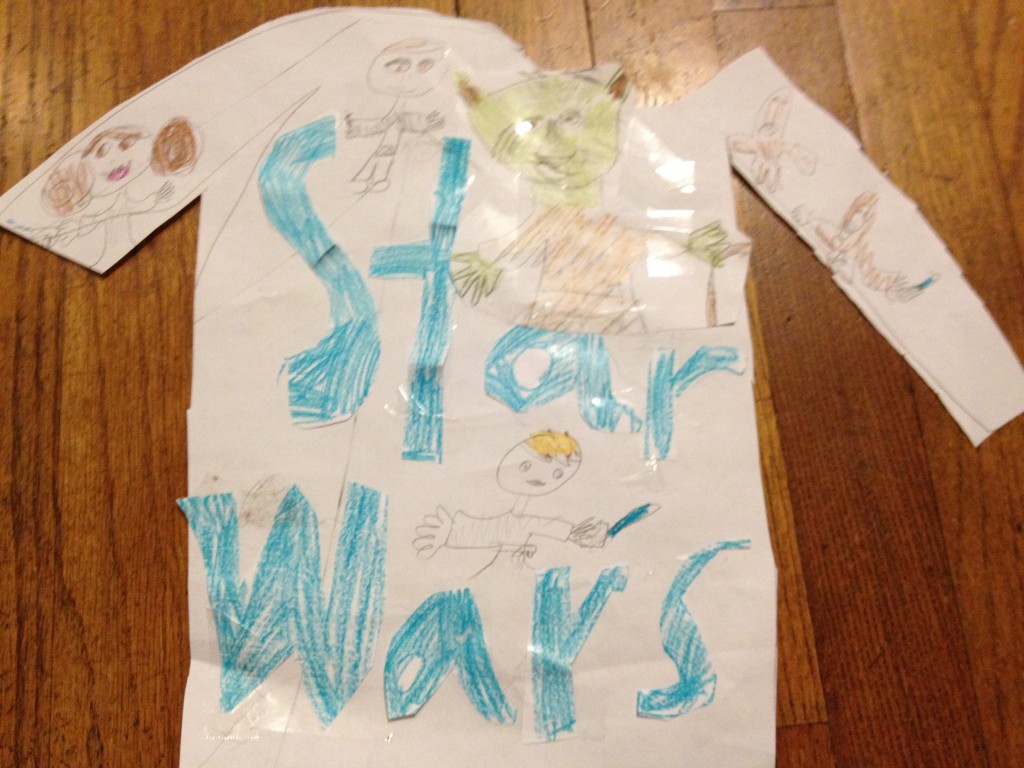 One of Madeline's new favorite pastimes is wielding the glowing lightsabers my parents gave her. (As I write this, she's playing with princess figurines while humming the Star Wars theme.)
When I gave birth to my first boy this past August, a lot of people told me I'd have a whole new world to discover. Funny, I think I've already started discovering it with my fiercely independent and confident girl – the same GIRL who had a dinosaur-themed birthday party this year and a pirate one last year. Madeline has never been afraid to like what she likes. I love that about her.
Another one of Madeline's interests is photography. She's psyched about a homeschooling photography class she just started. They're learning all about perspective, which I discovered when perusing photos she had recently captured with my smartphone.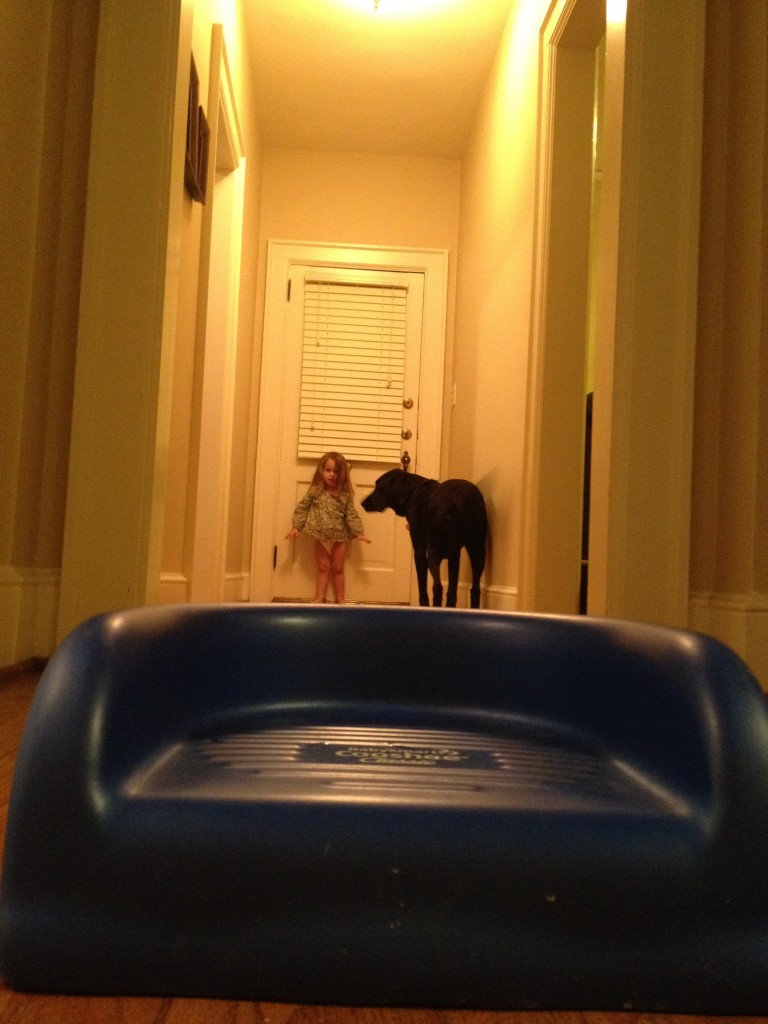 She explained that it's supposed to look like her little sister and our dog are standing on the booster seat. I got that and thought this was pretty cool.