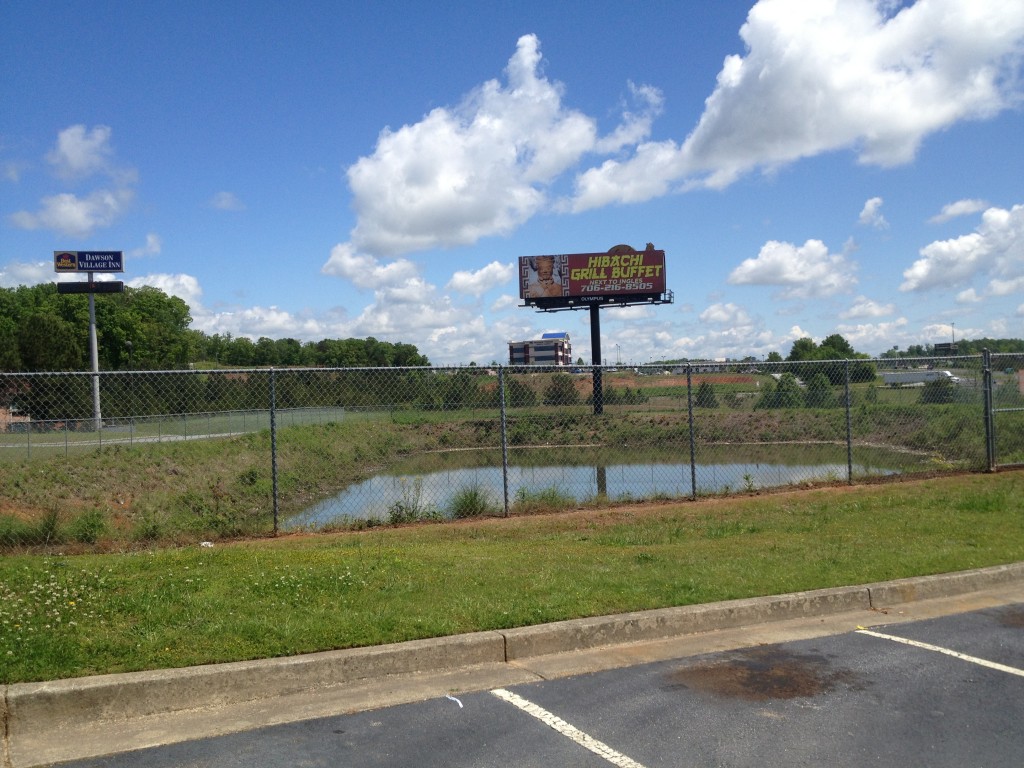 The kids and I met my mom for lunch the other day. My 5-year-old was still noshing on her macaroni and cheese (she's a very mindful and subsequently ssslllloooowwww eater), but Thomas the Todzilla (my name for our super-cute but super-destructive toddler) was getting antsy, so I took him and my 4-year-old outside. They were busy admiring some rocks when my 4-year-old noticed the large body of water adjacent to the parking lot.
"Look at the beautiful lake, Mommy!" she said.
I glanced in the direction she was pointing, and all I saw was an ugly retaining pond.
Give me a pair of rose-colored glasses, please.
There's a tendency to assume happy people have just had an easier go of things, but something my children as well as my own Pollyanna of a Mom have taught me over and over again is that a joyful life often hinges upon how you choose to see things. The glass is half-full. Life hands you lemons, you make lemonade. I could go crazy with the cliches.
There is pain in the world, but there are so many people handing out band-aids and doing good things to help those who hurt (think of how people rally together after a natural disaster or after something tragic like the Boston Marathon bombing). There is sickness, but there is healing, too, and even when there isn't, it could be worse. That's what my mom says when she wakes up in the middle of the night with debilitating, searing pain that just won't go away. It could be so much worse. I live such a blessed life, she says. (Sometimes I really want her to scream, "Life sucks! It's not fair!" But she doesn't, at least never to me.)
There are beautiful lakes and ugly retaining ponds. What will I choose to see?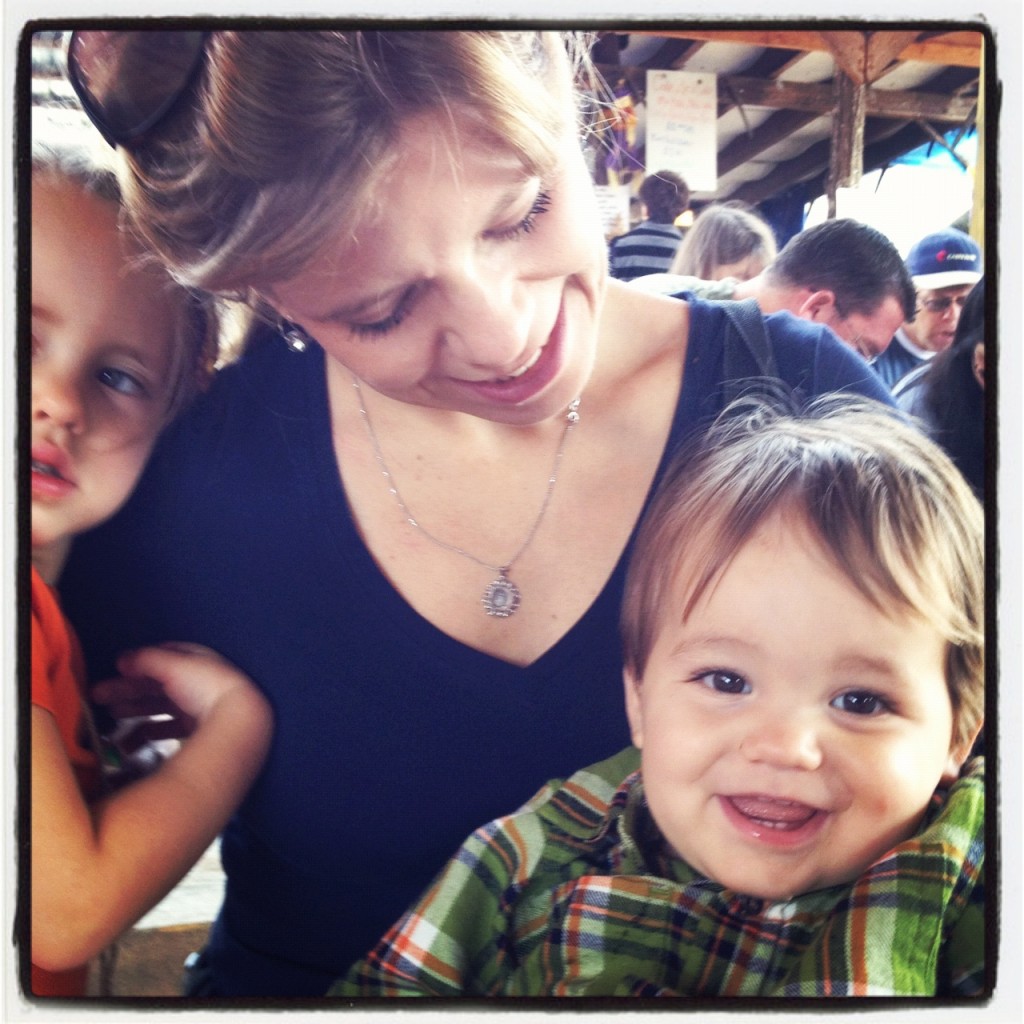 Yesterday my three oldest children found me slumped over sitting on my bed silently weeping. When they skipped in with baby brother scooting along behind them, I tried to sweep the tears away, but they know a sad mama when they see one.
"Mommy, what's wrong?" my oldest asked.
"You're crying," my 5-year-old said.
"Why you cry?" the 3-year-old asked.
"Aggle. Flabble. Blabble," Thomas babbled just like Knuffle Bunny's Trixie.
"I'm just sad."
That's all I could muster, which was probably good because as much as I've wanted to filter out the adult world I've been failing miserably in the wake of a few lousy weeks. My children have witnessed more than sadness. They've seen some sarcasm and anger from me, too. They've seen some despair and anxiety. I've blurred the boundaries between an adult and a child's world. Forgive me, sweet children. They've also overheard a rant or two. And I hate rants. Rants are based upon passion and feeling, and I believe even the matters of my heart must be fought for using logic, intellect, truth and, above all charity.
I sniffled some more, tried to dam the steady flow of silent tears, and then just sighed.
"Look on the bright side," my soon-to-be 8-year-old said. I waited for her to further define "bright side." When she was silent, I slumped a little lower. I looked at her and her siblings and waited for them to give me something to hope for. Then I realized I was looking right at it. Hope itself was hovering around me on my bed in the form of four squirmy and concerned children.
Lelia over at Like Mother, Like Daughter challenged her readers the day after the election to embrace one small act of faith here right now. (Thank you, dear Angela, for sharing this with me. I needed it.) She wrote,
This morning I wish us all a new heart for loving the exact life we are in.

The here and now is all we have. We can resolve to make things better. We can change the things we aren't happy with… maybe.

It's a big act of faith to be willing to put more energy into the here and now that we are living. Our reality.

Want to change the world?

Love your home. Keep your home.
I've been so worried about the future of my children that I've been tarnishing their present. I've been so sad and overwhelmed with anxiety that I've allowed it to eclipse my hope for my children. I have been so mired in "what ifs" that I've been impervious to the hope that is my children. I've been so bent on changing others' perspectives that I've been blind to my children's perspective – how they might see me, their life, their future world. A mom furiously typing with her thumbs on her phone, a mom crying, a wife asking her husband what he thinks will happen with his work and job with little ones within an earshot…shame on me.
I know not everyone understands why a big chunk of the nation is sad or worried. I received a gloating email from a friend with a very different worldview than I have who felt she had plenty to celebrate. These people, in fact, feel like they have more hope right now because of who is in office. I don't agree, but the polarization is another source of my sadness. I'd said I was going to take a sabbatical from the online life, but I kept perusing my Twitter feed and was stunned by the amount of bickering that came from both sides and even hatred that can be hurled in less than 140 characters.
My husband keeps telling me to walk away from it. Sometimes I feel like he's just giving up the fight. But, maybe, he has accepted what he can control and what he cannot. Maybe he's choosing to fight a smaller scale battle but no less important one and to love his family well, to not grow bitter, to be wary of fear mongering, to work hard, to do what's right, and to be grateful for all that we have. Maybe it's time to serve my children, my home, my vessels of hope more than serving my Twitter feed. Maybe my husband knows that my mission field is right here within the walls of my home. To love my children into loving.
I was tossing some soccer balls in the trunk of my van yesterday post-sob fest when I saw my "Choose Life" license plate, and it made me pause. That line – "Choose Life" – is about more than being pro-life. It's about being pro-hope. It's about believing that as hard as things are, as scared as you are, as unclear as the future may be, there's a potential for a whole lot of goodness, plenty of beauty, and yes, life to come out of the darkness. Sometimes that hope is in a baby you didn't think you could possibly have. Sometimes it's simply in loving the babies already in your arms as well as loving and embracing the life you wake up to each morning.
I choose life. Not only that, but I choose to love this life I'm in and this family I have in my midst. I choose hope and in doing so I must raise myself to a spiritual level that lasts beyond all that is changing.
"Hope is the theological virtue by which we desire the kingdom of heaven and eternal life as our happiness, placing our trust in Christ's promises and relying not on our own strength, but on the help of the grace of the Holy Spirit. 'Let us hold fast the confession of our hope without wavering, for he who promised is faithful.'The virtue of hope responds to the aspiration to happiness which God has placed in the heart of every man; it takes up the hopes that inspire men's activities and purifies them so as to order them to the Kingdom of heaven; it keeps man from discouragement; it sustains him during times of abandonment; it opens up his heart in expectation of eternal beatitude. Buoyed up by hope, he is preserved from selfishness and led to the happiness that flows from charity."

The Catechism of the Catholic Church, CCC 1817-1818
My kids have sensed that something big that is outside of them and outside of our home is going on right now. Not only is Mommy suddenly spending more time online again (tsk, tsk), but she and Daddy, she and the babysitter, she and her Gaba, she and her Nana, she and her brother, she and some close friends, she and someone she refers to as a former professor, she and a whole lot of other adults are having lively, impassioned discussions. While it's important for my children to understand their civic duty as well as how our government works, I do want to protect their innocence at this young age and do what Kim John Payne refers to as filter out the adult world in Simplicity Parenting: Using the Extraordinary Power of Less to Raise Calmer, Happier, and More Secure Kids.
He writes,
"Children need to know that they have a place in a good world and a future full of promise. This doesn't mean we fit our children with rose-colored glasses. I am not saying we should avoid any discussion of the challenges of our time. Nor does it mean that children can't recover, and grow in strength and resiliency, from hardships they experience in their early years. But our adult anxieties and concerns should not be the atmosphere, a haze of too much information, that they breathe. Children need to that theirs is good world. They need to feel that, sheltered by those they love, they are where they should be. They have a place, in a time and a world of hope and promise."
My kids have been breathing in too many adult things lately and overhearing too many conversations that are too big for them. The little readers in the house have been looking over the shoulder and catching confusing glimpses from emails and Facebook posts about the issues of the hour. And it's all my fault. I take full responsibility.
Payne also writes about that what children often hear more than the "wash of words" we're saying is the "current of emotion running through them." I want to choose my words wisely and always say them with respect rather than anger; however, I also need to simply talk less about "big" things in the midst of my littles.
I also want to respect the brilliant minds of my children and by "brilliant" I don't mean my children are geniuses. All children's minds are fertile grounds for new ideas and new ways of looking at things, and I want their minds, like plants, to grow toward the light. I love how they see things differently than I would, how their wonder is still raw even at the sight of a bedraggled white clover blossom. I want to enrich their minds with good, hopeful thoughts. And when it's important to speak the truth, I want my little ones to sense my speaking up for the truth doesn't mean – or sound like – I am putting another person down.
My preschooler made a squirrel to celebrate fall and when my 7-year-old saw it, she said, "Wow! That's a great camel on a cloud."
"Camel on a cloud?" I said, smiling. "It's a squirrel."
"Oh yeah. I didn't see it that way."
I chuckled a much-needed chuckle because only minutes ago I had followed the siren song of my smartphone (tsk, tsk again) and saw another tweet challenging some of my views. Then I found myself wondering what this perceptive child of mine or her extremely sensitive sister might see when I'm fighting for what I believe in – a passionate woman who couples intellect with facts to arrive at her position and communicates these with respect – or an anxious, histrionic mama who oversimplifies things, bullies, or rants without reason?
(Sometimes, my daughter reminded me, others might see camels – or elephants or donkeys – when we're all really looking at a squirrel, but no one needs to rudely call them out on their imperception.)
Later that same day, she said, "It's so crazy to think Rae [one of her younger sisters] will one day be my age!"
"Yeah, and I'll one day be Gaba's age [referring to my mom who turns 60 in a few weeks]," I said.
"Let's hope," she said.
I burst into laughter and again was thankful for the comic relief. I also knew to not over-analyze her words. My oldest child has always had a way of saying things in a matter-of-fact fashion. Yet, I always do want her to hope for the best (even if that's just me ending up as ancient as Gaba; sorry, Mom). I want to learn from her little, hopeful heart. I also want all my children to not pour all their happiness or even their hope into material things, things that change constantly like money, the shifting agendas of politicians, their physical bodies, or even something as trivial as the weather (you know, banking your happiness on a rain-free wedding day or a white Christmas). Instead, remember this, sweet children of mine: Even as we fight for what matters to us and sometimes lose and sometimes win, continue to pray,  seek truth, love, have faith, put your hope in goodness (it's almost always there whether you're looking at a camel or a squirrel), and rest in the One who is constant and never changes. You are entitled to nothing but God's love.