This hasn't been the greatest Lent. That's an understatement, actually.  In all honesty, I feel like an epic failure. I set the bar low, and I still couldn't meet any of my spiritual goals.
Yet in spite of me and my failings, Easter will come. In the face of my sins and my foibles, there will be hope. New Life in Him is not dependent on my performance. Thank God for that.
Dying on the cross, Jesus thirsted for souls. He went to all this trouble and endured great suffering. Yet, there are so many, myself included many times, who don't really appreciate his sacrifice. We continue to crucify Him with our own sins – no matter how small. How awful that must feel not only to God, but to His Mother, too. She stood at the foot of the cross and watched her only son suffer and die. She accepted everything with trust and grace. And here I am, unable to even make some pitifully small sacrifices in honor of Him.
Oh, Mary, it would be a lot easier to hate those who hurt Him, wouldn't it? I bet it would even feel good – at least for a fleeting, pleasurable moment – to hate all of us who betray your Son with our actions (or our lack of action – say, being too tired to pray to Him).
Instead, Mary and Jesus chose to forgive again and again and to look beyond our weaknesses and our repeat offenses and to love.
I haven't been very good at loving anyone but myself lately.
But I refuse to be a Judas. I refuse to give up, to cave in to despair. I cling to hope, hope in a God whose mercy is endless and who loves me even when I don't deserve it. Like Peter after he betrayed Christ, I long to look into Jesus' eyes, into Love itself, even though it might be easier to look away.
Easter is coming. I keep reminding myself of that. It doesn't feel like I deserve an Easter after such a pathetic Lent.
I have some loved ones who not only deserve the joy of Easter but who will be living it on Sunday.
My cousin has been fighting leukemia for 3 1/2 years, but on Easter day he stops taking his oral chemo. Isn't that beautiful? A priest will be offering a personal Mass in their home to celebrate this new beginning for him. Entering the phase known as "survivorship" on Easter Sunday takes the whole idea of "new life" to a new level, doesn't it?
This Easter will be the first day of the rest of his cancer-free life. Deo gratias. He was 15 when he was diagnosed. He's spent most of his teen years fighting cancer. Whereas my Lent has been too short, his has been far too long.
My aunt understands, more than I, what it means to stand at the foot of the cross. She understands what it means to be faithful in everything and every circumstance. Come Easter, she'll embrace the new life in Him, in her own son, just as she has taken up the way of the cross for so long now.
This Easter is for my cousin. It's for his mom, his dad, his entire family.
It's for my dad who recently said he feels a lot like Mary sometimes having to helplessly watch his wife suffer with grace and endurance and to standby and witness his mom – who lives with my parents – have to face the realities of old age. He can help. He can pray. He can trust. But he can't take my mom or our nana's crosses completely away.
This Easter is most definitely for my sweet mama who despite failed surgeries and medical treatments clings to hope and gives thanks for a beautiful life.
Easter is for you, too. It's for me. It's for those who believe and those who don't. It's for those who suffer as well as those who seem to glide through life with nary a care in the world.
It's for us all.
Imagine that. You don't have to. It's the Truth.
 His Truth.
We are all God's beloved children, and we are all capable of being raised in glory.
Today there is darkness. There's sadness. There is pain. There are lowly bodies that fail us. There are broken hearts and spirits.
In this world, there is suffering, disease, disaster, hate, indifference, neglect.
In my life, I get it right some of the time. Sometimes I don't.
He is there through it all.
"Lord, I am not worthy that you should enter under my roof, but only say the word and my soul shall be healed."
God says the word with the cross. Each nail driven in deeper and deeper drives His love into us.
And on Easter, whether we've kept all of our Lenten promises or not, whether we've suffered from cancer or another sickness, whether we've had to watch a loved one endure pain, whether we've held grudges, whatever our past, on Easter morning our souls shall be healed.
Our future is in Him. How can we not be full of hope and new life?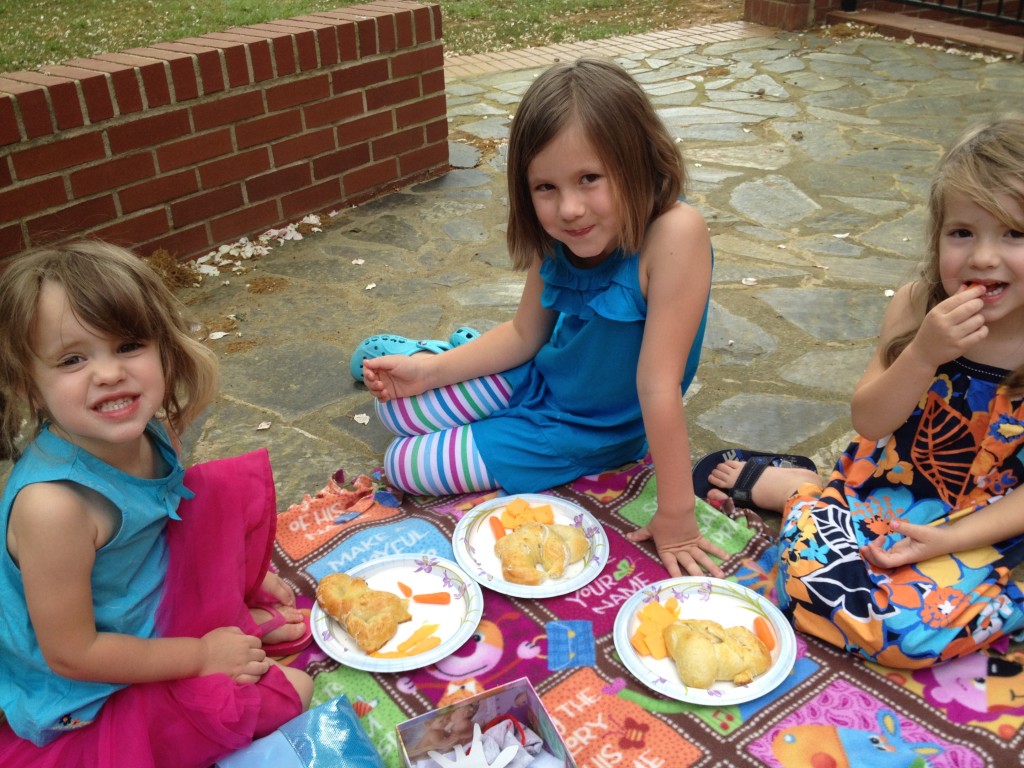 Yesterday we decided to take school and lunch outside. It was a quintessential spring day here. We sat under the canopy of a big and very old dogwood tree. White petals from the blossoms swirled in the breeze.
Mary Elizabeth, who is incapable of sitting long enough to ever finish an entire meal even a sparse Lenten one, spun around in midst of the whirling blossoms, enchanted. I felt like I was watching her dance in a snow globe – only the snow was velvety-soft petals.
Before venturing outside, we made our traditional Lenten pretzels. This year, however, I used a recipe from A Continual Feast: A Cookbook to Celebrate the Joys of Family and Faith Throughout the Christian Year
, a book revisit throughout the year to make different seasons come alive in the kitchen and around the table. They were delicious. Rachel and Madeline helped twist them into the pretzel shape.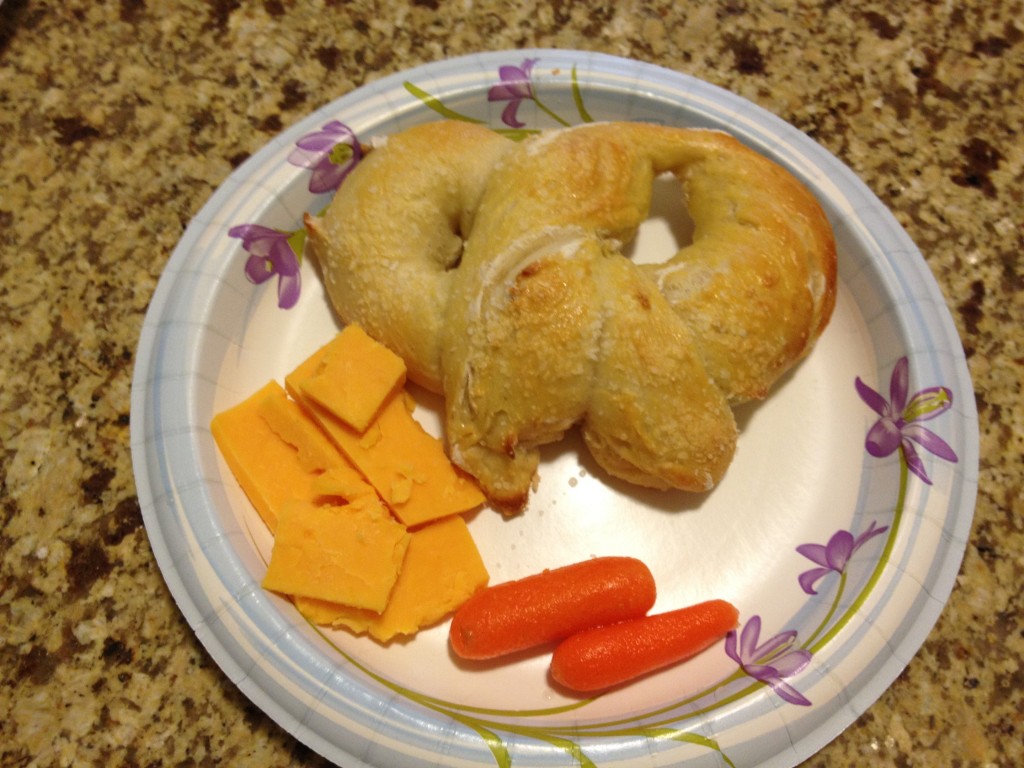 Things have been quiet around here. Let me take that back. Things have been quiet around my blog, but it's been quite the opposite in my house. Here's what I've been up to in between the normal domestic and homeschooling duties: Packing, making lists, making more lists, walking around my house mumbling a speech aloud, packing some more, waking up at odd hours in the night or early morning and remembering something else I need to do.
Why all the packing and prepping?
Because by the time you read this Thomas, my mom, and I will be on a plane bound for Peoria, Illinois where the Behold Conference will be taking place. Hopefully, there will be no explosive diaper incidents, inconsolable crying jags, or major delays. Back in Georgia, my husband will be juggling three little girls. Good thing two out of three now have a bob because my husband is the first one to admit he doesn't do girls' hair.
I can't begin to express how honored I am to be a part of this incredible weekend. I just want to say a big thank you to all the hard-working Behold volunteers. I joked with one of them that I feel like a movie star because I've actually been assigned a personal attendant for the weekend. Everyone has made me feel so welcome from afar. I know I'll feel even more at home once I'm the presence of so many warm, Godly women.
I do plan on giving occasional updates via Twitter, so feel to pop in over there. I can't promise I'll have a blog post up immediately upon my return to recap the event. My babysitter's spring break starts on the 10th, and I know I'm going to be behind on everything from laundry to homeschooling. However, please do stay tuned for details about the conference. I'm going to have a lot to say.  They're expecting 600-plus women from all over the country. Do leave a comment if you plan on attending, so I can keep my eye out for some of my readers.
I'm reading Interior Freedom
this Lent, thanks to a friend's recommendation. I feel like the book was written for me and all my issues. Seriously, it's chock full of good stuff, but I thought this quote provided some good for thought during a season when we're supposed to tread down the path to holiness. It can seem so unreachable – to be holy – but this wisdom reminds us that it's not beyond our reach. Not at all.
"If there is one area where nothing will ever be forbidden to us, it is holiness, provided it isn't confused with external perfection, extraordinary feats, or a permanent inability to sin. If we understand holiness properly, as the possibility of growing indefinitely in love for God and our brothers and sisters, we can be certain that nothing will be beyond our reach. All we need do is never get discouraged and never resist, but trust completely the action of God's grace. We don't all have in us the stuff of sages or heroes. But by God's grace we do have the stuff of saints."
She's electric.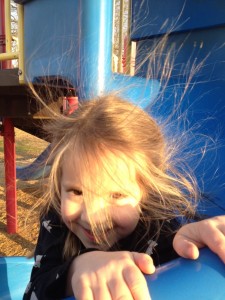 This is what happens when X chromosomes outnumber you. You get a pretty pink gemstone earring.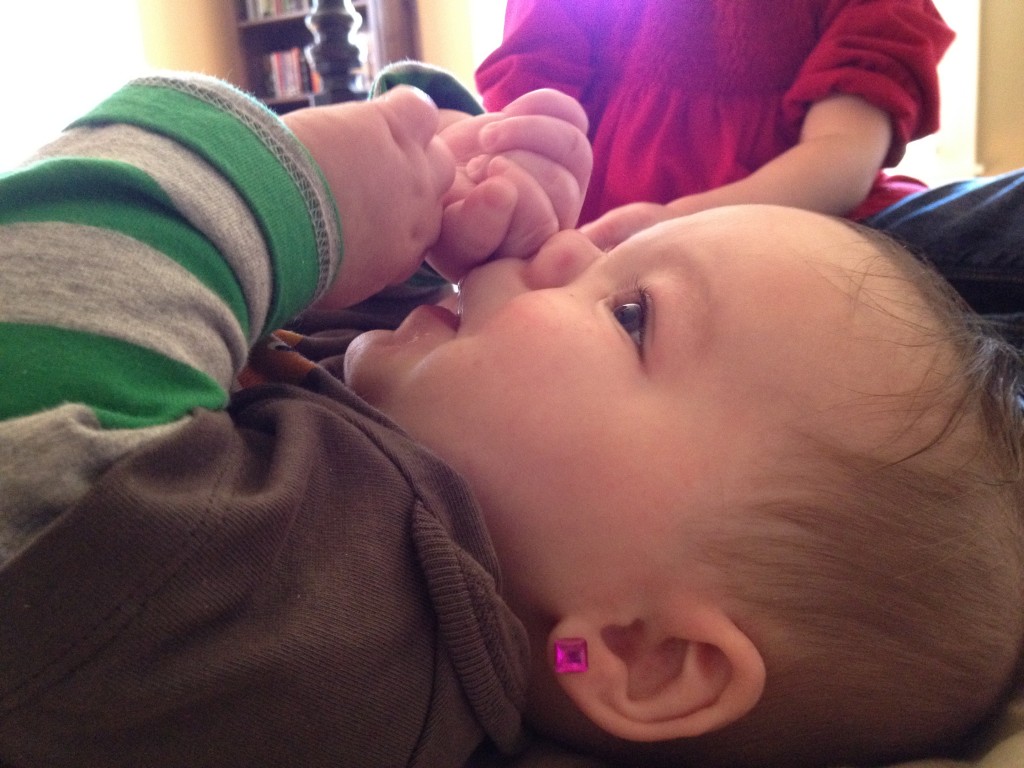 And your new pink bling makes you smile because you're a sensitive guys who is very confident in your masculinity. (Plus, nothing makes you happier than being around your doting sisters.)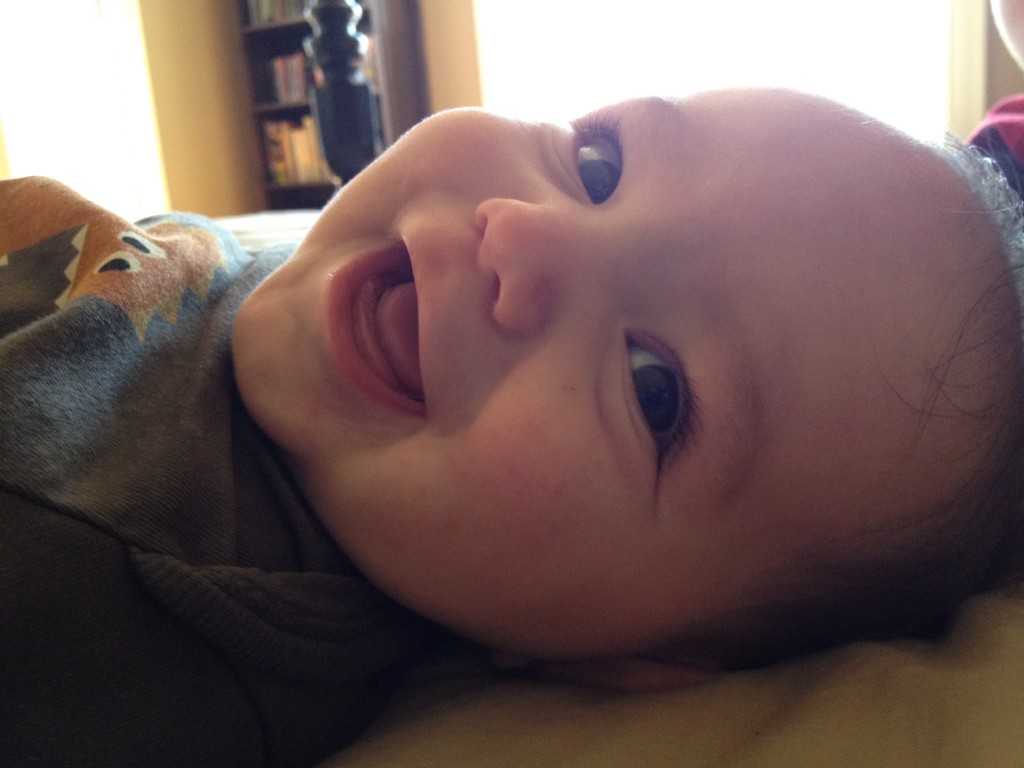 We really are turning to big Star Wars geeks around here. A very generous uncle is making sure of it by sending costumes and other Star Wars paraphernalia at regular intervals. This week's packages resulted in a smiling Yoda and Princess Rae-a. (Madeline Skywalker received a brown Jedi robe, which she wore out to the grocery store. However, we didn't capture it on film…yet.)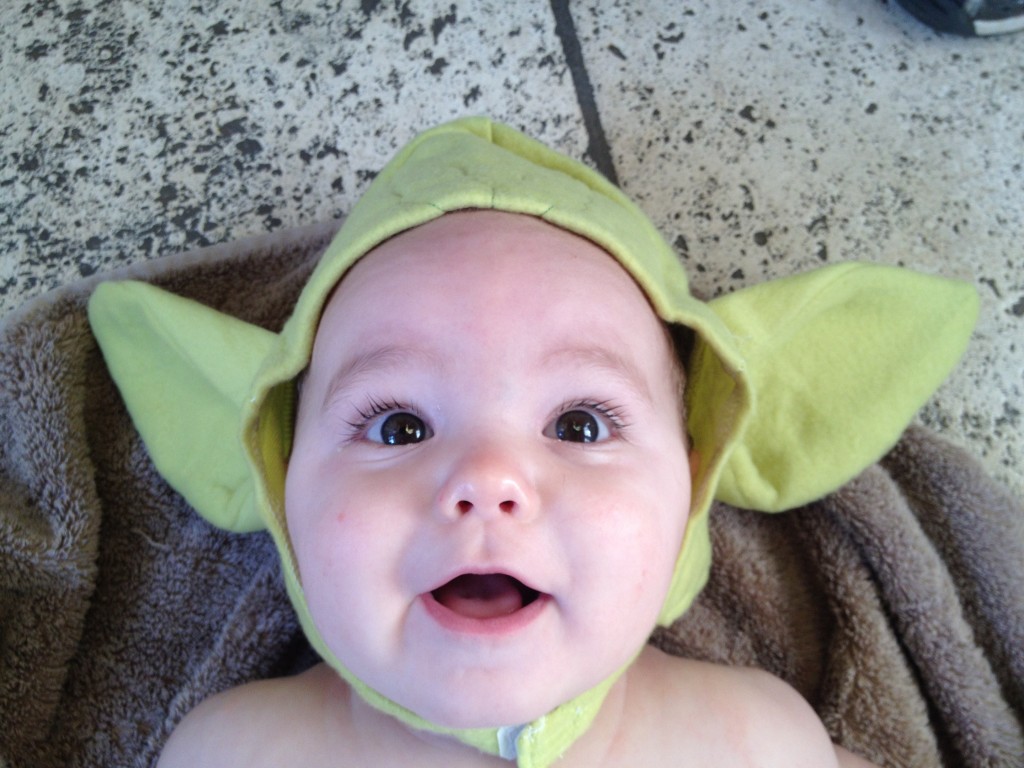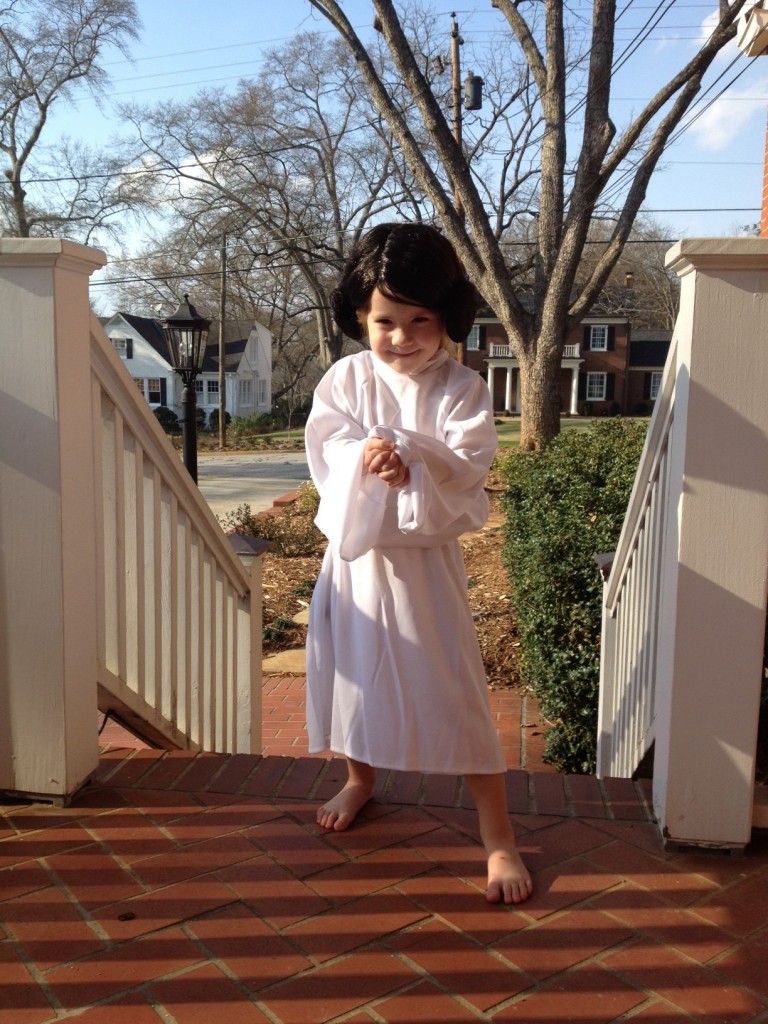 Please keep a close friend of mine in your prayers. She's scheduled to be induced this morning.
That's all for now, folks.
Have a wonderful weekend!
For more Quick Takes, visit Conversion Diary! Come tonight I'll be hanging out with Jen and others in Illinois. Woo-hoo!