This past Monday I had my monthly interview spot on Relevant Radio's Morning Air Show, and we talked about some of the Lenten traditions my family I embrace or have embraced in the past. I had every intention of putting together a post chock full of resources for Lent prior to the interview. When that didn't happen, I told myself I'd cobble a post together on Fat Tuesday. Then the ice hit Georgia. We lost our Internet connection, and it ended up being a good day to cuddle and play lots of games of Uno.
So here I am on Ash Wednesday throwing some ideas out there. This year we're not going to make our traditional Lenten mice out of mismatched socks (see picture below of our rodent friends from the past). I may end up doing this again for Thomas down the road, but we are using a jelly bean activity a friend told me about from Catholic Mom to encourage prayer, sacrifices, and alms giving this year because, let's face it, candy motivates my 10-year-old more than tying knots in the tail of a mouse stuffed animal. For those of you with only littles in your house these mice are so cute and a great way to visually show a child what sacrifices can do. The mouse's tail gets shorter and shorter with each good deed (from each knot tied), and you can talk about how your child's soul is changing, too, as it draws closer and closer to Christ.
For those of you with some older children, you can try this jelly bean activity. My friend substitutes M&Ms. Different colors can be ordered on the M&M's website. She also plans ahead and buys holiday M&Ms when they're on sale. We're using jelly beans and using this Catholic Mom article as our guide:
On Ash Wednesday we set out a glass jar for each child with a small copy of the jellybean prayer taped to it. We determined a behavior to go with each jellybean color (corresponding with the prayer). Each day the kids could earn a jellybean of any color they followed through on.  They could not eat the jellybeans until Easter. The kids could not earn white jellybeans,  these represented the Grace of Christ, which is a gift not earned ourselves.  On Easter morning, the kids woke to find their jars filled up where they were still empty (lacking) with white jellybeans (Christ's grace)

This is how we interpreted each color. You can make your own ideas based on ages and needs of your children.

Red is for the blood Christ gave (each morning we chose something to sacrifice that day to earn the red jellybean.  It had to be something they would have had the opportunity to have or do on that day)

Green is for the palm's cool shade (green jellybeans were earned for good deeds.  It was a good dead to provide shade for Jesus with the palm)

Yellow is for God's light so bright (yellow jellybeans were earned for sharing God's light through kindness to others)

Orange is for prayers at twilight (orange jellybeans were earned for attentive behavior during bedtime prayer time and night time bible story)

Black is for sweet rest at night (these were earned for going to bed good. we used blue though, as our kids are not fans of black jellybeans)

White is for the Grace of Christ (these we could not earn as mentioned above)

Purple is for His days of sorrow (we earned these through apologizing to anyone we hurt with our words or deeds that day)


Pink is for each new tomorrow (pink jellybeans were earned when we forgave those  who apologized to us for hurtful behavior)


During the course of 40 days the kids did not tire of this activity and have talked about how fun it was throughout the year.
Of course,  the Easter bunny might not want to bring any more jellybeans for the baskets!!

I am using blue jellybeans instead of black, and I'm hoping for a heaping pile of blue jelly beans because I just know we will have nothing but calm, easy, and peaceful bedtimes for the next 40 days because the Wicker kids love nothing more than hanging out in the horizontal position. Yeah right.
I also decided that while we can't earn God's grace – and thankfully we don't have to! – we open ourselves to God's grace in the sacraments, so the kids get white jelly beans for going to Mass and for going to Confession (thanks, Betsy, for this idea!).
Also, each morning we will pick a family sacrifice in addition to our own personal sacrifices and if we fulfill it, each child gets an extra red jelly bean. This might mean a day with no electronics or we pray the Rosary or the Stations of the Cross as a family.
I'm excited about this Lenten activity, and I can already see the kids are, too, because their jars are filling up quickly. Now I just have to keep them, especially 3-year-old food thief Thomas, from stealth jelly bean eating.
In year's past, I have done things like 40 Bags in 40 Days while encouraging the children to help me fill the bags with toys that they didn't really need (this doesn't mean broken toys they never liked; giving those away wouldn't be much of a sacrifice, after all). I personally have loved writing letters for each of the 40 days of Lent for the past two years. My oldest daughter has decided to adopt this activity to make her Lent more meaningful.
My big Lenten resolution this year is to not buy anything for myself that is just for me. When my husband was still in residency, this was how life always was. I really had to watch our budget and penny pinch, but I've noticed that in recent months – now that we are finally arriving at a secure place financially – I'll be at Target or somewhere and I'll toss things into the cart that aren't on my list because – hey, it's only $10 for that scarf that's marked down. Or I'll see an item on Zulily that's a great deal, and I'll think to myself that I have to snag it cheap while I can. Or I'll be buying The Gruffalo
off Amazon for a birthday party gift for a little friend and will add a book to the cart that I've been wanting for our collection instead of just checking it out at our wonderful local library that is within walking distance of my house. But those $5 to $10 purchases add up, and so do those shoe splurges. And truth is, we still have monstrous educational loans from my husband's many years of schooling to pay off, and I really want to revert back to my thrifty self so we can save more and give more. So my plan for the next 40 days is to not buy anything for myself – that includes things really only I consume like makeup or seltzer water, which only I drink except when certain children ask for a sip. When I shared my plan with my oldest, she asked, "But what if you run out of something you usually use?"
"I still probably don't need it," I told her.
Then I plan on looking at the past three month's budgets prior to Lent (my husband keeps very detailed spending pie graphs) and determine the average of what I spent on myself during that time and give that amount to a charity like the Catholic Relief Service's Lenten Rice Bowl or Food for the Poor since I hopefully did not spend that moula on me, myself, and I during Lent. I have some other personal plans and sacrifices I plan to do as well, but that's the biggie.
Mary Elizabeth will be coloring this wonderful printable Lenten calendar that's available for free over at Catholic Icing (along with lots of other Lent activities for kids and families). The countdown to Easter is particularly exciting for her because her birthday is on the same day this year. "So I'll get cake AND Easter candy?" she asked happily this morning. Yup! Sugar binge, here we come in 40 days!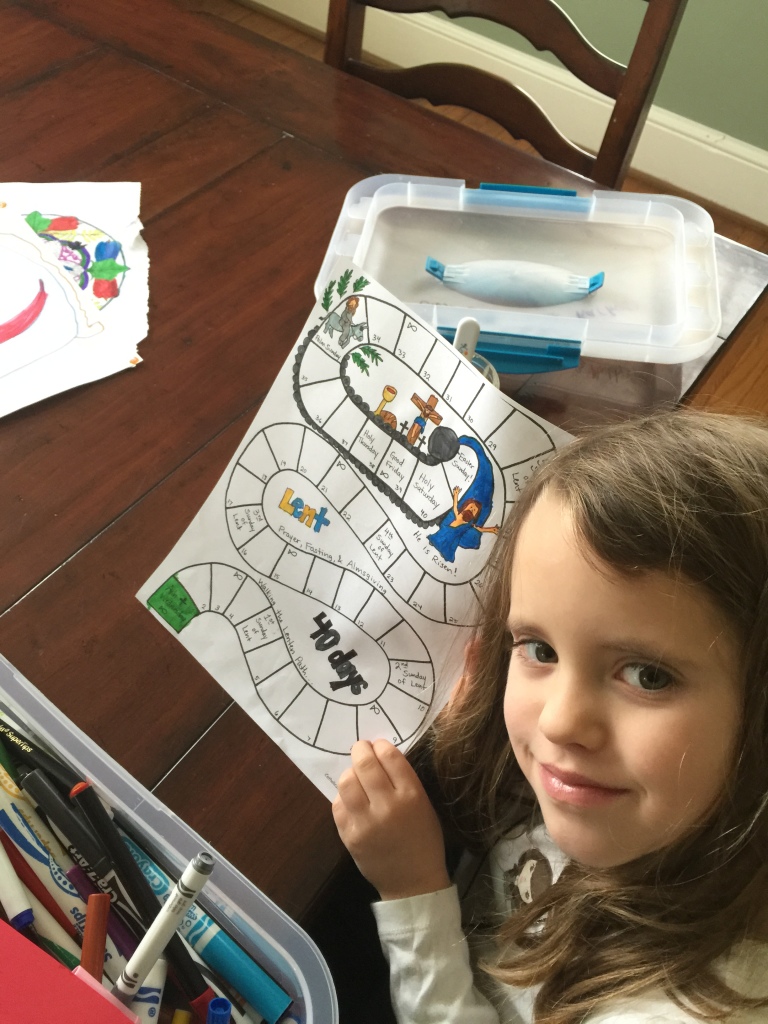 That's our 2015 Lenten Plan, but here's a list of some resources, ideas, books, etc. we've used in the past, plan to use, or dream of using when my life isn't such a beautiful, chaotic mess.
I know I've missed some great stuff out there, so please feel free to share your own links and/or resources in the combox.
Happy clicking!
(Oh, and please forgive the funky formatting below. I've tried to fix it multiple times with no luck.)
Books
Bringing Lent Home with Mother Teresa: Prayers, Reflections, and Activities for Families
by Donna-Marie Cooper O'Boyle
Welcome Risen Jesus: Lenten and Easter Reflections for Families
by Sarah Reinhard
Magnificat Lenten Companion (it looks like the hard copy is sold out, but it's available as an app)
Around the Web
Catholic Icing's Lenten Navigation Page
Catholic Mom's Lenten Activities for Children
Christ's Journey to the Cross: Lenten Insipiration for Mothers (an old reflective essay of mine)
Conversion Diary's Recommended Reading (for adults) for Lent
Elizabeth Foss's Preparing for Lent post (includes link to all her Lenten archives)
Lent for Little Ones (an old post of mine, but we still put to practice many of the ideas I write about, especially the Stations of the Cross for children and the box of objects to represent each station)
Karen Edmisten's Meaningful 2011 Lent post
Lenten Activities for the Family
This is a PDF document targeted to non-Catholics who wish to observe the Lenten season. It's chock full of ideas on how to celebrate Lent with your family and makes use a of Lenten tree in which children color pieces of fruit after they complete an activity.
Here's an example of activity included: "Practice giving one another a foot-wash. Talk a bit about Maundy Thursday when Jesus washed the feet of His disciples and commanded them to love one another. The word maundy comes from a root word meaning 'mandate' or 'command.' Look up John 13:34-35 to discover the 'new commandment' Jesus gives. The book is from 2009, but it's still relevant.
Pondered in the Heart Lenten Calendar, Merciful Cross idea for keeping track of sacrifices, Stations of the Cross grottos, et
Recipes (including lots of meatless dishes perfect for Lenten Fridays)
Catholic Foodie's Fish on Fridays and Lenten Kitchen
Avocado Corn Salad with Tropical Smoothies
Homemade Pretzels (we make these every Lent and have a simple dinner of pretzels, cheese, fruit, and milk)
Kid-Friendly Cheesy Broccoli Pockets
Tofu Parmesan (don't judge it until you try it!)
This post is a part of my Recycled Series.
Attention Editors: These columns have been previously published, but are available for reprint. Please contact me at kmwicker[at]gmail[dot]com for reprint fees and further information.
—
Lent is a season of fasting – including fasting from food. Fasting can be a fruitful spiritual discipline, but it also can be meaningless if you approach it like a diet.
These 40 days are supposed to be a preparation for Easter, not a slim-down strategy for swimsuit season. Fasting is not a divine diet plan where we whittle away the thick layer of adipose tissue that's leftover from winter hibernation and sneaking snacks.
Fasting and not eating are two very different things. There was a time in my life when I was very good at not eating, and Lent provided the perfect cover-up for my obsession with the pursuit of thinness and wielding control over the number on the scale.
"I'm not on a diet," I'd say when  a friend asked me why I wasn't eating. "I'm fasting for Lent."
The pounds dropped, and I felt a high. I was a weight loss junkie – not a spiritual mystic practicing the holy art of self-sacrifice.
I originally decided to give up chocolate and other sweets as has always been my Lenten custom. Then we arrived at the beach with my parents, and the girls wanted ice cream and so did I, but I fell prey to my old thought pattern. "I have to be in a swimsuit here. I can't eat that."
So what did I do? I broke my Lenten promise and I ate a small scoop of ice cream. Instead of fasting on the "evil" food, I fasted on the unhealthy guilt associated with eating it. I fasted on the vanity of worrying what I might look like in a swimsuit if I ate three meals like a normal person.
This proved to be more of a self-sacrifice than denying myself of calories (which is more likely to send me on a power trip about how strong I am to eat less than most people).
I'm not suggesting that some people – even those who have had or have issues with food – cannot benefit from fasting during Lent. Hunger pangs can remind us that our physical hunger is not nearly as strong as our hunger for Christ, the Bread of Life.
But for me, fasting can easily become a way to camouflage my vanity and my hunger for control and a slimmer figure.
Now fasting from the Internet and blog comments [what I gave up several Lents ago] – that's another story altogether. This has required much self-sacrifice. This has demanded vigilance and temperance and self-control, and I've found I was much better at depriving myself of food than staying away from the glowing rectangle except for small pockets of time each day. That's probably a good sign that this kind of fast will bear more fruit than the food kind.
I've fallen. I've caved into temptation. I hadn't seen a computer in three days. Three. Days. Then the sky turned grey and sheets of rain began to fall. What was I to do with all my time? So I cracked open my laptop (that was with us only because my husband needed it to study for his upcoming boards). I had a few emails that seemed very, very important at the time. I felt the need to answer them. Right. Now. But once I hit send, I wondered when I'd hear back. There was one email from someone who seemed upset with something I'd written. I shared it with my husband.
"Why do you care what that one person thinks? It doesn't matter. Let it go."
And with those words – let it go – I realized that this is what Lent is really about. It's about letting go of unhealthy relics of a past eating disorder. It's about letting go of the compulsion to communicate with strangers and to instead have a good chat with God or read my child an extra story. It's letting go of my fear that everyone won't like me. It's about letting go of of what I want for my life and being open to what God wants for me. It's terrifying and exhilarating all at once. And it may not be body-definiting, but with God's grace, this letting go just may be soul-defining.
I know everyone, or at least a lot of my most loyal remnant who have managed to stick around to read my sporadic ramblings here on this sorely-neglected blog, are probably sick of my whining about my running injury, but I need some catharsis today. Feel free to click away from here if you're over me and my hamstring, but there is a bigger point to all this brooding.
So a few weeks ago I was finally given the green light to ease back into running. I was told to use pain as my guide, to go slowly, to not run on consecutive days, to stick to flat routes, and to be patient with myself. I followed most of this advice fairly well. Perhaps I grew a little enthusiastic during a couple of runs and ran at a faster clip than was prudent, but it wasn't like I was sprinting or anything. What's more is I had absolutely no pain while running. I assumed this was a very good sign.
Well, you know what they say about the word "assume" – it makes an #@! out of you ("u") and me.
One Monday morning I woke up after taking a complete day off of any exercise on Sunday (I always incorporate one day of full rest into my week now), and my left hamstring/thigh/bum area, or what one runner who suffered a similar injury aptly referred to as her "thutt," was aching a bit. I thought it was a little strange, especially since I had been a lazy bum the day before, but I wasn't overly concerned. Maybe I was just stiff from inactivity? I continued to religiously perform my rehab exercises and to not push myself too long or too hard. I'd told my running pals I hoped to be back running with them in the mornings in March.
Yet, here we are in the first week of March, and I'm faced with the grim reality that I won't be returning to my morning runs yet. My "thutt" is nagging at me and telling me it's not ready for running, or maybe it was the spinning class I took. I don't know. That's what is so weird about this injury. I can't figure out a correlation between what I do (or don't do) and the pain. I mean, running a half marathon hurt it, but that's to be expected, especially since my hamstring was actually fraying at that point. Now that I'm on the mend, I can't tell what's aggravating it because it doesn't usually hurt when I'm active. It's later when I notice the pangs. It once again hurts to just sit, so I have to bring ice to the carpool lane. Yesterday I had to sprint after a defiant toddler, and I felt a sharp twinge in the area.
I am sad, angry, and frustrated, but I'm not entirely surprised. When I first received my icky MRI results, I voraciously (obsessively) read everything I could about high hamstring tendinopathy. My husband also consulted an orthopedic surgeon friend of his, and I'll never forget what he said. "This is a frustrating and very difficult injury to overcome. I worked with one athlete who went to physical therapy five days a week. He healed after three months but then immediately re-injured the hamstring upon returning to his sport." Fabulous. Like I have time for daily physical therapy sessions. I'm not an Olympic athlete. I just want to run for fitness and compete in a few races a year. Is that too much to ask?
I read myriad forum posts with titles like "hopeless hamstring tendinopathy" and "high hamstring tendinopathy – does it ever heal?" These created further warm and fuzzy feelings in me. Not. I read about a woman who had been fighting the injury for six years, and I selfishly prayed I would be spared the same kind of perpetual anguish. To be fair, I also discovered some hopeful stories. There were runners who had overcome the injury, but all of their paths to healing were different. Some actually ran through the injury just at a slower pace. Others quit running completely for months. Some received all sorts of injections and massages. Some simply focused on eccentric exercises. But they got better.
When I had my follow-up MRI, I was thrilled because my body had healed tremendously. The partial tear looked great and so did all of the other injuries my first MRI had revealed. I had some minor residual tendinopathy, but nothing major. Woo-hoo! I was so confident I'd be back to running at my former level in no time. I even looked up upcoming races and decided training for a 10K in May would be perfect. Pride can be blinding. So, yes, I am understandably confused how the "minor" findings could lead me to feel like this. One running step forward and two big, hobbling steps back.
Ah, but it's just running. I recall reading someone "tsk, tsking" an injured runner on a forum reminding her that she didn't have cancer. True. We need to focus on our blessings and follow Hungry Runner Girl's wise advice and to stay positive and hopeful. She also writes about how one of the most difficult things about being injured is feeling like you're not in control. This totally resonates with me.
She writes,
I think one of the hardest parts about being injured is the lack of control that comes along with an injury. One thing that I love about running is that I can control it (especially when there are so many things in my life that I have no control over). When I run I can control my speed, distance, effort level etc. etc. etc. I go into a workout knowing what I am going to do and then I do it. No questions asked.

I think injuries are frustrating because you really just have to let go of any and all control and just let your body do its thing on its own time. You may think you are healed and that you are ready to run and then wake up the next day hurting again (not that this is happening to me right now but it has many times with past injuries). You have no control over how long it is until you are back in the game, what races you are going to miss out on or how long it will take to build your endurance back up.

What I am trying to learn during this time —> to let go of the things that are out of my control and just go with the flow.

I need to just not worry about it because: "Everything will be okay in the end. If it's not okay, it's not the end."
I love that: If it's not okay, it's not the end.
It's not the end. My "thutt" doesn't have final say. So take that.
I know I have control issues. A desire to be in control has led me to deny myself of food (I can't control my circumstances, but I can control what I eat or don't eat and the number on the scale), to get all OCD about my mothering, to fear a new, unexpected pregnancy and then to get angry when that pregnancy ended in miscarriage, to sweat the small stuff, and to let life's little but constant messes and curve balls cause me to just about unravel.
I also know that because of these very control issues of mine I have been given some pretty uncontrollable circumstances: Pregnancy bedrest after premature labor during one pregnancy and premature dilation in three out of four pregnancies. Miscarriages. A mom with a debilitating sickness that can't really be cured. Addiction in my family while growing up. Feisty, spicy children who posses unrelenting tenacity. A husband whom I adore and love but who hasn't converted to my faith like I thought he would and like he once thought he would. And now a recalcitrant running injury that is keeping me off the road and demanding that I rest, wait, be patient, be hopeful, trust the medical establishment, and relinquish control.
People sometimes ask me about natural labor and why I actually chose to do it four times. Because I am a martyr at heart and fall for any excuse for self-flagellation, and hair shirts aren't really in style anymore. I jest. Seriously, there are many reasons, but one major impetus for me was that I wanted to be in control. I was more afraid of not being in control than of feeling the pain. I didn't want an epidural to numb me or pitocin to speed things up. I wanted to know when to push. I wanted to feel everything, not because I am fiercely tough, impervious to pain, or a glutton for punishment, but simply because I was afraid that giving up some of the pain meant I'd have to give up some of the control, too. (I also happen to be in love with endorphins, which makes the not running thing even more difficult.) I refused to have IVs, to be tied down to a hospital bed. I wanted to be in charge. But despite having beautiful births with little medical intervention, I was never in charge. I did my part, sure. I listened to my body, accepted the pain, and worked hard, but the babies came on their own terms. Life is like those precious babies: Full of surprises, something we try to control, plan, and apply our own timetable to. But that's not the way labor – or life – works.
So here I am on the verge of another Lenten season with my sore "thutt." I am making my Lenten resolutions with the girls, and I plan to do more than just give up things this year. After all, I am having to continue to give up running – and control – whether I want to or not. Yes, it's just running. But there's a bigger lesson here. All the anxiety I have suffered, my control freak ways, all the doubts and the intense hunger for affirmation – all of these hinge upon me fearing more than trusting.
I don't really have to choose one of my Lenten sacrifices this year. Maybe that's the point. Maybe the lesson here doesn't lie in the choosing but in the accepting instead.