My kids have sensed that something big that is outside of them and outside of our home is going on right now. Not only is Mommy suddenly spending more time online again (tsk, tsk), but she and Daddy, she and the babysitter, she and her Gaba, she and her Nana, she and her brother, she and some close friends, she and someone she refers to as a former professor, she and a whole lot of other adults are having lively, impassioned discussions. While it's important for my children to understand their civic duty as well as how our government works, I do want to protect their innocence at this young age and do what Kim John Payne refers to as filter out the adult world in Simplicity Parenting: Using the Extraordinary Power of Less to Raise Calmer, Happier, and More Secure Kids.
He writes,
"Children need to know that they have a place in a good world and a future full of promise. This doesn't mean we fit our children with rose-colored glasses. I am not saying we should avoid any discussion of the challenges of our time. Nor does it mean that children can't recover, and grow in strength and resiliency, from hardships they experience in their early years. But our adult anxieties and concerns should not be the atmosphere, a haze of too much information, that they breathe. Children need to that theirs is good world. They need to feel that, sheltered by those they love, they are where they should be. They have a place, in a time and a world of hope and promise."
My kids have been breathing in too many adult things lately and overhearing too many conversations that are too big for them. The little readers in the house have been looking over the shoulder and catching confusing glimpses from emails and Facebook posts about the issues of the hour. And it's all my fault. I take full responsibility.
Payne also writes about that what children often hear more than the "wash of words" we're saying is the "current of emotion running through them." I want to choose my words wisely and always say them with respect rather than anger; however, I also need to simply talk less about "big" things in the midst of my littles.
I also want to respect the brilliant minds of my children and by "brilliant" I don't mean my children are geniuses. All children's minds are fertile grounds for new ideas and new ways of looking at things, and I want their minds, like plants, to grow toward the light. I love how they see things differently than I would, how their wonder is still raw even at the sight of a bedraggled white clover blossom. I want to enrich their minds with good, hopeful thoughts. And when it's important to speak the truth, I want my little ones to sense my speaking up for the truth doesn't mean – or sound like – I am putting another person down.
My preschooler made a squirrel to celebrate fall and when my 7-year-old saw it, she said, "Wow! That's a great camel on a cloud."
"Camel on a cloud?" I said, smiling. "It's a squirrel."
"Oh yeah. I didn't see it that way."
I chuckled a much-needed chuckle because only minutes ago I had followed the siren song of my smartphone (tsk, tsk again) and saw another tweet challenging some of my views. Then I found myself wondering what this perceptive child of mine or her extremely sensitive sister might see when I'm fighting for what I believe in – a passionate woman who couples intellect with facts to arrive at her position and communicates these with respect – or an anxious, histrionic mama who oversimplifies things, bullies, or rants without reason?
(Sometimes, my daughter reminded me, others might see camels – or elephants or donkeys – when we're all really looking at a squirrel, but no one needs to rudely call them out on their imperception.)
Later that same day, she said, "It's so crazy to think Rae [one of her younger sisters] will one day be my age!"
"Yeah, and I'll one day be Gaba's age [referring to my mom who turns 60 in a few weeks]," I said.
"Let's hope," she said.
I burst into laughter and again was thankful for the comic relief. I also knew to not over-analyze her words. My oldest child has always had a way of saying things in a matter-of-fact fashion. Yet, I always do want her to hope for the best (even if that's just me ending up as ancient as Gaba; sorry, Mom). I want to learn from her little, hopeful heart. I also want all my children to not pour all their happiness or even their hope into material things, things that change constantly like money, the shifting agendas of politicians, their physical bodies, or even something as trivial as the weather (you know, banking your happiness on a rain-free wedding day or a white Christmas). Instead, remember this, sweet children of mine: Even as we fight for what matters to us and sometimes lose and sometimes win, continue to pray,  seek truth, love, have faith, put your hope in goodness (it's almost always there whether you're looking at a camel or a squirrel), and rest in the One who is constant and never changes. You are entitled to nothing but God's love.
Heaven: Two little girls (missing only the big sister who went with Daddy to her matinee performance). A pile of books. A cocoon of covers. A quiet Saturday afternoon.
Heaven – as simply and lovely as that.
"Cozy," said the 2-year-old.
"Yes," I agreed.
I read. We cuddled. The big sisters put their small hands on my swollen belly and talked to their baby sibling.
"Kick right now immediately," Rae commanded. The baby waited a few seconds but then cooperated. Rae giggled when my stomach popped up in response to a strong kick.
"I saw it!" she exclaimed.
Then they both kissed my belly, sending love to the baby dancing within me.
Rae's big, brown doe eyes sparkled. M.E. kept burrowing in the covers, closer and closer to me.
After I made it through several books, I said, "Let's just rest."
Rae rolled over and hugged her Knuffle Bunny stuffed animal, and her breathing slowed almost immediately. M.E. took longer to settle down, but she eventually succumbed to sleep, too.
Even the active baby in my womb seemed to sense the need for stillness and stopped thumping around.
The leaves of the large oak tree outside of my bedroom filtered the afternoon sunlight and just a few beams shimmered through the windows. It wasn't too hot. I had the perfect conditions for a siesta. I rolled over to my side, watching my little one's tummies slowly rise and fall and taking in their sweet, still faces. Then I closed my eyes and slept.
I awoke before my girls did. They didn't appear to have moved an inch. I sighed, thinking of the conversation between a mom and her small daughter that I'd read from Charlotte Zolotow's I Like to Be Little
before our nap.
"Grownups never sit and do nothing."

"They're too busy," said her mother.

"I like to do sit and do nothing," said the little girl."I like to be little."
And I thought, I like to be with my littles because they remind me of the importance of sometimes doing nothing. My smallest children remind me that heaven can be found in a lazy afternoon spent together when you're given the chance to do nothing and something quite important at the very same time.
Despite broken bones, puffy eyes, and toddlers who are suddenly boycotting their naps, I'm on an Easter kick. We all should be. We are an Easter people. Besides, joy feels good.
During my most recent spiritual direction session I was sharing how it's not easy to dredge up dark bits from my past. My spiritual director had asked me to participate in an Ignatian exercise in which you gently, without rushing, examine your past, and look at every experience – good and bad – with hope, faith, and gratitude and love for yourself and for God's love for you. Like praying the Rosary, you remember the joyful mysteries of your life as well as the sorrowful ones and in everything, you rummage around for God, uncovering His purpose for you and how that joy or that pain you experienced helped to shape you into the person you are today.
As I reflected on my life so far, there were certain moments when I could clearly see the greater purpose, but there were a few I wanted to shut out. Why did I allow that pain to enter my life? Those were the toughest moments to revisit: The ones that were in my control, the times when I could have chosen a better, more "Godward" path, but instead I turned away from His love by not showing my love to a neighbor, a loved one, or to myself. In fact, a lack of healthy self-love was behind so many of my past mistakes (think my eating disorder). I acted out of line because I didn't love and respect myself or believe in God enough or believe that I was worthy enough to be loved by Him.
Why does it have to hurt so badly? Why do we have to lose everything to realize all we ever needed was Him? These are some of the mysteries of the cross. Yet, this is a season where we step out of the shadow of the cross into the light. It's a time when we choose to believe even if there is doubt or fear or unanswerable questions.
I've been thinking a lot of my girls' fuzzy, fat caterpillars, how we watched them eat and eat and eat. After their gluttony, they started to enclose themselves into chrysalises. I remembered my cynicism, my doubt. First, I didn't see any change in the caterpillars. Were they really getting any bigger? When I finally did notice their new plumpness and saw each form a chrysalis, I still wasn't convinced. Those chrysalises are probably going to be nothing but empty tombs. My poor children will be so disappointed. There's no way this is going to work. If I can't even keep all of our houseplants alive, how in the world am I going to raise butterflies?
This was before Easter. Where was my hope?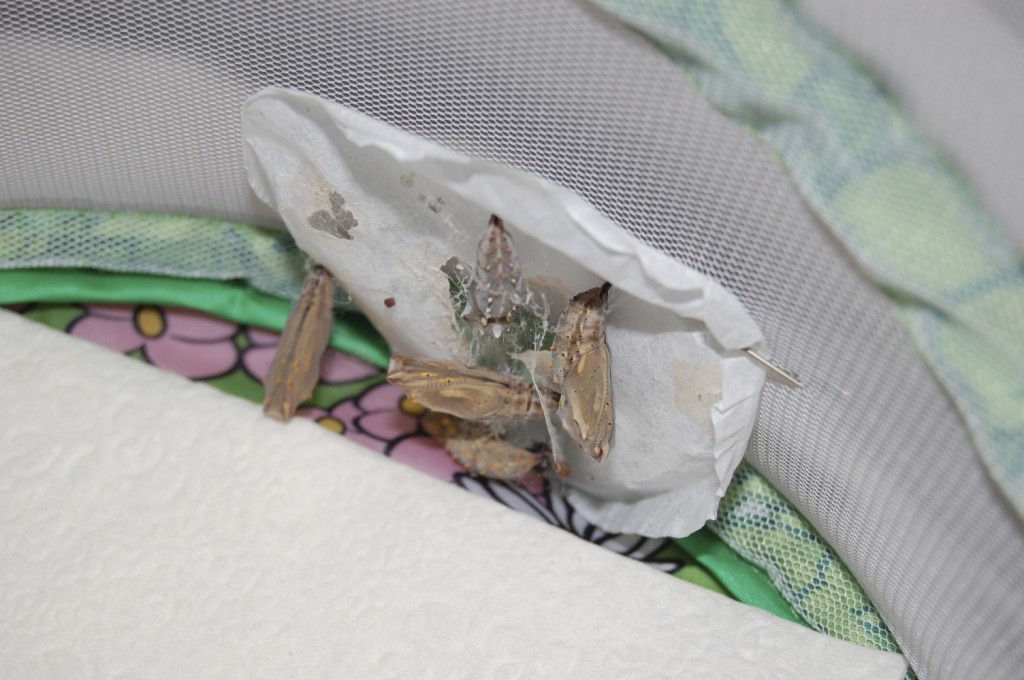 The first week in April I was setting the breakfast table when I glanced into the mesh butterfly habitat and gasped. Then I shouted," Butterflies! Butterflies!" My girls and I all did a happy, little dance. Two butterflies were spreading their delicate wings open. One was flitting about. Later that day two more hatched. Every single chrysalis released a winged creature poised for flight. From something that looked so lifeless, a thing of great beauty emerged.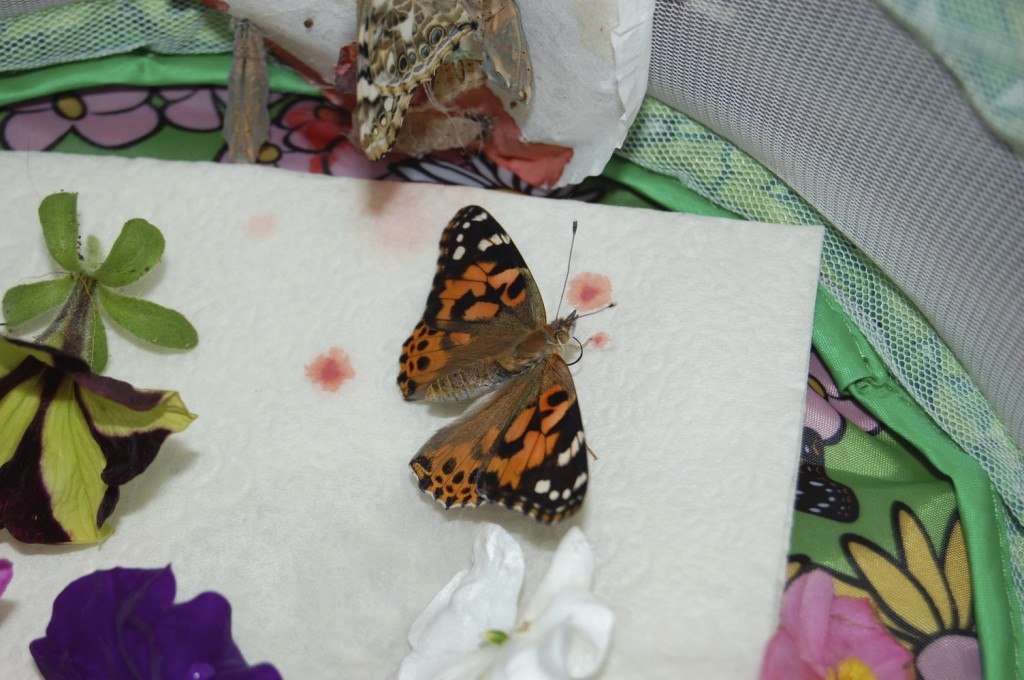 God takes it a step further with His beloved children. Not only from lifelessness, but from raw pain that is sometimes worse than being numb, He heals. He transforms. He brings forth new life.
And like my children who witnessed the transformation of a caterpillar into a butterfly and then watched as we later released these winged beauties into the spring air, we should be in all be in awe of the new life within us. We should all be very, very joyful.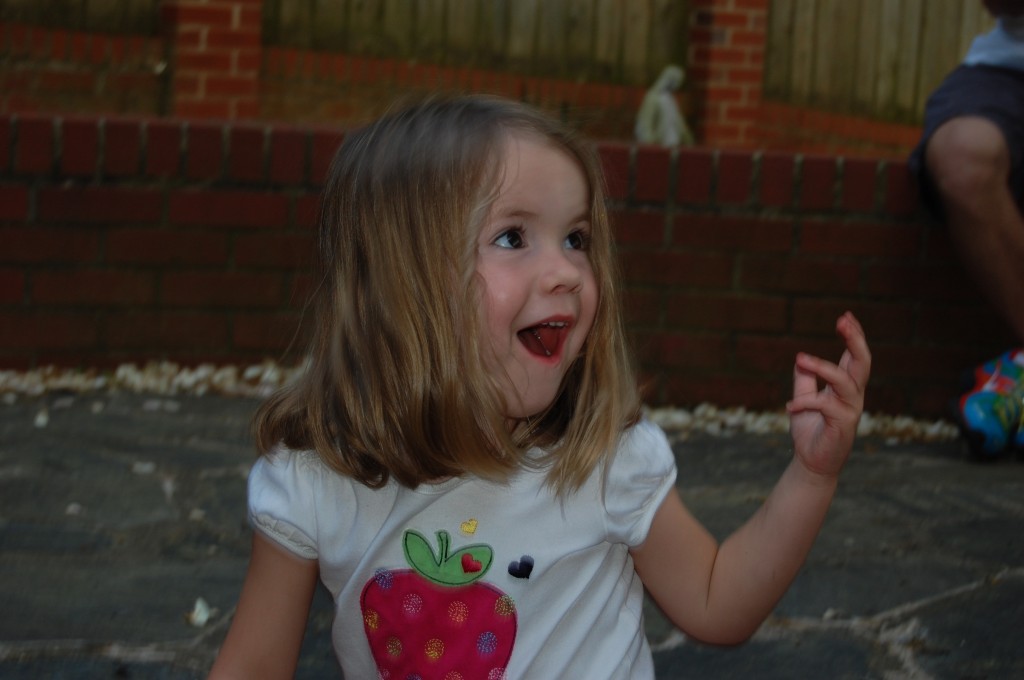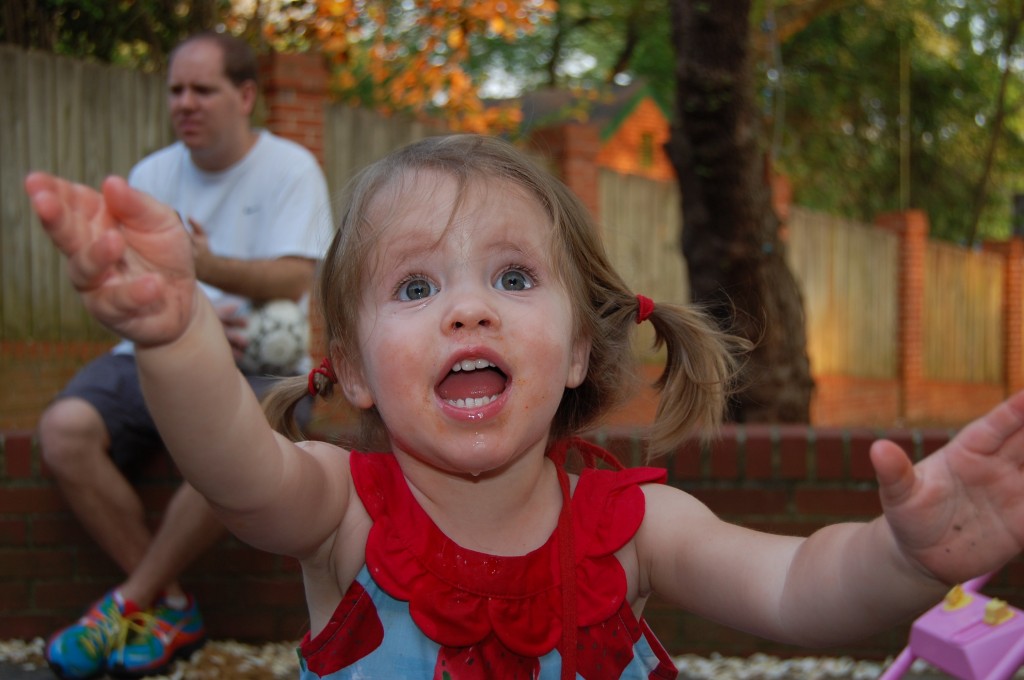 As an aside, this Insect Lore Live Butterfly Garden
was by far one of the best investments I've ever made. My children loved watching the caterpillars grow, and the transformation into butterflies was amazing. This is homeschool science at its best!