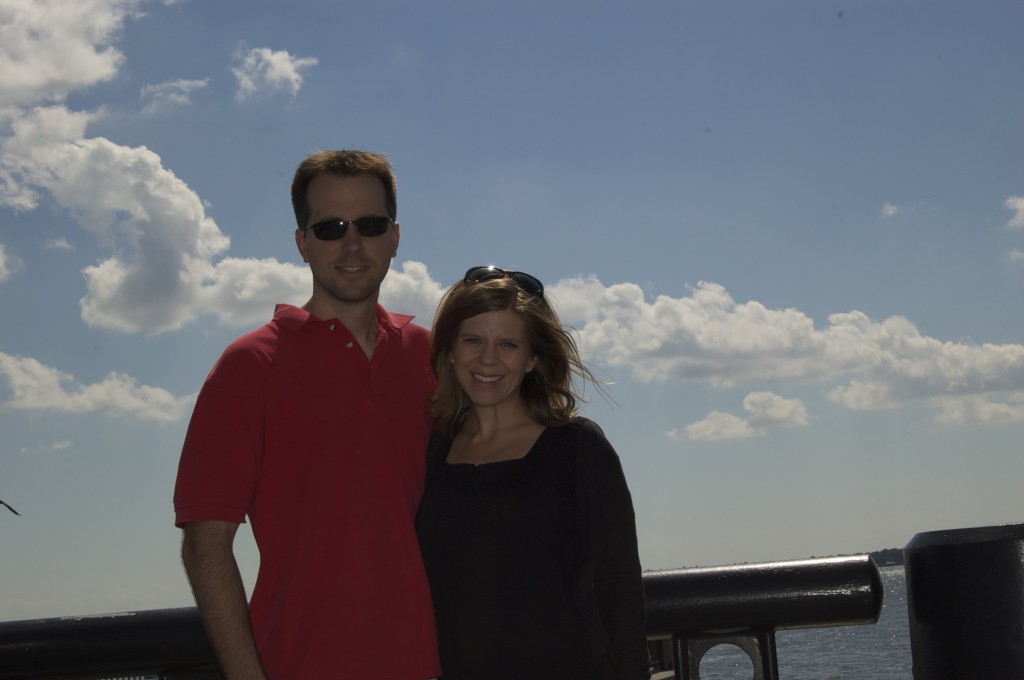 …but not in Paul Simon's wistful, lovesick kind of way.
I'm still crazy about you after all these years as I was when we were dating and staying up way, way, way past my bedtime talking on the phone for hours and hours. (What did we talk about?)
Love is the law of your life. This helps explain why you do marriage so well and why you're such a great dad. It also helps explain why you spend your entire Sunday pressure washing our old fence so our charming (code for old) house will look at its best, why you patiently extricate toys from their plastic prisons on our kids' birthdays, and assemble 2,235-part playhouses without one single complaint. It's why you work so hard to provide for our family – and to take care of your patients. It's why you give me a break even when you're tired and probably pining for your own downtime. It's why you make me so thankful today and every day that you are my husband, my best friend, my personal Mojito-maker (when I'm not pregnant), and my favorite comedian who makes me laugh before I have a chance to cry after a tough day.
For nine years now, you have given me all that I need, more than I ever wanted, and often far more than I deserve.
Thank you for being you, and thank you for loving me for me.
Happy anniversary!
Whew. We had a whirlwind of a weekend. There was eating, primping, praying, celebrating, drinking (for those of age and not with child as I am), laughing, crying (out of happiness and for a little girl or two sometimes out of pure exhaustion) dancing, and lots of reveling.
My baby brother is a married man! Woo-hoo!
I hugged him at one point, tears in my eyes, and whispered, "I'm so happy for you. I highly recommend marriage. It's a great thing."
And it is.
We had a manic, meltdown Monday. I have three very over-tired, over-excited girls on my hands, and I'm not exactly at my best form either. My husband came home from work and gave each of us a kiss and said to us individually, "I missed my girl so much." We're each his special girl in our own special way. Then he took care of bath time. He played Go with Madeline while I got the littles to bed. And I thought, "God, I love this man."
I hope I'll always look at him the way my brother gazed at his bride. He couldn't stop smiling (or crying) during the ceremony.
Since I was a bridesmaid, I was privy to his handsome, happy face when his back was briefly turned to the rest of the congregation. I saw the way he adored Megan, my new sister-in-law. I saw him quickly swipe a steady stream of tears away. I sniffled myself and tried to keep too many tears from falling upon the silvery, satin material of my dress and leaving behind water stains.
It was a beautiful ceremony. Both Josh and Megan got choked up during the vows. Megan was a gorgeous bride – her dark hair pulled half up with soft curls falling down upon her back. Her ivory, beaded dress was stunning. Her simple veil perfect. Her bright blue eyes glistened. A lot of eyes were glistening.
The photographer commented on how she looked just like Katy Perry. She did – a very classy, lovely version of Katy Perry.
One of my uncles said my face as I watched my two oldest daughters walk down the aisle carefully clutching their perfect pomanders of pale pink roses was one of pure maternal joy and pride. What polite ladies they were. It was a long day for us all; yet, they were so composed and such sweet flower girls.
The girls let loose like the rest of us at the reception. Read more
Dear Josh,
I know you're 30, but I'm always going to think of you as my baby brother – the little boy with sandy blond hair whom I coerced into playing school, the friend I later confided in when I was in the midst of another big drama in my life. Remember when we played Teenage Mutant Ninja Turtles together? You always wanted to be Michelangelo, and I was April. Remember our office in the basement and how we use to play back there by the hour? Another memory just popped into my head. It was cold night, and we walked over to the park across the street together and hopped on the swings and just talked. We were teens then, but nothing much about our relationship had changed. We were still buddies and each other's confidant. I don't recall what we were talking about on that particular night as we pumped our legs high, but I remember us witnessing a bright shooting star blaze across the navy sky.
Later I remember curling up on the edge of your bed in college and weeping after another boy had broken my heart, and you patiently comforted me, saying that it would be alright and I'd find someone better someday. Then later, the roles were reversed, although you weren't nearly as prone to histrionics as I was and took the ups and downs of your romantic life in stride. There were all those years when you were searching for the "one" and you'd ask me for girl advice or just vent to me after another disappointing date or when some foolish girl rejected you. There were complaints about the dearth of e-Harmony matches, and there were bigger concerns, too. What if you weren't ever going to have that wife and family every piece of your heart was yearning for? Yet, here we are. I'm happily married with three little ones and another on the way, and you finally have found your "at last," and Etta was right, wasn't she? Life is like a song. I can see how happy you are with your bride-to-be. I can hear the joy and excitement in your voice. Your happily ever after is finally here. You were the guy who was ready to settle down in college, but it took you a long time to find the one. Wasn't she worth the wait, though? Isn't everything good and right and beautiful usually worth the wait?
Your life is like a song right now – a happy, melodious song – and I don't want to be a downer, but sometimes that song is going to lose its happy tempo. The difficult rhythm of life will drag you down. Of course, given your unflagging optimism and the easy-going person that you are, I imagine it will take quite a lot to dampen your spirits. I'll be the first one to say that marriage is beautiful – a grace-filled journey. Yet, I'll also admit (reluctantly so, given the stubborn, hopeless romantic in me) that fully sharing a life  – with all of its up and downs – with someone else  isn't always roses.
Maybe Mom has already gave you this advice, but in case she hasn't I want to share something she told me shortly before I married Dave that's always stuck with me. She said, "You're going to fall in and out of love with each other. You'll always love him, but you won't always feel in love with him."
Like you, I'm an idealist, and I couldn't imagine ever not being madly in love with my husband, especially since I was lucky to snag as amazing of a guy as Dave. But almost a decade into marriage, I get what Mom was saying. Our love is always there, but the feelings of rapturous passion ebb and flow. Small things – personality quirks, socks that don't make it into the laundry basket – can sometimes start to irk you. Sick kids. Difficult transitions. Financial concerns. Sleepless nights. Little and big stresses tug at your romantic heart.
I've been blessed in my marriage because there's been far more better than worse; yet, it's when I've embraced the "worse" and made the decision to love Dave as well as to look past how I'm feeling since my feelings are about me, not him, that I've grown the most. Mom's wisdom and my own marriage have shown me that what really matters to the person you love is what you do, not how you personally feel. I'm not always so good at embracing this. It sounds nice and giving on paper, but it can be very tempting to start to collect grievances against your spouse and to point out all the things he's (she's) doing wrong instead of considering your own behavior and actions. Yet, day by day, grace by grace, I'm learning to overlook petty offenses, to love Dave for whom he is  and not the person I wish he would be (you know the Catholic guy who writes me ballads and leaves love notes scattered throughout the house) and to just pray for him and our marriage instead of wishing things were different or he was different.
Dave has always been very good at loving me just the way I am – with all my strengths, gifts, faults, quirks, and drama queen moments – unconditionally. I know you'll be the same way with your sweetheart because you remain one of the most giving, selfless people I know. Your willingness to put others first is going to help you so much in marriage. Because, despite what the Hollywood image of love would have you believe, marriage isn't really about making you happy but making someone else happy. This dying to self can be painful sometimes, but it's when I cast aside my own desires and think of Dave first when true happiness begins to unspool. Sheesh. I sound like an old, married fart, which I guess in some ways I am, although I'm still learning all of these lessons every so slowly.
My final words of unsolicited big sister advice (ironically from a girl who's only 18 months your senior): Let marriage do what Jesus did at the Wedding of Cana and take the ordinary in your life and make it extraordinary. Let your love, self-donation, and commitment to your bride's happiness transform you.
Oh and while you're at it, have fun. Make regular date nights – even when they're at home when your nest starts to be filled with little ones – a priority. Laugh a lot. A sense of humor is so important. Remember married life won't always be a fairy tale, but it will be a story that is uniquely yours and its success is a work of sheer grace.
I'll stop my annoying big sister sermonizing now. I just want you to know how much I love you and how happy I am for you. You're going to be a great husband and a wonderful dad. (Madeline always talks about how fun her Uncle Josh is.) Enjoy tomorrow. Soak everything up: the way your bride looks floating down the aisle, the way your goddaughter clomps along sporting her big boot, the way your big sister blots away tear after tear. It will likely be a blur of happiness. And remember you'll always be a my baby brother – whether you're a 30-year-old married man or not.
You're a great brother and friend, Josh. Now go get hitched, and enjoy your happily ever after!
I love you.
~Katie