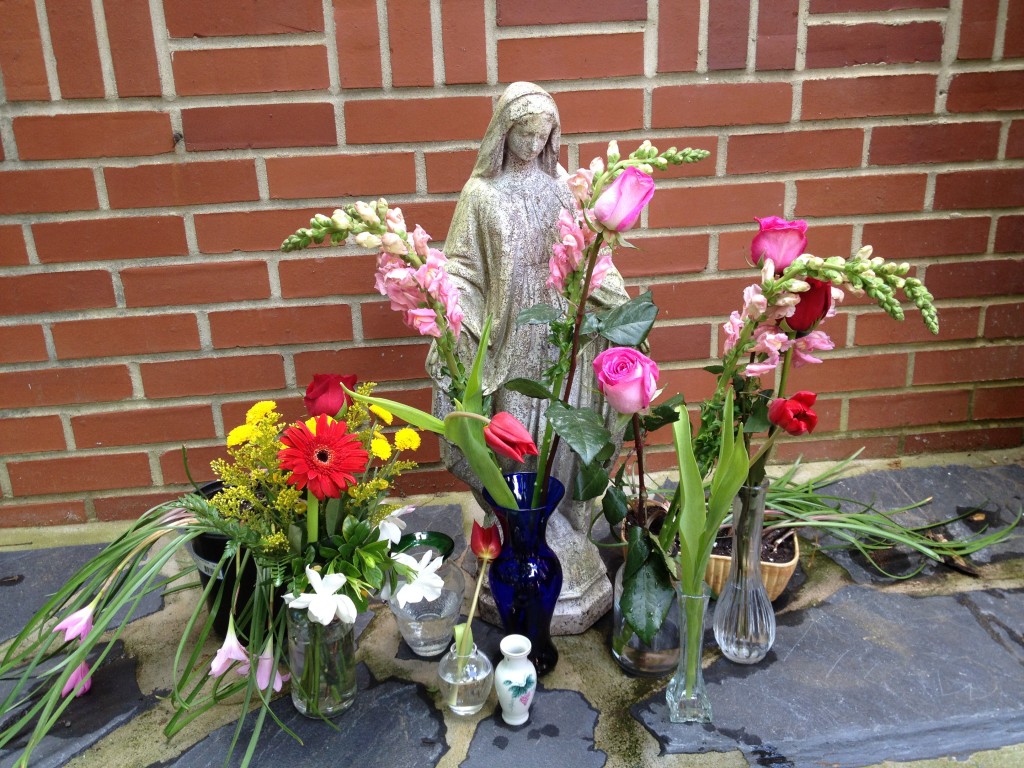 I love my mom for many reasons. One reason is that we can be laughing one moment and then be delving into some serious stuff without even realizing we made the jump until we're both thinking aloud about how yes, this is something that could help us lead a more holy life. Which is usually followed by more laughter or a child shouting, "It's my turn to talk to Gaba!"

We had an early morning conversation today, and it was a lovely way to start my day. We talked about all sorts of things: how people let us down;  how it's demoralizing when you try to make something new for your family for dinner (and spend a lot of time doing it) and no one likes it (not even the dog); how it's sometimes tough to determine how to best use our talents that might not really shine in the trenches of motherhood (or if we should use them at all; Mom/Gaba says we should); how my husband always provides a balanced, truthful, and objective assessment of virtually every situation or concern I'm toiling with; how mothers sometimes need an outlet that has little or nothing to do with mothering; how humility isn't thinking of ourselves as less but thinking of ourselves less often (which I quoted from this excellent funk-fighting post); as well as how excited she is about traveling to see her big sister this coming weekend.
We also talked about something that just might be life-changing for me.
"Mom," I said happily. "You just gave me something really good to blog about!" And something to try to embrace in my daily living.
Someone might remark that I'm a great mom, and I might say something like, "On a good day, maybe." Or I"ll crack a joke deflecting the kudos because I'm uncomfortable about the compliment – or because they didn't see me the day before hopping around, howling, and screeching at my children like a maniac after I pierced my foot on a renegade Lego.
My mom does the same thing. She carries her cross of chronic pain with such grace, and I tell her this much. "No, I don't," she'll say. Or, "I'm no saint."
None of us is – yet. But why not try to become one and to live a life worthy of all the compliments and glowing appraisals we receive?
My mom's parish priest, who is also a dear family friend, recently effusively praised her for all the work she does for the myriad ministries she's involved with at church. She told me that at first she felt like he was just being nice, but later that night she thought that maybe she should just be grateful for his encouragement and simply try to live up the praise.
With all of her surgeries and health problems, she's been tempted to give up volunteering altogether. Yet, she knows it is good for her to stay involved, to visit others as a homebound minister who were in more pain than she was, and to head up some ministries without feeling like she has to be as hands-on as she once was. Her decision reminded me of a quote someone shared after this homeschooling discernment post of mine that has  helped to change the way I see parenting and homeschooling.
"Anything worth doing is worth doing badly."
  
–G.K. Chesterton
It's easy for us to question our ability to be spouses, parents, volunteers, employers, friends, and Christians because we do sometimes do all of these things poorly. But that doesn't mean they're not worth the effort time and time again. Likewise, our continued failings don't mean that people won't sometimes witness us doing these things well and tell us so. When they do, maybe instead of thinking that they just don't see our dark side or they'd think differently if they'd been with us when we morphed into a mommy monster and rather than being tempted to start to mentally enumerate all that we do wrong, we ought to simply be grateful that we sometimes do get it right. And sometimes people notice when we do.
We recently hosted a get-together to honor the Blessed Mother during the month of May. A procession of children shuffled over to our simple garden statue of Mary and placed flowers in vases crowded around her. I couldn't help thinking of how Mary graciously accepts the love offerings of her children with a humble heart. Mary does not need to be showy. But she doesn't need to think less of herself either. She is unassuming without being self-effacing. She is deserving of the gifts of flowers. She is worthy of roses.
We, too, can lead lives that make us worthy of the roses others hand to us. During our soul-affirming conversation, my mom and I made a pact that from now on when we receive a compliment, we won't doubt its truth. We will graciously accept it as the grace that it is. Then we will strive to live up to the way others perceive us to be.
We will become the good person they think we are.
This hasn't been the greatest Lent. That's an understatement, actually.  In all honesty, I feel like an epic failure. I set the bar low, and I still couldn't meet any of my spiritual goals.
Yet in spite of me and my failings, Easter will come. In the face of my sins and my foibles, there will be hope. New Life in Him is not dependent on my performance. Thank God for that.
Dying on the cross, Jesus thirsted for souls. He went to all this trouble and endured great suffering. Yet, there are so many, myself included many times, who don't really appreciate his sacrifice. We continue to crucify Him with our own sins – no matter how small. How awful that must feel not only to God, but to His Mother, too. She stood at the foot of the cross and watched her only son suffer and die. She accepted everything with trust and grace. And here I am, unable to even make some pitifully small sacrifices in honor of Him.
Oh, Mary, it would be a lot easier to hate those who hurt Him, wouldn't it? I bet it would even feel good – at least for a fleeting, pleasurable moment – to hate all of us who betray your Son with our actions (or our lack of action – say, being too tired to pray to Him).
Instead, Mary and Jesus chose to forgive again and again and to look beyond our weaknesses and our repeat offenses and to love.
I haven't been very good at loving anyone but myself lately.
But I refuse to be a Judas. I refuse to give up, to cave in to despair. I cling to hope, hope in a God whose mercy is endless and who loves me even when I don't deserve it. Like Peter after he betrayed Christ, I long to look into Jesus' eyes, into Love itself, even though it might be easier to look away.
Easter is coming. I keep reminding myself of that. It doesn't feel like I deserve an Easter after such a pathetic Lent.
I have some loved ones who not only deserve the joy of Easter but who will be living it on Sunday.
My cousin has been fighting leukemia for 3 1/2 years, but on Easter day he stops taking his oral chemo. Isn't that beautiful? A priest will be offering a personal Mass in their home to celebrate this new beginning for him. Entering the phase known as "survivorship" on Easter Sunday takes the whole idea of "new life" to a new level, doesn't it?
This Easter will be the first day of the rest of his cancer-free life. Deo gratias. He was 15 when he was diagnosed. He's spent most of his teen years fighting cancer. Whereas my Lent has been too short, his has been far too long.
My aunt understands, more than I, what it means to stand at the foot of the cross. She understands what it means to be faithful in everything and every circumstance. Come Easter, she'll embrace the new life in Him, in her own son, just as she has taken up the way of the cross for so long now.
This Easter is for my cousin. It's for his mom, his dad, his entire family.
It's for my dad who recently said he feels a lot like Mary sometimes having to helplessly watch his wife suffer with grace and endurance and to standby and witness his mom – who lives with my parents – have to face the realities of old age. He can help. He can pray. He can trust. But he can't take my mom or our nana's crosses completely away.
This Easter is most definitely for my sweet mama who despite failed surgeries and medical treatments clings to hope and gives thanks for a beautiful life.
Easter is for you, too. It's for me. It's for those who believe and those who don't. It's for those who suffer as well as those who seem to glide through life with nary a care in the world.
It's for us all.
Imagine that. You don't have to. It's the Truth.
 His Truth.
We are all God's beloved children, and we are all capable of being raised in glory.
Today there is darkness. There's sadness. There is pain. There are lowly bodies that fail us. There are broken hearts and spirits.
In this world, there is suffering, disease, disaster, hate, indifference, neglect.
In my life, I get it right some of the time. Sometimes I don't.
He is there through it all.
"Lord, I am not worthy that you should enter under my roof, but only say the word and my soul shall be healed."
God says the word with the cross. Each nail driven in deeper and deeper drives His love into us.
And on Easter, whether we've kept all of our Lenten promises or not, whether we've suffered from cancer or another sickness, whether we've had to watch a loved one endure pain, whether we've held grudges, whatever our past, on Easter morning our souls shall be healed.
Our future is in Him. How can we not be full of hope and new life?