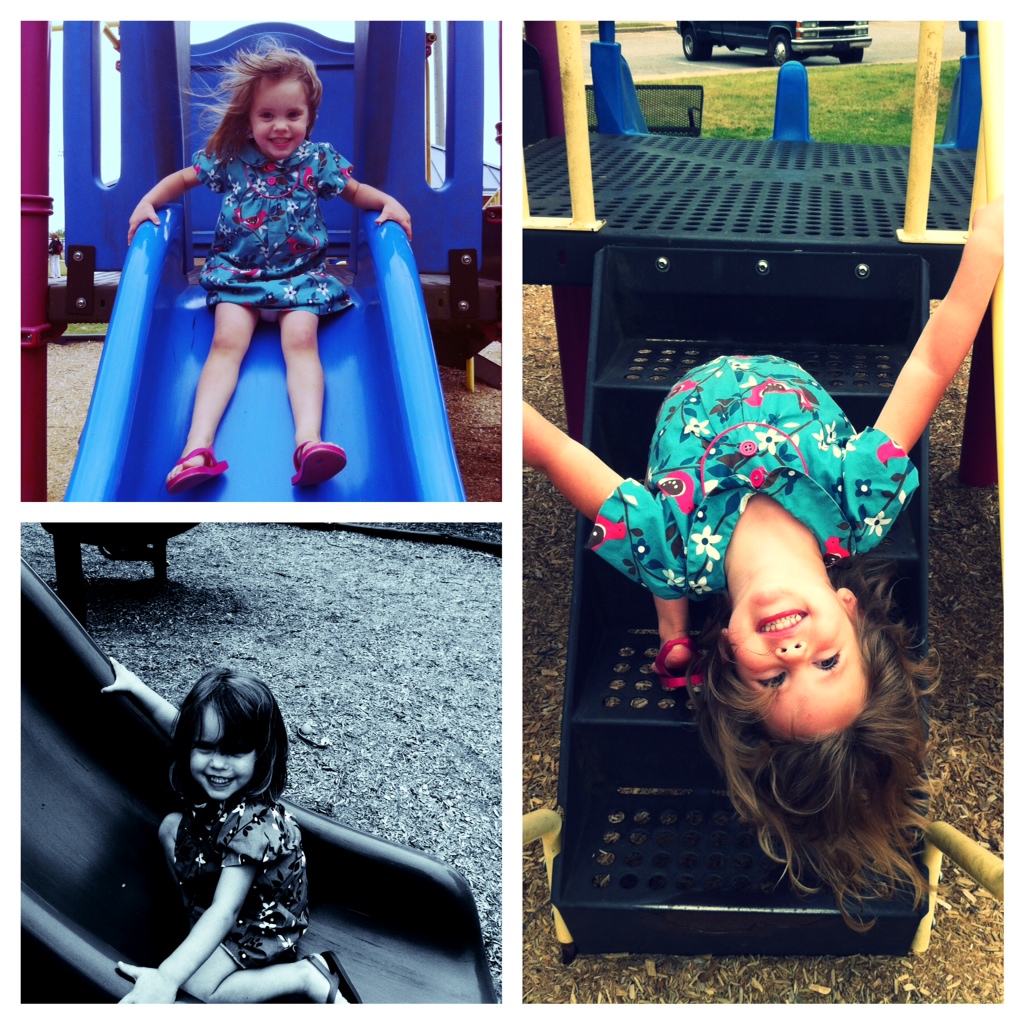 Sweet M.E.,
Happy 3rd birthday, my big girl! I'm late writing your birthday letter this year. I suppose that's what happens when you're the third child in a growing family.
Both Nana and Gaba forgot to bring their cameras to your cupcake birthday party.
"You can tell Mary's not our first grandchild," Gaba laughed.
True, but don't ever think for a minute that you're any less loved or cherished.
At this point in your life, I don't have to worry one iota about you feeling special. Oh, child, you're not lacking in confidence – or happiness. You float through the day, batting those gloriously long eyelashes that frame your earthy green eyes while (mostly) getting what you want and (sometimes) getting away with what you shouldn't. You may be a new 3-year-old, but you know how to run this place. Yet, you're easily appeased (usually) when life doesn't go exactly the way you'd like. Even when you do get upset or someone else upsets you, once things have settled down the not-so-nice memory seems to vanish. You're not one to hold grudges.
My lovely Mary Elizabeth, if you're not blissfully floating, happy in your own little world, then we might find you dancing around on the tips of your toes. You naturally walk on pointe even on our hardwood floors. After observing your twinkle toes, I tried it – ouch! But you've been doing it since you were young. You're definitely our tiny dancer. You love to spin around, especially while wearing one of your frothy tutus.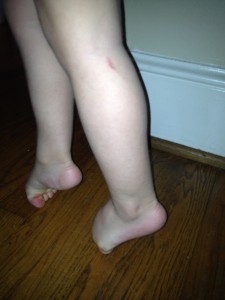 And your dancing is always carefree. No stiff, overly choreographed movements. You express your joy and happiness with life and your simple world with your mellow movement. Two separate people on two different occasions laughed watching you tote around a purse and twirl around. Then each of them referred to you as a hippie. You're definitely a free spirit, a true sanguine. Bouyant, you waft through the world without too many cares. You also have a proclivity for wearing flower-shaped sunglasses outdoors as well as indoors. That might have something to do with the flower child description.
Then there's your scatterbrained ways. Oh, my little klepto. You're always taking things and making them your own trinkets to hide away in one of the many purses you've claimed as your own. You never put things back. You undress every single doll in our house, and you always leave mismatched socks, ribbons, hairclips and rubber bands you've pulled out of your hair, and other odds and ends in your wake. Sometimes it drives me absolutely crazy. Yet, I've learned that while like every child you need boundaries, you won't be happy if I insist on everything being organized and regulated all of the time. I hate for things to be out of place, but you seem to appreciate the beauty of chaos. I'm trying to not demand perfect tidiness from you.
However, when we can't find something (um, like our handpainted doll of St. Anthony of Padua; the irony has not escaped me that the Saint of Lost Things has been missing since Christmas), we do automatically look to you and raid your loot in search of the MIA object. Just this week I couldn't find a pair of chic flats I'd just had on and was on a search and rescue mission when you told me they were in my bathroom by the bathtub. Sure enough, there they were.
"I was trying them on," you confessed.
2-year-old as she points at a huge, inflamed bump on my chin: What's that?
Me: A zit.
2-year-old: It's not pretty.
I've always assumed my calling myself an "Expert in Hazardous Waste Removal"  in my email tagline was an obvious joke since I'm the mom of poopy littles. But a few weeks ago I corresponded with someone whom I don't know well. Our children were involved in the same activity. Well, we exchanged a few emails about the kids, but then I received a note from him where he referenced the fact that I was an expert in hazardous waste and asked me if I knew where he could safely dispose of energy-saving lamps containing mercury. I responded by telling him I was unfortunately not a real expert in hazardous waste and that I was only jokingly referring to the fact that as a mom to little ones I'm frequently knee-deep in diapers and disposing of other kid by-products. I never got a response back.
Awkward.
I find it quite ironic that I'm running my fingers through my hair during Sr. Helena Burns's  You Tube video of the Behold Blogging Summit. I mean, I was invited to Behold partly because I'm the author of Weightless: Making Peace With Your Body
, and "body" includes your hair and yet, I couldn't stop trying to smooth it out and clearly was not at peace with its defiance. To be fair, I'd been traveling all day. I also didn't initially realize I was being filmed. Still, it's kind of funny – and maybe a bit vain, too – that I can't stop messing with my tresses. Though it could also be argued that it's vain of me to even notice that I was running my fingers through my hair and/or to care that I was caught on camera doing it.
So long as I'm talking about vanity, I'm absolutely dreading shopping for a swim suit. I desperately need a new one, especially since my husband has surprised me with a beach vacation to celebrate our 10th wedding anniversary. In just a few weeks, I'll be traveling with the two men in my life (Baby Thomas and my husband), and a swim suit is essential. I haven't subjected myself to this horrifying experience in years, but it's time. Most of my swimsuits have become bumpy, stretched-out, and faded, and the two I ordered online were never my favorites, but I was too lazy to return them. But here's my real grievance against swimsuit shopping: Why-oh-why do dressing rooms use fluorescent lighting? It's bad enough to put spandex on your body and to have to pull it over your undergarments so that everything gets all bunched up, but the bright, unforgiving lighting make the experience even more traumatic. I don't want to feel like I'm being interrogated when I'm trying on anything in front of a huge mirror, especially clothing items that show a bit more skin. Why not use soft, gentle lighting? I guarantee women would spend more and not avoid swimsuit shopping for years and years.
Maybe my next book should be Making Peace with Trying on Swimsuits in Fluorescent Lighting.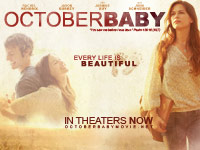 I really, really want to go see October Baby this weekend, but I doubt it's going to happen. The closest it's playing is over 30 miles away, and we have a jam-packed Saturday. If you're able, I strongly encourage you to support this pro-life film.*
I also have selfish reasons for wanting to watch the movie to do well. A  good friend of mine is close friends with the film's lead actress, Rachel Hendrix. In fact, Rachel, who's also a very talented photographer, recently took photos of my friend's beautiful family.
I haven't seen our friends or their kids in awhile, and these photos did a remarkable job of offering me a glimpse into their everyday lives. The energy and spirit of those boys is palpable and so is the beauty of my friend! (Love to you, dear one.)
*The producers of October Baby will be donating 10% of the profits of to the Every Life is Beautiful Fund, which will distribute funds to frontline organizations helping women facing crisis pregnancies, life-affirming adoption agencies, and those caring for orphans.
 A friend recently passed along a link to me for an amazing website that approaches eating disorders from the Catholic perspective. The website's founder, Maura Byrne, is an eating disorder survivor, a Catholic, and a woman on fire with the Spirit. She's working to start Made in His Image, the first Catholic inpatient medical center for women suffering from eating disorders, physical, and/or sexual abuse. Read more