I'm over at Sarah Reinhard's place today taking a closer look at the Hail Mary. How fitting that she invited me to write about GRACE. I'm a grace monger right about now as I'm making final preparations for my big trip and speaking gig at the Behold Conference. By tomorrow evening I won't be virtually hanging out with the likes of Sarah. I'll be in the same room as her. Woo-hoo!
Here's a snippet from my guest post:
Mary helps to reveal what a beautiful thing God's grace is and that it's there for our taking.

I had a friend recently compare parenthood to that of running a marathon or an ultra race. Her husband has competed in both, and my friend admitted that she couldn't even begin to think about physically challenging herself to that degree. But her husband reminded her that he gets the same kind of response – "I could never do what you do and have so many children!" – from others who discover he has eight children.

She wrote, "People are capable of doing difficult, unfathomable things." Mary is proof of this.

From the moment of the Annunciation, she said yes to God over and over. She even said yes to watching her only child suffer and die. She achieved and endured unfathomable things.

How did she do this? With God's grace.
Read the rest over here, please.

Also, while you're clicking around the Web, be sure to check out this post written by an in-the-flesh-friend of mine. As a mom to little ones, I've had to learn to find God in the small things – everything from silly board books to peanut butter spread across two slices of bread. Erin, also a mom of four little ones, shares how God is everywhere and even speaks to her through Dr. Seuss. My friend has Kingdom eyes and finds God in the details – and in green eggs and ham.
Our prayer lives don't have to be complicated or even contemplative right now. This isn't the life mothers are able to live. It's not usually possible for us to retreat into the desert – or even the bathroom – to pray, but sometimes keeping our prayer life simple is just what God wants us to do. Not that we shouldn't try to carve out alone time as Elizabeth Foss reminds mamas in her recent column. Even small pockets of solitude feed the soul. But when we're interrupted or when the 40 days of Lent sounds more like paradise than penance, remember God is still around for you. Seek Him first in the menial tasks of motherhood like diaper changes or reading the same books over and over.
Have a simple, lovely, and God-filled day!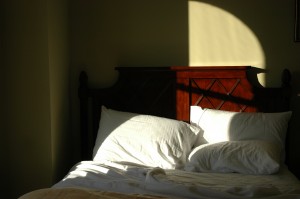 I'm becoming a bed rest pro. Three out of four of my pregnancies have now resulted in some form of mandated "taking it easy."
Now before I write anything further, I have to be clear that I've never had to endure the strictest form of bed rest when you end up in the supine position stuck in a hospital for weeks or even months. Or if you're lucky, you're allowed to lounge on your side at home in the company of a catheter and home health care. Nor have I had to sustain months and months of being sidelined. (You do know that author Donna-Marie Cooper O'Boyle wrote some of her books while on complete bed rest for almost nine months during a high risk pregnancy? Talk about sacrificial love!)
Until this pregnancy, I never had full-blown premature labor. It was just a Type A cervix and smallish babies that landed me on bed rest.
Although my husband and midwife called it strict bed rest with Mary Elizabeth (my third baby), I was still able to get up, shower, and go to the bathroom, and I was never afraid to breath. I did stay up in my room, resting and brooding, but thanks to a very thoughtful husband, I had a lovely bouquet of roses to gaze at as well as a big pile of books to work my way through.
With Rachel (my second baby), they called it modified bed rest. I could get up to grab a bite to eat or engage in other short bursts of activity, but I pretty much stayed horizontal for most of the time (about three weeks).
This time it's a little different because of the newish fFn test and the fact that I had a negative one last Monday (I have to repeat the test on July 6th to help determine if I need to be admitted to get steroid shots to help the baby's lungs). The negative results gave us a boost of confidence that this baby would stay put for at least another two weeks from the day it was administered (June 20th). When I was discharged from the hospital, the nurse and doctor thus instructed me to try to get help with childcare and housework, to take it easy as much as I could, and to restrict my activity.
I had a follow-up appointment that Thursday with my midwife and was hoping for some more exact instructions or rules to follow, but she gave me the same advice and urged me to listen to my body. "If contractions start, then stop what you're doing and rest. No one can tell you what to do or what feels okay to do. You've got to listen to your body."
The label "modified bed rest" continued to be thrown around, but it was ultimately up to me to decide exactly what that meant.
My midwife put her complete faith in me and my ability to pace myself and warmly said I'd grown more sensible with each bed rest experience. (We're like old friends, and she understands my compulsive personality well.) She probably would have taken that immediately back if she'd overheard me in the car on the way home.
"So does this mean I can still workout if I'm feeling okay?" I asked my husband. I was grinning sheepishly, mostly joking.
He didn't smile back. Instead, he looked at me like I was insane.
Okay, okay so modified bed rest doesn't mean hurling around kettle bells. In fact, pregnancy probably doesn't mean I should be doing much of that either. And I know that. I'm not putting this baby at risk. Trust me. I ventured out to Mass on Sunday (the girls and my big outing for the week!) and sat down during the liturgy at one point when I felt contractions coming on. I am being sensible, and it's actually getting easier with each pregnancy to accept my limitations as well as to accept help. (Every experience we have is purposeful and a way of teaching us more about God and how to be more like Him; that's something my spiritual director has said. He'd also probably now say  – if I hadn't missed my appointment this past week – that I should treat my repeated experiences with bed rest as  a sort of spiritual boot camp and a chance to not just grow a baby longer but to grow in virtue. But maybe I'm just putting words into his mouth.)
Still, none of this means bed rest – modified or not – doesn't sometimes drive me crazy or leave me feeling frustrated or helpless especially when it comes to caring for my other children. However, my three experiences with lying low have armed me with some coping strategies. Some of them may seem silly; some are practical; and some of them are pontifications born out of having too much time to ponder on my hands. Take what you will. Leave the rest. (This is an epically long post; I apologize!)
I'll share them here in the hopes that they might help some other mama who unexpectedly finds herself  on bed rest, restricting her activity, and/or having more idle time on her hands than she ever felt possible.
1. Slap on some lipstick. Or give your eyes a quick swipe of mascara. Or style your hair. Maybe a friend can even give you an at-home pedicure. Just do something to make yourself feel like more than just a lifeless lump. Just because I'm stuck inside for most of the day, and my only visitors are family who have seen me at my worst doesn't mean I ought to completely ignore my appearance. I'll admit I typed a good bit of this while wearing a cozy pair of PJs, but my hair was brushed, and my lashes flickered with a thin coat of mascara on them.  A little primping helps me to feel human, if not pretty.
2. Change your perspective. When I was put on bed rest the first time with Rachel, I remember thinking, "Okay, this might be nice and even relaxing." I thoroughly enjoyed the first few minutes of resting on my couch watching others manage my household and play with my oldest child. Very quickly, though, my inability to be part of the action started to drive me crazy. I felt utterly unproductive. I hated doing nothing.
Only, I wasn't doing nothing. Not at all.
There's a Palomino rocking horse on my front porch. He's been stripped of his saddle, and some of his coat is a bit on the crusty side. He's airing out after a toddler decided to straddle him in a very poopy diaper that proceeded to leak all over the once noble steed.
I was downstairs folding laundry when I heard the screeching, "MOMMY!"
I chose to ignore it because I've been hearing screeching and crying and whining and "She hit me!" and "No!" all weeklong.
That was a big mistake. The yelling, it turns out, was to alert me that Mary Elizabeth had a leaky and very poopy diaper. Not only had she christened the rocking horse with it, but she'd also climbed on my husband and my bed leaving a trail of stinkiness.
When I say I'm in the business of hazardous waste removal, I'm not kidding.
The poop made me cry.
Can a toddler's toxic waste break a mama's back?
Most definitely.