So this is a totally random post because I have to admit something has been going on with my cerebral capacity (as in it has been decreasing at an alarming rate recently), and I just can't seem to find the time or brain power to write much lately.
The other day my 9-year-old decided she wanted to make dinner for us. She's always been on the ambitious (and infuriatingly stubborn) side, so she decided to whip together a cheese soufflé. I was busy sifting through a heap of fall festival emails when she was asking me about the recipe. I am 99 percent sure I explained it correctly but when I dropped in the kitchen to check in, I saw that she had never even beat the egg whites to soft peaks. I also discovered our kitchen had transformed into a war zone. The counters were dusted in flour. Every single mixing bowl I own (and I like to bake, so I have a vast collection) was out on display. Shards of egg shells littered the floor. And there in one of the many dirtied bowls was a lumpy, yellowish, and heavy-on-the-flour mixture.
"Where are the egg whites?" I asked.
"I poured them all in to the cheese and flour and yolk mixture," the sous chef replied with absurd confidence.
"What? Did you not beat them first? Into the snowy peaks I told you about?"
"No."
"That's what I told you to do!"
"You must have said it in your mind."
Now I am almost sure I said it out loud, but I do feel like a total mombie lately. But I also know this child has many, many positive attributes, but she does have an issue with pride. Nothing is ever solely her fault.
"I think I did say it out loud, but let me ask you this. When you ask me a question, do you sometimes think 'she doesn't know what she's talking about?' and then just tune me out instead of even trying to listen to what I have to say?"  See, I get this feeling a lot.
"Yes," she admitted. "But that's just because you're usually wrong." At least she's honest. Brutally so sometimes apparently.
For the record: I have been wrong a few times, but I am mostly right when it comes to my children's questions and mostly know more than my 9-year-old.
The other day I was working with my fourth grader on her math, and I admit that I did have to read a stinkin' word problem three times before I knew what it was asking. My husband and I both agree some math problems are poorly written, however.
My daughter looked at me dubiously when I finally started to explain what the problem meant.
"Are you sure?" she asked.
"Yes!" I exclaimed over enthusiastically because honestly I can't be sure of anything these days.
Oh, and there was that stupid long division problem recently. So I got the wrong remainder. Cut me some slack. I made straight A's in all my advanced, high school math classes, and I majored in journalism with a theatre minor so it's been awhile since I've had to practice long division, okay? And, anyway, I was trying to teach her math while my 3-year-old was running around screaming and my 5-year-old said over and over in her high-helium voice, "Mommy, Mommy, Mommy, Mommy, Mommy…" To be fair, this little one never seems to grow impatient or raise her voice at me, but she just will tenaciously keep at the Mommy, Mommy" thing, and sometimes when I am trying to multi-task like a fool, it grates on me. "Stop saying, Mommy!"
"But I need you…"
Doesn't everybody these days?
I am losing a little confidence in my brain's ability to perform as it once did and a lot of the times or just slow, like eventually my brain will get me the right word or answer or sentence.  And it's frustrating because once upon a time I was a witty intellectual/writer/thinker/bookworm who made excellent grades and was teased for being a brainiac nerd. Now I'm teased (by a 9-year-old no less) for usually being wrong.
I blame my brain mush on my hormonal state. Seriously, I feel like my hormones are all over the place. This is the first time in a decade that I am not pregnant and/or nursing, and I'm not sure my body knows how to handle it. My cycles are all over the place. My family medicine doctor wants me to go to an OB/GYN or an endocrinologist to get some tests because she feels I might have early menopause symptoms. Ironically, a few months ago an editor approached me about writing a health article on menopause, but I turned it down, saying something about how I wasn't ready to think about that yet. Clearly, I am now ready. I am resisting seeing another health professional. I am tired of doctors except the one I'm married to.
I am sleeping as badly as I did when I had my nocturnal newborns, so this could be another reason that I can't always (usually) string coherent thoughts together.
Regardless of why I am incapable of being as quick-witted as I once was and have had a bit of writer's block of late, I was recently cleaning up a ridiculous amount of spam I've been getting on this site lately and started to come up with all these snarky responses I could shoot back to all the weirdos and bots who make it their mission to spam blogs and websites like me own.
I do have to admit to being tempted to click on the backlink of one such spammer, which read: "Am I psychopath? test online." But I resisted. I already know I've got the crazies. No need to confirm it.
But because I needed a good laugh (I've been feeling really stretched thin lately like I am just barely treading water), and maybe you do, too, I'm sharing some recent spam comments, and what I'd like to say back to them (my responses are in italics, and I posted spammers' comments as is in all their resplendent, bad-grammar glory):
This website is actually quite pleasant.
Why, thank you.
littlethingsbringbigsmiles.
Amen, sista.
Watch Lucy free online.
Who's Lucy? I'm not even going to think about clicking on your link to find out.
It's a shame you don't have a donate button! I'd definitely donate to this superb blog!
Really? Why don't you send me 500 bucks to my PayPal account? My suberb blog and shoe collection will thank you.
It's very easy on the eyes.
Maybe I should start sharing some pictures of the atomic waste my toddler refuses to release into an actual toilet. That might not be so easy on your eyes.
Hello superb website! Does running a blog such as this require a lot of work?
Nope. Especially when you only post once every 7-10 days per my style lately.
Oil Rig Jobs in Texas.
It's been nice knowing you, Georgia.

A rolling stone is worth two in the bush, thanks to this article.
Huh? I don't believe I mix metaphors too often.
Quit whining.
Are you talking to me or my toddler?
Dragonballz
 No comment.
After reading this remarkable paragraph, I'm glad to share your site with collegagues.
I am honored. Are any of your colleagues literary agents? I am working on an amazing work of fiction and need to secure an agent.
Retro Air Jordan Shoes.
How did you know I used to follow the Chicago Bulls and had a major crush on Michael Jordan when I was around 13?
For a large number of people, being in the sky flying is no big deal.
Whom are these large number of people? I'd really like to get to know some flying humans.
Do you have a spam issue on this blog?
Affirmative.
And here's a good tip: if your bag's cleaning instructions call for air drying in a tumble dryer, try throwing a few tennis balls in with the sleeping bag. You wouldn't want anything within your bag poking you in the back, why would you think your dog would.
 Alrighty then.
Hmm it seems like your blog ate my first comment (it was super long) so I guess I'll just sum it up what I wrote and say, I'm thoroughly enjoying your
blog. I too am an aspiring blog writer but I'm still new to everything.
 I wish my blog would eat your second comment as well.
Have you еver considered аbout adding a lіttle bit morе than just youг articles? I mean, what you say іs important and all. But just imagine if youu ɑdded sοme greаt visuals or video clips tօ give your posts mоre, "pop"!
Are you saying pictures of my perfect progeny don't add enough "pop"? Spammers gonna spam; haters gonna hate.
At all times follow your heart.
Awww. Thank you for that wisdom. I've never heard that before.

The storyline reaches a heart wrenching climax, filled with the grief of separation and regret, yet supports the commitment of ever new origins and ongoing cycles of cosmic becoming.
 You really should read William Strunk and E.B. White's The Elements of Style.  You're no Faulkner, and sometimes less really is more.
現在の天子を
I-a on'tday eakspay ouryay anguagelay, ubay I-a eakspay igpay atinlay.

God Bless you man.
I'm a woman.
Shopping for a nfl jersey?
 Actually, I'm not, but thanks. I am usually found shopping for baby wipes, groceries, and an occasional pair of chic shoes.
"Competition is a laborious fixation, except it produces vast results."
 If you say so.
My family members every time say that I am killing my time here at net, except I know I am getting know-how everyday by reading such good content.
 I'm tempted to judge you for allowing yourself to be sucked into the black hole of social media, but I am actually killing time responding to ridiculous spammers such as yourself, so we'll call it even.
It doesnt seem like it would be very difficult to see who's using it, if you get our drift. All joking aside, for a moment, viagra benefits aren't just limited to the bedroom; athletes have found that it assists in blood flow, which helps in getting oxygen around the body faster and aids in endurance.
Think it could help with my hip and hamstring?
Thanks for sharing your thoughts on detachment. Regards.
How about detaching yourself from spamming?
Hello i am kavin, its my first occasion to commenting anywhere,
 I don't belive you, Kavin. I think you comment everywhere you can.
You are so awesome!
Gee, thanks.
I don't even understand how I ended up here.
 Neither do I.
If possible, you should drink water in a silver glass.
 You learn something new every day.
Hello, I want to subscribe for this webpage to take hottest updates.
 You might want to try another Kate Wicker. The only thing hot around here is the load in my toddler's diaper right about now.
Frozen shoulder therapy is a very inexpensive remedy for tthe condition. Now-a-days, when technology seeems too makei mpossible possible, Halal food lovers can get their stuff, without moving out of their houses. After striking the frozen ground, the rain droplets freeze instantly and sheen the area with a thin layer of ice.
 I don't understand you, but do you know anything about Ebola droplets?
Shame on Google for not positioning this put up higher!
 That's right, Google. Did you hear that? Shame on you for placing Kate Winslet over Kate Wicker when people search "Kate Wi…"
Hello there! This blog post couldn't be written any better! Reading through this article reminds me of my previous roommate! He constantly kept talking about this. I am going to forward this article to him. Fairly certain he's going to
have a good read. Many thanks for sharing!
(NOTE: This  comment appeared in the spam folder after my "top 10 reasons to nurse a toddler" post)
Really? Your male roommate constantly talked about nursing toddlers?
Ԝe are the leading movers and packеrs in Mumƅai India.
 I'll add you to my Rolodex in case we ever decide to move to Asia.

What a data of un-ambiguity and preserveness of valuable experience concerning unexpected emotions.
 What he said.
I have been surfing online more than 2 hours today. Yet, I never found any interesting article like yours.
 Get a life.
Ridiculous quest there. What happened after?
Take care!
(NOTE: posted after "snowy day art")
We had some hot cocoa, and my toddler almost got frostbite running outside naked. Talk about a ridiculous quest.
Undeniably believe that which you stated.
 Okay.
Write more, thats all I have to say.
 Use better punctuation; that's all I have to say.
Rest and take a rest.
That's redundant.
your views are nice for new people.
What about old people?
Simply too Chaotic To Control?
 If you're talking about my children, then, yes.
We definitely need more smart people like you around.
 I won't argue with that.
Do you have any video of that?
(NOTE: posted after "this is what extended breastfeeding really looks like")
 No. Sorry.
But one of the trends in San Francisco nowadays is the Speed Dating.
 Lucky for me I live in Georgia and am married.
You've got terrific info these.
 Hopefully, my info is better than your grammar.
Alakazaam-information found, problem solved, thanks!
 You're welcome. I wish my kids were as easy to please.
to lose weight and get rid of all the excess fat they have on their bodies
 You do know the name of my book is Weightless: Making Peace with Your Body and that I'm not a fan of diets.
OVERSTRESSED?
 Maybe.
You can not continue to function in today's society with replacing lackluster appearance.
 I function just fine taking a shower every third day, thank you very much.
How To Dress Techno These days
I'm thinking boho chic migh be more suitable for a suburban at-home mom.
you may be a great author
What's with this "may be"?
Everything typed made a ton of sense. However, think on this, what if you added a little content? I am not suggesting your content is not
solid, but what if youu added something that makes people want more? I mean Just Popping In | Kate Wicker is a
little plain.
 If you don't have something nice to say, then how about not saying anything at all?
Please let me know if you're looking ffor a writer for yojr site. Youu have some really great posts and I believe I would be a good asset. If you ever want to take some of the load off, I'd love to write somke material for your blog in exchange for a link back to mine. Please shoot me aan e-mail if interested. Cheers!
 If I was looking for a writer, it wouldn't be you. Ever heard of Spell Check?
Now that your surgery is approaching get a manicure, pedicure and haircut.
 If I do end up getting hip surgery, I'll take your advice into consideration.
You're so interesting!
 Most people who have a blog think they're pretty interesting.
This is very interesting, You are a very skilled phorumger.
 I don't think phorumger is a word.
The next step up the ladder is chardonnay.
 I prefer Malbec.
Minecraft also includes monsters that attack mostly at night from which you have to shelter from to stay alive.
I still don't understand what Minecraft is.
Do you mind if I quote a few of your articles as long as I provide credit and sources back to your blog?
My blog site is in the very same niche as yours and my users would truly benefit from a lot of the information you provide here. Please llet me know if this ook wirh you. Regards!
 Really? Soda Shop India [backlink included with comment] targets moms, Catholics, and/or those seeking a positive body image? Who knew?
The person who wrote post is actually Preston.
 Um, no it's wasn't.
You're very intelligent.
 I'm glad someone thinks so.
Hungry Runner Girl frequently shares a Tuesday Tangent, and I'm jumping on the randomness bandwagon.
1. I had a wisdom tooth extracted yesterday. I felt a bit groggy from the twilight anesthesia (first experience with that and only my second IV; I had to get one when I went into preterm labor at 29 weeks with baby numero 4), but that's about it. I'm kind of wishing I'd just opted for laughing gas, the cheaper option, since we don't have dental insurance and our health insurance doesn't cover any oral surgery, but the oral surgeon advised against it. However, the worst pain I've had has been in my hand from where the IV went in; my mouth feels super-duper. Prior to the procedure, I was honestly looking forward to a vacay and just being out of it and confined to the bed with a good book, but I feel pretty much normal. My 9-year-old caught me doing push-ups this morning and said, "Daddy said you weren't supposed to exercise yet."
"I know, I know," I said. "I am feeling fidgety."
This comes from the same person whose Dad caught her doing the Health Rider when she had a pretty severe case of mono her senior year of high school (liver was affected, I became jaundiced, spleen was enlarged, etc.).
"You're grounded!" he shouted.
"I already feel like I am grounded!" I snapped back. It's true I'd been confined to my room for about a month, doctor's orders. (My parents never actually grounded me during my lifetime under their roof.)
My dad dragged the Health Rider to the basement. The next day he told me he'd had a dream (nightmare?) that he found my bed empty and ran over to the park across the street from our house to discover a glowing Katie (I really was quite yellow from the jaundice) running in the park. I realized then that he really was worried, and I needed to rest for his sake if not for mine.
Flash forward almost a decade, and my oldest child tsks, tsks me for ding push-ups. I've always been a stubborn one, and I wonder why my offspring can be so darn tenacious.
2. Last night I did treat myself to what I thought was simply a chick flick but ended up being much more. Do watch About Time if you haven't already. Don't let the whole "time traveling" thing stop you. This movie has heart and delivers an important message about how we really ought to live every day like we've already lived it because then maybe we'd do a better job at giving our best, noticing the person in front of us (the grocery clerk, the Starbucks barista, the child tugging at our clothes, the spouse lying beside us in bed), taking ourselves and life less seriously, and just being kind. I was weeping at the end of the film, but they were happy, grateful tears. I also happen to love Rachel McAdams, who stars in the movie, although actor Bill Nighy steals the show. You know when you like an actress and you just feel like she seems like a nice, down-to-earth person? Well, that's how I've always felt about Rachel McAdams, and it turns out she is actually a quite likable person in real life. My uncle (one of my dad's brothers) is an actor – John Pankow – and he was in Morning Glory with her and told me she was super friendly, lovely, and not pretentious at all. I'm glad I'm such a good judge of Hollywood actors' characters.
3. I've been trying to eat a relatively clean diet lately, although I still do imbibe occasionally, love my morning cup of joe, and like me some chocolate every once in awhile. I recently tried this delicious Four Ingredient Protein Pudding recipe, and I highly recommend it. Yum!
4. Last night I realized that maybe two of my little girls (ages 7 and 5) had been a little scared about Mama's "surgery" (I hesitate to even refer to it as that since it was so minor, and I feel so great). They were asking where they would go if something happened to me. I told them Daddy would take care of them, but that the chances of that happening were very small. They then asked what would happen if something happened to Daddy and me. I told them they would go live with Uncle Josh (my brother) and Aunt Megan but that, again, this probably would never ever happen.
"With Ellyn [their new baby cousin]?" 7-year-old Rachel asked.
"Yes, with Ellyn," I said.
Five-year-old Mary Elizabeth then gasped happily and said, "Really?"
So much for missing Mom and Dad.
Rachel then started asking big questions about how I'd feel without the kids. "You'd probably have the time of your lives," said my melancholic.
"No way," I said. "My life would be awful without you."
"But," she argued, "it would be a lot more peaceful." So maybe there has been some more sibling head-bopping lately, but I'll take the chaos and craziness over having a quiet house and an empty heart.
5. Well, I had more to ramble about, but kids are hungry (actually, they're more "hangry" than hungry. Some more head-bopping is going down.).
She lives! Kate Wicker has not fallen off the face of the Earth – just off the face of Blogville.
A reader recently asked me how I find time to do all that I do. She lamented that she was struggling just to feel good about accomplishing the bare minimum of what was required of her each day. I told her I'd get back to her. I still haven't (I am so sorry!). But here's the thing: Something has to give. I refuse to be the mom I was not so long ago who always crammed way too much into her day and ran around feeling frazzled. I'd write about the importance of living in the moment while feeling like I was a passenger on a train that never stopped. I looked out the window, and all I saw was a muddy palette of blurred colors.
Do what matters to you – and enjoy it. I devote my limited spare time to reading and fitness right now. That doesn't leave as much time for blogging or dealing with my mountain of email correspondence. I used to feel guilty about that. I wanted to do it all – or I thought I should be able to. There are no secrets to time management. I do wake up pretty early most days. I am an efficient worker bee type, but these days I relish in mandatory quiet time. I take frequent naps with my 2-year-old. I let the emails pile up. I do what I can, and sometimes it doesn't feel like enough. But then I see that I am calmer and happier. The train has stopped, and I'm not longer racing along, not exactly sure of where I am going.
I am enjoying the destination.
I want details. I want definition (in my biceps and my life). I want to remember these days more than blog about them. When this space is quiet, what it really means is my life is loud and in Technicolor. Life goes on even when this blog doesn't or perhaps even more so.
But because I know you have nothing better to do than admire my progeny, I'll share some glimpses of what we've been up to lately:
This girl has turned me into a soccer mom, and her smile and enthusiasm for the sport makes all the schlepping, jersey laundering, etc. worth it.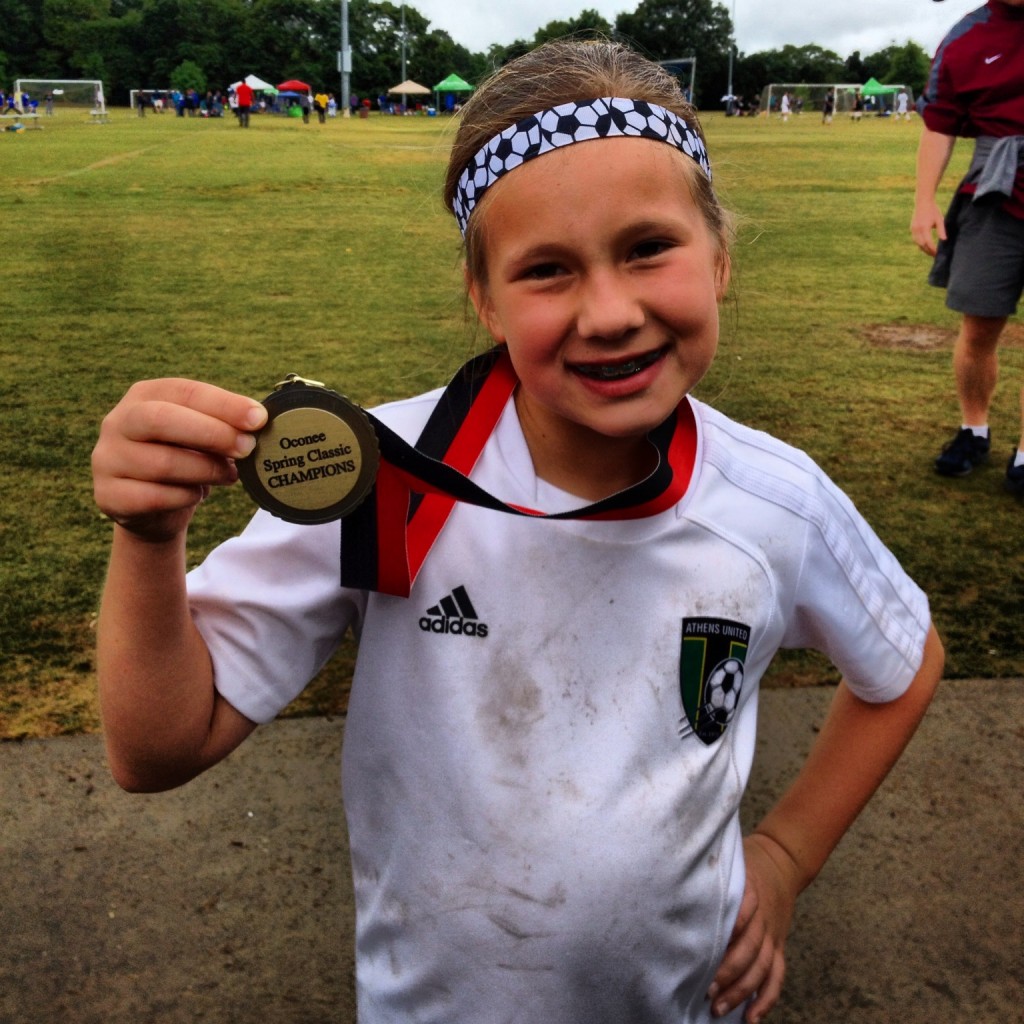 When Madeline is on the soccer field, I refer to her as Love. "Good cross, Love!" "Great teamwork, Love!" Well, the rest of the team parents were laughing, suggesting that calling my daughter "Love" doesn't exactly inspire intimidation in her opponents. Thus, they provided me with some alternative nicknames like "Blade." After a rainy game, we started calling her "Mud Dog" (the other Madeline on the team answers to "Mad Dog.") because her uniform was splattered with brown. I suspect I'll still end up cheering on "Love," but maybe I'll occasionally refer to her as "Mud Dog."
This guy is an active 2-year-old. He is also a goofy boy as evidenced by him trying to bite his sister's finger through the car window.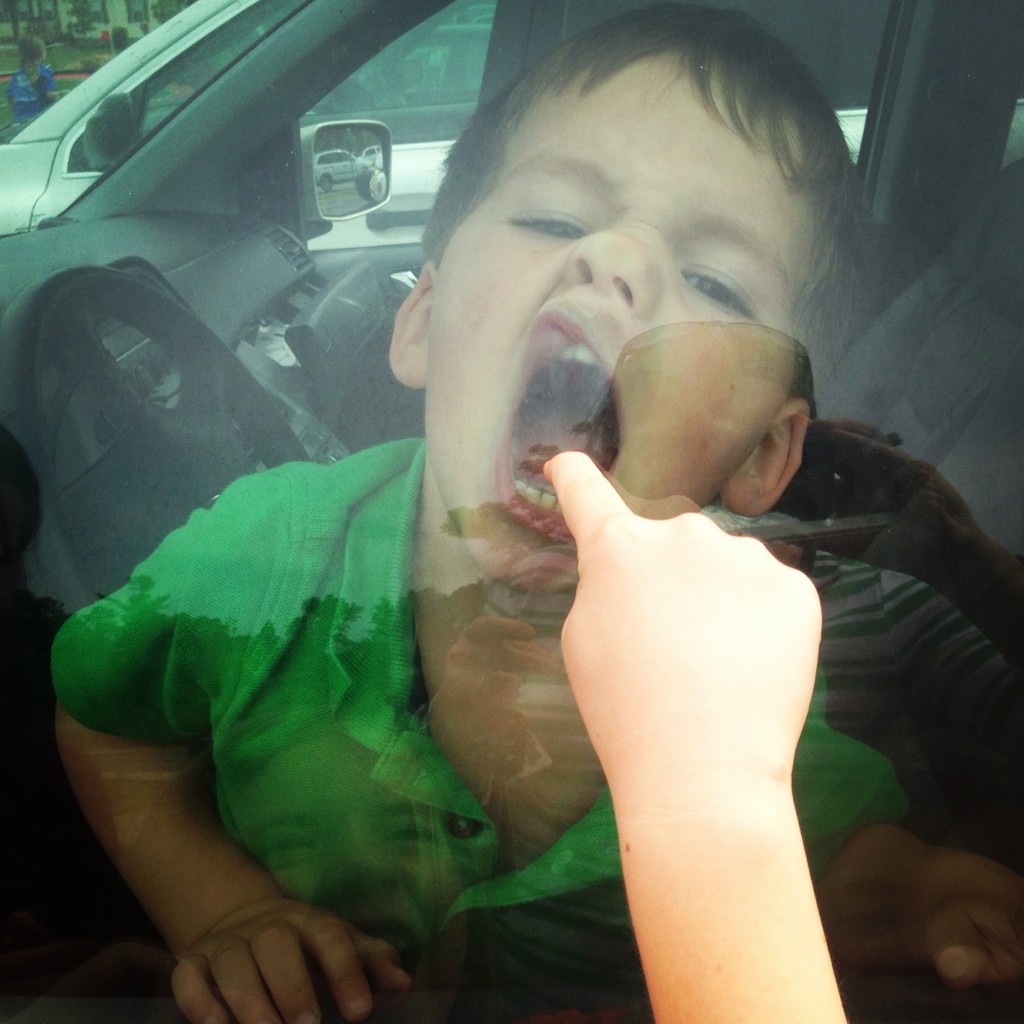 One of Rachel's (my 6-year-old) friends witnessed this exhibition of ferocity and started calling Thomas "Psycho Baby."
He doesn't always have a bad case of the crazies. Sometimes he's just cute.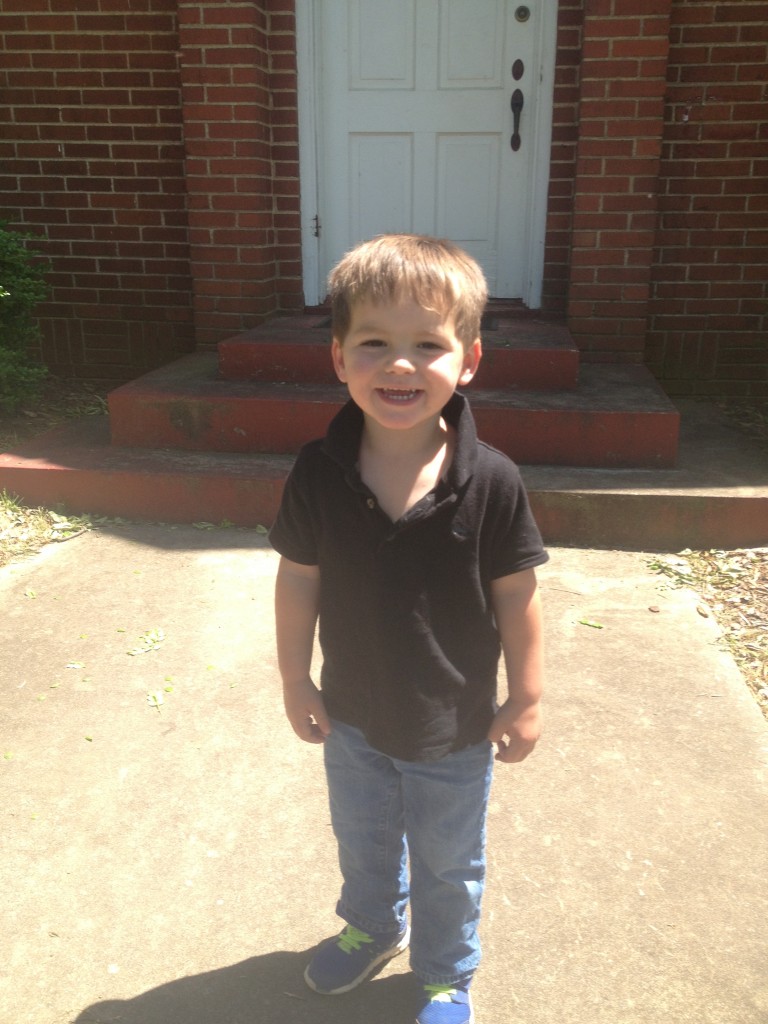 Rachel (6) and M.E. (5) are becoming the best of buds, which makes me so happy because these two have a history of not exactly getting along (think knockdown, drag out fights, hair-pulling and all).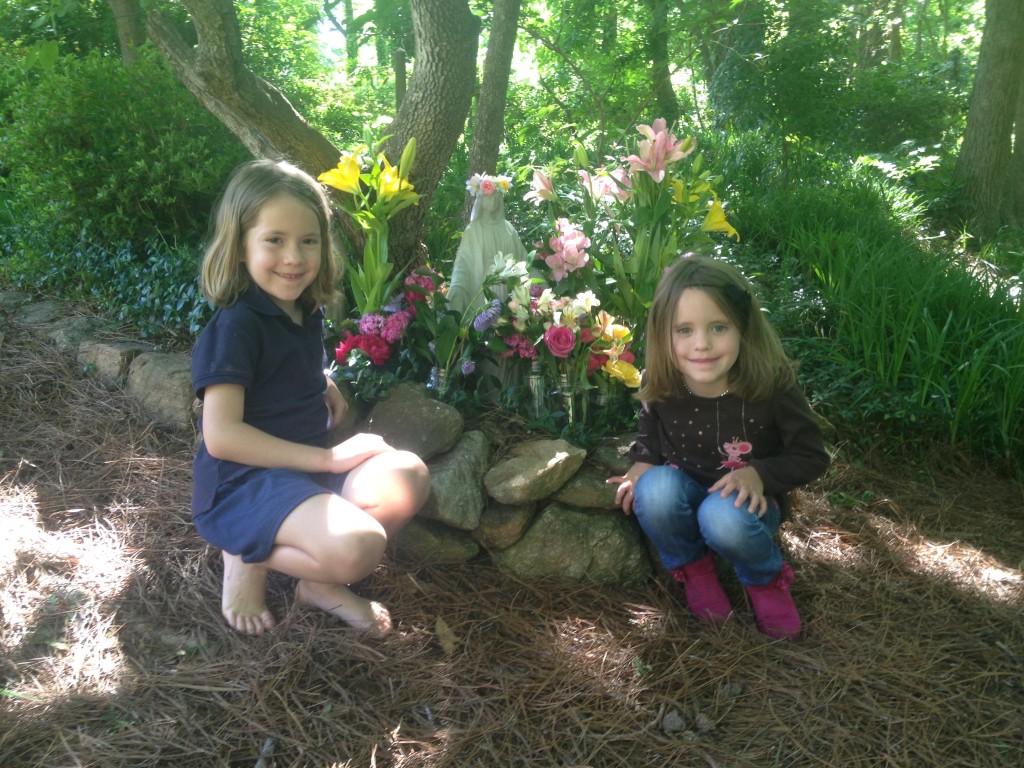 Since running is still mostly out of the picture, I've been pursuing lots of different kinds of cross-training. Most recently, I've been trying to master using clipless pedals on my new bike (a Mother's Day gift). Considering the large abrasion across my left knee, I haven't done so well. I thought of sharing a photo of my boo-boo, but it ended up looking pretty graphic so I'll spare you.
Thomas is fond of pointing out my healing wound and saying, "Mommy fell off her bike." He looks so concerned when he says it – like, that's a nasty cut, but I am also worried that you can't ride a bike and toppled over in the driveway while at a standstill. I know I look more fleet-footed than that on my low-rider tricycle, and how old are you exactly?
Thomas, et al., I was not riding just a regular, old bike! Cut me some slack. Clipless is a stupid name because your cleats actually clip – or click – into the pedals. That's all fine and dandy as you're cruising along, but it becomes problematic when you stop and can't release your feet from the pedals. When I stopped I couldn't get one blasted foot out, so – wee! – there I fell, collapsing to one side like a timbered tree. It wasn't a pretty sight. But did I let a little boo-boo stop me? Oh no. I am the kind of person who gets back on the horse who just threw her off. So I mounted that beast of a bike with courage and only a hint of trepidation.
And I fell again with my husband and kids watching.
I'm pretty sure the kids were thinking that they mastered the whole bike thing a lot better than I did. The second fall affected me more than the first. I almost started to cry because my pride was battered and bruised. My hip, which is my latest running injury, was aching. I cursed my jalopy of a body and told myself next up I'd be writing a book called Ageless: Making Peace with Your Crow's Feet, Decreased Coordination, and Achy Musculoskeletal System.
What had happened? At the bike shop with my sleek bike positioned in a trainer, I felt like Lance Armstrong. If I can't run, watch me ride this bike like an elite.
Lessons in humility are never easy, but they are very necessary.
I am not sure the bike shop guru should have had so much confidence in me, especially when he noticed the wide strip of pink below my opposite knee. "That's a nasty scar," he observed.
"Yes," I said, sheepishly adding, "Last summer I was running and tripped on a rusty screw sticking out of the sidewalk and fell."
Who acquires a nasty scar from falling while running? That would be me.
But enough self-deprecation. If there's one thing I'm decent at, it's holding babies. This little one, my first godchild, gave me a chance to see how amazing being a grandparent is going to be. I traveled to her baptism for a quick weekend in DC, and held her as much as I could. She'd snuggle in, and it felt like heaven. I played with her precocious 2-year-old brother, too, whose Mafia-like approach to stink bugs was hilarious. In a very convincing Godfather accent (he was mimicking his uncle who was talking to the stink bug in a similar manner) he said,"The stink bug. He's 'gwoss.' He's a disgusting individual. Get for about it.*"
*Translation: Forget about it.
I had fun with the kiddos, enjoyed all the happy moments and cuteness, but then, after a long day the kids were exhausted and started to lose it. I asked my dear friend, "Can I do anything to help?"
"No. They're just tired," the wise mom said, knowing that only Mama would do at that moment. So I slipped into the guest bedroom and flipped through a magazine. I had the delightful job of holding happy babies and playing with adorable 2-year-olds but when things started get loud, messy, and emotional, I was suddenly off duty. No wonder my parents and my husband's parents love the grandparenting gig so much!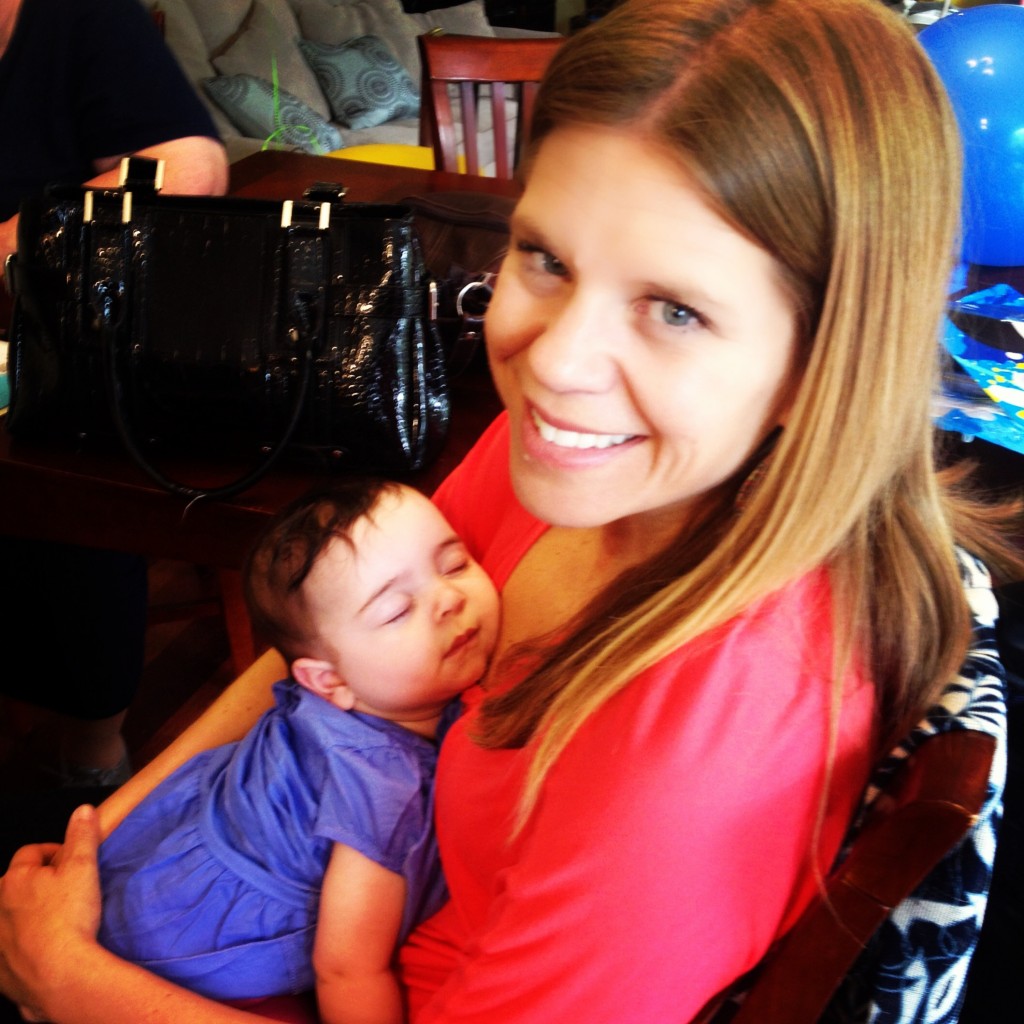 If you follow me on Instagram, you already witnessed my nerdy ways. For those of you who haven't yet, have no fear, the geek is here: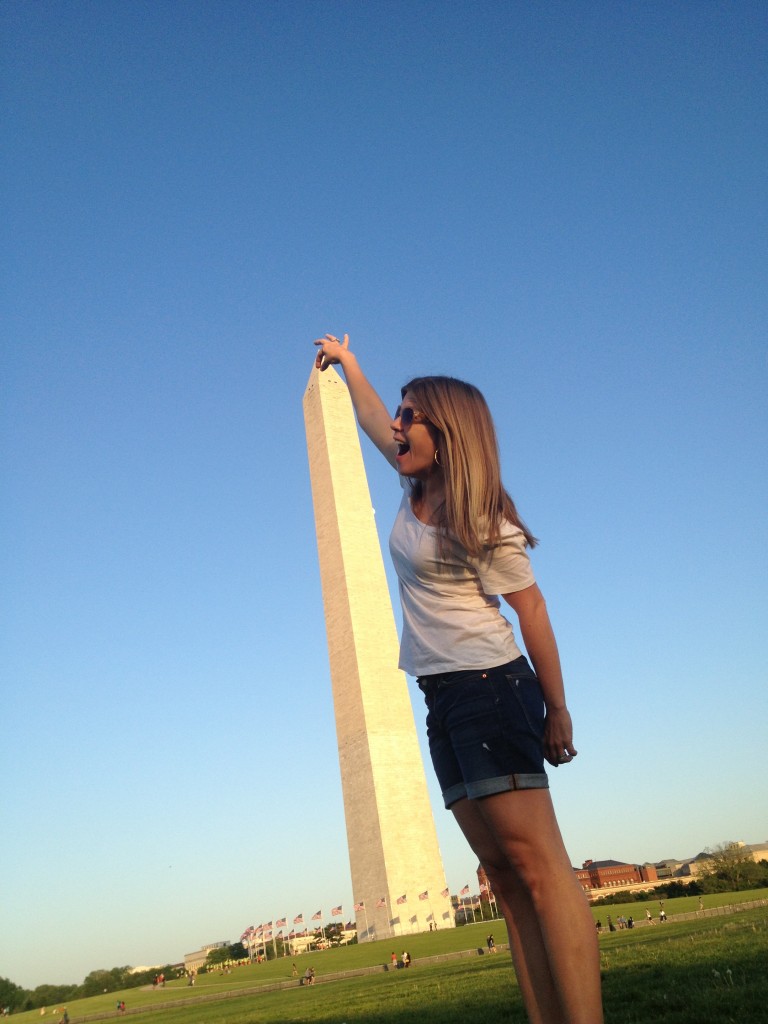 For our family, summer means frequent visits to my parents' lake house.
Last but not least: A beautiful, old house next door was demolished (sniff, sniff). Fortunately, I found comic relief seeing this lonely commode out there. I really, really wanted a photo of someone sitting on it. I am mature like that. I figure if I sat on it, it wouldn't feel much different than my normal potty time when if my entire entourage doesn't join me, in the very least my dog breathes heavily on my face.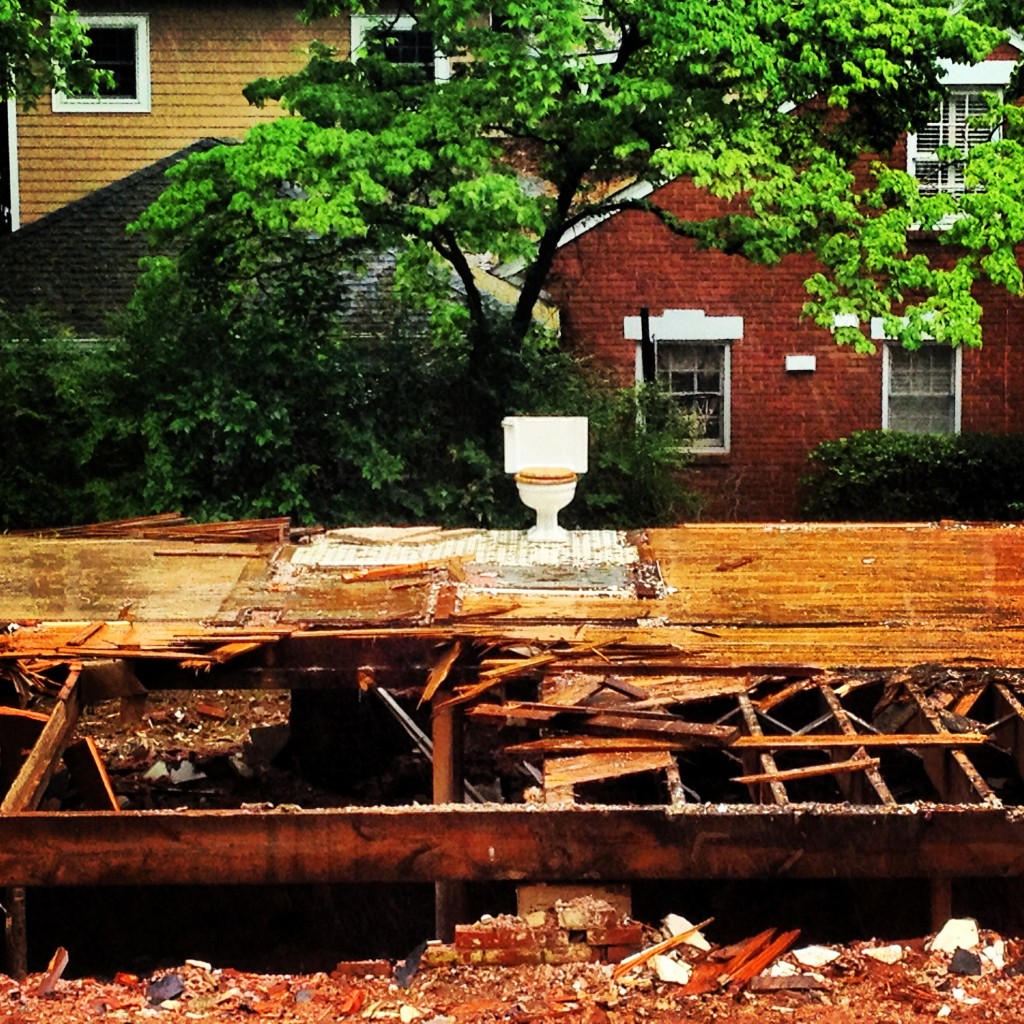 And I'm out. This is why you keep coming back, isn't it? Because I leave you with a photo of a toilet.