This past Monday I had my monthly interview spot on Relevant Radio's Morning Air Show, and we talked about some of the Lenten traditions my family I embrace or have embraced in the past. I had every intention of putting together a post chock full of resources for Lent prior to the interview. When that didn't happen, I told myself I'd cobble a post together on Fat Tuesday. Then the ice hit Georgia. We lost our Internet connection, and it ended up being a good day to cuddle and play lots of games of Uno.
So here I am on Ash Wednesday throwing some ideas out there. This year we're not going to make our traditional Lenten mice out of mismatched socks (see picture below of our rodent friends from the past). I may end up doing this again for Thomas down the road, but we are using a jelly bean activity a friend told me about from Catholic Mom to encourage prayer, sacrifices, and alms giving this year because, let's face it, candy motivates my 10-year-old more than tying knots in the tail of a mouse stuffed animal. For those of you with only littles in your house these mice are so cute and a great way to visually show a child what sacrifices can do. The mouse's tail gets shorter and shorter with each good deed (from each knot tied), and you can talk about how your child's soul is changing, too, as it draws closer and closer to Christ.
For those of you with some older children, you can try this jelly bean activity. My friend substitutes M&Ms. Different colors can be ordered on the M&M's website. She also plans ahead and buys holiday M&Ms when they're on sale. We're using jelly beans and using this Catholic Mom article as our guide:
On Ash Wednesday we set out a glass jar for each child with a small copy of the jellybean prayer taped to it. We determined a behavior to go with each jellybean color (corresponding with the prayer). Each day the kids could earn a jellybean of any color they followed through on.  They could not eat the jellybeans until Easter. The kids could not earn white jellybeans,  these represented the Grace of Christ, which is a gift not earned ourselves.  On Easter morning, the kids woke to find their jars filled up where they were still empty (lacking) with white jellybeans (Christ's grace)

This is how we interpreted each color. You can make your own ideas based on ages and needs of your children.

Red is for the blood Christ gave (each morning we chose something to sacrifice that day to earn the red jellybean.  It had to be something they would have had the opportunity to have or do on that day)

Green is for the palm's cool shade (green jellybeans were earned for good deeds.  It was a good dead to provide shade for Jesus with the palm)

Yellow is for God's light so bright (yellow jellybeans were earned for sharing God's light through kindness to others)

Orange is for prayers at twilight (orange jellybeans were earned for attentive behavior during bedtime prayer time and night time bible story)

Black is for sweet rest at night (these were earned for going to bed good. we used blue though, as our kids are not fans of black jellybeans)

White is for the Grace of Christ (these we could not earn as mentioned above)

Purple is for His days of sorrow (we earned these through apologizing to anyone we hurt with our words or deeds that day)


Pink is for each new tomorrow (pink jellybeans were earned when we forgave those  who apologized to us for hurtful behavior)


During the course of 40 days the kids did not tire of this activity and have talked about how fun it was throughout the year.
Of course,  the Easter bunny might not want to bring any more jellybeans for the baskets!!

I am using blue jellybeans instead of black, and I'm hoping for a heaping pile of blue jelly beans because I just know we will have nothing but calm, easy, and peaceful bedtimes for the next 40 days because the Wicker kids love nothing more than hanging out in the horizontal position. Yeah right.
I also decided that while we can't earn God's grace – and thankfully we don't have to! – we open ourselves to God's grace in the sacraments, so the kids get white jelly beans for going to Mass and for going to Confession (thanks, Betsy, for this idea!).
Also, each morning we will pick a family sacrifice in addition to our own personal sacrifices and if we fulfill it, each child gets an extra red jelly bean. This might mean a day with no electronics or we pray the Rosary or the Stations of the Cross as a family.
I'm excited about this Lenten activity, and I can already see the kids are, too, because their jars are filling up quickly. Now I just have to keep them, especially 3-year-old food thief Thomas, from stealth jelly bean eating.
In year's past, I have done things like 40 Bags in 40 Days while encouraging the children to help me fill the bags with toys that they didn't really need (this doesn't mean broken toys they never liked; giving those away wouldn't be much of a sacrifice, after all). I personally have loved writing letters for each of the 40 days of Lent for the past two years. My oldest daughter has decided to adopt this activity to make her Lent more meaningful.
My big Lenten resolution this year is to not buy anything for myself that is just for me. When my husband was still in residency, this was how life always was. I really had to watch our budget and penny pinch, but I've noticed that in recent months – now that we are finally arriving at a secure place financially – I'll be at Target or somewhere and I'll toss things into the cart that aren't on my list because – hey, it's only $10 for that scarf that's marked down. Or I'll see an item on Zulily that's a great deal, and I'll think to myself that I have to snag it cheap while I can. Or I'll be buying The Gruffalo
off Amazon for a birthday party gift for a little friend and will add a book to the cart that I've been wanting for our collection instead of just checking it out at our wonderful local library that is within walking distance of my house. But those $5 to $10 purchases add up, and so do those shoe splurges. And truth is, we still have monstrous educational loans from my husband's many years of schooling to pay off, and I really want to revert back to my thrifty self so we can save more and give more. So my plan for the next 40 days is to not buy anything for myself – that includes things really only I consume like makeup or seltzer water, which only I drink except when certain children ask for a sip. When I shared my plan with my oldest, she asked, "But what if you run out of something you usually use?"
"I still probably don't need it," I told her.
Then I plan on looking at the past three month's budgets prior to Lent (my husband keeps very detailed spending pie graphs) and determine the average of what I spent on myself during that time and give that amount to a charity like the Catholic Relief Service's Lenten Rice Bowl or Food for the Poor since I hopefully did not spend that moula on me, myself, and I during Lent. I have some other personal plans and sacrifices I plan to do as well, but that's the biggie.
Mary Elizabeth will be coloring this wonderful printable Lenten calendar that's available for free over at Catholic Icing (along with lots of other Lent activities for kids and families). The countdown to Easter is particularly exciting for her because her birthday is on the same day this year. "So I'll get cake AND Easter candy?" she asked happily this morning. Yup! Sugar binge, here we come in 40 days!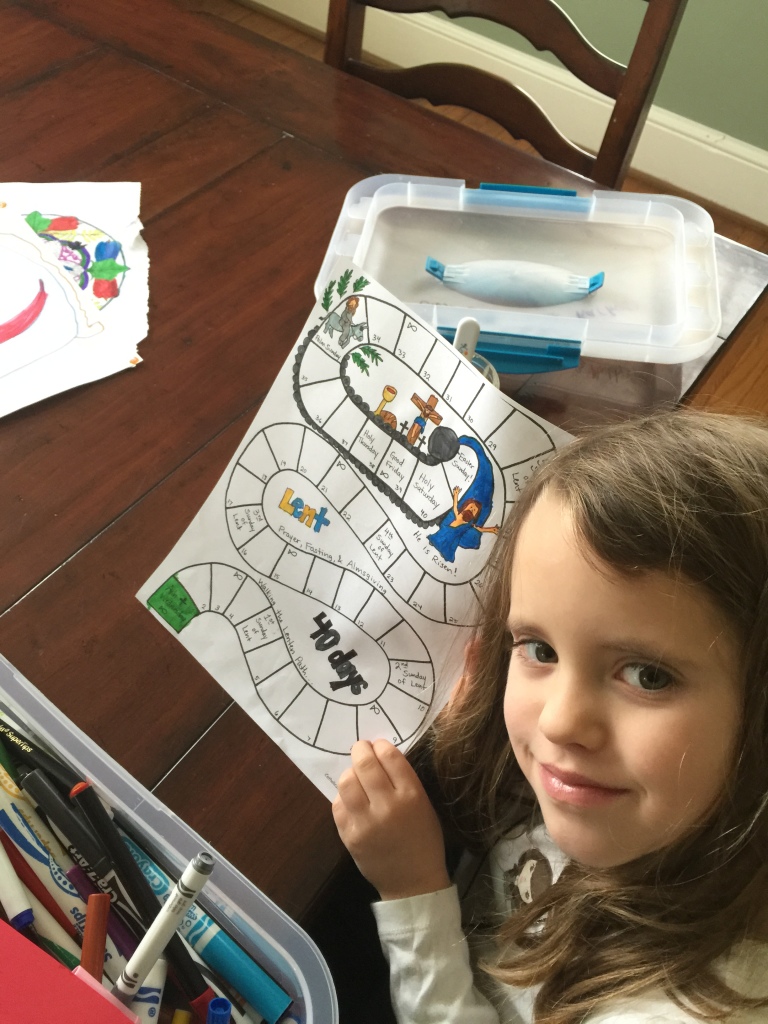 That's our 2015 Lenten Plan, but here's a list of some resources, ideas, books, etc. we've used in the past, plan to use, or dream of using when my life isn't such a beautiful, chaotic mess.
I know I've missed some great stuff out there, so please feel free to share your own links and/or resources in the combox.
Happy clicking!
(Oh, and please forgive the funky formatting below. I've tried to fix it multiple times with no luck.)
Books
Bringing Lent Home with Mother Teresa: Prayers, Reflections, and Activities for Families
by Donna-Marie Cooper O'Boyle
Welcome Risen Jesus: Lenten and Easter Reflections for Families
by Sarah Reinhard
Magnificat Lenten Companion (it looks like the hard copy is sold out, but it's available as an app)
Around the Web
Catholic Icing's Lenten Navigation Page
Catholic Mom's Lenten Activities for Children
Christ's Journey to the Cross: Lenten Insipiration for Mothers (an old reflective essay of mine)
Conversion Diary's Recommended Reading (for adults) for Lent
Elizabeth Foss's Preparing for Lent post (includes link to all her Lenten archives)
Lent for Little Ones (an old post of mine, but we still put to practice many of the ideas I write about, especially the Stations of the Cross for children and the box of objects to represent each station)
Karen Edmisten's Meaningful 2011 Lent post
Lenten Activities for the Family
This is a PDF document targeted to non-Catholics who wish to observe the Lenten season. It's chock full of ideas on how to celebrate Lent with your family and makes use a of Lenten tree in which children color pieces of fruit after they complete an activity.
Here's an example of activity included: "Practice giving one another a foot-wash. Talk a bit about Maundy Thursday when Jesus washed the feet of His disciples and commanded them to love one another. The word maundy comes from a root word meaning 'mandate' or 'command.' Look up John 13:34-35 to discover the 'new commandment' Jesus gives. The book is from 2009, but it's still relevant.
Pondered in the Heart Lenten Calendar, Merciful Cross idea for keeping track of sacrifices, Stations of the Cross grottos, et
Recipes (including lots of meatless dishes perfect for Lenten Fridays)
Catholic Foodie's Fish on Fridays and Lenten Kitchen
Avocado Corn Salad with Tropical Smoothies
Homemade Pretzels (we make these every Lent and have a simple dinner of pretzels, cheese, fruit, and milk)
Kid-Friendly Cheesy Broccoli Pockets
Tofu Parmesan (don't judge it until you try it!)
We celebrated Thanksgiving at Nana and Pop's this year and on the way, I set my phone's timer for five minutes and asked the kids to blurt out anything and everything they were thankful for and I then listed them in the exact order they were shouted out and also did not edit their contributions (e.g., Mary Elizabeth's blessing of "roasted beef" was jotted down just as she said it).  Here's what they came up with:
1. apple pie
2. life
3. love
4. family and friends
5. Thomas
6. our house
7. fall
8. toys
9. turkey
10. seasons
11. the sun
12. the moon
13. roasted beef
14. ice cream
15. exercise
16. cozy boots
17. Toms
18. our health
19. animals
20. jeans
21. clothes
22. water
23. Layla (our dog)
24. trees
25. Clue (the game)
26. books
27. colors
27. Monopoly
28. beans
29. food
30. music
31. school
32. my mind
33. flowers
34. mail
35. the world
36. a warm bed
37. the way Thomas says, "Oh," when you tell him something
38. hope
39. new beginnings
40. plays
41. shopping
42. windows
43. eyes
44. our bodies
45. signs
46. doors
47. beaches
48. cars
49. pumpkins
50. Knuffle Bunny
(Rachel's lovey)
51. Raja (Madeline's tiger stuffed animal lovey)
52. people
53. Cubbie (my parents' puppy)
54. Christmas trees
55. Nana (my grandma who passed away)
56. Nana and Pop
57. Gaba and Papa
58. Ivy (my parents' dog who recently died)
59. Uncle Rich (my uncle/my mom's brother who died of pancreatic cancer last February)
60. Michelle (my cousin who died recently as well from cystic fibrosis and lissencephaly complications)
61. Mr. Thomas (our neighbor who also passed away; yes, there's a theme here)
62. Katelyn (our babysitter who is alive and well)
63. Marlo (our babysitter's dog)
64. scones
65. chocolate
66. Waffle House
67. The Grit  (my contribution)
68. wine (obviously another one of my contributions)
69. lattes (me again)
70. Aerolatte Milk Frother (me again, although Thomas likes to use this gadget to torture her sisters. I've caught him twice now turning it on and putting it in their hair.)
71. firemen
72. policemen
73. police dogs
74. fire dogs
75. ambulances
76. doctors
77. radiologists
78. Smoothie King
79. braces
80. Baby Jane's
81. movies
Time's up!
Once at Nana and Pop's we were not only treated to the feast of feasts, but Madeline had written a Thanksgiving play and the kids performed it for us. The red wagon is the Mayflower. Madeline is Squanto. Thomas and Mary Elizabeth are pilgrims, and Rachel served as the narrator.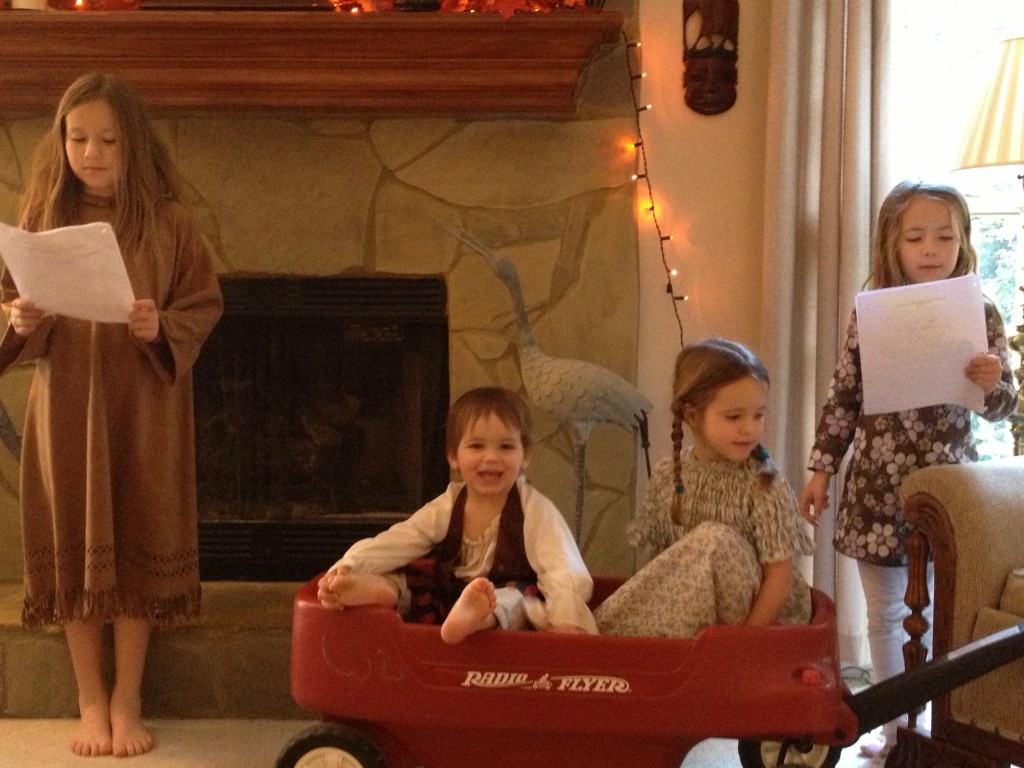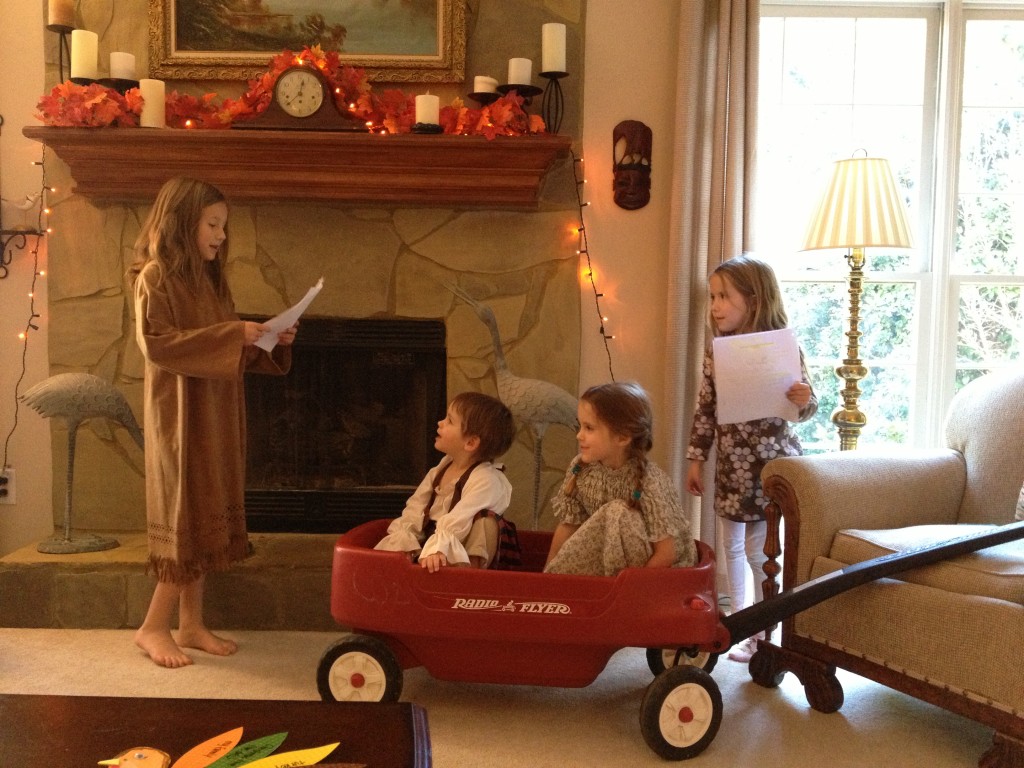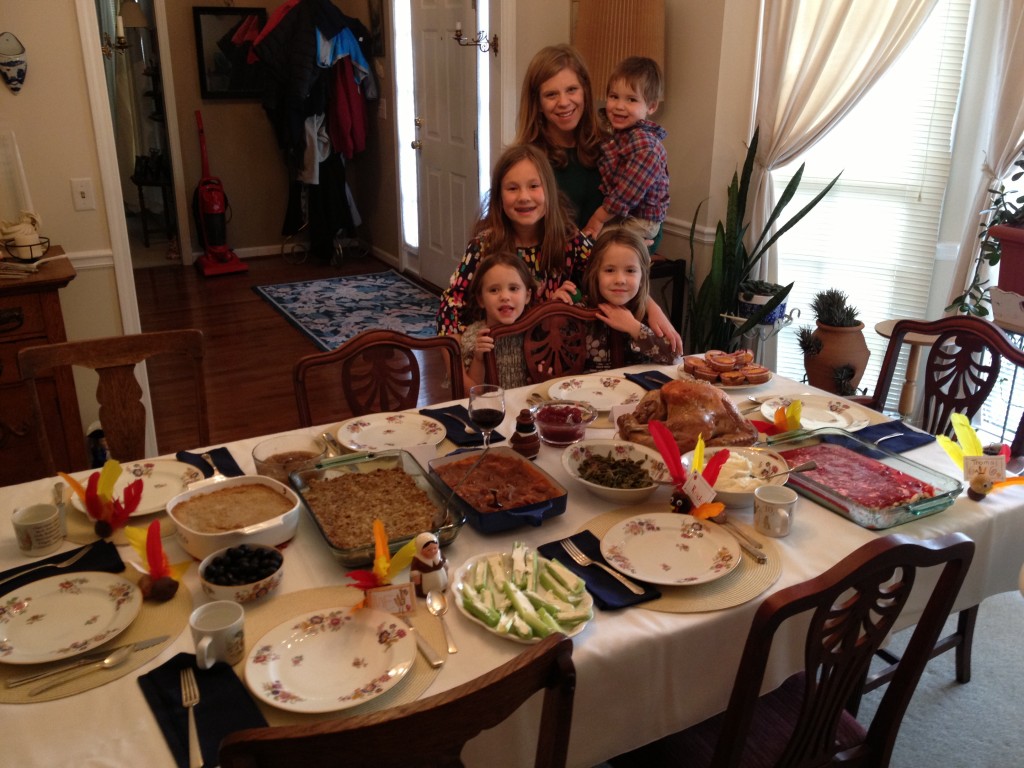 Now it's time to start thinking about Advent. I have a speech at a parish not too far from my home on Sunday where I'll talk a bit about cultivating a peaceful, joyful heart during a season that can easily become a path to burnout for a multitasking control freak like myself. Your life this Advent and always should be full, not just busy. Just because our culture hypes jam-packed schedules as the norm doesn't mean we have to subscribe to it. My running injury (still not anywhere close to running again) has forced me to slow down not just on the pavement and treadmill but in life as well. I'm getting more sleep these days and really focused on embracing simplicity. At its heart, simplicity really means less of us and more of Him. It can also mean staying in your PJs all day (I'm typing this in my pajamas; no Black Friday madness for me.)
We don't need to over-schedule our kids now or ever. Madeline really wanted to try basketball this winter, but we have a brief respite from soccer and I didn't want to fill it with more practices. If she's meant to be in the WNBA someday, she'll discover that talent soon enough. For now, I am drawing my family near, pulling out our favorite Advent books, and trying to decide what Advent traditions we will embrace this year. I've included a few links from the archives that include all sorts of ideas for bringing this season alive for little ones. BONUS: You'll get to see the kids when they were wee ones. Happy clicking!
An Advent Tea
Preparing Our Hearts and Homes (Advent Traditions)
Advent crafts (shell angels, felt napkin holders, poinsettia princesses, etc.)
Advent Smörgåsbord
Recipe for Baby Jesus Birthday Cake (more for the Christmas season obviously)
Handprint angels
Feast of Our Lady of Guadalupe traditions
Christmas card placemats
Tips for hosting a cookie swap
Cookie Swap recipes
Feast of St. Nicholas traditions
Explaining the symbolism of the Advent wreath to children
Whew. Life has been busy. How does any mom find time to blog? I don't know how I used to do it so regularly. I really don't. This has been one crazy summer. Summer break? Ha. More like the summer of stressful situations. But enough about that. I might vent one of these days but not right now. Let's talk about food today because I love to eat, and I'm in the thick of meal planning as I prepare for another busy soccer season coupled with our first experience with sending the kids to school-school (as opposed to homeschooling). Speaking of school, my 8-year-old sighed heavily the other day and said, "Only three more days until captivity." So I guess she equates homeschooling with running wild and free and school with imprisonment. Sigh. I've had butterflies all week and am 34 years old, so it's not surprising that she's approaching this new chapter with some trepidation. My 6-year-old, on the other hand, is thrilled doing the school thing. We all did have fun back-to-school shopping. It brought me back to my school days. Oh, how I loved collecting my new pencils, a fresh box of crayons with pretty points, and a super-cool Trapper Keeper (anyone else remember those?) each year.
But, anyway, I thought I'd share what I've been eating during these hot, humid, and rainy days here in Georgia. Although I love the freshness of produce during the summer, I don't enjoy cooking as much because I hate to turn on the oven when it's 90 degrees outside. We eat a lot of cold salads during the summer. I take advantage of nature's bounty but avoid making the kitchen any hotter than it already is.
Not too long ago I made some Greek chicken wraps that everyone seemed to like. My girls are crazy about olives (Kalamata are their favorite variety), and they're also very fond of feta. This might make them odd. I don't know but if your kids aren't as in to strong flavors like feta and olives, this might not be as much of a crowd-pleaser. I adapted the recipe from a recent Family Fun article. The photo below is actually the leftovers, which I turned into a delicious salad. I topped the leftover fillings for the wraps with some of tzatziki sauce. Delish!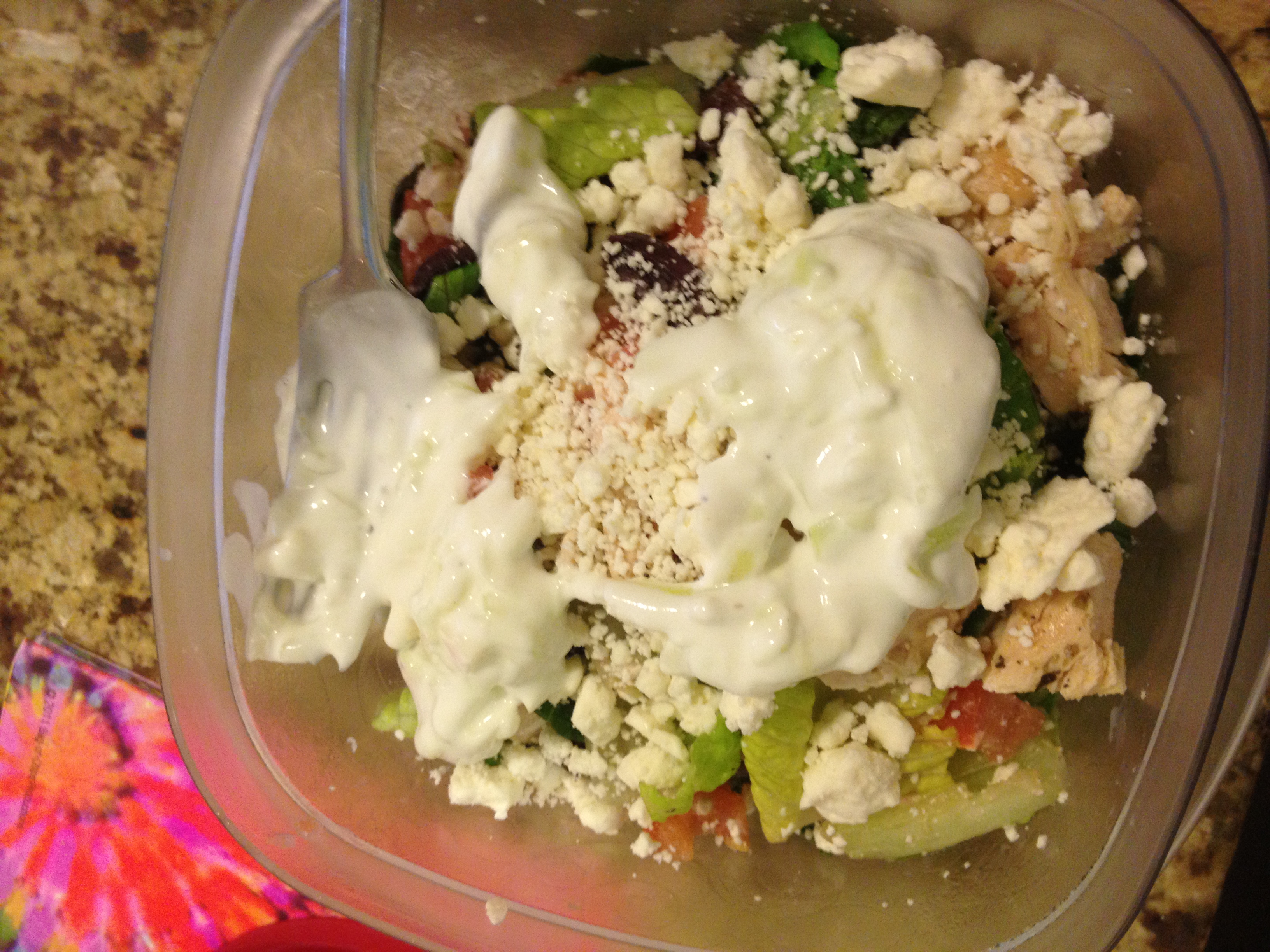 Greek Salad Chicken Wraps
Adapted from Family Fun magazine, June/July 2013
For the chicken:
2 tablespoons olive oil
1 ½ pounds chicken tenders or chicken breasts cut into strips
1 teaspoon oregano
½ teaspoon salt
¼ teaspoon pepper
 For the tzatsiki:
1 cup plain Greek yogurt
½ cucumber, peeled and grated
2 teaspoons lemon juice
1 clove garlic, minced
¼ teaspoon salt
Dash of freshly ground pepper
For the salad:
4 cups of romaine salad, torn into bite-size pieces
2 tomatoes, diced or 2 cups halved grape tomatoes
1 cucumber, peeled and thinly sliced
½ cup pitted Kalamata olives
½ cup crumbled feta
2 tablespoons lemon juice
¼ cup olive oil
¼ teaspoon salt
1/8 teaspoon pepper
tortillas
Heat olive oil over medium-high heat. Sprinkle chicken with oregano, salt, and pepper. Saute in olive oil. Cool chicken on plate.
Mix tzatsiki ingredients in a medium bowl. Refrigerate until ready to serve.
Combine ingredients for salad in a large bowl. Toss together and season with more salt, pepper, and/or lemon juice if necessary. (NOTE: The original recipe called for mint and scallions, but my kids haven't liked the strong taste of mint in other recipes, and I have an extreme onion-hater in the family so I typically stay away from scallions or add them to my meal after I served the rest of the family.)
Drizzle tzatsiki sauce over each tortilla. Then top with salad mixture and then chicken. Roll wraps and cut in half before serving.
I also recently made a salad from one of my favorite cookbooks called Saving Dinner: The Menus, Recipes, and Shopping Lists to Bring Your Family Back to the Table. I've recommended this book to several friends who want to get started meal planning but aren't sure where to start. The book is divided by season – winter, spring, summer, and fall and shares weekly meal plans, including the recipes and shopping lists. I've never tried to follow the book exactly or even adopt a whole week's worth of meals, but I frequently use recipes from the book and love how it's divided by season and uses ingredients that are cheaper and fresher during the particular season. I made a delicious and filling layered salad recently that no one complained terribly about and that I personally loved. Picky kids can pick out what they like from the salad. There's something for everyone. Best of all, I got to gobble up the leftovers along with a side of watermelon and homemade whole wheat bread for lunch after a long run (pictured below).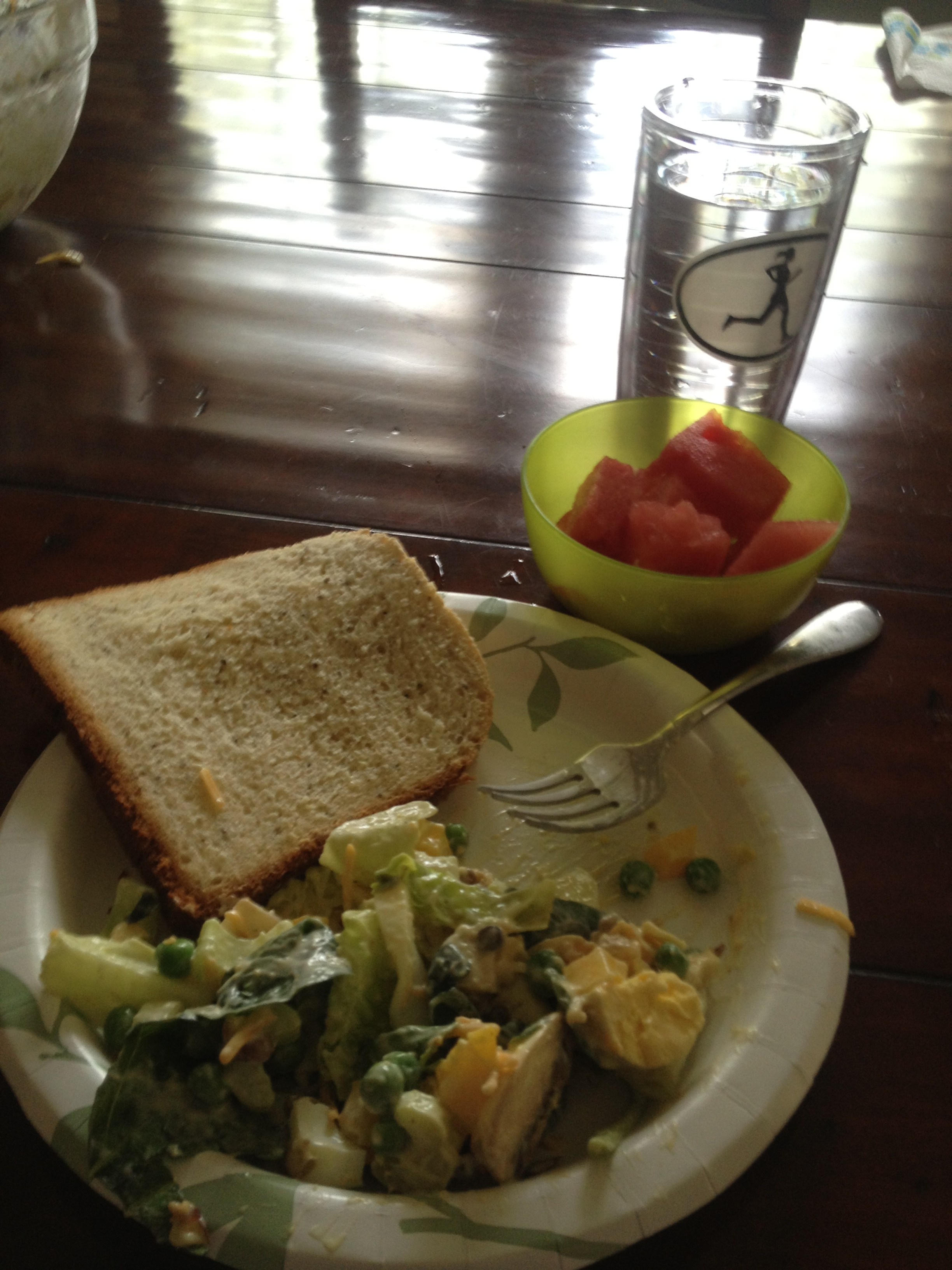 Mega Layered Salad
1 head of romaine lettuce, chopped (I actually used some romaine and some spinach leaves)
½ cup celery, chopped
½ cup red bell pepper, chopped
1 ½ cups sliced mushrooms
1 ½ cups frozen green peas (don't thaw; they added a delightful crunch. Next time I think I'll use frozen shelled edmame since my kids like it better than peas.)
2 eggs, cooked, peeled, and quartered
2 cups, canola, omega mayo*
2 tablespoons brown sugar
½ teaspoon garlic powder
½ teaspoon curry powder
A few handfuls of grated cheddar cheese
A few handfuls of sliced almonds
*A friend asked me if I thought I really needed 2 cups mayo. I did end up using almost 2 full cups of the healthy-ish omega mayo, but I kept tasting it to be sure since I'm not a huge fan of mayonnaise. I also plan on substituting some Greek yogurt for the mayo the next time I make the salad.
I also had leftover shredded chicken, which I tossed into the salad.
Layer ½ of the lettuce. Follow with a layer of celery, bell pepper, green onion, mushrooms, peas and egg, and then top with remaining lettuce.
Whisk mayo, brown sugar, garlic powder, and curry powder together to make dressing. Spread evenly over salad. Top with cheese and almonds. Cover and refrigerated until ready to serve.
We also recently made Chewy Energy Circles from Salad People and More Real Recipes: A New Cookbook for Preschoolers and Up. This is a new cookbook my 6-year-old received from her "awesomest" pen pal for her birthday. The cookbook is associated with Moosewood Restaurant folks. Another one of my favorite cookbooks is the Moosewood Restaurant Cooks at Home: Fast and Easy Recipes for Any Day. My husband went to Cornell for undergrad, and I'm so jealous that he's actually eaten at the Moosewood Restaurant. I really want to make it there one of these days.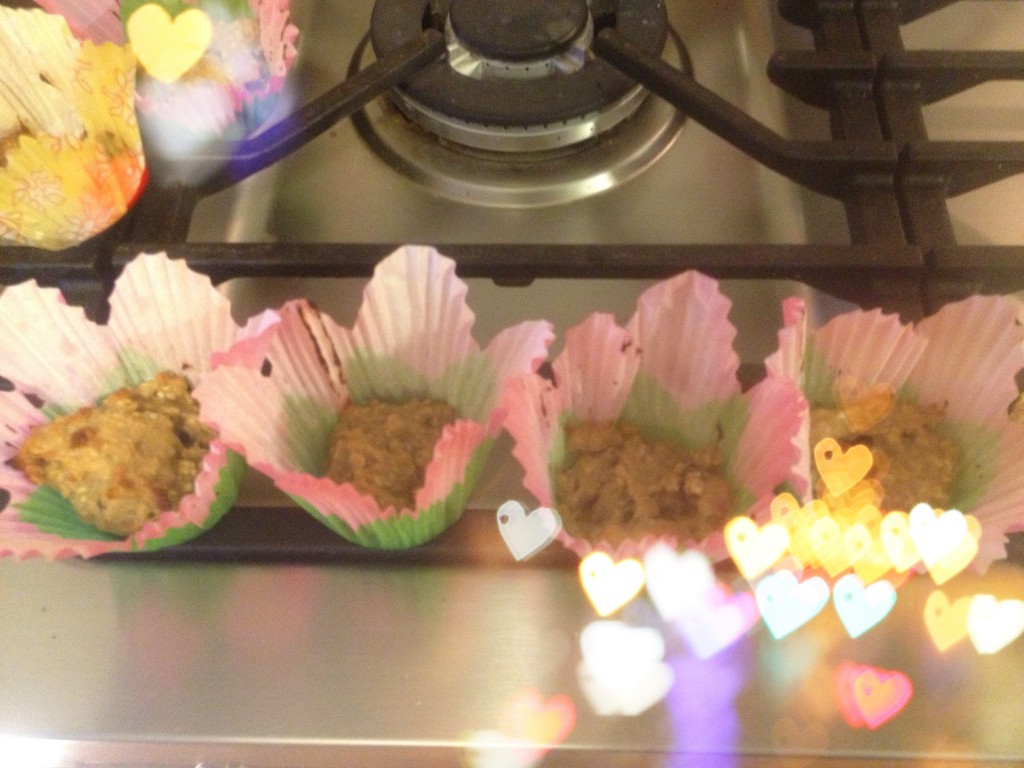 The oven was required for this one, but the added heat was worth it. I adapted the recipe slightly (replaced some of the white flour with whole wheat flour to make it even more wholesome), and the circles were a big hit for my kids and some friends we had over for an afternoon water balloon party. They were easy for little hands to help make and delicious. I'm always on the lookout for snacks that can replace processed foods like packaged granola bars, and these hit the spot.
Chewy Energy Circles Recipes
Adapted from Salad People

½ cup whole wheat flour
½ cup unbleached all-purpose flour
¾ cup Spiru-Tein Vanilla Spirutein (original recipe called for any soy protein powder blend; Spirutein has been my favorite since college)
½ teaspoon salt
2 cups rolled oats
½ teaspoon cinnamon
2/3 cup brown sugar
½ cup chopped dates (original called for raisins, but I had dates on hand)
1 ½ cups vanilla yogurt (I think next time I'll try  plain Greek yogurt; I think they will be sweet enough without the added sugar in the yogurt)
¼ cup canola oil
Add a dash of love (notice those sparkly hearts floating around the Energy Circles?)
Preheat oven to 375 degrees. Spray 24 standard-size muffin tins with nonstick spray or use cupcake liners. Combine flour, Spirutein, and salt in large bowl. Add oats, cinnamon, brown sugar, and raising. Let the kids mix dry ingredients together with their eager (and clean!) hands.
Blend yogurt and oil together. Add wet ingredients to dry mixture. Either use an electric mixer or little hands to completely combine the ingredients.
Place about 1 1/2 tablespoons of batter in each muffin cup and pat into place. Bake for 12-15 minutes or until brown around the edges. Transfer to a rack and allow to cool for 10 minutes.
I'd love to hear some of your favorite summer recipes. I'm particularly interested in creative, healthy, and less processed food from those of you who pack lunches for your kids. We've come up with ideas like hummus and veggie wraps, cold pasta salad, and Greek yogurt and honey dip. We usually mix plain yogurt with peanut butter for a delicious dip for apple slices and carrot sticks, but no peanut products are allowed in my first grader's class.
Happy eating!