We celebrated Thanksgiving at Nana and Pop's this year and on the way, I set my phone's timer for five minutes and asked the kids to blurt out anything and everything they were thankful for and I then listed them in the exact order they were shouted out and also did not edit their contributions (e.g., Mary Elizabeth's blessing of "roasted beef" was jotted down just as she said it).  Here's what they came up with:
1. apple pie
2. life
3. love
4. family and friends
5. Thomas
6. our house
7. fall
8. toys
9. turkey
10. seasons
11. the sun
12. the moon
13. roasted beef
14. ice cream
15. exercise
16. cozy boots
17. Toms
18. our health
19. animals
20. jeans
21. clothes
22. water
23. Layla (our dog)
24. trees
25. Clue (the game)
26. books
27. colors
27. Monopoly
28. beans
29. food
30. music
31. school
32. my mind
33. flowers
34. mail
35. the world
36. a warm bed
37. the way Thomas says, "Oh," when you tell him something
38. hope
39. new beginnings
40. plays
41. shopping
42. windows
43. eyes
44. our bodies
45. signs
46. doors
47. beaches
48. cars
49. pumpkins
50. Knuffle Bunny
(Rachel's lovey)
51. Raja (Madeline's tiger stuffed animal lovey)
52. people
53. Cubbie (my parents' puppy)
54. Christmas trees
55. Nana (my grandma who passed away)
56. Nana and Pop
57. Gaba and Papa
58. Ivy (my parents' dog who recently died)
59. Uncle Rich (my uncle/my mom's brother who died of pancreatic cancer last February)
60. Michelle (my cousin who died recently as well from cystic fibrosis and lissencephaly complications)
61. Mr. Thomas (our neighbor who also passed away; yes, there's a theme here)
62. Katelyn (our babysitter who is alive and well)
63. Marlo (our babysitter's dog)
64. scones
65. chocolate
66. Waffle House
67. The Grit  (my contribution)
68. wine (obviously another one of my contributions)
69. lattes (me again)
70. Aerolatte Milk Frother (me again, although Thomas likes to use this gadget to torture her sisters. I've caught him twice now turning it on and putting it in their hair.)
71. firemen
72. policemen
73. police dogs
74. fire dogs
75. ambulances
76. doctors
77. radiologists
78. Smoothie King
79. braces
80. Baby Jane's
81. movies
Time's up!
Once at Nana and Pop's we were not only treated to the feast of feasts, but Madeline had written a Thanksgiving play and the kids performed it for us. The red wagon is the Mayflower. Madeline is Squanto. Thomas and Mary Elizabeth are pilgrims, and Rachel served as the narrator.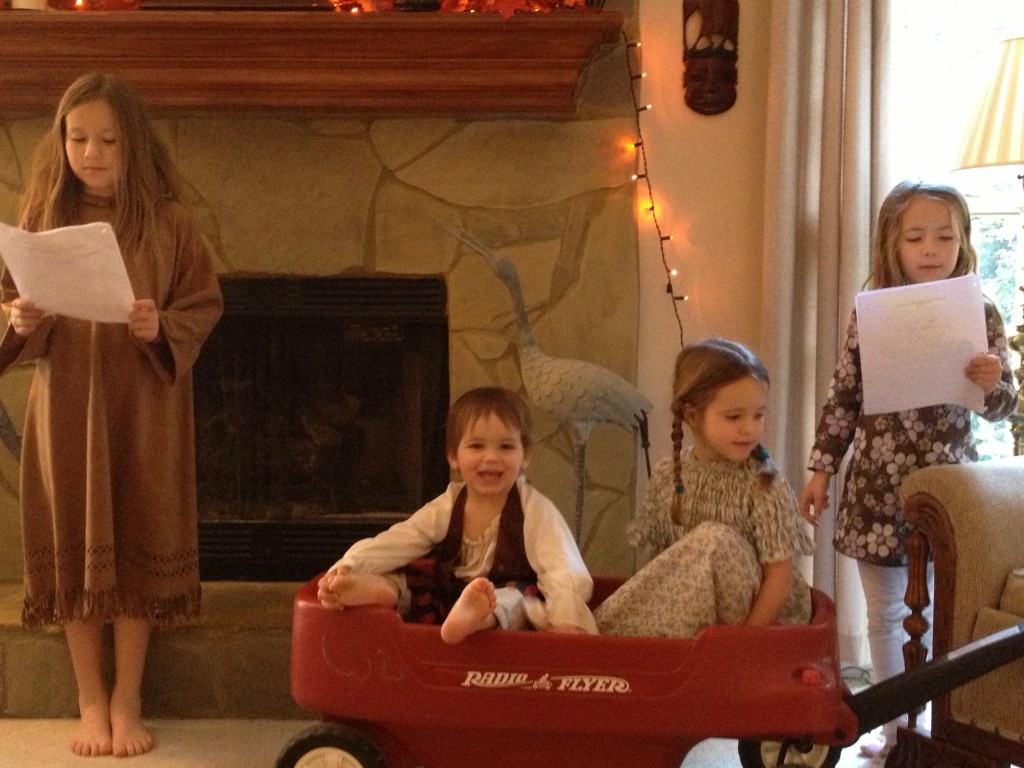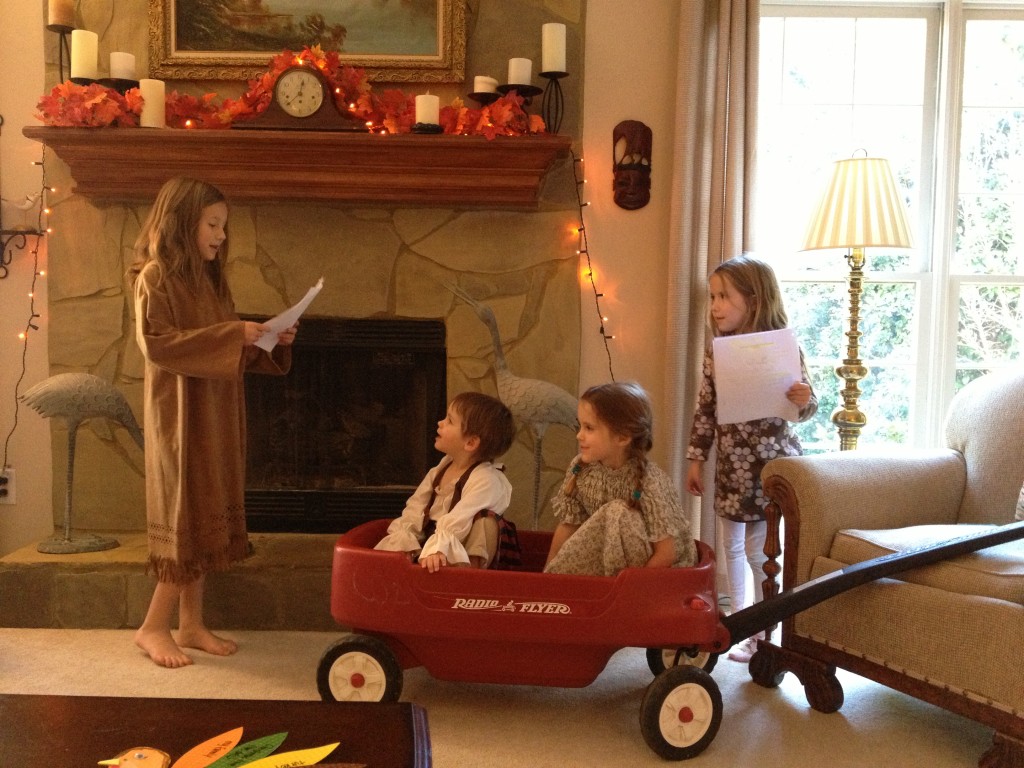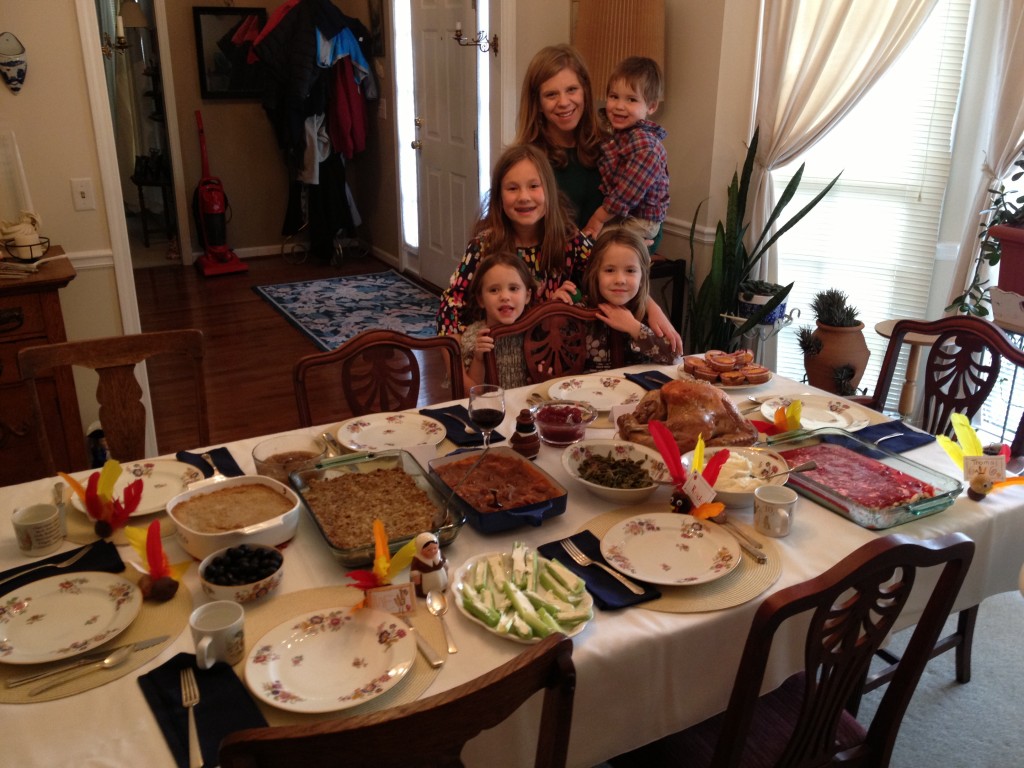 Now it's time to start thinking about Advent. I have a speech at a parish not too far from my home on Sunday where I'll talk a bit about cultivating a peaceful, joyful heart during a season that can easily become a path to burnout for a multitasking control freak like myself. Your life this Advent and always should be full, not just busy. Just because our culture hypes jam-packed schedules as the norm doesn't mean we have to subscribe to it. My running injury (still not anywhere close to running again) has forced me to slow down not just on the pavement and treadmill but in life as well. I'm getting more sleep these days and really focused on embracing simplicity. At its heart, simplicity really means less of us and more of Him. It can also mean staying in your PJs all day (I'm typing this in my pajamas; no Black Friday madness for me.)
We don't need to over-schedule our kids now or ever. Madeline really wanted to try basketball this winter, but we have a brief respite from soccer and I didn't want to fill it with more practices. If she's meant to be in the WNBA someday, she'll discover that talent soon enough. For now, I am drawing my family near, pulling out our favorite Advent books, and trying to decide what Advent traditions we will embrace this year. I've included a few links from the archives that include all sorts of ideas for bringing this season alive for little ones. BONUS: You'll get to see the kids when they were wee ones. Happy clicking!
An Advent Tea
Preparing Our Hearts and Homes (Advent Traditions)
Advent crafts (shell angels, felt napkin holders, poinsettia princesses, etc.)
Advent Smörgåsbord
Recipe for Baby Jesus Birthday Cake (more for the Christmas season obviously)
Handprint angels
Feast of Our Lady of Guadalupe traditions
Christmas card placemats
Tips for hosting a cookie swap
Cookie Swap recipes
Feast of St. Nicholas traditions
Explaining the symbolism of the Advent wreath to children
Whew. Life has been busy. How does any mom find time to blog? I don't know how I used to do it so regularly. I really don't. This has been one crazy summer. Summer break? Ha. More like the summer of stressful situations. But enough about that. I might vent one of these days but not right now. Let's talk about food today because I love to eat, and I'm in the thick of meal planning as I prepare for another busy soccer season coupled with our first experience with sending the kids to school-school (as opposed to homeschooling). Speaking of school, my 8-year-old sighed heavily the other day and said, "Only three more days until captivity." So I guess she equates homeschooling with running wild and free and school with imprisonment. Sigh. I've had butterflies all week and am 34 years old, so it's not surprising that she's approaching this new chapter with some trepidation. My 6-year-old, on the other hand, is thrilled doing the school thing. We all did have fun back-to-school shopping. It brought me back to my school days. Oh, how I loved collecting my new pencils, a fresh box of crayons with pretty points, and a super-cool Trapper Keeper (anyone else remember those?) each year.
But, anyway, I thought I'd share what I've been eating during these hot, humid, and rainy days here in Georgia. Although I love the freshness of produce during the summer, I don't enjoy cooking as much because I hate to turn on the oven when it's 90 degrees outside. We eat a lot of cold salads during the summer. I take advantage of nature's bounty but avoid making the kitchen any hotter than it already is.
Not too long ago I made some Greek chicken wraps that everyone seemed to like. My girls are crazy about olives (Kalamata are their favorite variety), and they're also very fond of feta. This might make them odd. I don't know but if your kids aren't as in to strong flavors like feta and olives, this might not be as much of a crowd-pleaser. I adapted the recipe from a recent Family Fun article. The photo below is actually the leftovers, which I turned into a delicious salad. I topped the leftover fillings for the wraps with some of tzatziki sauce. Delish!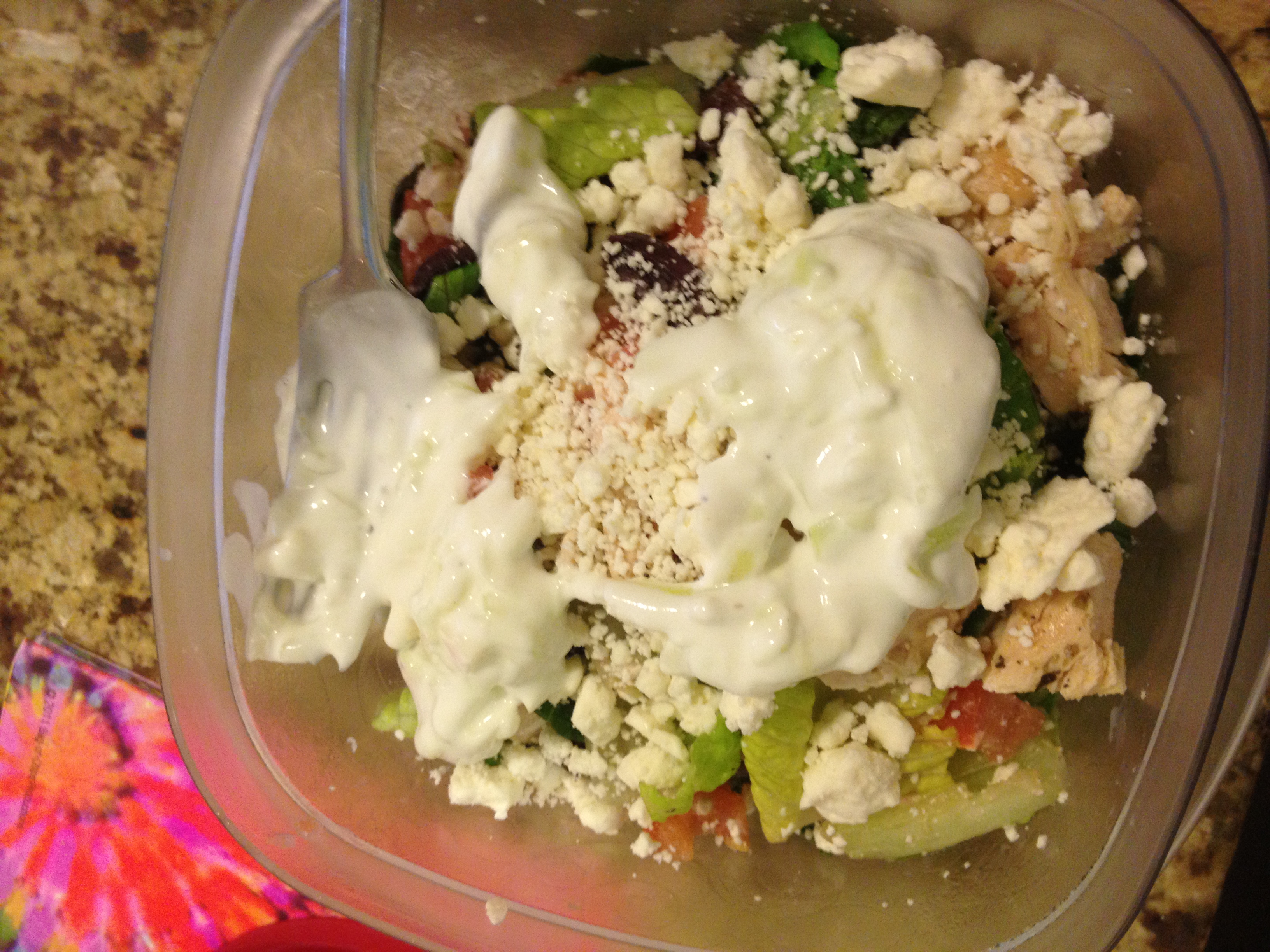 Greek Salad Chicken Wraps
Adapted from Family Fun magazine, June/July 2013
For the chicken:
2 tablespoons olive oil
1 ½ pounds chicken tenders or chicken breasts cut into strips
1 teaspoon oregano
½ teaspoon salt
¼ teaspoon pepper
 For the tzatsiki:
1 cup plain Greek yogurt
½ cucumber, peeled and grated
2 teaspoons lemon juice
1 clove garlic, minced
¼ teaspoon salt
Dash of freshly ground pepper
For the salad:
4 cups of romaine salad, torn into bite-size pieces
2 tomatoes, diced or 2 cups halved grape tomatoes
1 cucumber, peeled and thinly sliced
½ cup pitted Kalamata olives
½ cup crumbled feta
2 tablespoons lemon juice
¼ cup olive oil
¼ teaspoon salt
1/8 teaspoon pepper
tortillas
Heat olive oil over medium-high heat. Sprinkle chicken with oregano, salt, and pepper. Saute in olive oil. Cool chicken on plate.
Mix tzatsiki ingredients in a medium bowl. Refrigerate until ready to serve.
Combine ingredients for salad in a large bowl. Toss together and season with more salt, pepper, and/or lemon juice if necessary. (NOTE: The original recipe called for mint and scallions, but my kids haven't liked the strong taste of mint in other recipes, and I have an extreme onion-hater in the family so I typically stay away from scallions or add them to my meal after I served the rest of the family.)
Drizzle tzatsiki sauce over each tortilla. Then top with salad mixture and then chicken. Roll wraps and cut in half before serving.
I also recently made a salad from one of my favorite cookbooks called Saving Dinner: The Menus, Recipes, and Shopping Lists to Bring Your Family Back to the Table. I've recommended this book to several friends who want to get started meal planning but aren't sure where to start. The book is divided by season – winter, spring, summer, and fall and shares weekly meal plans, including the recipes and shopping lists. I've never tried to follow the book exactly or even adopt a whole week's worth of meals, but I frequently use recipes from the book and love how it's divided by season and uses ingredients that are cheaper and fresher during the particular season. I made a delicious and filling layered salad recently that no one complained terribly about and that I personally loved. Picky kids can pick out what they like from the salad. There's something for everyone. Best of all, I got to gobble up the leftovers along with a side of watermelon and homemade whole wheat bread for lunch after a long run (pictured below).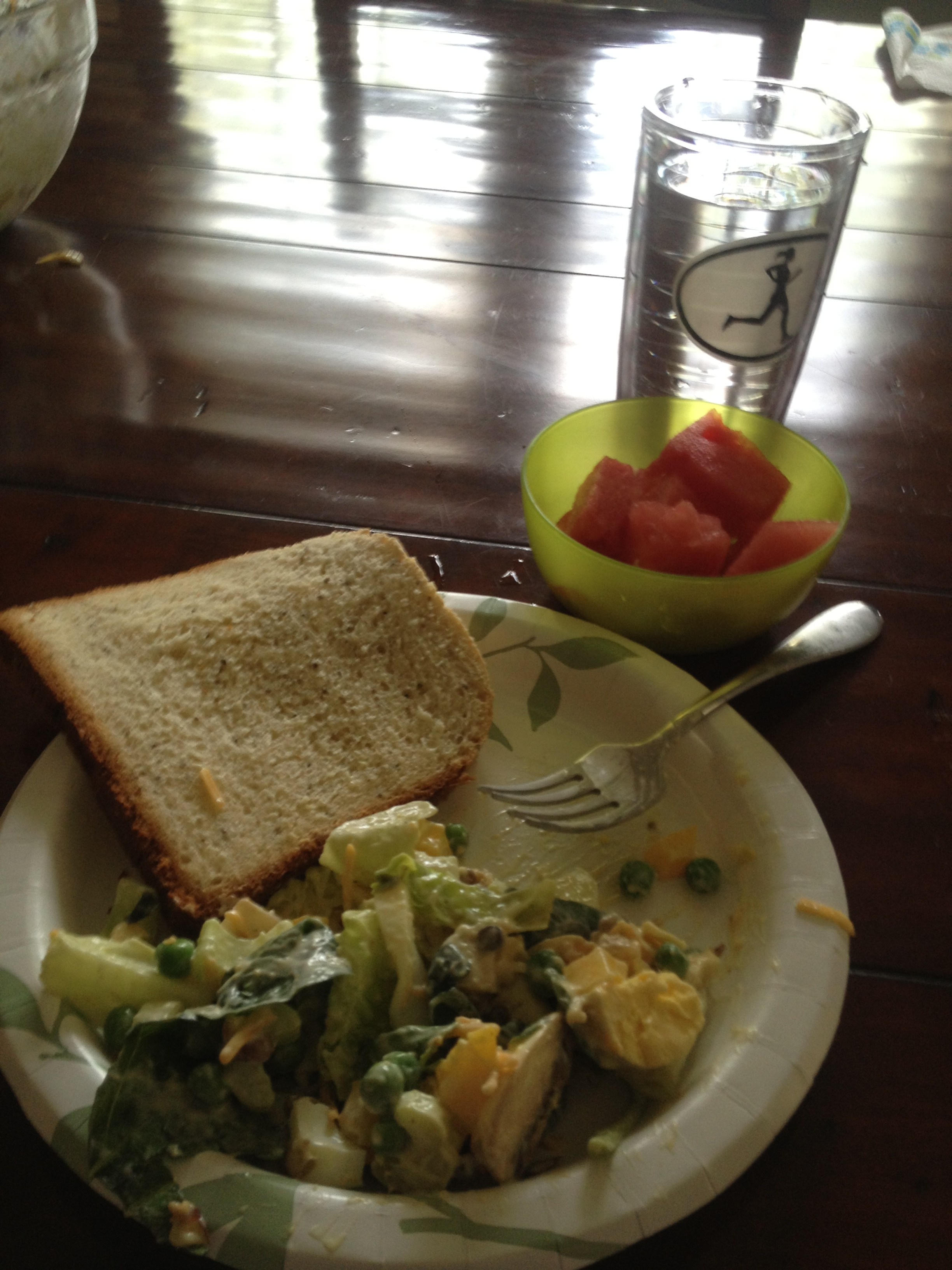 Mega Layered Salad
1 head of romaine lettuce, chopped (I actually used some romaine and some spinach leaves)
½ cup celery, chopped
½ cup red bell pepper, chopped
1 ½ cups sliced mushrooms
1 ½ cups frozen green peas (don't thaw; they added a delightful crunch. Next time I think I'll use frozen shelled edmame since my kids like it better than peas.)
2 eggs, cooked, peeled, and quartered
2 cups, canola, omega mayo*
2 tablespoons brown sugar
½ teaspoon garlic powder
½ teaspoon curry powder
A few handfuls of grated cheddar cheese
A few handfuls of sliced almonds
*A friend asked me if I thought I really needed 2 cups mayo. I did end up using almost 2 full cups of the healthy-ish omega mayo, but I kept tasting it to be sure since I'm not a huge fan of mayonnaise. I also plan on substituting some Greek yogurt for the mayo the next time I make the salad.
I also had leftover shredded chicken, which I tossed into the salad.
Layer ½ of the lettuce. Follow with a layer of celery, bell pepper, green onion, mushrooms, peas and egg, and then top with remaining lettuce.
Whisk mayo, brown sugar, garlic powder, and curry powder together to make dressing. Spread evenly over salad. Top with cheese and almonds. Cover and refrigerated until ready to serve.
We also recently made Chewy Energy Circles from Salad People and More Real Recipes: A New Cookbook for Preschoolers and Up. This is a new cookbook my 6-year-old received from her "awesomest" pen pal for her birthday. The cookbook is associated with Moosewood Restaurant folks. Another one of my favorite cookbooks is the Moosewood Restaurant Cooks at Home: Fast and Easy Recipes for Any Day. My husband went to Cornell for undergrad, and I'm so jealous that he's actually eaten at the Moosewood Restaurant. I really want to make it there one of these days.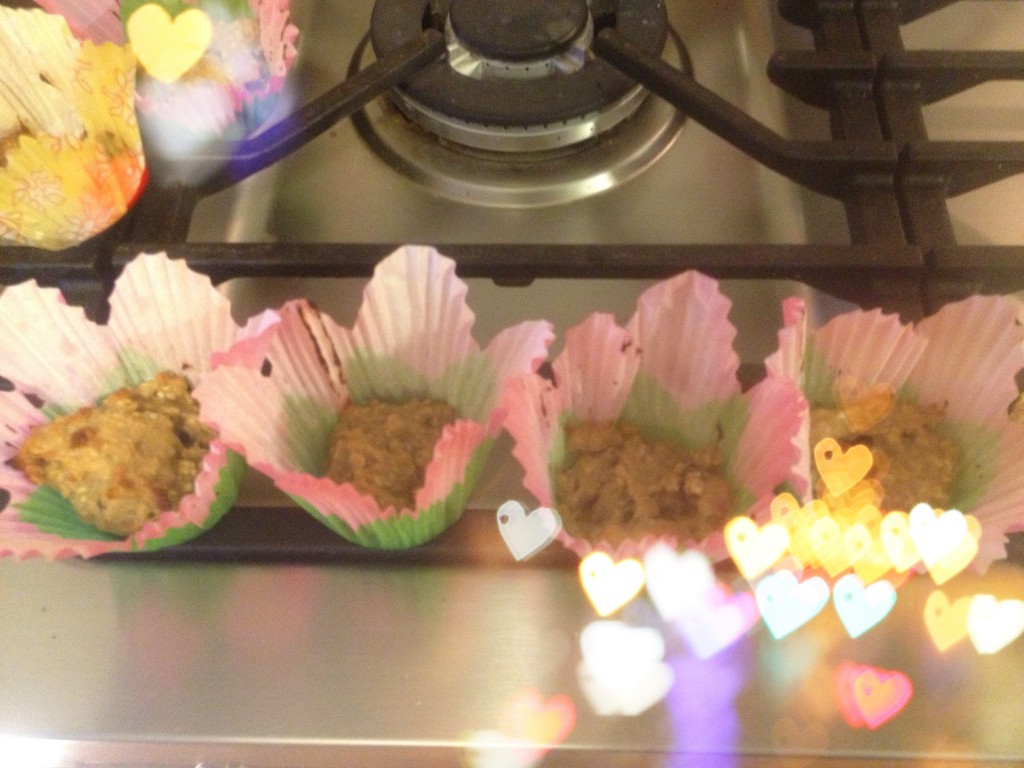 The oven was required for this one, but the added heat was worth it. I adapted the recipe slightly (replaced some of the white flour with whole wheat flour to make it even more wholesome), and the circles were a big hit for my kids and some friends we had over for an afternoon water balloon party. They were easy for little hands to help make and delicious. I'm always on the lookout for snacks that can replace processed foods like packaged granola bars, and these hit the spot.
Chewy Energy Circles Recipes
Adapted from Salad People

½ cup whole wheat flour
½ cup unbleached all-purpose flour
¾ cup Spiru-Tein Vanilla Spirutein (original recipe called for any soy protein powder blend; Spirutein has been my favorite since college)
½ teaspoon salt
2 cups rolled oats
½ teaspoon cinnamon
2/3 cup brown sugar
½ cup chopped dates (original called for raisins, but I had dates on hand)
1 ½ cups vanilla yogurt (I think next time I'll try  plain Greek yogurt; I think they will be sweet enough without the added sugar in the yogurt)
¼ cup canola oil
Add a dash of love (notice those sparkly hearts floating around the Energy Circles?)
Preheat oven to 375 degrees. Spray 24 standard-size muffin tins with nonstick spray or use cupcake liners. Combine flour, Spirutein, and salt in large bowl. Add oats, cinnamon, brown sugar, and raising. Let the kids mix dry ingredients together with their eager (and clean!) hands.
Blend yogurt and oil together. Add wet ingredients to dry mixture. Either use an electric mixer or little hands to completely combine the ingredients.
Place about 1 1/2 tablespoons of batter in each muffin cup and pat into place. Bake for 12-15 minutes or until brown around the edges. Transfer to a rack and allow to cool for 10 minutes.
I'd love to hear some of your favorite summer recipes. I'm particularly interested in creative, healthy, and less processed food from those of you who pack lunches for your kids. We've come up with ideas like hummus and veggie wraps, cold pasta salad, and Greek yogurt and honey dip. We usually mix plain yogurt with peanut butter for a delicious dip for apple slices and carrot sticks, but no peanut products are allowed in my first grader's class.
Happy eating!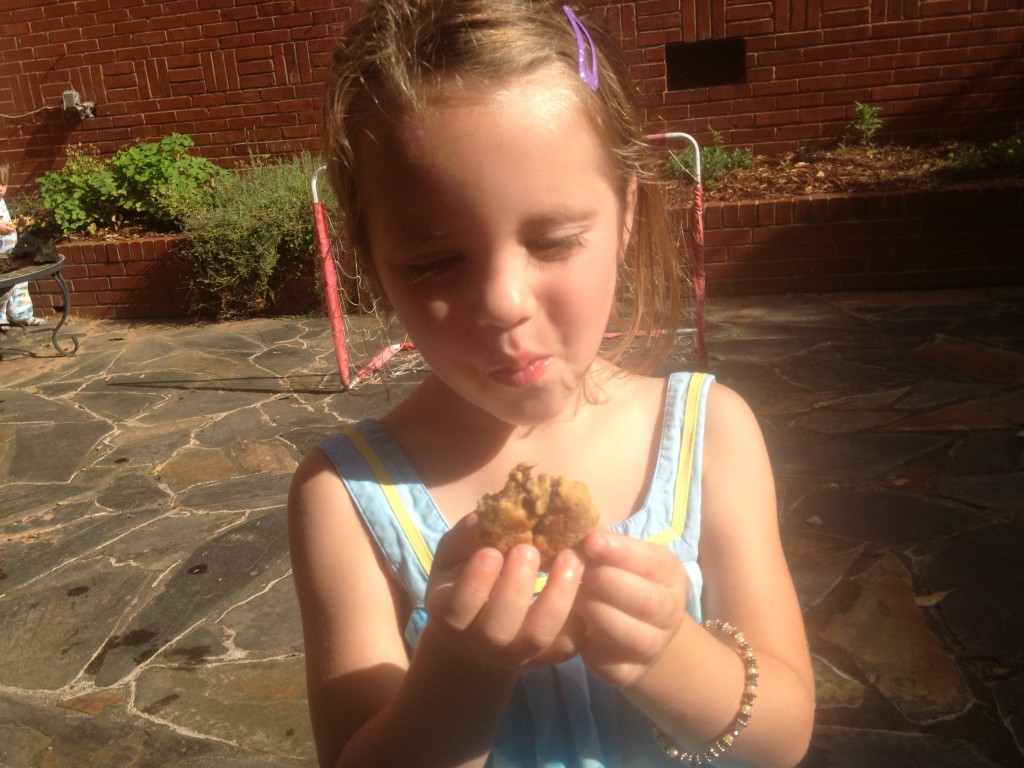 I thought about writing a serious post called something like "i is for Insecurity" that discussed how social media can lead many of us (ahem, yours truly) to doubt ourselves and/or to compare ourselves to others. (The little "i" represents all those i gadgets that make it even easier to stay connected and/or feel like total losers.) You know the drill (or maybe you don't, God bless you): You're quite pleased with the birthday cake you made for your child until you see the delicious Pinterest eye candy that others have created, or you're happily enjoying running for the sake of running until you read about someone who ran three miles a lot faster than you'll probably ever run one mile and you feel pathetically slow. But whatever. Most of the time I'm at a pretty content place and am actually quasi-qualified to give the kind of speeches I do that encourage women to relinquish perfectionism and to accept that they are good enough just the way you are, but every once in awhile I feel like that lonely, loathsome 9-year-old from my past who gets teased on the school bus and instead of counting my blessings I'm collecting grievances against myself. Or I start to compare myself or my charmed life to others and when you compare, no one wins. Either you walk away feeling better about yourself (well, I can't run that fast, but I've had labor au natural and clearly have good endurance. Not that I have ever entertained thoughts like these or actually looked up to see if uber runner girl gave birth naturally). That icky pride thing going on, or the seeds of envy are planted within you and instead of celebrating someone else's blessings or triumphs, you're angry at them or coveting them. More ick.
Even when I'm not comparing, too often I start to focus on all that I can't do rather than paying attention to all that I can stinkin' do. And, ladies, we do a lot! I find that insecurity and all its ugly stepsisters really start to rear their ugly heads whenever I forget to concentrate on loving others and instead find myself wondering if I'll ever measure up (in whatever area of life I'm obsessing about at the moment whether it's mothering, writing, singing, or running). I should desperately want to love rather than deserately want to be loved. That makes for a happy heart. While drying my hair this morning (I get all my magazine reading accomplished whenever I actually take the time to dry my epically-thick mane), I read a quote in Real Simple magazine that really struck me:
The way to work for peace is to be at peace.
Appropriately enough, my spiritual book club is currently reading Searching for and Maintaining Peace
by Fr. Jacques Philippe. I have lots of notes to take.
But now I didn't want to write about all that. Nope. I really just wanted to share a few gratuitous photos of some major sibling love. These two have quite the time together these days. My baby boy is very good at playing the role of "Annoying Little Brother." He tugs on her hair, wrestles with her, and chases her around constantly. She's very patient with him (most of the time), and they're also extremely affectionate with each other.
How can I not be content and happy looking at this sibling revelry?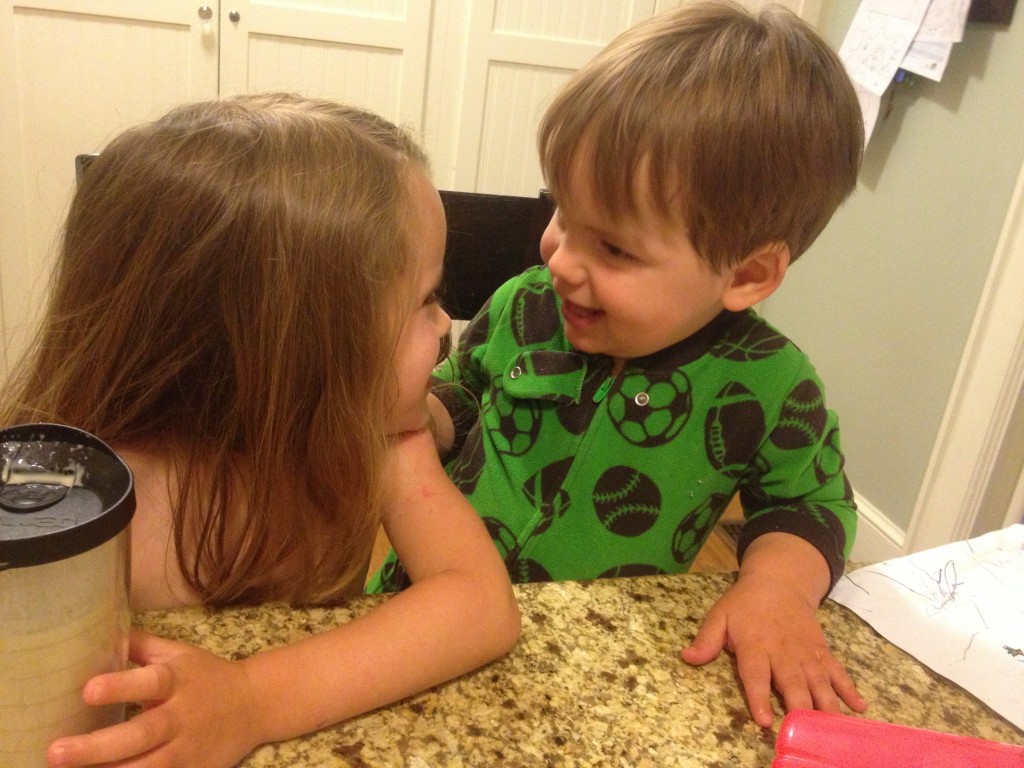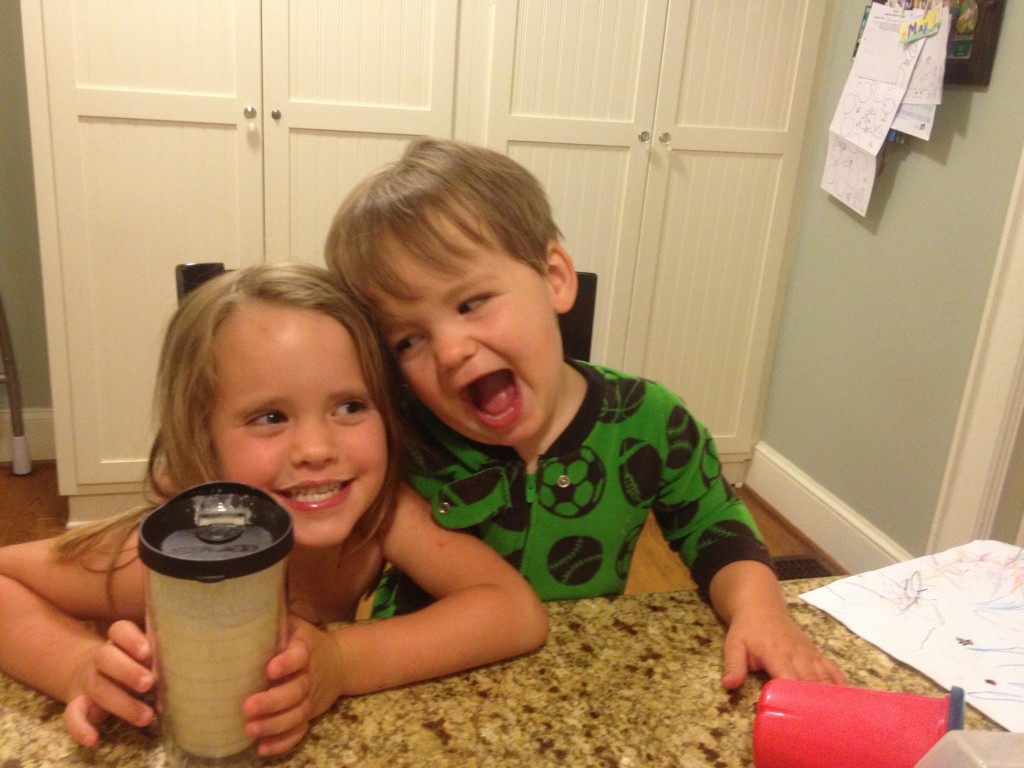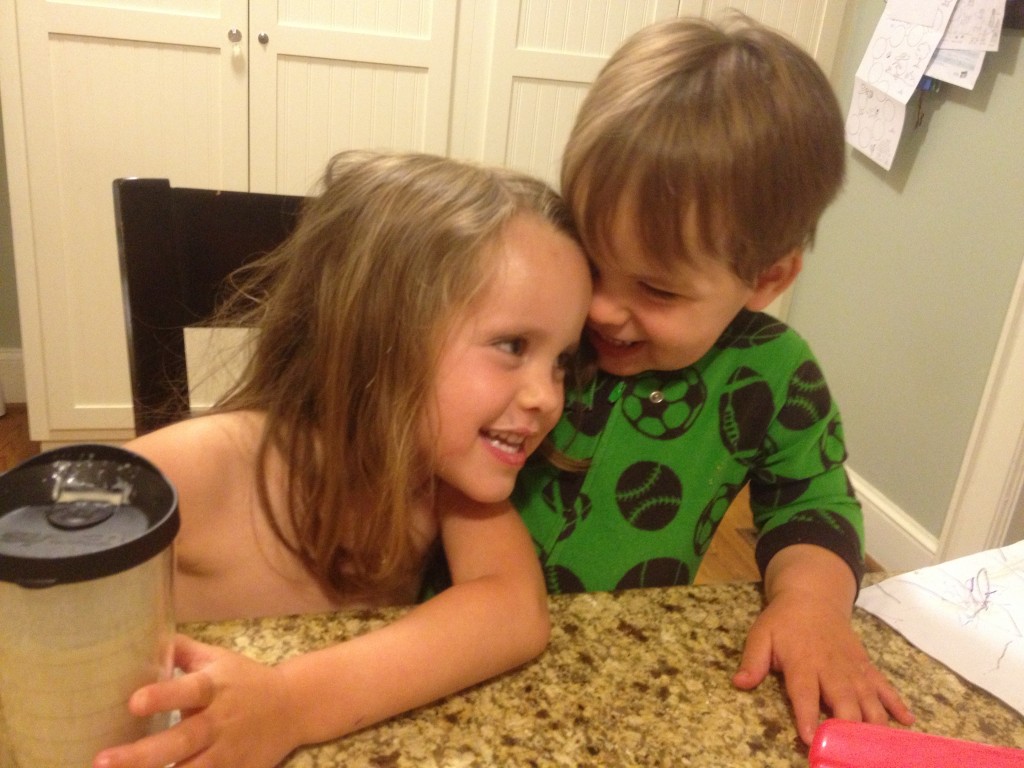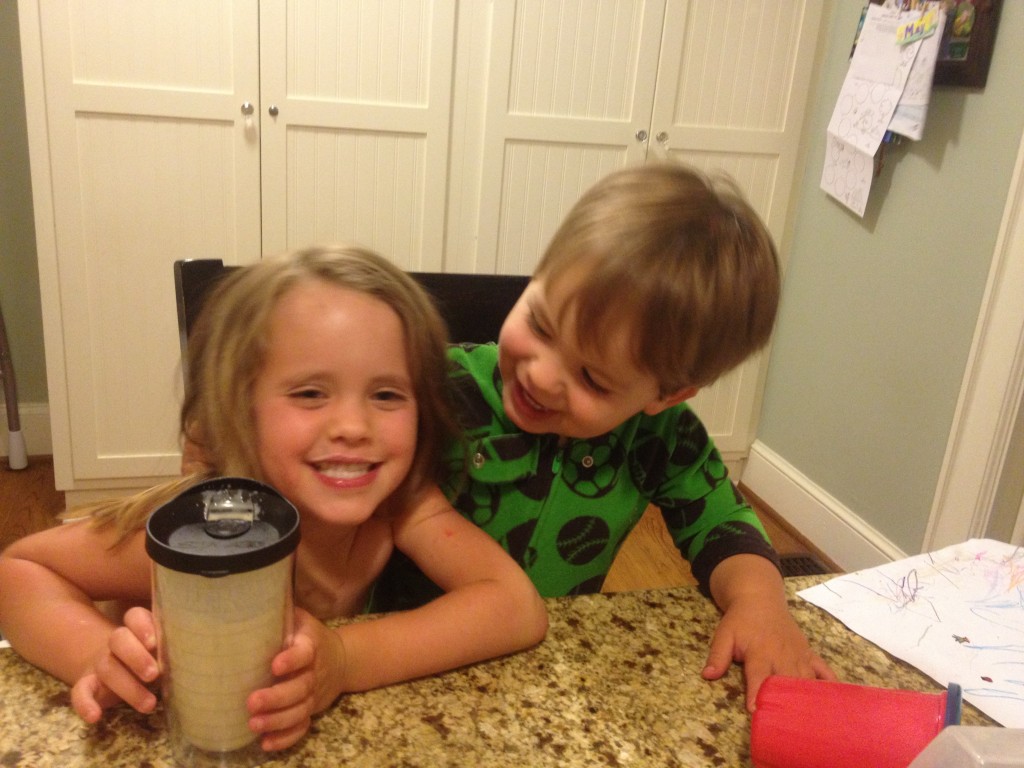 As for the smoothie shot reference, the Vitamix
has rocked my world in a good way. I use it almost every day to whip up smoothies of a rainbow of colors. This one looks boring in the cup, but its creamy deliciousness makes the kids think they're slurping up a milkshake. I don't use exact recipes per se, but here's what this one looks like:
About 2 cups of milk
1 banana (use a frozen one for an even creamier consistency)
One apple, cored
2-3 tablespoons of natural peanut butter
1/4 cup plain Greek yogurt
1/2 scoop of vanilla-flavored Nature's Plus Spiru-Tein
Blend together for taste bud nirvana. Feel free to add a few handfuls of spinach. No one will notice.
Any favorite smoothie recipes to share?