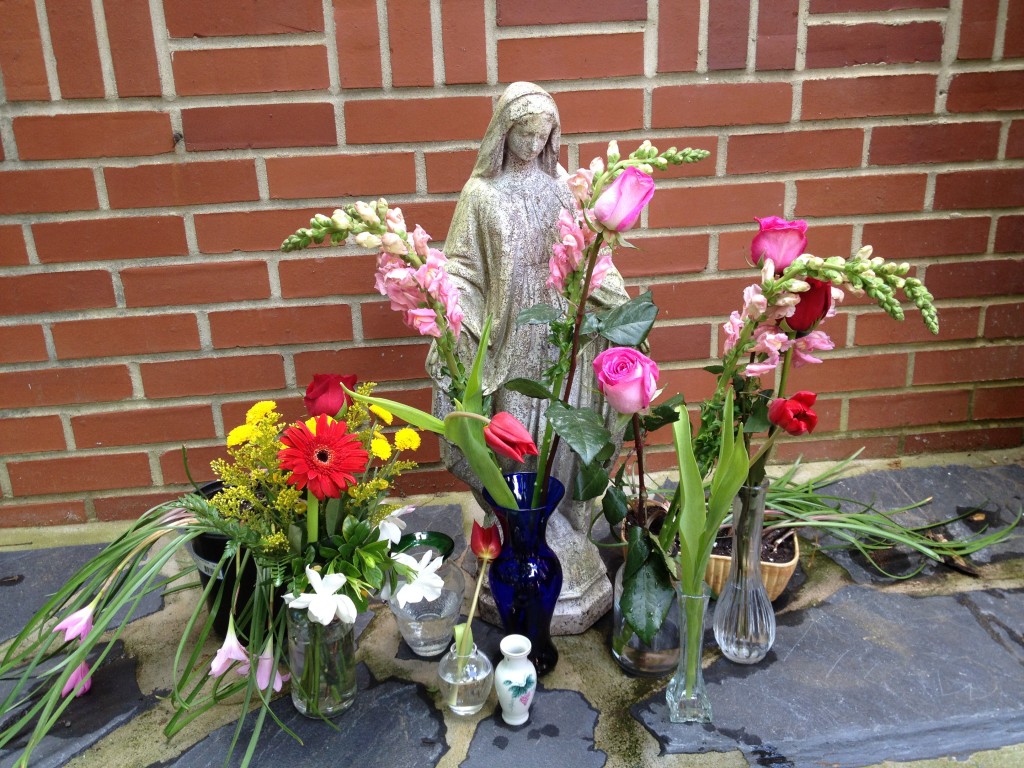 I love my mom for many reasons. One reason is that we can be laughing one moment and then be delving into some serious stuff without even realizing we made the jump until we're both thinking aloud about how yes, this is something that could help us lead a more holy life. Which is usually followed by more laughter or a child shouting, "It's my turn to talk to Gaba!"

We had an early morning conversation today, and it was a lovely way to start my day. We talked about all sorts of things: how people let us down;  how it's demoralizing when you try to make something new for your family for dinner (and spend a lot of time doing it) and no one likes it (not even the dog); how it's sometimes tough to determine how to best use our talents that might not really shine in the trenches of motherhood (or if we should use them at all; Mom/Gaba says we should); how my husband always provides a balanced, truthful, and objective assessment of virtually every situation or concern I'm toiling with; how mothers sometimes need an outlet that has little or nothing to do with mothering; how humility isn't thinking of ourselves as less but thinking of ourselves less often (which I quoted from this excellent funk-fighting post); as well as how excited she is about traveling to see her big sister this coming weekend.
We also talked about something that just might be life-changing for me.
"Mom," I said happily. "You just gave me something really good to blog about!" And something to try to embrace in my daily living.
Someone might remark that I'm a great mom, and I might say something like, "On a good day, maybe." Or I"ll crack a joke deflecting the kudos because I'm uncomfortable about the compliment – or because they didn't see me the day before hopping around, howling, and screeching at my children like a maniac after I pierced my foot on a renegade Lego.
My mom does the same thing. She carries her cross of chronic pain with such grace, and I tell her this much. "No, I don't," she'll say. Or, "I'm no saint."
None of us is – yet. But why not try to become one and to live a life worthy of all the compliments and glowing appraisals we receive?
My mom's parish priest, who is also a dear family friend, recently effusively praised her for all the work she does for the myriad ministries she's involved with at church. She told me that at first she felt like he was just being nice, but later that night she thought that maybe she should just be grateful for his encouragement and simply try to live up the praise.
With all of her surgeries and health problems, she's been tempted to give up volunteering altogether. Yet, she knows it is good for her to stay involved, to visit others as a homebound minister who were in more pain than she was, and to head up some ministries without feeling like she has to be as hands-on as she once was. Her decision reminded me of a quote someone shared after this homeschooling discernment post of mine that has  helped to change the way I see parenting and homeschooling.
"Anything worth doing is worth doing badly."
  
–G.K. Chesterton
It's easy for us to question our ability to be spouses, parents, volunteers, employers, friends, and Christians because we do sometimes do all of these things poorly. But that doesn't mean they're not worth the effort time and time again. Likewise, our continued failings don't mean that people won't sometimes witness us doing these things well and tell us so. When they do, maybe instead of thinking that they just don't see our dark side or they'd think differently if they'd been with us when we morphed into a mommy monster and rather than being tempted to start to mentally enumerate all that we do wrong, we ought to simply be grateful that we sometimes do get it right. And sometimes people notice when we do.
We recently hosted a get-together to honor the Blessed Mother during the month of May. A procession of children shuffled over to our simple garden statue of Mary and placed flowers in vases crowded around her. I couldn't help thinking of how Mary graciously accepts the love offerings of her children with a humble heart. Mary does not need to be showy. But she doesn't need to think less of herself either. She is unassuming without being self-effacing. She is deserving of the gifts of flowers. She is worthy of roses.
We, too, can lead lives that make us worthy of the roses others hand to us. During our soul-affirming conversation, my mom and I made a pact that from now on when we receive a compliment, we won't doubt its truth. We will graciously accept it as the grace that it is. Then we will strive to live up to the way others perceive us to be.
We will become the good person they think we are.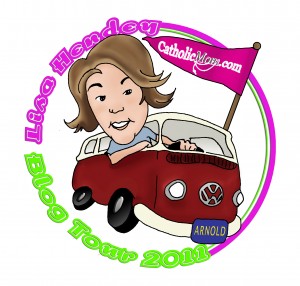 I've been privileged to know Lisa Hendey for several years now. I consider her not only a strong, faithful voice in Catholic media, but also a professional and personal mentor. Despite her many accomplishments what always shines through and impresses me the most is her humility. She never stops thanking others and shifting the praise to friends, family, her fellow Catholic moms, and her God.
It's no surprise, then, that someone who recognizes that she cannot do it all on her own would write a book about the communion of saints. Lisa's A Book of Saints for Catholic Moms: 52 Companions for Your Heart, Mind, Body, and Soul (Ave Maria Press)
is the perfect bedside table companion for a mom in the trenches looking for hope and help from the holy people who have come before her. Like Lisa's immensely popular The Handbook for Catholic Moms: Nurturing Your Heart, Mind, Body, and Soul
her latest book is organized into an easy-to-read format for busy (and exhausted) moms.
Each chapter focuses on a specific saint and includes a brief bio, a reflection on lessons we can glean from the saint, a quote from the saint, a week's worth of Scripture verses to ponder that are inspired by the spirit of the chapter's saint, ways to make the saint come alive for you and your family, a prayer asking for the saint's intercession, and finally, questions to reflect upon throughout your week that will help you grow closer to this friend of God. I love the idea of having a special saint to pray to for each week of the year, and I plan on using the book in my domestic church and "adopting" a weekly saint for my kids to learn about right along with me.
I recently gave away a copy of the wonderful book but for all of those who weren't the lucky winner, I encourage you to buy a copy of this treasure of a book today. Motherhood is beautiful and extremely hard work. We all need helpers to guide us along the way and to pick us up when we fall flat with exhaustion, fear, guilt, or anxiety. Who better to seek the counsel of than those closest to Jesus?
Now without further ado, I present to you a Q&A with Lisa herself where she'll share her own personal favorite saints, the story behind "Arnold" (pictured at left), and more. Leave a comment and let us know what saint(s) has/have inspired you the most!
1. Catholics are blessed with the gift of a "great cloud of witnesses" – the Communion of Saints, who, as you write in the preface for A Book of Saints for Catholic Moms, "…have modeled the way for us…and led ordinary lives yet accomplished extraordinary things." What saints have helped you personally along your spiritual journey?
Lisa: Kate, thank you so much for your generous support of this book and for the inspiration I've gained through reading your work for years! So many saints have been a part of my spiritual journey. First and foremost, I look to the Blessed Virgin Mary multiple times per day in my role as a wife and a mother. Her model of love and devotion to her son and her intercession on behalf of our little family has long been a constant for me. I also turn frequently to my personal patroness, St. Therese of Lisieux, to Blessed John Paul II, and to St. Anthony of Padua who is the patron of my parish family.
2. What saints have you drawn closer to or turned to for their intercession since becoming a mother?
Lisa: In a special way, I've grown quite devoted to some "mom" saints! St. Monica, the mother of St. Augustine, has been a constant companion for many years and was a great solace to me during the conversion process of my own husband. As my sons age, I find myself turning to her frequently on their behalf. I also have a deep devotion to St. Gianna Beretta Molla, a more recent saint who was a busy wife and mom, a working physician, and a valiant pro-life champion who made the ultimate choice on behalf of her unborn daughter. There are so many wonderful saints who were moms, including the more recently beatified Blessed Zelie Martin, the mother of St. Therese who was beatified along with her husband Louis. As a breast cancer survivor and a writer, I feel a kinship with Zelie who loved corresponding by letter and sadly died of breast cancer. Honestly, the list of great mom saints could go on and on!
3. A Book of Saints for Catholic Moms highlights 52 saints to inspire, encourage, and edify moms. Some of these saints are Catholic household names like St. Francis of Assisi. Others are less well-known such as St. Margaret Clitherow. What was one of the most interesting facts you learned about a particular saint that you did not know prior to your research for the book?
Lisa: I loved learning about the lives of St. Josephine Bakhita, born in Darfur and sold into slavery in the 19th century, and Blessed Kateri Tekakwitha, the first Native American proposed for canonization. Both survived great duress to practice their faith – neither were women of means, and yet they overcame incredible obstacles in their lives simply to practice their faith. I also loved learning more about the stories of St. Andre Bessette and St. Mary MacKillop, both of whom were only very recently canonized.
4. Who is your favorite saint? Why?
Lisa: I always chuckle a bit when I receive this question, as the answer varies almost every time I answer it. St. Therese of Lisieux is my personal patroness, but truly my "favorite" depends upon the situation – I call upon so many of them in different situations or at different times in the day for a variety of reasons. At the moment, I have over fifty favorites and you can meet each of them in A Book of Saints for Catholic Moms. Read more
We hosted an All Saints' Day party at our house today. We had a wonderful turnout, and a miscellany of saints were represented from Saint Ignatius to Saint Zita. We invited each child to come forward and share a few facts about their saint and his/her life. Then the children guessed which saint the child was portraying. What I love about these parties is how I always learn something new. For example, two children came dressed as St. Catherine of Alexandria, a saint I knew very little about.
I did my annual saint scavenger hunt. (I'll try to remember to post the treasure hunt clues before All Saints' Day next year in case people want to use them. Maybe a reader can remind me in mid-October? Make a note in your iCal now!) Only this year I hid some of my Catholic Folk Toys and Saint Luke's Brush figures, so the children were actually searching for the saint statues rather than the next clue.
After the scavenger hunt, we enjoyed a delicious potluck lunch. It was a great party (aside from Thomas being uncharacteristically fussy).
Here's a picture of our pious crowd: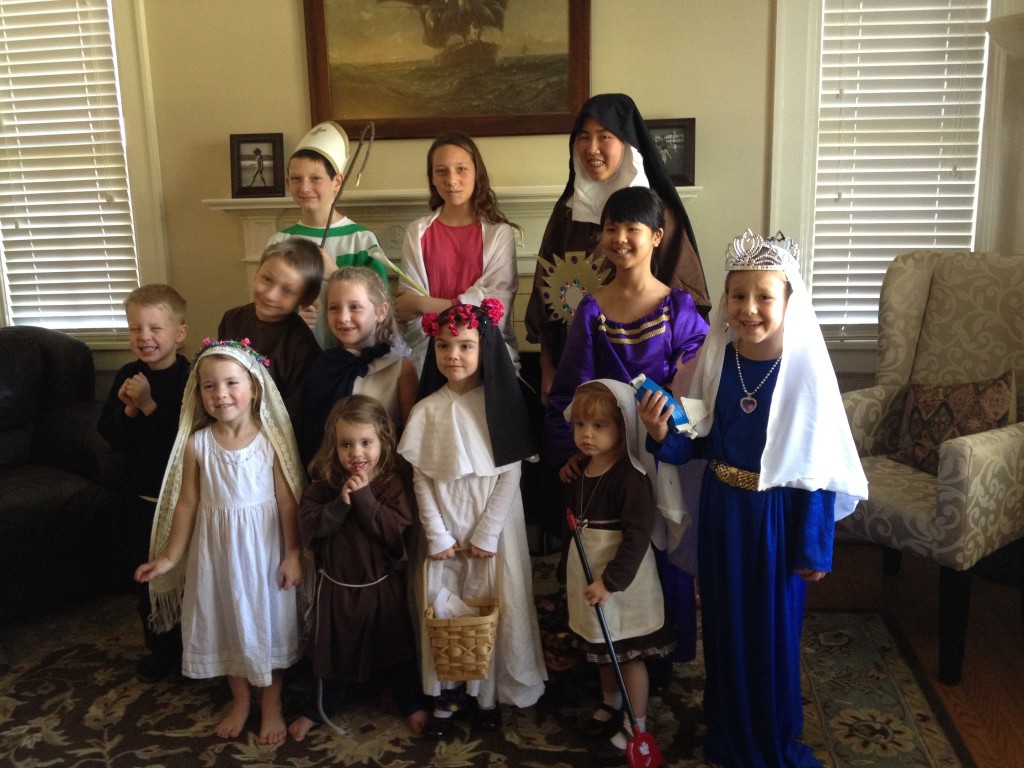 We had a special guest in our midst as well. Sister Bernette was a dear friend of one of the families who came to the party.  Sister was getting ready to leave town to return to the Mother House and spent one of her last days with all of us! She loved seeing all the children in their saintly garb. Can you spot her in the photo below?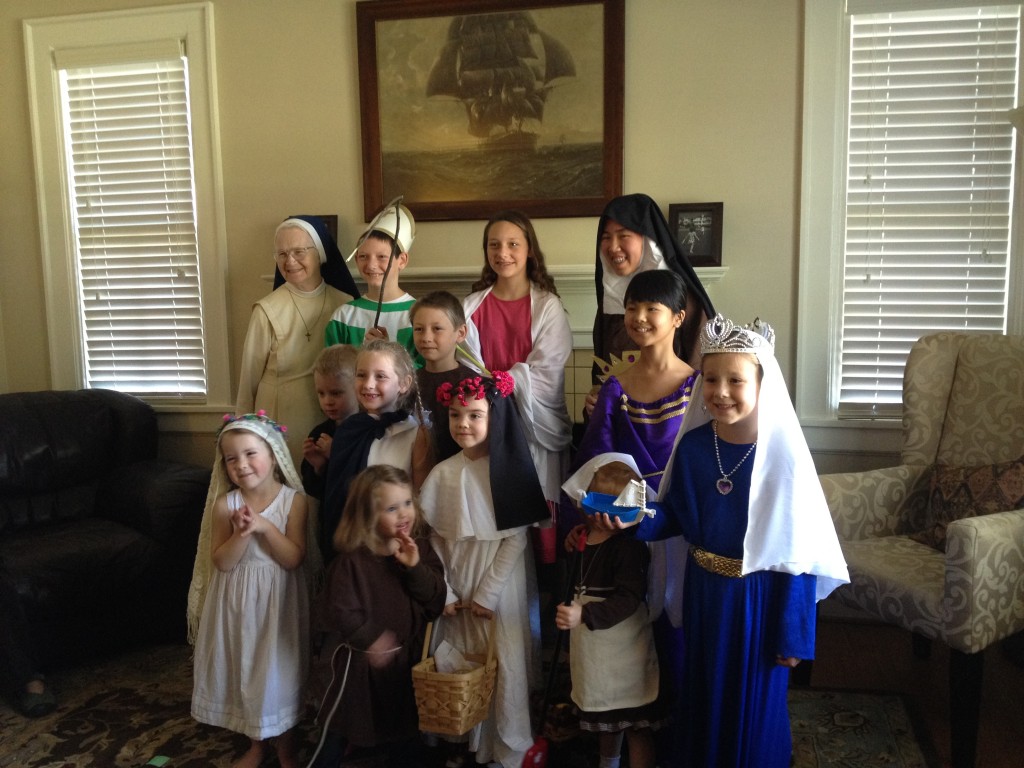 (Oh, and is it just me, or is my Madeline, who turns 7 soon, looking awfully tall and old these days? She's the one in blue on the far right.)
Now here's a fun challenge for my readers. I'm giving away a copy of Lisa Hendey's  excellent new book, A Book of Saints for Catholic Moms: 52 Companions for Your Heart, Mind, Body, and Soul.
(You really must get your hands on a copy; it's wonderful!) I'm also giving away an autographed copy of Weightless.
All you have to do to enter to win is to guess which saint each of my child is dressed as. Leave a separate comment for your guess for each child. The good news is you don't have to be right in order to be entered to win. However, those of you who boast a brilliant saint IQ will gain additional entries for each correct guess. So if you're right for all four kids, then you'll be put down for eight entries.
You can also gain entries by visiting the Amazon page of Lisa's book and "liking" it or by liking my own book, Weightless: Making Peace With Your Body
over on Amazon. Leave a separate comment for each action taken (so if you "like" both books, leave two comments – i.e., one comment saying, "I liked Lisa's book" and another comment saying, "I liked Weightless.").
Other contest rules:
Sorry, but this contest is open to U.S. residents only, please.
Contest ends on Thursday, November 10th at noon EST. I'll draw winners that night and will post them some time on Friday, November 11th.
Now for some clues to help you out in guessing my kids' chosen saints. All the girls' saints are included in An Alphabet of Catholic Saints
. Madeline chose a more obscure saint because everyone has easily guessed her saints in the past (St. Helena of the True Cross and Saint Lucy). This saint was a British princess. She's the patroness of Catholic school girls, a holy death, and educators among other things. Madeline is holding one of the symbols used to represent her. She and several other maidens were martyred when they wouldn't deny their faith.
Rachel's saint helped her family by sewing. One of her symbols is the rose. She had a special devotion to the Infant Jesus. She is the saint of the Americas. This saint was pious from a young age and greatly admired St. Catherine of Siena. When she grew older, she dedicated her life to serving God and performing acts of charity.
Mary Elizabeth is an easy one. Just look at the brown robe, the beard, and the wolf in her arms. 'Nuff said.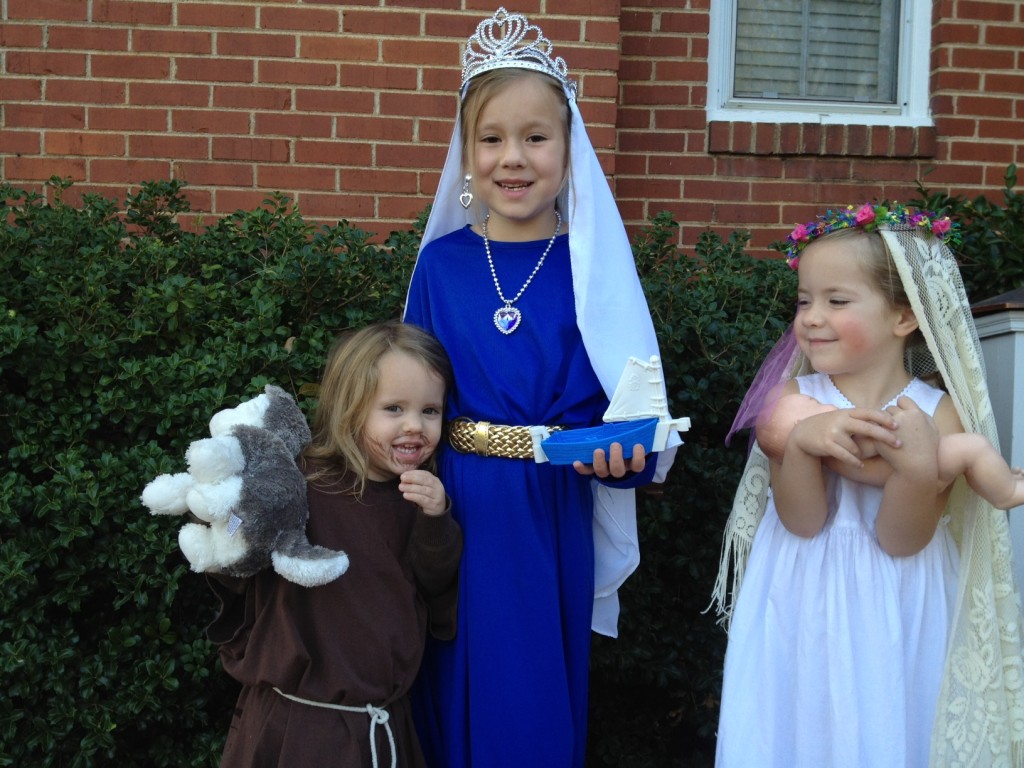 Okay, now for the little man. Thomas represented two different Thomases – one a saint and one a great theologian (but not an official saint). Leave a separate entry for each. (Thomas's middle name is actually Kemp, which is a family name as well but also a hint for the author of one of the books represented in the picture below.)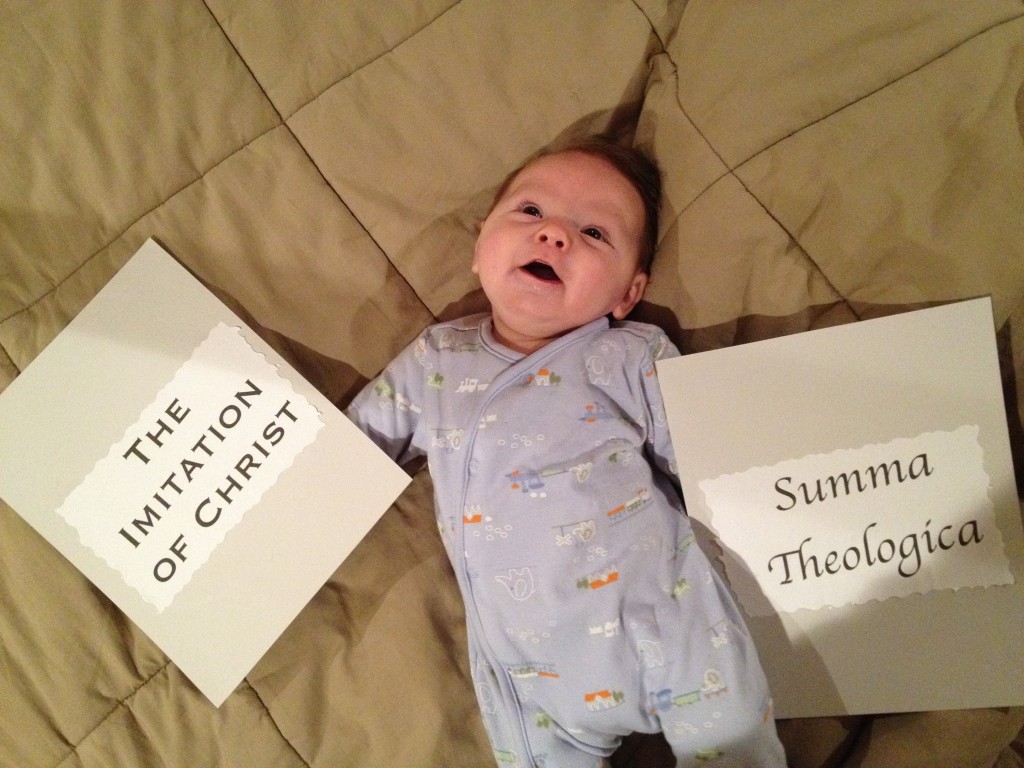 Good luck!
UPDATE: It must be fairly obvious that I don't do contests with much regularity because I realized a few things after I posted this such as the fact that it would become increasingly LESS difficult for people to guess the children's saint costumes as more people commented, so it may end up that a lot of people get double entries. As I've been telling a whole lot of people lately, I'm definitely not in my A-game. Is that even the right expression? Will my cerebral capacity ever be restored to normal? Sleep deprivation does scary things to your mind. I have a very funny anecdote to share about a big mental gaffe, but it will have to wait. I'm going to bed.