They're everywhere. The promises of a new year and a new you. Now is the time to reinvent yourself. Get more organized. Quit smoking. Lose 5, 10, 15, or 20-plus pounds. Exercise more. Sleep more. Eat less sugar.
Personally, I really like my 5-year-old's New Year's Resolution: Be nice to people. Now that has eternal value.
Funny aside: My 7-year-old uses the least amount of electronics in the house, but she was the one who wants to watch less TV in 2015. She doesn't play on the computer or even watch much television. She usually has her nose in a book (she read five fat books over the Christmas break), but she also is the one who always thinks she is worse than she is. I'm not sure where she gets that from. Ahem.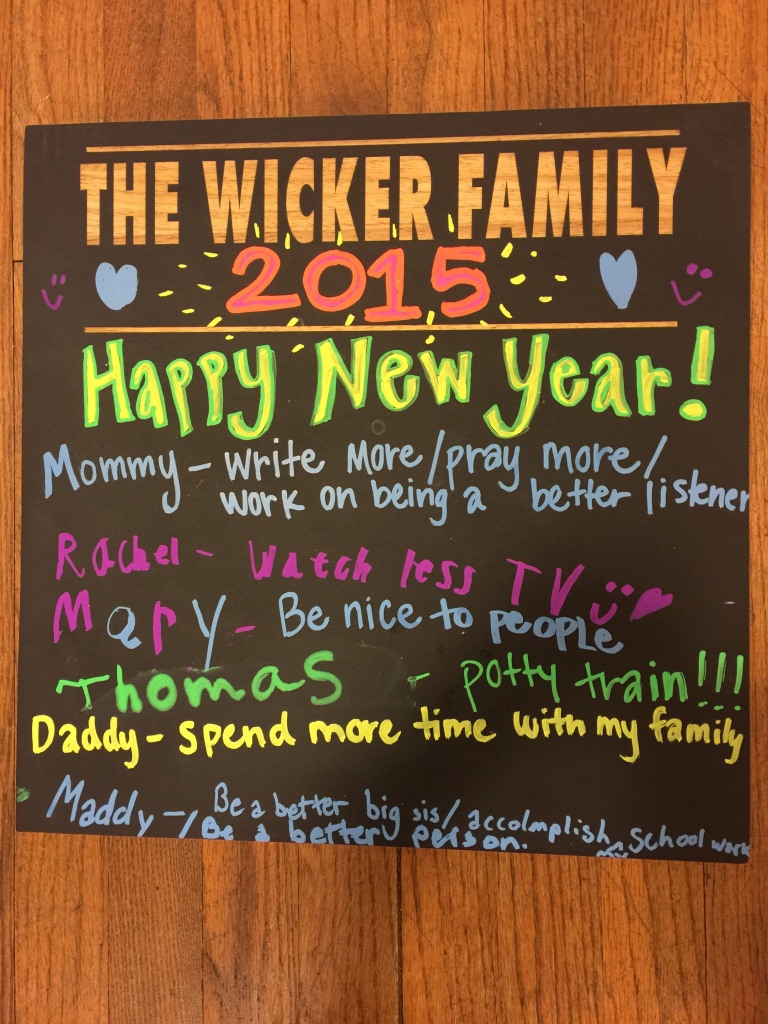 I've always been a goal-oriented kind of person, so I usually end up scribbling down a few New Year's Resolutions. Once upon a time at least one resolution had to do with my weight. Even when I claimed I was just thinking of my health, I was guilty of subterfuge. But not this year. This year I want to pray more, write more, and listen more.
I am tempted to add more even though I know that while my goals seem simple, I'll likely fail pretty miserably at them. Way to believe in myself, eh?
I like to accomplish, but I seem to accomplish big things pretty rarely lately.
Every week I scribble down a to-do list, and I get great pleasure from checking off each item. Look at how productive I am!  I like to have things to work for, too, and things to achieve. What I don't like is failure or feeling like I haven't accomplished much. But this year has been a year of letting go. And not just for Elsa or her gaggle of pint-sized followers, but for me, too. It all started with the dreadful running injury. I can no longer call it a running injury because I am not much of a runner any longer, although I ran with a running peep this morning and experienced pure euphoria – more from the company than the actual physical exertion. The run didn't provoke much pain, but walking around the rest of the day and just sitting to teach my child phonics did hurt a bit. I'll think I'm all better and that BAM! I'll feel a twinge in my high hamstring area, or my hips will start aching. On a bad day, both hips, my hamstring, and my bum hurt.
Sometimes my body makes me grumpy. Sometimes it makes me sad. But lately it's made me grateful because despite my dreams of qualifying for Boston or even running another half again perhaps becoming wishful thinking, I feel strong. I am doing quite of a bit of Pure Barre. It's a low-impact but challenging workout. I don't weigh myself, but I definitely feel stronger and leaner. The first day I tried the class I felt like an old, uncoordinated dork. It was 80s day, which I didn't know, and all these young things – who were born in the 90s, mind you – were planking and tucking and shaking in flashy, hot pink workout garb. I was all in black on the back, planking like an elephant probably.
As I tried to follow along and figure out what it meant to tuck, I mourned for my running life. Running was something I could do pretty well. This was new and scary and all the core work wasn't easy for a mom of four, but I stuck with it. That was way back in early October, and I'm still sticking with it, and I've found my groove. When I was leaving my most recent class, the instructor, whom I had not had before, asked me my name. I told her, and she said, "Katie, you had excellent form all throughout class." This is ridiculously silly, but I thanked her and beamed, and the afterglow lasted at least an hour. I headed out to the cold mist with a bounce in my step, no matter that my high hamstring was nagging me and I felt shaky walking down the stairs after giving my thighs a killer workout.
I went out to dinner with my running peeps to catch up recently as well, and it was a delightful evening. We laughed and chatted, and I was so grateful that all those miles covered had forged true, meaningful friendships. And, of course, I was nostalgic for those morning runs, wishing I could be out there, too, and maybe I will be (I have a pain provocation test tomorrow involving an injection into my hip bone), but what's been such a blessing is I am starting 2015 totally and completely at peace with the fact that I may not be able to return to the kind of running I once did. This is where the gratitude surprisingly comes in: I am grateful there are other ways I can move my body. I am thankful I can shoot hoops with my daughters; my 10-year-old is playing her first season of basketball and loving it, and I'm enjoying playing Horse and having free throw contests with her in the driveway. I am thankful I can still be active even if I do hurt sometimes.
I am also thankful that I am finally able to approach new ventures – even things as seemingly insignificant as a new barre class – without perfectionism as my sidekick. I lost out on a lot of fun in the past because I would park myself on the sidelines of any activity in life if I knew I wasn't going to excel at whatever it was. I'm far less afraid now, probably because I fail all the time and motherhood more than anything else has taught me just how little control I have over my children or anything else in my life. I am so glad I'm learning these lessons because I want my children to try new things and to not be afraid to not be the best at everything. I want them have to work hard at something, to know that what starts out tough may one day become easier simply because you stuck with it. And I want them to dust themselves off when they do fall, forgive their own failings, and start again.
I'm talking a lot about exercise these days and my inability to run, but this has been a year of growth in the mothering department as well. I've had to make peace with the fact that my mothering life (so far) hasn't exactly turned out the way I thought it would. I remember when Madeline, who is now 10, was just 2 years old and I found a network of Catholic homeschooling moms, and one of them would always talk about how she could see me having 10 kids and homeschooling them all. That really stroked my pride. I envisioned myself as this super mom effortlessly juggling at least a half dozen kids while still taking daily showers. I have four kids, and I won't tell you the last time I washed my hair.
And these days, it doesn't look like I'm going to be a mom of a super-sized family, and I am homeschooling only one child now with plans to have her join her big sisters in that place I once feared so much: REAL SCHOOL. That first year of REAL SCHOOL I felt like an epic failure. I'd run into a friend of mine who still homeschooled, who probably had more kids than I did, and I felt like I was lacking or that they were better than I was. All my comparing and feelings of worthlessness only robbed me of joy and blinded me to the fact that we were all doing okay. I doubted myself and my husband's decision on a daily basis. At the start of this school year, I still was approaching the year with some trepidation, but something has happened. I see how happy we are, how this is working for my own little family, and I know I didn't fail at anything. The girls returned to school this morning, and Rachel hopped out of bed this morning and said, "I can't wait to go back to school!" This doesn't mean she didn't enjoy her time with me. We loved our lazy break and the slower pace, but she's happy there, too.
I also don't care (too much) what others think any longer. I did have a handful of well-meaning homeschooling folks (although the vast majority offered nothing but support) say some hurtful things when I first decided to send my two oldest to school. It wasn't easy to digest what they said – things like, you only get one chance at mothering your children and if you can homeschool, why wouldn't you? Of course, these people did not know the clinical depression I was grappling with or the fact that my husband's hours are unpredictable or the temperaments of my lovely but feisty children. Many times we mothers dole out our opinions in an effort to validate our own choices. We're not really looking to criticize the other mom or her choices; we're just trying to convince ourselves that what we're doing is the best for us and our families.
Now I joke about being a homeschool dropout. I don't worry so much about if we appear all put together because the truth is, we're not. We're a messy but fun bunch. I let my kids choose their clothes – even what they want to wear to the Christmas Eve Mass, providing it's the right level of decorum. I peruse our thousands of archived photos for the perfect family photo for our Christmas card and instead of becoming frustrated at the dearth of photos where even half of my clan is looking at the camera, I laugh at the wonderful energy this family of mine has, and then I create a Christmas card that is authentically Wicker. And lo and behold, I get more compliments this year than any other year. People crave authenticity.
That's what I really want to be in this life more than perfect. I want to be authentic. I want to be the kind of person you can come to and reveal your dirty secrets and dirty dishes and know that I'll love you anyway. I want my children to know in their deepest souls that despite the times I fail them as a mother, despite the chaos that is our life, I love them just the way they are.
One of my daughters, who happens to share my melancholic tendencies, was recently divulging all of her bad memories. She then went on to point out the ways I am not a very good mother. A year ago her diatribe would have made me cry. Or I would have acted strong, but I would have crumbled inside. I would have wept to my husband and sought his reassurance that I was a good mother and that I wasn't screwing up my children. But tonight I calmly hugged this child. I reminded myself she was angry at me because I had taken a privilege away as a consequence for less than desirable behavior. I told her I was sorry she felt that I wasn't a good mommy right now and that I knew I was far from perfect and had a lot to work on but that I also knew I was a good mom who gave her very best and who loved her children with an open heart. Then I calmly left the room. It was bedtime, and my child wanted me to stay beside her for longer (ironic that she wanted a monster of a mother to be in such close proximity to her in the dark). She started to rage against the injustices of the world. I told her I'd come check on her in a bit. And I did. I slipped in beside her in a nest of blankets. She threw her arm around me and she whispered, "I am so, so sorry."
"For what?" I asked.
"For acting like you're not a good mommy when you're the best mommy in the world," she whispered.
"It's okay," I said, and I squeezed her hand.
"I am so sorry," she said again, and I realized she was me just a year ago, someone who was always sorry. Sorry for not being better, good enough, perfect. Sorry for not doing more. Sorry for being injured and not being able to run. Sorry for things that were utterly out of my control. Sorry for giving up on homeschooling. Sorry when I truly should have been sorry but not knowing how to open myself to mercy and forgiveness, so that I was consumed by guilt and what-ifs and mired in a despair I couldn't shake even though to the outside world I was nothing short of a golden Pollyanna. Oh, the acting was exhausting. The guilt-mongering paralyzing.
"It's okay, my love. I am not hurt. You are completely forgiven."
"I am sorry," she whispered one last time burrowing her head into me so that her honeyed hair tickled my face and her tears wet my shoulder.
I am sorry, too, that it's taken me 30-plus years to let go of trying to be something that I'm not, I thought. And I am sorry that you, my sweet daughter, will have to learn this lesson on your own, that others and their careless acts and barbed words will rob you of your joy, that you might doubt yourself and remember the bad, the criticism, more than the good and all the praise. That you may be blind to beautiful you and not see that you have so much to offer others just by being imperfect you.
I can not make her believe any of this. Life will have to teach her all of it. I hope the wisdom comes to her sooner than it came to me, but it is a lesson she must learn herself.
On the eve of the Epiphany (yes, my tree and decorations are still up but if I'm truthful, the shedding pine needles and extra festooning is driving me crazy), I think of the Magi and what must have been a dangerous, tedious trip.  The journey to truth is never straightforward or easy. But when you finally encounter it – even if it's just a glimmer of truth – you are forever changed.
This new year, I'm not looking to be a new person. I'm just looking to make peace with the imperfect person that I am.
Reflecting on the past year I recognize plenty of moments of happiness and days when I was aware of the blessings that surround me even in the midst of life's messiness. But far too often happiness was elusive for me because things that were out of my control kept happening, because I too easily let others, situations, things people said (or didn't say), or self-defeating thoughts take my good feelings away.
Sometimes when I see my mom smile even as I am aware that her constant trigeminal pain is like hatchet permanently being lodged in her face, I can't help but think, "Joy can always supersede our pain." Because real, everlasting joy comes from something beyond us. Mean-spirited people can chip away at your happiness. So can everyday stress. So can a toddler who refuses to pee on the potty or an achy hamstring and wonky hips.  So can a cancer diagnosis, a death in the family, a miscarriage. Life, no matter how hard we try to inoculate ourselves against unhappiness, will sometimes take good things and good feelings away.
But nothing, nothing can take Him away. He came to us on that first Christmas, and I've got to believe that He's with us still.
All of these ponderings are nothing new.  I've known them all along, I suppose, but they, I admit, have sometimes felt like nothing more than empty platitudes, cozy Hallmark-like tag lines to give me a temporary pick-me-up. But not right now. Maybe tomorrow I'll forget this lesson when the laundry and sibling squabbles overwhelm me.  Maybe I'll lose my joy because I've lost Him. This is my human condition to be blinded again and again. But it is God's condition to keep making me see.
—
And now a glimpse into our Christmas season: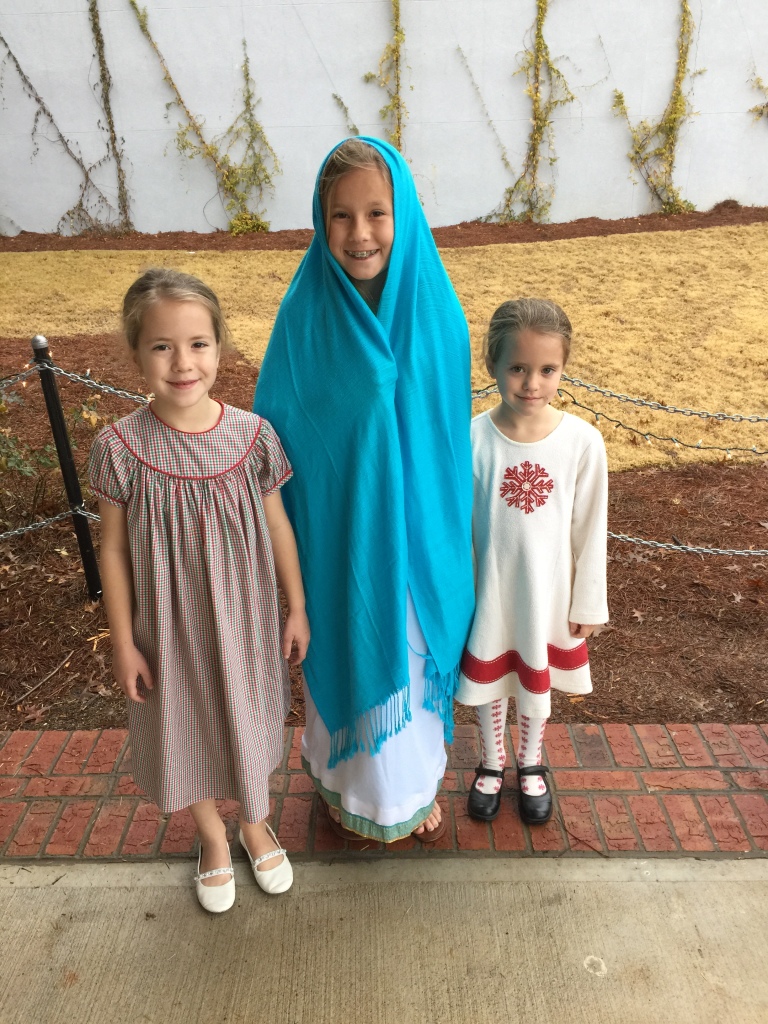 Guess who was Mary in the Nativity play at church? And Rachel, my 7-year-old, sang a duet to "Silent Night."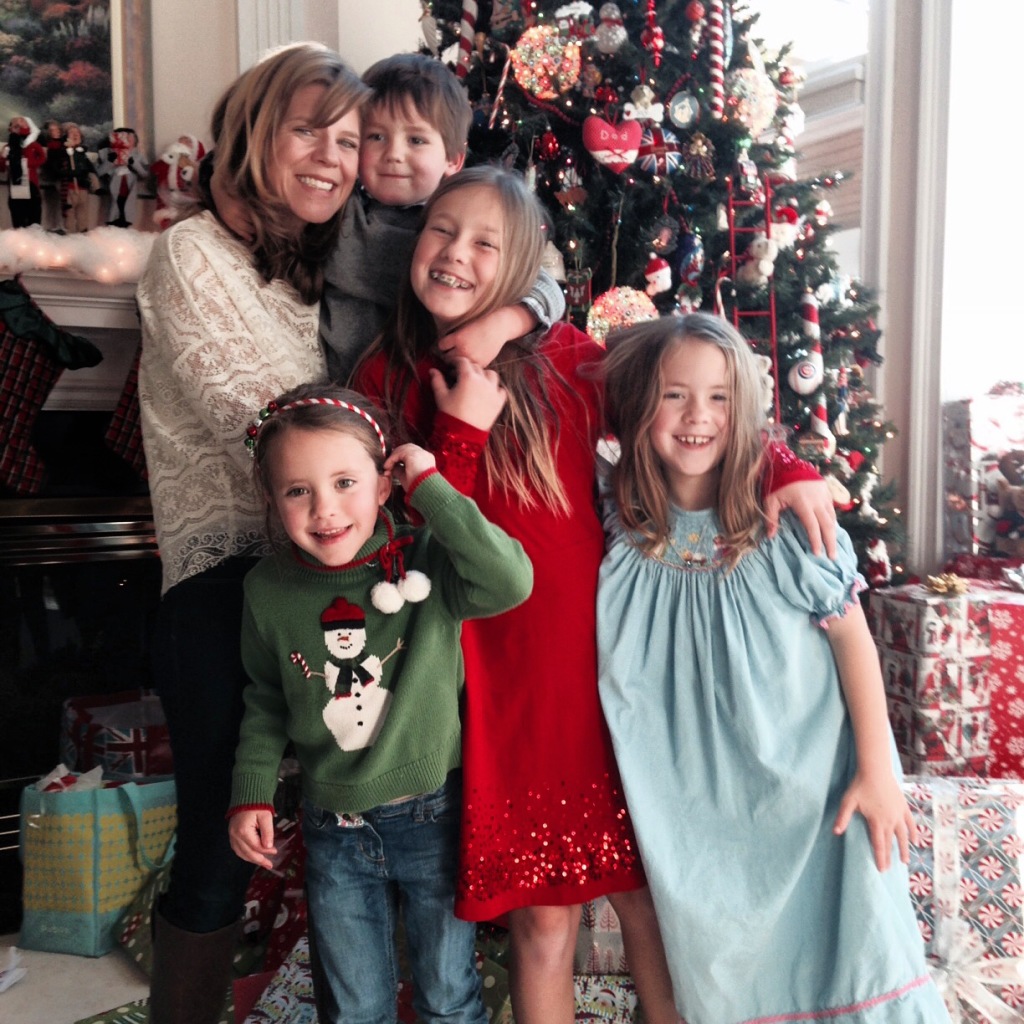 I don't care if it's a tad blurry. I love the joy personified in this photo.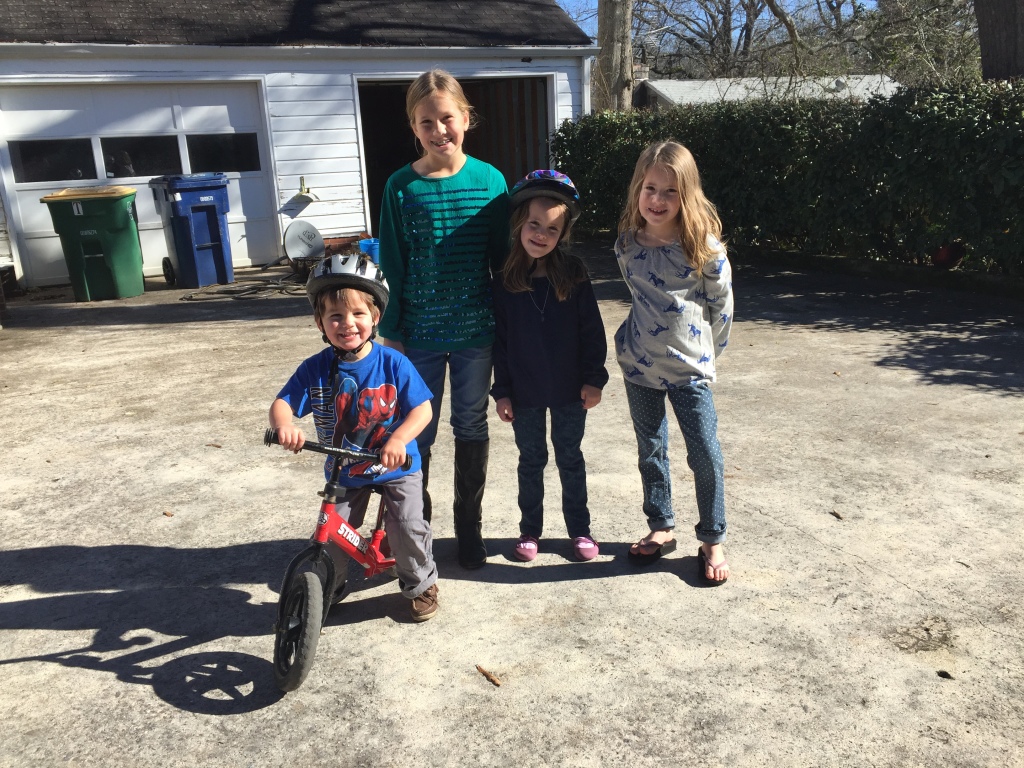 We had a few spring-like days. Thank goodness because now it feels tundra-like.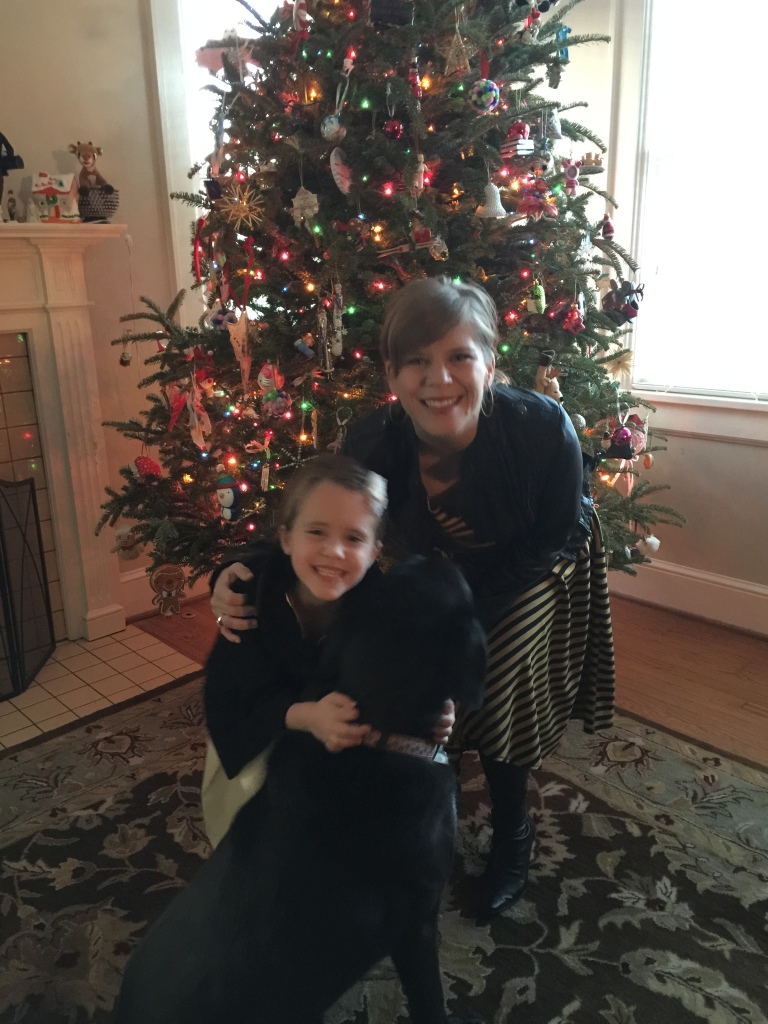 I went on a date with my girl. We went to what she referred to as a "very fancy restaurant." Layla (the dog) wanted to come along, too.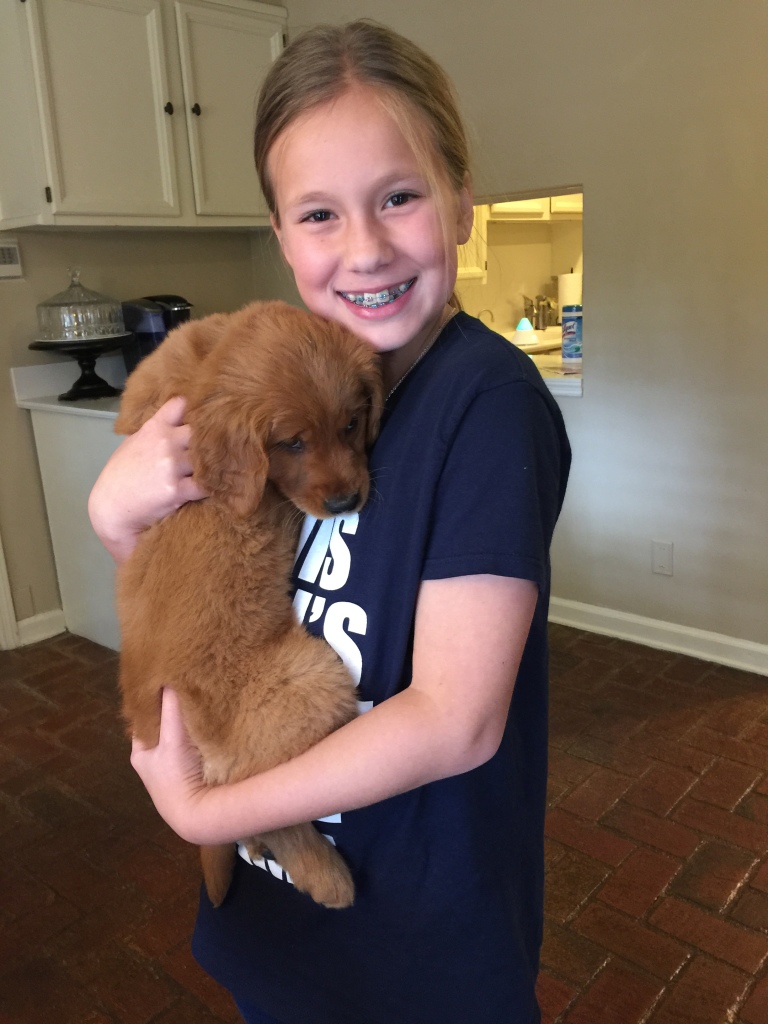 Puppy love. No, she's not ours, but the kids sure do wish she was. This was one of Madeline's best friend's Christmas gifts from her parents. "Geez," Madeline remarked, "she gets a puppy, and we get hermit crabs." Yes, my husband and I got the kids two hermit crabs for Christmas. They're named Padfoot and Speedy and to be fair, we do already have two fish, a cat, and a dog. And is it just me, or is my oldest child looking really, really old all of a sudden?
Here's to a healthy, happy and joyful 2015!
—
The only social media outlet I really keep up with these days is Instagram so if you're hungry for more Wickers, feel free to follow me over there.
I know it's been pretty quiet around here, and I still haven't gotten around to posting a birthday letter to my wild man (tsk, tsk). I've just been so busy. I've had a few speaking engagements (one is this Friday, and I am so looking forward to the mom retreat), which are always such a joy but also require a hefty chunk of time. I am team manager for my oldest daughter's soccer team. Three out of four kids are playing the sport this year, so there's all that soccer schlepping. I'm not sure when I became such a soccer mom, but I am trying to embrace it. I'm also volunteering at the older girls' school occasionally and am trying to teach the child I am homeschooling more than Look-at-Mommy-try-to-control-little-brother-unsuccessfully–yet-again. Yes, Todzilla remains a loud, physical challenge, but, oh, he can be sweet. Oh, and I landed a fun writing assignment that has nothing to do with poop, parenting, or eating disorders. I am writing about fashion – and loving it! The novel is at a standstill.
I am also traveling to Atlanta almost every other week for ongoing medical treatment. Several more imaging studies have shown that I have femoracetabular impingement (the pincer type, if you're really interested), which could very well be the culprit behind my high hamstring tendinopathy, more recent hip and back pain, and may require surgery down the road. I am trying to do what's best for my body and to trust my amazing health care providers, but a part of me is tired of wasting a whole year of my life not running much at all after the partial tear of my high hamstring, which was diagnosed last October. Yup. It's been a year since all that happened. I bailed out of a race the first weekend of October, but pushed through a half on October 20th. That was my last long run. Sadly, I've only been able to manage 10ish miles a week, and now the hip, back, and high butt pain has gotten bad enough that I've stopped running yet again.
Like pregnancy bedrest, miscarriages, pining for babies that won't come, and parenting in general this lengthy and difficult journey has really humbled me.
The other day I was feeling particularly low when my daily Living Faith entry really, really spoke to me. Just when I think all of this faith stuff is wishful thinking, something Spirit-led like this happens to me. Here's the passage:
Self-emptying to the point of "ouch!" is one of life's most painful challenges.

To empty ourselves of attitudes that are foreign to the mind of Jesus, to clear out the patterns that limit our worldview, to let go, let go, let go as God invites us: This is the kind of emptying that Jesus modeled. His was a profound surrender, ultimately embodied in: "Not my will but yours be done."

-Sr. Chris Koellhoffer, I.H.M. Sr. Chris, a sister of Immaculate Heart of Mary, is a writer, spiritual guide and retreat director

 
That's just what this injury has forced me to do: to empty myself to the point of a literal and emotional "ouch." I've had to empty myself of my wishes to run or my silly dreams of being a running star when I probably look more like Sponge Bob Squarepants sprinting down the street. It is demanding a "profound surrender" from me, and I am still resisting – a whole year since I was first asked to let go and to accept a path I never would have chosen on my own. I still have days where I cry, days when I ask "why me?" instead of "why not me?" There are days when I forget to focus on all that I can do and the abundant blessings before me. But I am working on it. This long road is forcing me to. It's also teaching me not only to remain hopeful but to learn to be okay if my hopes are not a reality. I hope to run and compete in races again and to just partake in everyday activities without pain but if that doesn't happen, it is going to be okay. I am going to be okay.
(As always, thank you for bearing with me and my random rants.)
Occasionally, I use a popular fitness app to work out that's definitely designed more for the younger set. The instructor, for example, sometimes talks about her new nail color for the day (can you imagine having time to change your nail color daily?), and I sheepishly look at my chewed nails and un-manicured toes and want to say to the peppy, chic instructor "Doesn't she know that au natural is the new 'color' of the season? She also mentions things like studying and exams without nary a reference to potty training or sassy kids.
Nevertheless, the reason I keep the app is simple: The workouts are challenging and free (the app is free to download as well), and they also incorporate a lot of Pilates, something myriad health professionals have encouraged me to continue to do as I tirelessly attempt to rehab the injury-that-will-never-go-away*.
The app also comes with recipes, workouts, and a forum. I never paid much attention to the forum component, but a few months ago we were on a longer car trip and I started perusing through the "Before & After" section. I will tell you right now that if you struggle with your body image (or ever have), or you have suffered from an eating disorder in the past, this is probably not the best place for you. I'm not sure it's a great place for any woman to spend much time, given how it's so body-centric and gives girls a chance to compare themselves to hundreds of half-dressed women.
To be fair, there were some women who really seemed to be using the before and after photographs as healthy motivation.  They have lost the weight and/or toned up in a healthy, balanced manner. The community was also mostly very encouraging. There was one young woman who only posted a "before" picture along with the comment "my body is disgusting, but I'm going to change that." Someone immediately responded, "Your body is not disgusting. It's going to be hard to make healthy changes if you don't love yourself first." Agreed. There were also girls desperately trying to achieve what seems to be the Holy Grail of Beauty right now – the elusive thigh gap. But for every young woman lusting over one, there were two or three telling her this is an unrealistic goal for most women and is based more on bone structure than fitness.
So the "Before & After" section certainly wasn't exclusively black hole of negativity. What's more, taking a before and after photos as you embark on a healthy lifestyle makeover rather than fixating on the number on the scale can be quite beneficial, but I would recommend keeping the photos private. Of course, for some sharing progress with others helps hold them accountable. In fact, the idea of a "social media diet" is growing, thanks to websites and apps like My Fitness Pal and Lose it! to But like so many things in life, you have to know yourself, your temptations, and be vigilant about ensuring what may have healthy potential doesn't morph into something that leads you to unhealthy comparisons, vanity, and/or obsessiveness.
Personally, while I could recognize some good coming out of this particular social media "Before & After" forum, I also saw a whole lot of bad. Somewhere in the back of mind, I started to look at one young woman's enviable midsection and wonder why my efforts to strengthen my core were not resulting in that streamlined, muscled look. (Ironically, my "efforts to strengthen my core" have been successful even if you don't see it based upon how long I can hold a plank these days without earthquake-like body tremors.) If you clicked on the username, you would learn that the "woman" was all but 15. A mom of four inching closer to 40 every day was actually comparing herself to that of a 15-year-old in a moment of absurdity. I wasn't the only one making unwise comparisons. Many of the girls on the forum were asking questions like, "How did you get your thigh gap?" and "What can I do to have abs like yours?" All of these girls were looking to others for inspiration instead of looking within themselves and asking themselves, What can I – with my own gifts and natural design – do to live the fullest, most healthful life possible?
I don't like admitting that I was actually on a fitness "Before & After" forum comparing myself to adolescents, but I can bet I'm not alone. Maybe most women don't go so far as to seek out a forum full of fitness photos, but most of us fall prey to comparing ourselves to someone somewhere. Perhaps it's someone in the media or on the cover of a magazine you glance at while checking out at the grocery store. Or it's the fit neighbor who runs by your house every day. Or it's the beautiful mom who doesn't look like she just had a baby whom you meet at a playdate. Or it's the "friend of a friend" on Facebook who posts her smiling, lovely face and her status update: "Soaking up the Mediterranean sun and getting the tan of my life." Or maybe you're looking at pictures of you – maybe it's the "thin" you from that day long ago when you didn't have varicose veins or maybe it's the "current" you who's just a bit too soft – and you're comparing yourself to what you could be, once was, or should be.
Stop it. Stop it right this very second.
You are more than a paper doll to be dressed up, scrutinized, and criticized.
I wish all those young girls on that app knew this. I almost thought of leaving comments such as these after some of the posts.
I nearly did comment after a post that made me pause. There was a picture of a young girl with a lovely, round face. She wasn't smiling. Actually, it almost appeared as if she was trying to make herself look as miserable as possible. Beneath her picture, she wrote, "I hate my round face. What can I do to make it thinner?"
I had an answer for her. "Age, my beautiful girl. The aging process will siphon all that collagen from your face, so that one day it's no longer round and all angles, and you'll realize your the face of your youth was perfectly fine just as your aging face is lovely as well, and its 'roundness' was had everything to do with being young and full of life, and your wrinkles now have everything to do with living a full life."
See, once upon a time I was a chubby girl who got teased and called names like "Miss Piggy." Then one day some crazy hormones started finally coursing through through her body and – viola! – she slimmed down. She felt like the ugly duckling turned swan. The very boys who teased her started flirting with her; girls asked her what her "secret" was (once again, it was simply aging and hitting puberty later than others).  So the swan preened her feathers and flaunted them, believing all she had to offer the world was skin. She embraced a warped view that to be thinner was to be better and even more loved. She started to exercise rain or shine, sick or well. She started to eat shards of lettuce (hold the dressing, please) for her "big" meal of the day. She grew thinner and yet, she felt that her face stubbornly remained round.
If there had been social media in her day, she would have most certainly become obsessed. She would have seen the girls with hip bones jutting out and hollowed-out faces and wonder why she wasn't as "strong" as them.
This girl was me. I hated my face. I hated how "fat" it looked.
Now I look back on those photos and I see nothing but youth. I used to sift through photos of my "chubby" self (my "before") and compare them to my "after." I was mostly pleased with the way my clavicle was a noticeable ridge and one of the first things you noticed when you looked at my photo, but that face of mine never seemed to change. I put so much effort into trying to change the outside of me while the inside atrophied and was consumed by thoughts of what to eat and what not to eat, how to smile in a photo or tilt my head so that plump face of mine wouldn't look so full, how to get rid of those nasty calories I'd taken in, how to be thinner, and in my twisted mind "better."
If I could turn myself inside out, what would my internal before and after look like? There would be a girl – a silly girl who loved writing in her journal, reading, drama, and horses – who was shutting out all the beauty that longed to radiate from within by becoming preoccupied with weight and changing a face that would one day change all on its own.
More recently, I was with a friend whom I hadn't seen in quite awhile, and we started talking about what we were up to. I admitted that I was in a bit of a slump, but that I was learning something very valuable through it all. I noticed her new Garmin watch and complimented it. "I love it," she said. "I use it all of the time."
"I used to use mine all of the time, too," I said just a tad wistfully. Just call me Eeyore.
"But you don't anymore!" Madeline, the ever-eavesdropper, added.
Nope, I don't, and for some reason I started to consider all of the time I've invested in trying to rehab my tendons and my lopsided pelvis, and I thought of my lackluster soul, how it's been mired in what feels like an interminable dark night for too long, and in need of some serious rehab as well. I thought about how going to weekly Mass really isn't enough to nurture a living faith or to resuscitate a flagging soul. I need to enfold myself into a stronger chrysalis to change: prayer, more confession, more hope.
"You know," I told my friend. "What I'm going to focus on right now is just trying to be a better person. I've spent so much of my life achieving and trying to meet goals, but what if I just poured most of my efforts into being a better person? I know it sounds cliche…." I trailed off.
"No, it doesn't," she said. "Not at all. It sounds like something we all should do."
And so I'm working on pursuing a different kind of before and after. Here's my before: Here's a woman who God just won't give up on despite her doubts, her fears, her struggles that are suddenly resurrecting after years of peace and wholeness. Her soul is beautiful, but it's in need of a makeover. It's not as radiant and trusting and hopeful as it should be – or as it once was. But that's okay. There's no reason to despair or to give up or to compare herself to others who diffuse peace and kindness and unwavering faith.
Because after weeks, months, a lifetime of ups and downs and effort, and grace-seeking and mercy-begging, here's her after:  This soul of hers is resplendent. It can't stop shining. It is a grateful soul. It has a few blemishes, yes, because this is a soul of a human, but look at the way it sings and shines and gives and joyfully receives and loves.
That's the "after" I'm going for. Hold me to it.
—
*I met with a new specialist yesterday and am very hopeful about overcoming this injury and getting back to running, but I am determined to find peace no matter what happens.