You know Daddy's been doing the grocery shopping around here when this finds its way into your kitchen: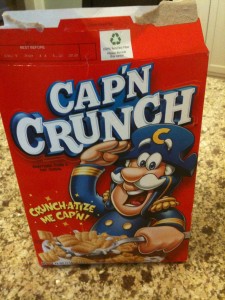 That was not on my list. My kids may be starting to think this bed rest thing for mama isn't so bad after all.
Well, from the guesses after this post, it looks like we have a few more people suspecting this baby is a boy. My mom gut is telling me absolutely nothing except that if this baby does end up coming prematurely, it might be better if it's a girl since medical literature suggests little, white boys can be wimpier.

If you haven't shared your prediction yet, go ahead and divulge.
Fall soccer registration is already in full gear. (Is this summer flying by for anyone else?) I'll have two little girls on the field this year. It will be Rae's first season playing. I only allow my older kids one activity per season in order to keep life less chaotic, and I gave Rae the choice between more dance or soccer. Without any hesitation, our pink-loving, girly-girl chose soccer. My kids never stop surprising me.
Let's talk books, shall we?
I recently raved about Dr. Meg Meeker's new book,The 10 Habits of Happy Mothers: Reclaiming Our Passion, Purpose, and Sanity*. I saw that Hallie Lord (alias Betty Beguiles) mentioned devouring Elin Hilderbrand's books. I wasn't familiar with the author, but Hallie describes her books as being "simple, easy beach readin' [with] good storytelling," so I'm thinking I might add some to my wish list. Light, beachy reads sounds just wonderful right about now.
Reading for Believers  recommends the suspense novel Room. Per Mrs. Darwin, "The basics of the plot: a young woman and her son held in captivity, narrated by the five-year-old boy. I flew through the book and made Darwin read it as well so that we could talk about it. I'm a squeamish person and was very wary of the subject material, but Emma Donoghue handles her narrative with an exquisite sensibility." I'm very intrigued and plan to read this as soon as I finish Peace Like a River
by Leif Enger (which is also a novel told through the eyes of a child, although this narrator is 11). I'm about halfway through with the book (which I'm reading based on a recommendation over at Faith & Family LIVE) and enjoying its lyrical style, setting (the story takes place in rural Minnesota in the early 1960s), and compelling characters.
What about you? What books have been a part of your summer reading?
*If you've read or are planning to read Dr. Meeker's newest book, Elizabeth Foss will be hosting a book study over at her site starting next Thursday.
Melanie recently shared a quote her sister-in-law has on her fridge:
"Suffering in life is inevitable. But misery is optional."
I've been thinking about those wise words a lot lately.
Have you ever noticed how different people handle suffering? I'm not trying to judge here, and I believe we all should feel it's okay to cry out when we're hurting (Jesus did in Gethsemane, didn't He?), but does wallowing in misery buffer the pain at all? And the key here is wallowing. Most of us have probably invited ourselves to an occasional self-pity party. I know I have. But at some point, I have to leave my little corner and embrace my suffering – even those small toothpick crosses (e.g., sleepless nights, screaming children, trails of crushed Cheerios, etc.) that can feel heavy at the end of long day – with grace.
It also personally helps me to laugh even when I or a family member is  in a passion.
My parents were the ones who taught me the value of keeping a sense of humor – in good times and in bad. They've laughed (and prayed) their way through some pretty trying times (sicknesses, loved ones dying, children fighting drug addictions or eating disorders, etc.).
One recent example: My mom has had to start taking some medications with some pretty potent side effects (nausea, extreme lethargy, etc.) to help treat her recently diagnosed trigeminal neuralgia. Oftentimes, the facial pain and the extreme fatigue completely knock her out, and this is not a woman prone to sloth. Given her recent lassitude, my dad and I were joking about how they'd be rejected from one of those older, active adult communities.
"Mom makes Nana look like an active adult now," Dad joked. (Nana is his almost 90-year-old mom who will gladly admit she moves more slowly than a sloth. She's earned her rest.)
Mom laughed. She almost always does. Misery is an option she has refused to choose. I hope I can do the same no matter what suffering life has in store for my family or for me.  Read more
What I like about those digital pregnancy tests for dummies is that the result takes out any chance of guesswork or misinterpretation. Instead of squinting at the stick you just peed on and wondering if a second faint blue line is really going to appear or if that single line is going to turn into a cross (depending on which test brand you've chosen), you get a clear answer. The test spells it out for you: You're either PREGNANT or NOT PREGNANT.


But this is what I don't like. The results go away. Unlike those blue lines that last a long time (I know because I saved my first positive pregnancy test that marked the start of my five-year-old's life), you cannot hold onto them for posterity's sake or keep them as a reminder that there was a baby. PREGNANT one day, but all too quickly those words vanish. 


And you feel as blank as the screen on the test stick.


After suspecting for several days, you pee on the stick one morning. You wait. You feel even more nauseous than you have in the past week or so and you're not sure if it's a flutter of anxiety or anticipation. You try to distract yourself and pick up a simple devotion book for moms and you rush through it, not really taking any of the words in. You read the whole thing, but you comprehend nothing.


You steal a glance at the stick, but there's only a flashing hourglass. You think about the sands of time, how life slips by so quickly. Then there's an internal chuckle inside of you. It's silly, really. You know it. You're being ridiculous. It's like you're trying to think deep thoughts to keep you from feeling anything: Excitement, hope, joy, and maybe just a shred of fear, too. In your humanness, you can't get the idea of time out of your head, how this doesn't feel like the best time to have another baby, but then you curse yourself for questioning His timing when He's always been shown to be a much better scheduler than you.


Then you look again. You pick up the stick, and your hand is trembling. Your heart is too, and you feel joy (and just a twinge of fear; God trusts you so much!).


PREGNANT.


God is a fan of dramatic irony, you think, considering this was just published (although you wrote it two months prior).


Although it's not so ironic. You count on your fingers. Your new baby will be spaced 26 months after your now-baby. It's a miracle. Every baby is, but this baby – wow. Looking back at your just-returned cycle, when you ovulated, you wonder how you could have conceived.


Yet, you're not so surprised. You knew before you even drifted into that five-minute limbo of waiting to have your intuition validated, that a tiny seed of new life had been planted within you.


You show the test stick to your husband. Your eyes meet and widen, and so do your arms as you embrace.


Happiness shuts out most of the vain and selfish thoughts drifting into your mind. The fact that you probably won't be able to make it to an event you were excited about. Oh, and you're going to be a bridesmaid in your brother's wedding, and you will be eight months pregnant in a shimmery silver dress (color label: Platinum).  It's a beautiful dress, but you're afraid you'll look like a giant, swollen anchovy. (Terribly vain, but you've always been one who has struggled with vanity.)


But now you're wishing you'd be too pregnant to go to any event, and you're longing to be that swollen, silver anchovy. You wish the ongoing nausea was more than a residual biological marker, a reminder of what was but what isn't any longer. Your mind churns over "what-ifs." What if I hadn't done this or had done that? What if I hadn't been so vain or if I'd just trusted God instead of questioning His providence?


One day after I took that test I looked at that stick, wanting to see those words PREGNANT again, wanting to feel that jumble of happy, amazed emotions that rushed through me when I thought I would be nurturing another baby in my womb.


Instead, what I felt was numb, hollowed out, a sort of emotional paralysis. There wasn't any "PREGNANT" on the display screen anymore, and there is no longer any sliver of new life within me.


And I'm back to thinking about that hourglass, how life changes so quickly. One moment you're pregnant. The next you're not.


I wonder, too: Are my feelings proportionate to my loss? Am I sad enough? Too sad? What is the right way to feel when you've miscarried? This is a first for me, and I feel rather lost. Sometimes I feel so sad. Then I'm keeping busy and feel like myself but not quite. Sometimes I feel guilty wondering if I should be crying more. I just feel so much.


It hadn't even been 24 hours since I started thinking about the new life being knit in my womb when the cramping began. And I knew. Maybe I always knew because I just always felt cautiously optimistic about it all. Then the rush of blood, so much to lose. So much to lose.


My husband and I were celebrating one moment, and now we are mourning each in our own way.


It was very early. This is true. But a life is a life whether it is here for one day or for many.


On Sunday Dave was on call, so my parents came to be with me. I was quite the stoic for the sake of my girls. I've always been a decent actress.


My husband and I have never been ones to be able to keep the news of a new baby to ourselves. So we told our children. My oldest jumped up and down, jubilant. She loves babies so much.


A day later I had to tell her that this baby wasn't going to come be with us.


My oldest daughter's unflagging optimism was another sword piercing my heart.


"Probably everything will be okay," she said. Oh, how I wish she was right.


Later my dad cast a shadow on the wall using a flashlight. He made the shadow bigger and bigger.


"Look," he said.


To me, it looked like a cervix dilating. Weird, I know, but honestly that's the first thought that popped into my head as I watched the concentric circles slowly widen.


Madeline saw something, too. "It's getting bigger like the baby in your belly."


I wanted to cry, but I didn't.


Later my husband texted me: "Are you okay?" 


"I'm fine. I love you." I texted back.


But I wasn't fine. Not really. My mom and I quietly slipped away while my dad continued to play with the girls. We hugged, and we cried. We grieved the baby we wouldn't get to hold. Not now at least. I told her about my guilt, about how at first my experience with postpartum depression haunted me and I wasn't sure I was ready for the baby that I now wanted more than anything. She understood. She always does.


When I was pregnant with my second child, I saw an advertisement for a catering business called "Sunshine in Your Belly," and I remember thinking that that's what carrying a baby was like: Having warmth within you. Even as I hung my head over a toilet bowl to throw-up or to gulp down the unabated nausea that comes with my pregnancies, there was something inside of me that felt good, that felt right. There was something full of hope, something new and wonderful. Even when I had my share of self-doubts and fear, I knew that holding a new baby would turn confusion into clarity.


God has a way of doing that, doesn't He? (He will do no less with my confusion now. I have to remind myself of this. Jesus, I trust in you.)


Today there is no sunlight in my belly, mostly darkness and emptiness. It's as if my insides have been scooped out leaving nothing behind but a sun-scraped void.


I haven't cried buckets. I haven't cried all that much considering the quiet sadness that won't go away.


As I passed a baby that would not be ours to have and to hold on this earth, I kept busy, but my busyness didn't keep me from wondering about this child. Would she have buttery blond hair like her sisters? Or was she a he? Would he love music like my other children?


I stop myself. I get back to work, but it feels like I'm driving with the parking break on.


Eventually I break. My husband finds me weeping. I blame my tears on something that has nothing to do with my real loss. He knew this much. Like my mom, he always knows.


He holds me close. You have to give yourself permission to mourn even in a world that might discount a tiny, new life.  And so I really wept for the first time since the loss became real.


The first night after I knew losing the baby was imminent, I fell asleep with my girls. We were piled like puppies, and I went to bed comforted by their closeness and their love. My arms and my heart didn't feel quite so empty.


There's been a lot of noise and commotion this week, and I'm very grateful for the noise. Mary Elizabeth has wanted to nurse more than typical, and I'm thankful for that, too. I comfort her as she comforts me.


Mostly, I feel alright. But sometimes – especially at night or when I have to use the bathroom – I feel like my grief has nowhere to go. There's nothing tangible to hold onto – not even the positive pregnancy test that was my only proof that there was a baby, is a baby, whom I don't get to nurture, hold, or love – not here, not now.


Words are failing me right now. Forgive me. It's probably too raw to be writing about, and I fear a maudlin mess is dripping out of me. But writing is what I do when I'm sifting through feelings.


I can't stop thinking of Elizabeth Bishop's poem, "One Art." I loved the poem in high school because it helped me deal with boy heartbreaks (how silly and insignificant those losses seem to me now, but at the time it felt like my heart had shattered into a million pieces). In the wake of this current loss, I read the poem slowly. I thought of all that I've lost in my lifetime –  things that I was sure I needed to hold onto to be happy and insignificant things, too, like the wasted time Bishop alludes to. None of these brought disaster. Neither will this loss (God is my strength and refuge; so is my husband); yet, it is hard to master this kind of vague, almost surreal loss. It's like I know I misplaced something really important, but I can't remember what it is that I'm missing.


Sometimes you really don't know what you're losing and maybe that's why (Write it!) a miscarriage is so painfully heartbreaking. I know nothing of this little soul that is now a citizen in  the Kingdom of Heaven. I have lost a baby, a child whose dreams and features and cries and giggles are only a mystery to me, and I'm left with an ache-all-over kind of longing for a child I never knew.


The art of losing is very hard to master.


—


Postscript: I wrote much of this reflection/lament this past weekend, and I wasn't thinking I'd ever post it until a dear friend said that blogging about her own miscarriage was a part of her healing process. Then I thought of how when I wrote about my postpartum depression, my readers offered encouragement and support (thank you so much for that), and I didn't feel so alone anymore. I've often said the blogging community can become a ministry. It's in our times of great joy and sorrow when this is the most true.  


For the most part, I am doing much better now and even when the pain was still very raw, you wouldn't have known it. This has been an odd kind of hurt. I can't explain it. At least not well. I am blessed to have many, many friends and loved ones who understand this kind of loss and do not question our family's sadness. 


At first, we shared the news only with our immediate family, but it's been a blessing to come out of my cocoon of sadness and to be lifted up in prayer. And it's so true that having my lovely three little girls make this easier. I have them to hug and to hold. When my arms are full, it's easier to forget that the rest of me isn't so much. 


I also know that this sorrow is an important part of God's plan for me. I confided in one friend that I'd had a lot of guilt after I lost the baby because I'd been struggling with being open to life in the wake of my PPD. I'd been questioning God's providence as well as questioning if He was really going to equip the called (as in me). It just seemed like one of those empty platitudes that makes you smile when you read it on a church sign along a rural roadway. 


Then I discovered I was pregnant, and I was overjoyed. So was my husband, but we were just a little scared, too. Losing this baby has helped me to face my fears; it has helped me with my trust in God. It has removed the primacy of self (for now) and replaced a stronger desire to bend to His will and to say enough already with all the doubts. It has helped to remind me that despite what I may have assumed, bending to God's will and being open to life really doesn't prove to be the most challenging when you find yourself unexpectedly pregnant. No, it's far more difficult when you find yourself not pregnant and sheltering not a life but the knowledge that you've lost a baby whom you had already started to love and to imagine as a part of your family. I hope I'll never again question the gaining now that I know how hard it is to accept the losing…
Don't miss another post. Subscribe to Momopoly.
Madeline eyes the silver watch in my mom's hands.
"Can I wear it?" she asks.
Gaba slips the thin band onto Madeline's tiny wrist. It's not a watch my mom wears. It has an outdated style and its gears have stopped, and it no longer tells the time. But what it lacks in function and fashion it makes up for in nostalgia. The watch belonged to Gaba's mom, the grandmother I've never known who died of breast cancer when my mom was 16. It's one of the few tangible reminders my mom has of her mother.
"Gaba, when you die, can I have this watch?" Madeline asks.
Gaba tries to keep a straight face. Inside she's laughing at the fact that her grandchild has already figured out that stuff remains when we die and that someone gets all that stuff. Madeline's quite the opportunist.
Gaba agrees that Madeline can have the watch someday. "I sometimes pray to my mom," she adds. "I think of her has Saint Dorothy."
"I'll pray to Saint Gaba when you die," Madeline says.
More stifled laughter.
Later, when my mom tells me the story, I laugh, too.
Beyond the humor, there's something touching about the story. I like the sound of Saint Gaba. That's because when I look at my mom who is always smiling despite living with chronic pain, I see holiness.
Earlier in the week I watched as she gently bounced M.E. in her arms. "Do you want me to take her?" I asked, knowing her shooting sciatica pain is exacerbated when she lifts things.
"No. I want to hold her," she said.
Later she lifted Rae into her arms. Then I saw her carrying Madeline who weighs just over 40 pounds now. She didn't grimace or even grunt. She never complained. She never has – not about any of the crosses she's had to shoulder, and she's had some pretty heavy ones over the years.
"Are you nervous?" I asked her the other day.
"About what?" she asked.
"Uh, about your surgery on Monday." (As in the surgery she's in right now.)
"Oh, that," she laughs. "Not really. I'm just ready to have it over with."
"What if it doesn't work?" Leave it to Eeyore to ask a question like that.
"It will and if it doesn't, well, we'll worry about it then," she says.
This is the story of my mom's life. Unflagging optimism in the face of uncertainty, heartbreak, physical pain, and emotional hurts. And humility – such beautiful humility that leads to a firm acceptance of God's will for her.
Lately I've noticed my mom does look more tired. Sometimes there's a stiffness that has never been in her gait as she walks. She moves more slowly up the stairs at times, and my Energizer-Bunny-of-a-mom sometimes needs to rest more. So there are physical changes if I look closely. But there's something that hasn't changed at all: Her happiness. She's as happy as she's ever been.
Part of her optimism, I'm sure, has to do with her temperament. We are all wired differently, and some of us are just more predisposed to seeing the glass half full. But there are times, I suspect, when my mom – Saint Gaba – chooses happiness over other emotions. My mom certainly pushes herself physically – holding grandbabies in spite of the pain, volunteering tirelessly as a Eucharistic minister to the sick, entertaining for friends and family – but she pushes herself spiritually, too, and bears her crosses as Christ did – quietly and with love.
We hugged when she was getting ready to leave. "Good luck with your surgery," I said, holding her so close, hoping to smell the Beautiful perfume on her skin that always reminds me of everything she is. Beautiful.
"Thanks," she says. "I'll be fine."
And I know she will be. No matter what the outcome of today's surgery may be, my mom will be fine because she's made the decision to count her blessings even when it would be far easier not to.
I want to be my mom when I grow up.