Welcome to the October 2012 Carnival of Natural Parenting: Instilling a Healthy Self-Image
This post was written for inclusion in the monthly Carnival of Natural Parenting hosted by Hobo Mama and Code Name: Mama. This month our participants have shared confessions, wisdom, and goals for helping children love who they are. Please read to the end to find a list of links to the other carnival participants.
***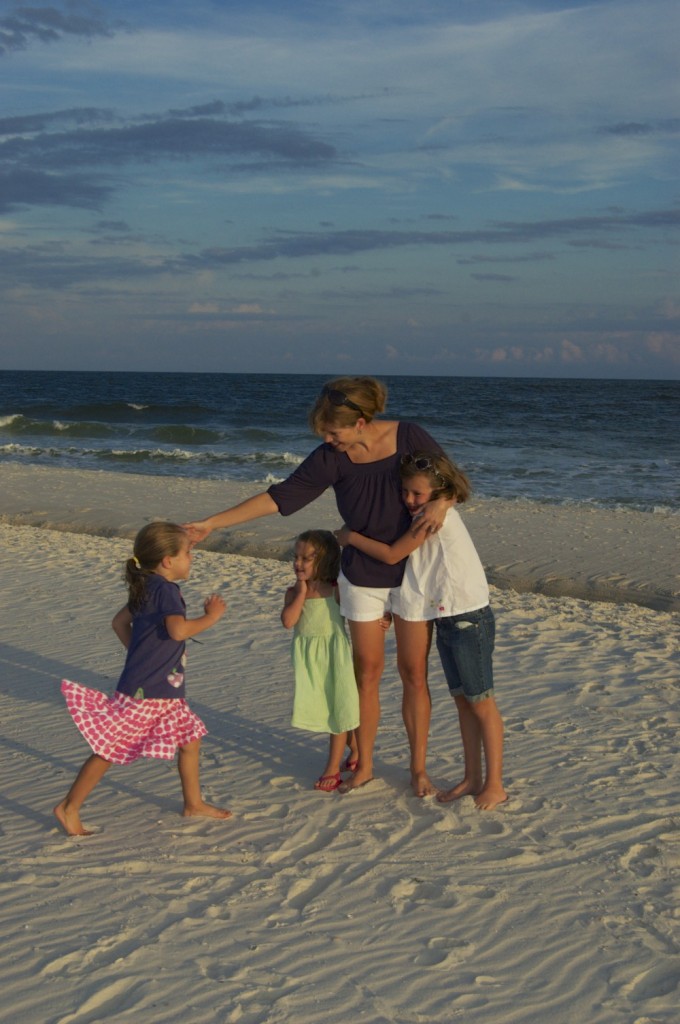 To my lovely, beautiful daughters,
When you are a teenager, you may start to feel unsure of yourself, awkward in your own skin. You may have friends who are on diets. They may bemoan their own bodies. They are convinced that if they were 5, 10, 20 pounds or more thinner, they'd be prettier, better somehow. Boys you think are cute (who probably aren't worth your affection, but you'll think they're your soul mate) might even say something negative about you or how you look. Your peers may fault you for not being pretty enough or thin enough. Or maybe you feel like that's what they're saying when they don't invite you to a party or when they ask someone else to go to the movies with them. Or perhaps a mountain range of zits spreading across your face will make you want to crawl into your bed and hide away. Or will there be a boy -  a new one this time, the one who sits next to you in chemistry class and flirts with you but then asks someone more popular to the prom – who makes you want to dissect your body into a million, broken pieces or causes you to wish away your thick, sometimes unreliable hair? He's not worth it. Trust me.
Later as a young adult, you might still be tempted to think your body's not good enough. Everywhere you go, you notice the prettier girls – the ones who lost the freshman 15 instead of gained it, the ones who drank beer and ate greasy food without it ever showing up on their hips or tummies. You may try to wear the latest fashion trends; yet, you always feel like they're never flattering on you (although, you swear, those bubble skirts look perfect on your best friend and made her butt look big in a good way). Don't blame your body. Blame the style. Wear clothes that make you feel pretty, feminine, lovely whether they're trendy or not. And remember this, beautiful girl, you're not stuck with the features of your body – you're blessed with them.
When and if you become a mother, don't get angry with your body for changing. And it will change. Resist asking yourself things like: Why so soft? Why can't I lose all this baby weight? Or how is it that now that I have finally lost all the baby weight yet my old jeans no longer fit right? Why did everything have to shift? What are those dimples on my thighs and what the heck? Did Harold and his magic, purple crayon have a heyday with my tummy and my bum? Will these purplish stretch marks ever go away? They may fade, but they'll always be a part of you. Think of those marks as a reminder of this: Your heart will have to stretch to accommodate this new, little life who needs you – all of you – every moment, and your body will have to stretch a bit, too. Be forgiving. Let it change. Let the changes change you.
As you grow older, you'll start to notice the wrinkles and how the curves you once tried to shrink now give way to gravity and grow flat. No more J-Lo behind. There's no behind at all. Don't let that saggy bottom get you down. Don't let those wrinkles keep you from smiling. As the crow's feet crinkle in the corners of your eyes, give thanks for a life well-lived and all the smiles and dramatic expressions that helped etch those lines on your beautiful face. The soft skin of infancy doesn't last forever. It gives way to grooves and roughness just as your fresh innocence yields to wisdom. You are not a well-worn cliche, a footnote in a sea of youth. You have as much dignity as you did the day you were floating in my womb. Try to forget about your skin's imperfections, but never forget this: You are a beautiful treasure with years of experience to share and offer the world.
You'll be tempted with pricey skin products and medical procedures to "erase" the signs of aging. There's nothing wrong with a good face cream, but what about giving that $100 to charity instead? What about embracing aging instead of erasing it or fearing it?
One day you'll wake up and you'll look like a raisin, covered in wrinkles. Your hair is thinning and silvery, your skin really, really loose and saggy now. Every time you glance in the mirror, you'll be in for a shock. You don't feel as old as you look. Don't let the disparity make you sad. How wonderful that you feel so young! Live life like you feel, not by how you look.
Be kind to your body. By now, you may have made peace with the way your body looks, but give it a break when it starts to fail you in other ways. Age and sickness may mean your body won't always work the way it should or the way it used to.  The size of your hips and your metabolism are the least of your concern as you grow older. You may start to worry that your heart might stop or that you might slip and crack a brittle bone. Be careful. But don't fear too much. Your body won't last forever, and that's okay. Take care of it, honor it while you can, but don't make it your life project.
Your body is not a weapon to wield against yourself or others. It is not your scapegoat either. Don't blame it for your sadness, your unrealized dreams, or your insecurities. Your body is not an object. Don't let anyone use it. And don't you use it to get what you think you want. (Again, the boy isn't worth it.)
My beloved daughters, instead of spending a lifetime trying to build a better body,  why not try to pour your heart and soul into building a better life?
Wherever your body takes you, whatever shape it molds into, know this: You are strong. You are beloved. You are somebody to love.
From One Beautiful Woman to Another,
Mama xxx ooo
***

Visit Hobo Mama and Code Name: Mama to find out how you can participate in the next Carnival of Natural Parenting!
Please take time to read the submissions by the other carnival participants:
(This list will be updated by afternoon October 9 with all the carnival links.)
What do you get when you mix a house full of girls and a very patient canine companion?
A fairy dogmother!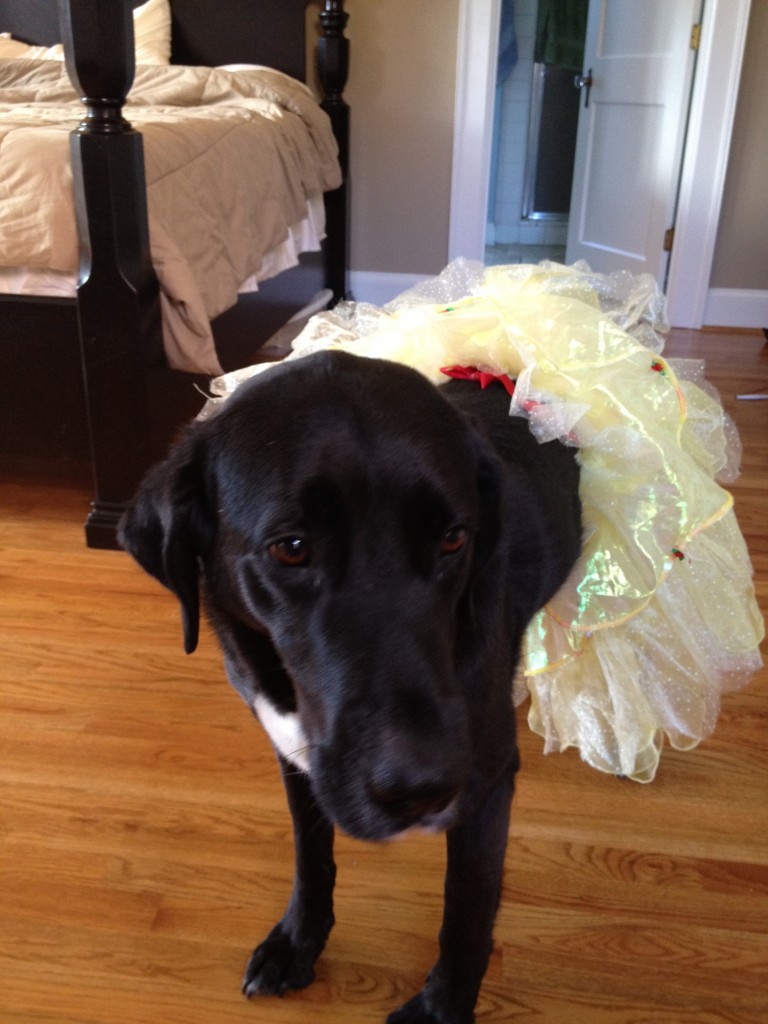 When your kids won't sleep, when your OCD rears its ugly head, when you try to be gracious and kind in light of your obsessiveness, when someone hurts you, when you feel like you can't do anything right, when the lettuce you buy and toss into your family's taco salad tastes really bitter, when you feel all hormonal for the first time since you gave birth to your fourth child, when you have a child with a big bump on her noggin because another child "accidentally" slammed a door on her head, when a child throws up all over your minivan on the way home from soccer practice, when your husband is working late at night and you miss him, want him to embrace because you know in his arms you find unconditional love, when you step on some stupid (and sharp) toy during cleanup time and cut your foot, when you feel like you're having the worst Lent ever, when you can't decide what God wants to do with you and you're tired of trying to figure it out, when your homeschool operates more like a heated dispute resolution, when you wonder how you could have felt so high and filled with God's love and acceptance just a few days ago but now just feel as icky as that high-chair crud you never were able to scrape off from the longago time your toddler was eating there, when you can't make your mom feel better, when you miss your husband, when your melancholic child's constant tears make you feel like you could drown right along with her in sadness… This is when a silly dog, a tutu, and giggling children are grace. Grace that you grab a hold of and then smile and laugh and tell yourself to snap out of it because you – despite your own shortcomings, your children's shortcomings, the unswept floors, the worries swirling in your mind – are living nothing short of a lovely life just east of Eden.
One of my most essential survival tactics in the trenches of motherhood is keeping a sense of humor. I have a post entitled "Laughing Matters" over at What to Expect where I share a true-life story of how I ended up laughing when I probably should have been sniveling.
Here's a snippet:
Recently, I had the brilliant idea to gather my four kids 7 and under and emerge from our safe hole where face crust and wearing PJs for day clothes is perfectly acceptable and meet a friend for lunch at a mall food court.

I tucked my 4-month-old into a baby carrier, held my 4-year-old and 2-year-old's hands, and asked my 7-year-old to not skip too far ahead, and entered the real world.

Lunch was not too catastrophic. My patient, generous friend helped out a lot when she wasn't busy juggling her own two littles.

We sort of caught up with one another in fragmented sentences. "So how was your Christm….Stop poking your sister."

"It was nice. How was…Watch out! You almost spilled your drink!"

Despite the constant interruptions, I was thinking it was nice to be out and about wearing chic clothes. No matter that I emanated Eau du Breastmilk – I felt almost human.

That is, until things started to get highly harried. Then I started to feel like I was morphing into a mommy monster.
My 7-year-old has a new obsession. Madeline can't get enough of Star Wars. There were some boys in her homeschooling co-op who were constantly talking about things foreign to her: lightsabers, Yoda, and Jedis. She asked what this Star Wars was all about. We shared our Jedi Master knowledge, and she asked if she could she the movies. We decided we'd allow her to watch the original trilogy as part of her birthday gift this past November. Now Madeline knows why the boys are such devoted fans. A day doesn't go by when she doesn't talk about the force, Luke Skywalker, Princess Leia, Darth Vader, or Hans Solo.
One of her aunts bought her this Star Wars t-shirt, and she wore it for my brother (a fellow Star Wars fan). He told her he loved the tee. She loved the Yoda nutcracker he received from my parents.
A few nights ago Madeline decided she'd make her Uncle Josh his own Star Wars t-shirt. Here's what she came up with: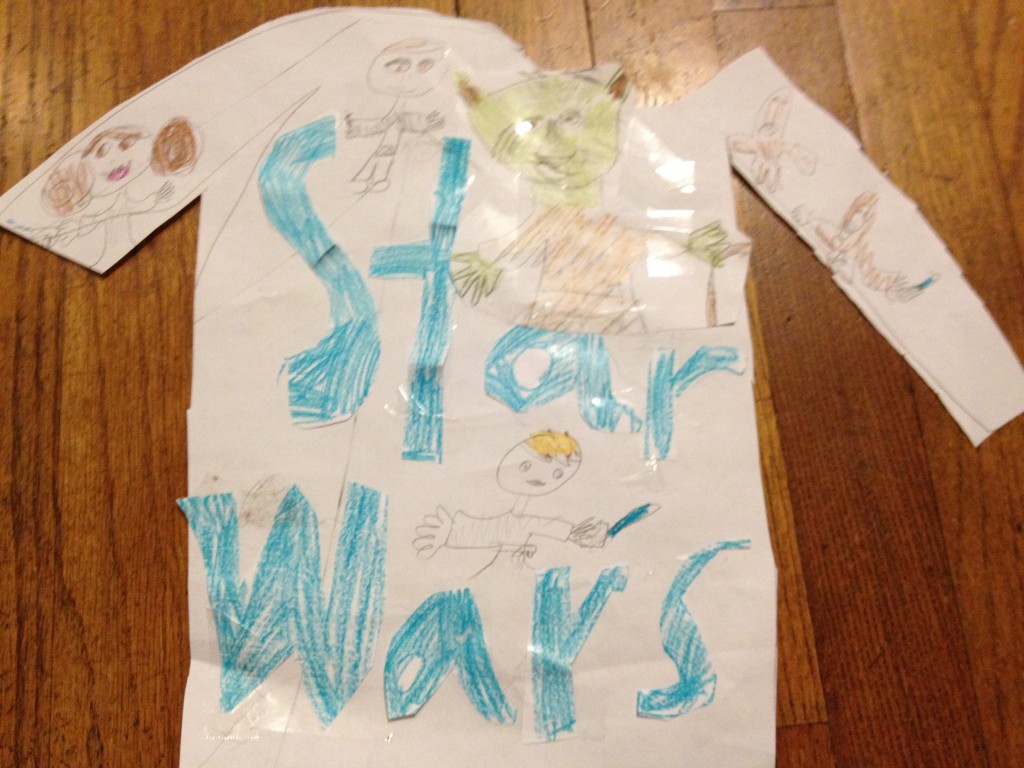 One of Madeline's new favorite pastimes is wielding the glowing lightsabers my parents gave her. (As I write this, she's playing with princess figurines while humming the Star Wars theme.)
When I gave birth to my first boy this past August, a lot of people told me I'd have a whole new world to discover. Funny, I think I've already started discovering it with my fiercely independent and confident girl – the same GIRL who had a dinosaur-themed birthday party this year and a pirate one last year. Madeline has never been afraid to like what she likes. I love that about her.
Another one of Madeline's interests is photography. She's psyched about a homeschooling photography class she just started. They're learning all about perspective, which I discovered when perusing photos she had recently captured with my smartphone.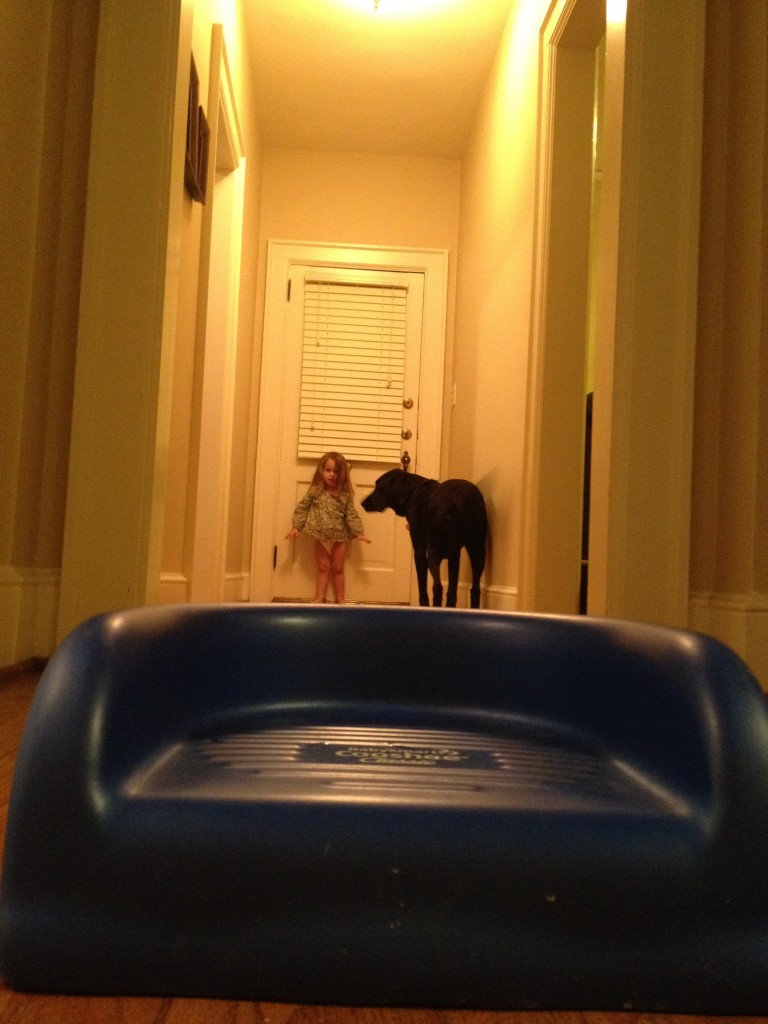 She explained that it's supposed to look like her little sister and our dog are standing on the booster seat. I got that and thought this was pretty cool.