I don't have much of a potty mouth, and I never have. Well, I suppose that statement might not be entirely true if you define "potty mouth" as having the maturity of an 8-year-old and finding words like "poot" and "beanie" funny. Guilty as charged. But I rarely swear. I don't even like to say the word "sucks." I'd much rather say, "Oh, fiddlesticks!" and endure the eye-roll of my oldest. She insists a lot of kids use the word "sucks." I told her she will be around people her entire life who make the wrong choice and that in our family "sucks" is blacklisted and if she says it, she owes me a dollar. End of discussion.
But lately a big thought bubble full of all sorts of naughty expletives has been ballooning up above my head, and the reason for this is simple: I have a 3-year-old boy. I am potty training that 3-year-old boy. Actually, that's all wrong. The only one getting trained is moi – in the art of self-restraint in keeping those lovely expletives that make "sucks" look like part of the vernacular of Downton Abbey floating silently off in the horizon.
This is no easy task, especially when #@!* keeps happening – not in the potty but in the pants. And gone are the days of cute, breastfeeding, mustardy baby poop. People think my 3-year-old is closer to five. He's a big boy with a big appetite. He eats a cornucopia of deliciousness. Everybody poops but generally the bigger the pooper, the bigger the poop. I'm dealing with some serious excrements and after all that green St. Patrick's Day food, I've been faced with green poop. My 5-year-old eyed Thomas's most recent gift. "It looks like the panda's poop!" A recent visit to the zoo left the kids in awe of the gloriously green poop a panda squeezed out in front of us. Do you know how much bamboo a panda bear eats each day? Forty to 50 pounds of the green stalks. Give Thomas a little green smoothie, green bread, and green eggs, and he starts pooping like a panda.
Whereas my girls found the idea of pooping in their pants gross, Thomas doesn't really see the problem with it. This is the same child who was nicknamed Poopcasso as a baby after I found him finger-painting with his doo-doo during quiet time. Poop in the pants ain't no big thing, but don't you dare say something like, "This is gross," while cleaning him up because that's when Mr. Sensitive comes out. Tears form in those big, brown eyes. "Don't say it's gross, Mommy," he says.
Oh, but it is.
What's been odd to me about potty training this boy is the very first time he used the big boy potty, he, in fact, pooped in it. Everyone had told me how hard boys were to potty train, and I was feeling all high and mighty. MY boy isn't going to be hard at all. Look at him pooping like a big boy without me even putting him on the potty! When will I learn to never, ever self-congratulate myself in the parenting trenches? It always, always backfires and leaves me eating a hefty slice of humble pie or in this case, cleaning what looks like chocolate silk pie but smells like toxic waste from a bare bottom.
Yet, for several days he did his business on the potty, and my mommy hubris swelled. I never had to bribe the girls, but I was popping jelly beans into his mouth let and right. Lots of positive reinforcement going on. Then one day when the rain finally stopped and the sun was dancing in the sky, warm and bright, Thomas headed outside to play – and to poop. Ever since then he's wanted to take care of nature's duty in, well, nature.
Now to be fair, he does pee on the potty quite a bit, but he also frequently relieves himself on the floor and sometimes on big sister's dolls. He doesn't like the way diapers feel on his bigger-than-a-toddler-body and routinely complains of wedgies, but he also isn't too fond of underwear. Or clothes. Going naked and commando is how he likes it and also how he seems to have the least amount of accidents. But I can't bring him to the soccer fields, grocery store, and playground naked. Can I?
Oh, I know this too shall pass. (This too shall pass…the mantra I fervently chant during any difficult parenting period.) He won't always be dropping huge loads in his pants or walking around commando. (Will he?) And it's so easy to sugarcoat the potty training phases of my daughters when, in reality, we had our own challenges. My second, Rachel was a breeze, but Madeline, my firstborn, had some major poop issues. No, she never pooped her in pants. She just didn't poop. The little control freak was master of her bowels and while my husband and the pediatrician told me I had to make sure she tried to poop every day, I learned quickly that you can't make a feisty child sleep, eat, or go potty. Not that I didn't try. I would sit in the bathroom for hours with the child, holding her hand, playing all sorts of games. "Ariel is in the cave and wants to go out swimming with her fishy friends! Can you help her get out?" In case you're really confused here and gave birth to reasonable children who just felt the urge and went to the bathroom, Ariel was her poop and the cave was her bum. I'd read Everybody Poops aloud to her in the bathroom. And Great Expectations. And All's Well that Ends Well. But it rarely ended well. Usually, Mom and Anti-Pooper both ended up in tears. And still, she held it in. She. Would. Not. Poop. I plied her with smoothies and dried fruit and lots of food that's good for your inner plumbing. I'd light candles in the bathroom to calm her. I would gently coax her like the most patient poop doula, but she wasn't ready to bring her baby into the world. On an adult dosage of Miralax she managed to hold her poop in for 15 days. That's more than two weeks, people. Hello, enema. That finally did the trick.
Then there was my third child. Oh, she potty trained easily enough and thankfully, pooped on the potty without trouble, but when she got angry at me, what did she do? She pulled a Regan a la  The Exorcist on me and stubbornly glared in my direction while she relieved herself on the only rug in our hardwood floor home. I can't count the times I would tell her no to something and find her peeing on the floor and then feigning it was an "accident."
Believe you me, there were some big curse word thought bubbles floating above my head back then, too.
But these days none of my girls have accidents or even pretend to have accidents when they're upset with Mommy. I still have to remind the oldest to listen to her body sometimes because she is such an active, happy kid, she doesn't like to take time out to do anything as boring as sitting on a potty.
I know Thomas will get there eventually. I recently tried to bribe him with fancy superhero light-up shoes since his friend across the street got a pair when he potty trained. Thomas thought the shoes were pretty cool until duty (or should I say dooty?) called. "I don't want those shoes," he told me firmly, and he opened the back door and headed outside like the free-spirited animal he is.
And I sighed and thought, "This suck… errr…this stinks." Unfortunately, both figuratively and literally.
They're everywhere. The promises of a new year and a new you. Now is the time to reinvent yourself. Get more organized. Quit smoking. Lose 5, 10, 15, or 20-plus pounds. Exercise more. Sleep more. Eat less sugar.
Personally, I really like my 5-year-old's New Year's Resolution: Be nice to people. Now that has eternal value.
Funny aside: My 7-year-old uses the least amount of electronics in the house, but she was the one who wants to watch less TV in 2015. She doesn't play on the computer or even watch much television. She usually has her nose in a book (she read five fat books over the Christmas break), but she also is the one who always thinks she is worse than she is. I'm not sure where she gets that from. Ahem.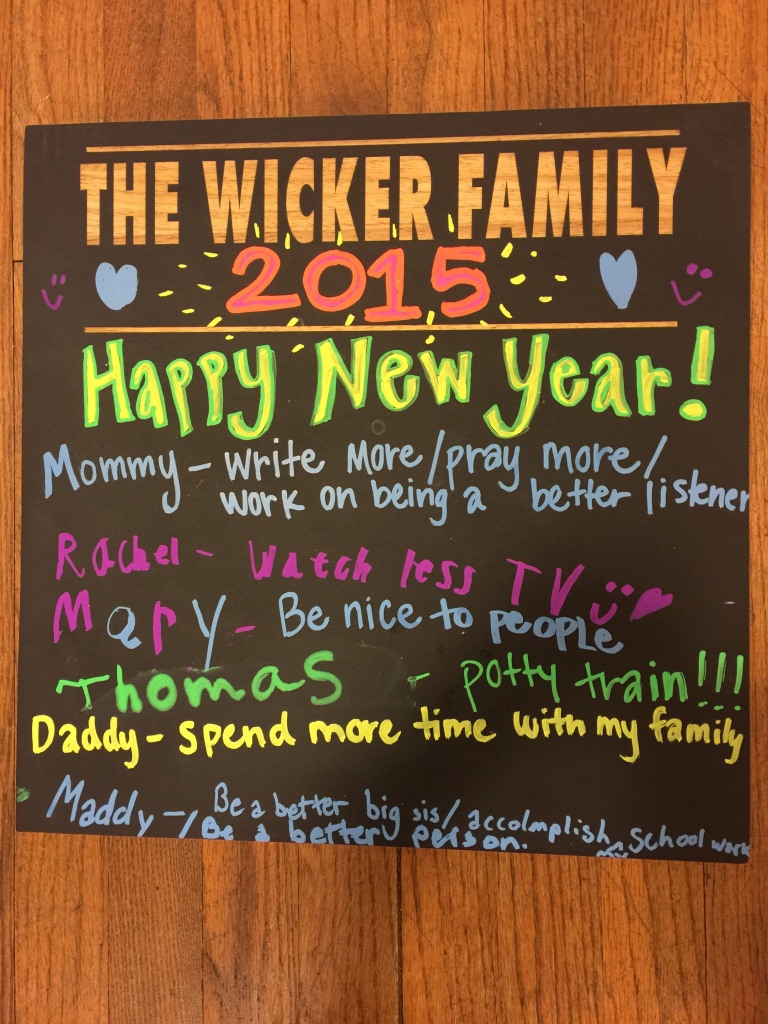 I've always been a goal-oriented kind of person, so I usually end up scribbling down a few New Year's Resolutions. Once upon a time at least one resolution had to do with my weight. Even when I claimed I was just thinking of my health, I was guilty of subterfuge. But not this year. This year I want to pray more, write more, and listen more.
I am tempted to add more even though I know that while my goals seem simple, I'll likely fail pretty miserably at them. Way to believe in myself, eh?
I like to accomplish, but I seem to accomplish big things pretty rarely lately.
Every week I scribble down a to-do list, and I get great pleasure from checking off each item. Look at how productive I am!  I like to have things to work for, too, and things to achieve. What I don't like is failure or feeling like I haven't accomplished much. But this year has been a year of letting go. And not just for Elsa or her gaggle of pint-sized followers, but for me, too. It all started with the dreadful running injury. I can no longer call it a running injury because I am not much of a runner any longer, although I ran with a running peep this morning and experienced pure euphoria – more from the company than the actual physical exertion. The run didn't provoke much pain, but walking around the rest of the day and just sitting to teach my child phonics did hurt a bit. I'll think I'm all better and that BAM! I'll feel a twinge in my high hamstring area, or my hips will start aching. On a bad day, both hips, my hamstring, and my bum hurt.
Sometimes my body makes me grumpy. Sometimes it makes me sad. But lately it's made me grateful because despite my dreams of qualifying for Boston or even running another half again perhaps becoming wishful thinking, I feel strong. I am doing quite of a bit of Pure Barre. It's a low-impact but challenging workout. I don't weigh myself, but I definitely feel stronger and leaner. The first day I tried the class I felt like an old, uncoordinated dork. It was 80s day, which I didn't know, and all these young things – who were born in the 90s, mind you – were planking and tucking and shaking in flashy, hot pink workout garb. I was all in black on the back, planking like an elephant probably.
As I tried to follow along and figure out what it meant to tuck, I mourned for my running life. Running was something I could do pretty well. This was new and scary and all the core work wasn't easy for a mom of four, but I stuck with it. That was way back in early October, and I'm still sticking with it, and I've found my groove. When I was leaving my most recent class, the instructor, whom I had not had before, asked me my name. I told her, and she said, "Katie, you had excellent form all throughout class." This is ridiculously silly, but I thanked her and beamed, and the afterglow lasted at least an hour. I headed out to the cold mist with a bounce in my step, no matter that my high hamstring was nagging me and I felt shaky walking down the stairs after giving my thighs a killer workout.
I went out to dinner with my running peeps to catch up recently as well, and it was a delightful evening. We laughed and chatted, and I was so grateful that all those miles covered had forged true, meaningful friendships. And, of course, I was nostalgic for those morning runs, wishing I could be out there, too, and maybe I will be (I have a pain provocation test tomorrow involving an injection into my hip bone), but what's been such a blessing is I am starting 2015 totally and completely at peace with the fact that I may not be able to return to the kind of running I once did. This is where the gratitude surprisingly comes in: I am grateful there are other ways I can move my body. I am thankful I can shoot hoops with my daughters; my 10-year-old is playing her first season of basketball and loving it, and I'm enjoying playing Horse and having free throw contests with her in the driveway. I am thankful I can still be active even if I do hurt sometimes.
I am also thankful that I am finally able to approach new ventures – even things as seemingly insignificant as a new barre class – without perfectionism as my sidekick. I lost out on a lot of fun in the past because I would park myself on the sidelines of any activity in life if I knew I wasn't going to excel at whatever it was. I'm far less afraid now, probably because I fail all the time and motherhood more than anything else has taught me just how little control I have over my children or anything else in my life. I am so glad I'm learning these lessons because I want my children to try new things and to not be afraid to not be the best at everything. I want them have to work hard at something, to know that what starts out tough may one day become easier simply because you stuck with it. And I want them to dust themselves off when they do fall, forgive their own failings, and start again.
I'm talking a lot about exercise these days and my inability to run, but this has been a year of growth in the mothering department as well. I've had to make peace with the fact that my mothering life (so far) hasn't exactly turned out the way I thought it would. I remember when Madeline, who is now 10, was just 2 years old and I found a network of Catholic homeschooling moms, and one of them would always talk about how she could see me having 10 kids and homeschooling them all. That really stroked my pride. I envisioned myself as this super mom effortlessly juggling at least a half dozen kids while still taking daily showers. I have four kids, and I won't tell you the last time I washed my hair.
And these days, it doesn't look like I'm going to be a mom of a super-sized family, and I am homeschooling only one child now with plans to have her join her big sisters in that place I once feared so much: REAL SCHOOL. That first year of REAL SCHOOL I felt like an epic failure. I'd run into a friend of mine who still homeschooled, who probably had more kids than I did, and I felt like I was lacking or that they were better than I was. All my comparing and feelings of worthlessness only robbed me of joy and blinded me to the fact that we were all doing okay. I doubted myself and my husband's decision on a daily basis. At the start of this school year, I still was approaching the year with some trepidation, but something has happened. I see how happy we are, how this is working for my own little family, and I know I didn't fail at anything. The girls returned to school this morning, and Rachel hopped out of bed this morning and said, "I can't wait to go back to school!" This doesn't mean she didn't enjoy her time with me. We loved our lazy break and the slower pace, but she's happy there, too.
I also don't care (too much) what others think any longer. I did have a handful of well-meaning homeschooling folks (although the vast majority offered nothing but support) say some hurtful things when I first decided to send my two oldest to school. It wasn't easy to digest what they said – things like, you only get one chance at mothering your children and if you can homeschool, why wouldn't you? Of course, these people did not know the clinical depression I was grappling with or the fact that my husband's hours are unpredictable or the temperaments of my lovely but feisty children. Many times we mothers dole out our opinions in an effort to validate our own choices. We're not really looking to criticize the other mom or her choices; we're just trying to convince ourselves that what we're doing is the best for us and our families.
Now I joke about being a homeschool dropout. I don't worry so much about if we appear all put together because the truth is, we're not. We're a messy but fun bunch. I let my kids choose their clothes – even what they want to wear to the Christmas Eve Mass, providing it's the right level of decorum. I peruse our thousands of archived photos for the perfect family photo for our Christmas card and instead of becoming frustrated at the dearth of photos where even half of my clan is looking at the camera, I laugh at the wonderful energy this family of mine has, and then I create a Christmas card that is authentically Wicker. And lo and behold, I get more compliments this year than any other year. People crave authenticity.
That's what I really want to be in this life more than perfect. I want to be authentic. I want to be the kind of person you can come to and reveal your dirty secrets and dirty dishes and know that I'll love you anyway. I want my children to know in their deepest souls that despite the times I fail them as a mother, despite the chaos that is our life, I love them just the way they are.
One of my daughters, who happens to share my melancholic tendencies, was recently divulging all of her bad memories. She then went on to point out the ways I am not a very good mother. A year ago her diatribe would have made me cry. Or I would have acted strong, but I would have crumbled inside. I would have wept to my husband and sought his reassurance that I was a good mother and that I wasn't screwing up my children. But tonight I calmly hugged this child. I reminded myself she was angry at me because I had taken a privilege away as a consequence for less than desirable behavior. I told her I was sorry she felt that I wasn't a good mommy right now and that I knew I was far from perfect and had a lot to work on but that I also knew I was a good mom who gave her very best and who loved her children with an open heart. Then I calmly left the room. It was bedtime, and my child wanted me to stay beside her for longer (ironic that she wanted a monster of a mother to be in such close proximity to her in the dark). She started to rage against the injustices of the world. I told her I'd come check on her in a bit. And I did. I slipped in beside her in a nest of blankets. She threw her arm around me and she whispered, "I am so, so sorry."
"For what?" I asked.
"For acting like you're not a good mommy when you're the best mommy in the world," she whispered.
"It's okay," I said, and I squeezed her hand.
"I am so sorry," she said again, and I realized she was me just a year ago, someone who was always sorry. Sorry for not being better, good enough, perfect. Sorry for not doing more. Sorry for being injured and not being able to run. Sorry for things that were utterly out of my control. Sorry for giving up on homeschooling. Sorry when I truly should have been sorry but not knowing how to open myself to mercy and forgiveness, so that I was consumed by guilt and what-ifs and mired in a despair I couldn't shake even though to the outside world I was nothing short of a golden Pollyanna. Oh, the acting was exhausting. The guilt-mongering paralyzing.
"It's okay, my love. I am not hurt. You are completely forgiven."
"I am sorry," she whispered one last time burrowing her head into me so that her honeyed hair tickled my face and her tears wet my shoulder.
I am sorry, too, that it's taken me 30-plus years to let go of trying to be something that I'm not, I thought. And I am sorry that you, my sweet daughter, will have to learn this lesson on your own, that others and their careless acts and barbed words will rob you of your joy, that you might doubt yourself and remember the bad, the criticism, more than the good and all the praise. That you may be blind to beautiful you and not see that you have so much to offer others just by being imperfect you.
I can not make her believe any of this. Life will have to teach her all of it. I hope the wisdom comes to her sooner than it came to me, but it is a lesson she must learn herself.
On the eve of the Epiphany (yes, my tree and decorations are still up but if I'm truthful, the shedding pine needles and extra festooning is driving me crazy), I think of the Magi and what must have been a dangerous, tedious trip.  The journey to truth is never straightforward or easy. But when you finally encounter it – even if it's just a glimmer of truth – you are forever changed.
This new year, I'm not looking to be a new person. I'm just looking to make peace with the imperfect person that I am.
Reflecting on the past year I recognize plenty of moments of happiness and days when I was aware of the blessings that surround me even in the midst of life's messiness. But far too often happiness was elusive for me because things that were out of my control kept happening, because I too easily let others, situations, things people said (or didn't say), or self-defeating thoughts take my good feelings away.
Sometimes when I see my mom smile even as I am aware that her constant trigeminal pain is like hatchet permanently being lodged in her face, I can't help but think, "Joy can always supersede our pain." Because real, everlasting joy comes from something beyond us. Mean-spirited people can chip away at your happiness. So can everyday stress. So can a toddler who refuses to pee on the potty or an achy hamstring and wonky hips.  So can a cancer diagnosis, a death in the family, a miscarriage. Life, no matter how hard we try to inoculate ourselves against unhappiness, will sometimes take good things and good feelings away.
But nothing, nothing can take Him away. He came to us on that first Christmas, and I've got to believe that He's with us still.
All of these ponderings are nothing new.  I've known them all along, I suppose, but they, I admit, have sometimes felt like nothing more than empty platitudes, cozy Hallmark-like tag lines to give me a temporary pick-me-up. But not right now. Maybe tomorrow I'll forget this lesson when the laundry and sibling squabbles overwhelm me.  Maybe I'll lose my joy because I've lost Him. This is my human condition to be blinded again and again. But it is God's condition to keep making me see.
—
And now a glimpse into our Christmas season: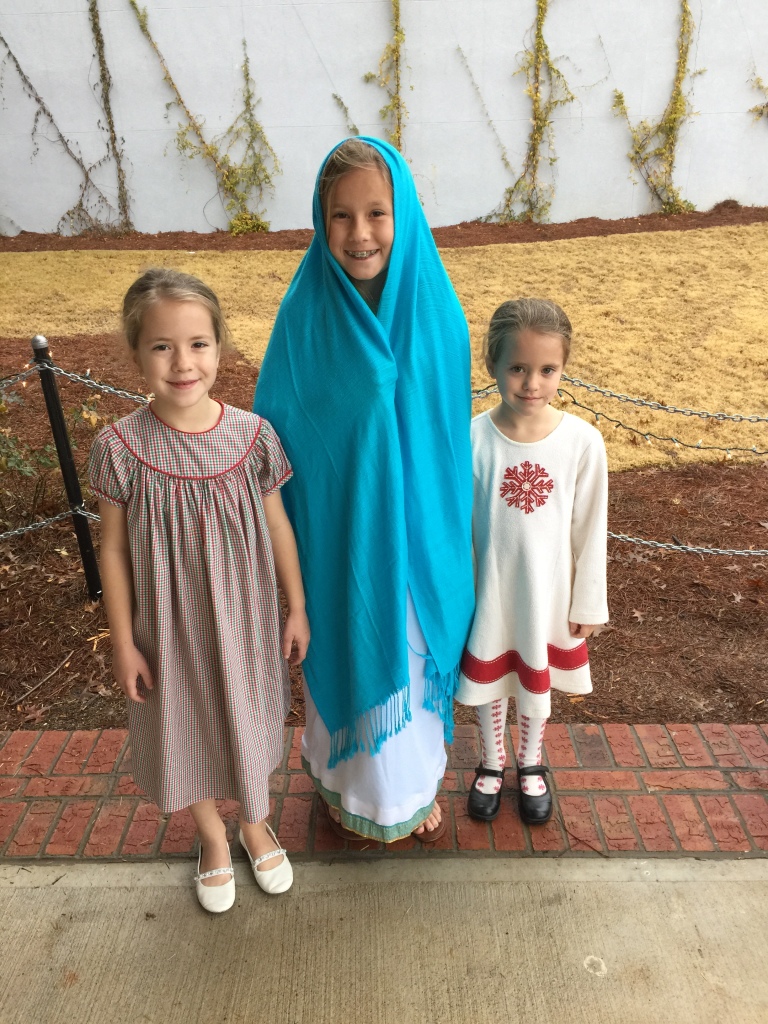 Guess who was Mary in the Nativity play at church? And Rachel, my 7-year-old, sang a duet to "Silent Night."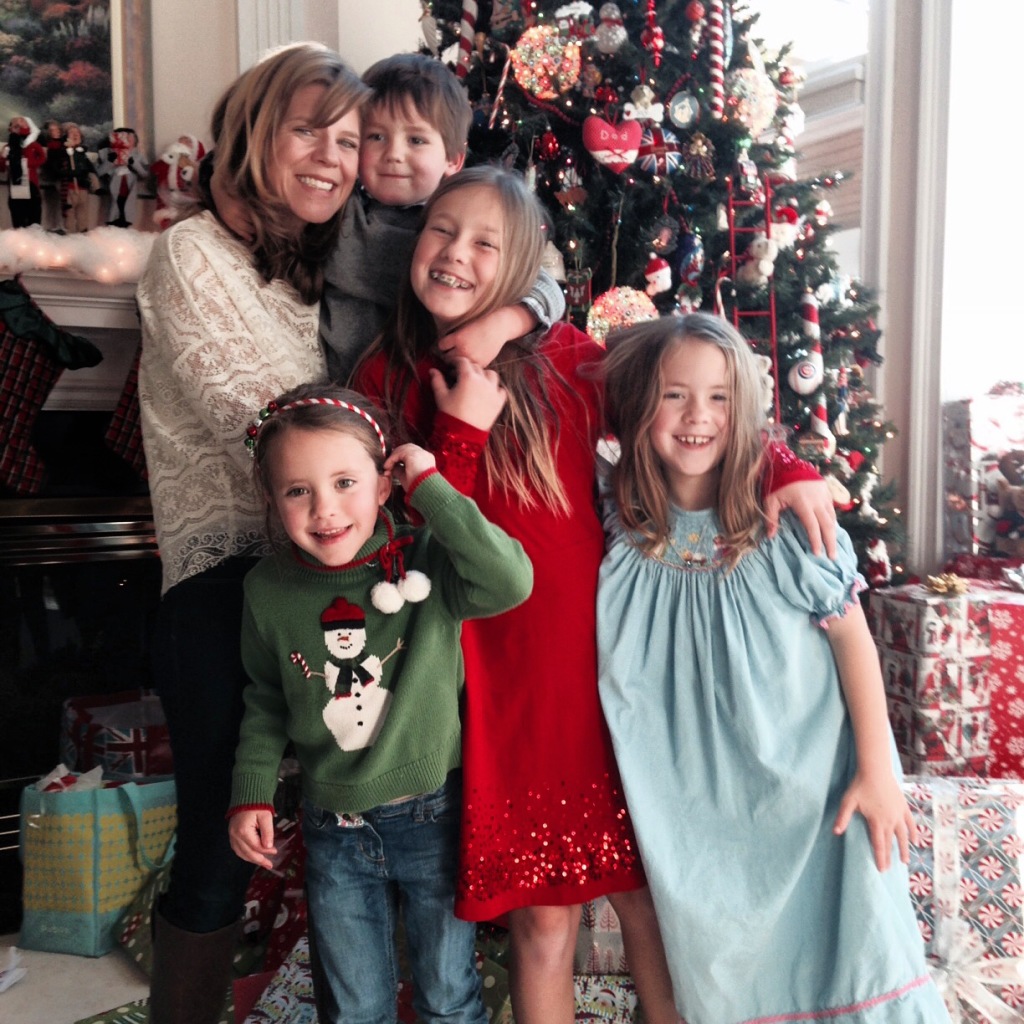 I don't care if it's a tad blurry. I love the joy personified in this photo.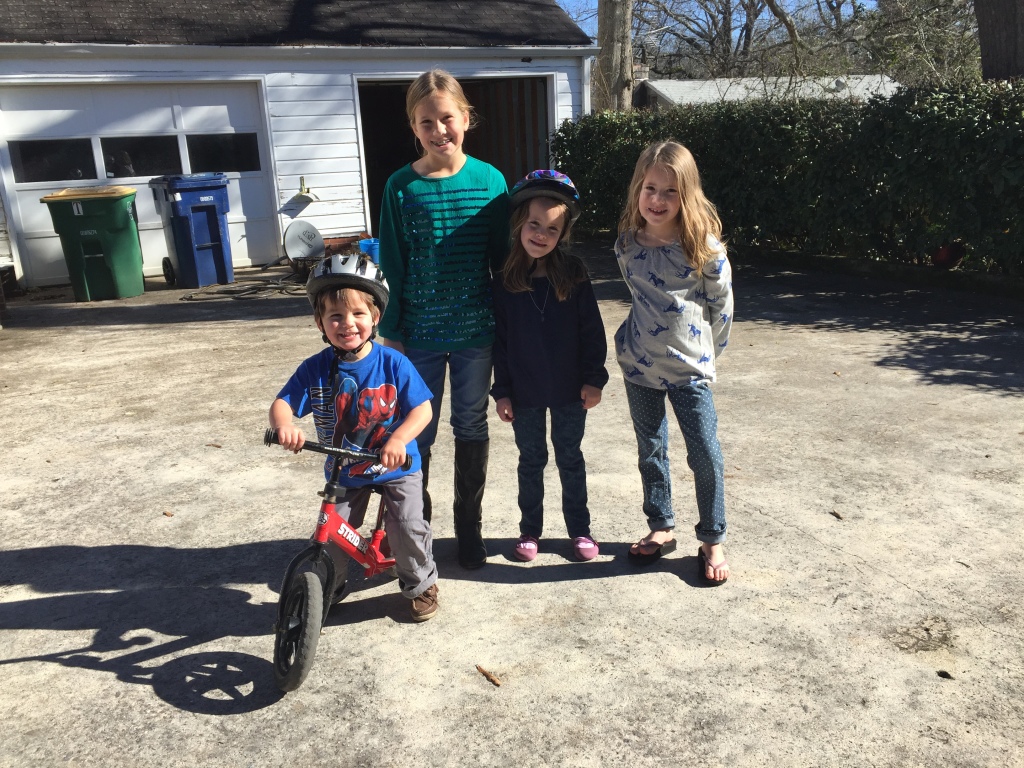 We had a few spring-like days. Thank goodness because now it feels tundra-like.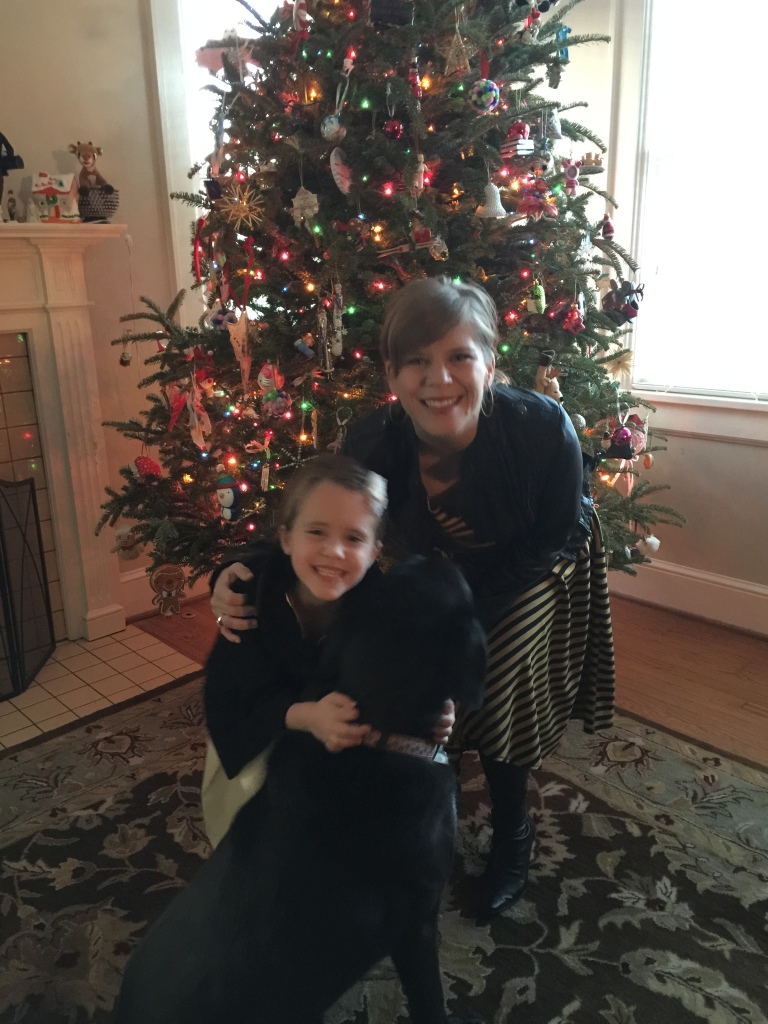 I went on a date with my girl. We went to what she referred to as a "very fancy restaurant." Layla (the dog) wanted to come along, too.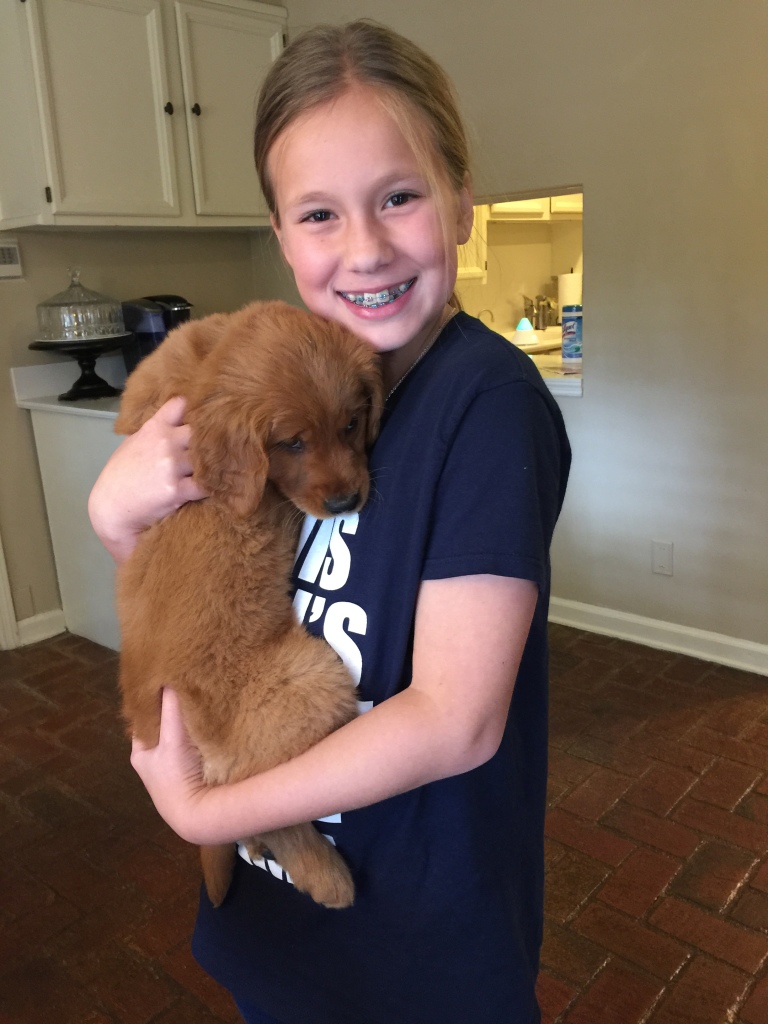 Puppy love. No, she's not ours, but the kids sure do wish she was. This was one of Madeline's best friend's Christmas gifts from her parents. "Geez," Madeline remarked, "she gets a puppy, and we get hermit crabs." Yes, my husband and I got the kids two hermit crabs for Christmas. They're named Padfoot and Speedy and to be fair, we do already have two fish, a cat, and a dog. And is it just me, or is my oldest child looking really, really old all of a sudden?
Here's to a healthy, happy and joyful 2015!
—
The only social media outlet I really keep up with these days is Instagram so if you're hungry for more Wickers, feel free to follow me over there.
I'm alive. But just barely.
In all seriousness, I saw that a hand turkey was still gobbling away on the front page of my blog, and I sighed. If that's not proof that I am now officially a blogging failure, I don't know what is. But I have so many good excuses. Really! Numero uno, it's becoming increasingly difficult to find fodder to write about as my kids get older. I don't want to embarrass them, and I just don't want to share too much. I find myself pining for a new baby for myriad reasons, and sometimes one of those reasons, I sheepishly admit is, just think of all the new blogging material a baby brings!
Reason number two I can't get myself to blog as much: My husband, as long-time readers know, is not all that fond of blogging or any social media for that matter, and always prefers privacy over disclosure. He does, however, understand that it is beneficial for a journalist/speaker/author/someday-hopefully-published-novelist to have an online presence in this day and age, so he supports my endeavors but is definitely glad I am not investing as much time on this space as I once did.
Also, it seems that every single time I begin drafting a new post lately, I start to have connectivity issues, and I start to wonder if God uses modems to give certain people signs that they should be using their time for other pursuits.
I've also been struggling with some things that one day I do believe I need to write about as a means of ministering to others, but the time is not right and sometimes I fear that if I might come off as whiny/melodramatic/pathetic if I broached some of my subterranean feelings. Some things are better left buried for a bit so they can pass that embryonic stage and bloom into the light. Perspective does wonders.
Finally, there's just the busyness of this season of motherhood. Oh, I was busy before with all those wee ones in my midst, but it was a different kind of busy. It was an at-home, exhausted, nursing on the hour, smelling of Eau du Breastmilk, singing the "clean-up time" song, high chair crud removal kind of busy. This new busy takes me out of the house and onto the soccer fields or basketball court or Nativity play rehearsals. I try to keep thing simple. I really, really do. Simplicity Parenting is one of my favorite books, and I have been a fervent preacher to my fellow moms that less is more and that kids don't need a slew of extracurricular activities, academic preschools, or reading lessons at the age of 4 to get ahead in life. Just call me a hypocrite now because we had a basketball game this weekend, a soccer tournament that involved four games, and play rehearsals (and then there were the four parties we were invited to that we couldn't make it to this weekend because of logistics and germs). My poor husband was in charge of all of the schlepping this weekend because he managed to dodge the germ bullet that hit me square in the head (more on that in a bit).
But my oldest is a mover and a shaker, an extreme extrovert, a sports fanatic. I worry she will burn out with all this sports-playing. I've asked our doctor if her level of play is alright for someone her age. "So long as she's happy and healthy." Which she is. I regularly ask her, "How are you feeling? Are you sure you want to keep playing?" She emphatically says yes, yes, yes! Last night my husband and I were talking about how we were burnt out and how, at her age, the fall soccer season should end at Thanksgiving.
"What???" Madeline gasped. "I wish it would never end."
I shouldn't be surprised. She looks a lot like my younger brother and apparently shares more than just a physical resemblance. My little brother was (is!) the same way. He doesn't like to sit – not even on vacation. He doesn't like to sleep (five hours a night suits him just fine). There isn't a sport he's met that he hasn't liked. He can never be too busy. A night at home – if there isn't an important sporting event on – is a night wasted. Yet, he's not one to get frazzled like I would if I never have any downtime. Madeline is so very much like her godfather. So we keep busy with her activities, and the logistics of managing six people (and a dog, cat, and two fish) and a series of renovation projects for our home.  Just keeping our calendar up-to-date is a full-time job.
Plus, my husband's job is of the feast and famine variety. Recently, he worked three 15-hour shifts in three days. This week he worked several 10-hour days. Next week he works nights. His hours are rarely regular unless he's off of work entirely. On Thursday I had a temperature of 101.4, which actually felt pretty good considering my fever had been higher the previous day. It was 7 pm, and he still wasn't home. I was exhausted because I had had a fever since Tuesday.
Thank you, flu vaccine, for being an epic failure.
My 7-year-old and I were officially diagnosed with the flu – or as a friend of mine said, the Angel of the Flu descended upon us. Oh, why oh why, couldn't it have not been Gabriel?
When my fever flirted with hitting 104, I felt like death might be at my doorstep. A little bit of hyperbole? Perhaps, but I like to think of myself as a fairly tough cookie (with only minor pride issues) and the flu knocked me out. Seriously. My body has never felt more achy and even after wrapping myself in blankets like a huge burrito, I could not stop shaking. No amount of ibuprofen helped with my headache. I felt as if I absolutely could not move. But, of course, I did because by this point two children also had fevers. Regrettably (judge me if you wish), the rambunctious 3-year-old boy was not one of the two to fall victim to the insidious virus and was running around the house as happy  and as loudly as can be. You can imagine my horror when he gathered all of the soup cans from the pantry and a wooden spoon and pulled a Ringo Starr on us. A drumming 3-year-old does not a happy mom with a pounding headache make.
When I finally started to feel a little better, I started to panic. I had lost an entire week of my Advent life. How would I ever be ready for Christmas? Not to mention the fact that we all had bad colds over Thanksgiving, so I lost a few days there as well. I couldn't help but think that Lent would be a better time for the flu. All Lenten starkness sounded pretty nice as I covered my flushed face with my hands. My stomach has been queasy whether from the virus itself or the Tamiflu, I'm not sure, so staying away from sweets would be a breeze. Lent is a time of contemplation. Advent is a time of action.
Or is it?
The secularization of Christmas has turned Advent into a celebratory season, but really it's supposed to have some of the same characteristics of Lent. There's supposed to be penance and reflection and quiet.
As I sat wheezing in the petri dish we call home, I realized it doesn't really matter if the Christmas cards are mailed out late. Besides, as a Catholic the Christmas season doesn't even begin until Christmas Day, so I've got some time. And so what if presents are tucked into gift bags instead of gorgeously wrapped? Who am I kidding? Flu or not, I am prone to stuff gifts into gift bags, or I ask my 10-year-old to wrap them because she can do a better job than I can.
Like Dr. Seuss reminds us, Christmas comes with without ribbons, without tags. It comes without packages, boxes, or bags. Advent is a time of preparation, but more than party-prepping, shopping, and decorating, it's about preparing our hearts for Jesus. And what better way to prepare my heart for Love itself than to be confined to my home with sick children who need me, to have more time to read more meaningful books about Christmas, to return to the Bethlehem in my past when babies kept me home and quiet and less crazy-busy, to slow down because physically I have to and spiritually I need to?
By Thursday, even my sick children were running around the house like wild animals. Oh, to be young again! A friend of mine, who survived the flu last year, texted me, "Isn't it funny how taking care of kids who are getting better is so much more difficult than taking care of sick ones?"
Last week was a lesson in sacrificial love, and that seems like a pretty good way to prepare for Christmas.
Yes, there are trees to decorate, meals to serve, cookies to bake*, gifts to wrap, but above all, Christmas is a time to bring light to others. The infant Christ reminded us that when He was born on a cold, deep night in a smelly stable that there will be light in our lives in the darkest, most stressful moments. The husband who comes home at lunch time, even though this means he will fall behind at work, to help you out. That was a blazing light in my life. The friends who text to see how you're holding up. The older child who takes care of her siblings so you can rest a bit more. The cat who curls up in your lap and keeps you warm. The dog who sniffs your face and wags her tail in encouragement. The grandparents who call to check on you. There were so many little lights in my life this week.
I feel human again and  have a lot to do this week, but I'm going to keep on the the lookout for the little lights and the bigger ones that start to shine all around me. And I'm going to slow down long enough to let something beautiful and hopeful unfurl deep within me, within my home.
Christ grew in Mary. May He grow in all of you this Advent and always.
*My 7-year-old suggested we make flu cookies this weekend. Don't worry. We're not that generous. We won't be sharing our sweets and our germs.
—
I'll be talking all things Advent at 9 am EST on my monthly Relevant Radio Morning Air Show gig tomorrow (12/15).