I'm alive. But just barely.
In all seriousness, I saw that a hand turkey was still gobbling away on the front page of my blog, and I sighed. If that's not proof that I am now officially a blogging failure, I don't know what is. But I have so many good excuses. Really! Numero uno, it's becoming increasingly difficult to find fodder to write about as my kids get older. I don't want to embarrass them, and I just don't want to share too much. I find myself pining for a new baby for myriad reasons, and sometimes one of those reasons, I sheepishly admit is, just think of all the new blogging material a baby brings!
Reason number two I can't get myself to blog as much: My husband, as long-time readers know, is not all that fond of blogging or any social media for that matter, and always prefers privacy over disclosure. He does, however, understand that it is beneficial for a journalist/speaker/author/someday-hopefully-published-novelist to have an online presence in this day and age, so he supports my endeavors but is definitely glad I am not investing as much time on this space as I once did.
Also, it seems that every single time I begin drafting a new post lately, I start to have connectivity issues, and I start to wonder if God uses modems to give certain people signs that they should be using their time for other pursuits.
I've also been struggling with some things that one day I do believe I need to write about as a means of ministering to others, but the time is not right and sometimes I fear that if I might come off as whiny/melodramatic/pathetic if I broached some of my subterranean feelings. Some things are better left buried for a bit so they can pass that embryonic stage and bloom into the light. Perspective does wonders.
Finally, there's just the busyness of this season of motherhood. Oh, I was busy before with all those wee ones in my midst, but it was a different kind of busy. It was an at-home, exhausted, nursing on the hour, smelling of Eau du Breastmilk, singing the "clean-up time" song, high chair crud removal kind of busy. This new busy takes me out of the house and onto the soccer fields or basketball court or Nativity play rehearsals. I try to keep thing simple. I really, really do. Simplicity Parenting is one of my favorite books, and I have been a fervent preacher to my fellow moms that less is more and that kids don't need a slew of extracurricular activities, academic preschools, or reading lessons at the age of 4 to get ahead in life. Just call me a hypocrite now because we had a basketball game this weekend, a soccer tournament that involved four games, and play rehearsals (and then there were the four parties we were invited to that we couldn't make it to this weekend because of logistics and germs). My poor husband was in charge of all of the schlepping this weekend because he managed to dodge the germ bullet that hit me square in the head (more on that in a bit).
But my oldest is a mover and a shaker, an extreme extrovert, a sports fanatic. I worry she will burn out with all this sports-playing. I've asked our doctor if her level of play is alright for someone her age. "So long as she's happy and healthy." Which she is. I regularly ask her, "How are you feeling? Are you sure you want to keep playing?" She emphatically says yes, yes, yes! Last night my husband and I were talking about how we were burnt out and how, at her age, the fall soccer season should end at Thanksgiving.
"What???" Madeline gasped. "I wish it would never end."
I shouldn't be surprised. She looks a lot like my younger brother and apparently shares more than just a physical resemblance. My little brother was (is!) the same way. He doesn't like to sit – not even on vacation. He doesn't like to sleep (five hours a night suits him just fine). There isn't a sport he's met that he hasn't liked. He can never be too busy. A night at home – if there isn't an important sporting event on – is a night wasted. Yet, he's not one to get frazzled like I would if I never have any downtime. Madeline is so very much like her godfather. So we keep busy with her activities, and the logistics of managing six people (and a dog, cat, and two fish) and a series of renovation projects for our home.  Just keeping our calendar up-to-date is a full-time job.
Plus, my husband's job is of the feast and famine variety. Recently, he worked three 15-hour shifts in three days. This week he worked several 10-hour days. Next week he works nights. His hours are rarely regular unless he's off of work entirely. On Thursday I had a temperature of 101.4, which actually felt pretty good considering my fever had been higher the previous day. It was 7 pm, and he still wasn't home. I was exhausted because I had had a fever since Tuesday.
Thank you, flu vaccine, for being an epic failure.
My 7-year-old and I were officially diagnosed with the flu – or as a friend of mine said, the Angel of the Flu descended upon us. Oh, why oh why, couldn't it have not been Gabriel?
When my fever flirted with hitting 104, I felt like death might be at my doorstep. A little bit of hyperbole? Perhaps, but I like to think of myself as a fairly tough cookie (with only minor pride issues) and the flu knocked me out. Seriously. My body has never felt more achy and even after wrapping myself in blankets like a huge burrito, I could not stop shaking. No amount of ibuprofen helped with my headache. I felt as if I absolutely could not move. But, of course, I did because by this point two children also had fevers. Regrettably (judge me if you wish), the rambunctious 3-year-old boy was not one of the two to fall victim to the insidious virus and was running around the house as happy  and as loudly as can be. You can imagine my horror when he gathered all of the soup cans from the pantry and a wooden spoon and pulled a Ringo Starr on us. A drumming 3-year-old does not a happy mom with a pounding headache make.
When I finally started to feel a little better, I started to panic. I had lost an entire week of my Advent life. How would I ever be ready for Christmas? Not to mention the fact that we all had bad colds over Thanksgiving, so I lost a few days there as well. I couldn't help but think that Lent would be a better time for the flu. All Lenten starkness sounded pretty nice as I covered my flushed face with my hands. My stomach has been queasy whether from the virus itself or the Tamiflu, I'm not sure, so staying away from sweets would be a breeze. Lent is a time of contemplation. Advent is a time of action.
Or is it?
The secularization of Christmas has turned Advent into a celebratory season, but really it's supposed to have some of the same characteristics of Lent. There's supposed to be penance and reflection and quiet.
As I sat wheezing in the petri dish we call home, I realized it doesn't really matter if the Christmas cards are mailed out late. Besides, as a Catholic the Christmas season doesn't even begin until Christmas Day, so I've got some time. And so what if presents are tucked into gift bags instead of gorgeously wrapped? Who am I kidding? Flu or not, I am prone to stuff gifts into gift bags, or I ask my 10-year-old to wrap them because she can do a better job than I can.
Like Dr. Seuss reminds us, Christmas comes with without ribbons, without tags. It comes without packages, boxes, or bags. Advent is a time of preparation, but more than party-prepping, shopping, and decorating, it's about preparing our hearts for Jesus. And what better way to prepare my heart for Love itself than to be confined to my home with sick children who need me, to have more time to read more meaningful books about Christmas, to return to the Bethlehem in my past when babies kept me home and quiet and less crazy-busy, to slow down because physically I have to and spiritually I need to?
By Thursday, even my sick children were running around the house like wild animals. Oh, to be young again! A friend of mine, who survived the flu last year, texted me, "Isn't it funny how taking care of kids who are getting better is so much more difficult than taking care of sick ones?"
Last week was a lesson in sacrificial love, and that seems like a pretty good way to prepare for Christmas.
Yes, there are trees to decorate, meals to serve, cookies to bake*, gifts to wrap, but above all, Christmas is a time to bring light to others. The infant Christ reminded us that when He was born on a cold, deep night in a smelly stable that there will be light in our lives in the darkest, most stressful moments. The husband who comes home at lunch time, even though this means he will fall behind at work, to help you out. That was a blazing light in my life. The friends who text to see how you're holding up. The older child who takes care of her siblings so you can rest a bit more. The cat who curls up in your lap and keeps you warm. The dog who sniffs your face and wags her tail in encouragement. The grandparents who call to check on you. There were so many little lights in my life this week.
I feel human again and  have a lot to do this week, but I'm going to keep on the the lookout for the little lights and the bigger ones that start to shine all around me. And I'm going to slow down long enough to let something beautiful and hopeful unfurl deep within me, within my home.
Christ grew in Mary. May He grow in all of you this Advent and always.
*My 7-year-old suggested we make flu cookies this weekend. Don't worry. We're not that generous. We won't be sharing our sweets and our germs.
—
I'll be talking all things Advent at 9 am EST on my monthly Relevant Radio Morning Air Show gig tomorrow (12/15).
I know it's been pretty quiet around here, and I still haven't gotten around to posting a birthday letter to my wild man (tsk, tsk). I've just been so busy. I've had a few speaking engagements (one is this Friday, and I am so looking forward to the mom retreat), which are always such a joy but also require a hefty chunk of time. I am team manager for my oldest daughter's soccer team. Three out of four kids are playing the sport this year, so there's all that soccer schlepping. I'm not sure when I became such a soccer mom, but I am trying to embrace it. I'm also volunteering at the older girls' school occasionally and am trying to teach the child I am homeschooling more than Look-at-Mommy-try-to-control-little-brother-unsuccessfully–yet-again. Yes, Todzilla remains a loud, physical challenge, but, oh, he can be sweet. Oh, and I landed a fun writing assignment that has nothing to do with poop, parenting, or eating disorders. I am writing about fashion – and loving it! The novel is at a standstill.
I am also traveling to Atlanta almost every other week for ongoing medical treatment. Several more imaging studies have shown that I have femoracetabular impingement (the pincer type, if you're really interested), which could very well be the culprit behind my high hamstring tendinopathy, more recent hip and back pain, and may require surgery down the road. I am trying to do what's best for my body and to trust my amazing health care providers, but a part of me is tired of wasting a whole year of my life not running much at all after the partial tear of my high hamstring, which was diagnosed last October. Yup. It's been a year since all that happened. I bailed out of a race the first weekend of October, but pushed through a half on October 20th. That was my last long run. Sadly, I've only been able to manage 10ish miles a week, and now the hip, back, and high butt pain has gotten bad enough that I've stopped running yet again.
Like pregnancy bedrest, miscarriages, pining for babies that won't come, and parenting in general this lengthy and difficult journey has really humbled me.
The other day I was feeling particularly low when my daily Living Faith entry really, really spoke to me. Just when I think all of this faith stuff is wishful thinking, something Spirit-led like this happens to me. Here's the passage:
Self-emptying to the point of "ouch!" is one of life's most painful challenges.

To empty ourselves of attitudes that are foreign to the mind of Jesus, to clear out the patterns that limit our worldview, to let go, let go, let go as God invites us: This is the kind of emptying that Jesus modeled. His was a profound surrender, ultimately embodied in: "Not my will but yours be done."

-Sr. Chris Koellhoffer, I.H.M. Sr. Chris, a sister of Immaculate Heart of Mary, is a writer, spiritual guide and retreat director
That's just what this injury has forced me to do: to empty myself to the point of a literal and emotional "ouch." I've had to empty myself of my wishes to run or my silly dreams of being a running star when I probably look more like Sponge Bob Squarepants sprinting down the street. It is demanding a "profound surrender" from me, and I am still resisting – a whole year since I was first asked to let go and to accept a path I never would have chosen on my own. I still have days where I cry, days when I ask "why me?" instead of "why not me?" There are days when I forget to focus on all that I can do and the abundant blessings before me. But I am working on it. This long road is forcing me to. It's also teaching me not only to remain hopeful but to learn to be okay if my hopes are not a reality. I hope to run and compete in races again and to just partake in everyday activities without pain but if that doesn't happen, it is going to be okay. I am going to be okay.
(As always, thank you for bearing with me and my random rants.)
In the aftermath of what seemed like a life-shattering breakup at the time, I would belt out Gloria Gaynor's "I Will Survive." I still have the song on my very eclectic workout playlist, and the other day I found myself shouting the lyrics and building up the tenacity to deal with another man in my life. This one weighs roughly 40 pounds and he's not breaking my heart, but he breaks plenty of other things: Window blinds, flower pots, wire whisks from the kitchen (he likes to bend anything that is the least bit malleable), big chunks of my hair and his sisters' hair off the scalp when in the throes of a titanic tantrum, toys, windshields (he did this with his head and was not injured in the least – thank God! Don't ask. The car was parked in the driveway lest you think he was cruising around without a carseat in the front), etc., etc.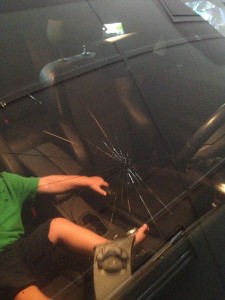 I'm supposed to be working on his birthday letter. Our little bruiser recently turned 3, but I'm spending too much time avoiding unidentifiable flying objects he has hurled in my direction to work on anything productive, and I'm afraid the letter will turn into a collection of grievances against the poor guy. I keep telling myself, "This too shall pass." This mantra has always helped me get through rough parenting patches, but right about now, I find myself editing the phrase and gritting my teeth while thinking something like this: "This sure as heck better pass soon before I have a nervous breakdown or do something I'll regret."
Of course, there are tender moments when my sweet, little man cuddles close, but even his kisses and hugs are fueled with boy-power. I've had to remonstrate with him repeatedly to not hang on my neck when he hugs me because he's pulled so hard, I've felt sharp jabs of pain.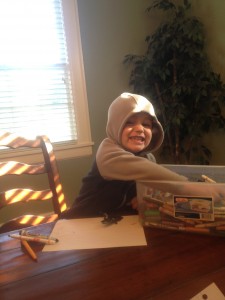 We recently went to the beach to see my husband's grandparents, and Thomas just kept asking, "When are we going to go home? Tomorrow?" He clearly wasn't digging the change of scenery. He refused to nap, was sweaty with heat and exhaustion, and cried when sand got in his shoes and cried if we took his shoes off. He screamed when he was happy, and he screamed when he was sad. Dealing with his mercurial moods was completely exhausting.
Upon our return, a friend of mine first asked him, "What did you do at the beach, Thomas?"
"I got crabs!" he shouted.
The crustacean kind, of course.
After we all had a good laugh, I told her he had been ready to come home after a day away, so she queried, "Thomas, do you like the beach or home better?"
"Home!" he shouted.
My little boy craves routine and is definitely a homebody. When I take him to library storytime, he's as still as can be and clings to my lap like a barnacle. But at home, he turns into the Incredible Hulk and plows from room to room leaving destruction or teary, melodramatic sisters in his wake.
My normal discipline strategies aren't working, probably because I am so exasperated and tired from it all that I am not very consistent. The boy who once fell asleep so easily so long as I was beside him both at bedtime and for naps now pinches my nose and throws books around the room when I try to settle him down. The other day I was desperate for him to nap, so I finally held the door shut while he threw every possible toy at the door and screamed for 30 minutes straight. One day recently I actually did get him to sleep. It only took me two hours of cajoling him and putting him back into his bed. By the time he fell asleep, it was nearly time for me to pick up his sisters, and I was too worn out to get anything done, so I sat on the couch and cried.
It's a terrible combination: A tired mama and an even more tired toddler.
Yes, this little man in my life is making me cry and cling to Gloria Gaynor's words: "It took all the strength I had just not to fall apart."
The saving grace is that he is the difficult one now. Madeline (my almost 10-year-old) is at that golden age where she's helpful (for the most part, although her room looks like a disaster zone) and loves to be in my company. Rachel (7) and Mary E. (5) are getting along much better than they have in the past. Last year Thomas was easy, but I was having difficulties and stressing out over another child. God really doesn't give me more than I can handle. Sometimes it just feels like it, but I've rarely been in a place where all my children were going through challenging developmental stages.
And I know that it is now – when books like When Your Child Drives You Crazy
clutter my nightstand – that the most growth is going to happen within me.
Moms, don't be (too) weary if you're traveling down a difficult path right now in your parenting journey. Don't wonder if you're the only one who finds a newborn baby, a toddler, a preschooler, a 6-year-old, a tween, a teenager, a young adult, a grown child, a special-needs child, a girl, a boy, whatever difficult to mother. Because you're not the only one. Wherever you're at and whatever you've been given right now is probably the hardest for you. Maybe that's the point. What would be easy for you may not be the best for you.
If God is trying to prune us and sanctify us through the vocation of parenthood, then it makes sense that He gives us just the kind of children we need – the kind who will push our buttons and throw us down to our knees and force us to realize that we cannot, absolutely cannot, do this on our own. We need good girlfriends we can vent to. We need spouses or other loved ones to lean on. We need community. We need to take care of ourselves to better take care of those entrusted to us. And we need faith. Faith is what makes our weakness – whether it's spiritual, physical, or emotional – stronger. We have to have faith that this will pass, that we will survive.
Sometimes we have to simply show up – and to stay put once we've arrived even if every part of us is screaming to just go, escape, get the heck out of there before you or your child really loses it.
These are the kind of things I have to tell myself day after day right now as I try to figure out this rambunctious, toddler boy thing out.
I openly admit that I don't have it all together. I have done things I regret. I haven't always been gentle and firm. I've given up on God many times.
There are moments when I feel like my toddler is winning, but then I remind myself this isn't a war. This isn't about who is right or the most stubborn or the most in control. It is about love – the kind that sometimes really, really hurts to give. No, it's not a war, but there is fighting. I have to keep on fighting to give of myself, to trust that a child who has started to pull our dog's tail is not destined for juvenile delinquency. I have to fight to forgive myself and my boy when we reveal our raw humanness. At some point or another, we are all scared and tired moms who keep fighting. We are burnt out moms who are overwhelmed by keeping up with laundry and wayward tots or teens all day long, but we keep fighting and giving.
A mother doesn't have superhero powers or even super patience. A mother is just a person – a woman like you or me – but she does super-amazing things. She is the woman with people in her care whom she loves and sometimes wonders how she loves them because they are driving her absolutely crazy. Yet, she still does love them. She gives, she fights, prays, and works. She shows up day after day for what sometimes can feel like a thankless or even pointless job. And it's in this showing up minute after minute, hour after hour, day after day that just may make a mother a saint.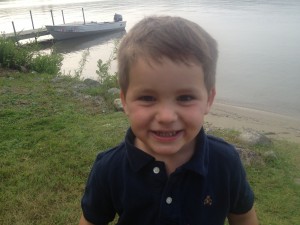 f mine that wherever you're at and whatever you've been given is probably the hardest for you. If God is trying to prune us and sanctify us through the vocation of parenthood, then it makes sense that He gives us just the kind of children we need – the kind that will push our buttons and throw us down to our knees and force us to realize that we cannot, absolutely cannot, do this on our own. We need Him. We need to keep a constant dialogue open with God throughout our days. Even when we find ourselves questioning everything about God – whether we'll ever have a personal relationship with Him, whether He even really exists or cares deeply, profoundly about us and our children – we have to keep talking. We don't have to pray like others pray. We have to pray as we pray. Sometimes we have to simply show up – and stay put once we've arrived even if every part of us is screaming to just go, escape, get the heck out of there before you or your child really loses it. – See more at: http://katewicker.com/2011/12/it-is-not-the-will-of-your-heavenly-father-that-one-of-these-little-ones-be-lost.html#sthash.pfxWi3sX.dpuf
start comparing who is harder – girls or boys. I loved what someone wrote after an older post of mine that wherever you're at and whatever you've been given is probably the hardest for you. If God is trying to prune us and sanctify us through the vocation of parenthood, then it makes sense that He gives us just the kind of children we need – the kind that will push our buttons and throw us down to our knees and force us to realize that we cannot, absolutely cannot, do this on our own. We need Him. We need to keep a constant dialogue open with God throughout our days. Even when we find ourselves questioning everything about God – whether we'll ever have a personal relationship with Him, whether He even really exists or cares deeply, profoundly about us and our children – we have to keep talking. We don't have to pray like others pray. We have to pray as we pray. Sometimes we have to simply show up – and stay put once we've arrived even if every part of us is screaming to just go, escape, get the heck out of there before you or your child really loses it. –
It took all the strength I had
not to fall apart