I received my December issue of Cooking Light, and there was a great article about eating mindfully. Like I discussed in this anti-dieting post, the article encouraged readers to think in terms of choosing to do something or choosing not to do something rather than telling yourself, "I should eat this," or "I shouldn't eat that."
The article also included a great quote that I'm going to type up, print out, and put in a prominent spot as I enter what can easily become the holiday-binge-fest-I-feel-rounder-than-Jolly-Old-Saint-Nick–right-about-now-season.
"Never eat anything you don't enjoy and truly enjoy everything you eat."
The message here is beautifully simple: Don't swear off gastronomy during the holidays – or ever. And don't rush through the ritual of eating. I'll add these tips as well: Don't mindlessly nosh on Doritos at the holiday potluck. (You can have chips any old time.) Instead, make your taste buds happy. Dive into the chocolate fondue. Eat foods that are special during this special time of year. And if you overindulge, try to keep the focus on the present. Put the fork down, think about how delicious your treat was, and then start choosing healthy bites (not boring ones) that you still will enjoy. When we overeat, it's so tempting to tell ourselves we'll start anew tomorrow, so we eat another sleeve of Oreos since we've already screwed up instead of trying to eat more mindfully right at the very moment we realize we might have caved in to gluttony.
***
But enough about food. I have other things on my mind like Advent.
I meant to get my act together and compile a post of Advent activities, but ever since our fourth baby arrived I'm finding it increasingly difficult to devote all that much time to this blog. Taking care of my family and myself is a full time job. (That simple statement is fodder for an entire post or column – one I plan to piece together one of these days, but don't hold me to it.) Since there will be no official "how we do Advent" post, I'll share a past link that includes some of our family's own traditions as well as links to other folks' Advent-themed posts: Preparing Our Hearts and Homes.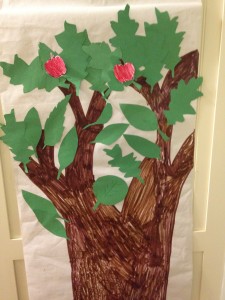 One new tradition I'll share is our Giving Tree. I recently read Shell Silverstein's The Giving Tree
to the girls, and we discussed it together talking about things like how the tree could symbolize our all-loving God. Since we're going to be preoccupied with Turkey Day business this week, we went ahead and made our Giving Tree and hung it up on the kitchen even though I'm intending for it to be an Advent activity. We all worked on coloring the trunk together. Madeline was in charge of drawing the leaves. I cut them out, and Rachel glued them onto the branches. All the girls colored a few apples, and Madeline and I cut them out.
I told the girls that during the Advent season they could earn "apples" by making sacrifices or by doing something above and beyond their normal calls of duties. Madeline, for instance, wanted to get an apple for making her bed, but I told her that's something she's expected to do daily. However, when she voluntarily offered to let her sister pick what to watch during their special screen time, she earned an apple. The wonderful Catholic Mosaic: Living the Liturgical Year With Children
actually recommends something similar during the month of Lent, but we always make Lenten mice and tie knots in their tails for sacrifices, so I wanted something different for Advent.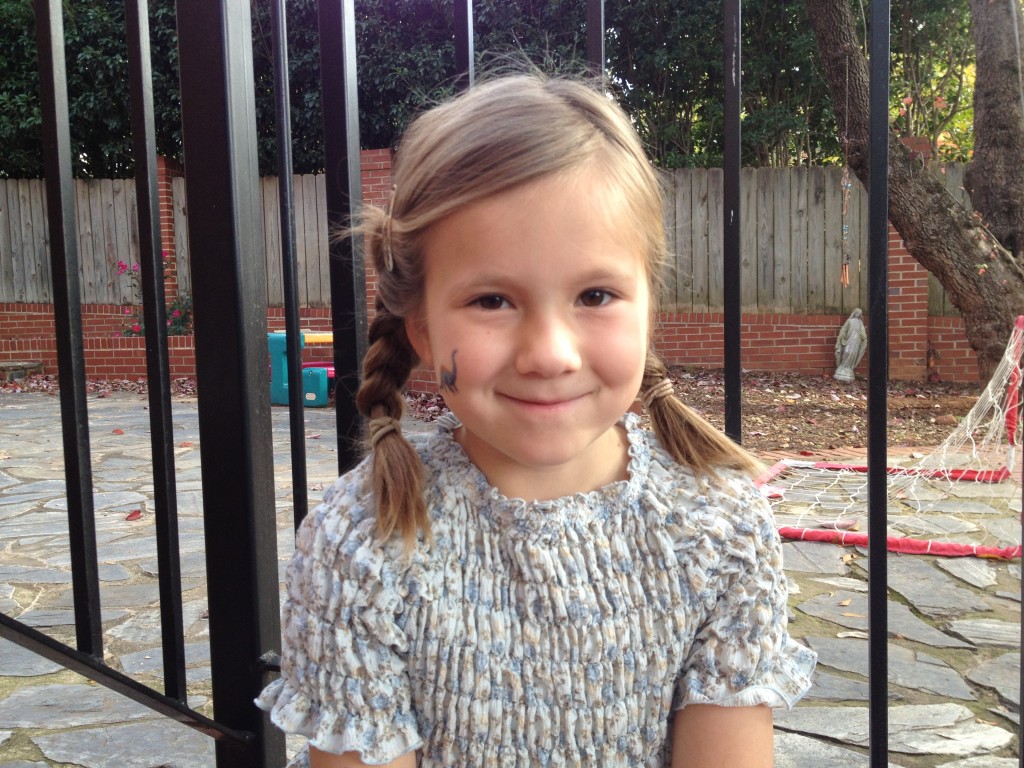 Dear Madeline,
We made your birthday truffles together today. You request these rich globs of goodness every year, and usually I'm the one who makes them, or I have to be engaged in some serious damage control to make sure you don't burn yourself on the hot melted chocolate or splatter our counter with the sweet liquid. Not today. You shaped all the balls yourself and then deftly dipped them into the lake of chocolate. You chattered as your hands kept busy, and I thought about how much I was enjoying your company and how fun it was that we could carry on a real conversation while cooking together, and I didn't have to stress out about chocolate flying all over the place or you plunging your hands into the Oreo mixture and then licking your fingers.
I also couldn't help thinking how old you've seemed lately. You're tall like your daddy. You just keep growing. You're a natural nurturer, too – a great big sister. I'm so lucky to have you around to help me with all the littles around here.
There are so many things I love about you and this delightful stage.
To name just a few:
Your boundless energy (even if it tires us all out sometimes and leads to head contusions on a friend's forehead).
The way your cheeks flush and a smile never leaves your face when you're on the soccer field.
How brave you were to confide in me when a peer at your homeschooling classes was excluding you and how you weren't going to let her or anyone else drag your lively, happy spirit down.
The bridge of your noise and how it's lightly dusted with freckles so faint that only a mother would notice.
How you always want me to sing along with the notes you play during piano practice.
Your self-assurance and guile.
The way the girl in you is suddenly emerging and you want to accessorize with jewelry and a purse, but you still wear goofy, mismatched socks (this might be one of the things I love about you best – how you're not afraid to be your own person, to have dinosaur and pirate parties while your girly friends are fawning over princesses, to wear colorful socks even if they don't match the rest of your ensemble because everyone needs a little color in their life).
Your giggle.
Your hair's honey highlights and how there's one unruly, wavy section near the nape of your neck that reminds me of your spunky side.
Your determination and tenacity. These traits caused me much anguish when you were younger and used to hold in your poop (15 days is your record) or when you exhibited brilliant defiance as a toddler or fought bedtime as if it were the apocalypse. But now I'm seeing that you are emerging as a young woman of conviction and strength. You're still a little girl, I know, but you're not afraid to let your feelings known or to be yourself. Don't ever change.
How you still don't say your "r's" just right all the time.
Your unflagging optimism (you take after your Gaba [pictured right with Madeline and little sister Rae] and Uncle Josh)
Your empathetic heart and how loving you are with your sisters and baby brother and me, too. I'll never forget when I was crumpled in a corner crying and your toddler self shuffled over to me. You put your tiny hand on my back and started patting me. "It's 'otay,' Mommy." And it was – very much "otay" with you there by my side.
How willing you are to forgive when I let you down and how quickly you ask for forgiveness when you haven't shown your best self.
The fact that you asked for steak, buttery pasta with cheese, raw red bell peppers, and spinach sautéed with garlic and olive oil for your birthday dinner. What 7-year-old requests spinach for their birthday dinner?
How, when I was trying to get the pumpkin bread you'd requested for your birthday breakfast out of the pan and it collapsed and I said, "Well, hopefully it will still taste alright," and you said, "Mama, what have you ever made that hasn't tasted good?" You're my number one fan. Thank you for always encouraging me.
Your perspective on life through  the prism of your wonder-seeking heart and through the lens of camera; you notice so much more than the disillusioned eyes of adults take in. Daddy and I gave you a camera for your birthday, and you were thrilled. You've been documenting everything, and I love to see how you see our life that seems so ordinary when it's happening but glows in an extraordinary light in your creative pictures.
My sweet, big girl, I could go on and on about what I love about you. From the day you landed in my arms, alert and squirmy even as a newborn, my life has been more richly blessed than I ever could have imagined.
You are growing into such a fine, young lady. You never stop making me proud.
Happy birthday! Here's to lucky seven. I have a feeling this is going to be a very, very good year.
I love you so much.
Love,
Mommy
We hosted an All Saints' Day party at our house today. We had a wonderful turnout, and a miscellany of saints were represented from Saint Ignatius to Saint Zita. We invited each child to come forward and share a few facts about their saint and his/her life. Then the children guessed which saint the child was portraying. What I love about these parties is how I always learn something new. For example, two children came dressed as St. Catherine of Alexandria, a saint I knew very little about.
I did my annual saint scavenger hunt. (I'll try to remember to post the treasure hunt clues before All Saints' Day next year in case people want to use them. Maybe a reader can remind me in mid-October? Make a note in your iCal now!) Only this year I hid some of my Catholic Folk Toys and Saint Luke's Brush figures, so the children were actually searching for the saint statues rather than the next clue.
After the scavenger hunt, we enjoyed a delicious potluck lunch. It was a great party (aside from Thomas being uncharacteristically fussy).
Here's a picture of our pious crowd: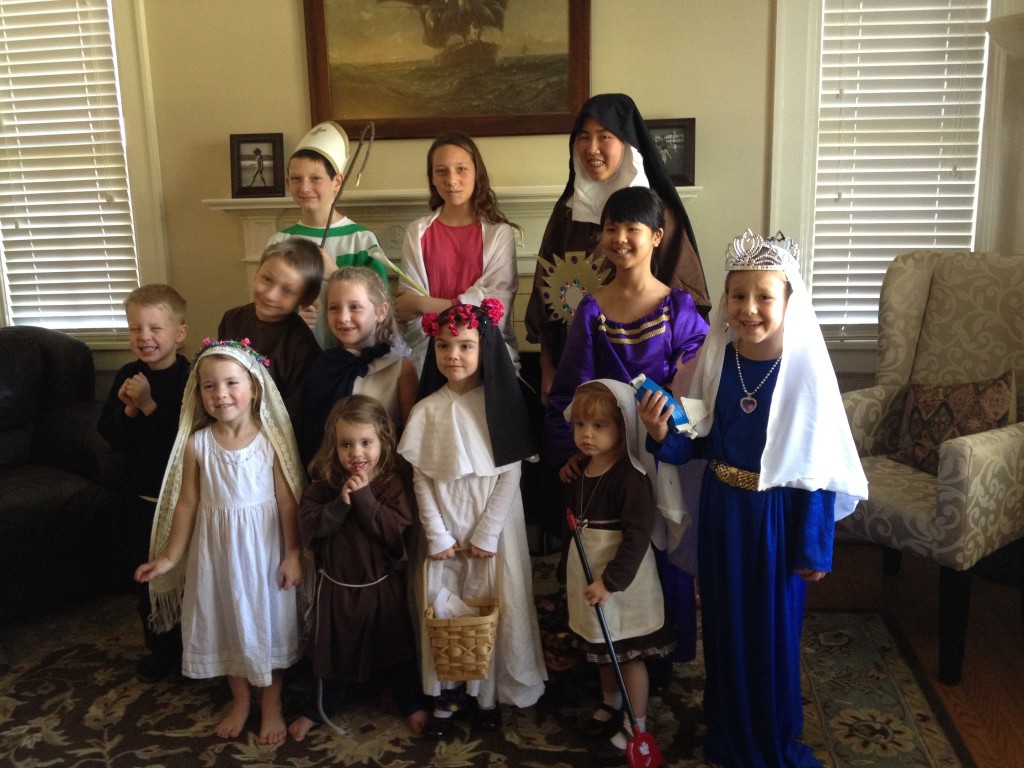 We had a special guest in our midst as well. Sister Bernette was a dear friend of one of the families who came to the party.  Sister was getting ready to leave town to return to the Mother House and spent one of her last days with all of us! She loved seeing all the children in their saintly garb. Can you spot her in the photo below?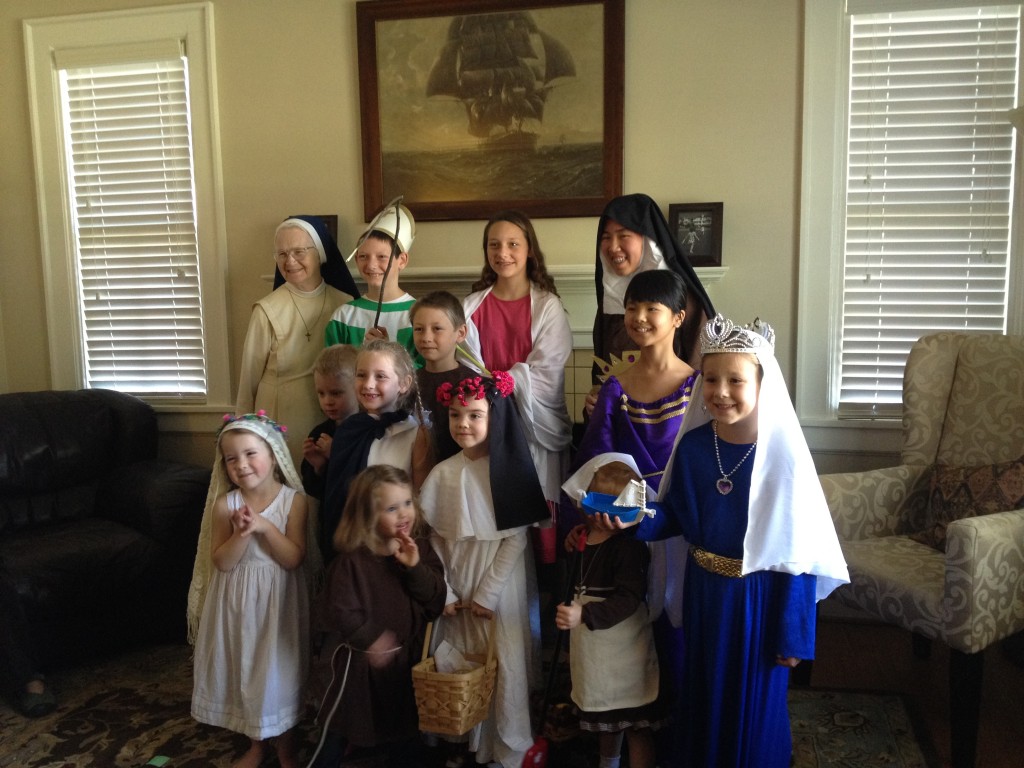 (Oh, and is it just me, or is my Madeline, who turns 7 soon, looking awfully tall and old these days? She's the one in blue on the far right.)
Now here's a fun challenge for my readers. I'm giving away a copy of Lisa Hendey's  excellent new book, A Book of Saints for Catholic Moms: 52 Companions for Your Heart, Mind, Body, and Soul.
(You really must get your hands on a copy; it's wonderful!) I'm also giving away an autographed copy of Weightless.
All you have to do to enter to win is to guess which saint each of my child is dressed as. Leave a separate comment for your guess for each child. The good news is you don't have to be right in order to be entered to win. However, those of you who boast a brilliant saint IQ will gain additional entries for each correct guess. So if you're right for all four kids, then you'll be put down for eight entries.
You can also gain entries by visiting the Amazon page of Lisa's book and "liking" it or by liking my own book, Weightless: Making Peace With Your Body
over on Amazon. Leave a separate comment for each action taken (so if you "like" both books, leave two comments – i.e., one comment saying, "I liked Lisa's book" and another comment saying, "I liked Weightless.").
Other contest rules:
Sorry, but this contest is open to U.S. residents only, please.
Contest ends on Thursday, November 10th at noon EST. I'll draw winners that night and will post them some time on Friday, November 11th.
Now for some clues to help you out in guessing my kids' chosen saints. All the girls' saints are included in An Alphabet of Catholic Saints
. Madeline chose a more obscure saint because everyone has easily guessed her saints in the past (St. Helena of the True Cross and Saint Lucy). This saint was a British princess. She's the patroness of Catholic school girls, a holy death, and educators among other things. Madeline is holding one of the symbols used to represent her. She and several other maidens were martyred when they wouldn't deny their faith.
Rachel's saint helped her family by sewing. One of her symbols is the rose. She had a special devotion to the Infant Jesus. She is the saint of the Americas. This saint was pious from a young age and greatly admired St. Catherine of Siena. When she grew older, she dedicated her life to serving God and performing acts of charity.
Mary Elizabeth is an easy one. Just look at the brown robe, the beard, and the wolf in her arms. 'Nuff said.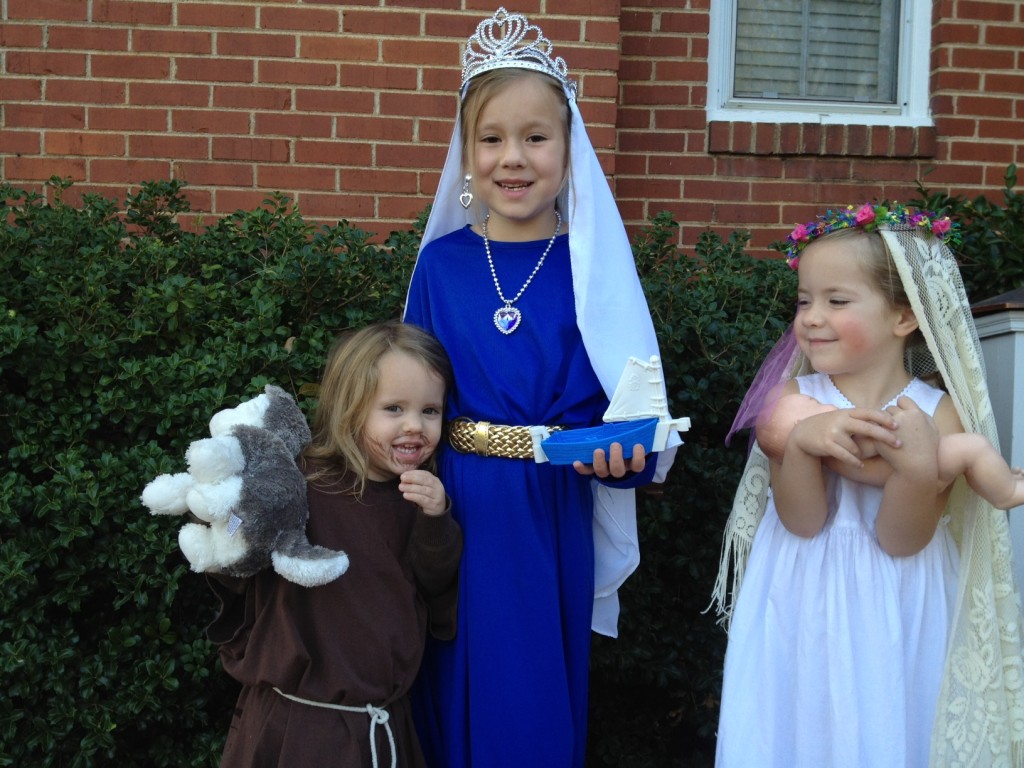 Okay, now for the little man. Thomas represented two different Thomases – one a saint and one a great theologian (but not an official saint). Leave a separate entry for each. (Thomas's middle name is actually Kemp, which is a family name as well but also a hint for the author of one of the books represented in the picture below.)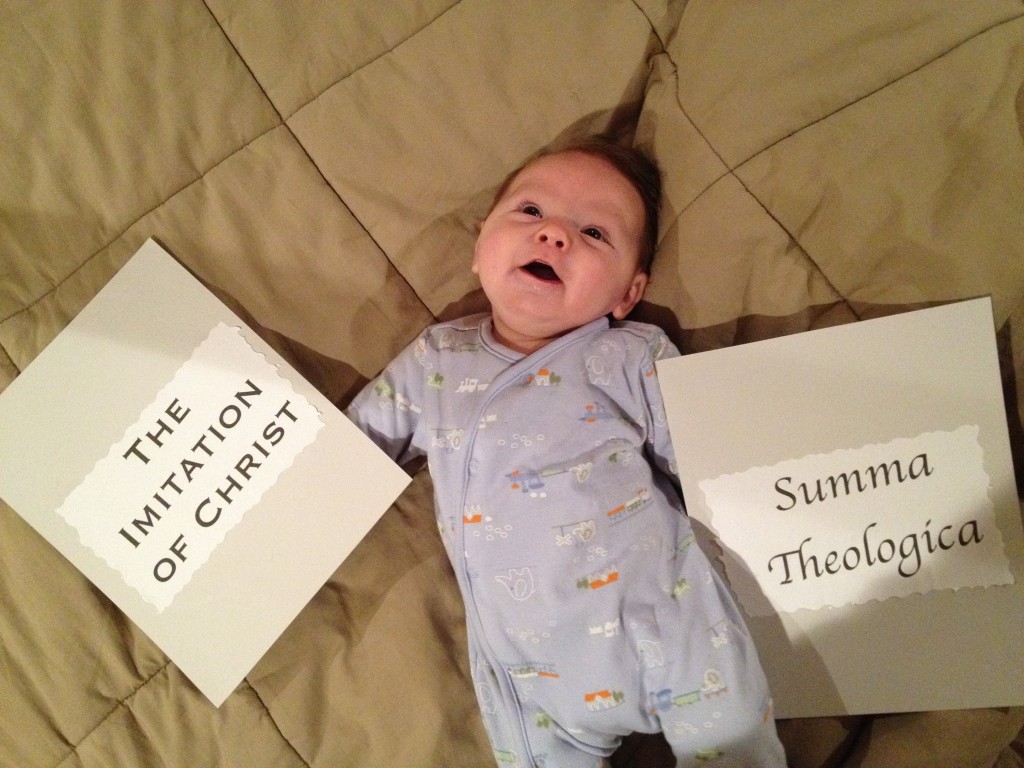 Good luck!
UPDATE: It must be fairly obvious that I don't do contests with much regularity because I realized a few things after I posted this such as the fact that it would become increasingly LESS difficult for people to guess the children's saint costumes as more people commented, so it may end up that a lot of people get double entries. As I've been telling a whole lot of people lately, I'm definitely not in my A-game. Is that even the right expression? Will my cerebral capacity ever be restored to normal? Sleep deprivation does scary things to your mind. I have a very funny anecdote to share about a big mental gaffe, but it will have to wait. I'm going to bed.