Last week three older girls from some homeschooling families I've met came over to be Mother's Helpers so I could continue to stay off my feet and let this baby safely and quietly incubate further. (We'll hit the 36 mark in a few days. People are calling this a miracle baby. I'm not arguing.)
Two of the girls helped Rae and Mary Elizabeth in their architect roles, and they built huge dwellings using beautiful, handmade blocks my uncle recently made for my children. The buildings made the perfect homes for our saint dolls from Saint Luke's Brush and Catholic Folk Toys.
Meanwhile, a 9-year-old girl started teaching Madeline (6) how to crochet. She was in heaven – not only because she looks up to older girls but because she has been wanting to give crocheting a try. So have I, in fact. I hear that it's a little easier than knitting, so maybe I wouldn't get so frustrated.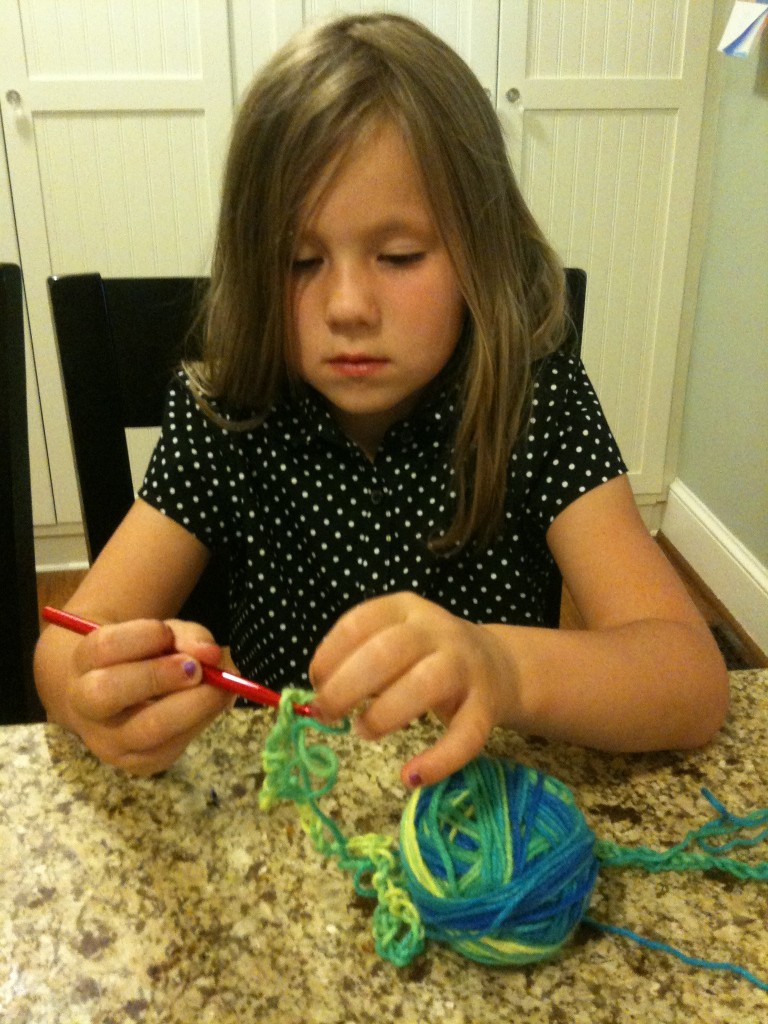 Madeline sure didn't seem frustrated. As her little, patient hands worked, she was focused and happy. She's not even really making anything useful yet. She's simply crocheting a long colorful rope. She's so proud of her work, though, and how long it's growing.
"Look how long it is, Mommy!" she exclaimed.
"Crocheting is my new favorite hobby," she added.
I watched her little hands move with confidence, joy, and with hope, too.
"I'm not ready yet," she told me, "but when I get a little better I can actually make something. This is fun for now though."
And then, "Do you want me to teach you, Mommy?"
Oh, sweet child of mine, I want you to teach me so much. Not just how to crochet but how to embrace the journey, the progress, and the belief that growth has direction and purpose even if it's not all that obvious. I want to find joy and hope in the work that I do even if it doesn't seem to have any real measure – at least not by our society's idea of successful work. Be my teacher. Show me how it's done. Show me how to cherish these beautiful stitches in time together.
—
As always, thanks to Ginny for hosting the weekly Yarn Along posts!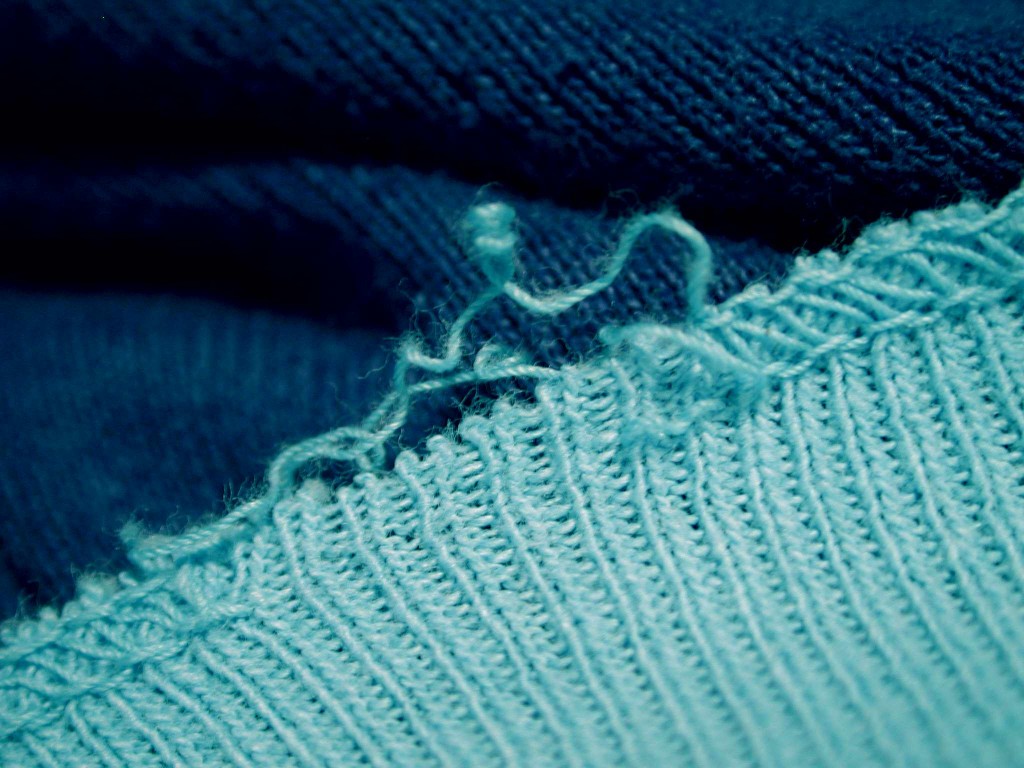 I have no beautiful images to show of my knitting progress (nope, that's not my work to the left; my creation is looking a lot worse, actually). Nervous, antsy hands led to a mistake I could not figure out how to correct, so I've had to start my humble, little scarf completely over. Sigh. So this isn't really a typical Yarn Along post. It's more about a revelation my unraveling scarf (and wise midwife) offered me this week.
As for books, I just enjoyed a completely frivolous, fictional read, thanks to a generous friend who mailed me a new copy of The Castaways by Elin Hilderbrand to gobble up during bed rest after she saw that I mentioned wanting to take Betty Beguiles up on her endorsement of novels by this author. It was nice to insert my nose into a light, enjoyable read.

Now for the meat of my Yarn Along post. Be sure to check out Ginny's place for real knitting and reading inspiration. My own contribution is more like me publicizing an agonizing internal conversation I had with myself earlier this week.

—
I had a prenatal appointment on Monday. I was nervous. I thought of bringing a book but ultimately decided to take along my current knitting project – that simple, soft, sea foam green scarf – instead to distract me from my nervousness. My parents were kind enough to take on the three girls while I went on my big outing for the week (besides Mass and a recent quick date night my wonderful husband surprised me with last night). I wore a cute, Asian-inspired maternity top splashed with colorful blossoms, painted my face with my full makeup routine (something I haven't done much lately), and slipped on some fabulous (and cheap!) pink flats embellished with big blooms (no matter that Old Navy doesn't carry my regular 5 – 5 1/2 shoe size; I've found I can make their size 6 shoes work just fine, especially when they're that cute!).
When I arrived at the office, I felt flushed and even more jittery than before I got on the road. Every time I go to see my midwife since our pre-term labor scare at just over 29 weeks, my stomach twists and turns into knots. I don't like clinical settings period. I really don't like them when I'm faced with wondering just how much more quickly this ticking time bomb known as a gestating mama might appear to be ticking.
In the waiting room, I pulled out my knitting needles and started to knit. But I refused to lean back on the plush couch I was sitting on. I sat rigidly straight and poised to spring forward the moment my name was called. I refused to relax.
A young, new nurse just joined the staff. She was so sweet the last time I was there and asked if I was having my first baby.
"Fourth," I told her like I was some wise, old pro. Only every pregnancy – especially when the finish line is in sight – makes me feel like I'm doing this for the first time.
The new nurse was there on this Monday, too. She called my name, took my blood pressure, and remembered that she's not supposed to weigh me because doing so will cause my typically low blood pressure to skyrocket. (God bless her.) Instead, I whispered my weight to her – the number that registered on my home scale that morning where I could privately see how much I'd gained without too much anxiety.  Old habits die hard. (For those of you new to my blog, I suffered from a clinical eating disorder and was not so long ago a total slave to the scale.)
Pregnancy, at times, offers me respite from thinking about my weight or worrying about it at all. Other times it makes me more aware of how little control I have, and I desperately want to find my equilibrium on the scale. With one of my four pregnancies I regrettably admit that I restricted what I ate in an effort to keep the number low. I ate healthy, but I often did not eat enough.
Another pregnancy was very liberating, and I felt beautiful and fertile and didn't worry so much about what the scale or anyone else said. This pregnancy has been somewhere in the middle. I'm trying to not focus on how much weight I've gained and haven't been restrictive. I ate peach cobbler on Sunday. The warm, sugary crumble and the sweet peaches were swimming in a lake of melting vanilla ice cream. It was delicious! During the more restrictive pregnancy I swore off anything sweet and yummy, so this would have been definite dietary contraband.
Yet, not being able to exercise for over a month now has taken its toll on me emotionally and physically. I feel achy and not like myself. I miss moving my muscles. I fear this baby's going to be humongous because I've been giving myself permission to taste the sweetness of dishes like creamy peach cobbler without a dollop of guilt. Despite measuring one to two weeks behind (which has been the case in all of my pregnancies and seems to be a healthy norm for me), I feel like this baby is taking up a whole lot more space than my previous little ones. (This is partly due to the fact that I regularly feel his or her head move deep down in my pelvic region – what a weird sensation to constantly feel twinges in your cervix – and then I'll also feel a kick closer to my ribcage and think, "How long is this guy or gal?")
Being convinced a gargantuan baby has made his or her home in my womb because I've allowed myself to occasionally eat desserts? Irrational? Perhaps. Old demons have a way of resurrecting themselves when you find yourself at a vulnerable place. And any type of pregnancy complication makes you feel more vulnerable.
When the nurse was taking my blood pressure,  she saw my knitting stuffed into my over-sized purse/diaper bag.
"Do you knit?"
"Sort of," I admitted.
"What are you knitting?"
A HUGE BABY! (Ha-ha. Just kidding.)
"A scarf. That's about all I can manage."
"I tried knitting, but I just couldn't get the hang of it. My sister is good at it though. Her hands move quickly. She just gets it."
I shoved the needles and yarn more deeply into my purse and wished I'd brought a book instead.
Well, it's a start.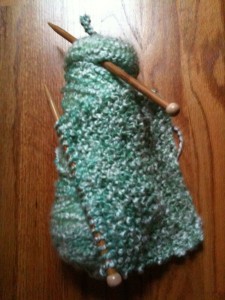 So I went ahead and picked up my knitting needles again. They'd been gathering dust, along with colorful skeins of yarn, in a basket in the corner of my closet for months and months.
I used to knit fairly often but never very well.
When I was pregnant with my first and working as a full-time journalist, I was assigned to write an article on the knitting trend and how a renaissance was underway for handiwork. In the community my husband and I were living in at the time, casting on was all the rage for the younger generation. I interviewed the owner of a local yarn shop to figure out why an "old-fashioned" hobby like knitting was becoming so popular. She said something about how women of all ages were longing to slow down. Life was busy; they wanted something that would make them pause but still allow them to have something to show for their time – like a scarf or a dish towel.
I remember her also telling me there was no knitting stereotype. It's true. Women who knit are soccer moms, career executives, college students, and bohemian wanderers. What all these women have in common is the desire to create. The repetitive movement of knitting is soothing, and the yarns are beautiful. I remember standing in my interviewee's knitting shop, which was stacked wall-to-wall with balls of yarn that came in myriad textures – from silky, eggplant purple or lime green threads to varicolored fabrics recycled from Nepalese saris. The yarns appealed to my senses. And the idea that my two hands coupled with a pair of needles could turn these yarns into something beautiful and maybe even useful lured me in.
I'd always wanted to sew, but I'd been a complete failure at it. My mom, who is a quite talented seamstress, tried to teach me several times, but she finally said I might not have the patience for it. I wanted to skip the learning and get straight to the making of stylish garments with perfect seams.
I wondered if knitting might be a better fit for me. No machine was required. Just my hands and a couple of needles, a skein of colorful yarn, and a little creativity. Plus, my mother-in-law knits and crochets, so she was able to to help me along the way. I also took a few lessons from the owner at the local yarn store.
I had all these plans to knit beautiful baby blankets and rainbow scarves for friends. I did knit quite a few basic scarves and even finished one beautiful corner of the baby blanket I had planned on giving to my firstborn. (It remains tucked away in my closet and would make a nice hankie.)
After Madeline – the baby who never slept and was happy nursing constantly – was born, my time was in short supply, and I chose to fill my limited free hours minutes with writing, reading, or exercising, and knitting fell by the wayside. At least that's what I used as my excuse. Who had time to knit when faced with the all-consuming nature of caring for an alert, little one?
I did briefly return to knitting when my husband's hours during residency were particularly bad and when most of my evenings were spent alone after I'd gotten all of the girls to sleep. Then I gave up on it again.
I can't completely blame the busyness of my life with littles for my decisions to keep hiding my knitting gear away.  The truth is, I never really excelled at knitting. My hands were not all that nimble. It took a lot of concentration for me to do anything other than a basic knit stitch, and I'd sometimes mess up my rows and couldn't bear the thought of having to unravel all that work to fix my mistakes. Yet, I didn't like the glaring imperfections in my handiwork either.  I couldn't win, so I gave up knitting and assumed it just wasn't for me (like sewing, like anything I've ever attempted that I wasn't a natural at).
Lately, I've been seeing all the Yarn Along posts inspired by Ginny. I saw that Elizabeth decided to put her own hands to work and to create. She seemed to so quickly pick up on the skill. She's making shawls and sweaters; I never could get past the most basic scarf. But every time I walked into my closet and  caught a glimpse of my old knitting supplies, I wondered why I was so afraid of failure or even just plain mediocrity. I don't need to knit Fair Isle sweaters to find enjoyment in the rhythmic repetition of my smooth Bamboo needles sliding against each other as I performed the most basic knit stitch. All those interlocking loops were making something whole, if not perfect.
So often in life my desire to excel and to produce only flawless results has had a way of pushing me to quit a new endeavor unless I'm a standout superstar at it right away. Since becoming a mom, I've been working hard on overcoming this trait of mine because I don't want my children to sit on the sidelines of any activity in life just because they're not the best at it or because they have to work harder at it. And also because motherhood has a way of humbling you. I work so hard to create, to gestate, to mold children and love them well, but just like their mother, they are not flawless. I have to accept them and myself with all of our faults and quirks and loose stitches.
Mediocrity used to terrify me; now it humbles me. This has been a year of focusing on progress instead of perfection, and what better way to embrace that than to give knitting a try again?
So I did. I was surprised that my mind knew what to tell my hands and that I hadn't forgotten how to cast on. I decided to just stick with the basic knit stitch.
Now every day, at least for a few minutes, my hands create as I quiet myself so a baby can be more carefully knit inside of me.  It's nothing spectacular – yet another simple scarf I'll add to my collection or maybe share with one of my daughters. But the progress, the growing rows, the repetitiveness, the recognition that just because a knitting project is uncomplicated and imperfect doesn't mean it's going to unravel – these have been soothing and satisfying.
I hope this time I won't cast off too soon and that I'll stick with it celebrating my effort and my progress.
—
Please stop by Ginny's place and see the yarns others are spinning. Her weekly Yarn Along posts share not only knitting projects and books we're reading, but also the wisdom we glean from the acts of slowing down, pacing ourselves, and giving ourselves the time to create and/or savor the words of others.