The Woman Behind the Blog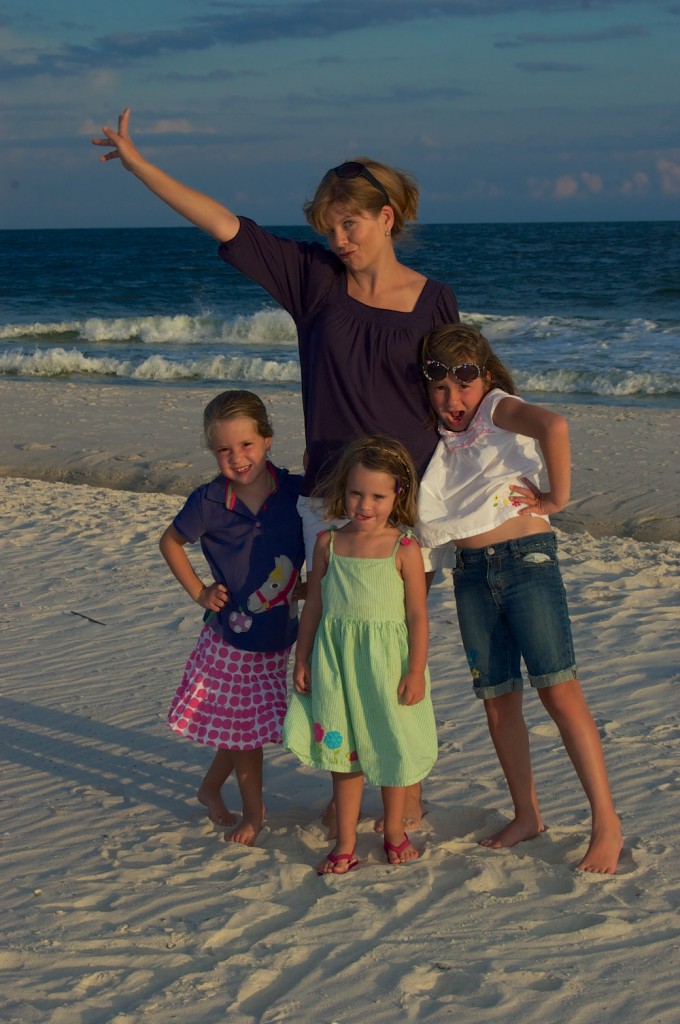 The quick lowdown: Married with four children (the men in my life – my husband and baby boy – not pictured in above "girls just wanna have fun" photo). A sometimes-journalist, author, speaker, and 24/7 mother who's in the business of hazardous waste removal, prescribing kisses for scraped knees, growing babies, nurturing souls, and looking for God (and runaway baby socks) in the trenches of motherhood.
Now get comfy, and grab a cup of joe or tea or a glass of vino (whatever you fancy) and settle in for the uncut narrative of the woman behind yet another blog.
Comb my archives and you'll gather a few (too many) things such as: I'm a cradle Catholic. I'm a total Type Aer. I'm a book junkie. I'm a former vegetarian, and I still don't eat red meat, much to the dismay of my carnivorous family.  In my pre-mom days, I taught aerobics and squandered all that free time I took for granted running long distances. I still aim to break a sweat at least occasionally, but these days my workouts often consist of dancing in the living room with my kids or chasing a bare-bottomed toddler down the hallway. Just recently, though, I've started running again in the wee hours of the morning. I have plans to run another marathon – something I did in my pre-mom days – soon, but so far I've been focusing on 10Ks and half marathons.
I'd like to write a Great American Novel someday, but I'm okay with just finishing a long work of fiction. I used to be a morning person. Then I gave birth to an insomniac, so some days I have to summon all my strength just to get out of bed, but I'm (almost) always glad I did.
I had a clinical eating disorder. I'm considered "recovered," but the relics of my past have a way of resurrecting every now and then. So I write about body image. Because it's cathartic. Because body image is the way you see yourself in your mind, and positive, edifying words help recreate that image into one of beauty even if you have a streak of diaper ointment in your hair. But no matter how you see yourself, God sees you differently.  He sees me differently, too, and as someone who is always worthy of His love even when I really don't deserve it. I just sometimes have a hard time believing that and even believing in Him. Spiritual dryness stinks.
What's really crazy is I have a husband who sees me the same way. I never thought I'd find a guy who would unconditionally love me and my perfectionist, stress-ball ways. But here I am married to one. And note on said husband: He is an extremely private person and does not get the whole blogging thing. Nor does he want his life out on the dissection table, so you won't find too many photos of him (here's one!) and if I don't mention him in post after post, don't start connecting imaginary dots. Our marriage is just fine.
We have three girls and one boy. I try to love them the same way God and their dad love me – unconditionally, patiently, and gently. But I fail sometimes. Good thing I've never been afraid to ask for forgiveness, and children are thankfully good at forgiving – and forgetting, too.
I was 23 when I married the aforementioned husband. I wanted a Catholic prince, but God has a way of denying us what we want and giving us what we need. My non-Catholic husband and I met on the Mock Trial team in high school. (He he had me on "Objection, Your Honor.") We clearly belonged to the "in" crowd.
Okay, so I was (am) kind of a nerd and while I met my future husband in high school, we can't really call ourselves teenage sweethearts since we amicably parted after (he claims) I dumped him for a beefy jock (I have no recollection of this).
Our "happily ever after" really began when I was getting ready for law school; he was selling cars to save up some cash before starting medical school. He stuck with his dream and not too long ago wrapped up a decade of medical training and joined a private practice in Georgia. We had babies during the lean, chaotic years of medical training despite multiple warnings not to, and the only thing our little ones lacked was a Pottery Barn nursery (or any nursery at all; we'd rather have them sleeping close by anyway). I'm a law school dropout and proud of it. I went to law school out of fear. I wanted to write, but I was afraid of putting myself out there. I still am, but I do it anyways.
I always wanted to be a mom, and now I am one. I knew mothering would be hard, but not this hard. How do I do it all? I don't. But anything I do accomplish is only with God's grace.
I homeschooled for nine years, but we recently shipped the kids off to school. We're taking it child by child and year by year. I'm a natural birthing, babywearing, extended breastfeeding, co-sleeping mama because that's what works for us. (Lest you think I'm completely crunchy we use disposable diapers – and get them from free from my dad who's been in the diaper business for years! – and Goldfish are an approved snack around here.) I don't judge moms on their choices. We do what we have to do and if feel guilty about anything, chances are, we're doing a good enough job raising our children.
And I'm a woman of many words. Obviously. I have my degree in journalism and once upon a time I worked on the editorial staff of a parenting magazine. Now I blog, ramble, and dabble in freelancing. Oh, and one of these days I'm going to wrap up one of my "almost finished" novels.
Aside from this corner of cyberspace,  I sporadically share "tweets" at Twitter. Follow along here.
God has been very good to me.
I invite you to share glimpses of His goodness and my badness by subscribing to my blog. I'll try not to post too many photos of my charming children. But when I do, remember the grass isn't always as green as you might think.