Dear Skinny Jeans,
I haven't forgotten about you although I am working on it and hopefully at the end of this letter my farewell to you will be complete. For some reason, every time I open my closet lately I hear your siren song calling my name, taunting me and telling me that life was better…I was better, stronger when I fit comfortably into you. Sometimes I mark my life by the times I weighed this or that. And, of course, there was the skinny jeans age when I effortlessly slid into your tapered denim legs. My mom was buying me a special birthday gift, and we were at a store I couldn't afford to shop in at the time. My third baby was not quite one year old. I was running around raggedly. I took (foolish) pride in my lithe postpartum body. I found you, and you were even on sale. My mom and the sales lady all said you looked great on me, and I felt great wearing you. But maybe that was the problem right there. Clothes or the way they fit me shouldn't dictate the way I feel, especially not the way I feel about myself, my strength, or my worth.
So the other day, knowing full well I am not as thin as I was in that glittery-gold "skinny jeans era" even though I cannot recall the last time I stepped onto a scale, I decided to try you on – just to see how you'd make you feel. Why do we women let a number on a scale or a clothing label or how a pair of jeans fit us shape the way we see ourselves and even our lives?
Well, I had to stuff my flesh into you. The zipper slid up easily enough, but then I had to lie supine on the bed to button you and then I felt like I couldn't breathe. You didn't make me feel good at all. You reminded me of failure. You reminded me of weakness. You made me fearful of the "fat" girl of my past – the one a boy spat upon on the bus, the one another group of vicious boys oinked at, the one who bore the nickname "Miss Piggy."
This girl: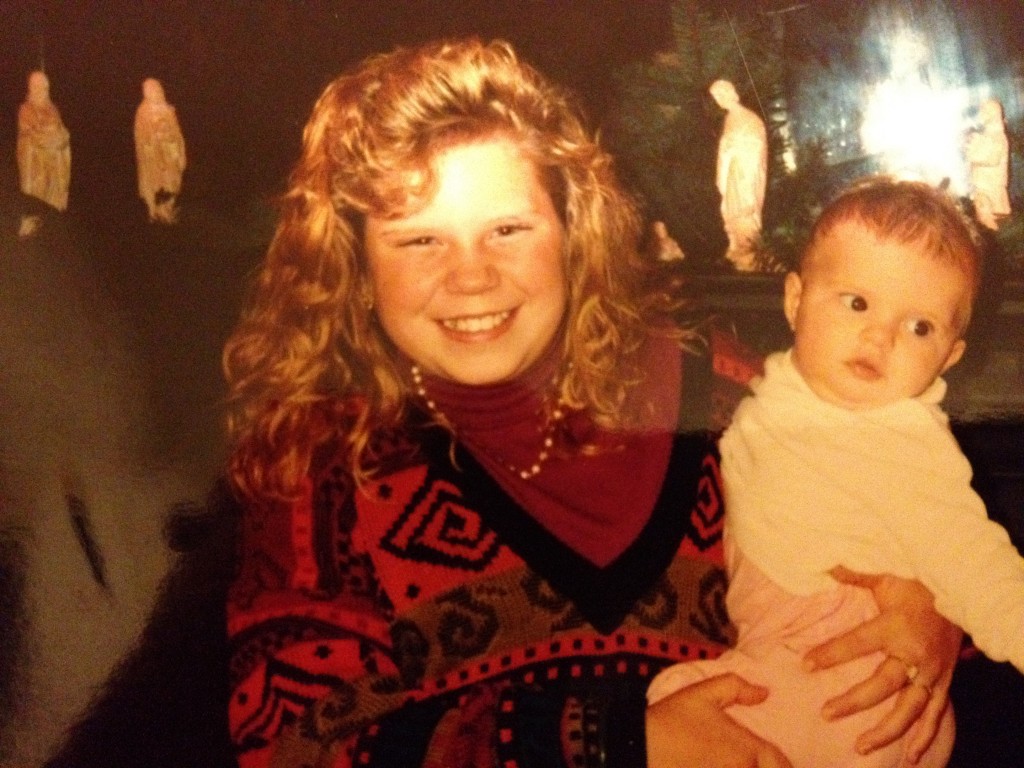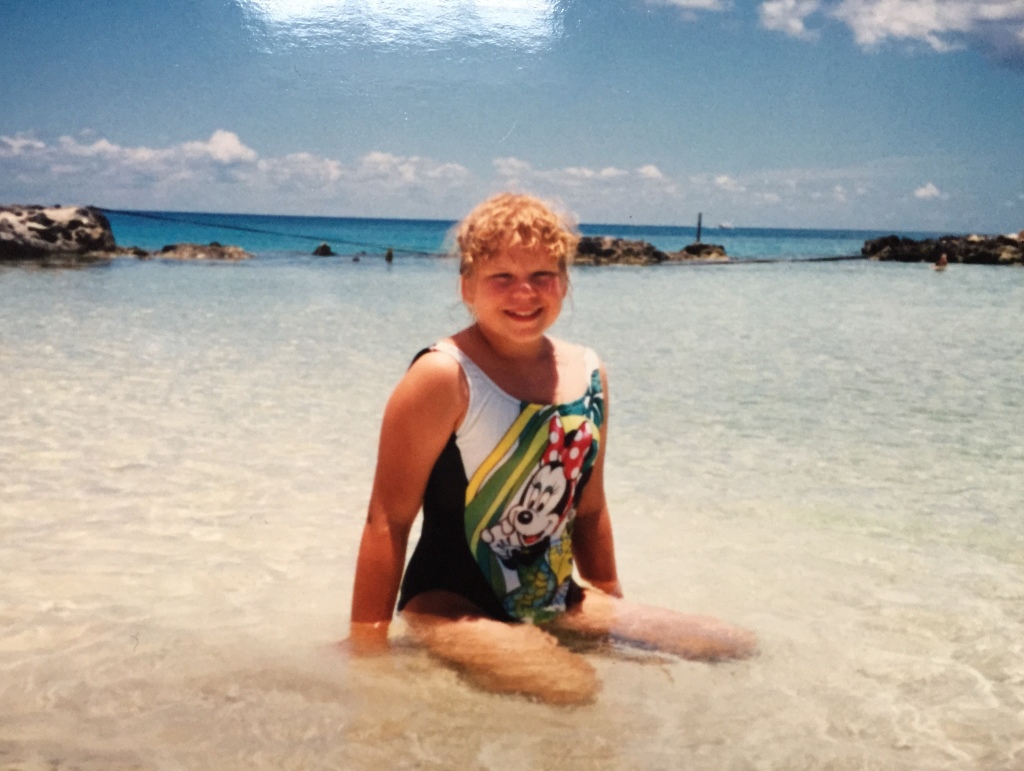 Walking stiffly around my house with you clinging to me was a form of punishment, and there was also an unrealistic hope that you would quickly stretch and fit me loosely as you once had. I found myself mourning the old me – not one my critical self labeled as the "fat" one  – but the one who was thin enough that you hung loosely on my hips. Now you dug into my hips like sharp teeth, and I wasn't sure which pain was worse – the searing physical pinch of tight fabric on skin or the emotional pain. It wasn't so much that I was married to the desire of looking good in you any longer. It was just I wanted to protect myself against future pain. I equated wearing you with happiness and security when really those things have nothing to do with my waistline. And I was afraid that allowing you to become tight on my waistline was allowing myself to slip back into that lonely, uncertain girl who got teased on the school bus.
I peeled your denim off me like it was second skin I was shedding. I cried at first because of what I had lost – a size 25 inch waistline, power, ephemeral happiness. But then I started to weep for a different reason. I hated it that someone who was supposed to be a body image role model, someone who was blessed with daughters whom she wanted to teach to reclaim the beauty of Creation, someone who wrote a book called Weightless and now I felt weighted down by this burden of self-loathing. This led more tears to flow.
Rationally, I know that thinness does not equal happiness. It is an illusion. Skinny people suffer. Overweight people suffer. Rich and poor suffer. Most human beings suffer. I also know that I like to pretend that I was gifted with you during a blissful, healthy time,  but this is a half-truth. I had happy moments, but I was thin partly because life had lost its luster and so had food because I was mired in the darkness of postpartum depression. On the outside, I looked happy enough, but on the inside I was breaking and crippled by sadness and uncertainty. That's been a trademark of big chunks of my life – smile, be the life of the party, and then go home and weep, question every word you uttered, berate yourself for all that you are and all that you lack.
And you, Skinny Jeans, I was allowing you to be another reminder of all that I wasn't and couldn't be instead of seeing you as just a silly piece of clothing from a distant part of my life. My expectations of still wearing you comfortably after four children and when I eat fully and richly without counting calories and exercise out of enjoyment and not as a punishment or obligation, it was absurd. And, yet, I couldn't let go of you right away. So I draped you on a hanger and hung you on a silver knob of my dresser where I would see you every morning and each night in hopes that you would remind me of what I once was and give me the drive to be stronger, to work harder because I couldn't let myself go. I couldn't return to what I saw as that unlovable, little girl hidden behind too many layers of flesh, the "fat," ridiculed one.
A reader once emailed me that while she appreciated my book and writings on body image, she also found it disheartening because in her words I was a thin, pretty woman, so how could I really know what it's like to feel overweight and unlovable? At first, I was angry. Who was she to tell me what I was qualified to write about? That's what my pride said.  Then I was hurt because I wanted to tell her she didn't know me when I was the overweight kid and the object of fat-shaming and bullying. Of course, she also didn't know me when I was the ugly duckling turned swan and very confused by the new attention from boys and people calling me pretty. It didn't sit well with me. I felt like the same person through all those phases, but people saw me and treated me differently based solely on a change of my physical appearance, and sometimes I gloried in it – all that newfound attention. Other times I resented it. I just wanted people to love me for me and not comment on my aesthetics. At the same time, my peers' admiration gave me satisfaction. I can remember going out to eat with girlfriends and nibbling on shards of lettuce while they took down greasy cheeseburgers and slurped up thick milkshakes and thinking that I was stronger than they were.
And if people thought the thin me was better than the heavy me, then how much better would they think an even thinner me was?
So I restricted more, but it wore on me. And sometimes there was something freeing in scarfing down Twizzlers or globs of gooey cookie dough. Eating was a guilty pleasure instead of just a pleasure. I was the perfectionist who found short-lived happiness and relief in overeating because it felt like a moment of freedom and reckless abandon. But the guilt that followed was overwhelming. I couldn't let myself to return to that bigger, scarier version of myself.
But what I know now even as I mourn the skinny jeans era is that I'm not afraid of gaining weight or being what the world might consider "fat." What I'm really afraid of is rejection. I want to be loved and lovable – able to be loved. We all do. Don't assume a woman perceived as beautiful by society doesn't deal with loneliness or self-hatred any less than a woman who is seen as overweight might. The outside is a poor indicator of what's going on in the inside for a lot of people.
One day my 10-year-old waltzed into my room. Sometimes I look at her and feel equally proud and sad. Proud because she is so comfortable in her own skin. She sees her body as a strong instrument that can run a mile in just over seven minutes and can take her across the soccer field or basketball court rather than an object to be fixed or tweaked. In a world that lauds self-improvement, this is a young girl who is satisfied with herself and sees that she is good enough. I was nine when I first considered dieting. A few years after that I had started to hate my body and wanted to hide all that extra flesh away. I decided I would be the funny, outgoing girl to distract people from the extra weight I was carrying around. My oldest daughter has made no such decisions. She's herself because she's herself. She's outgoing because she likes people, not because she wants them to like her.
Well, she noticed you, Skinny Jeans, hanging on my dresser. "Are those new?" she asked.
"No," I told her.
"They're cute. They look like they might fit me," she remarked.
My girl takes after her daddy. She is tall. I have already started passing down old running shorts or tops I no longer wear because she's nearly my height, and her hands and feet are already bigger than my own. She has just started to take an interest in trying on my clothes.
"Can I try them on?" she asked.
"Sure," I said. "But they'll be too big on you."
My beautiful daughter still thankfully impervious to any trace of body image angst yanked the jeans off the hanger. She clearly did not revere you, O Skinny Jeans, as I did. You were just a cute pair jeans. Nothing more, nothing less. She tried you on, and I was shocked to discover you were just a little long and your waistline was only an inch or two too big. You almost fit my athletic 10-year-old daughter, and I had been berating my approaching-40-body that has been pregnant five times and brought four children into the world that you were too tight on me. Why was it that I was using an old pair of jeans as a barometer of my self-worth? Why was I so afraid of letting go of being thin and just being satisfied with being fit and happy? You were given to me under subterranean duress when I didn't feel like eating or doing much of anything else. You do not personify joy or happiness. And my no longer fitting into you like I once did doesn't mean I am on the verge of being my scared and rejected 9-year-old self.
Skinny Jeans, you are nothing but fabric – and not even all that much of fabric considering my 10-year-old will probably comfortably wear you in a year or two. You are not the Holy Grail of Happiness. You never have been. You, the scale, my weight – none of this defines me. I refuse to listen to your taunting, to the lies you whisper to me that if I lose enough weight so that you sag on my hips again, I will somehow be happier or inoculated against self-doubt. I will not hold onto you or another life I wish I was living. This is where I am now. I am going to be content with this beautiful now.
Thanks to you, I decided to sift through my closet and purge. I wasn't just saying good-bye to old clothes or clothes that never made me feel good about the natural design of my body, it was a valediction to negativity and an illusory hope that life was better in the past (when I fit well into this bit of clothing) or would be better in the future  (when this article of clothing fit me again) when it's pretty damn wonderful right now. It was a purging of self-loathing, self-scrutinizing. A purging of ridiculous expectations and holding onto certain articles of clothing that represent a life I think I want to live rather than being content with the life I am living. Why do we sugarcoat the past and glorify the future while muddying up the present? I realized that in holding onto all these different sizes of clothing – the "skinny" clothes, the "just-in-case-I-gain-a-few-pounds-or-get-pregnant-again clothes" – I wasn't allowing myself to fully live in the now.
What I decided to keep were the life-I-am-living-right-now-clothes and the if-I-really-stop-to-consider-it-the-life-I-am-so-grateful-and-happy-to-be-living-right-now-clothes, the comfortable clothes, the jeans that my figure fills well now and has for the past few years, the pretty, delicate, bohemian lace top I feel feminine yet adventurous in, the cozy sweaters, the line of brightly colored fitness clothes I have covered many miles in or held a plank in. The neon tank ("You look so pretty in those bright, neon colors," I hear the friend who gave it to me as a birthday gift saying) I wore when I recently ran a 5K where I somehow placed first in my age group and third overall in the women's division. These remind me that the size on the label of my clothing have nothing to do with my strength or my happiness.
Ironically, back when I wore you, Skinny Jeans, I felt too tried to run or to do a push-up. Now I run as my body allows, which isn't as much as I'd like, but God has a way of humbling me and reminding me that sometimes a weaker body yields a stronger soul. These days I weight train because I enjoy it and because it's something my husband and I can do together in our basement after the kids are asleep. I play pickup basketball games with my kids and end up sweaty and happy. I jump on the trampoline with my little jumping beans giggling around me. I dance in the kitchen while listening to Pandora and making my family's dinner, and my kids either join in or affectionately call me a geek. I was always a geek. After I made my transformation, a boy said, I was a geek trapped in a hot body. But like the beautiful weight loss memoir I couldn't put down, It Was Me All Along. Once a geek, always a geek and proud of it.

I am not going to fear my (heavier) past or yearn for a different (thinner) future. I am not going to see myself as a failure just because I still sometimes struggle with seeing food as a necessary pleasure and as fuel rather than thinking about it too much and wondering if maybe I, too, should go paleo or give up gluten or try to be a vegetarian again when I know that for me everything in moderation is the best dietary path to take. I am not going to hide away and not write for weeks on end because the ghosts of my eating disorder have returned to haunt and tempt me and I feel like I am a hypocrite if I try to be encouraging when maybe we all need encouragement from real people like me who have suffered and still do from time to time. I am going to share my mistakes, my weaknesses, these big, confusing feelings I sometimes still have about myself, my weight, my personality, my life in hopes that they might help someone else out there. I am not going to let an old pair of jeans  – or a new pair of jeans either  –  control my happiness. I can choose joy. I can always choose joy.
I imagine a ceremonial burning where I hurl you into the flames and watch your faded denim turn to ashes, but I then I realize that would give you far too much power. You're just clothing. My daughter might need a new pair of jeans in the future. My thrifty side can't deny that, so I'll just tuck you away in a storage closet upstairs. As for some of your friends – other pieces of clothing that don't make me feel good about myself or my body like the floral pencil skirt that never fit me right, but I held onto thinking that something was wrong with my body's proportions and thinking I could change my natural shape instead of considering that perhaps something was wrong with the cut of the skirt – well, I'm moving on and donating some to charity and selling some on Thred Up. I don't need to keep anything around that makes me unhappy or tempts me to criticize my body. Clothes like that are like bad boyfriends, and I had one of those in the past who made me feel just as badly about myself but that I kept around for far too long thinking there wouldn't be another guy who would take me. And here I am married to a man who would have taken me when I was 16 if I'd given him more of a chance, a man who loves every inch of me and always will, a man who says he loves a happy me the best no matter what the blasted scale says or what jeans I'm wearing. I hope these pieces of clothing will find their way into another woman's closet and that they will make her feel good and happy and content with the life she's living. Because whether we are a size 0 or a size 20, we all deserve that.
The week of birthday letters! My sweet M.E. turned 6 on Easter Sunday this year, and she lost her first tooth that day! It was a memorable birthday!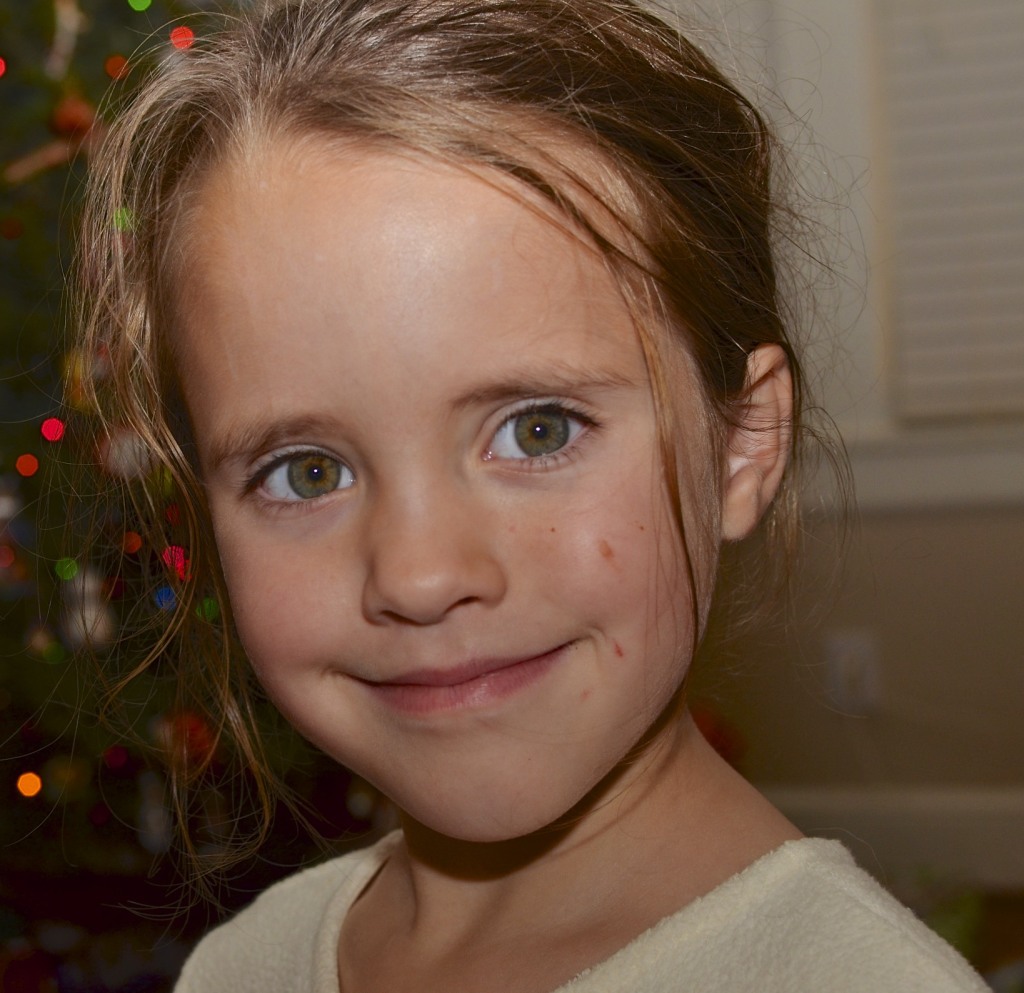 Dear Mary Elizabeth,
Happy 6th birthday! As Madeline sometimes writes on birthday cards of little ones in the neighborhood, 6 is such a big number. Truly. When we moved here, you were just a chunky nugget (Papa called you "Chunk Style" when you were a baby), and now you're a long-haired, little girl who is usually very easy-going and free-spirited, but you most definitely have a feisty, stubborn streak.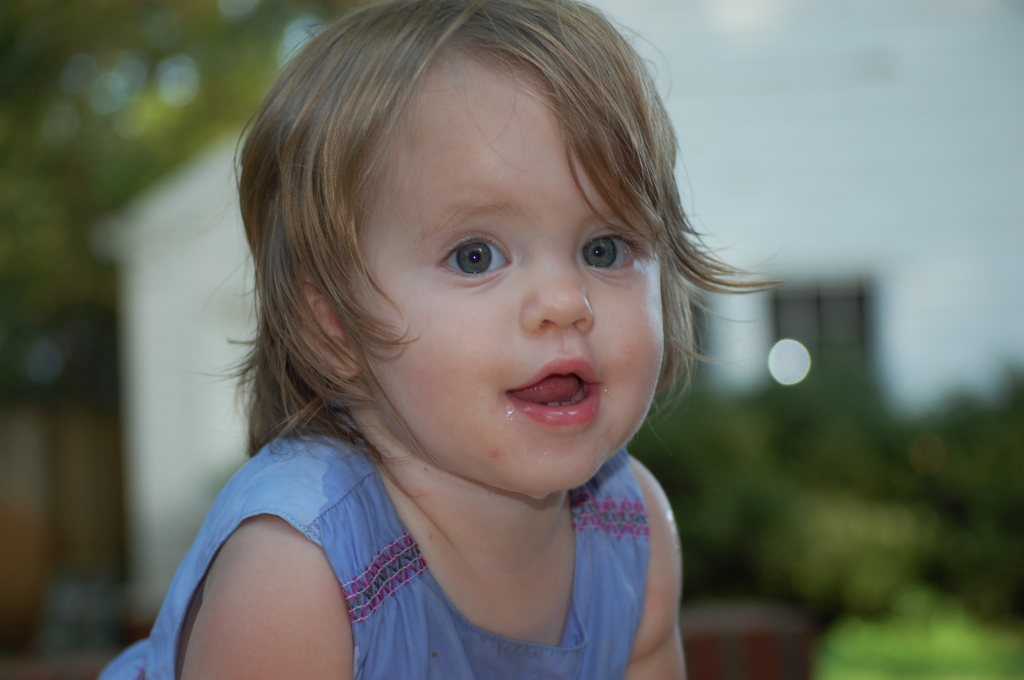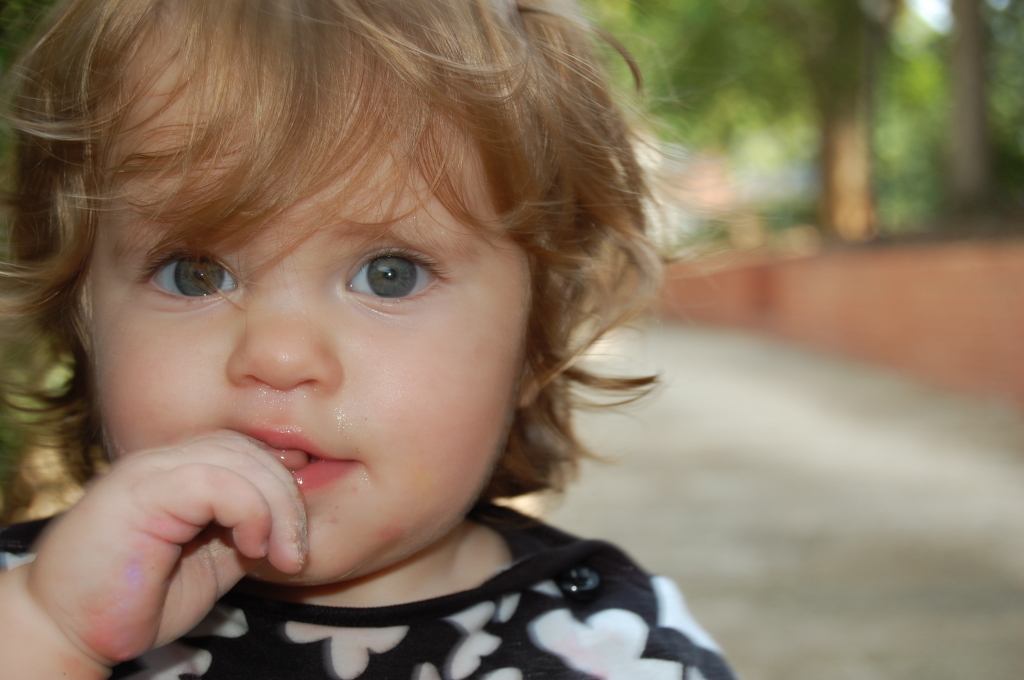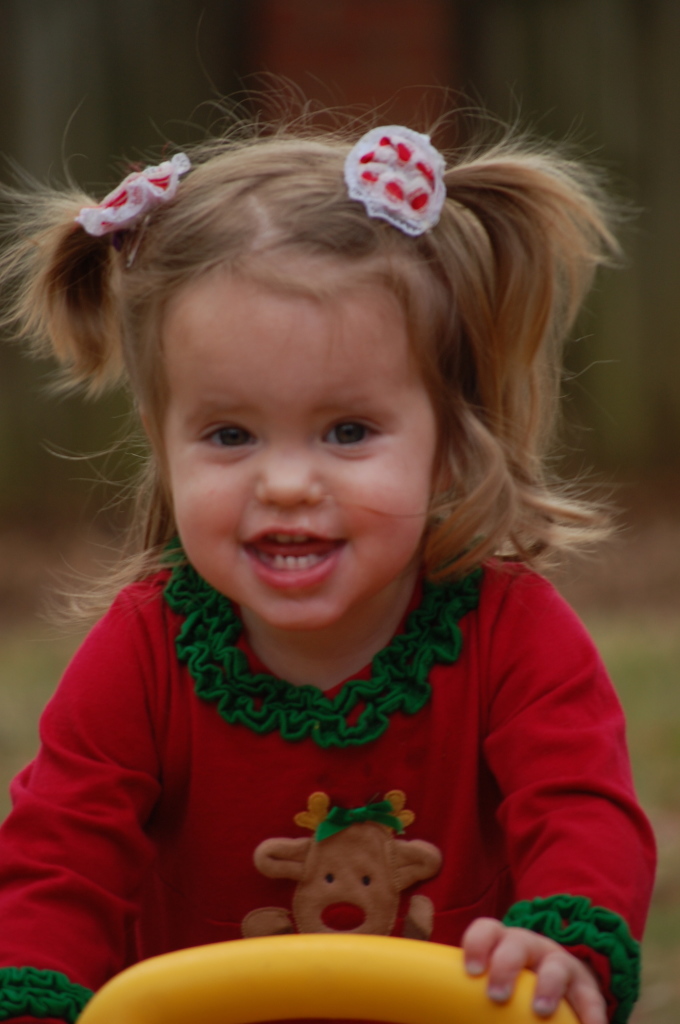 You're playing soccer this year and loving it. You run after the ball with fierce determination. You told me after a game against a particularly physical and rough opponent, "I may be a little thing but when I'm out there, I turn into a pistol." You may have overhead someone saying that about you, but it's true.
You're such a wonderful combination of femininity and fierceness. You'll be wearing a glittery bracelet that you've dubbed your party bangle while digging in the dirt searching for earthworms. You love to draw and one moment you'll be sketching the dainty flowers and the next minute you're doodling goofy, cartoonish characters with jagged teeth and bulging eyes.
You love to accessorize. You always have as evidenced from the photo below. A girl can't have too much bling.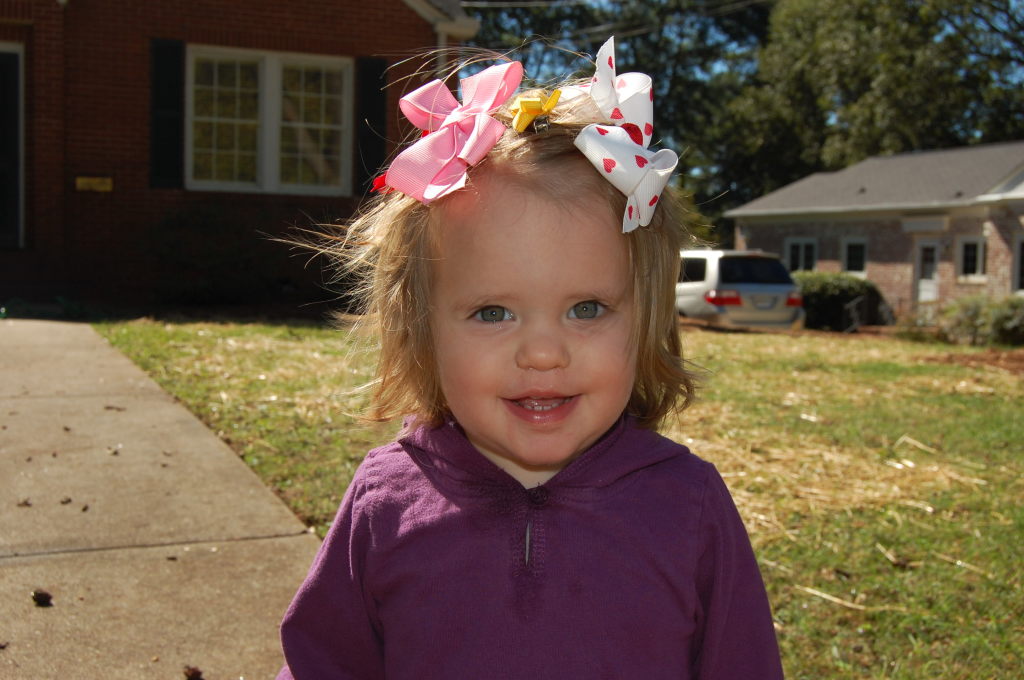 For your birthday a thoughtful neighborhood friend gave you a gift certificate to Claire's. You'd never been to the mecca for fashionistas. I'd say you were fairly excited by the selection.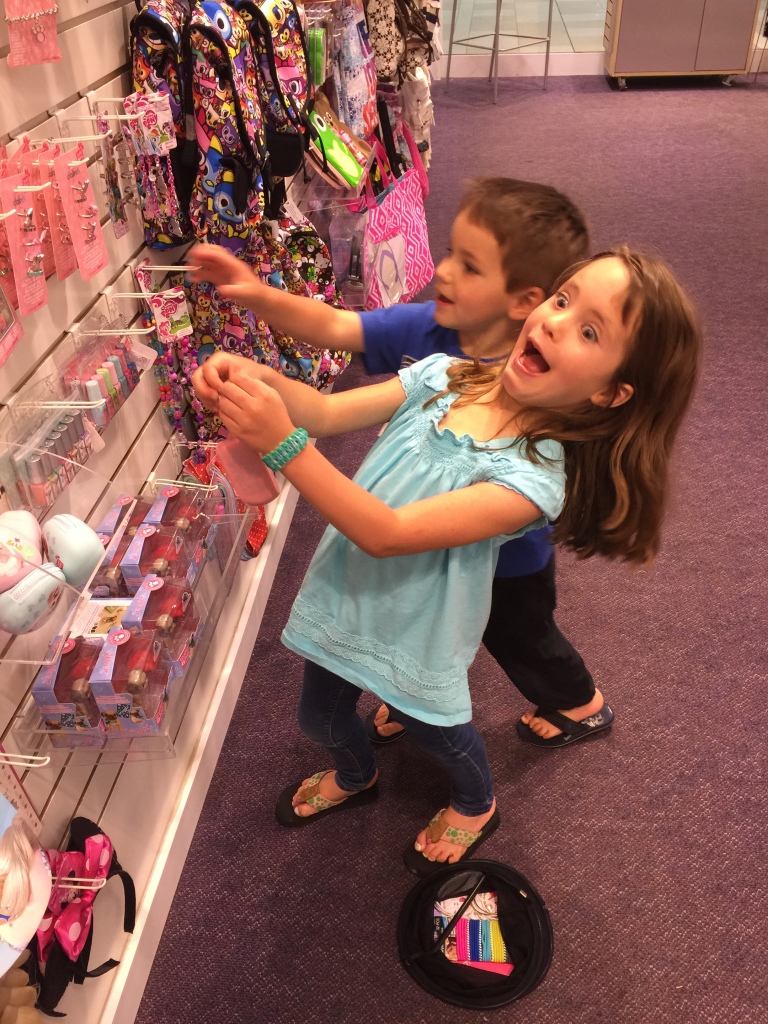 Out of my girls, you love baby dolls the most and really seem to enjoy taking care of them. You also frequently talk about how you want to be an at-home mom like me. Once I was making silly faces at you while putting gas into my car (you love it when I do that and make even sillier faces back at me). When I got back in the car, you said, "Mommy, when I have kids, I'm going to make silly faces with them, too, when I get gas." That was such a simple but meaningful compliment. You notice the little things I do, and they mean something to you.
Once Rachel told you, "You could be the first woman president."
"No, I couldn't," you replied. "I have to stay home with my children."
Now I am not trying to dissuade you from shooting for the stars, but saying that made me realize that you are thankful that I am here, taking care of you, teaching you how to read, baking banana bread with you at your side, folding laundry, and reading you storybooks.
Aside from baby dolls, you adore your two baby cousins and could hold them for hours.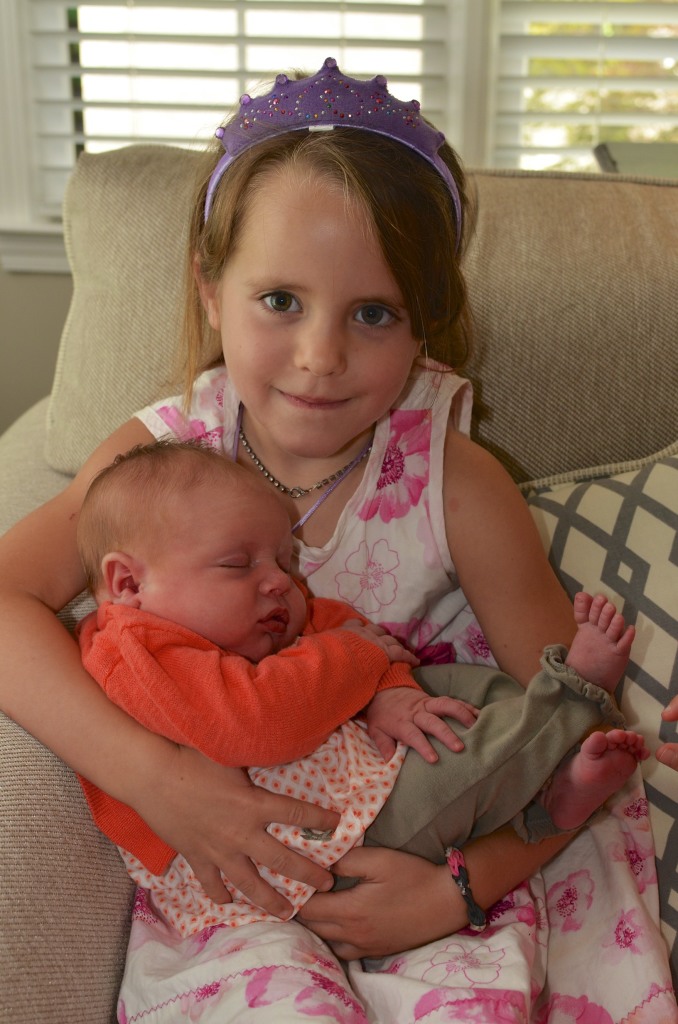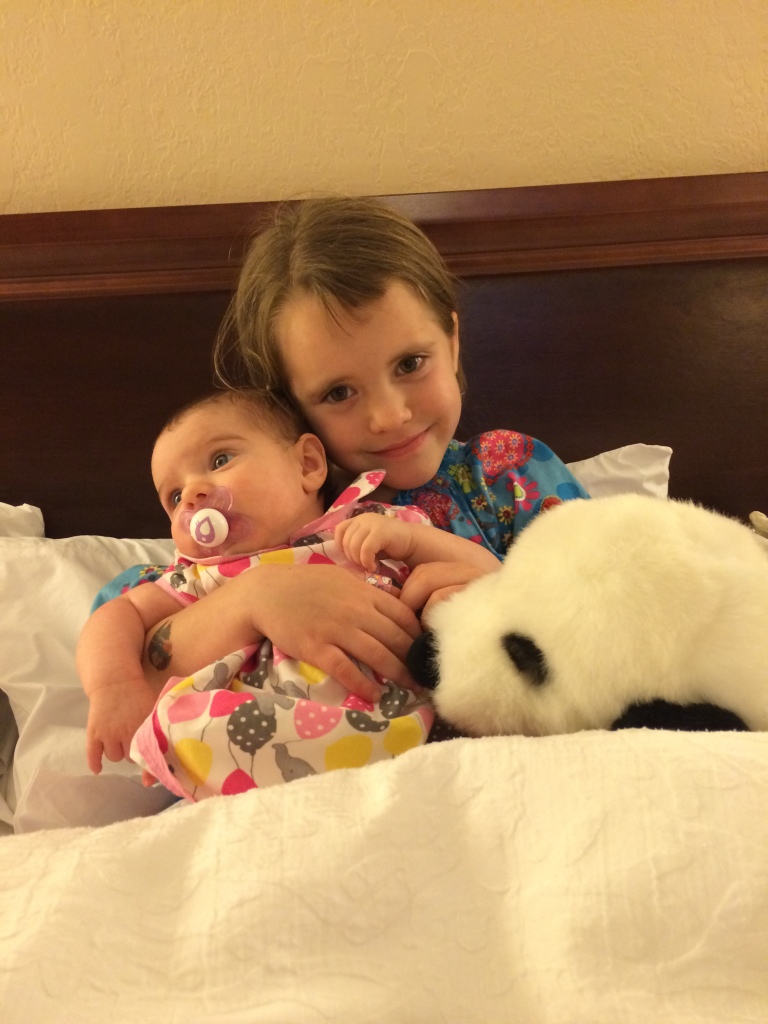 Let's see. What else is new in your 6-year-old life? Your reading is starting to take off. You can read simple books. Your handwriting has always been good given your artistic aptitude. Your favorite colors are "blue, yellow, and green like Mommy's favorite colors and all the other colors." You have a big heart that has room to love all the colors of the rainbow as well as most things in life from worms to sparkly jewelry.
You adored being a flower girl for the first time last fall and took your job very seriously.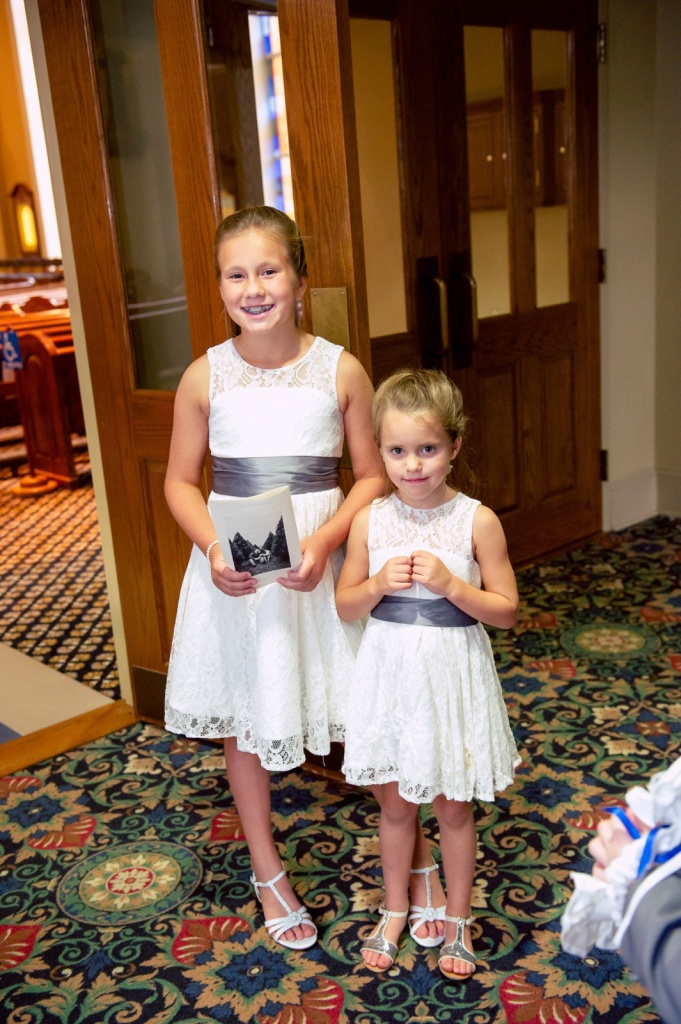 You're a great big sister to Thomas. The two of you play very well together. A frequent playtime activity is playing the Titanic theme song on our old Casio and putting on a fancy dress and dancing together and pretending it's your wedding. Not surprisingly, Thomas recently said, "I choose M.E.!" when he was talking about whom he wants to marry one day.
You're a very affectionate child. You give spontaneous hugs and like to cuddle up close when I read to you. "Put your arm around me," you'll say. I don't have to steal kisses or hugs from you! You're very generous with them.
And while we joke that you're our flower child because you seem to dance through life without a care in the world (except at bedtime when your stubborn streak flashes and you have frequent vespertine tantrums), you actually have a very sensitive soul, and I have to be careful to assume that all's well in your little world. You still talk about my nana; her death had quite the impact on you. You loved bringing her Gaba and Papa's nesting dolls and sitting at her feet as if she were the queen, which she kind of was. You also miss our neighbor, Mr. Thomas, who died the same year Nana passed away. Recently, Rachel and Madeline were both talking about the books they were reading, and both involved people dying. "Why do Maddy and Rachel read so many scary books about people dying?" you asked, your green eyes imploring. You also try to save injured bugs you find outside.
You don't eat socks any longer, but you do make your own sandwiches and have a very independent streak.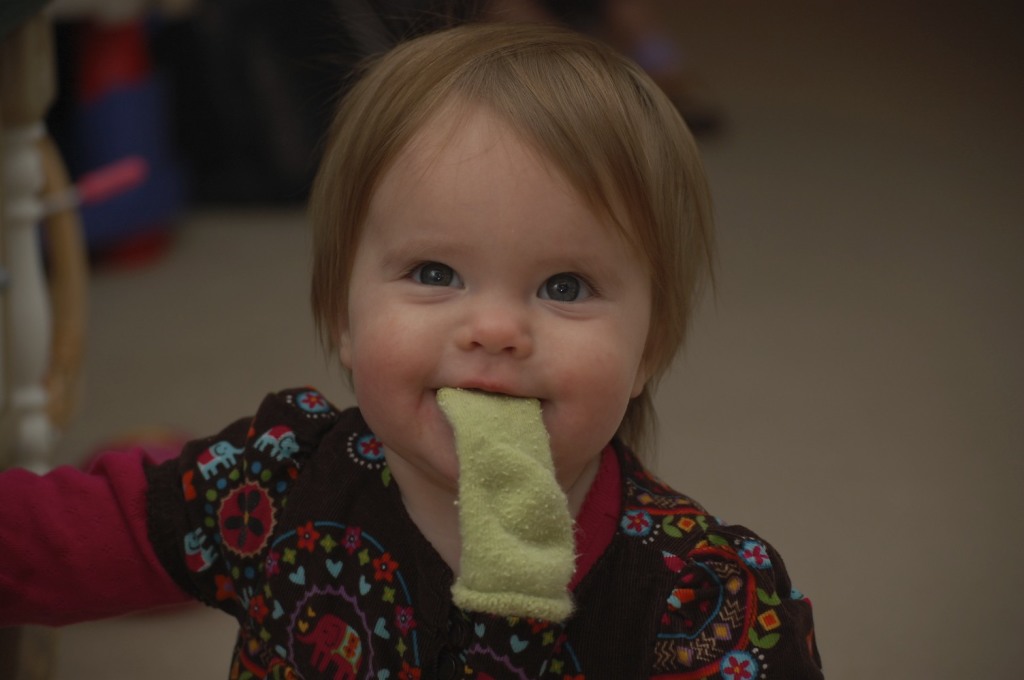 Other favorites in your life include cuddling with Fang, tomatoes, baking with me, singing (you have a pretty, soprano voice, and when we sing with one another, you say, "We sound good together, Mommy, don't we?"), bugs, picking me flowers, riding your bike (you never needed training wheels; you went straight to the real thing when you were only 4 after using a balance bike), being with friends, taking baths, making art, swinging, putting lip gloss upon your rosebud lips, and giggling. I know I'm missing so much. A yearly letter could never capture the essence of your full life and lovely personality. I love being your mommy. I love how you still hold my hand. I love your funny stories. I love your earthy eyes and strawberry blonde hair. You cut your bangs earlier this year and at first they looked like Beyonce's baby bangs (not that you know anything about that, but you do know who Taylor Swift is and like almost every other girl in America, you think she's pretty) and I have to admit that they are growing out quite nicely. We had an at-home spa day recently and gave each other foot massages and I gave you a manicure, and you were just so tickled to be with me and to be doing something together. Thank you for loving me so well. Thank you for being lovely you.
Happy 6th birthday! Don't grow up too quickly, okay?
I love you just the way you are. As my friend Amy said, "The world be a lot less sparkly without you!"
Love,
Mommy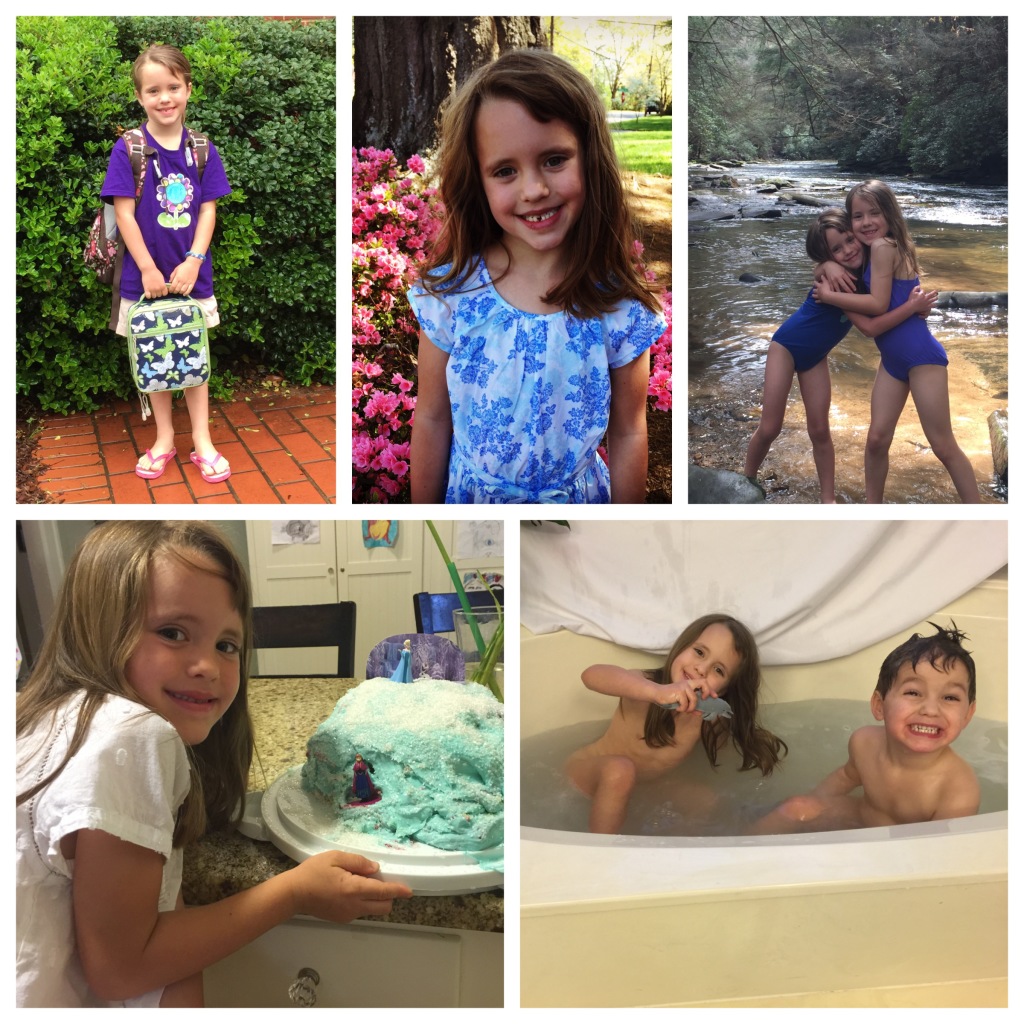 Tune into my monthly Relevant Radio interview tomorrow (4/20/15) at 8:30 am EST. (You can listen online.) I'll be talking about decluttering and mentioning the book
that everyone seems to be reading these days. Now it's time to talk about this girl of mine: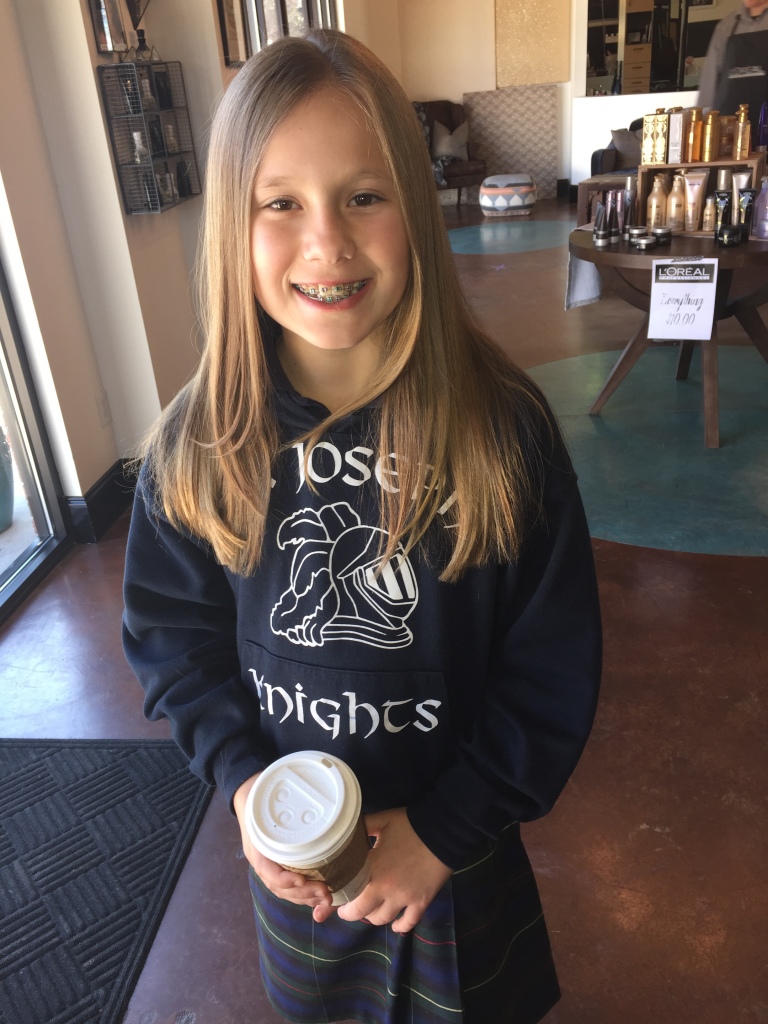 Time to dust off this old blog of mine. Can you believe I started Momopoly in 2005? I've been at this blogging gig for a decade. Once I wrote my book I was advised to turn my rambling headquarters into something a little more professional – hence, the boring KateWicker.com URL. I am honestly getting a little tired of all the brown and looking at my picture in the left-hand corner and want to give it a facelift without spending too much moula so if anyone wants to talk about a possible design project, shoot me an email.
This week I have plans to post some belated birthday letters. I have had a child enter the double digits (um, almost six months ago. Just call me Slacker Mom) and one of my littles also celebrated another birthday. On one hand, it's been such a delight to watch my firstborn grow into such a fun young lady. But there will always be that part of me that wants to make these walking timepieces slow their constant ticking down. Don't grow up so quickly, kiddos. Life's short, so why don't you stay short? That's not happening with my Madeline. She gets her height from her daddy. She can wear some of my tops now, and her feet are bigger than mine. She's 10, and she's inching very close to being as tall as I am.
Thankfully, she still looks like my baby girl when she sleeps.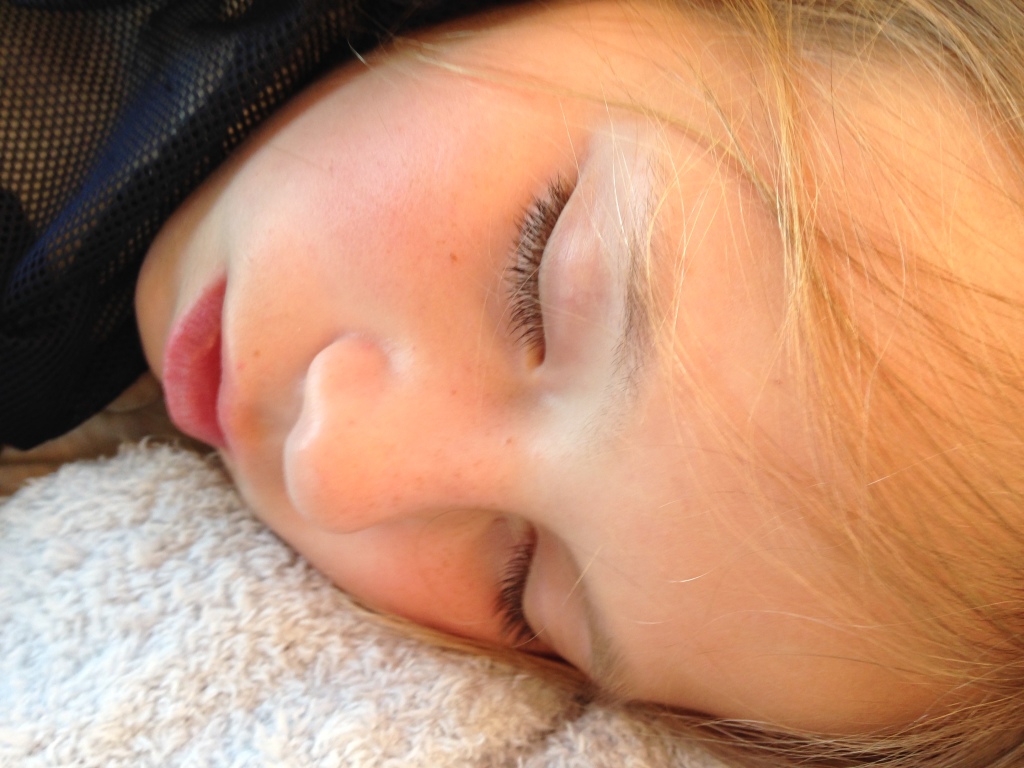 Madeline makes me laugh all the time, and she is an eternal optimist who is such a good reminder for me to not turn into a frazzled stress ball or to not beat myself up for failures. She's fun and sweet and 10 going on 30. A friend of mine has said she's an old soul trapped in little body. She makes me proud every single day.
Of course, like most children – at least children who are not boring (I always tell myself that my kids are feisty because of their big personalities) she can also drive me to the brink of having a nervous breakdown (what we refer to as tsumommy instead of tsunami). Her chosen weapon of mass mommy destruction is leaving a trail of kid detritus all over the house. Her room's a mess; dresser drawers are always open, shreds of paper are ubiquitous, and there are piles of books everywhere. Beyond her bedroom door, soccer cleats and athletic socks frequently litter our floors. I have to remind her 17 times – give or take – to put her dirty clothes in the laundry basket (and there's a laundry basket in three out of four bedrooms in our house and one in the basement laundry room, so NO EXCUSE!).
But then I get to school, and her teachers talk about her work ethic, her positivity, her leadership, her organization skills (I admit that one confounds me a bit), and how she's nice to all of the kids, and I remind myself to choose my battles. This is a lovely, fun kid. So I've told her she can have a little more leeway with the state of her room, but she needs to respect the rest of us and not not leave dirty socks or anything of hers in our rooms or the kitchen, living room, basement, bathroom, etc. Sure, it's my job to help mold her into a responsible person and to cultivate good habits, but I also have to learn to accept her for who she is. She is fond of sentimental clutter. She has taped up myriad pictures her sisters have gifted her with upon her walls. She doesn't mind dresser drawers yawning wide at all hours of the day. Sometimes all I see are the messes instead of the young woman behind them. She is happy and kind and doesn't take herself – or obviously her bedroom – too seriously. She's so accepting of me and all of my flaws; I need to reciprocate this compassionate acceptance.
Recently, my mom and dad had her over to spend the night, and my mom texted me, "Madeline adores you. It's very sweet. You were the center of conversation after Mass last night." This made my day. And my month. And quite possibly my year.
There have been occasional eye-rolls since she turned 10 (she comes by most of these less than desirable traits honestly; I was an eye-roller and apparently, her daddy's room looked like a war zone when he was her age), but she still looks up to me. She adores me. I adore her. I can't wait to see what the next decade holds for my sweet girl and me.
Now presenting her very, very belated birthday letter (for those of you new-ish to my blog I write a birthday letter for each of my kids every year. I plan on printing them all out and binding them and giving a "birthday letter book" to them before they leave the nest. Sniff, sniff.):
—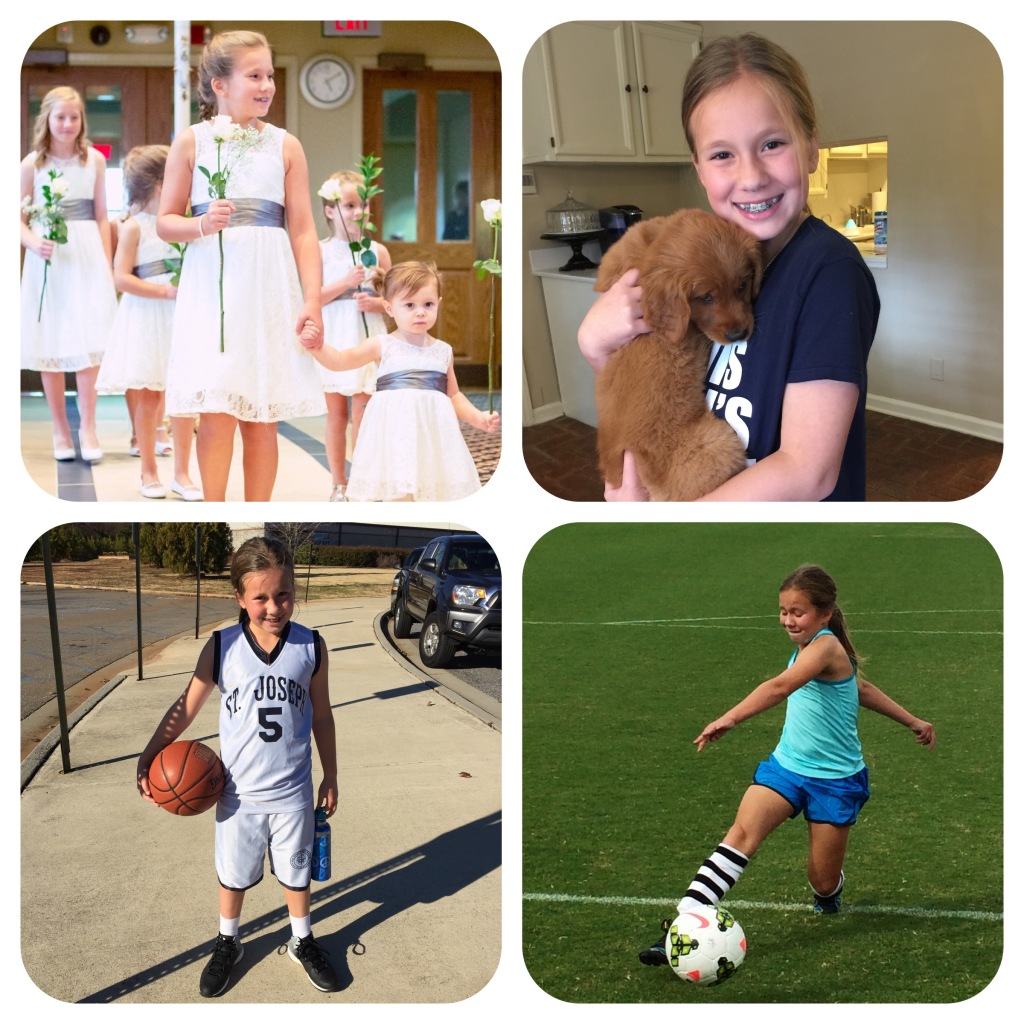 Dear Madeline,
I am way overdue in writing your birthday letter celebrating your first decade of life. I won't tell you just how late but knowing you, if I did, you'd smile and tell me not to worry. That's how just how you are. You rarely sweat the small stuff. You give your best, but you don't expect perfection from yourself – or from others. I have often watched the way you have navigated a certain situation – like how you were before you assisted at Mass as an altar server for the first time – and been in awe of your quiet confidence. I was no way near as self-possessed as you are at the ripe, old age of 10.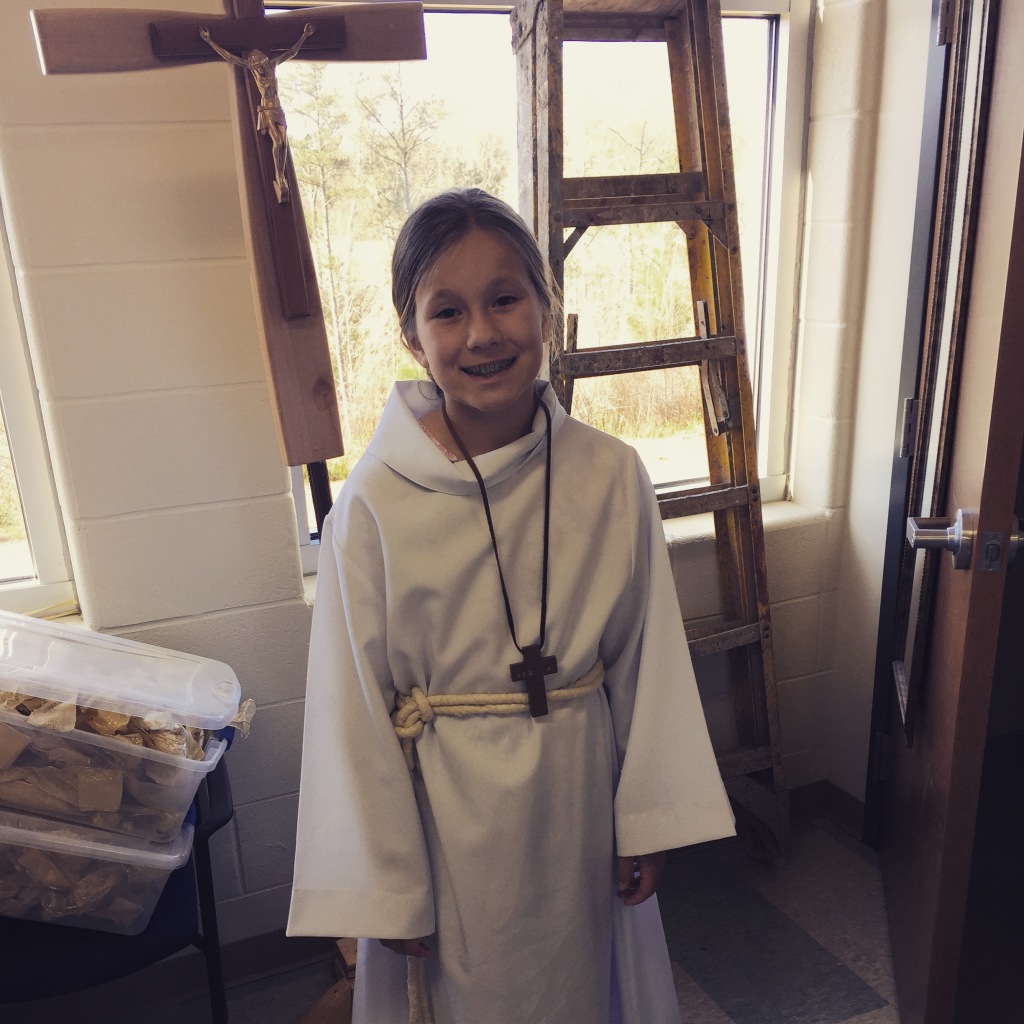 From my Instagram account. Follow along over there because that's where I spend most of my social media hours these days.

When we arrived at church, I helped you slip into the white robe and whispered, "Are you nervous?"
"Nah," you said. "I can always just wing it."
Now I know this was your way of telling me not to worry. You weren't undermining the importance of your role as an altar server, and you rarely "just wing" anything. Everyone from your teachers to your soccer or basketball coach always comment on your maturity, your unselfishness, and your leadership. God blessed you with so many talents, but He also blessed you with a heart that cares and reaches out to others. That's what really makes me proud. Now if we could only get you to keep that room of yours clean and have you remember to not leave a trail of shoes, soccer cleats, sketches, socks, and hair ties throughout the house but as you remind me, day after day, no one is perfect. You're willing to try new things and to have fun without caving under pressure. You're already wise enough to know that setting "perfect" as your bar only sets you up for failure.
You're still a sports fanatic. When I volunteer for recess duty, you're out there with all the boys playing football. Once I saw them picking teams, and two boys were arguing over having you on your team because apparently you have one of the best arms. You could play sports all day. I'm not sure I could have handled the kind of practice schedule you do, but you thrive on the activity and always keep smiling – win or lose.
You love being around people almost as much as you love playing sports. You only wish you could play every sport every season. Oh, and you'd like to audition for plays and write a book on the side. Keeping busy keeps you happy.
There's so much I could write about because at the age of 10 you are such an interesting person. I'm not suggesting you weren't interesting when you were younger, but it's such a joy to see you grow up and bake banana bread for the family, enjoy sushi, and have great and sometimes even intellectual conversations. I've decided to do a top 10 sort of list of ten highlights I remember from the past year. Consider this an inadequate recap because there's just no way I can recapture all the wonderful moments and gifts you have blessed me with in the past 365 days and in the time I've had you in my life! Oh, my first baby girl! I'll never ever forget the day I first held you in my arms or all those nights we both spent wakeful with you wiggling around. You still wiggle a lot just before you succumb to sleep!
Without further ado, Madeline Top 10 List (listed in no particular order):
10. I love what a great big sister you are. Sure, you fight with your siblings some and there are times when you are trying so hard to lead and organize that your sheep lash out at you and go a little bezerk, but you have such a nurturing soul. You like to sleep with Thomas when you can and on nights when Daddy is working, you're always such a big help with Mary Elizabeth at bedtime. You can't wait to be able to babysit, and you're amazing with your two baby cousins. You truly love little ones and will make a great mother someday!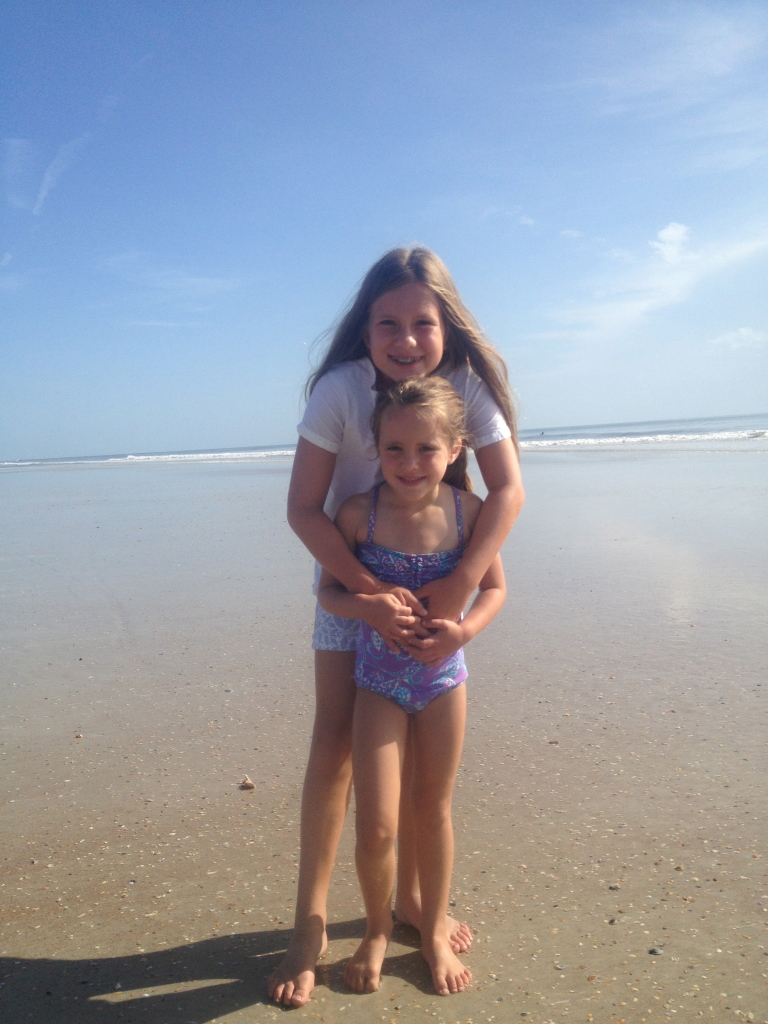 9. Your dry sense of humor is priceless. The things you come up with never fail to make me laugh like how you provide memorable commentary such as, "Fang [our cat] is a geek cat for a geek family." Or, "I wish there were more people my age on our street. It would be dream to have kids knocking at my door all the time to play. Instead, I've got old ladies. But nothing against old people."
One of my favorite funny moments is when you became interested in breaking a world record. You decided you could wear the most underwear at once, but unfortunately you ran into some logistical challenges because you told me, "I think I could put on more than 36 pairs of underwear [the current world record apparently]. I got to 26, but then I ran out of underwear."
Keep laughing and not taking yourself too seriously. Oh, that reminds me of something else. At a soccer game recently, you kicked the ball with the wrong part of your foot so that it spun but didn't really go anywhere. You immediately chuckled at yourself and then went after the ball again with more tenacity. You can laugh at yourself, but you also give your best.
8. You really do seem comfortable in your own skin. Not too long ago, I discovered you examining yourself in the mirror and I panicked as the relics of my eating disorder came crashing down in an avalanche of regretful remembrances. I thought, "Oh no! It's starting already. She's looking in the mirror and picking apart her body and failing to see just how strong and beautiful she is."
Well, I could not have been more wrong.
I gently asked, "What are you thinking, Madeline?"
You grinned broadly at me and said, "I was looking at how strong my butt is. Feel it. It's so hard, but unfortunately a strong butt won't get you all that far in life."
Not surprisingly, I had to gulp down my giggles, but I was also so grateful that you see yourself as being strong and that you already seem to know that you have a lot to offer the world (aside from a strong bum!). Always believe that, my love. You are beautiful just the way you are. Don't let anyone or any disappointment or heartbreak convince you differently.
7. Watching you play sports has become one of my favorite pastimes. I admit that all the schlepping to games and practices is sometimes tough on me and the littles, but when I see you come alive on the field, head a soccer ball into the goal (but be careful with that brilliant mind of yours!), rebound a basketball, make a smart pass to a teammate, smile after a game whether you've won or loss, I know that all the sweat and miles covered in the car is so worth it. You are quite the athlete, and I love watching you play. The school's athletic director had to twist my arm to allow you to play your inaugural season of basketball. I literally said no to her three times, but I finally relented. I am so glad I did. It was so thrilling to watch you play basketball, and you were a natural. Your team made it to the championship and nearly beat a team that hadn't lost in years. At the end of the game, the coach presented the big trophy to you to take to the school because he was so proud of your leadership and positive attitude despite the disappointing loss.
You also ran your first 5K this year and came in second place just a few seconds behind first place for your age group! (Little Rachel came in third, and Mommy came in first in her age group, so now we're all excited about racing together.) As I tell you before almost every game, "Play hard and have fun!" in all the games you find yourself in during this active life of yours!
6. You're still quite the artist. This year you drew a picture for the yearbook cover contest and won! You're so excited to see your artwork featured on the cover. You have a creative spirit and enjoy drawing, painting, making bracelets, learning how to knit with your Nana, baking, writing stories or plays, etc. Keep on creating!
5. You're getting a little more in touch with your feminine side. This isn't to say you used to be all boy, but you never were much of a girly-girl. When you were young, we had pirate and dinosaur parties. Later you fell in love with Star Wars. And, of course, we all know that first of only a handful of ballet classes is what clued me in to your propensity for sports. I'll never forget watching you pick wedgies out of your pink leotard in between sprints across the dance floor as the other little girls gracefully twirled about! After a few classes, you started crying telling me you didn't want to go, so we signed you up for soccer. And, well, you know the story #15 soccer knocker! Ironically, you recently had a performance at school and busted a move, and several people commented on your great dancing. You were quite the ham up there! But what I mean by this girl stuff, is that you like to wear cute clothes and dress up for church. You spend more time brushing that thick, beautiful hair of yours. Thank goodness! I hated dealing with those huge nests that would form in your hair. But you'll still wear mismatched shoes and prefer to be in athletic shorts and a t-shirt. You're such a good combination between having a dash of sugar spice but not being afraid to pick up a football or play in the dirt.
4. You possess a quiet faith. You're not overly flashy about it, but you've told on more than one occasion that you pray every night (even when I don't happen to pray with you because I've fallen asleep with one of the littles after a long, tiring day). Just today I joked with you because I saw some writing on your wrist, "Where'd you get the tat?"
"It's highlighter," you told me, and there on your wrist in neon pink you'd written, "WWJD?"
You're also the one who asked me if you could train to be an altar server. It was all you taking the initiative. This faith of yours will be your greatest gift. Keep the faith. It won't always be easy. Trust me. I've got a lot of Doubting Thomas in me, but I am also stubborn and so are you, so I hope we'll both keep showing up at Mass.
3. You are an extreme extrovert. You get so much joy out of activity and being around other people. While some of us in the family need to rest our minds and be still and alone to refuel, you are energized by doing things with other people.
2. While you love to be active, you also remain a bibliophile and an artist. You enjoy doodling, painting, and just creating. You're not as into the Rainbow Loom these days, but you have started weaving words together to create stories, and you use some great adjectives. And you love to read. Some of your favorite books recently include The Penderwicks: A Summer Tale of Four Sisters, Two Rabbits, and a Very Interesting Boy
, The Penderwicks on Gardam Street,
Hatchet
, The White Giraffe
, Wonder
(me, too! I loved this one.), and 13 Gifts.
1. When you were in utero, I used to joke that you must be a Tae Bo enthusiast because it felt like you were constantly jabbing me and doing what felt like somersaults. You were born very alert. Everyone – from your proud grandparents to the nurses – commented on your attentive eyes and how you seemed to be taking everything in around you. You were baptized when you were just two months old, but people thought you were at least four months old because you were awake for the entire ceremony and looking around curiously. You didn't sleep much. I was exhausted, but you were thankfully a happy insomniac. You just didn't need a lot of sleep, and you didn't want to miss anything. You're the same way now. You saw a shirt that said, "I'll sleep when I'm dead," and you told me that's how you feel, although you do need more sleep these days and like to sleep in on a rare morning when we don't have to rush out the door. You're a night owl though, and you love life so much you don't want to waste anytime being horizontal. I love your fervor, your tenacious optimism, your sweetness… Right now my primary job is to be your parent. I've told you I'm not here for you to be your friendly pal. I'll enforce rules you don't like, and you probably won't even always like me. But I know we will always love each other very much, and I can see that one day when you're a grown woman and I don't have to raise you any longer we are going to be great friends, and you'll still be making me laugh and reminding me that the glass is always half-full and life is even fuller. When you're all grown up, I envision us laughing together, going on long walks (or maybe runs?), and soaking up this beautiful life together.
I've listed my top 10, but there's so much more I could write about you. One thought just popped into my head and can't possibly pass unspoken. When I'm having a rough day and getting all weepy, you're the first one to pat me on the back and to encourage me. "You're the best mom in the world," you'll tell me with your signature assertiveness. Thank you for your compassion. Thank you for your love. Thank you for being amazing YOU. This last decade has blessed me beyond measure. I know I'm sounding like a Hallmark card, but I can't imagine my life without you and all of your energy and effervescence. Keep being lovely you. I love you just the way you are.
Happy 10th birthday, my sweet, sweet girl!
Love,
Mommy