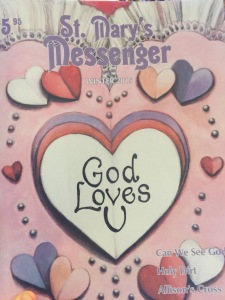 *This is a sponsored post, but the opinions are my (and Madeline's!) own. Leave a comment at the end of this post to enter to win a free one-year subscription to St. Mary's Messenger.

During Advent (yes, I am just getting around to writing a review now; I told you I had morphed into a complete blogging slacker), my children and I received a free issue of St. Mary's Messenger. We also were gifted with a year's subscription to the magazine. We just received the newest issue (pictured above) that is chalk full of good stuff about Lent. My 7-year-old voraciously read this issue (for some reason, it seemed to appeal to her more than the previous issue) and was particularly struck by a true-life story about a young girl who had type 1 diabetes and how this was her cross in life. (We have a loved one with Type 1 diabetes, so perhaps this hit home with my daughter.)
Think of the publication as a Catholic Highlights. St. Mary's Messenger is a full-sized, full-color and 32-page quarterly Catholic magazine for children, ages 7 to 12. I read a few of the articles aloud to my 5-year-old as well, and she enjoyed it. Each issue includes articles, a fictional story or two, activities, and ways to enrich a child's faith. It is written for children in a way they can understand. But don't take it from me. I asked my 10-year-old, who is 10 going on 30 in a lot of ways (you'll see how she writes the review as IF she was reading it as a kid when, in fact, she did read it as a kid) to jot down her own thoughts about the magazine. She wrote the following review of the Advent issue (pictured below):
Hello. My name is Madeline and I am 10 years old. I had the opportunity to read this Catholic kids magazine, and my mom wanted me to write a review. I happily agreed. So here are my thoughts:

My favorite article was probably "Pinka, the Joyful Candle" by Susan Skinner. I also liked "America's First Saint: Mother Cabrini" by Wynne Crombie.  The one about Pinka was very kid-friendly and could keep the intentions [attention] span of a kid for awhile. The reason for that is:

It wasn't too long
It taught you the meaning of Advent in a fun way
It had other kids in it

For some reason when I was little [as if being 10 means she's all grown up], I always liked stories with other kids in it better than a story with only grown-ups. As for the article on Mother Cabrini, I thought younger kids wouldn't find it quite as interesting. I, on the other hand, thought it had some really cool facts that I didn't already know about this important woman of faith. I have been studying her in my Religion class at my Catholic school. I also liked all the activities. Kids love activities! I love activities!

All in all I only have one thing that could be changed. If you want more kids to read your magazine, then remember: Kids love bright colors and pictures!!!!! When a kid is looking through magazine, the ones with brighter colors, more things, and pictures on it will stand out and look interesting to the kid. I thought the cover could have used more color and that the magazine's title didn't really jump out. It kind of blended in with the trees. You need a cover that pops and caches [catches] a kid's attention [I did point out to her that the Eucharist is pretty eye-popping and should catch our attention!] But don't judge a book – or magazine – by its cover.  I found out how cool and awesome St. Mary's Messenger when I started to read it. Anyway, thanks for reading! Bye!

Madeline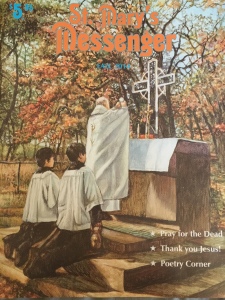 St. Mary's Messenger is not a flashy publication as Madeline's review suggests. I personally can't stand kids' magazines that are too busy or full of ads. Kids' National Geographic, for instance, is sensory overload for me; however, I think Madeline was thinking of her Cricket and Spider magazine covers, which we all love for their creativity and yes, color.  I am excited about this magazine and how it marbles in our Catholic faith to its pages. The "Pinka" story Madeline mentioned was a fictional story that teaches children about what the Advent wreath's color of candles each represent. The Advent issue also included an Immaculate Conception game, explanations of saint symbols for the Gospels such as an ox or bull representing the Gospel of Luke, an article describing the process of how one becomes declared a saint, a crossword puzzle, a Veterans' Day tribute, and more.
We are big readers mostly of books in our home, but we do subscribe to Cricket (gift subscription from a great grandmother), Spider (also a gift subscription from a great grandmother), and Ranger Rick, and I am so happy to add a Catholic option to our mailbox four times a year. Yearly subscriptions (4 issues) are $19.95 and available at the magazine's website. The website also includes some free online articles. A subscription would make a great gift for a child making her First Holy Communion this spring!
Also, the publisher's have very generously offered to gift one reader with a free yearly subscription. To enter to win the giveaway, please leave a comment below. I'm sorry, but winners must reside in the United States. The contest will close on Monday, February 23rd at 7 pm EST, and winners will be announced that week. Good luck!
Once upon a time people stopped by this blog to read about my life in the trenches of motherhood or body image or my faith journey and/or struggles. Now a lot of people Google their way over here because they, too, are dealing with frustrating, nebulous injuries like high hamstring tendinopathy or SI joint dysfunction. Welcome! And for those of you who are tired of my periodic ramblings pertaining to my broken body, I'll give you the Cliff's Note version: I have been trying to overcome pain and myriad injuries since September 2013 when a physical therapist (one of 6 I've consulted since then) thought I had piriformis syndrome, and now it looks like my left hip may be the reason behind my litany of injuries, trigger points, etc. and that surgery may be in my – and by default – my poor family's future. How will I ever chase down a wild 3-year-old boy while on crutches?
Now for the unabridged post: After I was told to go ahead and run the half marathon I'd trained for back in October 2013, my husband, who knows I listen to my body about as well as aforementioned 3-year-old boy listens to Mommy when in the throes of tantrum, suggested I get an MRI, which revealed I had a partial tear left semimembranosus tendon at ischial tuberosity. Not enough doctor-speak for you? Read more here. 
I remember crying to my husband and one friend in particular who has had to hear every detail of this injury (poor thing; I love you, friend) that I would never run again. He assured me that I'd probably be doing another half marathon and maybe even qualifying for Boston in a year. Well, it looks like Eeyore was right this time, doesn't it? Sorry, Mr. Pollyanna.
Later MRI showed only mild high hamstring tendinopathy and the tear had healed, but some pain remained and then other weird symptoms – symptoms that didn't get worse with running but also never went away, started to crop up. Then there was a new PT who thought, "Hmmmm…maybe there's something going on with the labrum." MRI arthogram and a slew of further imaging studies said, "Yup. There's something wonky with that hip joint."
But was it leading to all these other injuries? Some people have wonky hips and don't have the kind of problems I do. And before I write anything further: Running does not cause FAI (what I'm dealing with). It's just the way my hip joint is fashioned; however, people who are more active may end up having more problems because of tightness in the hip area and biomechanical/compensatory issues that result from the wonky hip. (Can you tell I am really into the word "wonky" right now?)
Anyway, it's been more than a year of searching, of being fearful that chronic pain was in my genes (thanks, Mom), of  hearing so many different expert opinions and feeling like it was going to be difficult to trust anyone since everybody seemed to think they had the answer and would get me better to no avail, wondering if maybe I was just weak or everything was in my head or I was going crazy, of learning (once again!) that what I do (or don't do or can't do) in this life doesn't define me as a person, of crying, of getting angry,  of embracing the "Honey Badger don't care"  attitude (don't watch with kids within an earshot because of bad words) and just being as active as I want because it didn't seem to make the pain worse, of being grateful for all that I am capable of, of letting it all go, of feeling guilty for even letting something like this get to me when so many people face horrible tragedies, injustices, sicknesses, and misery. I've had dry needling in my back, hamstring, obturator (ouch!), and other places, acupuncture, scraping/Graston, active release therapy, pelvic adjustments, pelvic floor physical therapy, an injection directly into the hip joint, and more. I've stopped running for months, started running again, stopped running and then started again, and I still hurt regardless. When I was feeling good during a recent run, I fell hard on the concrete and have a bruised knee and elbow, and several scrapes to show for it. Oh, and I got my first corn ever. Gross. And my dear friend's amazing doctor-husband offered to look at it, and I was sure to wash my feet beforehand but as he was examining my crustiness, I noticed my toes had their winter coat. Anyone else forget to shave their toes in winter? Fortunately, it's blonde, but it can get long enough to braid. If he noticed the nasty hair, he didn't act like it. He showed me nothing but compassion, and I ended up talking about far more than my corn (which thankfully finally fell off the other day). He encouraged me to remember that medicine is sometimes about managing pain and that we can't always get rid of it. He also helped me to realize I am NOT crazy. This is real, all that I've gone through. He and his wife are such good friends.
So despite the medical mysteries, my foot barnacle (corns are stubborn buggers to get rid of), glute/hamstring/iliac crest/groin/back/hip pain every day,  I keep pushing because I am stubborn or idiotic, because while I am making peace with my body's physical limitations, I refuse to give up and to stop fighting for answers.
And I feel like I am finally getting some of those answers. A renowned hip specialist in Atlanta whom I've been seeing for a few months and has been wonderful was the one who gave me the recent hip injection. Based on its results, my imaging, my history, and physical examination, he suspects the hip joint (my FAI and labral fraying to be exact) could be behind my ongoing hamstring, iliac crest issues, etc. and that I am a decent candidate for hip surgery. So I am in the discernment stage, trying to determine if I want to take this leap (of faith, foolishness, or futility?).
I'm no fool. I know it's likely not a panacea, and I'm really reluctant about jumping into surgery. However, there's also been something freeing about knowing this isn't all in my head and there are others – lots of others as evidenced by this Facebook support group – who have dealt with similar issues. The funny thing is the groin pain that the doctor said is a direct symptom of FAI I had attributed to girly problems or IBS or even my past kidney stones. Things are finally starting to fall in place. In my before kids days, I was diagnosed with snapping hip syndrome during a training cycle. I was young and recovered quickly. Oh, to be young again, but I wonder now if this was the beginning of what has finally led me to where I'm at right now. Later, I was told I had hip bursitis – perhaps another red flag. Who knows? What I do know is I am going to get a second opinion from a hip/FAI leader because I happen to live only a handful of hours from where he practices and see what he thinks. But it looks like hip surgery and crutches and all that fun stuff might be in my future.
In the meantime, I'll do what I can do and be thankful for my body. The doc did give me the go-ahead to run light mileage, so I have plans to run my kids' school's 5K. I have been told to listen to my body – something I've never been entirely good at. "Your hips will tell you if you need to slow down even if you don't feel the pain in your hip," the doctor told me.
Oh, Shakira, you were onto something when you said your hips don't lie.
Stay tuned for more of the Kate's wonky hip/body saga.
In a recent issue of Catholic Digest, a reader wrote an in-depth review of the magazine. I agreed with a lot of her opinions. Some of the authors she enjoyed the most I, too, gravitate towards; however, she also admonished the fact that a Catholic publication wastes its precious space on sections like "The Homefront," which shares recipes and lifestyle tips, as well as the column I contribute to – "Body & Soul." Instead of having these types of articles, she wanted more content that would directly enrich her faith life.
Now, of course, it wasn't great to hear a reader say she wished something that I write would go away, but her objection to including anything more worldly and secular in a faith-based publication frustrated me as well. I am not picking on this person and like I said, I agreed with some of her points. For example, she argued that the information included in these columns probably could be found in a lot of mainstream, consumer magazines and that there are so few publications that encourage people of faith that Catholic Digest should stick to the spiritual stuff. Sure, the primary focus of the magazine should be on the Catholic part. I get that. I really do.
But the Catholic part transcends the overtly Catholic articles. Our faith has to be a part of everything. Being a person of faith doesn't just mean reading the Bible, showing up at church, or connecting with like-minded people. It's about being salt of the earth. It's about effusing kindness and connecting with others – strangers, atheists, Facebook friends, neighbors, and beyond.
We're going to have a hard time connecting with anyone other than those who are just like us if we don't know what's out there, if we're unable to talk about pop culture, or current trends and news headlines.
And perhaps this particular reader doesn't feel like generic health articles really matter one iota to Christians, though I am connecting imaginary dots here; her argument was more that she can find those type of articles elsewhere, but I'll go ahead and make a point that is near and dear to me anyway.  Our bodies do matter! Christ suffered in the flesh. He became Man. He had a body. So do we. Our souls don't work out our salvation on their own; we stumble toward heaven in our bodies.  We can't overlook that Christ suffered in the flesh. God became man – the Word Incarnate. Part of being human means having flesh, and we should care for the body God has given us in a loving, respectful way.
Consider these words from the Catechism:
"Man, though made of body and soul, is a unity. Through his very bodily condition he sums up in himself the elements of the material world. Through him they are thus brought to their highest perfection and can raise their voice in praise freely given to the Creator. For this reason man may not despise his bodily life. Rather he is obliged to regard his body as good and to hold it in honor since God has created it and will raise it up on the last day." (CCC 364)
And if our bodies matter, then it makes sense that including a column that just might help someone make better food choices, decipher an unusual symptom, get more sleep, find time to exercise, etc. is important and matters very much to our lives as not only people but Christian people.
Likewise, most of us are of the world; we don't wear habits or clerical collars that separate us from others. We never know how God might use us to reach someone else. He works in mysterious ways. He may speak to some people through Scripture. Others may find him during a time of sickness or through the kindness of others. But many people discover God in unexpected places or at least glimpses of Love (God is love, remember?) – in a pretty girl, for instance. I once read about a young man – and for the life of me I can't remember the source – who reluctantly went to Mass, but then he started to get excited about going, not because of Christ but because of an attractive girl singing in the choir. It wasn't the liturgy or the tabernacle but a pretty, young girl who drew this man in; God, the Author of Beauty, spoke to him through an attractive member of the opposite sex. At first, the man didn't notice her faith – or Christ. He was paying attention to more worldly things initially, but eventually he was drawn to something deeper.
If I went around only reading spiritual tomes, wearing mu-mus, and kept my children from associating with any child who didn't have parents who parented the exact same way I did, I might be playing it safer, but our faith needs to be daring. Sometimes it's when we come out of our comfort zone that we change the most or perhaps reach the most people.
Being a Christian isn't an adjective. It doesn't simply describe the books I read, the clothes I wear, or the friends I make. It's a verb. It's what I (try) to do as I live my life out in the world, not in some cloistered-off convent. My vocation takes me to the grocery store, to barre classes filled with college students, to the school carpool lane, to soccer fields, basketball games, on group runs with people who have different faiths or no faith at all, onto Instagram and Twitter, and here, there, and everywhere.
I am not afraid to show the chaos in my life, and I am not afraid to wear cute shoes or share my new love for Stitch Fix either, lest someone thinks I'm a vain, materialistic person. I'm not afraid to reveal the fact that my kids love Jesus, but they also like some secular things, too. I hope that my little family can be a positive witness for Christians and the Catholic faith because we are real. We know the words to "Let It Go." My two oldest daughters now do know who Taylor Swift is, and they think she's pretty. But they know who Mother Teresa and Our Blessed Mother are, too, and they think they are lovely. We make people laugh. We can talk about things that all people – whether they believe in God or not – can talk about.
And maybe just maybe, it will be something that's not really tied to our faith that surreptitiously invites someone into our life and they discover something he or she likes and wants. And I don't just mean the Malbec in my pantry or the new suede yellow heels that give me a bounce in my step on a gray day, or the countless books my family reads. Maybe, with God's grace, they will discover something else, something deeper, a glimpse of mercy, love, and faith.
You may be the only gospel someone reads all day, but if all of us are walking around carrying and quoting St. Thomas Aquinas's Summa Theologica,  a lot of people might sadly not even stop to consider what we have to say or how we (try to) live. Be not afraid. Be authentic you. Go out into the world, and know that it's not all big and scary. Our fallen human nature means we can botch anything up and contaminate anything. But also remember this: Christ and his redeeming cross means we can find goodness in a lot of more secular things; we can baptize practices from other cultures.
Don't live in a Catholic bubble. Yes, be centered on Christ, but go ahead and burst that bubble, trust in God, and get out there and live a full life.