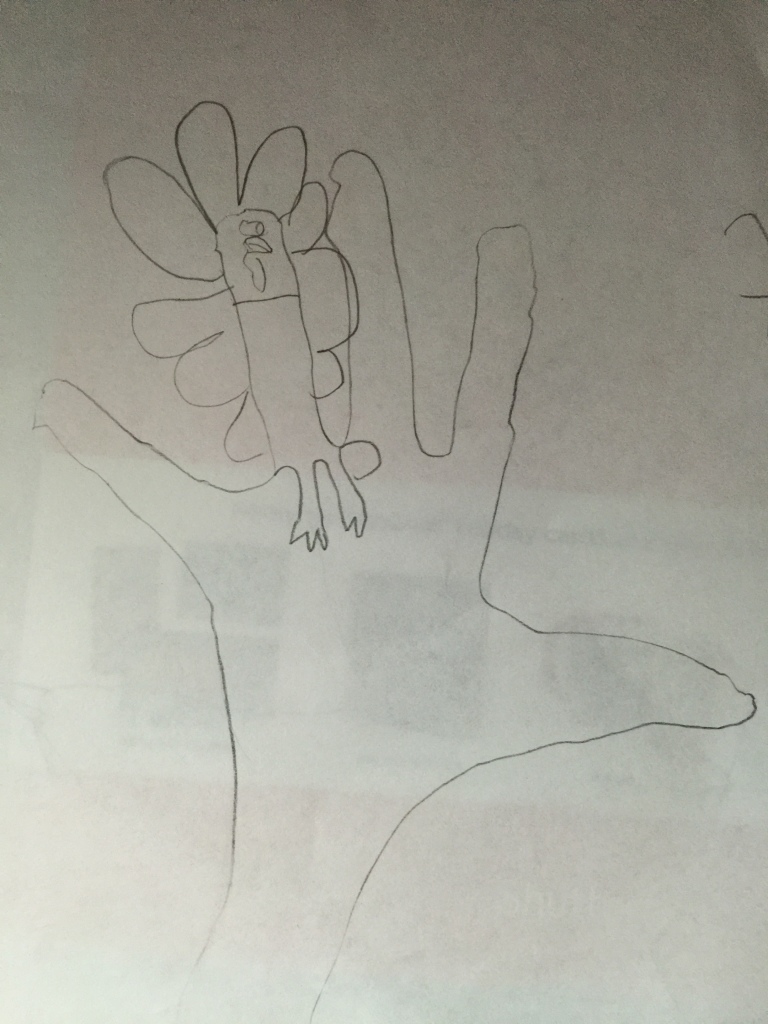 Have a wonderful Thanksgiving!
And be sure to feed your family and guests well or they might end up like this…
(Thomas once upon a time)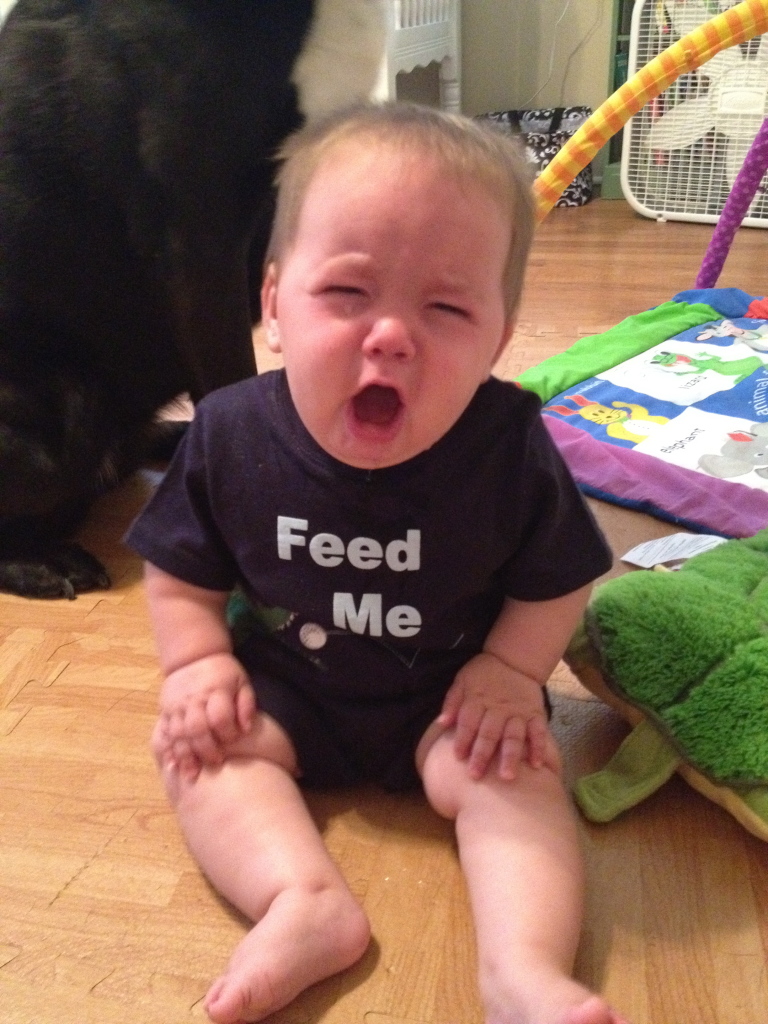 "Bless the LORD, my soul; all my being, bless his holy name! Bless the LORD, my soul; and do not forget all his gifts…" Psalm 103:1-2
I've received a few emails from people – family members and strangers alike – commenting on the dearth of blog posts. I do miss writing more, but I just can't seem to find the time to blog. I'm still freelancing. I'm still trying to overcome I-don't-think-I-can-even-call-it-a-running-injury-anymore. I have my monthly radio gig and enjoy occasional speaking engagements. But mostly these days I feel like a glorified chauffeur. My life is all about schlepping, and sometimes I just want to hole up in home and nurse my non-existent baby.
My sister-in-law just had her first baby girl. I now have two nieces, and I am in heaven. I got to cuddle with one at the soccer fields last week. Unfortunately, the newest addition to our growing extended family lives far away, so I won't be meeting her anytime soon. My sister-in-law is doing great, but I'm sure she's bone-aching tired. Or, maybe, like I was after my first new-mom-euphoria is fueling her. If this is the case, I'll pray she doesn't slam into the wall like I did when Madeline turned six months of age and was still nursing on the hour. No matter how she or any new mom feels, I am careful to not say anything aloud about how I long for those baby days because I know it used to annoy me when I was bedraggled and exhausted and people would tell me to enjoy those precious years.
"These years are precious? Really?" I would think. "There's nothing precious about chronic, fragmented sleep, smelling like my regurgitated breastmilk, and feeling like a yeti in yoga pants."
But these days I am wistful that my youngest baby (my 3-year-old Thomas) is nearly as tall as my 5-year-old.
Maybe we always embellish the past. Maybe that's a good thing. Maybe we wouldn't keep having babies if we remembered the sharp pains of labor or feeling drunk with exhaustion. Maybe we wouldn't do a lot of things if we remembered how hard it was when we were in the midst of it. I am working on being happy with the now – not dwelling in the sepia-toned past or looking ahead to what is sure to be an easier, brighter future.
Still, I can't help the part of me that is pining for the simplicity of those early years of motherhood when we stayed cloistered in our little home and only ventured out to go to the grocery story or to library story time. Of course, another part of me is enjoying the hilarity of my older children (and sometimes panicking over the fact that I am soon going to have a child who is a decade old). Truth is, this phase has been the toughest phase of motherhood so far for me. I can't really say why. I do love babies, and I miss babies (and honestly, I thought I might have another baby by now), but it's not just that. It's the feeling like time is slipping by, and I haven't really accomplished all that much. I fail to see the kids in front of me and how they are becoming such lively, wonderful people, and I am stuck in a weird funk.
Even now I am obviously not putting my feelings to words very well.
I'll have to mull things over and maybe some day I'll be able to write something encouraging again that is studded with brilliant insight. For now, I am turning to a something I wrote a long time ago about tough love. One child of mine has been constantly been comparing, and it's driving me crazy. "You don't ever get mad at so-and-so," she bemoans. "Why can't we do this like this family?" "So-and-so can listen to that song and watch that movie." And then the refrain comes in loud and clear: "IT'S NOT FAIR!"

Nope. It's not fair. Life's not fair. The sooner you realize that, accept it, and be happy instead of jealous of the sister who seems to get more to you in your eyes, the better.
I refuse to keep score and make sure everything is even between my children. I love them all equally, but sometimes one of them may seem to come out ahead. That's life. I've been working on celebrating the fact that other people have more than I sometimes do. Or praying for the multitude of people who have far less. I hope I can help my children to do the same.
Without further ado, my old "Tough Love" essay":
The other day, I was reaching over to offer my two year old some leverage as she attempted to scale the mountain of our double jogging stroller when she batted my arms away and shook her head, saying in her adamant toddler style, "No, Mommy, no. I do it by self."
Her tenacity impressed me. It also, I admit, made me uneasy to see my child toil like a turtle on its back when I knew I could easily step in to help her. But I forced myself to resist the urge to save my daughter from frustration.
Like most parents, I don't want anything to thwart my children's happiness. I want so badly for things to work out for them that I'm sometimes tempted to take away all their struggles. Other times, it's difficult to say no when my child asks for another bedtime story while batting those long lashes, or when she asks politely for a toy she's had her eye on for months.
And don't get me started on the emotional and physical wounds the world inflicts upon my precious offspring. When I recently heard my daughter's sharp sobs and saw a trail of blood running down her face after a head-on collision with an unruly Wii remote in the hands of her big sister, I was far more traumatized than my bleeding little one.
My mama-bear instinct is strong. It's what drives me to safeguard my cherubs from everything from food additives to boogey men. Though I haven't always been this way.
Before I became a mom, I rolled my eyes at doting, smothering parents and resolved to be more of a no-pain-no-gain hardliner when I had kids. I was never going to be one of those helicopter parents, I told myself, who hovered over their kids and swooped in to provide aid before their children even sent out an SOS. What doesn't kill kids makes them stronger.
My how things change.
From the moment I conceived my first child, I was overwhelmed with an intense desire to protect my baby and to keep her safe. One day I was on a walk during my first pregnancy, and – preggo klutz that I was – I tripped on an uneven part of a sidewalk. I was headed belly-first for the ground, but somehow I managed to throw my body to the side, and it was my hip that first made contact with the concrete.
Nothing was going to hurt my baby. Nothing.
Only now I see that things hurt my babies all of the time. Sometimes it's even – gasp! – me who's doing the hurting, by gently but firmly saying no to their pleas. There are rainy days when it's supposed to be sunny so we can venture out to the zoo. There are dinners not followed by dessert. There are new, nursing babies who take up too much of Mommy's time.
One day, my kids will likely face much bigger disappointments – broken hearts, rejections from colleges and employers, backstabbing friends, missed opportunities, and maybe worse.
There's no escaping it: Pain is a part of the human condition. Welcome to life, kiddos. It's full of disappointments.
The world is chipping away at my children's innocent hearts every day. And yet, as tough as it is for a mother who is designed to love her children fiercely and deeply, I know it's not my job to inoculate them against all the angst of life.
Thomas Paine said, "What we obtain too cheap, we esteem too lightly." And didn't God say something very similar when He sacrificed His only Son for us so that we could have life? One drop of Christ's blood could have saved us all, yet He freely chose to shed every last bit of it. He gave what is beyond sufficient, so that we might recognize the power of sacrificial love.
But we often don't get it. Neither do our kids. After all, it's not PC to talk about suffering or sacrifice anymore. Why struggle when there's an easier way? Why take the moral high road when there's a quicker detour at every turn?
Counterfeit praise is distributed more freely than candy on Halloween. Standards for competence have been lowered or removed completely. Soccer games with no scoreboards. Awarding a tone-deaf child a solo in the school musical for fear that the truth that she can't hold a tune might crush her. Eliminating honors societies in public schools so Average Joe won't feel excluded.
The problem is that an artificial inflation of self-esteem only sharpens our children's disappointment in the real world. What happens when they realize they have to do more than just show up at work to stand out and get ahead? How will they cope when faced with true adversity, if everything in life has been handed to them? How will they ever learn to embrace "Thy will be done" instead of "My will be done"?
As a mother, I'm here to teach my children to solve their own problems, not to be a slave to their longings. I'm here to gently guide them, not to micromanage their lives. I'm here to offer empathy but not always to take away the pain. I won't boost their self-esteems by doing everything for them or by not insisting they take personal responsibility for their actions.
Ultimately, I want my children to recognize that we are entitled to very little except for God's love. I want them to work hard as well as to see the redemptive value of suffering. But that won't happen if I toss them a lifesaver at the first sign of distress, even when every ounce of my maternal being wants to do just that.
No wonder it's called "tough love."
As I watched my toddler wrestle with the stroller over the hard concrete, you better believe I made sure my arms were ready to catch her should she stumble, but I allowed her to struggle. In doing so, perhaps I gave her a small lesson in fortitude as well as a taste of triumph after perseverance. And it was her own glory for the taking.
When she finally clambered into her seat, her smile and proud exclamation said it all: "I did it all by self, Mommy!"
Yes, you did, little one. Yes, you did.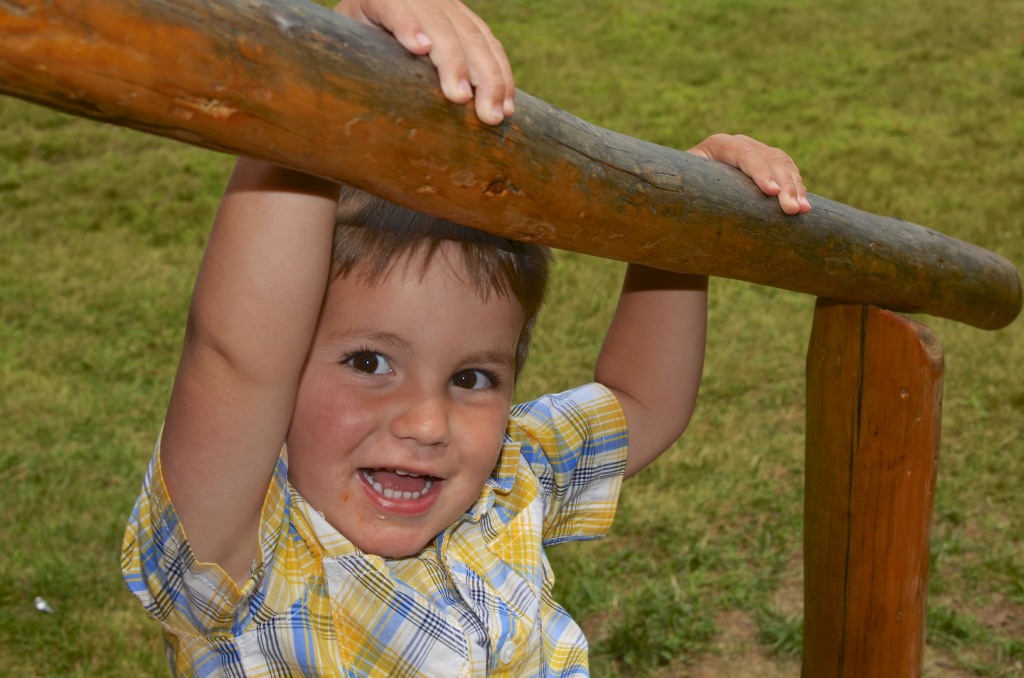 Dear Thomas,
My sweet boy, you are most definitely the fourth child in a very busy family. Gone are the days when I would spend hours a week writing love notes to my children in their own keepsake journals, reflecting on the smallest of milestones. These days, I do my best to jot down a quick quote in my Mom's One Line a Day: A Five-Year Memory Book
(that was the perfect gift from Daddy last Christmas!). So here's a very belated attempt at composing the perfect birthday letter. (To be fair on your poor, overwhelmed Mommy, I did start writing this the week of your actual birthday, but it's been a long work in progress.)
Happy, happy third birthday to my superhero-loving-but-not-afraid-to-dress-up-in-a-princess-dress-if-that's-what-playtime-with-M.E.-dictates, energetic, outdoorsy, imaginative, expressive, strong, bulldozer of a boy!
You keep me busy, little man. You really are like a bulldozer, plowing into me and into life with a whole lot of masculine energy. You roar like a tiger. You butt your head into me like a bull. You eat like a man. My, you can put down food. Oh, but you also cuddle and hug me and scream with delight when you see me. You make my heart melt. You also make me very tired with your strength and shall we say stamina. Not that you're always on the go. As your personality emerges, I see that you need quiet, alone time. It's your reset button (it's mine, too). We were recently at Madeline's soccer game, and all of the siblings of the other players were playing together, but you and Rachel regularly took breaks from the crowd to just sit alone. Meanwhile, Mary Elizabeth was the social butterfly fluttering from friend to friend. It's such a wonderful (and sometimes challenging!) gift to have four unique children with such different personalities!
I've also noticed that when we go somewhere where there are a lot of people, you have to come up to me every few minutes just to check in and to be reassured. Sometimes you'll just peek over at me and wave. Other times, you'll run to me and hug my legs before returning to the crowd. I love that about you – how you're always on the lookout for Mommy, making sure I'm not too far away.
You want to check to be sure that everyone else and even every thing has a mommy and daddy nearby, too. We will be reading a book about a dog, and you'll ask where his mommy is. Sometimes you ask where his daddy is as well. We were at a fall festival recently, and you got to meet Hairy Dawg. You asked right away about his mommy and daddy. I told you he was probably the daddy rather than the puppy given his size. He was very big and towered over you, so that seemed to satisfy you. You just want to ensure everyone is taken care of.
Let's see what else is happening with you these days. You love for me to read you books. Some of your current favorites are: I Love You, Stinky Face
, Over and Over
(which we, not surprisingly, read over and over), Where the Wild Things Are
(you are my little wild thing), and Harry the Dirty Dog
. (In fact, you thought UGA's "Hairy" was Harry the Dirty Dog at first). You're also starting to like longer books and will actually curl into me and listen intently. You're into knights right now, and Saint George and the Dragon
enchants you. We're trying to teach you to use all that fierce, boy energy to do good and to protect your sisters rather than wrestle them to the ground or pull out fistfuls of their sunshine-kissed hair. Not that my sweet boy has ever been guilty of that. Ahem.
You also love The Oak Inside the Acorn
. You ask a lot of questions about why little acorn had to let go and where his mommy is. The thought of being separate and independent from me both thrills and delights you. That's par for the course. Fortunately for me, you never stray too far, you love for me to put you to bed, and don't want me to ever leave your side, and you give me lots of big, strong hugs. I'm one lucky mommy.
You like to play with cars and to be outside. You and Mary Elizabeth play "Mommy & Daddy" quite a bit. She's the mommy; you're the daddy. The other day you pretended to get married. She, not surprisingly, got really into dressing up for the part – white cloak and makeup, the whole bridal shebang. You, on the other hand just did what you were told, although you're frequently not so compliant. You have a mind of your own, and boy, do you sometimes have a temper. I took a bite of your snack (I should have asked, but you should have been kinder about sharing), and your face crumpled up in anger and you roared at me, "You're a meanie, Mommy!"
You love Curious George (the books and the show). You also love Little Bear, which you discovered at Nana and Pop's. You're extremely imaginative. Sometimes you'll lose yourself in your play, and I love listening to what you're saying. Before bed you always tell stories aloud to yourself as we rest in the darkness together. Like I wrote earlier, you're very concerned that everyone – including spiders and characters in books – has a mommy and daddy. You're extremely animated, and those bright, brown eyes of yours will widen as you tell me something.
At bedtime, you'll sometimes say, "I want to sleep with Daddy," but almost without fail, you change your mind at the last minute and say, "Actually, I want to sleep with Mommy."
You have told me – out of the blue – that I am pretty, and it makes my heart melt more than I could have ever imagined.
I heard you telling Ms. Shelby recently that when you were a little boy, you liked Elmo. As if you're not still little and a closet Elmo lover. You like to think of yourself as a big boy, but you still need to feel little, too. You're very curious, and you ask a lot of questions.
I was making you a sandwich for lunch and when I got out some lettuce to put on it, you said, "I don't want salad on my sandwich, but I do want turquoise."
"Turquoise?"
"Turquoise!!!" you said, pointing to the mayonnaise. ☺
Every day you say something cute and quotable. You make me laugh. Your bright brown, expressive eyes have a heart-constricting power over me. You have a power over me!
Happy very belated third birthday! I love you so very much, and I can't wait to see what the next year has in store for you!
Love,
Mommy