My babymoon is going so well. I'm tired, but I've just felt really happy and content this postpartum period. I've also really made peace with the fact that I just don't have time to piece together perfect prose (or much prose at all) these days. I love this blog and writing, but they're definitely not a priority right now.
It's all good. Life is all good right now.
So for now I'm popping in here for a few quick notes:
1. I just finished a great Weightless
interview with Leo Brown for Real Presence Radio. Thank you for having me!
2. My mom is back home today after having surgery to remove a tumor in her jaw. The surgeon is fairly confident it's benign, and Mom once again amazes me with her courage, her optimism, and her refusal to give in to self-pity or to start complaining about anything. She called me today, sounding like her happy self. Unfortunately, the procedure has resulted in some worse pain from her trigeminal neuralgia. We're hoping this won't continue. She'd just started having a little relief from her facial and head pain. Prayers for this saint-in-the-making are always appreciated. (I also continue to be impressed with my dad and his dedication and love for his bride.)
3. Thomas slept one five-hour stretch last night. I'm in shock. None of my kids have ever done this. He's just over five weeks. I probably should have kept my mouth shut because sometimes it seems like you just curse yourself when you yammer on about sleep milestones, but I'm just so giddy. The only bummer is I woke up with rocks for breasts. I did pump before I nursed him after he woke up (a crazy 4 ounces in two minutes – sheesh), but the poor guy was still gulping like a frat boy doing a keg stand. I had to keep him upright for a long time after he nursed, and wet burps and hiccups kept him from drifting off to Slumberland for about two hours. Still, it's amazing how seven hours of fragmented sleep can feel like total nirvana to a sleep-deprived mama.
4. I recently received an athletic shirt from Mamas Movin' with Mary, and I was blown away by the quality. I actually wore the shirt today when I  braved pushing the double stroller with my 2-year-old and Thomas for a short walk (I stupidly took along our Great Dane-Lab mix and kept tripping over her). Not only do I love the mission of Mamas Movin' with Mary to strengthen your body and your soul, but the shirt is made with moisture-wicking fabric, which is so much better to wear than cotton when you're working out. It also features the creative words "Hail Marys Aren't Just for Football." Sweet Madeline said that Uncle Josh would love my shirt because "it's Catholic and about football." Do check out their mission and their great lineup of products. (I am not getting paid to say any of this. Promise.)
5. We've moved Mary Elizabeth (2) from my husband and my bed this week into the big girl bed with her sisters, and she's doing great!  The girls look so cute piled together on one bed. We have a top bunk for them, but no one wants to sleep up there alone. They're much happier with the family bed, or I guess I should now say the sister bed.
6. Two great but very different books I read while on bed rest and the early postpartum period: Room by Emma Donnoghue and A Little Way of Homeschooling
by Suzie Andres. Melanie Bettinelli inspired me to read both. I have lots to say about A Little Way and hope to get to it one of these days. What I'll say for now is it's a wonderful book to read whether you're an unschooler or even a homeschooler or not. My family is still discerning what we're going to do for next year, and the book really helped to remind me to pray about this and to know that my kids will be okay no matter what we decide. I went crazy highlighting passages, but I keep returning to these words:
"He says that His yoke (our work, done in union with Him) is easy, and His burden (which He shares with us in our daily duties) is light. How can we, alongside St. Thérèse, find a way to make our children's education light and easy? For us and for them?"
That's key, I think. Finding a path that does not feel burdensome or weigh you down. This doesn't mean you won't have rough days or even rough months or years, but there will be peace, even if it's just on the interior and your life looks a little messy and chaotic, if you repeatedly turn to Him for help, guidance, and heaps of grace.
That's all for now. My husband is around today, and he told me I should try to take a nap. He's right. (He almost always is.)
I haven't had the time or even really the desire to flesh out any great thoughts lately. So in a lieu of a more meaningful post, I'm just going to share some random glimpses into our life lately. I might start doing this more often, actually, even when it's not 7 Quick Takes Friday. It's fun and brainless.
***
I've started nursing Mary Elizabeth again. We had to quickly call our nursing relationship quits when I was faced with the threat of preterm labor and was put on bed rest at 29 weeks. But not a day went by when my sweet girl didn't ask for a "little bit of mama's milk." It was heartrending to have to turn her down over and over again. She'd try to be brave, but sometimes tears would begin to pool in her earthy eyes until the tears overflowed and silently trailed down her face. Other times she'd just completely lose it, and I'd be tempted to break down, too.
When we hit the important (and miraculous!) 37-week milestone and she asked for mama's milk, I decided to oblige. She's been nursing a few times a day ever since. There's nothing but colostrum slowly leaking out, but she doesn't seem to mind.
The other day her teeth got in the way, and I said, "Ouch! You have to be careful. You bit me."
"No bite you," she said, "I just drinkin'."
I then asked her what it tasted like. "Ummmmm," she said. Then her eyes grew wide. "Strawberry milk!"
It seems mama's milk is still the sweet stuff for my little girl even if it's not really milk at all anymore.
***
Madeline was recently reading aloud to me when she came to word that she thought she should know, but she was having trouble saying it. "Hold on, Mommy," she said. "I have to organize my brain file."
I totally get that. I've been so distracted by the weirdness of this pregnancy that my mind feels completely discombulated, and I sometimes feel like I just need to declutter it and get things organized so I can think straight again!
***
My husband was putting Rachel to sleep and asked her if he was her favorite daddy.
She replied, "You're my favorite man."
After a brief pause, she added, "But don't tell Pop or Papa."
I think her granddads will understand her slight favoritism.
***
You'd think that since over two months ago we were told birth was imminent we'd have several solid names selected for this baby. Not so. My husband and I are having such a hard time coming up with the right moniker, especially when it comes to boy names. We thought we had a boy name we liked, but then we both decided last week it wasn't a good fit. We have a few girl names we like but nothing that seems perfect. We may just have to see this little one to help us decide.
***
I've been waking up around 3 or 4 a.m. every day either having contractions, dealing with diarrhea, and/or feeling nauseous. I can't get back to sleep and always end up feeling fine by the time breakfast rolls around. While I've enjoyed the quiet mornings of solitude, I crash in the afternoon because I'm so exhausted. Then I start to panic, thinking of how I'm going to handle a nocturnal nursling, homeschooling, and tending to the needs of all these little ones, especially when they're acting as cranky as I am.
Then I take a deep breath and pray for God's grace because without it, there's no way I'll be able to make it through a long, exhausting day in the trenches.
***
I don't think I've shared one single photo of my pregnancy bump. (I've always been shy about having my pregnant form photographed.) However, this photo has become a favorite of mine. Madeline captured the precious moment during my final week of bed rest just before 36 weeks. I'm napping with my two "babies." Sweet Mary Elizabeth fell asleep resting on top of her little brother or sister while using my swollen belly as a pillow.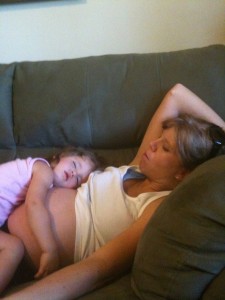 ***
Now we wait. My husband's work schedule is really bad this week, so there's a chance he'd miss the birth if I went into labor. This pregnancy has certainly taught me to relinquish control, to trust, and to be patient.
I had a voicemail message from a friend recently where she said something like, "I'm Facebook stalking you and haven't seen any blog updates or anything, and I'm a crazy, paranoid friend worrying that you had the baby."
For any other paranoid, FB, Twitter, and/or Google+ (I actually haven't posted any updates over there yet, but its format is definitely growing on me) stalkers, I have not had the baby. I am still gestating. I have a sweet, stubborn baby in utero who has been deeply engaged in the pelvic region resting on a thin cervix for over a month now.
I had an appointment on Monday, and my midwife told me she really believes that keeping off my feet has kept me from having this baby early; however, she also said that at 36 weeks (only a week from tomorrow by her records) I can resume my normal activity. Woo-hoo! I know being sidelined has been good for not only the baby but for me as well, but I have to admit I'm getting incredibly antsy and even achy from being so sedentary. I'm so grateful I've never had to experience the hospital bed rest thing and am eager to be active again.
The irony of being thrust into limbo and hearing that the baby could arrive "any day now" for weeks and weeks is that I still don't have anything prepared for the little one. The infant car seat is still in the attic in need of a good scrub down. We have not attached our co-sleeper to our bed. I have no hospital bag packed, no newborn diapers purchased. I kind of lost the whole "nesting instinct" when I was worried that the baby might come way too early. Or maybe it's just pure denial that we're about to have four kids 6 and under in our home. I imagine I might be pining for bed rest – or any rest at all – in a few weeks.
Sorry to be stuck on the baby thing. You get kind of consumed by the little life wiggling around inside of you, tap dancing on your cervix, when you're sentenced with being still. You also really, really begin to notice just how often you have to pee. (Five times, on average, on any given night. Several times every hour during the day. A frequent question around here is, "Mommy, are you going potty again?")
But anyway, a friend of mine was recently telling me that the must-have for every new mom now is the Mamaroo. I've never been into massive must-have lists for baby registries or expectant parents. The only items I'd add to my own personal must-have list are a chic nursing cover (mainly for nursing during Mass), my Ergo baby carrier
, and my Philips AVENT Manual Breast Pump
(an absolute necessity for someone like me who has an overabundant milk supply and sometimes needs to pump just before nursing my wee ones so they will not gag on a gushing geyser of milk).
Still, the Mamaroo intrigued me since I know I'll need a little help and can't carry and hold my infant all day unless I want my other littles to feel sorely neglected. I rarely used the bouncy seat I registered for with my first except it did come in handy as a little high chair. I never got a real swing – just a travel one, and it was helpful with my second who had awful reflux and needed to be upright all of the time. But these are getting very old and noisy (I think the motors are dying on them), so I was wondering if the Mamaroo might be worth the investment. It looks very space-agey and boasts five different motions: car ride, kangaroo, tree swing, rock-a-bye, and ocean wave. However, it's pricey, too.
So anyone have any feedback on the Mamaroo? I'm not sure I'm hip enough of a mama to make the splurge on such a trendy item.


Read more