After my puke post, a good friend of mine texted me some more hurling euphemisms: making street pizza, shouting groceries, and my personal favorite, Technicolor yawn. I actually received a number of emails and texts after that post. Nothing like the stomach bug to build solidarity among mothers. Feel free to add your own hurling vocab below.
—
Speaking of puke, you know too much of it has been going around when you cough and your 2-year-old asks, "You throwing up?"
—
We have a huge dress-up bin brimming with all sorts of accessories, disguises, and frilly frocks. Madeline once played the role of the wicked witch in a stage adaptation of Hansel and Gretel, and Thomas recently slipped into the costume.
"I a *itch!" he announced.
(*=b)
"No, you're a witch," I quickly corrected.
Then Madeline came into the room and asked him what he was.
"A scary parrot!" he exclaimed as his countenance turned fierce on us.
Alrighty then.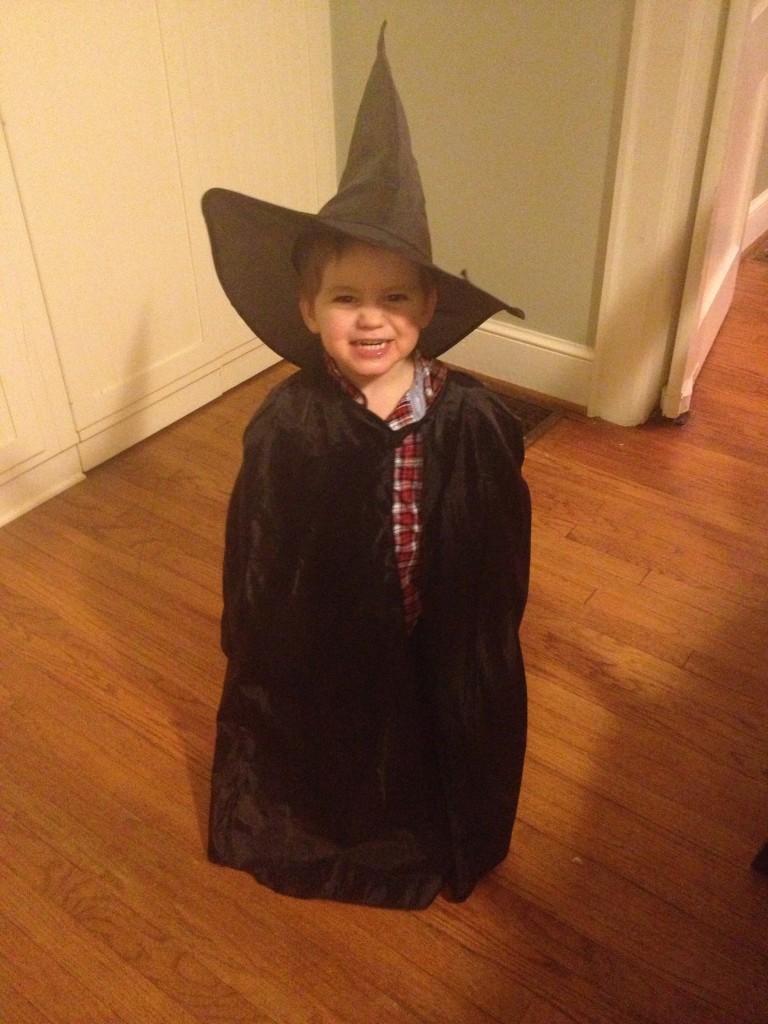 —
Beans, beans, they're good for your heart.
And they also can make really cool art.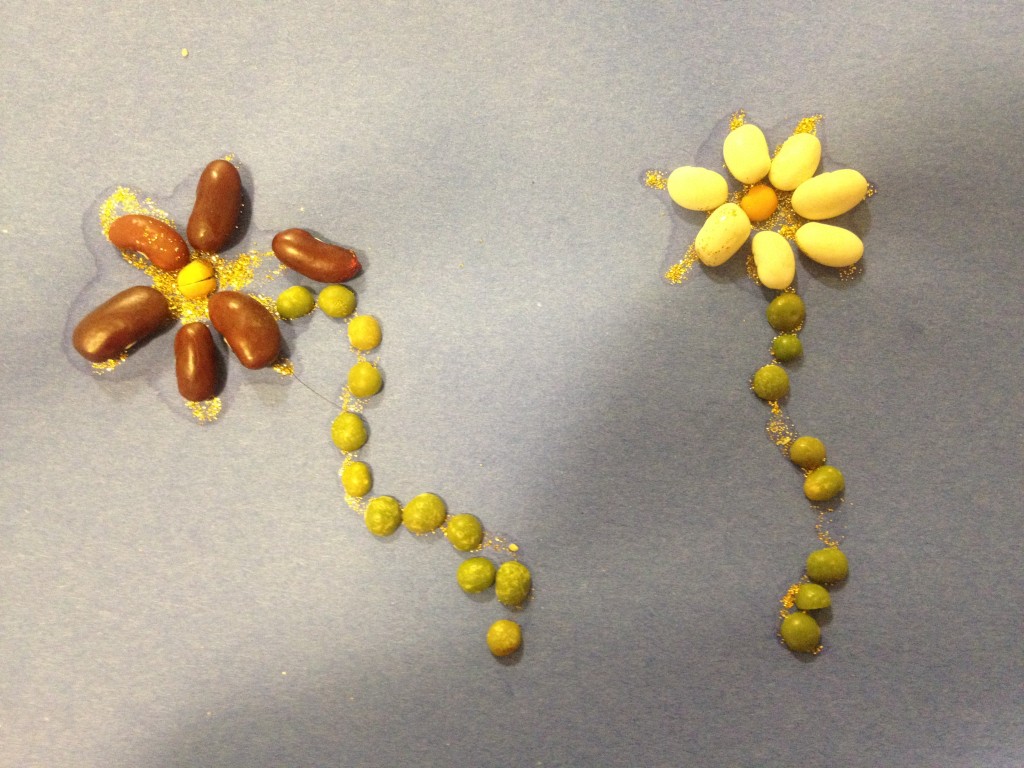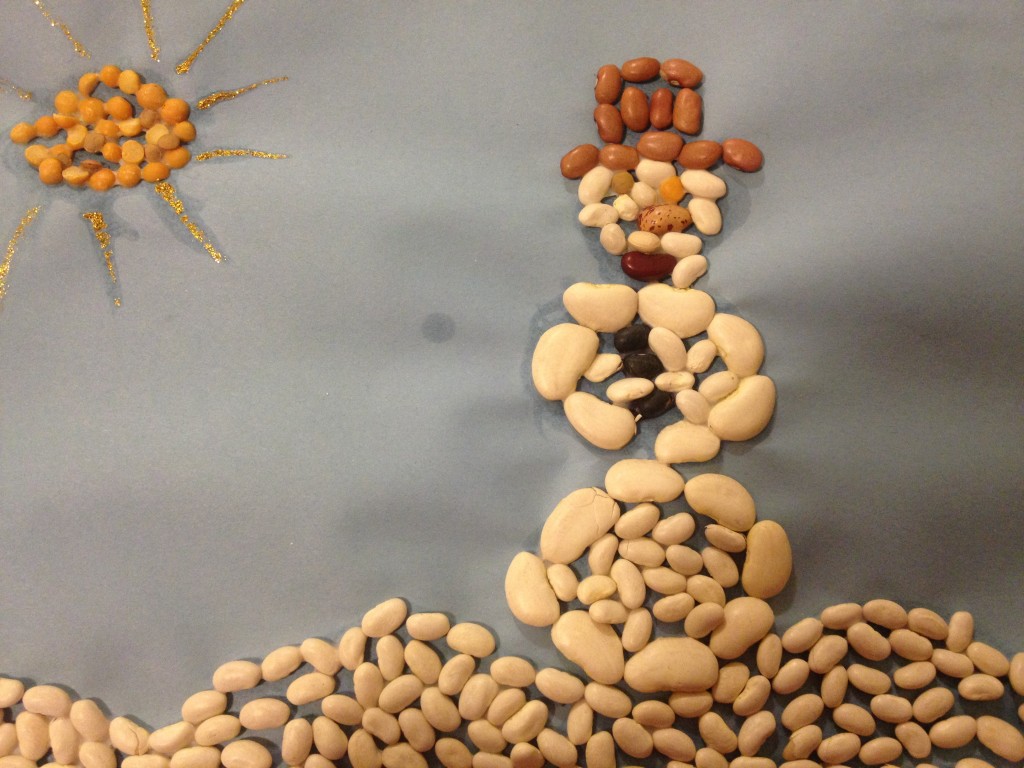 —
When you read this post, I'll be on a trip sans kids and husbands for the first-time ever. Well, I did attend one conference when I was pregnant with Thomas, but since I was still "with child" I don't really count that. It will be a very quick trip. I fly out to Philly on Monday and will be back in Georgia Tuesday night, but I am so excited about the reason behind this jaunt only I have to be obnoxiously vague (sorry!) because I'm not at the liberty to disclose too many details about the project right now. It's going to be great though – a real gift to mothers. Stay tuned!
—
I haven't been running for three months now and just when I'd arrived at the acceptance stage of it all, I was told I could s-l-o-w-l-y start to incorporate running in to my life again. I am following the "return to running plan" outlined in this article and must not run on consecutive days. (I also have been religiously doing the rehab exercises outlined in that same article.) I am very happy about all this but if I am honest, I'm a little gun shy about running again because I terrified of getting injured again. I live in fear of every niggling pain now because I ran through those kind of aches for so long that my hamstring started the fray and then I found myself still running along in the Land of Denial even as the pain worsened. I also admit that I am harboring a worry that my body just isn't cut out to run even though I've had my gait analyzed and have no obvious or horrific form problems. I know I need to get more sleep if I'm going to run high mileage again. I'm just not the kind of person who can slip between the sheets at 11 pm and then get up at 4 am and think that my body will be all hunky dory. I keep telling myself I just have to put one foot in front of the other, listen to my body, and not live in fear. You can't allow your setbacks from the past to keep you from the promise of future success.
At physical therapy last week, I ran over two miles on the AlterG treadmill at 95 percent body weight with NO PAIN! I had another MRI recently that looked very promising. In fact, I've actually healed remarkably well, which has somewhat restored my faith in what I was starting to think of as a jalopy of a body. Apparently, edema will often linger around for six months or so, but my MRI was clear of all that yucky stuff.
I had grand plans to run another half marathon in April and possibly a 10K in February, but I've decided to be patient with my healing body, to not put pressure on myself, and to be very conservative about my re-entry into running, and that means no racing for awhile with the exception of a one mile fun run I got permission to do with my two oldest girls. This is the kind of injury that has a very high recurrence rate. I am going to be wise about it this time. (Hold me accountable, please.) I have a whole life ahead of me to run and race. There's no sense jumping back in too quickly and getting hurt again.
During my running hiatus I have really focused on getting my core stronger and working on some muscle imbalances. I hope this will make me a stronger runner. Mary Elizabeth has been my workout pal. The other day she did this entire 40-minute Jillian Michaels workout
with me and used 3-pound weights. (This Jillian workout video is safe for little ears; some of hers use words like "bad ass," so beware.) The girl's got moxie. Mary Elizabeth, that is, although no one would think of calling Jillian a pansy.
Are you bored yet?
One of these days I'll update folks on the school decision. I've had people ask but in many ways, I am still processing everything (and obsessing about it all).
And that is all for now.
The blogging bug has bitten me. I feel like slapping down some words down in this space only I don't have any wisdom to impart or grand things to share. However, in the spirit of a new Testosterhome tradition, I'm going to set a timer for 10 minutes and just write. Verbal diarrhea doesn't sound so nice, but that's what will probably spew out.
Ten minutes. Go!
I'm somewhere beautiful. (Actually, I was somewhere beautiful. I wrote this almost a week ago but am just now getting around to publishing it. I've enjoyed writing without feeling that everything has to be timely.)
Hint: There's a lot of sand and blue sky and water, and my kids smell like the Gulf.
I've been reading a lot as well as mentally coming up with the characters and general plot of the chick lit book I'm finally going to sit down and write. I used to want to write a great literary novel – something similar to what Anne Tyler, one of my favorite authors,
writes. But lately I've been drawn to writing something fun, breezy, romantic, and easy-to-read. (And something that's probably more marketable and easier to get published, but I'm way ahead of myself there). What I've come up with so far is a book that will fall more in to the mom lit genre – a spin off of the popular chick lit books. I'm only mentioning it here to have some accountability. Sit. Down. And. Write. Stay away from Twitter and Facebook updates, all those time suckers that are atrophying the craft of writing.
Aside from diving back into fiction, I'm running again. And feeling how old I have become. I have a leg length difference. I've lived with this physical and fairly significant discrepancy for a long time, but I have never felt it so acutely. I once could run for miles and miles and experience only an occasional ache or twinge if I, say, landed in an unexpected dip in the road. Now nearly every stride taunts me (feel that shockaroo, oldie!), but I keep going. I've met a lovely mom-friend who is my running buddy. We meet early. We run. I yammer on. Then I usually apologize for yammering on. She keeps inviting me to run and to yammer. I push myself but not too much. And despite the achy (old) hip, I feel good. I am one of those weird people who actually enjoys running.
I have several speaking engagements coming up. Most of them are geared for mothers, but I have one that will address an audience of parents of tweens and teens. I have lots to say on the dignity of the body and helping to raise children with a healthy body image. I'm thrilled about these opportunities, but this one in particular is going to require some supernatural help. First off, because as much as I'm an expert in hazardous waste removal raising all of these stinky and prolifically pooping littles, I'm well aware that the challenges I face are mostly of the physically-exhausted variety and that the emotional fatigue will come later when my children are older and still may throw tantrums but possibly won't want to hug and makeup once the fussing and shouting has abated.
Second, I admit my own body image has been a little shaky for myriad reasons lately despite the empowering feeling running again has given me. I can't seem to lose the last 5 to 7 pounds from my pregnancy with Thomas. I don't want to live in that awful limbo where I'm bound by the belief that when I lose those last few pounds, life will be perfect and I will love the way I look every day partly because I know it's not true. But mainly because I'm at a perfectly healthy weight carrying around these extra few pounds and don't want to get stuck on an arbitrary number.  Been there. Done that. The allure of being 5, 10, 20, 30-plus pounds thinners is far more appealing than the reality of it.
And that's a wrap. Ten minute's is up. Random but fun.
—
A side note: I'll be a guest on Relevant Radio's Morning Air show tomorrow 8 a.m. EST. Tune in if you can!
I received my December issue of Cooking Light, and there was a great article about eating mindfully. Like I discussed in this anti-dieting post, the article encouraged readers to think in terms of choosing to do something or choosing not to do something rather than telling yourself, "I should eat this," or "I shouldn't eat that."
The article also included a great quote that I'm going to type up, print out, and put in a prominent spot as I enter what can easily become the holiday-binge-fest-I-feel-rounder-than-Jolly-Old-Saint-Nick–right-about-now-season.
"Never eat anything you don't enjoy and truly enjoy everything you eat."
The message here is beautifully simple: Don't swear off gastronomy during the holidays – or ever. And don't rush through the ritual of eating. I'll add these tips as well: Don't mindlessly nosh on Doritos at the holiday potluck. (You can have chips any old time.) Instead, make your taste buds happy. Dive into the chocolate fondue. Eat foods that are special during this special time of year. And if you overindulge, try to keep the focus on the present. Put the fork down, think about how delicious your treat was, and then start choosing healthy bites (not boring ones) that you still will enjoy. When we overeat, it's so tempting to tell ourselves we'll start anew tomorrow, so we eat another sleeve of Oreos since we've already screwed up instead of trying to eat more mindfully right at the very moment we realize we might have caved in to gluttony.
***
But enough about food. I have other things on my mind like Advent.
I meant to get my act together and compile a post of Advent activities, but ever since our fourth baby arrived I'm finding it increasingly difficult to devote all that much time to this blog. Taking care of my family and myself is a full time job. (That simple statement is fodder for an entire post or column – one I plan to piece together one of these days, but don't hold me to it.) Since there will be no official "how we do Advent" post, I'll share a past link that includes some of our family's own traditions as well as links to other folks' Advent-themed posts: Preparing Our Hearts and Homes.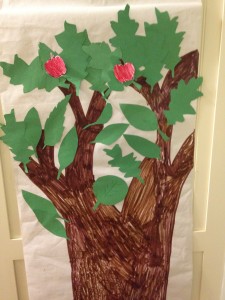 One new tradition I'll share is our Giving Tree. I recently read Shell Silverstein's The Giving Tree
to the girls, and we discussed it together talking about things like how the tree could symbolize our all-loving God. Since we're going to be preoccupied with Turkey Day business this week, we went ahead and made our Giving Tree and hung it up on the kitchen even though I'm intending for it to be an Advent activity. We all worked on coloring the trunk together. Madeline was in charge of drawing the leaves. I cut them out, and Rachel glued them onto the branches. All the girls colored a few apples, and Madeline and I cut them out.
I told the girls that during the Advent season they could earn "apples" by making sacrifices or by doing something above and beyond their normal calls of duties. Madeline, for instance, wanted to get an apple for making her bed, but I told her that's something she's expected to do daily. However, when she voluntarily offered to let her sister pick what to watch during their special screen time, she earned an apple. The wonderful Catholic Mosaic: Living the Liturgical Year With Children
actually recommends something similar during the month of Lent, but we always make Lenten mice and tie knots in their tails for sacrifices, so I wanted something different for Advent.